Willing on the weather window
Our first impressions of Milford Haven were very good. However it must be said that the attractions of Milford don't run terribly deep! Having explored the immediate area on foot we can say that there are some good highlights:
The marina and its immediate environs including a few bar/restaurants is good;
The Waterfront Gallery – a charity run large gallery space (maybe 2,000sqft) for local artists, selling at sensible prices – we were nearly tempted;
The Lord Nelson Hotel sitting high above the marina is a grand space, newly refurbished – a quiet haven with leather chairs and newspapers – and a good pint of Brains!;
Walks along the seafront;
Good access to Tesco, Lidl, and shopping facilities (dominated by cheap shops – think Poundstretcher, Poundland, B&M, Factory Outlet and lots of charity shops – but a few nice shops and cafes);
We were lucky that we had the Fish festival on the first weekend and a carnival on the second weekend of our stay.
We were parked next to Kevin – a short, fat, hairy Welsh bloke (his words not ours), a lifelong sailor, who was very helpful to us and an all round (no pun intended) good egg. Thanks, Kevin.
However, whilst Pembrokeshire is a beautiful county, it is sparsely populated and as a result the bus and train services are somewhat restricted.
Having largely exhausted the attractions of Milford (we never did visit the apparently very good maritime museum or play ten pin bowling on the quayside as intended) we decided to explore farther afield.
First thought……….. of course………a day out in Cardiff. Magic! And the train station is only a 4 minute walk away. Think again – it's 2 hours and 45 minutes each way!
OK re-think ……. use the local buses. Which we did, and we had 2 nice days out, but the bus services are limited. Tenby is 45 minutes away by car. By bus – think in terms of an hour and 45 minutes each way. This is partly because the links where we had to change buses at Pembroke Dock are not thought out by somebody who actually travels by bus! as a result we had a total of 3 hours and 50 minutes in Tenby before having to leave to catch the last bus back from Pembroke Dock at 5.10pm. Changing the time of one bus by a few minutes would dramatically change all that. Ho hum.
As if to illustrate why the services are so restricted however, from Pembroke Dock we had the bus to ourselves for half an hour – sometimes squeezing through very narrow country lanes. After 2 boys got on we went around more narrow lanes before returning to the place we picked the boys up 10 minutes later and, having neither picked up nor dropped off a single soul on the 10 minute diversion we carried on our way. It was fully one hour before there were more than 4 people on the bus!
However it was worth the effort; we saw lovely countryside and eventually thoroughly enjoyed Tenby – for fellow Yorkshire folk; think of Filey on steroids!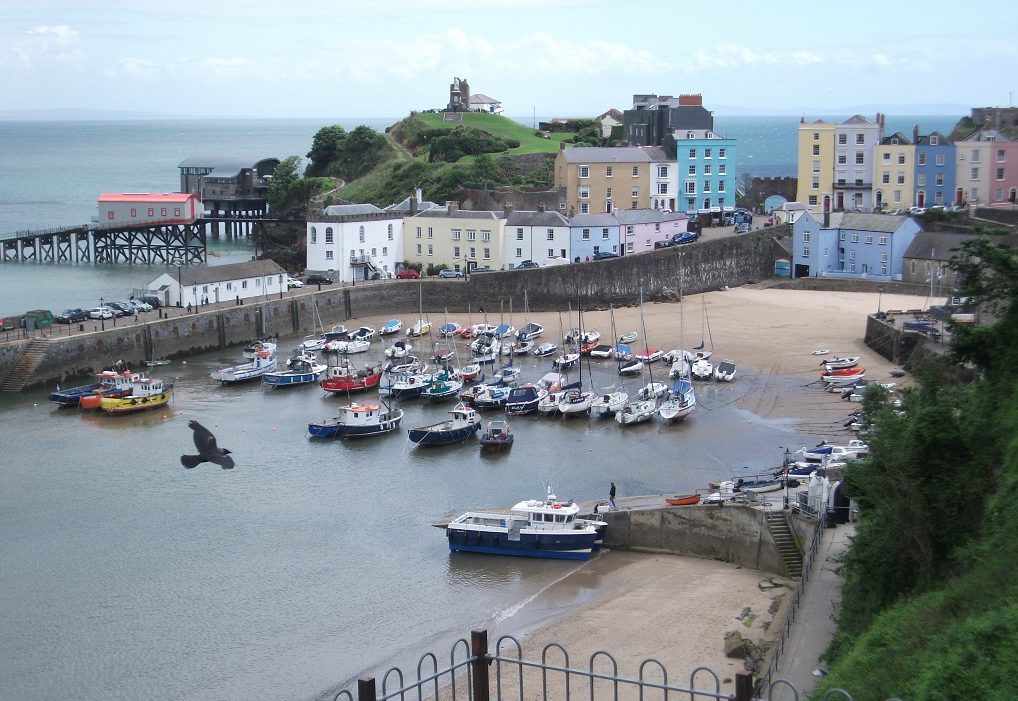 And added to that – for fellow Grand Designs disciples, we saw the converted old lifeboat station – but nobody home (not even furniture on the balcony and no speedboat on the slipway – what a waste!)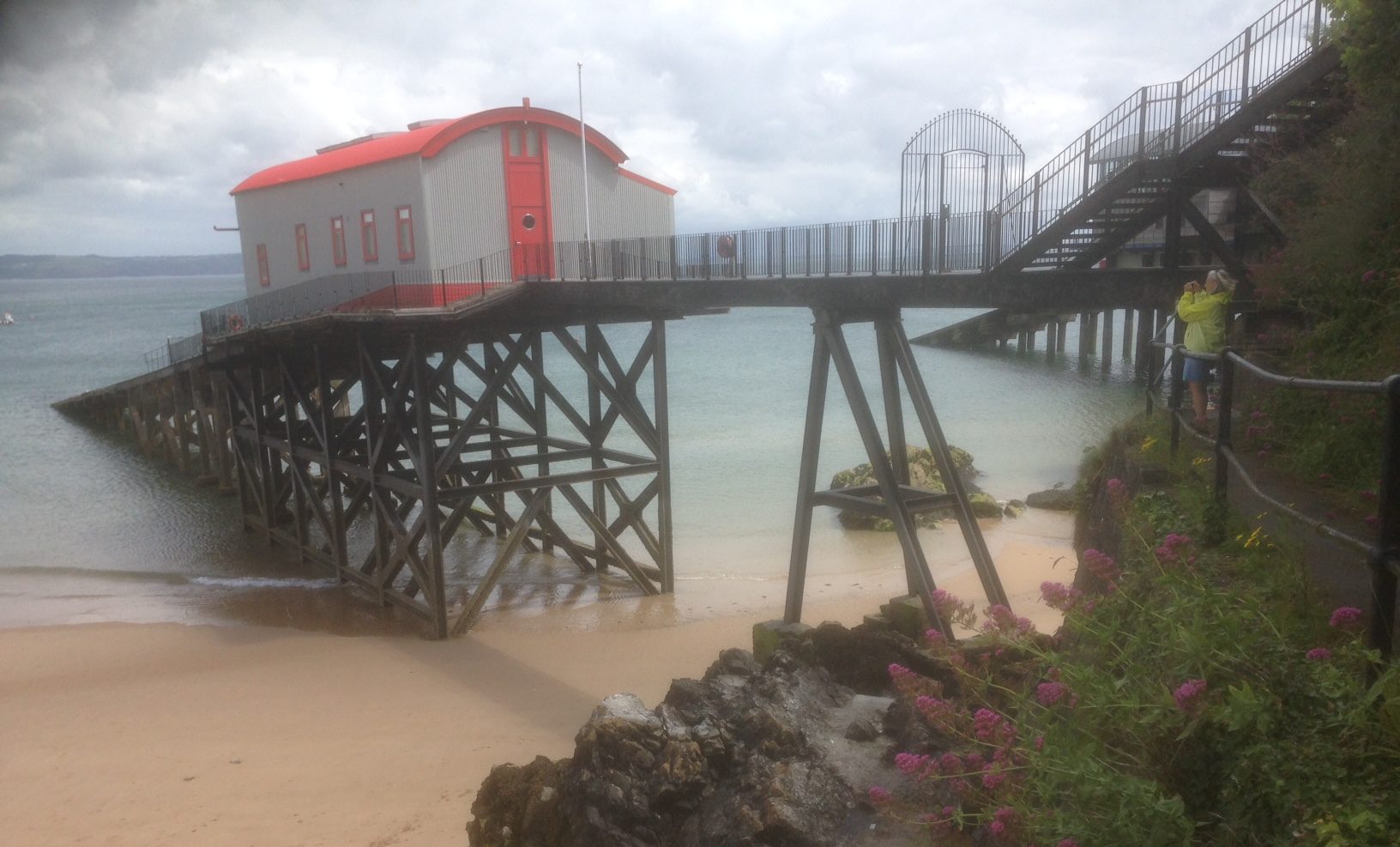 We also went to St David's via an hour or so in Haverfordwest – both interesting places – especially St David's and its very old cathedral (where we lit 3 candles for 3 parents – sorry, mum, you don't qualify) and the adjoining, large, ruined Bishops' Palace – a very special and spiritual place. And lunch at The Bishops on their sunny terrace with olive trees was rather nice!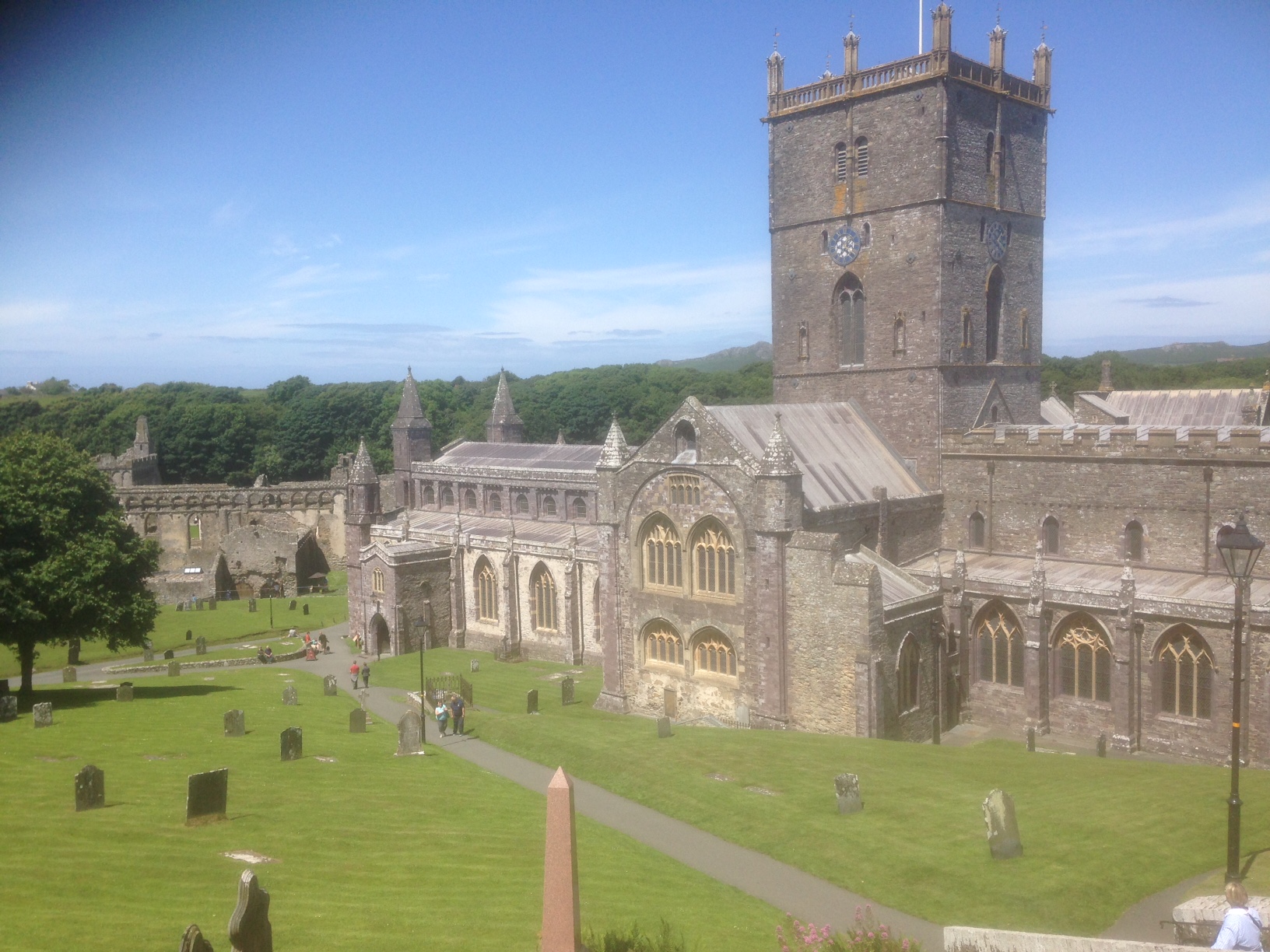 We walked up the hill to the visitor centre to see the exhibition of Constable and other well known artists and arrived to find the attendant closing the exhibition – at 4.00pm (even though the centre was not closing). And then at the bus stop we realised that the bus we intended to catch, get off at nearby Solva and then board the next one – only ran during holidays. Must pay more attention to planning in future!
A fellow disappointed passenger turned out to be a City based inward investment advisor – cutting her holiday short to go back to the City to pick up the pieces after the Brexit vote. She ordered a taxi to ensure that she caught her train and gave us a lift to Solva – and in 5 minutes gave us her very interesting take on the impact of Brexit from an inward investment viewpoint. She even wondered if she would even have a job much longer. Let's hope she was being over-pessimistic.
Solva was lovely but we didn't have enough time to explore properly.
With hindsight we should have hired a car for a couple of days. For those who follow; there is an Enterprise car hire station next to Liddl. And the marina charge for our 11.46 m is just under £34 a day (inclusive water/electricity and good wi-fi that allowed us to watch Glastonbury and Wimbledon with some buffering) or £204 a week.
We will have been at Milford Marina 11 days by the time we set sail for the South Cornish coast tomorrow. We have filled time doing a few boat jobs, including routing wiring for the AIS GPS and for the wifi booster through from the transom void to the chart table – quite a task, but the wire coat hanger came in handy and saved much swearing (the existing drawstring had become snagged).
It turned out to be a good job that we did that – Paul found rubber crumbs in the transom void, leading to the discovery of a chafed patch on the exhaust hose the size of a 20p coin that was very nearly through. If it had burst then not only would it leak carbon monoxide into the boat, it would also spew hot exhaust water into the boat (sea water is used to cool the exhaust gases).
So – the Artful Bodger swung into action – undertaking a temporary repair with silicone on the worn area, layers of self amalgamating tape, more silicone, all wrapped in a short length of one size up exhaust hose, clamped with jubilee clips  and the whole thing tidied with more self amalgamating tape.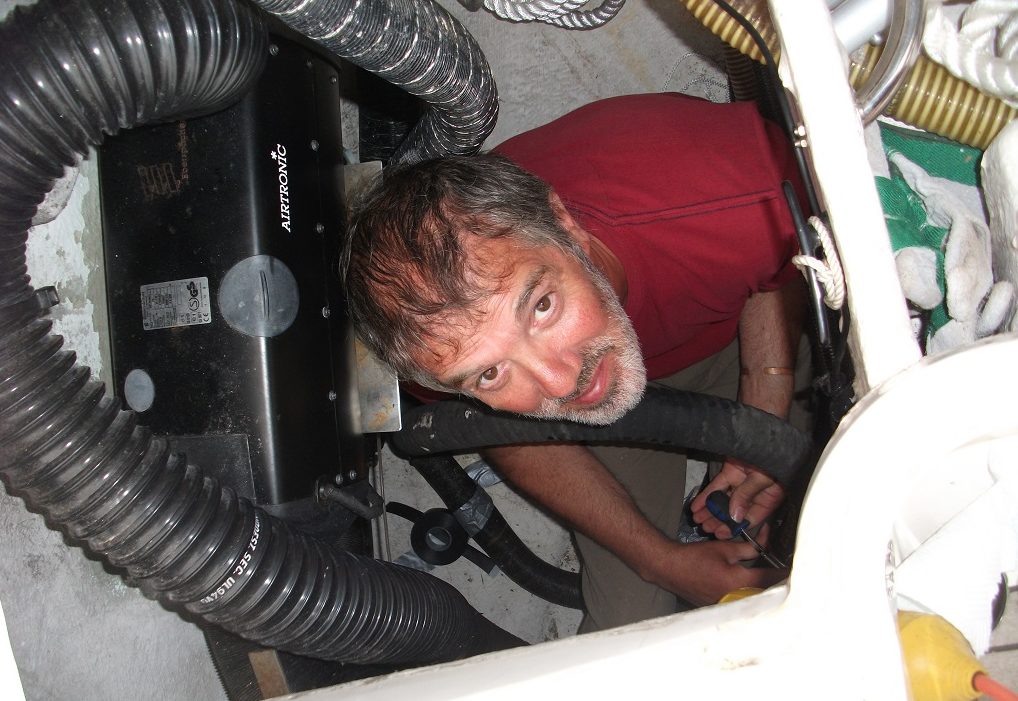 The exhaust was secured away from the fitting it was chafing on and we are good to go – although Paul did get a little stuck in the tight space he was working in and we got very close to calling for assistance. Val's giggling was not appreciated!!
We are now just about prepared for our longest journey to date – an overnighter around Land's End to Falmouth. The radar reflector is hoisted and the snack box filled. Waypoints are plugged in to the GPS, charts laid out in order with waypoints marked. A final weather check and we will set the alarm for 7.30 to enable us to be ready when we get the call to proceed to the lock to be let out of the harbour at around 8.24am.
Are we looking forward to this? Absolutely not! Will we enjoy the experience? Probably, with hindsight and the sense of achievement that follows, but almost certainly not during the passage. This is certainly a means to an end rather than part of the fun!