You know it's time to move when…….
Farewell to Ireland
Having a spider take up residence at the wheel shows that we have enjoyed our stay here, but it was time to disturb him and move on.
Greystones was interesting enough for a couple of days. We watched England v Russia in a bar with good humoured locals. Paul fished with no success (but that never deters him, he's very good at it) and we expanded the period of interest by catching the train to Wicklow – in spite of one couple telling us there was nothing there. We were happy enough to catch the train back after our half day, but the dock area was interesting and there was a nice walk to the clifftops over a nice beach.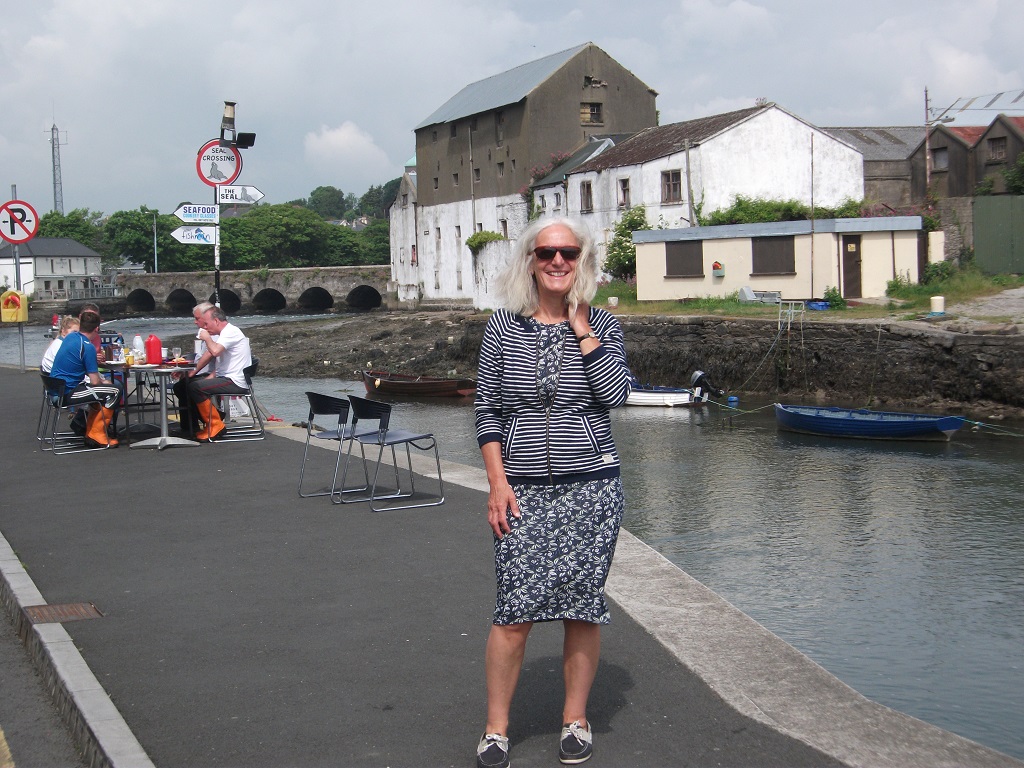 That was after a very nice lunch with a cold and very nice white at the Lighthouse seafood restaurant (with its excellent adjoining fishmonger) on the quay – where they fed Sammy the seal just after we arrived. He is apparently very punctual, turning up 3 times a day at the published hours. We took a large squid with us to cook later.
The weather window arrived for our trip back across to UK. Firstly, Monday 13th June saw an early morning start to catch the tide down to Arklow (26nm) where we stayed 2 nights (Tuesday had high winds) on new pontoons in the old fishing harbour (£16 per night plus electricity, but no facilities). We had considered the river pontoon outside the very cramped marina, but after they dredged the river in 2013 (ish) floods in 2014 replaced a lot of the silt, so that there is a minimum depth of only 2.3m on the first part of the pontoon (gets shallower farther upstream).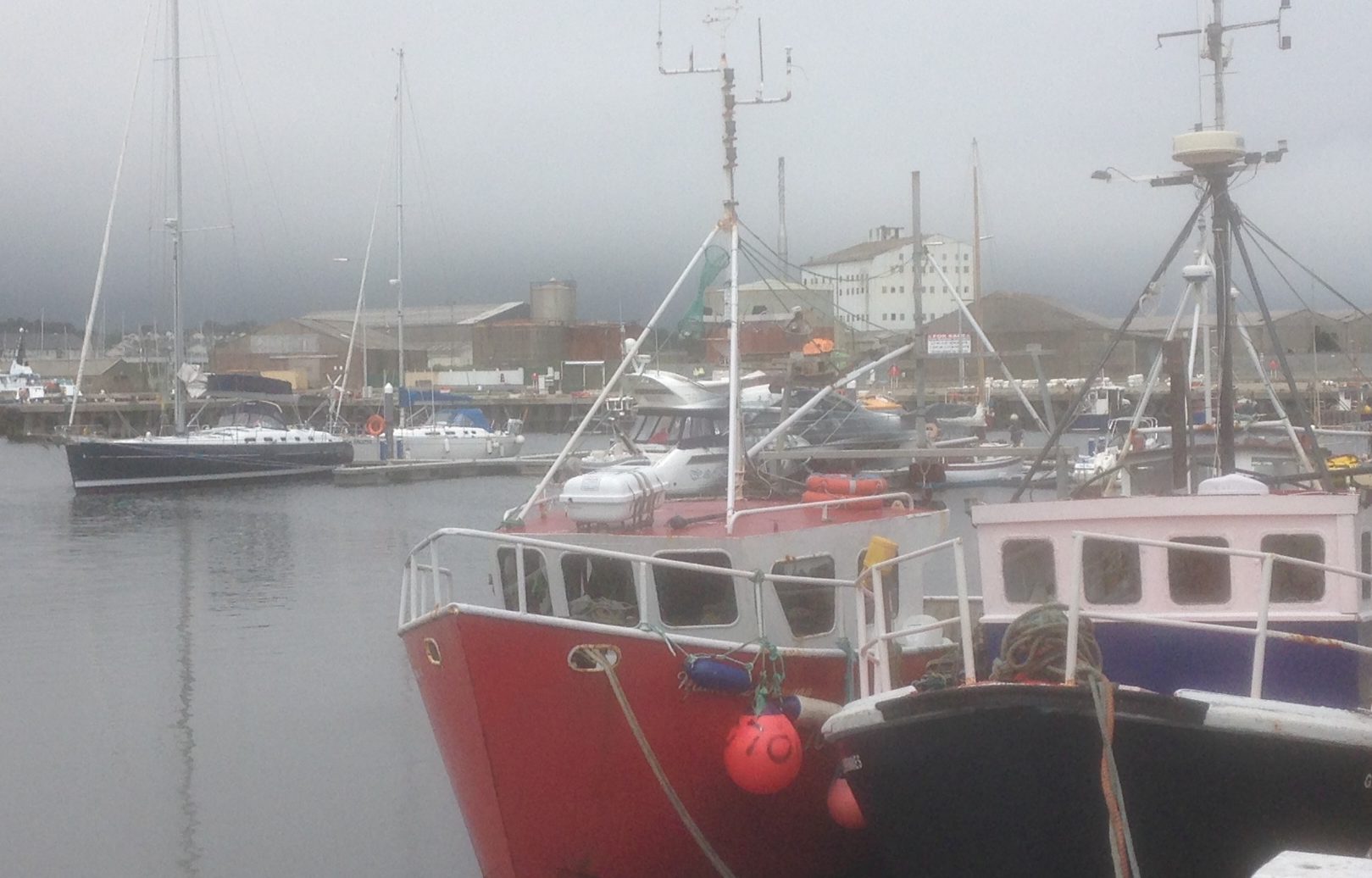 We knew that there was a new Aldi nearby, but didn't expect to see a large new shopping centre next to it (complete with TK Maxx!) Arklow has been a very busy industrial area and major fishing port. The old explosives factory, that once employed 3,000 people, closed a long time ago and the buildings are slowly decaying. Another factory with 6.7 acres of covered building area stands empty and for sale, and just last month a fuel company closed with the loss of another 300 jobs. The town centre has many empty shops, and so the new centre was somewhat incongruous – clearly serving a wider population.
We were told that there were no jobs around, and there was a growing drugs problem as a result. In spite of that there was still a sizeable Eastern European population, and on the day we went to the shopping centre the 3 people who served us were all from that part of the world. What that says; we're not sure!
In the harbour when we arrived was a familiar site from Kip – a motor cruiser owned/crewed by a couple of Russian men (with graffiti style mural of a Zeppelin on each side). The front end was having serious surgery – with plywood sheets being fibre-glassed in place to effect a temporary repair to allow a trip to a boatyard. Apparently in the fog we described earlier they hit a fishing boat at 17kts! The harbourmaster's assistant said that no fishing boats in the area had reported a collision, so who knows?!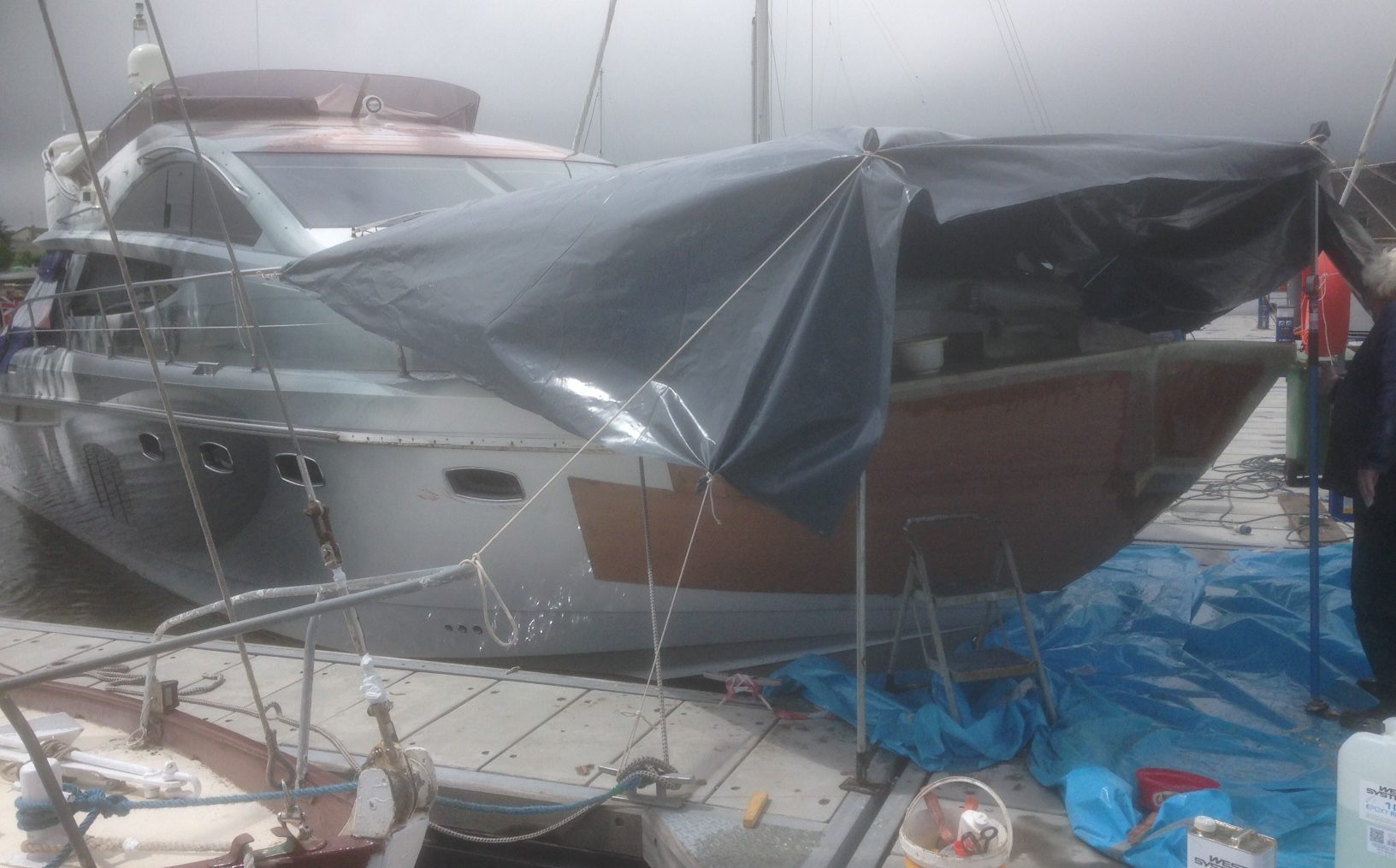 On Monday night we watched Ireland draw with Sweden in the Bridge Hotel and walked along the beach, with a fabulous links golf course behind it. However, whilst we found Arklow interesting (and staying to play the course would have been a pleasure) we were here as a staging post to Milford Haven, and the forecast was almost ideal for that on Wednesday 15th June.
The passage planning notes give detail of the forecast for start, middle and end of the 84nm route. The notes were summarised with "Overview – N F4-5, poss backing NW towards end". The wind was going to be a little more behind us than ideal, but at least we would sail much of the way.
We set off at dawn, with adverse tide the first few hours, but the wind would push us through nicely?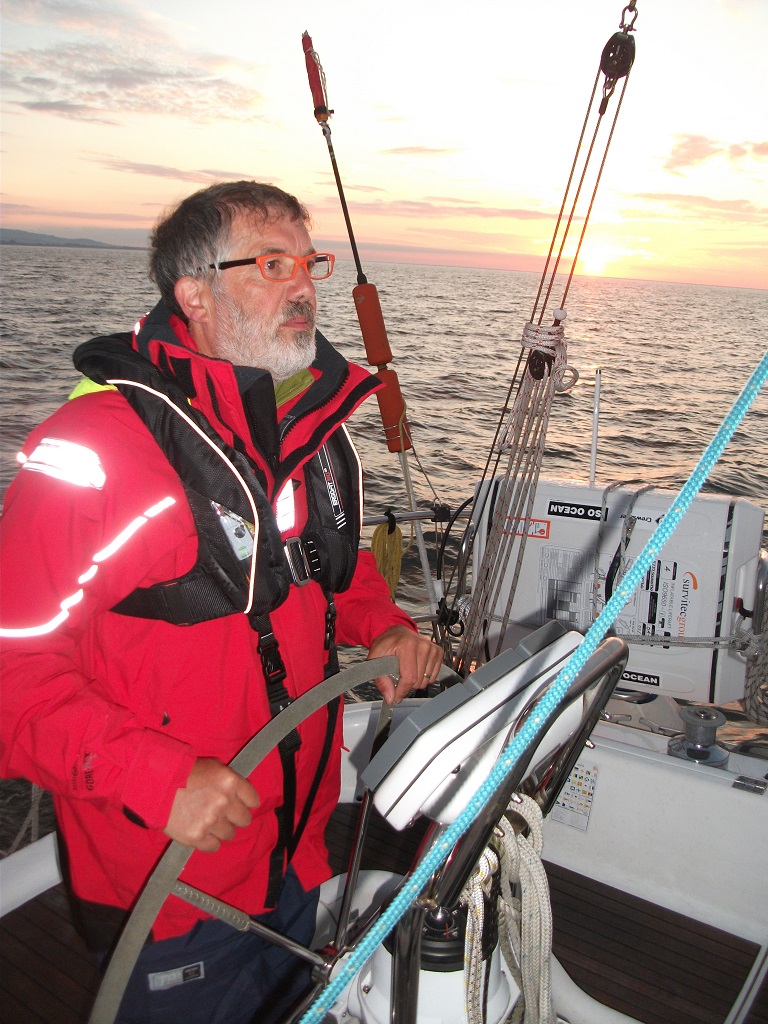 WRONG. Calypso is clearly a motor boat – we motored the entire 17 hours, with wind assistance for perhaps 20 minutes! The wind rarely topped 4kts the whole way – apart from the 20 minutes at 10kts max..
The Irish courtesy flag was dropped as we crossed back to UK (here you go, mum):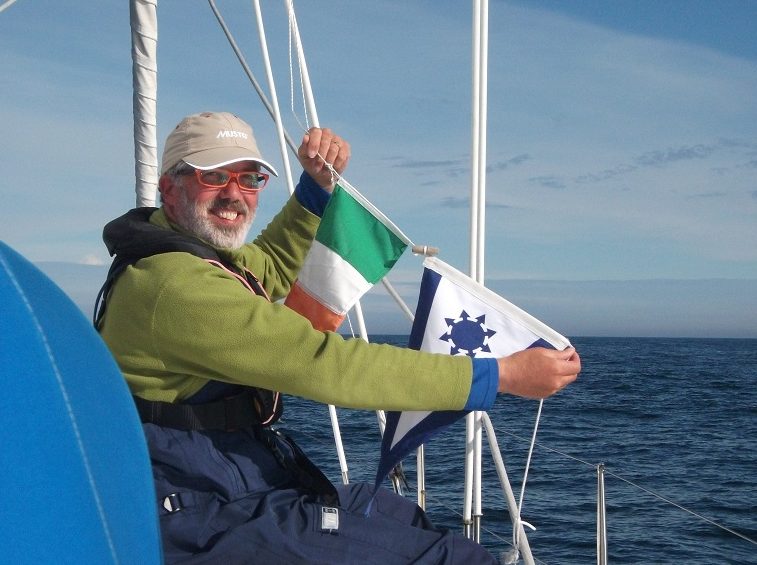 Having slipped shortly before 5am, we dropped the anchor in Dale (near the entrance to Milford Haven) and turned off the motor at around 10pm – silence after a 17 hour drone! However we were back in the UK and would be able to watch England v Wales in Wales the next day (what was that about escaping the football, Ann Turner?)
We slept soundly at anchor and when we lifted the Rocna next morning found it caked in very sticky clay – in spite of anchoring right next to an "S" on the chartplotter (denoting a sandy bottom). For those interested in anchors – our oversized Rocna bit extremely quickly and the cost of the new anchor and chain is worth every penny in terms of restful sleep – and will pay for itself by encouraging us to anchor more often than we might (and avoid marina fees).
Dale looks beautiful but we wanted to move on;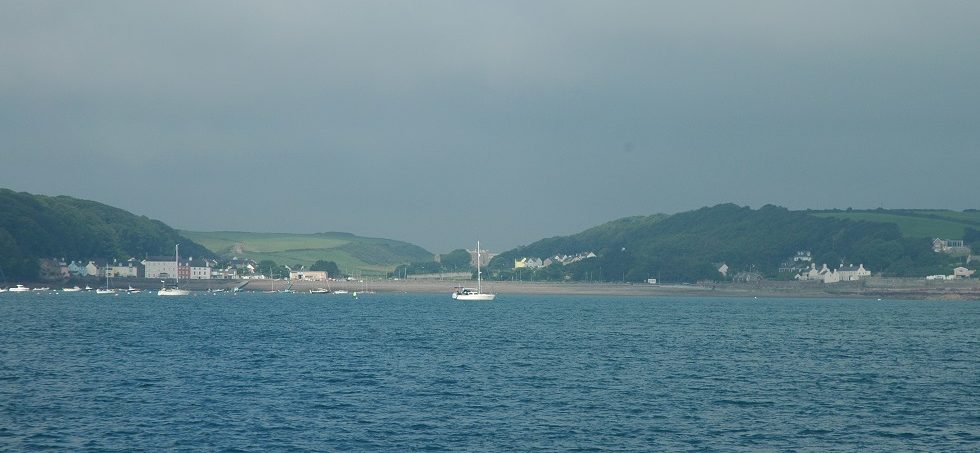 Next morning we headed up river to Neyland Marina, passing through the oil terminal jetties and berthed tankers on the way – I suppose they are a blot on the landscape, but it was very interesting.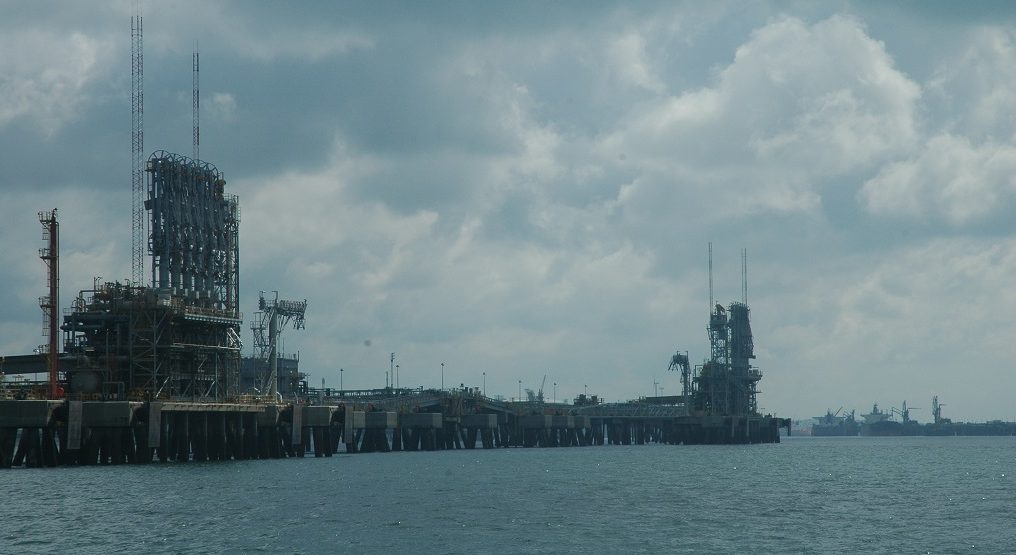 Neyland fortunately gave us a hammerhead berth as a northerly wind was blowing strongly down the valley, and the finger berth fairways are not over-generous (wait until we get the bowthruster fitted and you will hear no more whining!)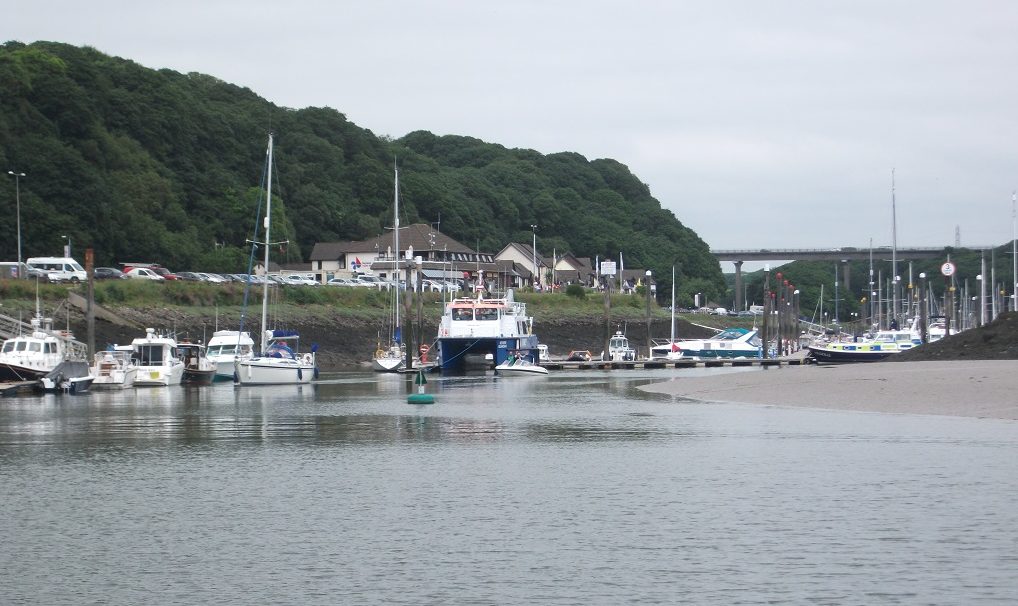 We checked in to discover that the daily fee of £34 does not include electricity – "that'll be another £3.50 per day please". Stuff that, we'll use gas to boil the kettle, and after 18+ hours of motoring the batteries don't need charging. The good news was that the facilities were good and the ice machine was free.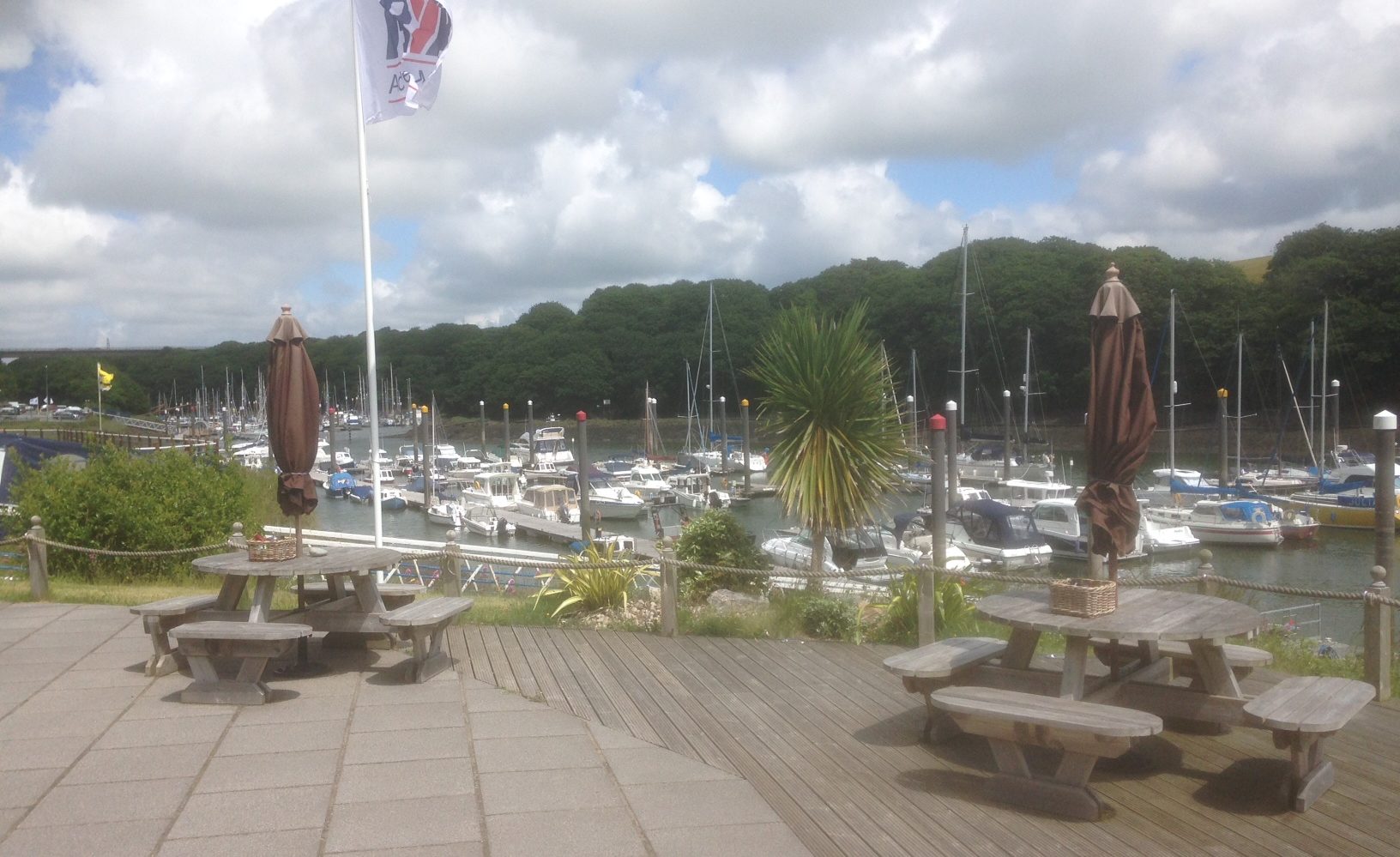 The industrial washing and drying machines were also very good and the pile of dirty laundry shrank considerably – much to the delight of one crew member who preferred it to the twin tub bog plunger! Somewhat bizarrely, but typical of our litigious era, because a repair of the access gangway was underway and leaving a gap of around 18", we could not use it en route to do the washing, but instead were ferried by dory to the fuel pontoon of the adjoining Dale Sailing Company – with a walk back of several hundred metres. We are all for sensible H&S, but this was BONKERS! There was far more danger getting on and off the dory wearing no lifejacket (they were on board but not offered).
We stayed 2 nights. Shortly after arriving we went in search of a pub with football. Didn't fancy the selection in Neyland, but walking along the very pretty river front we arrived at the Ferry Inn – just in time for start of the second half – but just in time to find them locking the doors to close for the afternoon!
The landlord and his son were really nice though – and we had a "lock-in", watching the football in the bar with them and drinking a rather nice real ale! Everything was going swimmingly until England scored the winner in injury time. We mumbled our thanks and hurried off, leaving a couple of shell shocked Wales supporters behind.
We got the bikes out as an excellent cycle way runs from the marina. We had a gradual clime on a former rail line for a good few miles, then turned around and diverted into Rosemont village on the way back – to replenish a few calories at the village hostelry.
Fortunately it was downhill all the way back from there. A veil of silence should be drawn over the meeting we (Val especially) had with two older couples and their 3 dogs. In fairness to old "Wobbly", when we came up behind them they stood either side of the narrow path and didn't leave much room. "Nice to bump into you" Paul said, as we parted company after a good giggle. Wobbly claims credit for saving one of the ladies from falling down the bank after her dog! Paul found her cuddling the lady fondly as he turned to see what the commotion was about. Oops – did I offer a veil of silence? NO CHANCE!
We arrived back just in time to assist a couple, Phillip and Alison, with their lovely new Cornish Shrimper 21, struggling to berth in strong winds after their first trip out. They, as well as fellow Moody Owners' Association member, Paul Cleaver (who had recognised our MOA bag earlier in the day) joined us on board for a beer or three.
Paul is a regular poster on the MOA forum and had responded to a query on refrigeration we had posted a few months ago. He pointed us in the direction of eutectic tank refrigeration, which by now we have decided to run with.
We went aboard Paul's Moody Eclipse after Philip and Alison departed to look at his modifications to the boat (including the refrigeration system). We were both gobsmacked by (ie impressed with) his boat. The condition was truly outstanding and his fit-out inspiring. We left with numerous ideas, and slightly worse for wear after helping Paul to drain a wine box. Paul (Calypso Paul) does not actually remember getting out his guitar after we arrived home well after midnight! Thanks for a lovely evening, Paul. Your brains will no doubt be picked in future!
Next morning we left Neyland to head to Lawrenny Quay – a few miles up the Cleddau River. We had no charts for the area, and so the new iPad with Navionics proved its worth. There are a lot of shallows to avoid and the route is not always obvious (keeping to the outside of bends is a good rule of thumb). There is a sea festival ongoing in the Haven (we saw a very large tall-ship when arriving Wednesday evening) and we had seen a few smaller classic yachts. This larger one passed us on the way: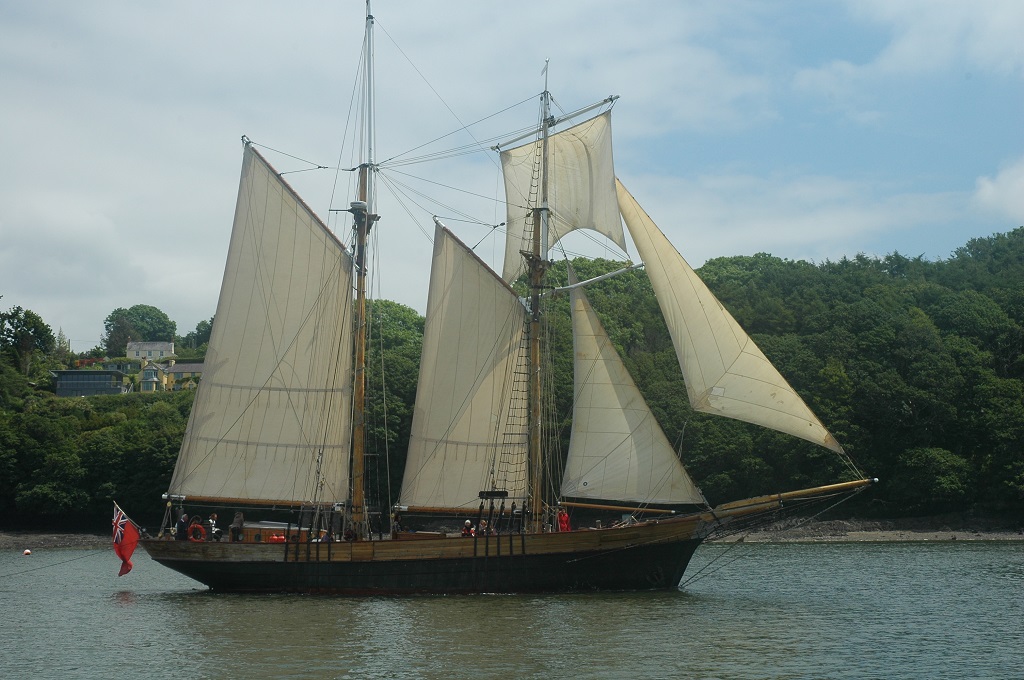 We had Googled Lawrenny and knew a little about it – very nice tearoom/restaurant and a pub/restaurant, both on the shore, plus around 100 mooring balls available at £12 per night. Here is Calypso on her mooring ball: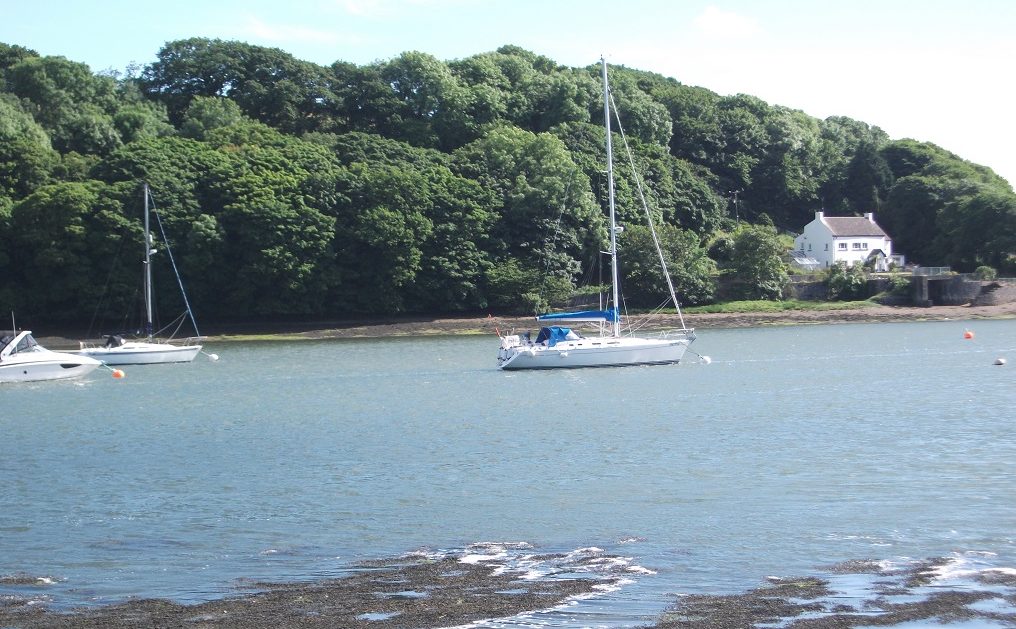 Meaning we had to get the taxi prepared: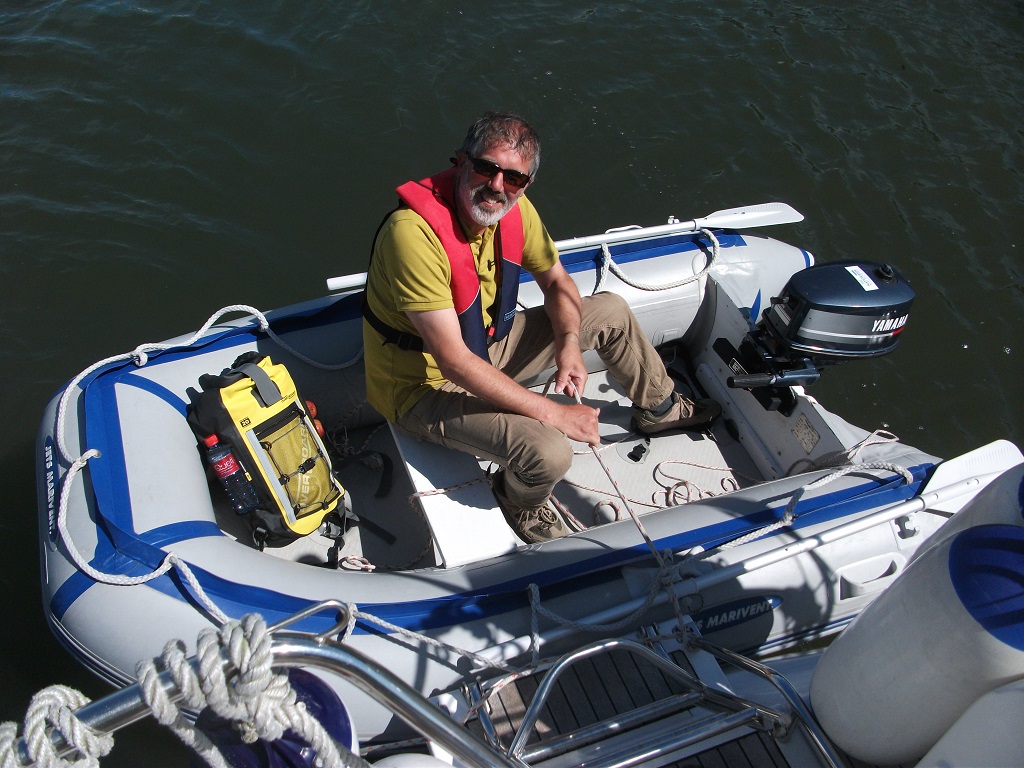 We knew that there was a community shop in the nearby Lawrenny village (1 mile walk) and we also knew that the Lawrenny second team (cricket) were playing that afternoon. Val thoroughly enjoyed the match: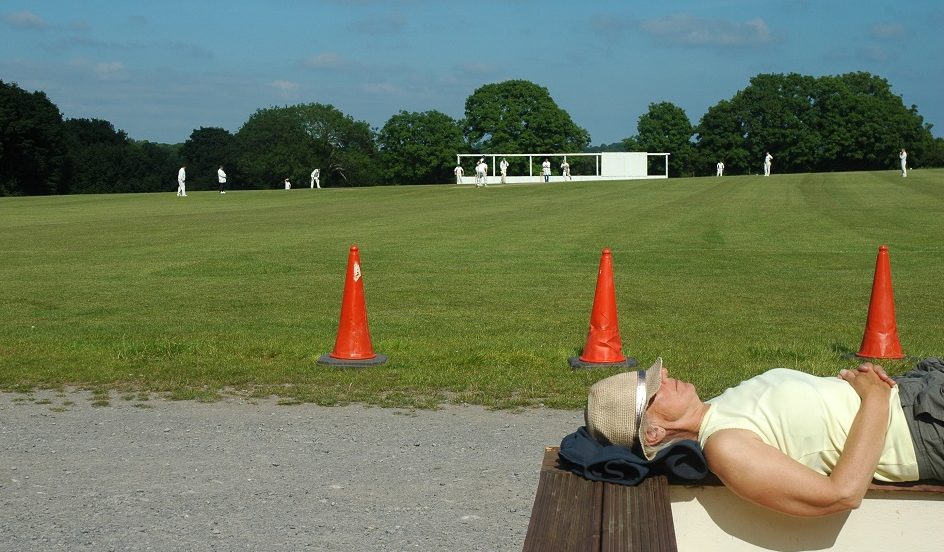 We ordered a Sunday paper and shared an ice cream from the shop and sampled the pub's real ale on the way back from cricket.
We knew that this was a peaceful place, but weren't expecting it to be quite so pretty (photos don't do justice).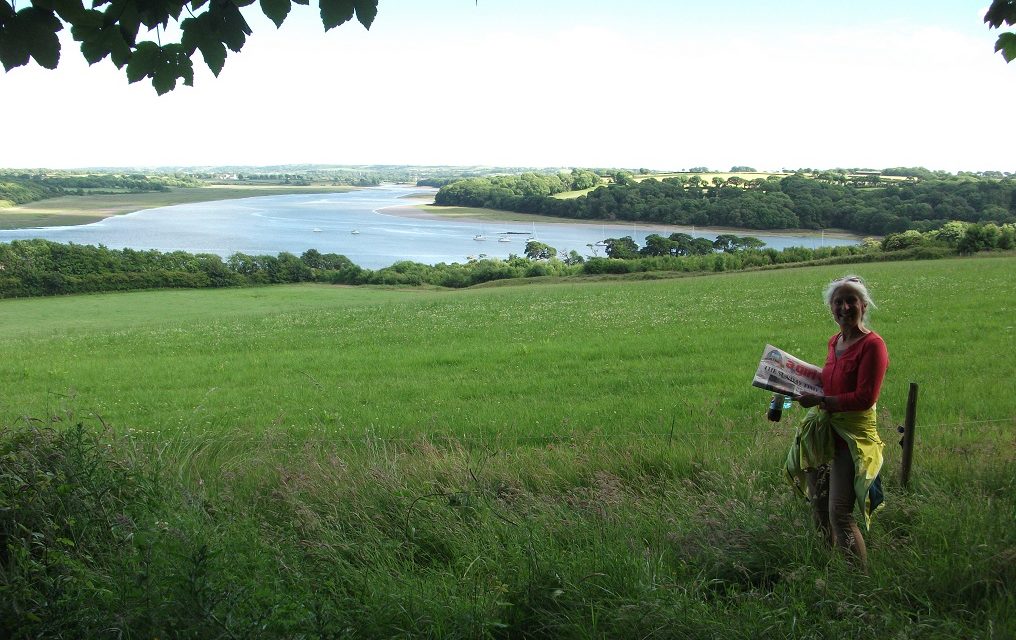 So we are here for a few days, or more, waiting for suitable conditions to head down to Cornwall along a coast which our pilot guide describes as follows:
"As a cruising ground there is, sadly, little to recommend the North Cornish coast. In the prevailing south westerly winds it presents an exposed and rugged lee shore with just a few drying harbours that cannot be guaranteed as places of refuge – an unwholesome combination and a natural deterrent for pleasure boating".
Add a warning from a Cruising Association member about pot markers way off shore having led to lifeboat callouts and wrecked engines, this is not an ideal section for our first overnight passage to round Land's End (itself needing careful attention to tides and navigation to round). So we need the right conditions to head down there, perhaps anchoring at Padstow and/or St Ives (which will need the right conditions to enable anchoring as well as sailing).
So – the few days could extend to weeks waiting for a weather window, but at least we really like it here and are happy to linger a while. Plus the mooring ball is only £12 a night!!
Distance travelled since leaving Kip: 380nm