Lawrenny and Milford Haven Marina
Time for a shower!
We enjoyed 6 nights at Lawrenny Quay, with the tide racing past us one way, and then turning us around and racing back again. At times we would have struggled to row against the current (we were there at springs), but fortunately the trusty Yamaha never let us down.
We walked through woods and alongside the estuary: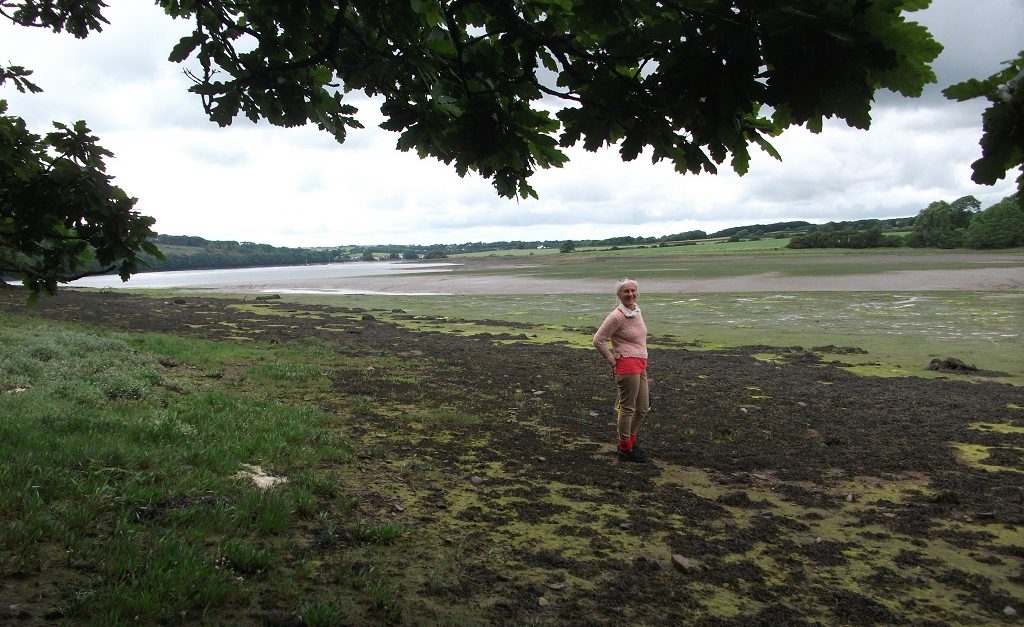 ….and our favourite walk was to Creswell Quay for a pint of the excellent Quay Ale, brewed nearby exclusively for the Cresselly Arms. A great pub that time forgot – and which was recently used as a set for filming "Their finest hour and a half" – a WW2 film with Bill Nighy (photos of characterful landlord with Nighy and other cast members adorn the old fashioned lounge area). The pub is to the left of the first photo, with just the beer garden shown on the quayside – here with the tide out, enabling access by stepping stones…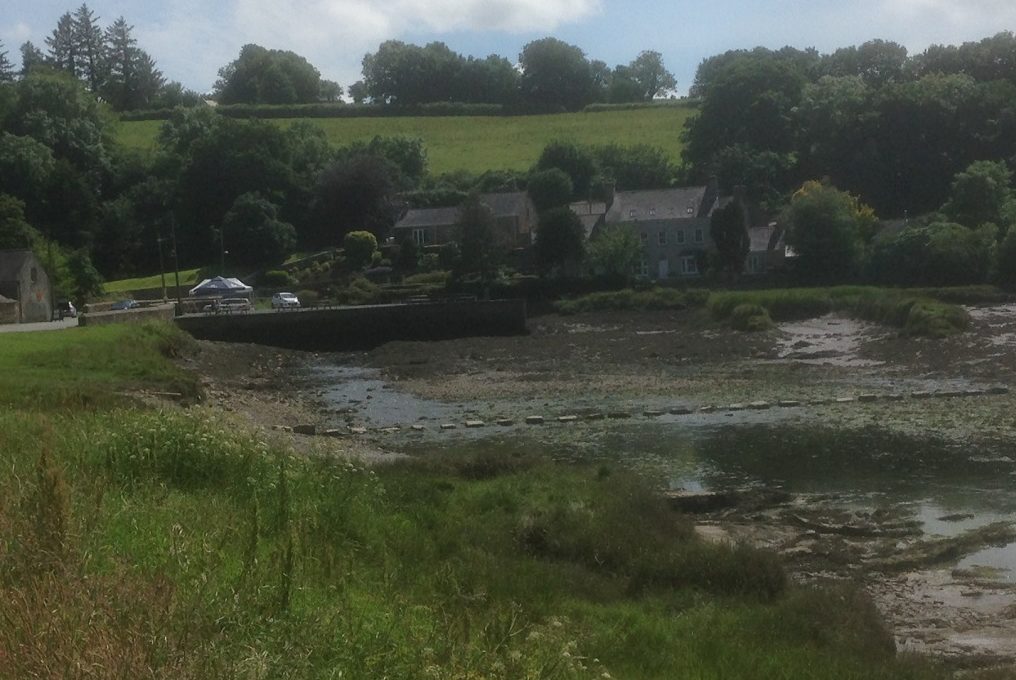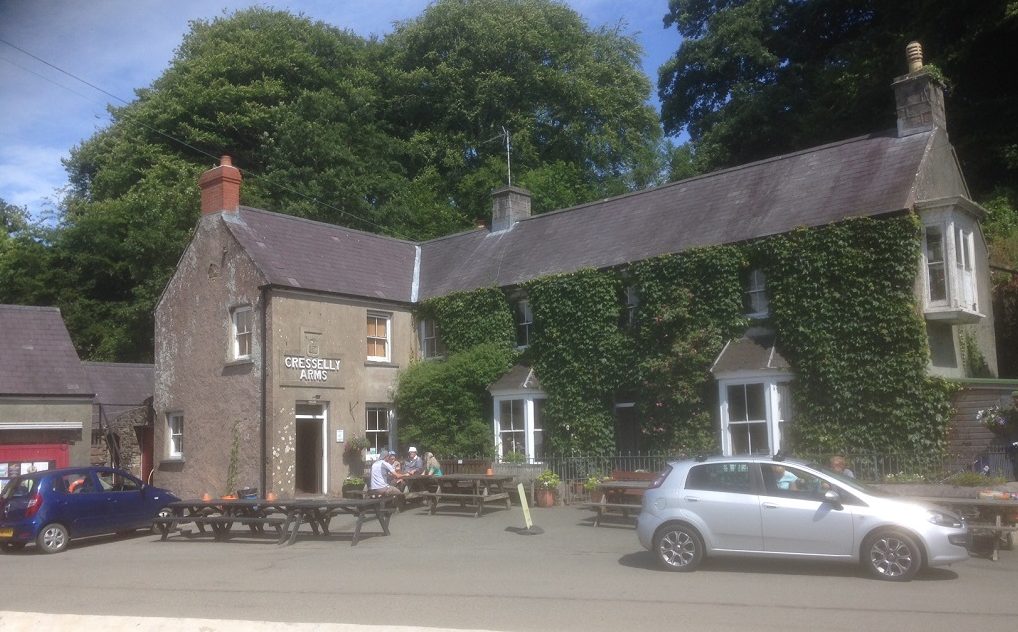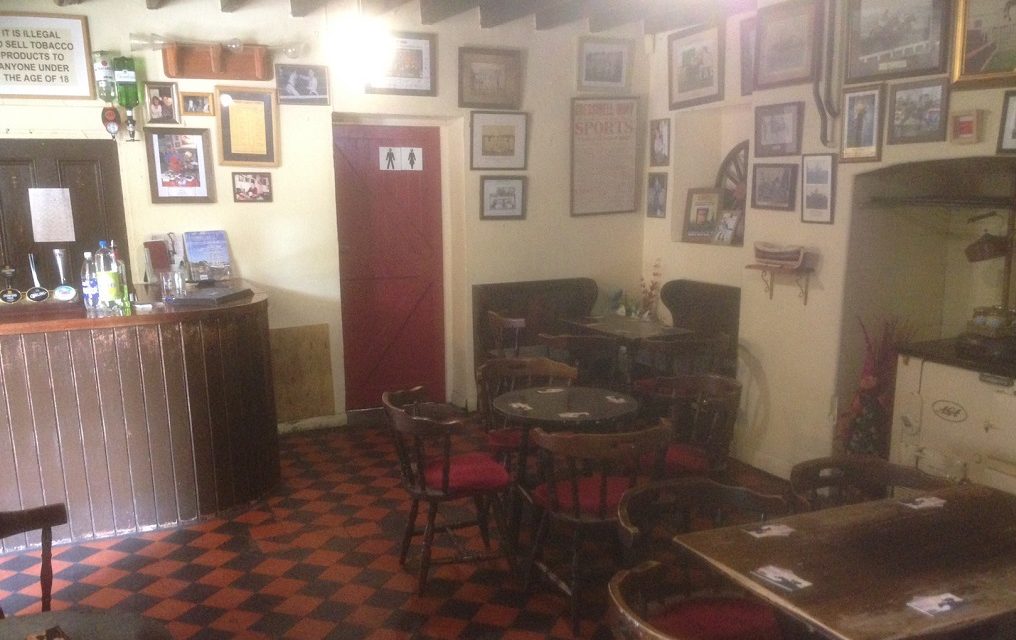 We (Paul) had a little more luck than usual with fishing – a dogfish big enough to eat (meaty white flesh, not renowned for flavour but nice in coconut based curry)…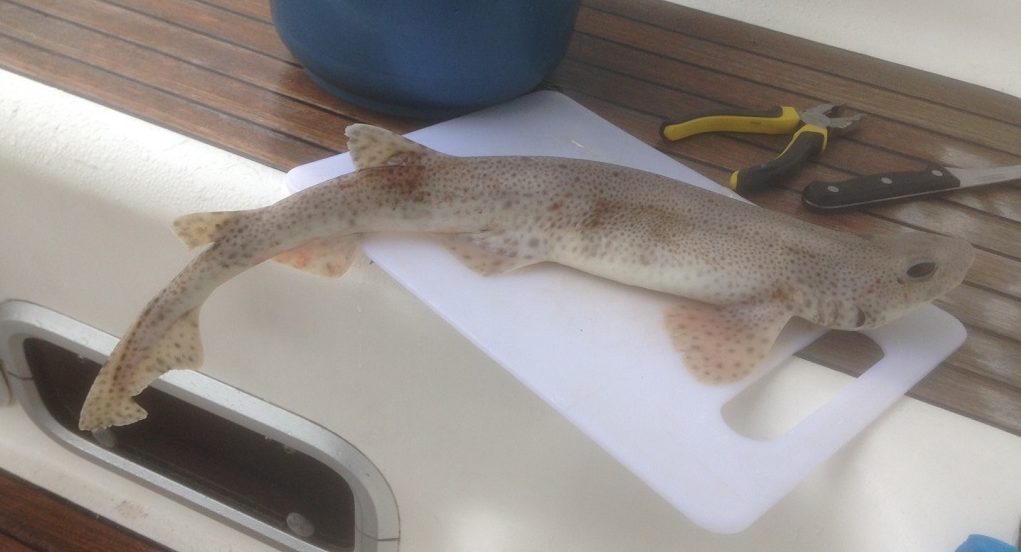 …..and bass – plain grilled to savour the flavour of the fish (doesn't look it here but rather larger than the supermarket farmed bass)…..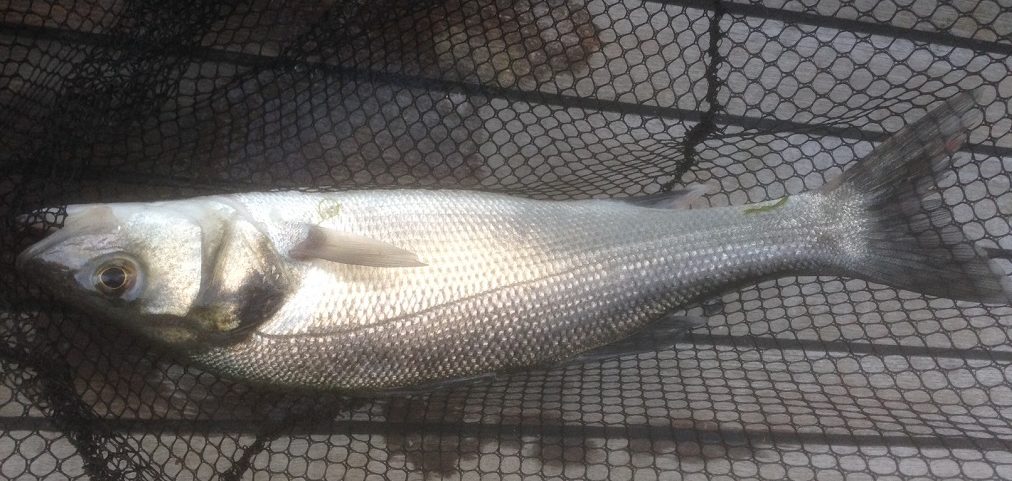 and when we didn't catch fish we ate at the Lawrenny Arms – very good value, good food, especially the local crab salad that was just amazing!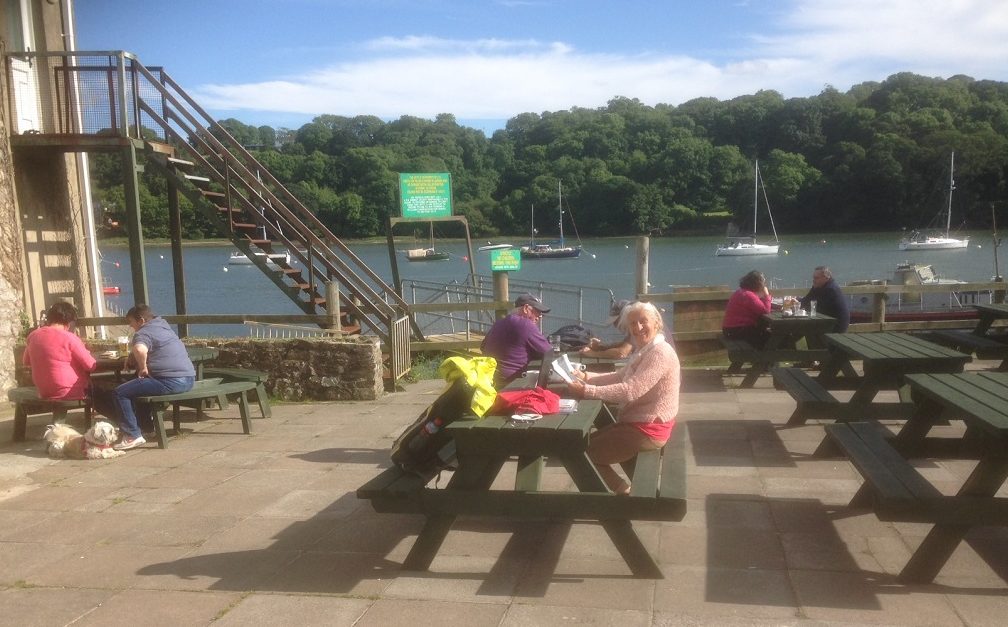 Being on a mooring ball means that we can't plug in and the new 2.6kw generator had its first outing. We had fortunately read, before purchasing, that the 1kw generators are not up to running our 50amp battery charger (and we will be installing a 125amp one shortly). Certainly the 2.6kw model was man enough – but a little louder than we had hoped. Kipor, incidentally, is widely recommended by those in the know as second best to Honda, with many shared parts but a fraction of the price. Fortunately we didn't need to run it over the weekend and waited until we had no immediate neighbours on Monday.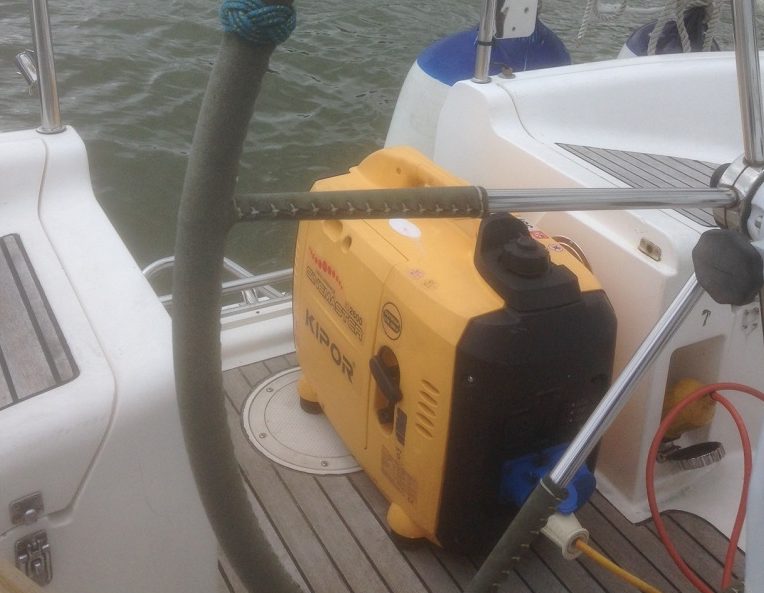 As we left the mooring ball in search of the shower block at Milford Haven Marina the lady at Lawrenny yacht Station advised us that we could use the block in the nearby caravan site – a bit late madam! Old fashioned flannel washes meant we didn't smell too badly (or at least nobody told us so!)
We left before 8.00am Friday 24th to get to Milford Haven Marina before the lock was due to close at 9.20, high tide. We mis-timed it by a few minutes (tide stronger than anticipated) and waited in the lock until the next scheduled opening at 10.00am. For those following – the literature refers to floating pontoons inside the lock – what it doesn't tell you is that the pontoons sit above deck level – so we had to hurriedly adjust fenders as we entered. Fortunately it was fairly calm.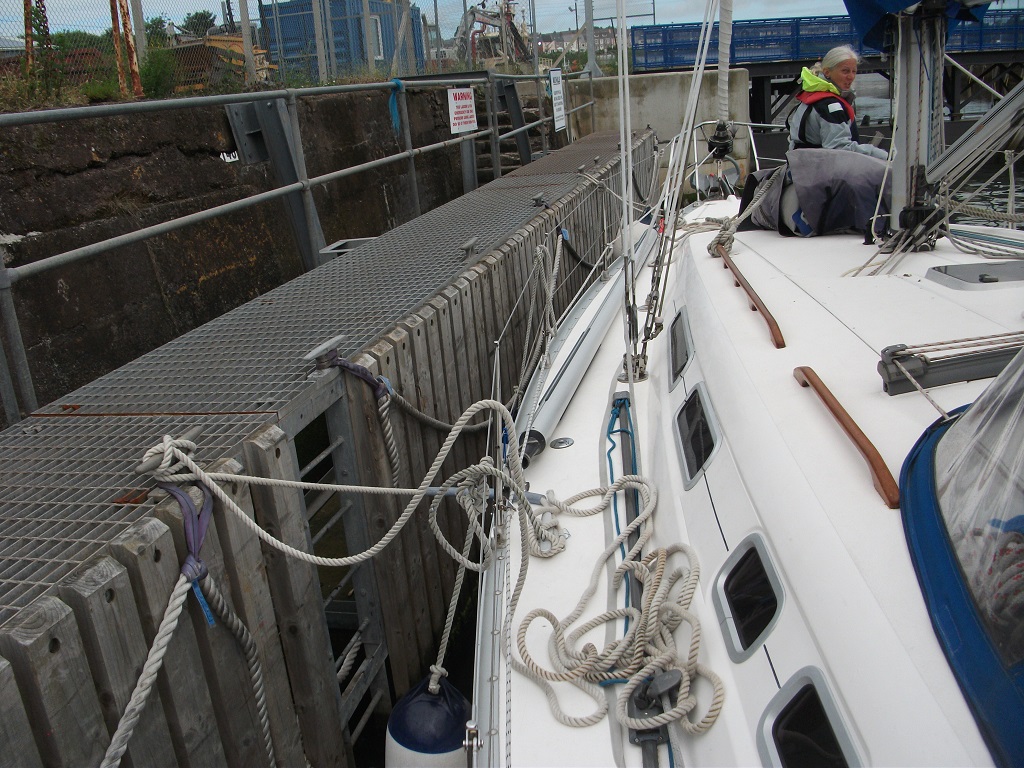 On the vhf radio we heard a fishing boat asking for the lock to be held for a few moments, and at 10.05, with the fishing boat in, the lock gates closed behind us ….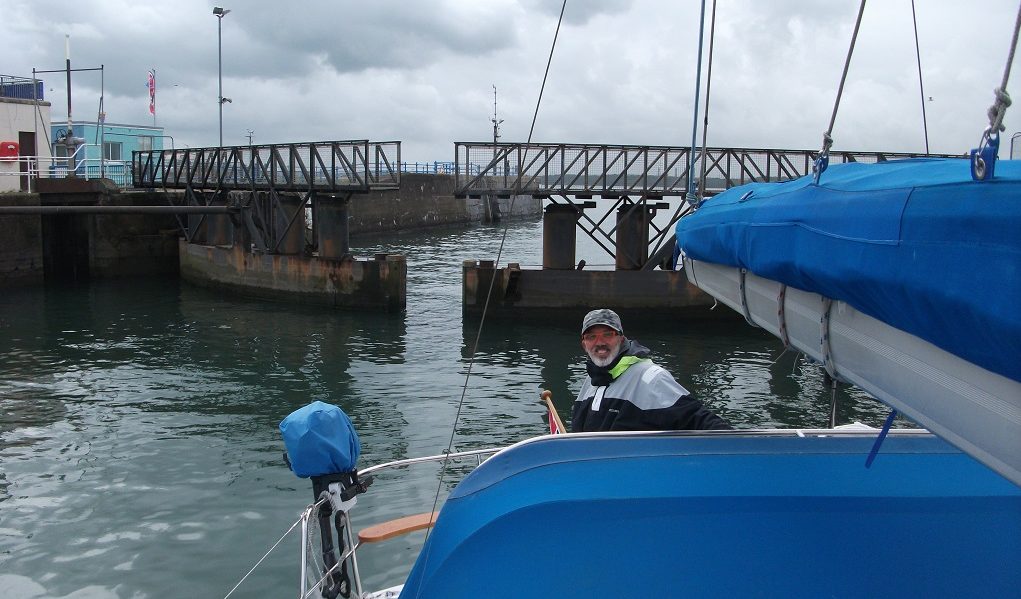 …..and we entered the rather attractive Milford Marina….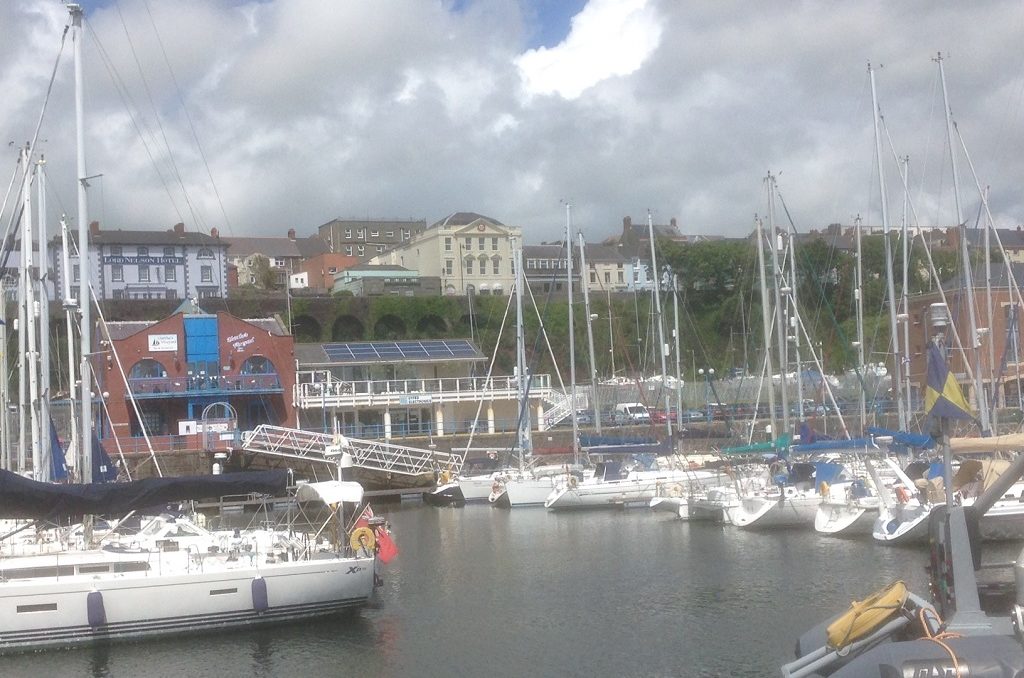 ..(Calypso 3rd from right). We had read not entirely complementary reports about Milford and the marina, but we liked the place (there is a definite pattern emerging here – we are obviously just easily pleased simpletons!)
There are several large modern blocks around the marina (with a period dockside warehouse style) with apartments sitting above retail/cafe/restaurant units, including a couple of restaurants at first floor level, with open balconies overlooking the marina. Bangor was perhaps the best marina for facilities and location so far, but had none of this and lacked a certain atmosphere as a result. Several of the businesses in the units have failed, but there are plenty still there to provide interest.
We are in a location that is very close to the access ramp and the good shower/wc facilities in the building shown by it. We have Tesco and Lidl as well as a decent little town centre in easy walking distance. This weekend Milford has put on the annual Fish Festival over 2 days. It was larger than we imagined, with just a few really good seafood stalls (one was preparing and filleting a 6 foot shark this morning); cookery demonstrations (one by Chetna Makan, Bake-Off semi finalist for you Bake-Off fans); farmers' market type stalls; fast foods of all kinds; crafts; 2 music stages, one of which with some quite good bands playing straight in front of the beer tent – a highlight for Paul, with 2 local brewers selling real ales, a local cider maker for Val and another bar for the other stuff, which we shunned!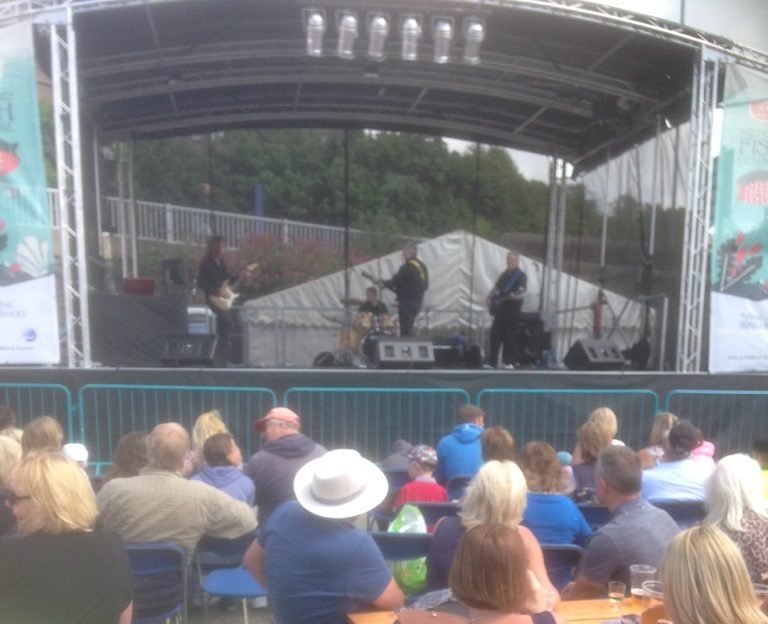 We paid our £1 each for a small bowl and plastic spoon and joined the Chowder Trail – a competition among four local restaurants to make the best fish chowder. We were to sample each and vote. Before the first venue one of us managed to break one of the bowls. The restaurant kindly replaced it with a much larger bowl, which Paul claimed, and consequently needed no dinner that evening!
The entertainment also included a large band of powerful Samba drummers full of characters including this one, which Val says could be her in 10 years time….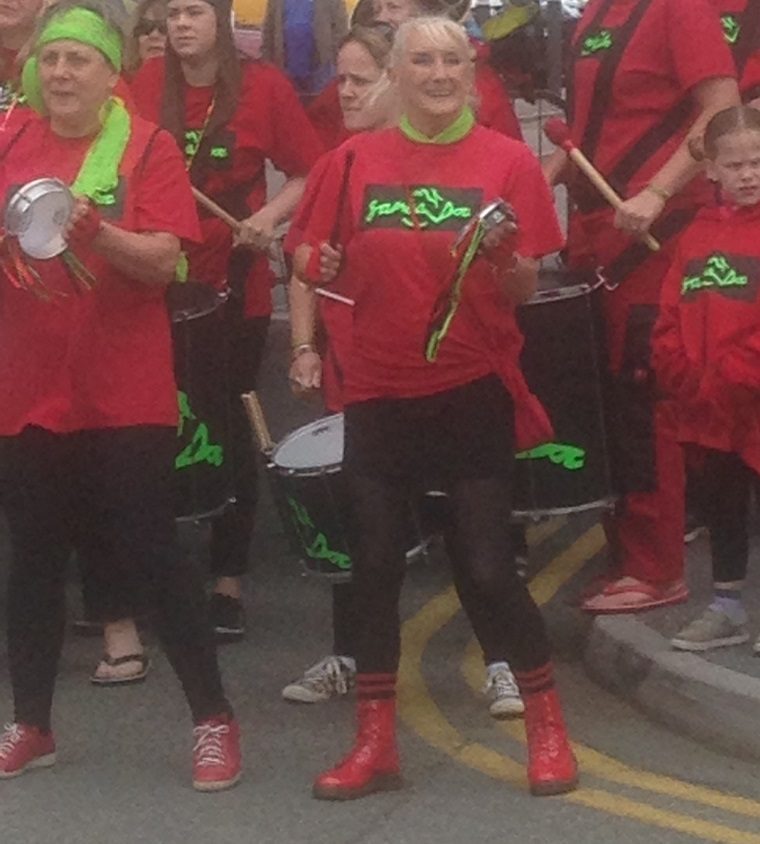 Paul agreed that it could be – given a little make-up!
We would ideally like to move on fairly shortly but the weather is looking unsettled for the next week – and the North Cornish coast (described in a previous post) beckons – so we will be staying put until the weather settles down. We have been invited to the Pembrokeshire Yacht Club's BBQ next Saturday – and looking at the forecast we might just be there!
In the meantime, Paul's fishing skills need to be honed, there is a golf club nearby and Val needs to catch up with her scrapbook/diary. And the fantastic whole brown crab and spider crab claws bought at the Fish Festival need to be converted to crab linguine…..a nice white is on ice as I type……..
Distance traveled since leaving Kip – 386nm