Waiting for the wind in Weymouth (with Woger – weally!)
…Before escaping to Brixham to rest the liver…
We stayed longer in Weymouth than we would have ideally wished – 11 nights in total, until the forecast wind no longer had any West in it and we could head across Lyme Bay.
We described Weymouth as a cross between Whitby and Scarborough – here is the Whitby bit: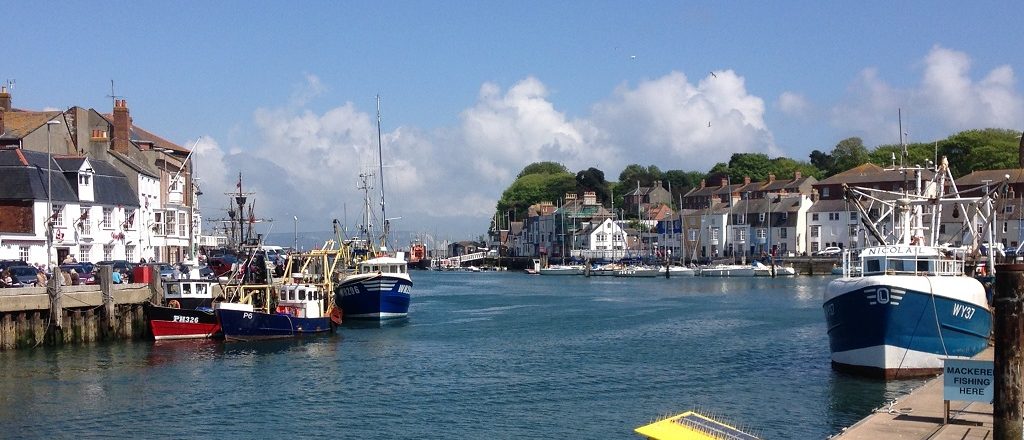 ……and here is the Scarborough bit….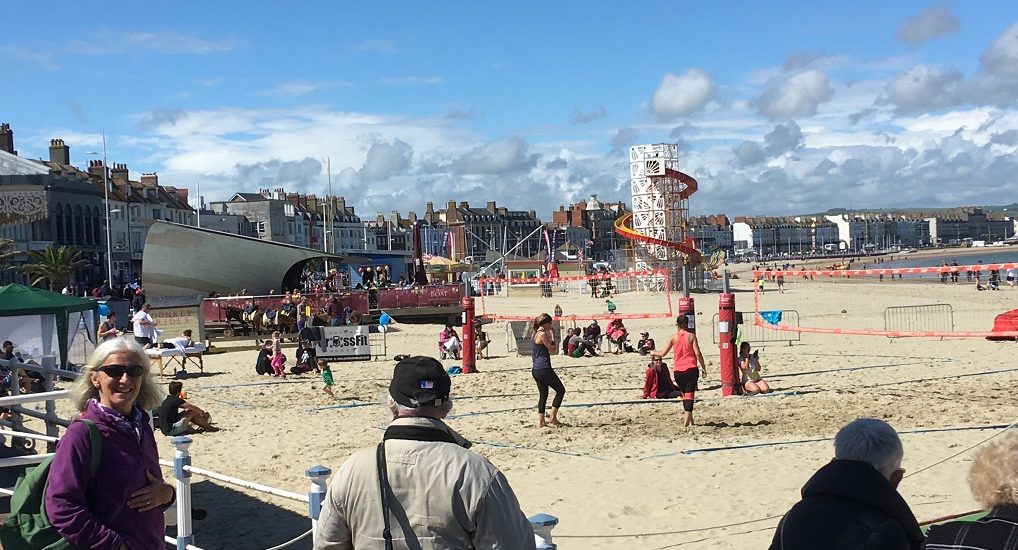 ….but then there's just a bit of Rio….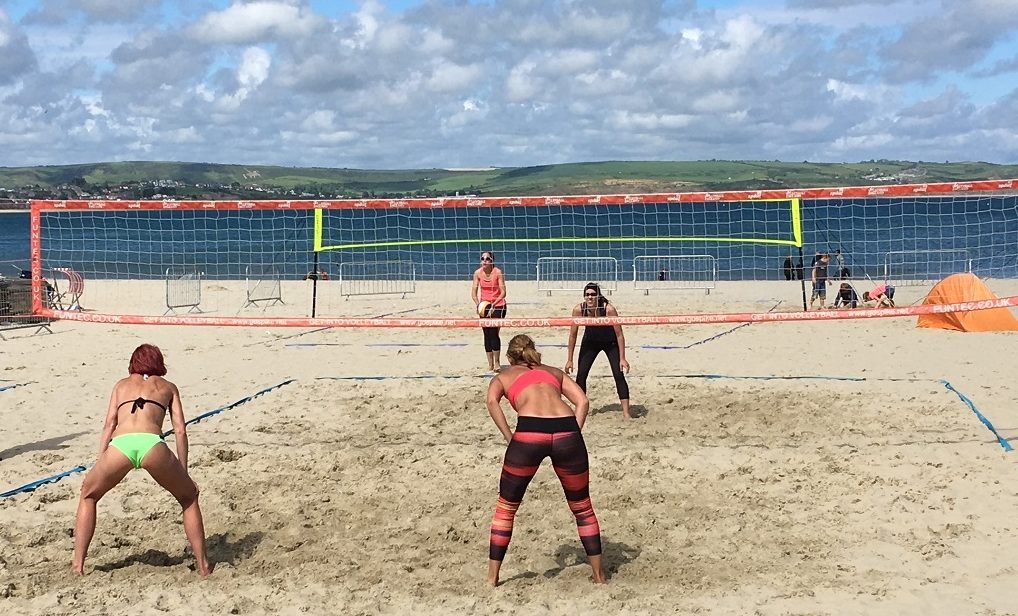 The weather was mixed during our stay here. We did a few boat jobs and more tidying whilst here, finding places that we did not know existed to stow "stuff" – as usual writing down where everything is salted away.
We walked along the coast path, past Nothe Fort (below, with the massive Portland Harbour and Portland island behind) and towards Portland. We had a pleasant walk around Weymouth Golf Club (with the sticks). We walked around one of the large RSPB managed wetland bird reserves (seeing a Marsh Harrier flying low and lazy over the huge reed beds was really good).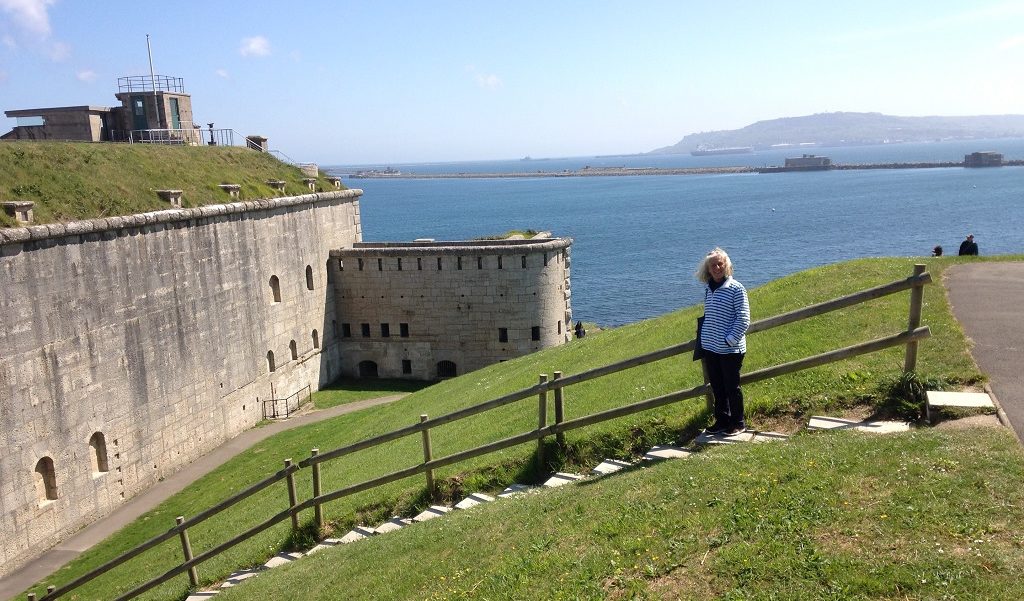 We almost turned pescetarian whilst here – so good was the fish monger just yards from Calypso. We ate skate (twice) hake (twice) mussels, clams and a cuttlefish of over 1 kilo at just £3!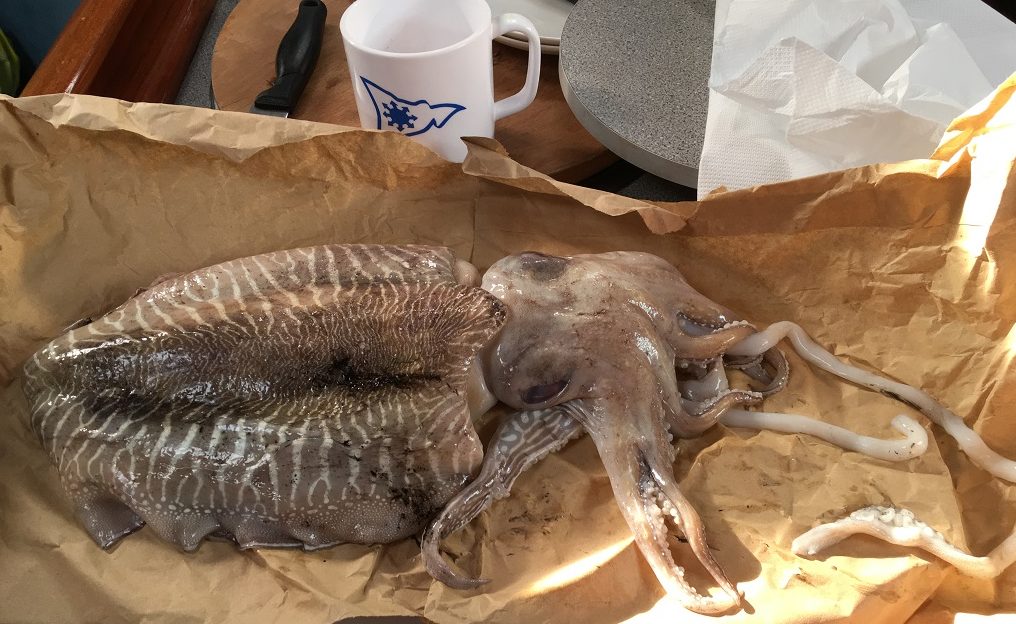 We ate out only once – at the superb "Enfants Terribles" French restaurant, again just yards from Calypso in the harbour.
Our lovely neighbours for much of this time were Max (the black labrador), Nigel and Mrs Nigel (sorry, we didn't get your name) who live aboard their absolutely beautiful 100+ year old Morecambe Bay Prawner, converted with living quarters many decades ago. They too were waiting out the weather – but for their trip across to the Channel Islands their weather window came a few days before ours.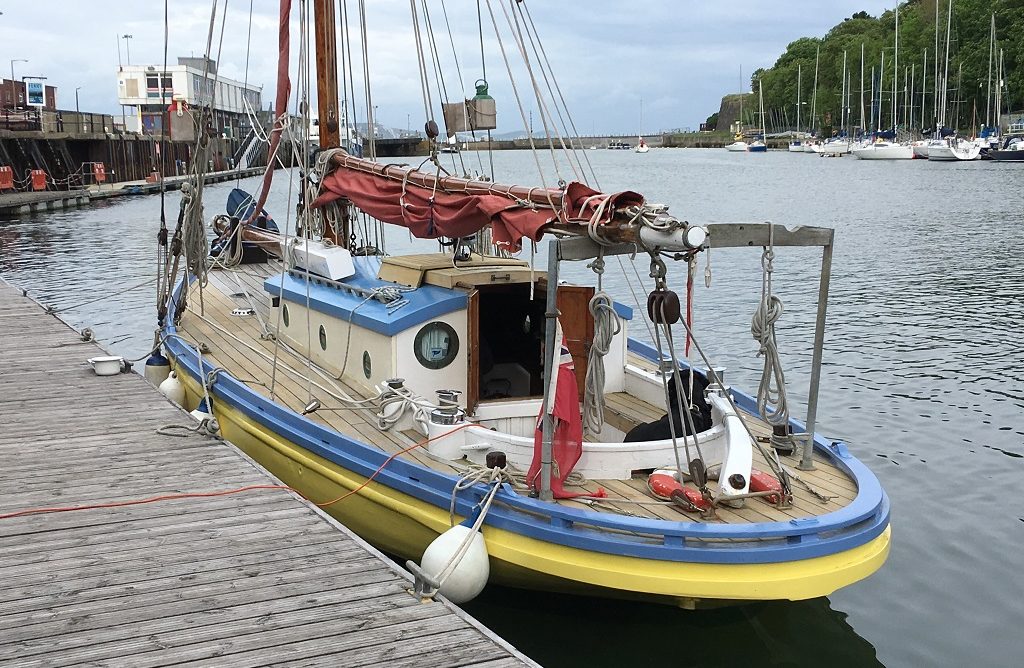 Whilst we would have preferred to move on a bit sooner, our stay was enriched by our planned encounter with the Bisphams – Lynne and Adam (who Paul met on the Cruising Association forum over the winter – no, not that type of Cruising). Mr and Mrs B. have lived full time on board their yacht (same size as Calypso) for the past 3 years, during which time they have circumnavigated the UK and toured the Baltic, returning each winter to the Weymouth marina.
We got on with Adam and Lynne like old friends. Our few days in their company began quite civilly  – we dined aboard each others' vessels: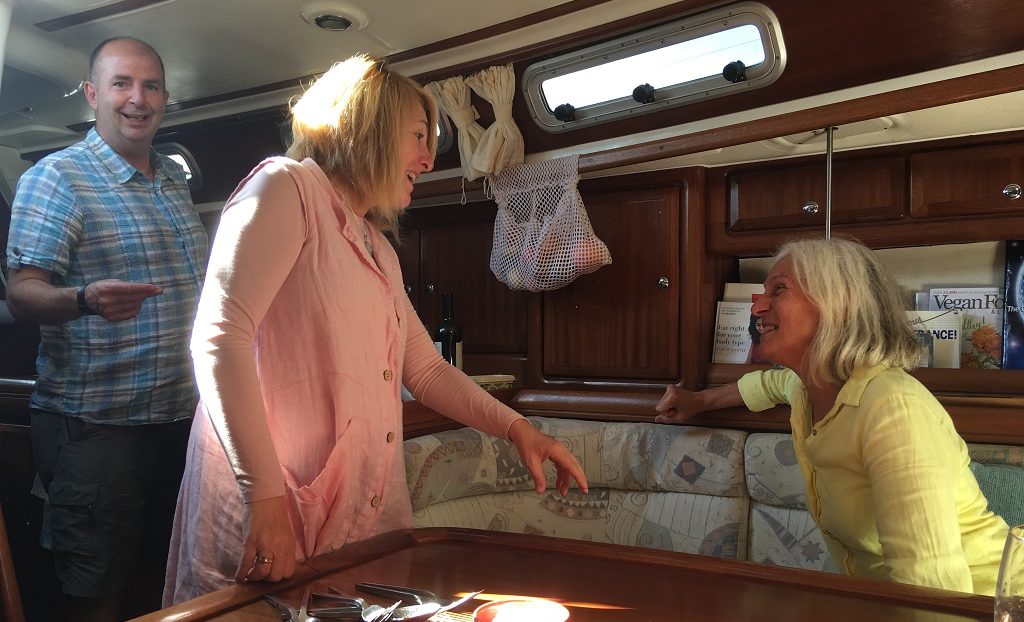 ….and were then introduced to the Weymouth folk scene with a gentle night out at the old town hall: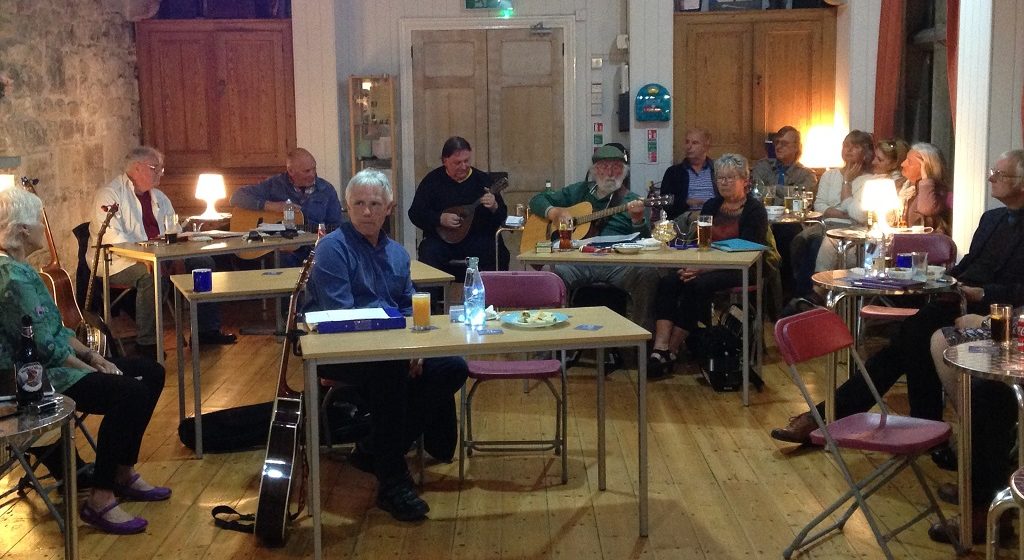 followed by a livelier folk night at the Sailors' Return: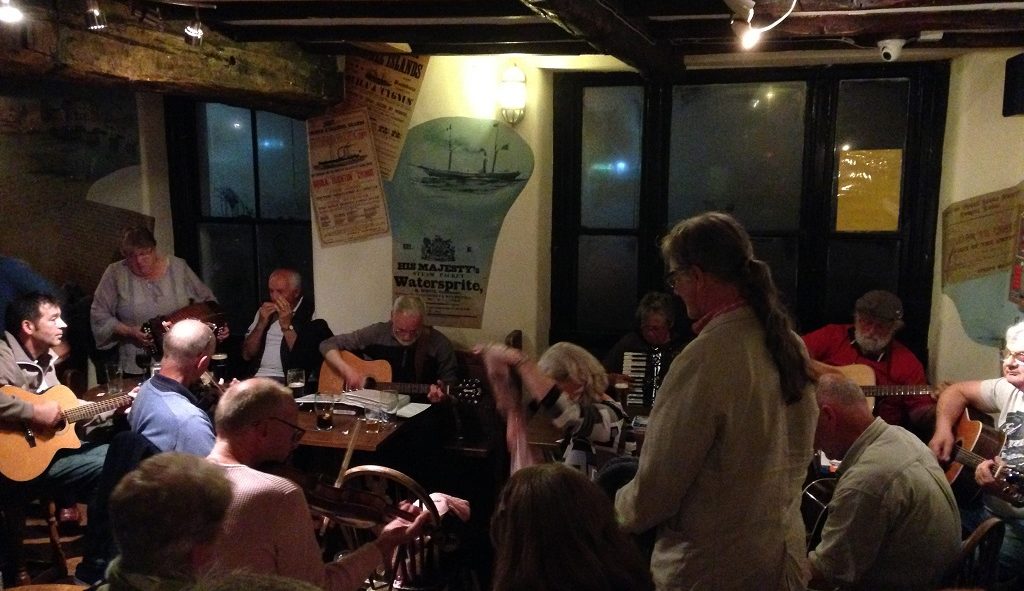 …followed by dancing in public bars….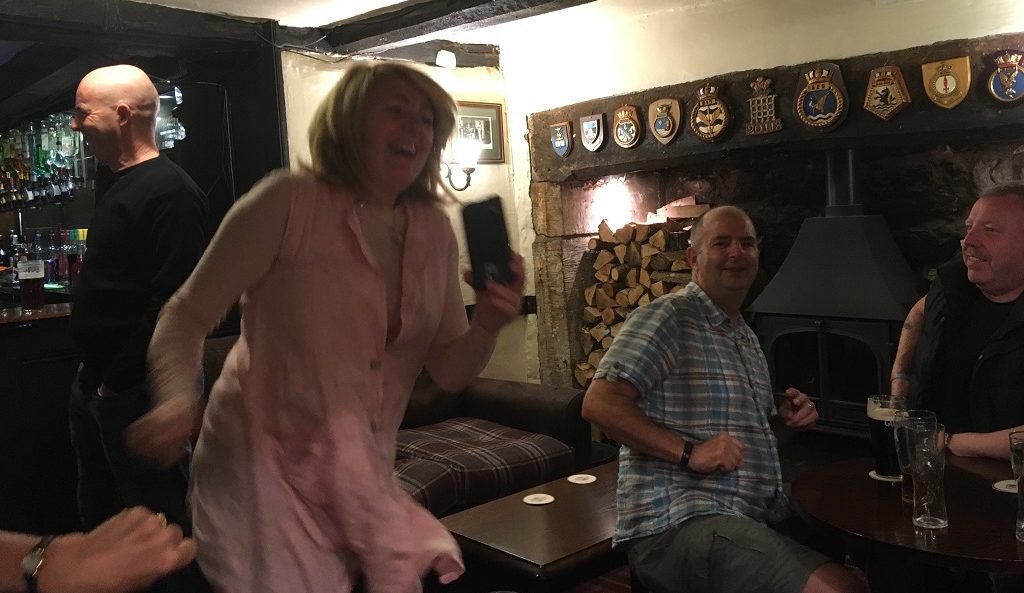 …..and finally degenerating on a messy night for the Bisphams' leaving do with singing and dancing in the tambourine bar: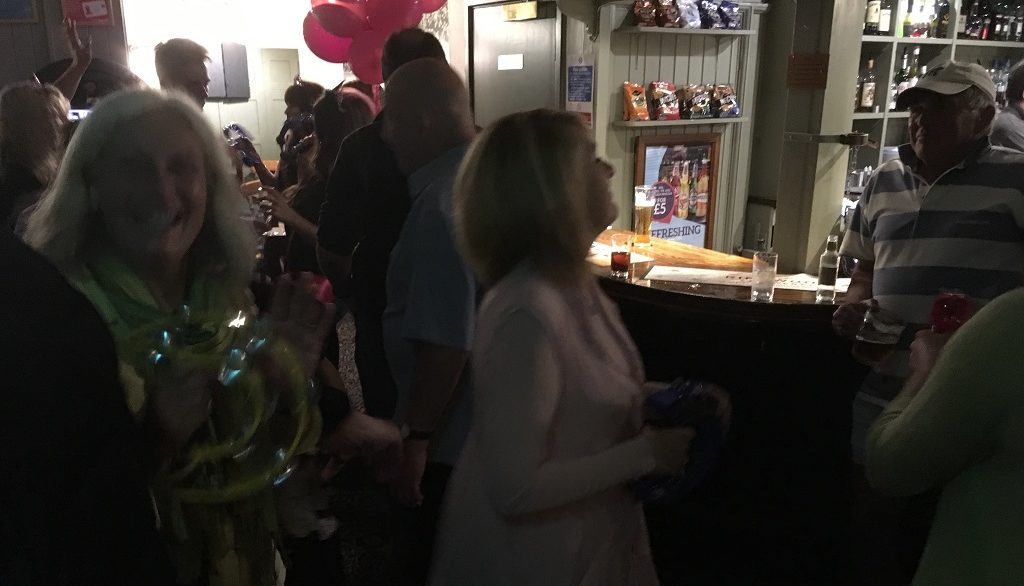 We was proper led astray – but enjoyed every moment of it.
Both crews are eventually heading for Southern Brittany, with the intention of meeting up again over the summer. Once our livers have recovered! The Bisphams certainly made our long stay a more pleasurable one, thank you.
The forecast had stayed fairly consistent over our stay – with the promise of no West in the winds for Thursday 18th May which, unusually, never moved. In the end we found ourselves waiting on the pontoon with Roger (who does, sorry Roger, pronounce his R's) and Celia of Pax – another Moody yacht, both intending to head West on the morning tide on Thursday – meaning a 5.45am targeted departure to see us across Lyme Bay in order to have the tide with us for most of the way to Brixham.
As you can see, the harbour authority did advise arriving yachts of our  intended early departure!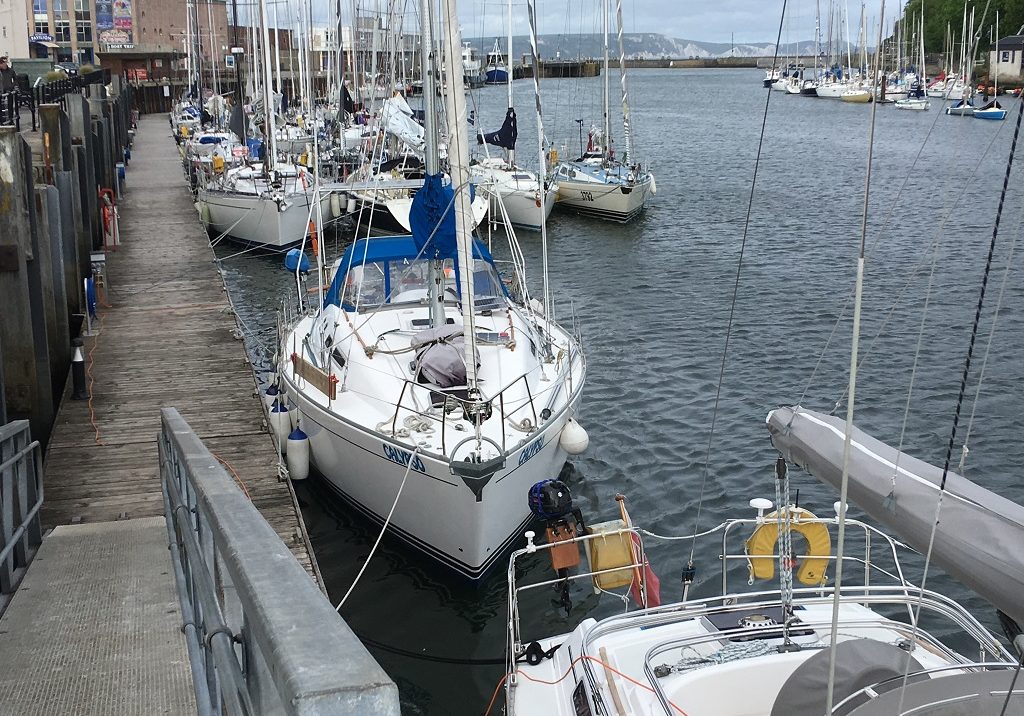 Next time – a great sail across Lyme Bay to Brixham….