Hamble Point, Yarmouth and Weymouth
Off at last!
We watched a good week of easterly winds go by as our departure from Hamble Point was delayed by ………Thrustergate!
We made the most of the good weather by walking firstly into Hamble village for a farmers' market and the following day to the Solent boat jumble at Netley, 3.5 miles up Southampton Water (and picking up a few bargains).
The view of the marina from Hamble common was a prettier aspect than some – Calypso can be seen clearly in the photo below (another Where's Wally comp. – clue – there is a red sailbag draped over the boom).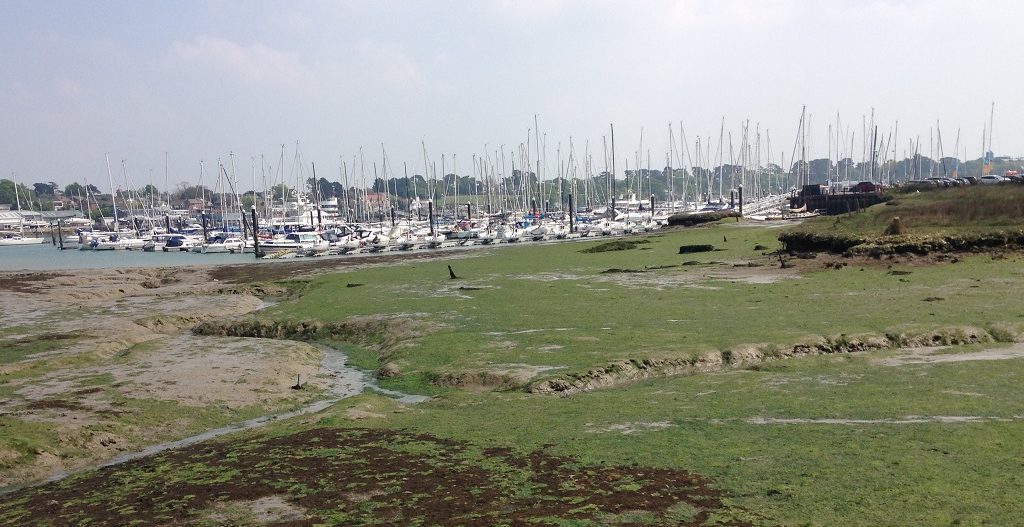 Hamble is a very pretty place, with great bars and restaurants. We had only previously driven and were surprised how short the walk from the marina across the common was. The River Rat – shown here, was good (excellent local oysters).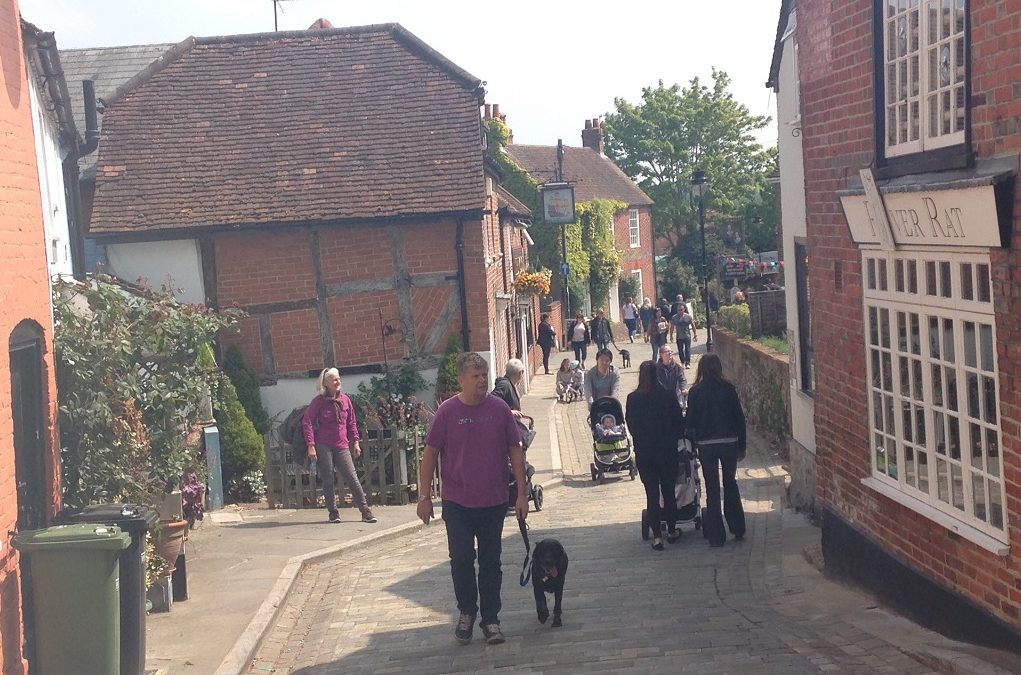 When we came to leave, the day after the re-launch, we were led out by number 1 of the new Aston Martin superyacht tender. They were out, along with the prototype model, for a photo shoot in the Solent, before this one is shipped to America (more on this later).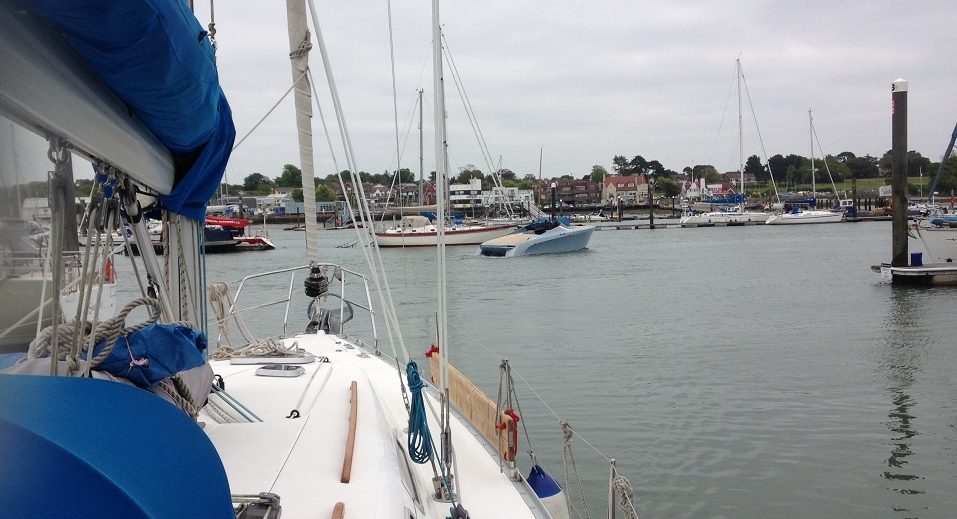 We motored all the 13.5nm to Yarmouth. There was a light wind that we might normally have sailed in, but as we were stopping only one night we wanted to get there quickly and enjoy this lovely little village – again with great pubs and a good restaurant or two.
There is a good strong tide that runs through the Solent, and still new to this strong tide business we made the mistake of taking our eye off the ball as we put out fenders and lines ready for berthing – we were swept past the entrance by just a few hundred metres, and crabbed slowly across and against the springs flow to get back to the harbour entrance.
Having called up the harbour we were met at the entrance by a berthing assistant in a dory – and directed to one of the alongside visitor berths. In the height of season there is a good deal of rafting here, but this early and in mid-week we didn't have anyone tramping over Calypso in the middle of the night!
We met Malcolm and Denise on a neighbouring boat. We may see them again as in June they are heading off to La Rochelle (on a 5 week trip) and likely to pass us at some point. We hope they do, as salty long time sailor Malcolm gave Paul great tips on sail trim – which he has put into effect, Malcolm, and looks forward to a fine tuning lesson!
Denise showed us their new acquisition – a portable single induction hob – brilliant and we have now ordered one.
The cost of a night in Yarmouth for our 11.5m was £31.50. This now includes use of the excellent shower facilities, but electricity is extra at £4 "per visit" – ie same cost for 1 night or 1 week. However – with the new solar panels we didn't need electricity! First payback (but a loooonnnnng looooonnnngg way to go!) The fees go up by about a fiver on Friday and Saturday nights.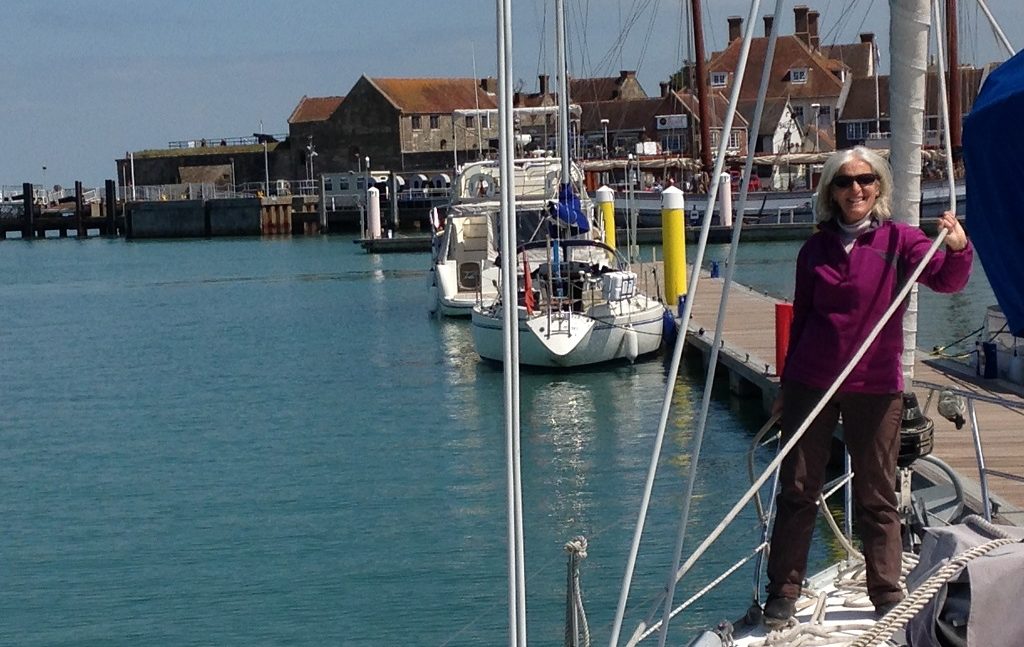 So – back to the Aston Martins. On our way down to Yarmouth we saw them haring up and down the Solent shadowed by a fast rib carrying the photographers. Perhaps not demonstrating their 52kts top speed, but giving it impressive welly all the same!
Shortly after we arrived at Yarmouth the pair sat on the fuel pontoon for a while – a good while!
We took the opportunity of chatting with the guys who built them. The one shown here is the first production model – shortly to join its mothership in America – complete with lots of toys and gadgets (wifi, super stereo – and a 48″ tv!). The is a small intimate cabin in the bows (and a day heads) with the amazing entertainment system – can't imagine why you might need this as superyacht owner – maybe somewhere to entertain your supermodel mistress??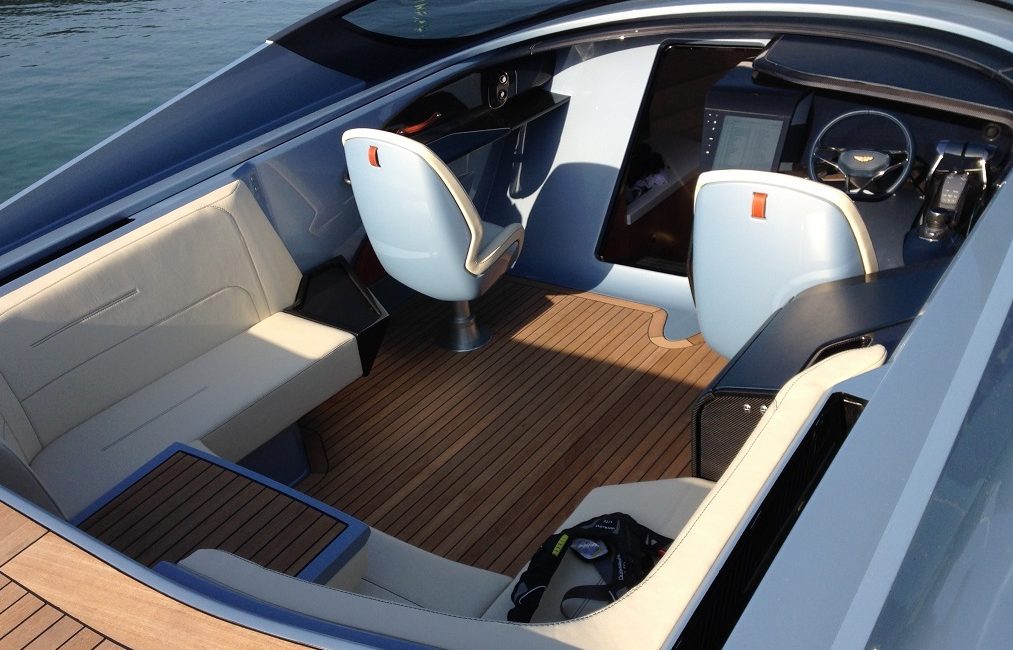 Oh – and I nearly forgot – the cost of your new tender? base price £1.3m, but kitted out to this spec? A mere £1.6m.
Apparently the order book is looking good with 3 pre-ordered tenders in production nearby.
Ok, so after a good night out in Yarmouth (where the shared 29 ounce chateaubriand at the "On the Rocks" restaurant (cook your own at your table) proved too much even for the son of the carnivore extraordinaire that was John Lingard, and a doggy bag was requested) – we headed off the next morning with wind and tide down through the Needles Channel. We were forecast to have a great sail and so it proved to be, even with a lumpy sea on the quarter (very roly and uncomfortable at times).
Val could stand on the helm seat without hitting her head (as designed);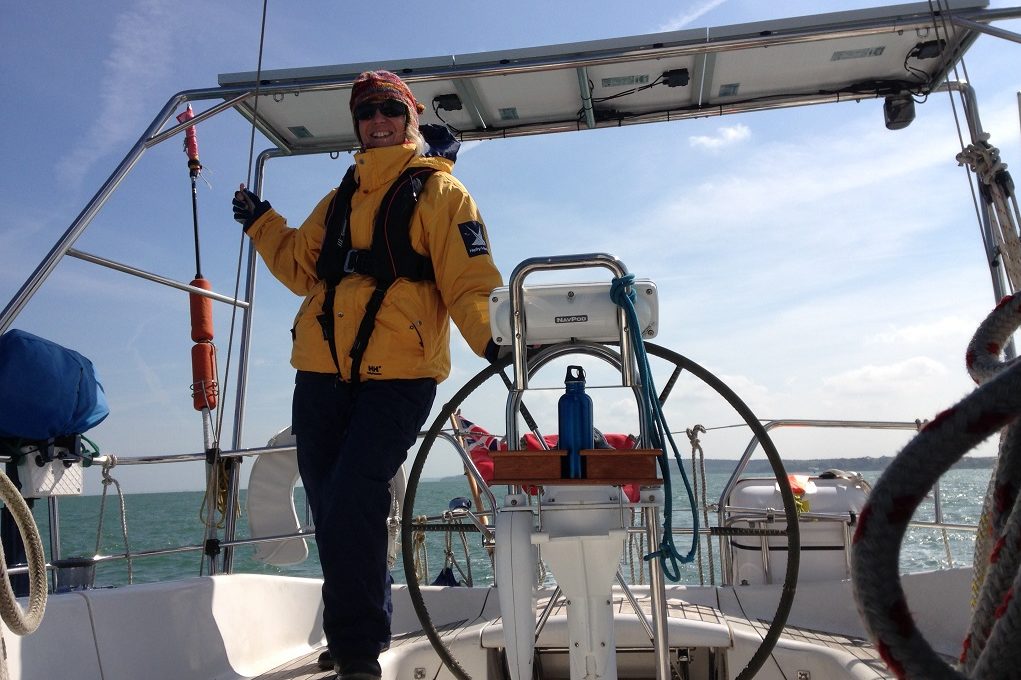 and we bade goodbye to our Solent sojourn, passing first Hurst Castle;

and then the Needles;

…after which the sea got lumpier but as the tide picked up we were soon tramping along, and in mid tide (the tide runs strongest in the middle 2 hours) consistently at over 9kts over the ground – here seeing our highest over ground speed at 10.3kts (sorry Jos, you lost that record to the autopilot!)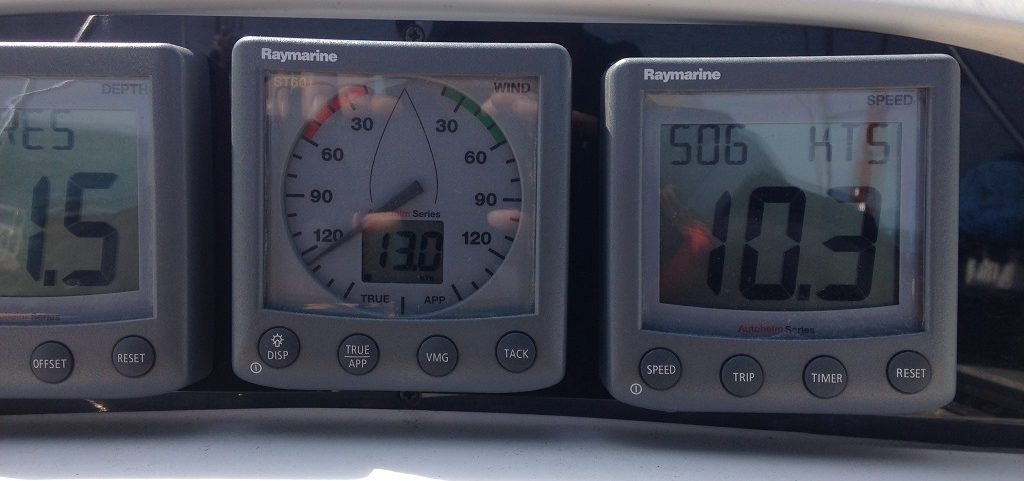 As we approached Weymouth we heard a mayday incident unfold. Firstly the coastguard put out several calls for yacht Hurley Burley. After receiving no response she announced that the yacht had set off its emergency beacon 15 minutes earlier in a position that we had passed not long before – where we had seen a small boat bobbing around with no-one in the cockpit. Fishing we had thought.
That was followed in fairly quick succession by 2 helicopters arriving on the scene, the nearby firing range safety boat advising that he was heading there, and then our AIS alarm screamed that we were on a collision course – with the Weymouth lifeboat!
It subsequently transpired that a man had fallen ill on his boat, set off the beacon and was eventually airlifted to hospital. We are reasonably sure that it was the boat we passed. Had the mayday alarm been raised by VHF radio rather than beacon then we could have done little other than stand by as the emergency services attended. It was far too lumpy for us to risk boarding the vessel.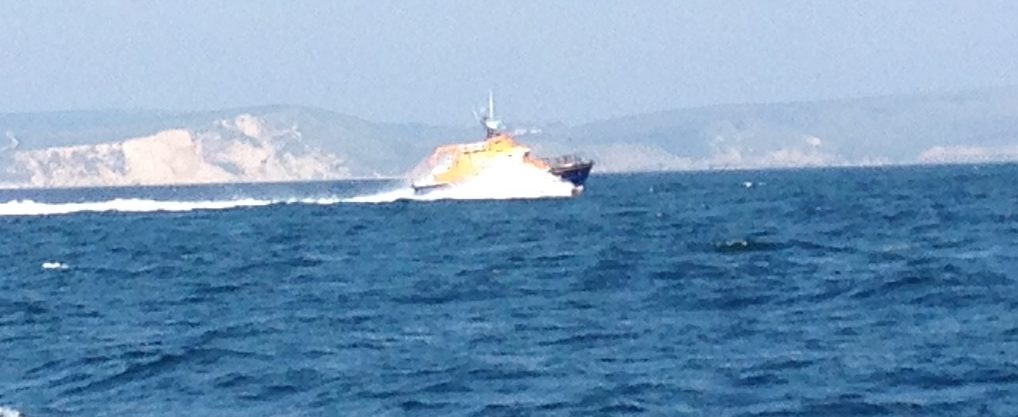 As the lifeboat and helicopters were still out on the rescue mission we arrived at the entrance to Weymouth harbour. It was a bit lumpy, given days of Easterly winds, but a very easy entrance – warning – keep clear of the southern shore when inside the piers it does get very shallow (but plenty of room inside). The Channel Islands ferries have stopped running a good few years ago, but a sizeable fishing fleet still operates out of here.
Here there are two main berthing options – one is a marina, through a lifting bridge and well up into the town (the bridge seems to lift at set times during the day – not sure whether a request can be made outside normal opening hours but that may be the case). The marina is run by Dean and Reddyhoff, who also operate adjoining Portland Marina and  others in the Solent, and who do have a discount scheme (one night free in seven, across their different sites).
We opted for harbourside floating pontoons operated by the harbour authority. These are easily identified, and whilst different types and sizes of vessel are allocated different pontoons, the harbour office (channel 12) give clear directions.
Calypso can be seen in the distance in the photo below – just to the right of the Nao Victoria – a replica of the C16th ship that was the first to circumnavigate the globe – remember Magellan and the straights of Magellan from history and geography lessons at school? Well this is the boat (well, a replica).
There was a steady stream of visitors paying £4 a head to wander around the ship, which then departed to Poole, after a 10 day stay, with guests aboard for that trip paying £150 for the privilege. We last saw this boat doing the same thing in Sutton Harbour, Plymouth, last year.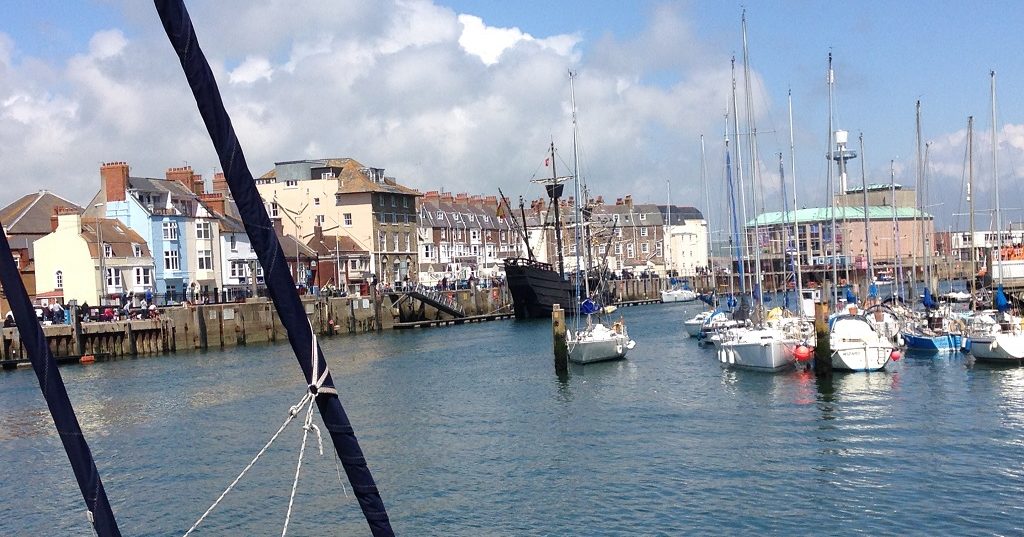 The facilities in the harbour office building are spacious, plentiful and newly refurbished. There is a code given for night time use of the facilities, and whilst the Dean and Reddyhoff marina will perhaps have a gated entrance to the pontoons, we are happy with our choice.
The cost here is £31 a night for our 11.5 metres (plus £2.50 for electricity if you don't have solar panels!!). However every fourth night is free, reducing the cost to £23.25 per night for a 4 night stay.
Given the forecast of westerlies for the forseeable future it looks as though we will see 2 or 3 free nights here!
The trip here was the first real test of the new eletrickery set up. We opted to use the autopilot the entire way – including 4 1/2 hours under sail alone and in a lumpy quartering sea (which works the autopilot hard). We had all instruments and fridge running, and yet when we arrived and turned off the engine the batteries were still full. A huge success compared to our battery drain problems (and poor alternator charging) of 2016.
The town is larger than we imagined. For yon northerners, imagine bolting together Scarborough and Whitby. We see some of the nice old town features of Whitby and the other features of Scarborough that are not quite as nice, set beside a picturesque harbour and behind a long sandy beach.
We can walk to Asda, Aldi, Tesco (Express) and Wilkos, so there are many benefits to being stuck here, as we continue to do boat jobs – including tidying and storing everything back where it should be. And with that……… I'm off to do some tidying.
More on our time in Weymouth soon.
Distance traveled since leaving Hamble Point: 50.5nm