Monkeying Around In The River………
For those following behind, details of lock access, Pont Cran bridge opening times and other useful information can be found at http://www.lavilaine.com
On leaving Arzal we immediately headed up river, beyond La Roche Bernard, and anchored in a spot recommended by Adam and Lynne Bispham who had anchored Charisma there – just short of Port Foleux, in 6 metres of water and on a short stretch of river between 2 bends, surrounded by trees and wooded meadow, on a beautiful hot summer's day (remember this was the 21st April, most unseasonal!)
The bottom was lovely sandy mud; as we discovered very quickly when having to lift the anchor which had not set due to the bow crew failing to release the anchor trip line buoy when it got trapped on a cleat. We didn't really need a trip line here but were practising – given that we had only anchored Calypso twice before in our 5 years of ownership. Bow boy was suitably red-faced, but fortunately there was no-one else there to witness the schoolbuoy error. And anchoring twice was good practice!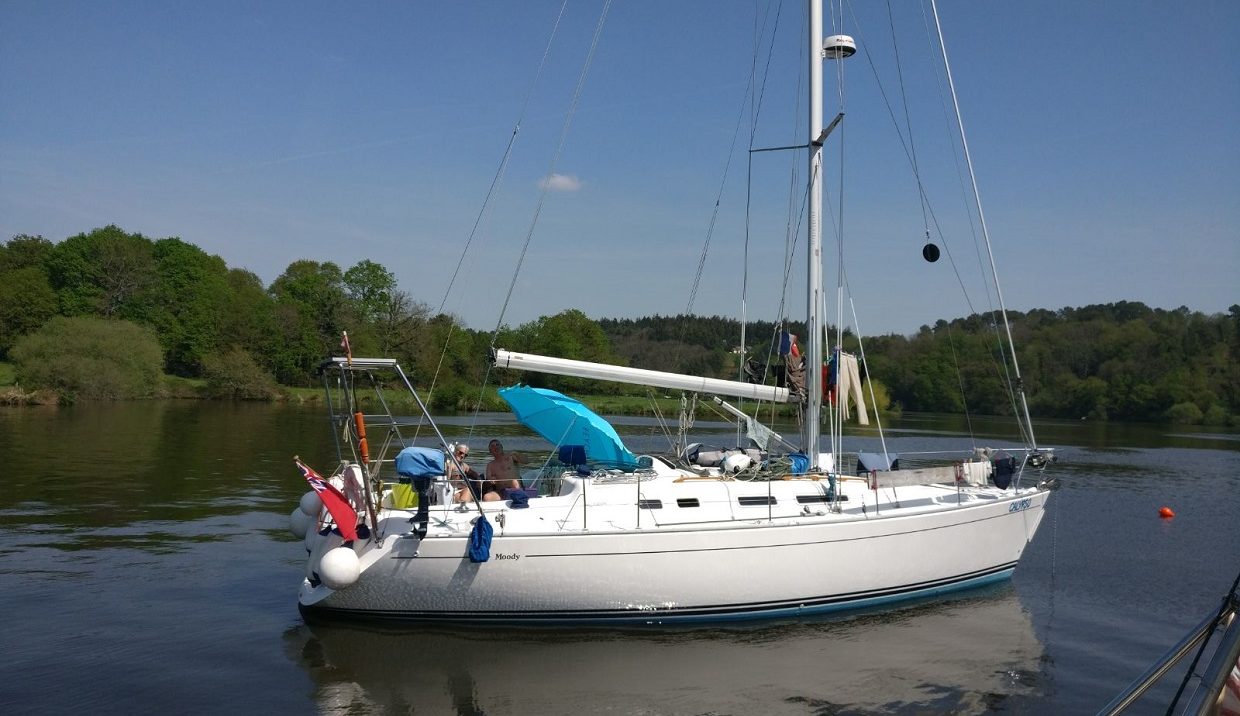 Remember that we said in the last post that we should have insisted on our 5 minutes in the slings? Well fortunately having anchored we checked the bilges to find that – the automatic pump float switch had failed and Calypso was sinking!!
The immediate panic was calmed when Paul tasted the water and told Val not to worry – it was fresh so maybe a leak in the water pipes? That calm lasted all of 15 seconds before realizing that we were sitting within a dammed river that supplies a third of France with drinking water –  panic resumes!!!
Maybe that's a bit dramatic, but we did have 15" of water in the bilges. The cause was quickly traced to the blanking plug for the speed impeller (removed to prevent damage on lift and launch). The rubber O-ring on the blanking plug had become detached. A failed £2 part that could have caused an expensive problem. That said, the bottom of the bilge is very narrow and it would have taken a good day or two to sink!
This was solved simply by re-installing the log impeller, and we now have a leak free boat!
We were soon followed in by Adam and Lynne, and later inflated (with the new electric inflator – thanks Anton and Issy – it was great) and launched the dinghy. We rowed over to Charisma for the evening – ensuring that we were wearing our lifejackets, given our propensity to drink just a little more than we should in their company (they are a bad influence. Or maybe we are, who knows?)
From Charisma we watched a tripper boat pass Calypso at dusk – nearer than he needed to, 3 or 4 more could have easily passed abreast at this point!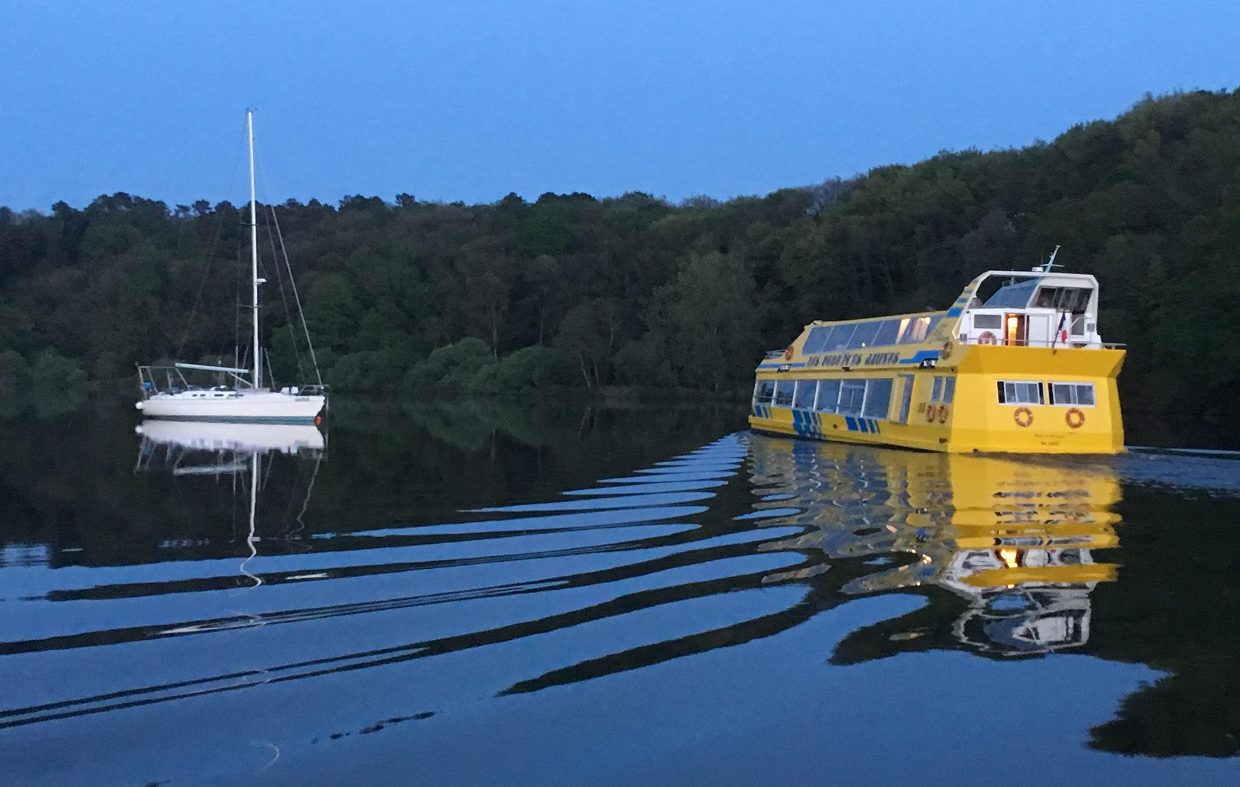 We rowed back to Calypso as darkness fell and switched on the anchor light. A short while later in pitch darkness the tripper boat came back around the corner – floodlights glaring in all directions – and once again (as he had on the way up-river in daylight) came much closer than was necessary, this time shouting at us aggressively. We were anchored maybe a third of the way out into the river, on the exit to an inside bend. The general rule when navigating up rivers is that deeper water is to be found on the outside of bends. In 6m of water and with a forecast that would see any wind blowing us towards shore we felt that our decision making was sound. Perhaps the skipper of the tripper boat had joined his guests in a glass or two of vin rouge too many? The aggression was returned with a two finger salute – and a wide grin. He had obviously just had a bad day at work!
The next day we followed Adam and Lynne upriver to their winter berth in Redon, following the advice not to cut corners, but still surprised by just how much depth of water there is in the river. Other than on one bend (4m depth) we never saw less than around 5m until we entered Redon. We passed through the marina of Port Foleux, reached and rafted up on the waiting wall at the swing bridge Pont Cran.
We passed through the bridge at the 14.00 opening and on past the free pontoon at Beganne (stays limited to one night). We then passed the pontoons at Rieux before reaching Redon.
Redon is dismissed by some as an unattractive place – and the approach is a bit run down and industrial….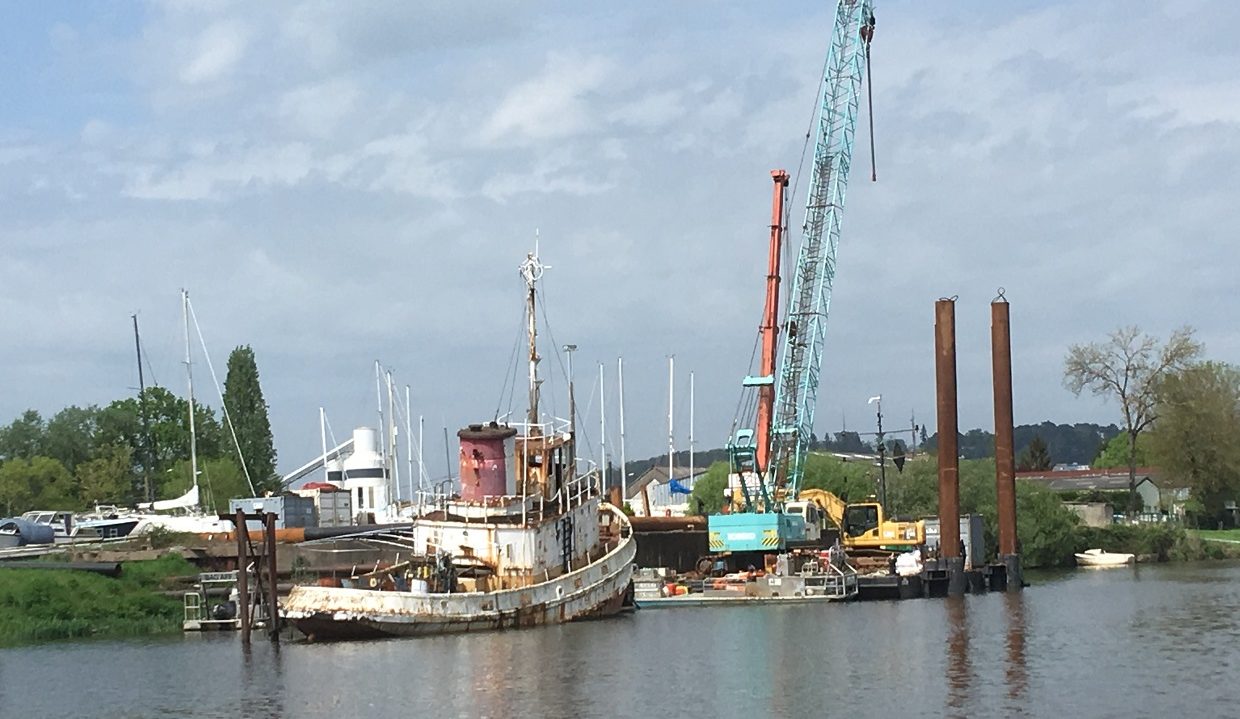 ….but you do need to explore the place to get a proper feel. We were pleased that Adam had radioed and told us that at the entrance to the town harbour (the marina) it would appear as though there is not enough depth, but there actually is – and indeed we saw only 5 feet of water on the depth gauge as we passed in – maybe very dense weed – as we should be grounded and leaning over at that point!
The industrial area next to the harbour is enlivened by some great graffiti art…..here begins a "where's Wally" theme….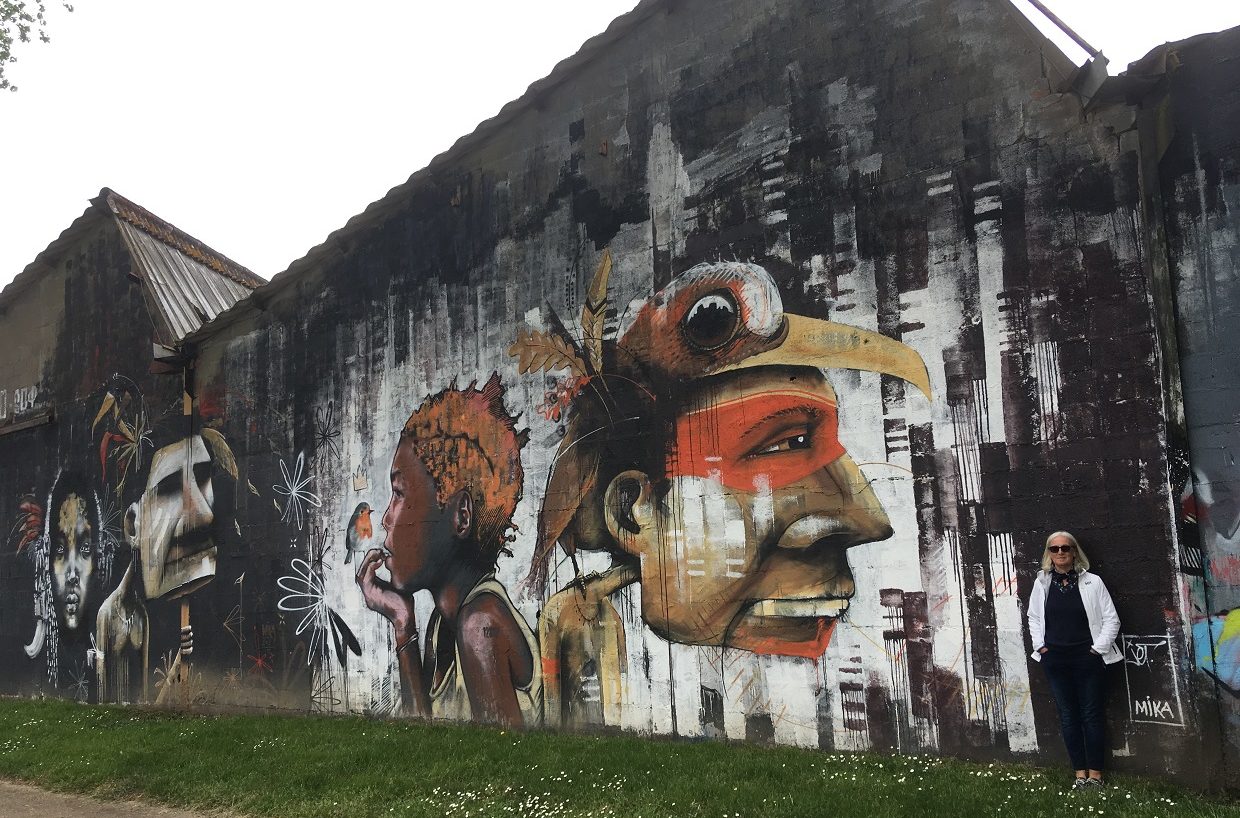 The opening photo above is Paul adopting his father's favourite impression. Maybe just a little too well?
The marina in Redon's old harbour is a bit basic but actually clean and friendly.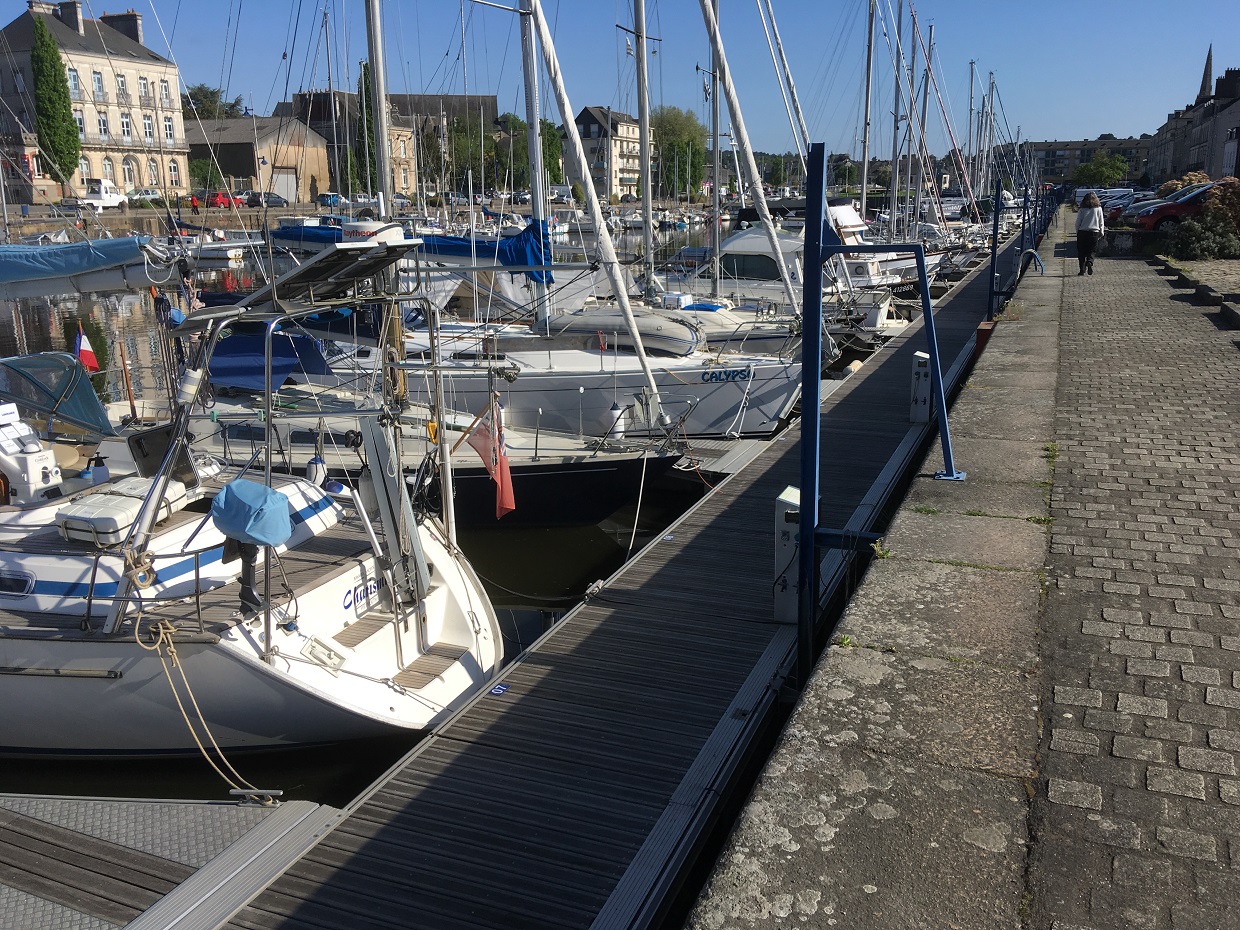 Adam and Lynne had their car here and so we had an afternoon out provisioning. More beer and wine to the already overburdened bilges!
We wandered around the old part of town and saw some impressive old buildings – here's another one featuring "Where's Wally"…..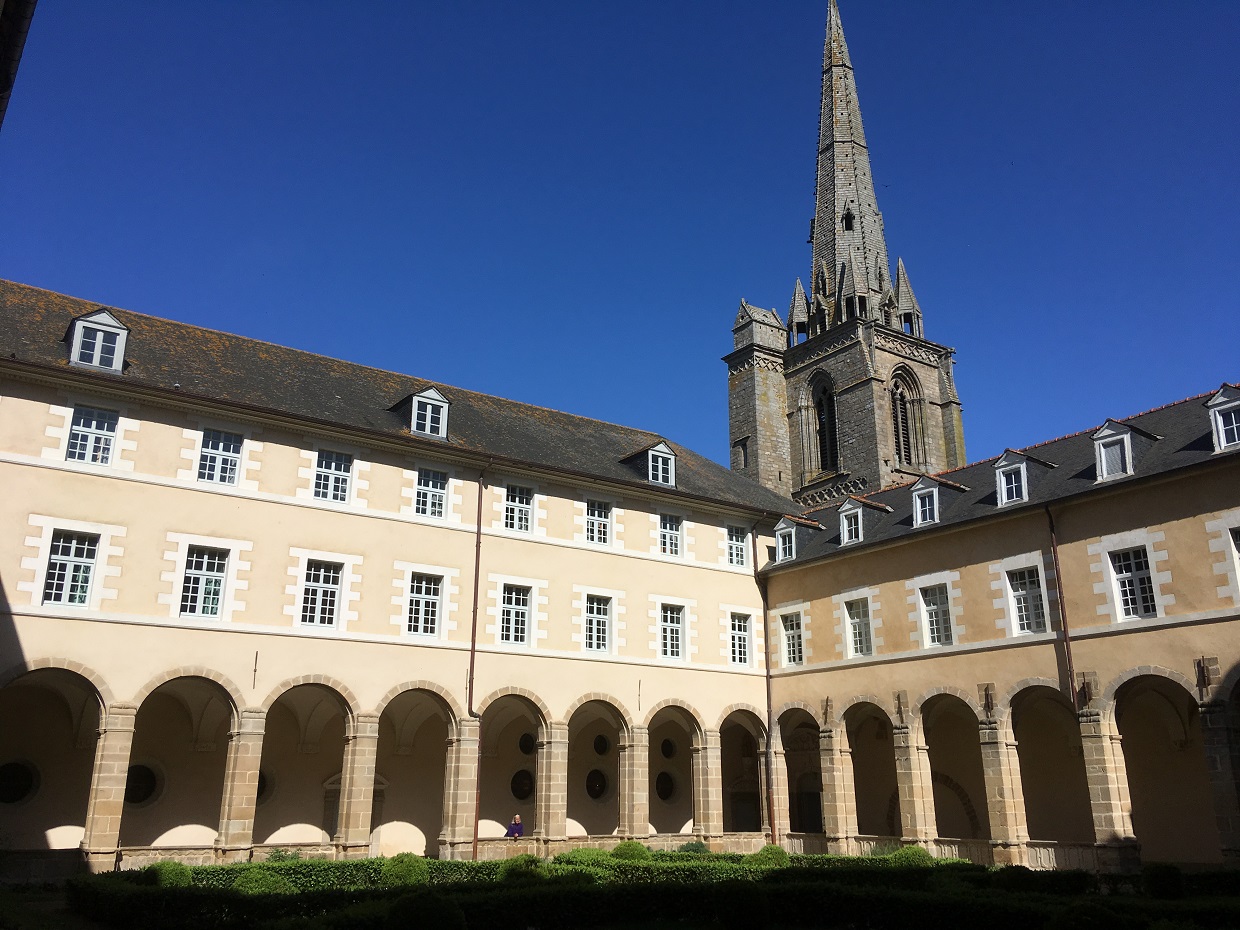 We stayed 2 nights before heading back down river with the Bisphams……. but that's the next episode…..