Leaving Arzal (Our Winter Base)
During January we had a trip to France, staying one night with friends Alan and Ros (Cruising Association members who we met in L'Herbaudiere and Ile D'Yeu last year) in their lovely Normandy home, and then for a couple of nights with Adam and Lynne, aboard their yacht Charisma, moored up the Vilaine at Redon. We took things to Calypso to ensure that we could travel light at the start of the season; we changed the dehumidifying crystals and we checked the batteries.
Unfortunately all of our planning on the battery care front had been undone by a the smallest switch on the boat being in the wrong position! We had removed the 240w solar panels and replaced them with a 30w panel, designed to keep the batteries in tip-top condition. Having turned everything off we thought we had done all we could. Unfortunately when we returned and turned on the 12v panel, the voltage on the batteries was off the scale (low) and the panel lights were dim.
We turned on the smart battery charger and returned the next day with a battery tester that puts the battery under load and then pronounces whether the batteries are in good condition, mediocre or f@#*&d!! Fortunately for us they were pronounced good! To be on the safe side we simply disconnected all the leads and left them to fend for themselves (which is what many with AGM batteries do). Hunting around, it seems that we left the 3kw inverter switched on at the remote inverter/charger control panel – with its tiny metal lever switch. Whilst there was no load connected to the inverter circuit, the inverter itself must consume power. At least that's what we think, but will check more carefully before leaving the boat next winter!
Writing this in early May, we are pleased to say that we do not have to splash out another £1,000 to replace the batteries that were new last year (and should last 7+ years). They have performed well in our 2 weeks back so far (including nights with no shore power and running induction hob and kettle). We may well have reduced their life expectancy, but only time will tell.
Back to winter – we enjoyed spending a couple of days with the Bisphams, enjoying the surprisingly nice town of Redon (which occasionally gets an unfair press, we liked it). It has many old buildings and Adam and Lynne certainly enjoyed their time there – big enough to have all facilities but small enough to get to know the locals.
REDON PHOTO TO FOLLOW
In February we spent a week in Spain with Chris and Barbara. After visiting more boaty friends, Rick and Deb on their yacht in Lagos (Portugal) in March, we returned to Calypso's winter base at Arzal mid April via a flight from Manchester to Nantes and a lift from Val's lovely sister, Anne, with niece Phoenix undertaking some of the chauffeur duties. Thanks ladies, that was really kind of you, especially as getting to Arzal by public transport is very difficult, and we enjoyed our lunch together at La Roche Bernard in beautiful sunshine and 25c.
Indeed John and Debbie of Shiraz told us that they had shared a 125 euro taxi with another couple that they happened to meet by chance at the airport. The alternative is something like – train to Redon, bus to Foleux (or La Roche Bernard? Not sure) and then taxi. Quite a difficult journey, and this is oft cited as a major downside to Arzal, which otherwise came highly recommended on the sailing fora – and rightly so.
Poor public transport access is certainly the only real downside we can see at Arzal. The marina sits immediately inside the Vilaine barrage (and so joining the spectators to watch the fun in the lock can be amusing). The boatyard is well laid out and secured by surrounding high fence and good lighting (although one pedestrian gate is permanently unlocked). We had easy access to electricity and water (although apparently electricity should not be left plugged in with the boat unattended).
The boat handling equipment seems modern, and Calypso (weighed in the slings at a little over 10 tonnes) was carefully positioned in a nice new cradle.
There are a few restaurants/bars on site, a small shop for provisions, a couple of decent chandleries and various boat services. Showers and facilities were better than many we had experienced in France last year. We were more than happy with our choice – although that view might be tainted were it not for Anne's kindness – taking us from Arzal to Pornichet when we returned from the UK in the van last year (leaving the van at Arzal) and in delivering us from the airport this year.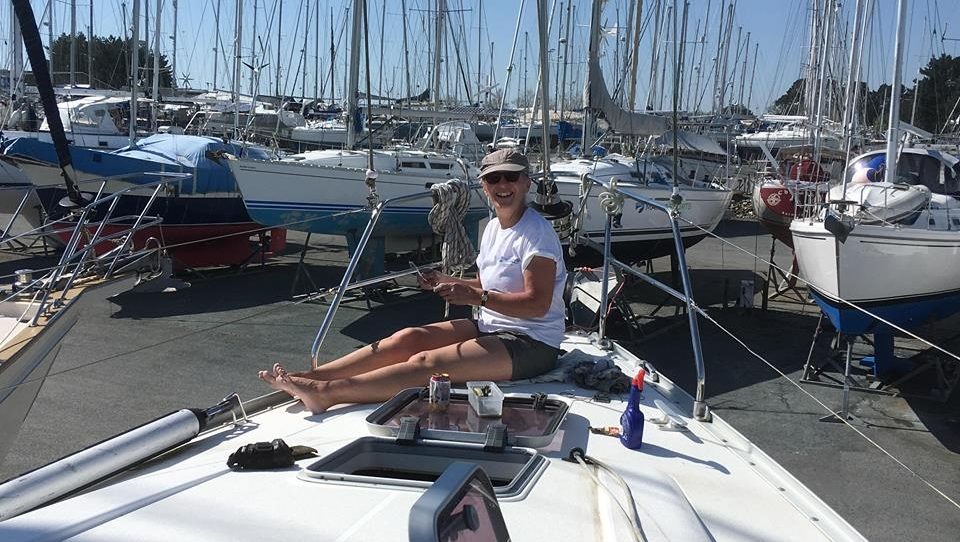 After a couple of arduous days polishing the hull and stainless, and finishing servicing, we were splashed back in at the allotted hour on Saturday 21 April 2018 – a date which had been booked since February 2017! We were allowed a couple of minutes whilst still in the slings to run around checking seacocks (having requested 5 minutes). The engine started very quickly (surprisingly so after the long layup) and off we went. With hindsight we should have insisted on a full 5 minutes for checking………………………………
…before heading up river, past La Roche Bernard……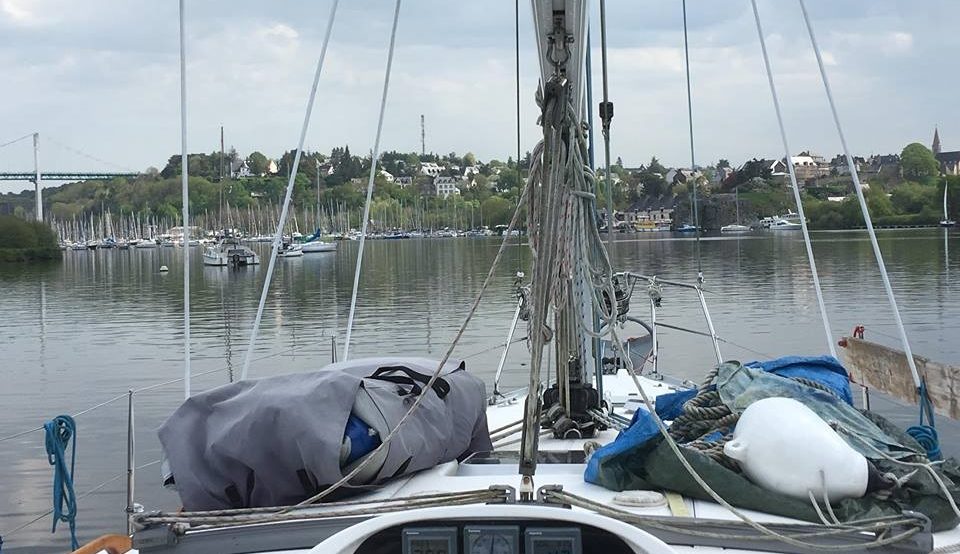 …….and the Capers resume……..