First – for the sailors following us – there is no sailing activity in this episode – but we will give detail of Puerto Deportivo Gijon, in the heart of the city (we didn't visit Marina Yates Gijon, a long walk out at the commercial harbour). The marina facilities were very good, and included washing and drying facilities (from memory 8 euros for wash and dry). The marina is not cheap at around 39 euros a night, however for Cruising Association members there is a 30% discount. Also they have offers in 2018 of either 4 nights for the price of 3 or 7 nights for the price of 5. We chose the latter, which at 194 euros for the week was very slightly more favourable than a Cruising Association discount.
Before we arrived in Northern Spain we had heard that we should expect frequent visits from the authorities – and within a few days of arriving this was amply demonstrated – we had a visit from customs officers, with papers to produce and detailed forms to fill, within minutes of arriving. We then had to fill in a form and provide passport details at the marina office for the port police, who have a desk inside the office.
The next day we had a visit from a different customs officer – but he was satisfied when we showed him the copy of the form that we had filled in for the first customs visit. And then the next day three Guardia Civil officers arrived and took photographs of passports and the ship's registration papers. It has to be said that each and every one of these people were friendly and courteous.
Clearly the Spanish government wants to know who is coming and going. A real contrast from France – in our 5 months or so cruising from L'Aber Wrac'h to Les Sables D'Olonne we were never visited by any officials, and never asked to show passports or ships papers to anyone. We have no problem with the Spanish approach.
We had also heard that here in Gijon cider was the drink of choice – but that it is a flat cider that is aerated by being poured from height into the glass – with a fair degree of spillage. We hoped we would witness this, but had no idea that this really was the norm rather than an occasional side show. "Sidre" is served at numerous "sidrerias", the first of which we witnessed at lunch on our first day – look here at the chappy in the middle, pouring sidre for himself and friends – with the swagger of a matador: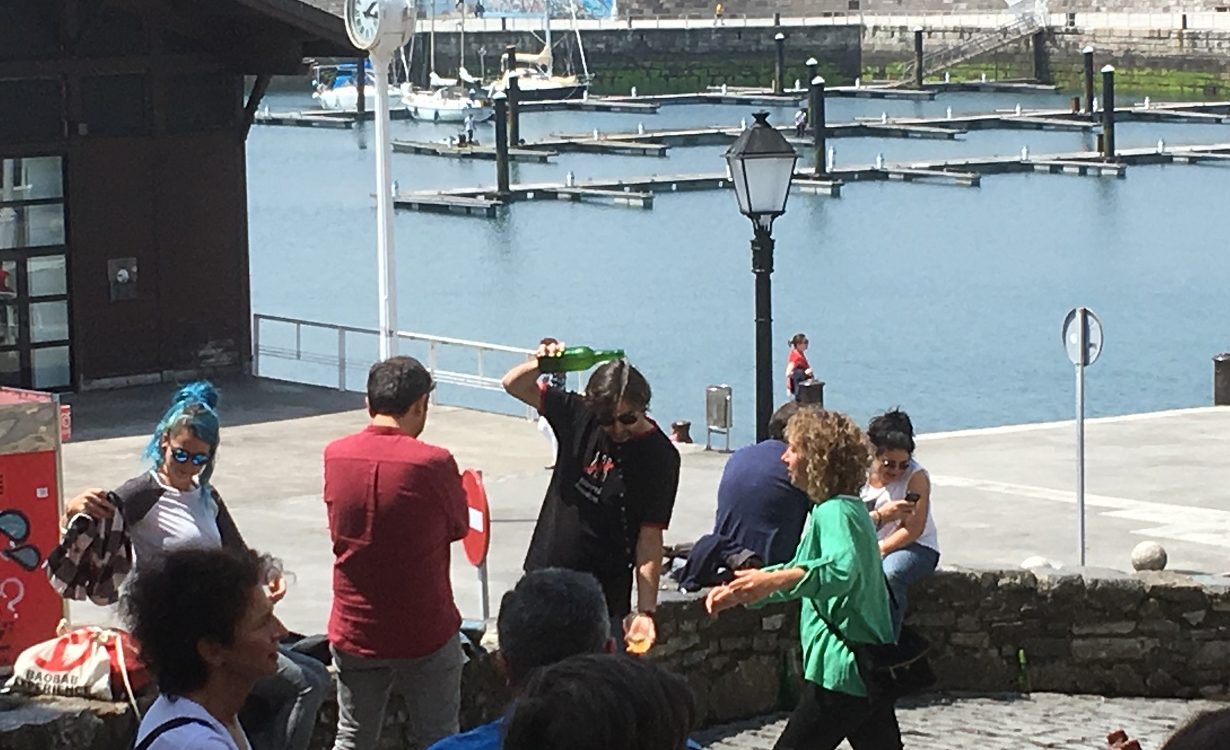 We had read that outside some sidrerias the local council have to swill down the streets each morning – and we also witnessed that!
In good weather one of the most popular spots for spilling sidre is next to the marina office, the yellow building in this photograph, where we had lunch on arrival in Gijon and where the chap above was demonstrating his skills: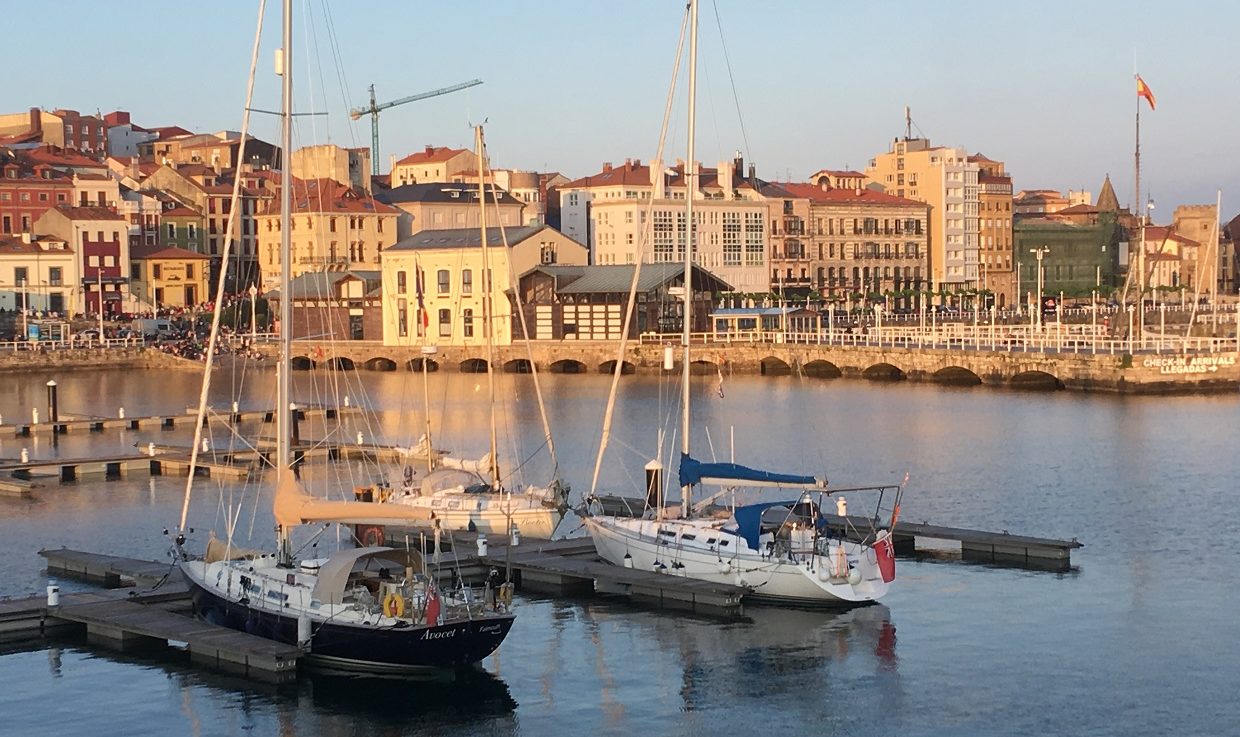 On sunny evenings hundreds would gather outside this place; here just getting going: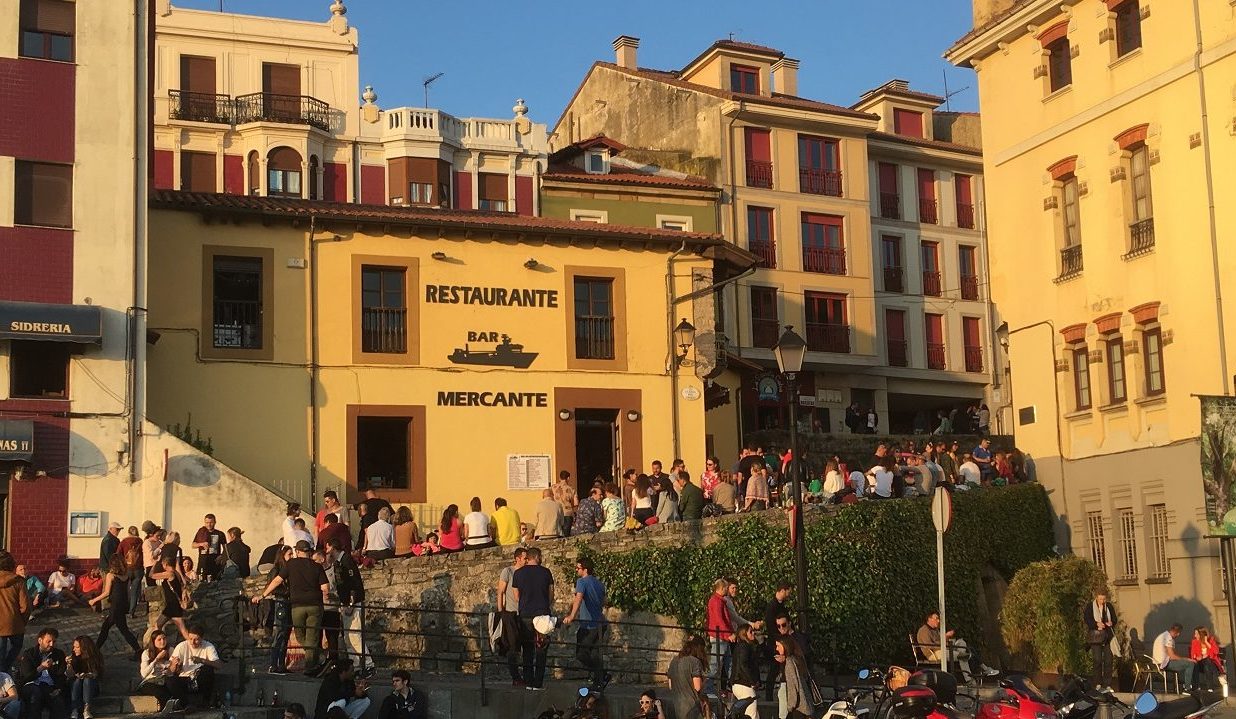 This whole big city, with exceptions such as the old town by the marina, is just a mass of high rise blocks, some of which have shops on the ground floor – and the population density is amazing. During our first few days in Gijon we were graced with good weather, and the local population emerged en masse from their high rise apartment buildings to promenade around the harbour frontage – mothers, grandmothers, children, men (young and old); all talking incessantly and turning the whole area into a babbling stream of Spanish humanity. Those who were not promenading were displaying their sidre pouring skills – and talking incessantly.
From the boat we could hear the babbling stream, but at no point did we experience the early hours drunken shouting and screaming that we had on occasions in France – let's hope this is a sign of things to come. In fact the babbling brook would lull us to sleep, and in the morning the street sweeper trucks would be along to swill down the streets. A very sociable but genteel place. We would have to join in!
On our first night out we selected this old bar in the Plaza Mayor – but chose Spanich lager Mahou to go with excellent sandwiches and some free tapas. This place had great atmosphere; a good place to celebrate landing in Northern Spain: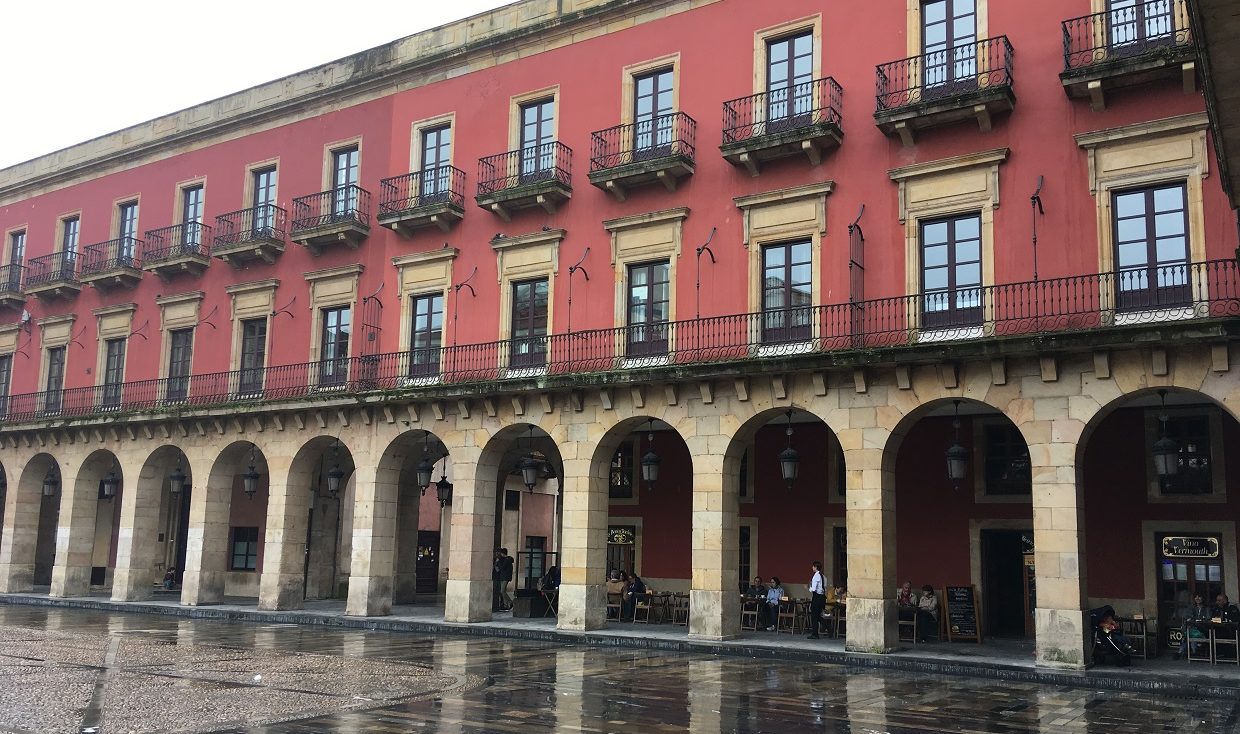 Having arrived on Monday, by Friday we had requested and obtained a dinner reservation at the very beautiful royal yacht club – the Real Club Astur de Regatas. We had seen it very early when out exploring: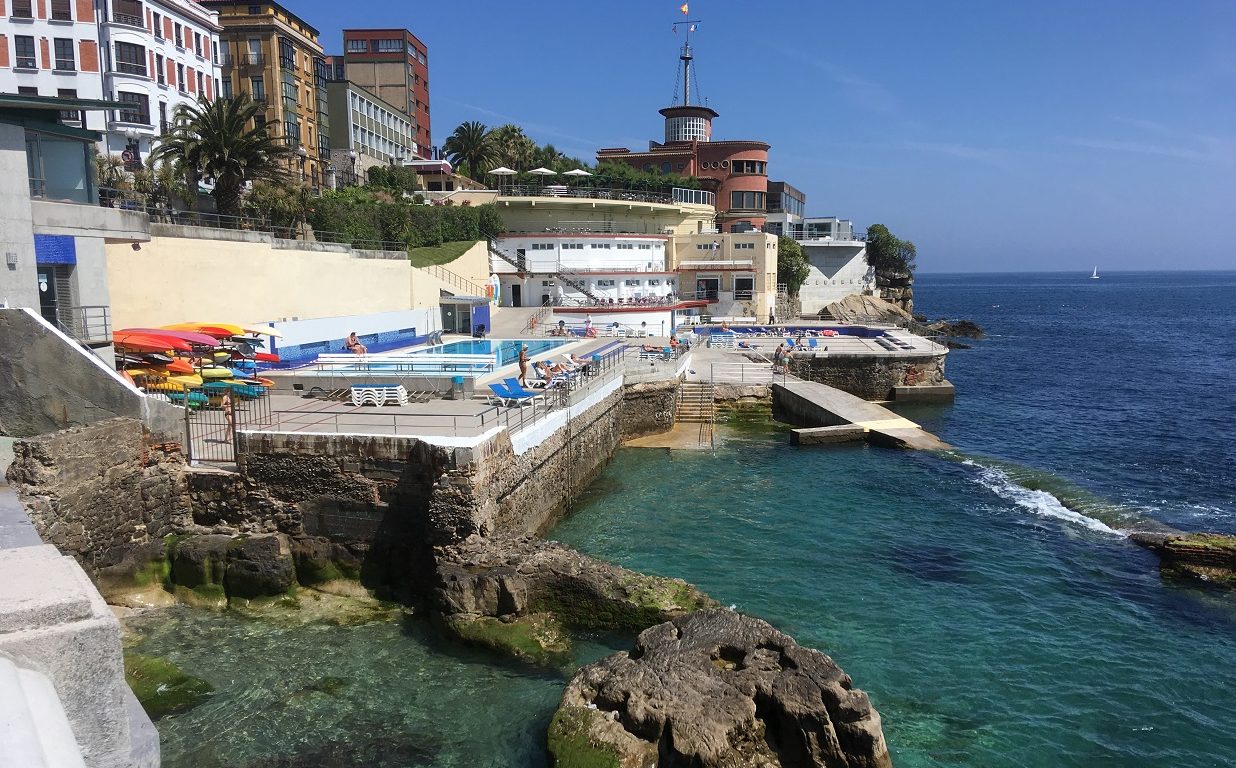 It sits at one end of the huge San Lorenzo beach stretching away from the other side of the Cimavilla (old town).   The yacht club is shown below, here with the tide in, extreme right of photo: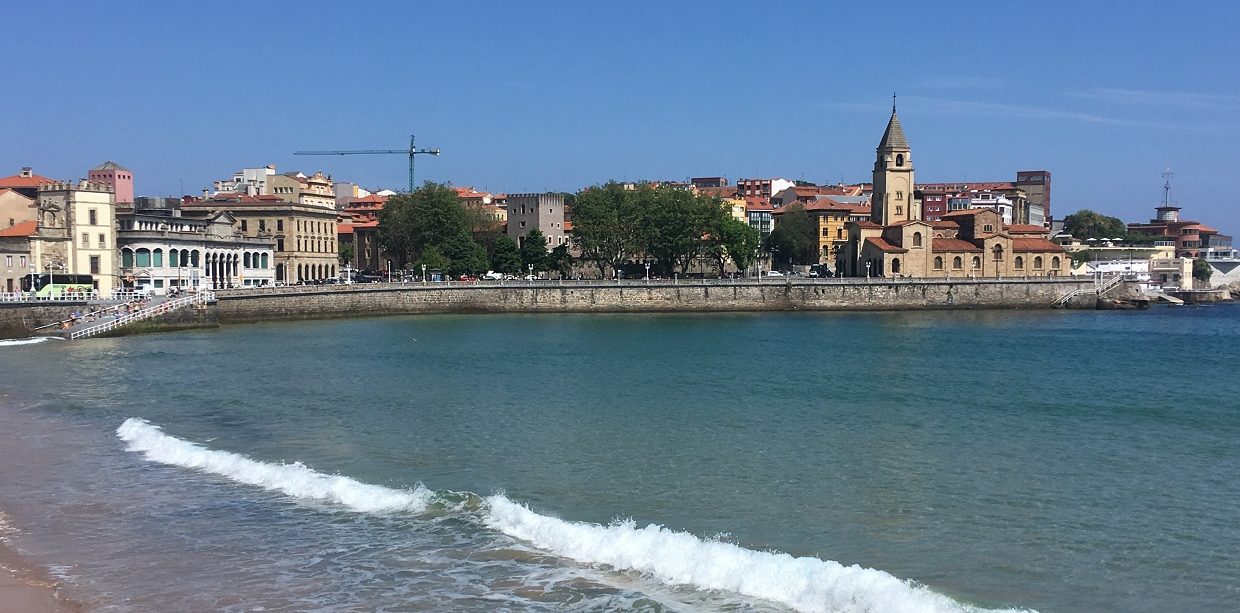 We had intended to have a sidre night earlier, but weather had intervened, and so on the way to the yacht club we headed into La Galana in the historic Plaza Mayor to find out what all the fuss is about. So Paul ordered "una botella de sidre y dos vasos pour favor" (those winter night school lessons now proving their worth!) and Jose (pictured top and below) duly opened a 75ml bottle of sidre and poured it from above his head to a glass below his waist – with slight matadorial swagger – and then ceremoniously looked you in the eye and nodded as he proffered the nectar with great pomp: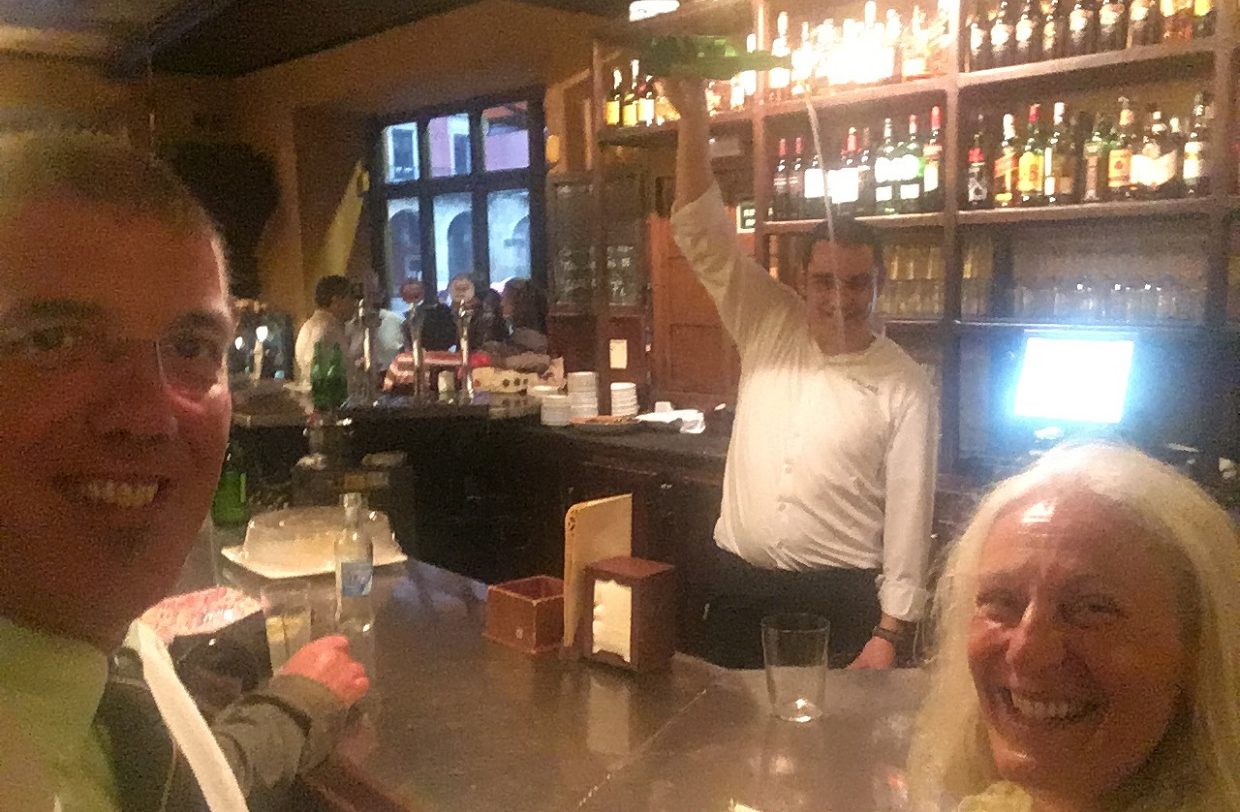 Actually maybe nectar is not the best choice of descriptor. We decided we would have to spend a little more time acquiring the taste before we leave!
Only a small amount is poured, and the bottle is left on the bar. When we shuffled along the bar slightly, eagle eyed Jose had the bottle to our new position almost before we got there. In our better position we could avail ourselves of the delicious tapas placed generously (ie plentiful) along the bar.
When your glass is empty, place it next to the bottle. And when both glasses are next to the bottle (not before – clearly Jose is more of a gentleman than Paul) the performance is repeated. Once again precious sidre is handed over with a respectful nod, eyes meeting in mutual appreciation.
We really must get more practice in, we thought, as we finished the bottle. And then the bill: large bottle of sidre and help yourself tapas in prime position in this big city – 2 euros 90 cents!
However our dinner reservation was calling and it was time to walk the short distance to the yacht club. We had wondered how we would get in, as it all looked very private when we walked the perimeter previously. Fortunately a lady was just leaving by the huge, solid wooden door/gate as we arrived and held it for us.
We were very warmly welcomed by staff who spoke about as much English as Paul speaks Spanish, but broad grins and good humour go a long way to bridge a language barrier. Our previous "Royal" yacht club experience was one of fabulous surroundings, with good food and wine at more than fair prices – and this visit was to follow that precedent.
Truly excellent aperitifs of a Rioja and an Albarino were amazing value at 2 euros, and the 3 course meal plus amuse bouche was superb value at 22 euros. This included probably the most sophisticated and best, by a long way, octopus dish we have tasted.
Our Elvis Costello lookalike waiter (Enrique) made us very comfortable and looked after us royally! We had another memory bank night out here in Gijon ……… in spite of the rain, which abated as we looked around the grounds and then walked home.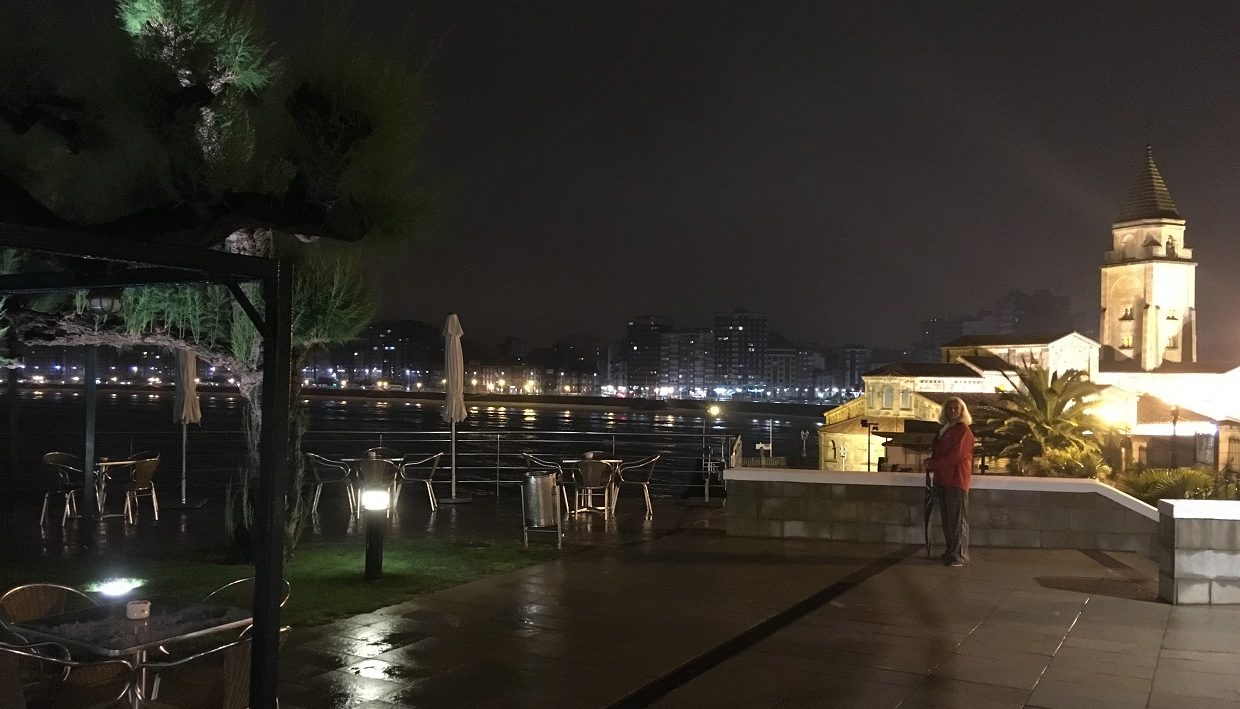 Tourist information is close by in the harbour and we had obtained the usual blurb. Val studied and came up with a plan to catch the number 1 bus to visit a botanical garden and the neighbouring huge sprawling buildings of the "Laboral".
This was originally conceived as an orphanage for the children of miners, but in the 1950's a transformation into a huge Universty of Labour began. The scale of buildings is truly awesome, and includes the tallest stone tower in Spain (130m) and one of the largest domes in Europe, in the church.
The main square was inspired by the Square of St Mark's in Venice – and at 150m x 50 m  with impressive facades of church, theatre and pavillion all towered over by – the tower – is truly impressive: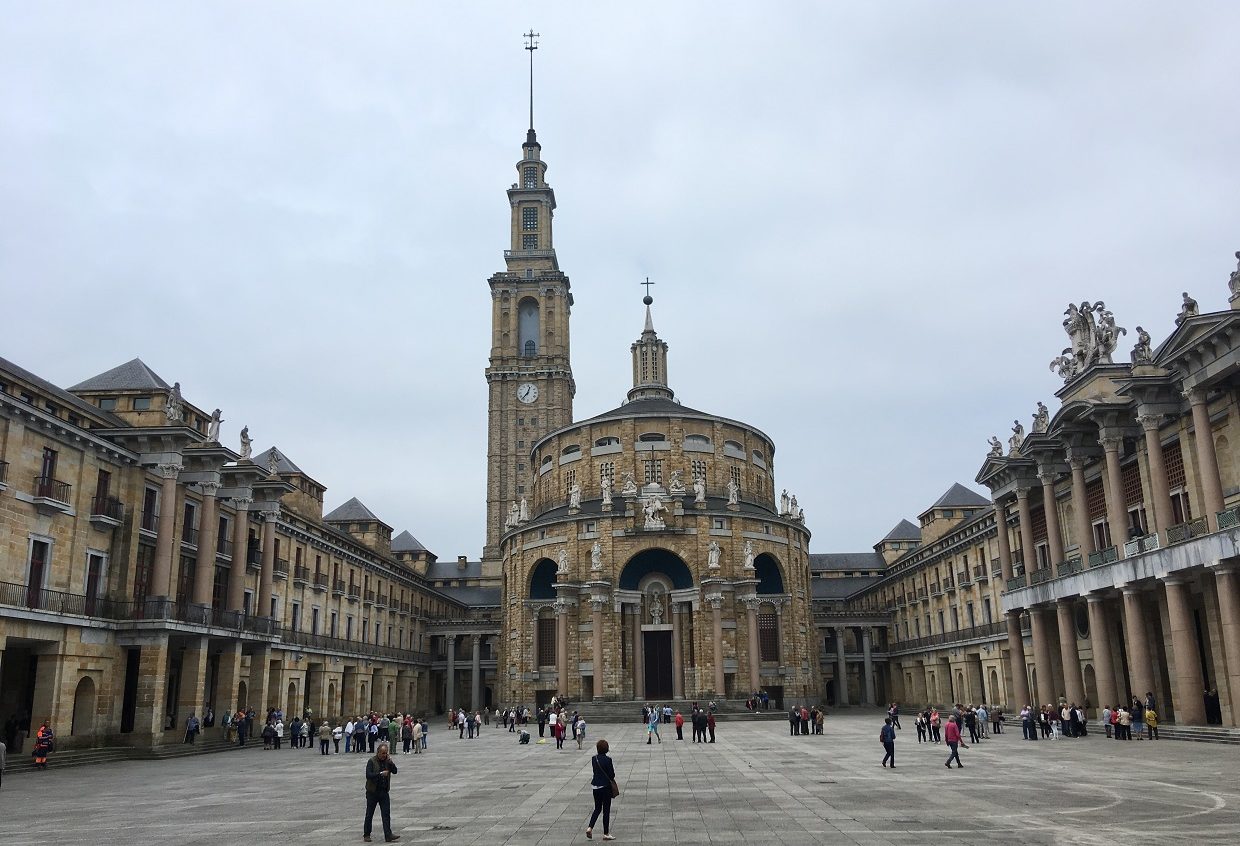 The church is big (and has an impressive dome), but is not pretty!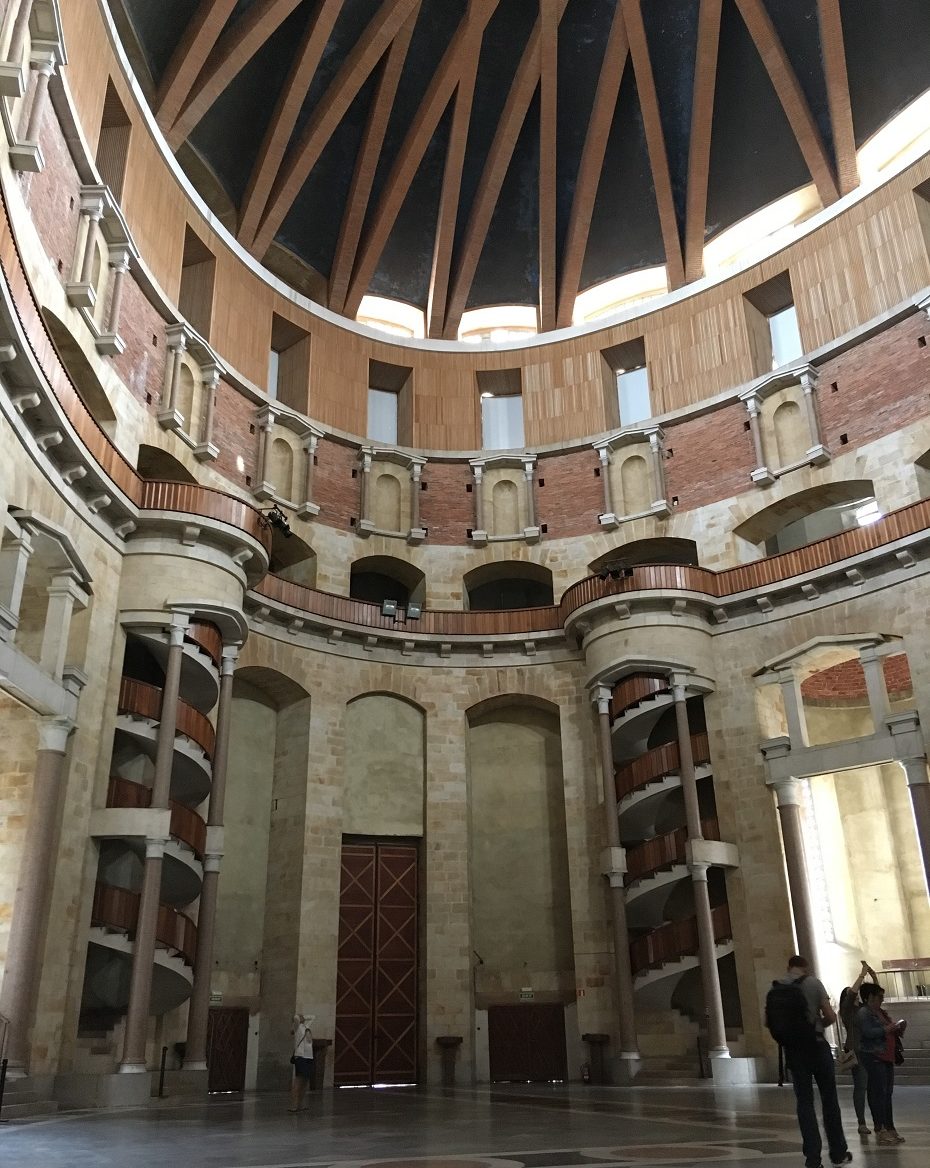 In the "picture room" above the theatre is an impressive mural, relating to the story of the orphans for whom the site was first constructed. Ex-art teacher Val said it is interesting that the monks included just a few females – well clothed nuns (?) and that the rest is strewn with scantily clad well built young men!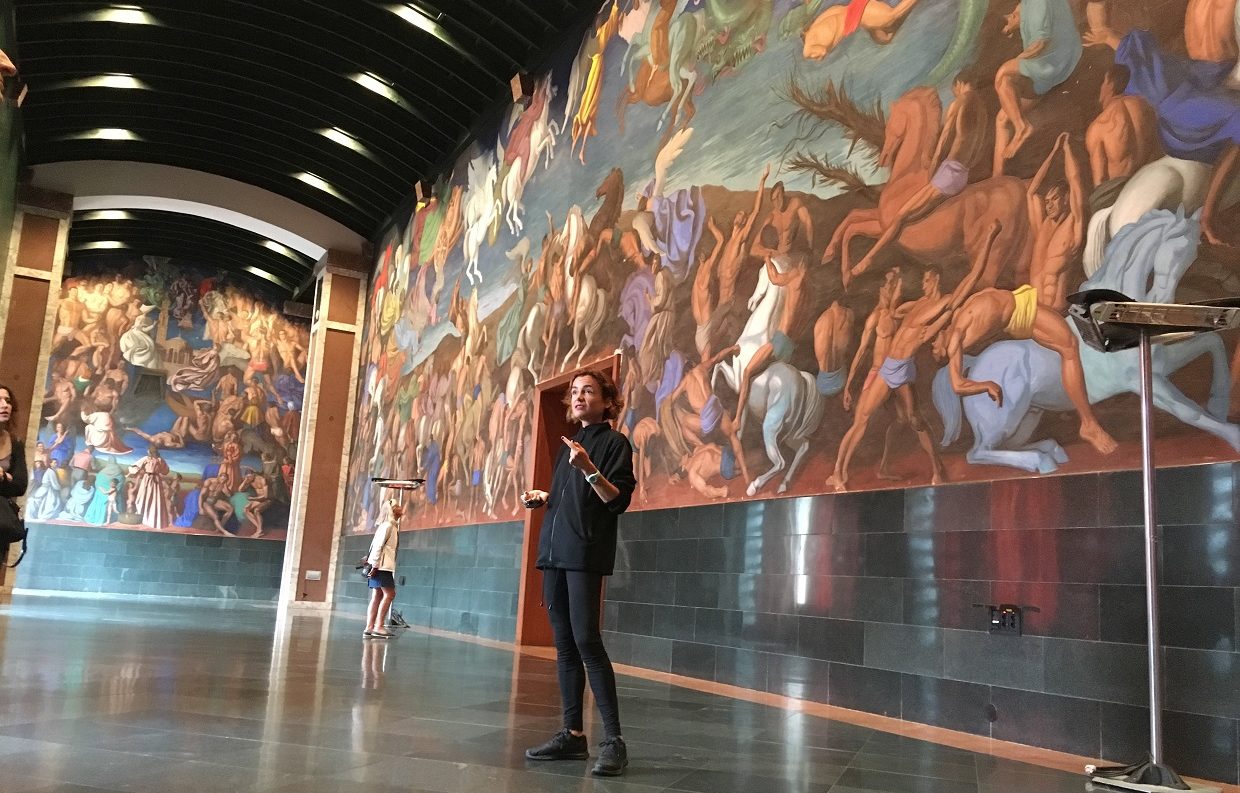 The adjacent botanical gardens cover over 60 acres of woodland, formal gardens, water gardens, fruit etc etc (we came back with 2 big lemons!!).
The scale of the main building of Laboral can be appreciated from the gardens: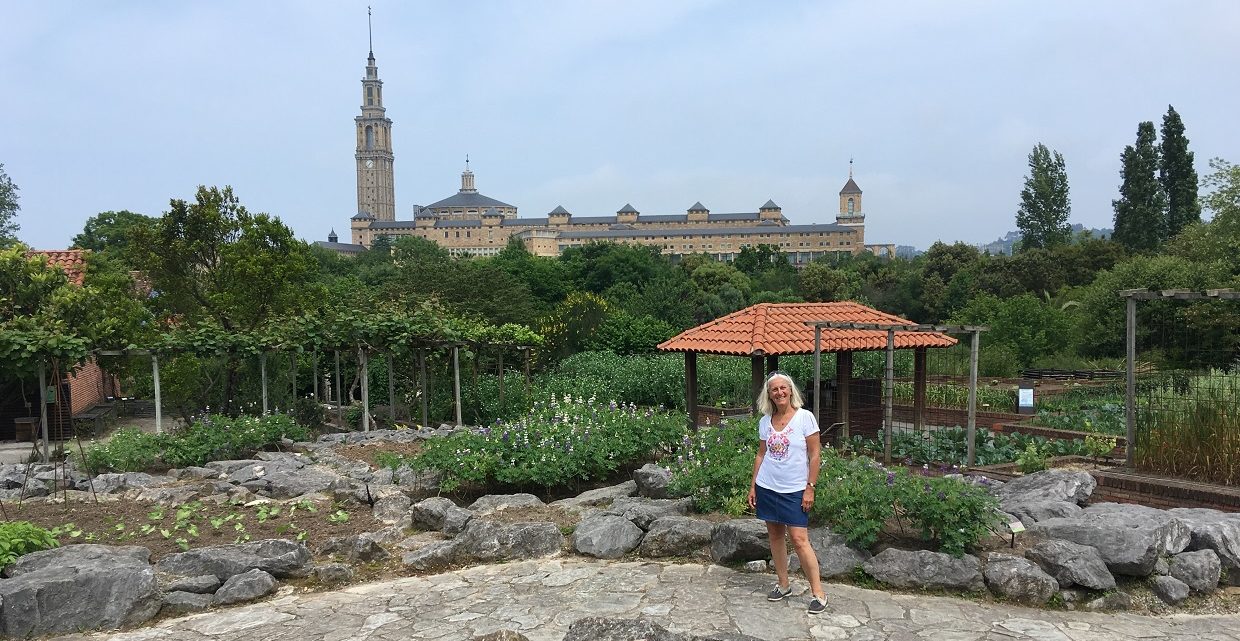 We had an excellent day out, and enjoyed once again Spanish good value – the whole day including transport, combined garden and Laboral tour ticket, lunch and a cuppa later – 30 euros!
The only disappointing element of the visit was the interior of the church. We always pop our heads into churches, light a candle, reflect a moment, and wonder at the labours of devotion. However our expectations were fulfilled at a wonderful church in the heart of Gijon: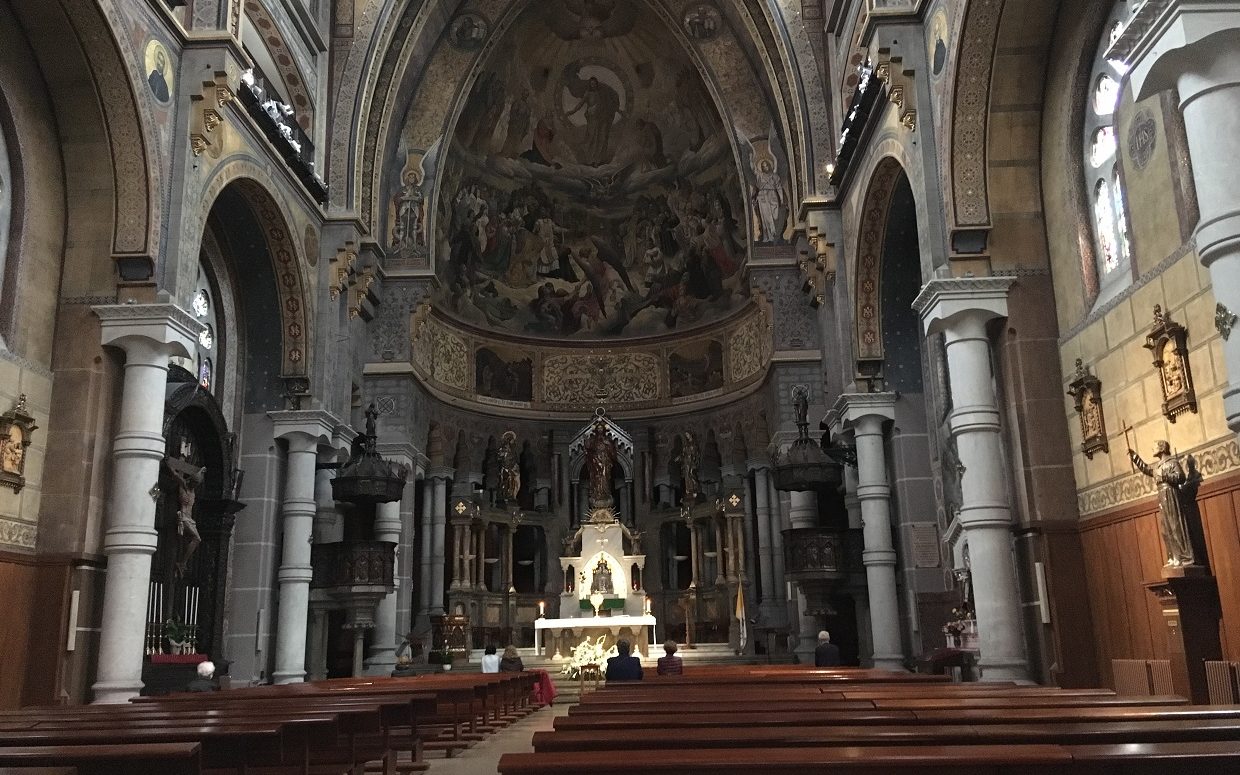 …….and whilst the dome of the Laboral church may be an impressive feat of engineering – it is nowhere near as beautiful and spiritual as this one: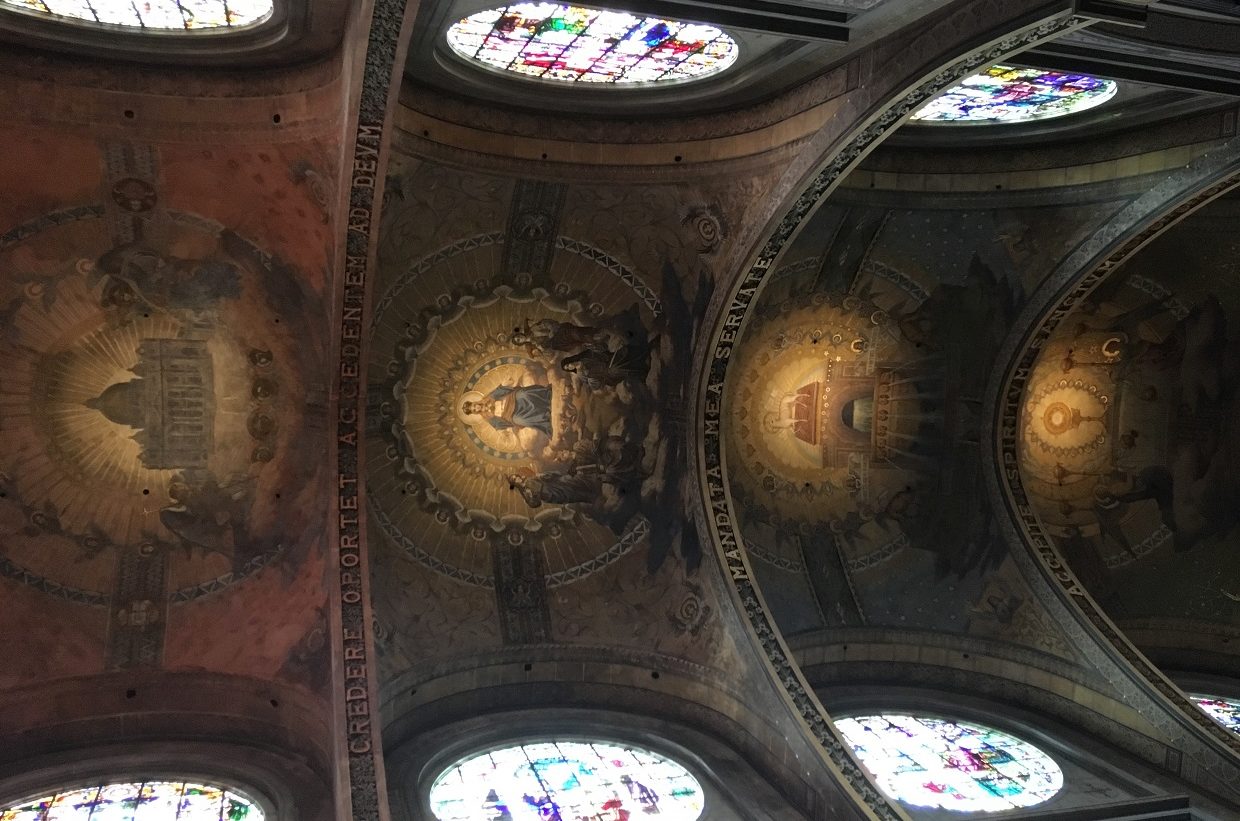 We also enjoyed the shopping centre – the principal area being close at hand. There are some of the major multinational multiple retailers, but many interesting small independent shops. The Market del Sur was a little less impressive than we imagined – indeed almost all of the units at first floor and a couple of those at ground floor were vacant. The remaining stalls, and especially the superb fish counters, however, did not fail to impress;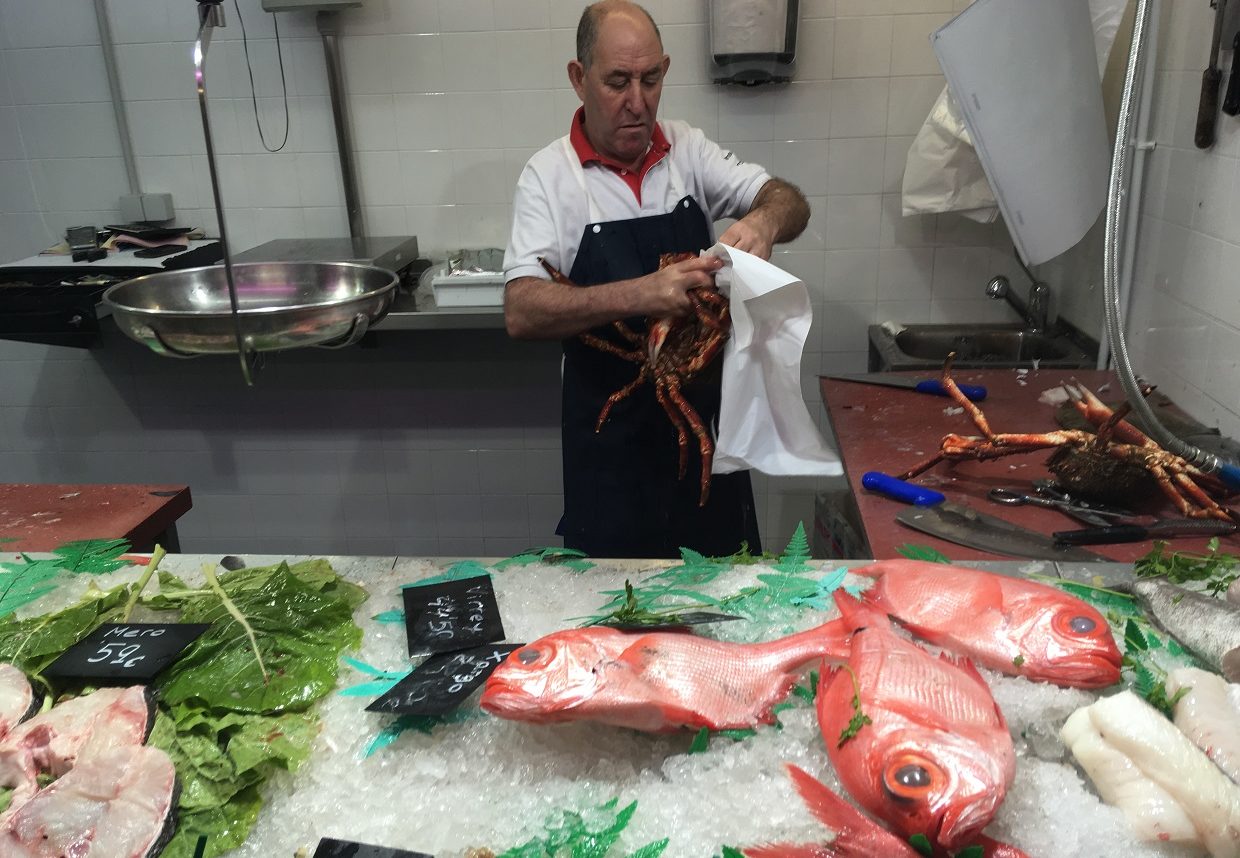 On our final day, Sunday 27th May, we walked to visit a flea market with 350 stalls which runs alongside a large park. On the way we witnessed parents gathering in their finery with boys and girls in their confirmation suits and frocks:
We walked along full length of the wide sandy beach of Playa San Lorenzo, between 3 organised football matches and various surfing lessons. When we arrived to find nothing there we assumed that the market must just run in season. However we worked off some calories and got a different view of the city: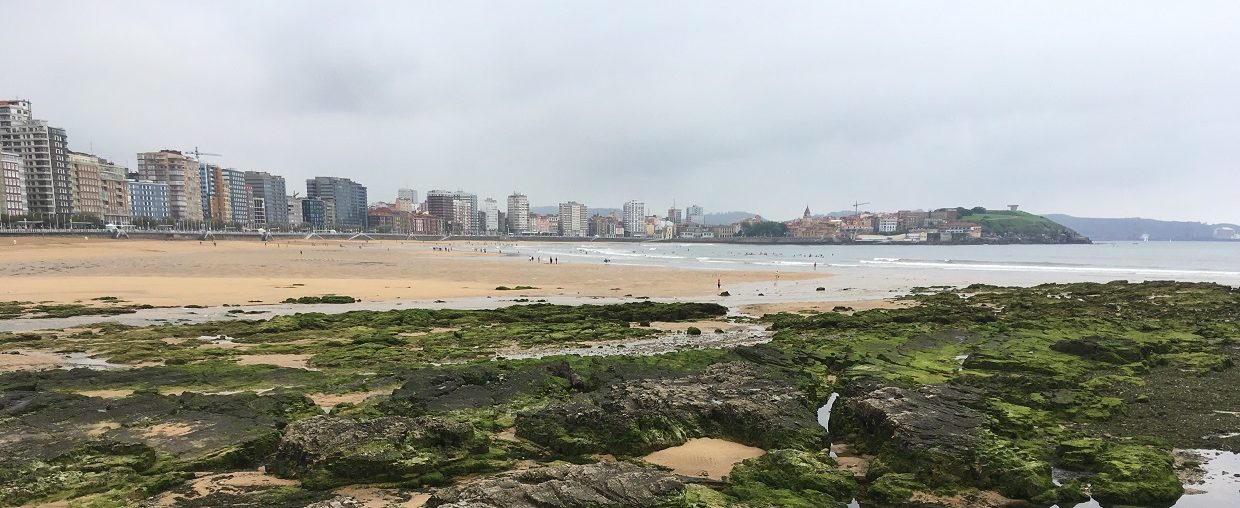 On the way back we saw our first pilgrims, walking the Camino de Santiago.This lengthy pilgrims way leads to the shrine of the apostle, St James the Great, in the cathedral at Santiago de Compostela. We have read about this and expect to see many pilgrims along the way this year. We had seen brass scallop shells in one street in the city, being the symbol marking the route. In fact this group of pilgrims, seemingly from Brazil, were slightly off course – perhaps here to dip sore feet in the sea? Note the scallop shell with painted cross on one back pack. (by the way, the group did give broad smiles when they realised their photograph was being taken!)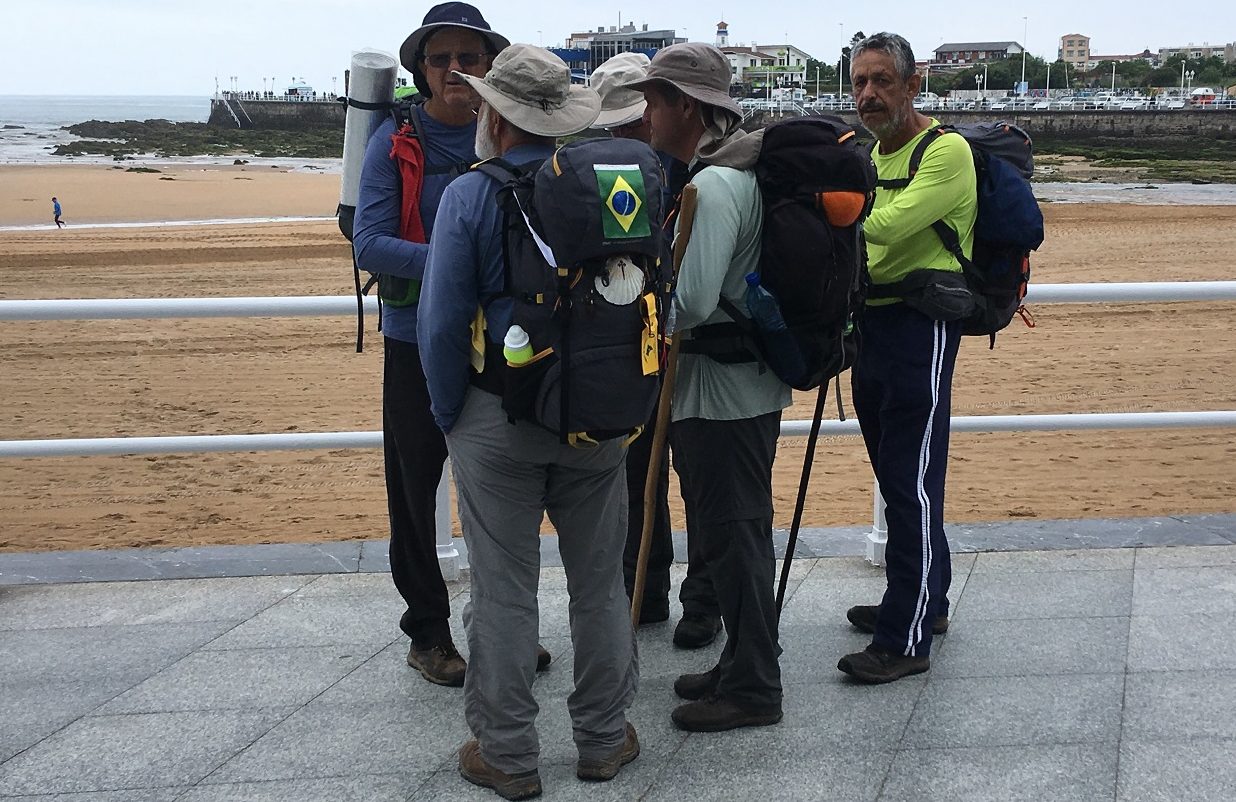 We stopped off for a superb lunch at La Cuadra de Anton (not far from Plaza Mayor – and very highly recommended on quality and an amazing value in the set menu – in fairly plush surroundings in the restaurant beyond the bar)………before heading back to Calypso to have a siesta and complete the passage plan for the short trip to Aviles tomorrow.
We are ready to move on after a week, but if weather was against us we would not be disappointed to spend a second week here.