Crossing the Bay of Biscay
………and sailing most of the way without getting beaten up!!!
Our passage plan for crossing to Gijon showed a total distance of 243nm (280 land miles). A first waypoint was set after 33nm from Les Sables, just East of the Rochebonne Plateau with a least depth of 4 metres. Waypoint 2 was at the entrance of Gijon harbour, some 208nm farther on, and just 2nm from the marina.
The weather window we had been tracking, combined with our passage plan, would lead us to leave Les Sables D'Olonne around 08.30 on Saturday 19th May, aiming to arrive in Gijon on Monday 21st, ideally 3 hours either side of high water at 10.40. The entrance to Puerto Deportivo Gijon is shallow (the entry channel maintained at 2.5-3m below chart datum) and is exposed to N to NE swell. With persistent North Easterlies over a number of days we didn't want to enter with too much swell or too little rise of tide, and our alternative would have been to enter the Yates  Marina Gijon, located in the commercial port some way from the city centre, but with a little more depth around the entrance.
Given the forecast, which had remained pretty consistent for several days beforehand, we could expect a fair amount of sailing, with an odd period of motoring early on Saturday and late Sunday. Before we set off we took screenshots of the PredictWind forecasts in tabular and wind map format for each of 4 positions across the trip. Here are the screenshots for the mid Biscay position: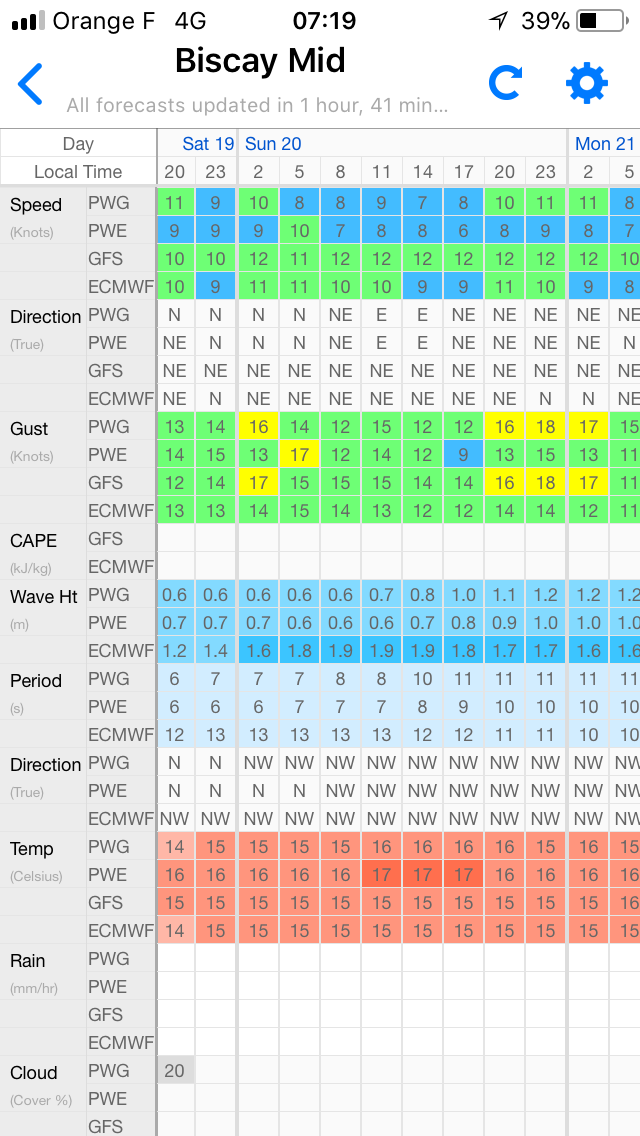 (NOTE – the almost total lack of any predicted cloud!)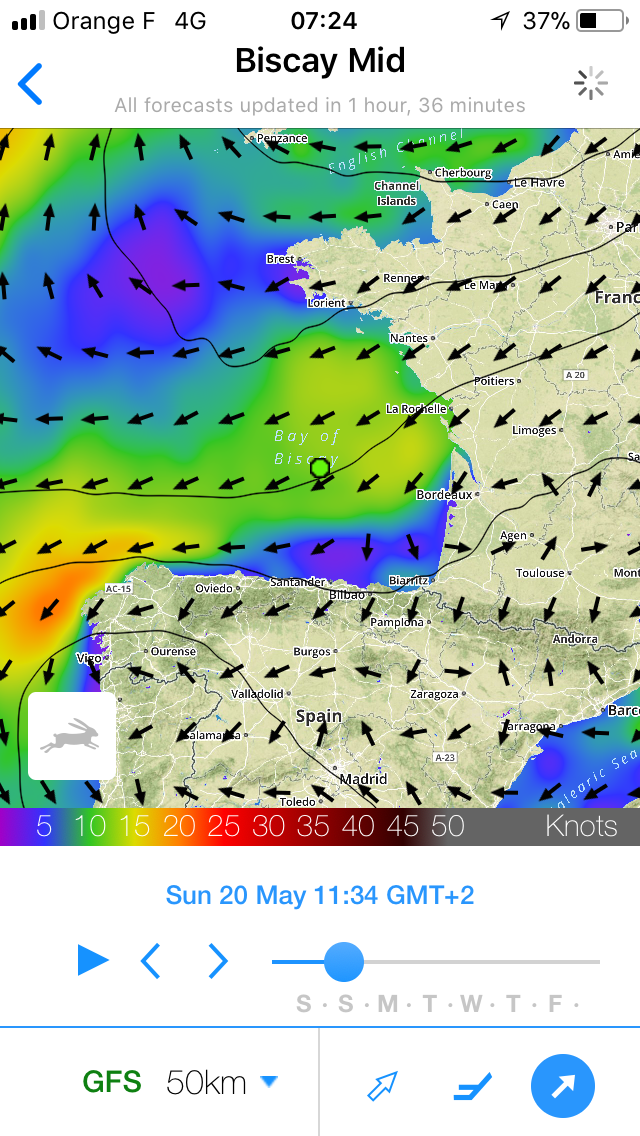 The positions farther North gave mostly NE winds, occasionally backing N, and given that our heading was to be 224 degrees – almost exactly South West, we knew that we would have rig for a downwind sail and to pole out the genoa for much of the trip – until the winds veered Easterly as we closed the Spanish coast, when we would drop the port genoa sheet from the jaw of the pole and haul the genoa across to starboard. As alluded to in a previous post, there's no way that this pensioner is going to be gybing our heavy spinnaker pole!
So – that was the plan – and now to what actually happened (please don't expect any drama!)
Firstly we can say that we had superb weather and a mostly good sea state. We had great sunrises and sunsets, amazing stars, bright moon, and almost no cloud until the last few hours of the trip (but no rain).
After we left Les Sables at 08.35 we did indeed have a North Easterly wind as forecast, and goosewinging with the poled out genoa and with main plus preventer worked well – for 2 hours, and then at 3kts speed the engine went on, mainsail dropped.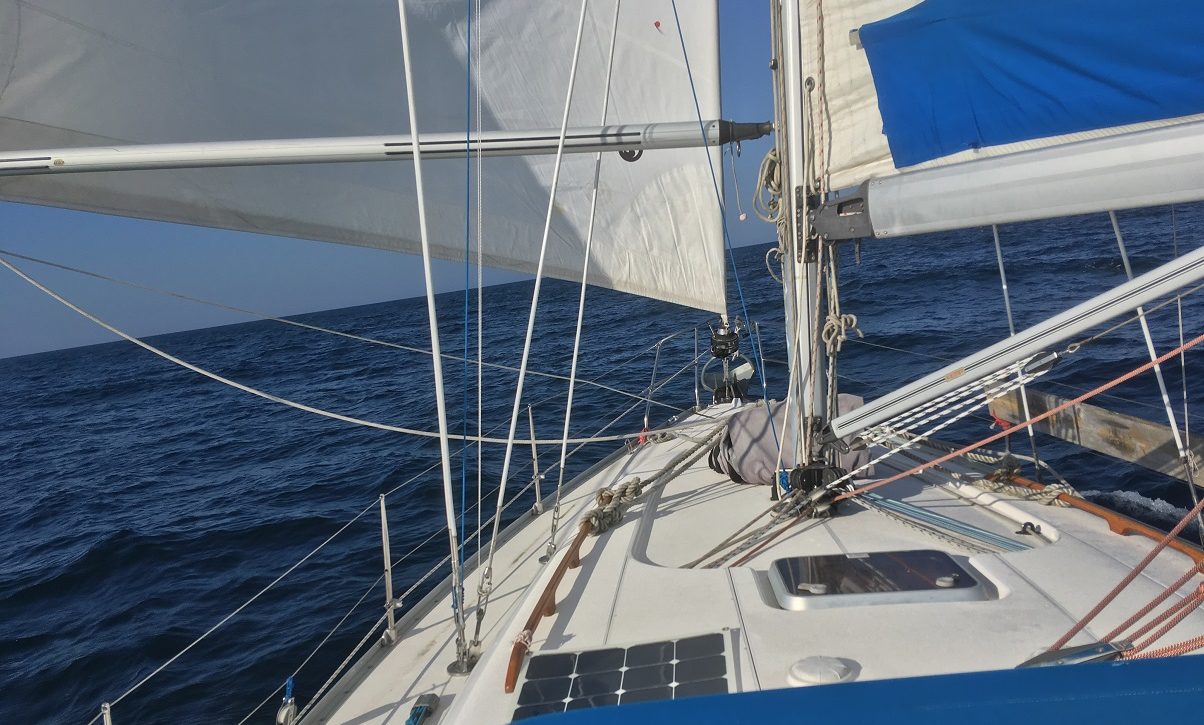 We motored for the next 4 hours before the wind increased sufficiently to allow us to turn the engine off again – but now it was from North West – where did that come from, it was not in any forecast!
So there we were, beam reaching with the genoa poled out – not pretty, but fortunately there was no-one around to see it – in fact we didn't see another yacht until we were inside the harbour at Gijon. However it was also reasonably effective, seeing us average well over 6 kts for  several hours, surfing down the odd wave at 9.5kts.
Downwind sailing is usually quite uncomfortable, and this was no exception, but not dreadful, and at no point did we ever regret setting off. In the early hours of Sunday morning the winds abated and the sea state eased. By 08.35 we had run 131nm in the first 24 hours and could afford to take it easy and still hit our target arrival window. We expected to cover less ground in the second 24 hours as winds were forecast to abate, and so they did.
Our night time watch system of 2.5 hours on watch worked well, and the time went quickly enough. So what did we see on passage? Well the answer is not much at all for the first 24 hours (apart from slowing down to avoid a fishing boat trawling nets in the middle of the night), but the next day was more interesting.
Firstly, at around 09.00 on Sunday we had been watching the AIS information for the Baie de Seine (coincidentally the same ferry that we have booked a crossing on later in the year). It showed that our closest point of approach (CPA) would be as little as a few hundred metres – far too close for comfort. Here showing a little more, but varying as our speed changed with the wind strength: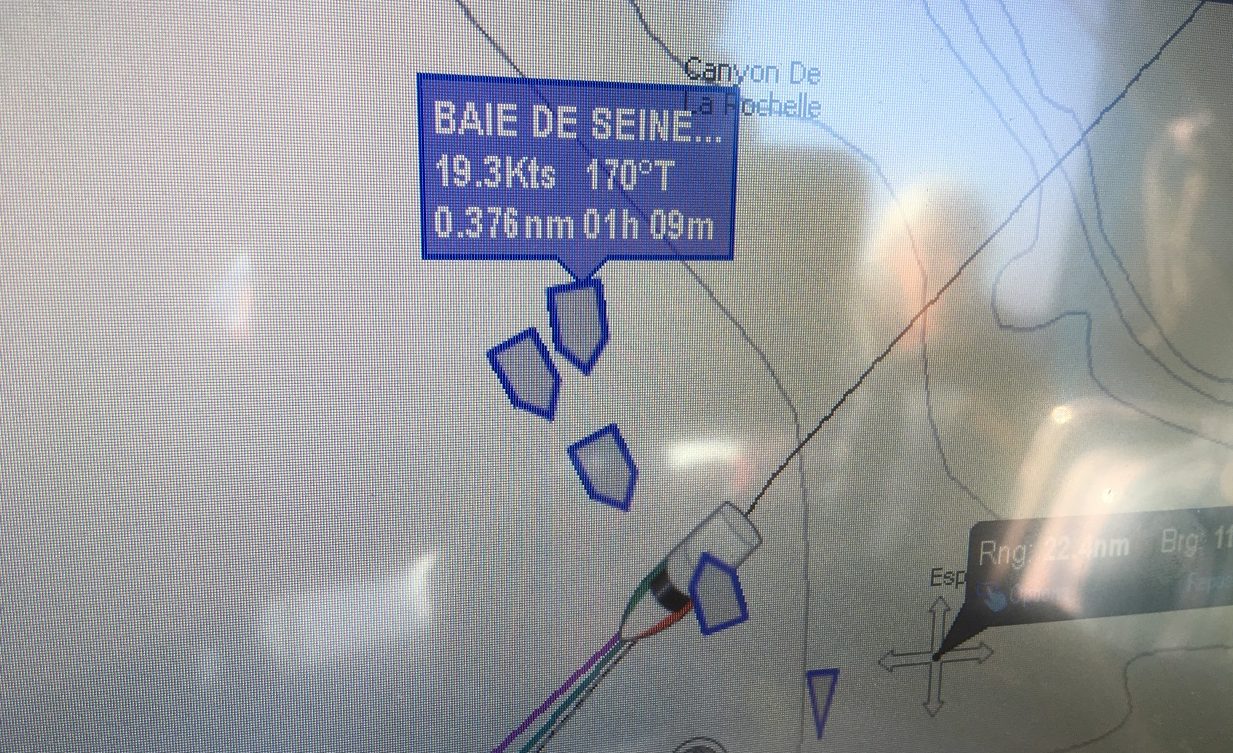 After this had changed little in almost an hour after the above picture was taken, with the ferry on a consistent heading of 170 degrees and CPA still a few hundred metres, at o9.00 (exact time not logged, but with about 15 minutes to CPA) we made an MMSI call to the bridge of the ferry – a type of VHF call that sets off an alert in the bridge and is personal to the 2 vessels. The call just rang out with no response, but the ferry immediately altered course to 174 degrees and the CPA increased to 1.5nm.
We were relieved that the ferry changed his heading – but will be mailing Brittany ferries to suggest that this was a poor show!! Here it is as it passed:

When we were at least 100nm from land we had sparrow type bird join us – clearly a long way from home and lost:

He tried to find shelter, but never got happy. He shunned our gift of water and after 20 minutes or so flew off to find a better ride – maybe with biscuits. His chances would be slim – but we tried. We had 2 more lost feathered friends join us well offshore and have read this to be a fairly common occurrence.
DOLPHINS! A cry not heard on day one, but by our evening meal on Sunday they had visited so often (7 or 8 times) that we didn't even put our plates down when they arrived. We probably took 50 or more photographs – and carefully checked every one, to find only one single solitary dolphin that didn't manage to evade the camera. It's not the most dynamic dolphin picture you'll ever see. We did have them jumping around in pairs and several in the bow wave at one time or another, but you'll just have to take our word for this. Here's our sorry excuse for a dolphin action photo!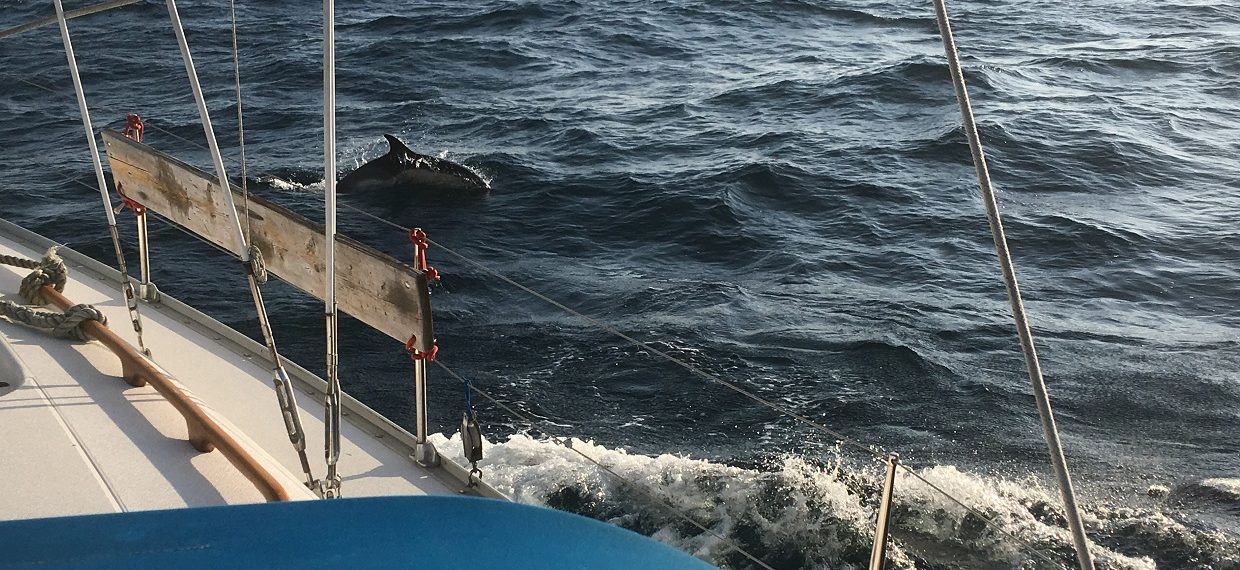 Twice we saw huge whales – not the small pilot whales we had seen previously but real big boys – fortunately never closer than 60-80 metres from us. Good to see, but slightly disconcerting after only recently meeting a fellow Yorkshire man who lost his yacht 500 miles from Portugal when he hit a whale! Fortunately he was rescued by a cargo ship, but had to scuttle his yacht. At least that tale perhaps made us sharpen up our safety preparations.
At some point later on Sunday, probably well into Spain by now, we changed courtesy flag from France to Spain.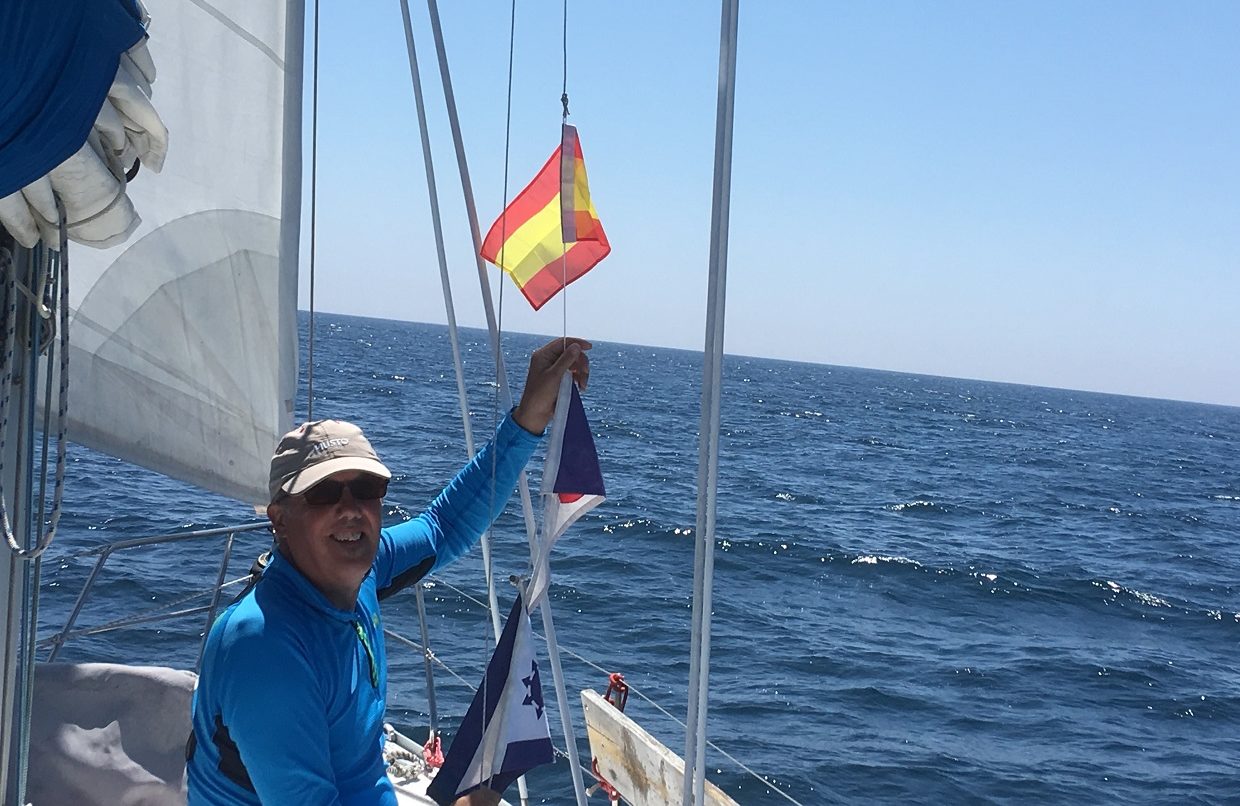 We had heard that when crossing Biscay you can smell land almost before you can see it – well we can confirm that to be the case. At first we got pine forrest, but as we closed on the huge city of Gijon this was mingled with other aromas – some floral and pleasant enough, but with a definite undertone of rust, stale cooking fat and body odour!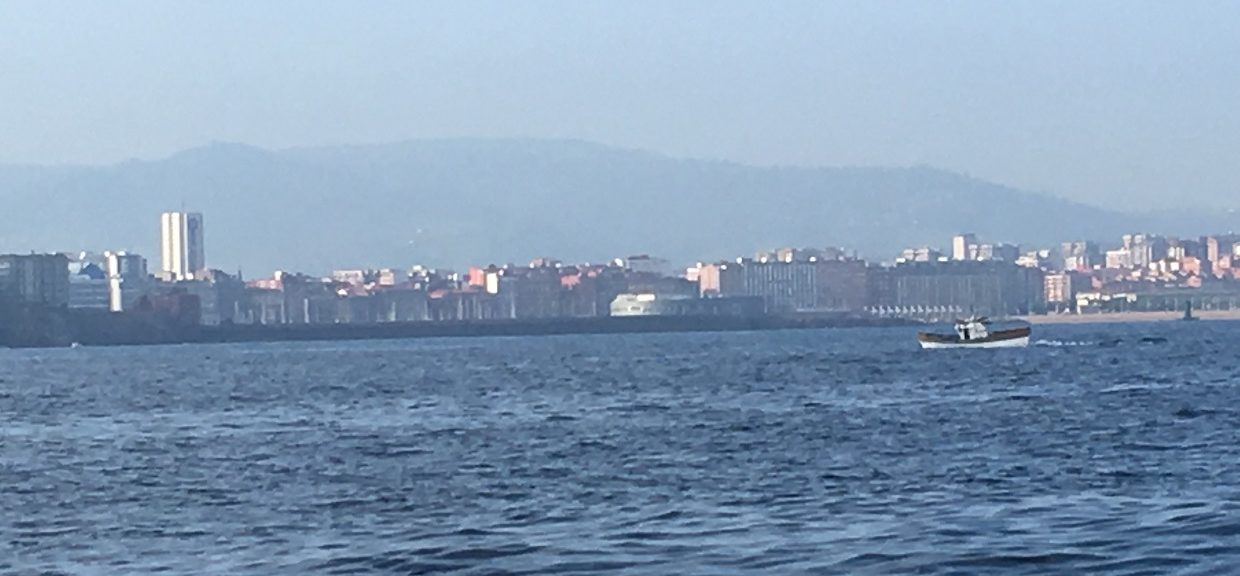 But this was the smell of excitement to us, the sense of an end to what was by far our longest sail yet. We arrived in Gijon and tied up on the welcome pontoon after 48 hours and 50 minutes – an hour before high tide.
Within 10 minutes customs officers came aboard and looked at papers and filled in a form – lovely chaps, we managed a few jokes in spite of limited ability in each other's language. Then we had to go immediately to the marina office – more form filling for both the marina and the port police. Then we had to move the boat to the visitors pontoon area, with just one other yacht there: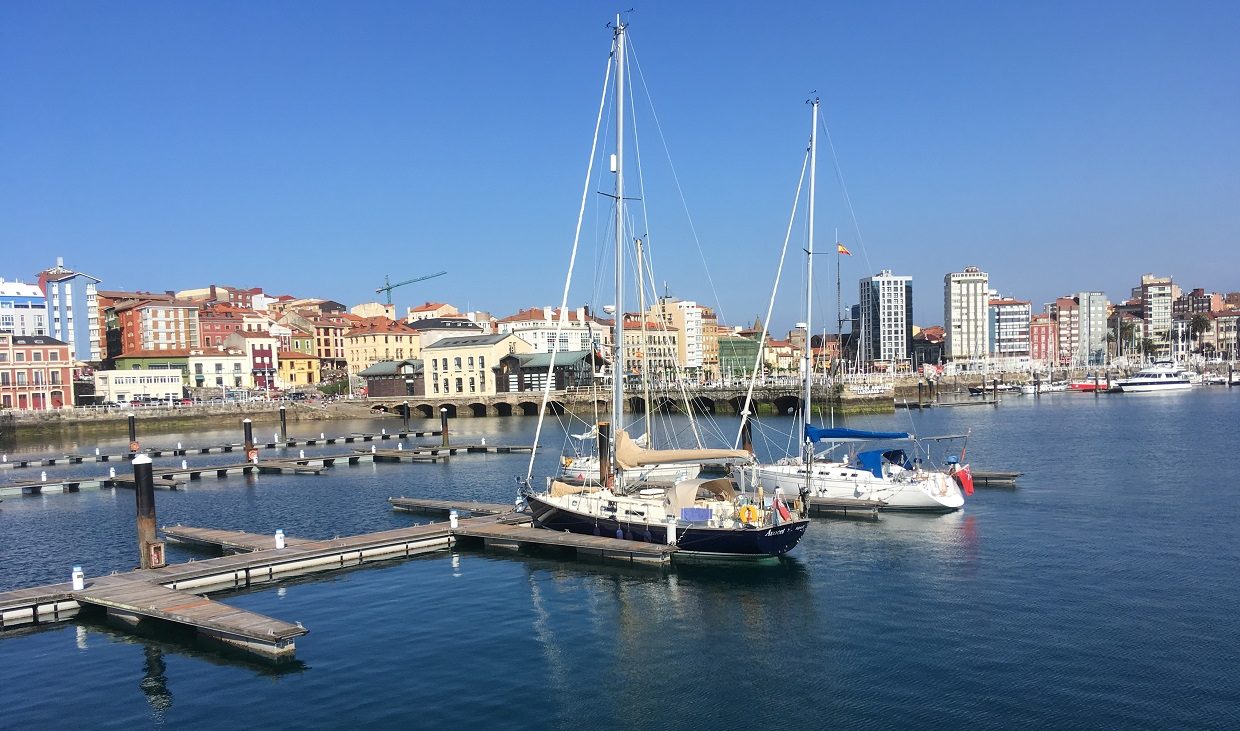 ……..and it was well over 2 hours after landing before we could celebrate our successful crossing in true English style: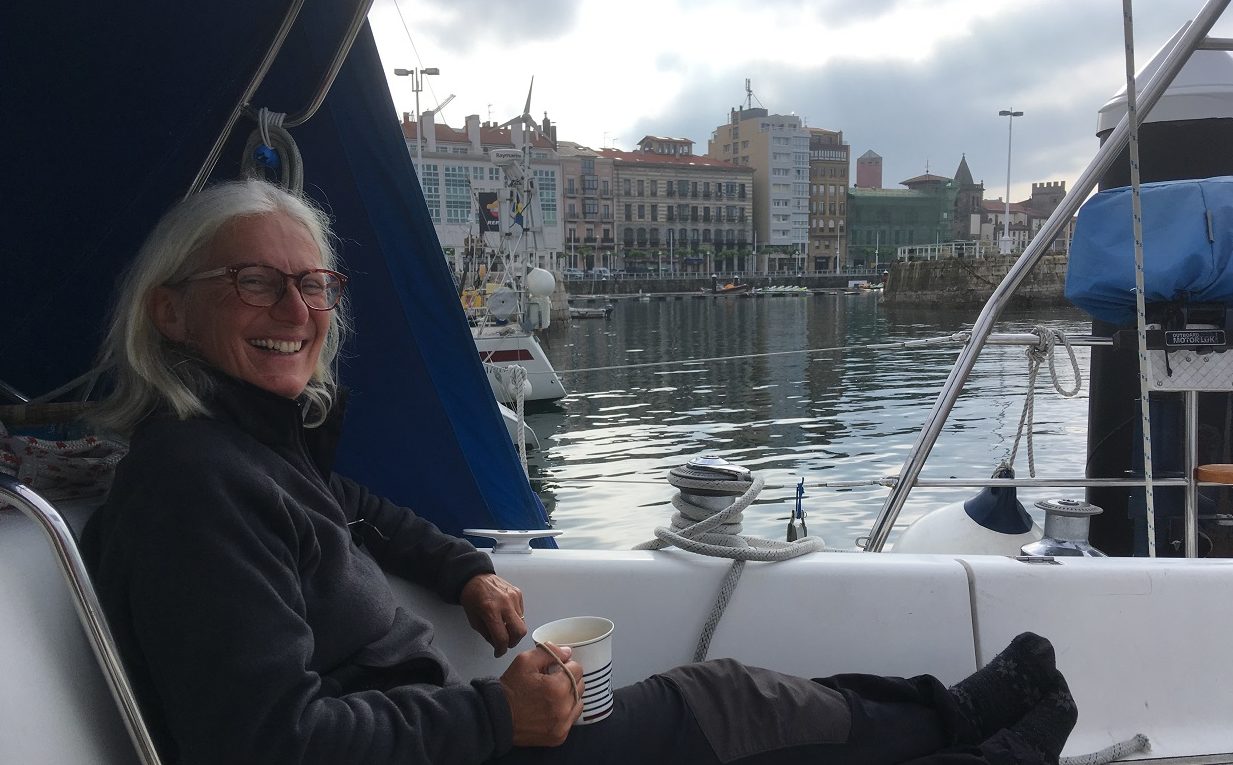 On an earlier night passage we had pondered whether we had enjoyed the crossing – and whether we enjoyed it during or only after the event – as many such marathons tend to be enjoyed in hindsight, as had been our case previously.
This time, however, we can honestly say that whilst there were times when we had to grit our teeth or pin our eyes open, we genuinely enjoyed crossing Biscay – during the crossing!
Statistics-
Distance traveled – 243nm
Time taken – 48 hours 50 minutes
Time under engine – 17 hours 20 minutes
Time under sail alone – 31 hours 30 minutes
Estimated fuel consumption (ish) 40 to 45 litres
Distance traveled since leaving Arzal- 384 nm