Unexpected visitors and a ride in a police car:
Falmouth is a great introduction to the much anticipated delights of the cruising ground of the South West. Pendennis Marina is not a cheap option (most expensive yet at £38.40 a night – plus £2.50 if you want to hook up the electricity) but it is in a great location and the facilities are pretty good. The marina is next to the busy, working Pendennis shipyard, which to us only adds to the interest.
One morning we awoke to the noise of a new neighbour arriving (Calypso in centre stage):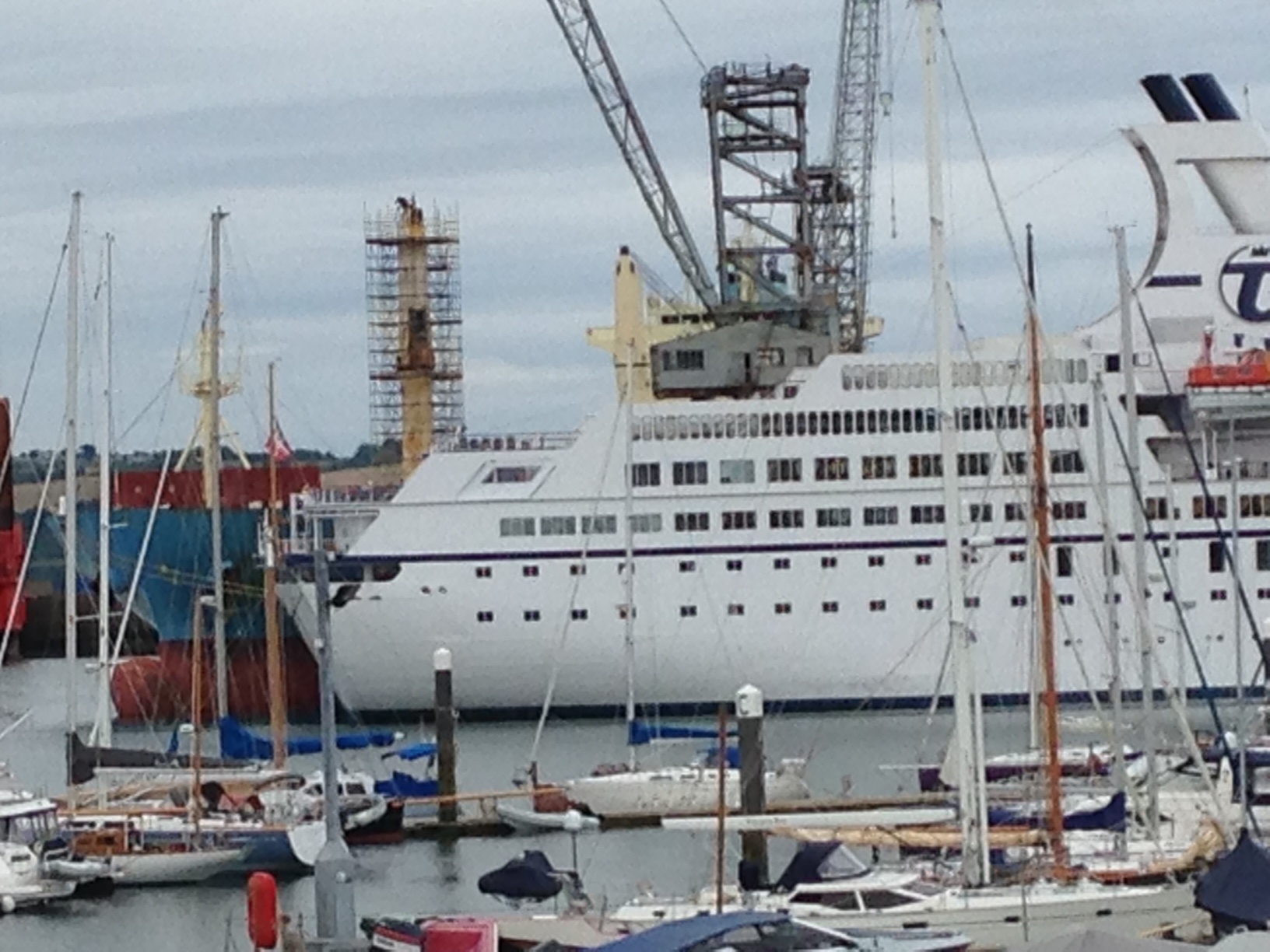 Other options would be to anchor off Pendennis Marina or to pick up one of many visitor mooring balls. However after our marathon journey from South Wales we were two very weary sailors, and in the marina we wouldn't need to blow up the dinghy and can just walk ashore – near to the excellent facilities of the town centre.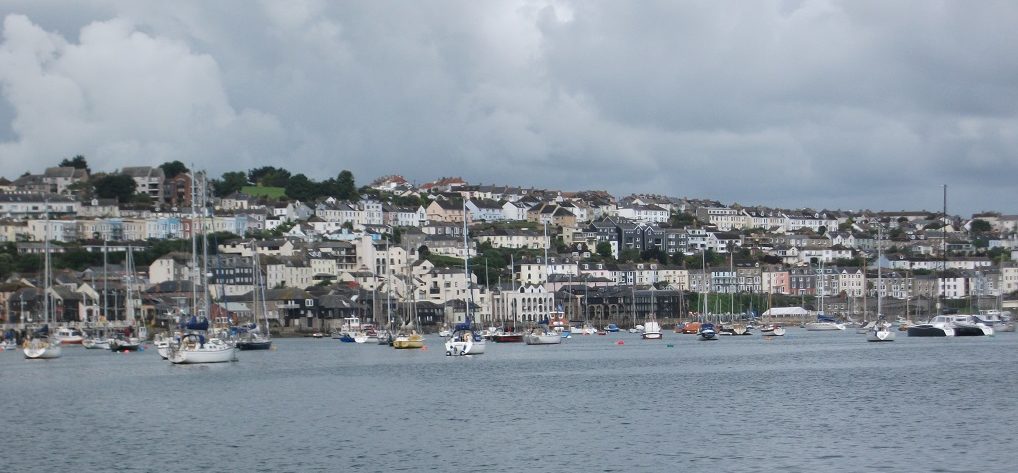 It took fully two days to recover from the 30 hour trip, and we were not too concerned that the weather was a bit mixed as it gave us an excuse for late morning lie-ins, reading books and catching up on lost sleep. We were totally exhausted when we arrived and actually ran aground trying to enter the marina – the chart shows it to be too shallow very close to the West of the pontoons but with a little more space to the North, when entering. Well, going slightly wide to the North to come in tight to the West is not recommended. We landed very gently, fortunately in soft sand/mud, and reversed off easily enough!
We had taken around 9 weeks to get here, all the way from Kip Marina in Scotland, via Ireland and Wales, and were feeling a great sense of achievement. We got chatting to an Australian couple who had set off within a day or two of us – from Barcelona! Talk about p#$#~g on yer bonfire!!
The town is a little odd in that it has extensive frontage to the river, but it turns its back on it. We expected waterfront bar and restaurant terraces, but there were very few of these. The prime waterfront open areas were taken up with pay and display car parks. I may be setting the wrong tone though, as Falmouth is lovely.
There are some excellent restaurants and a few bars carrying superb real ales. On our first  night we had a nice pub meal with great real ale at the Chain locker, with a nice view over the water.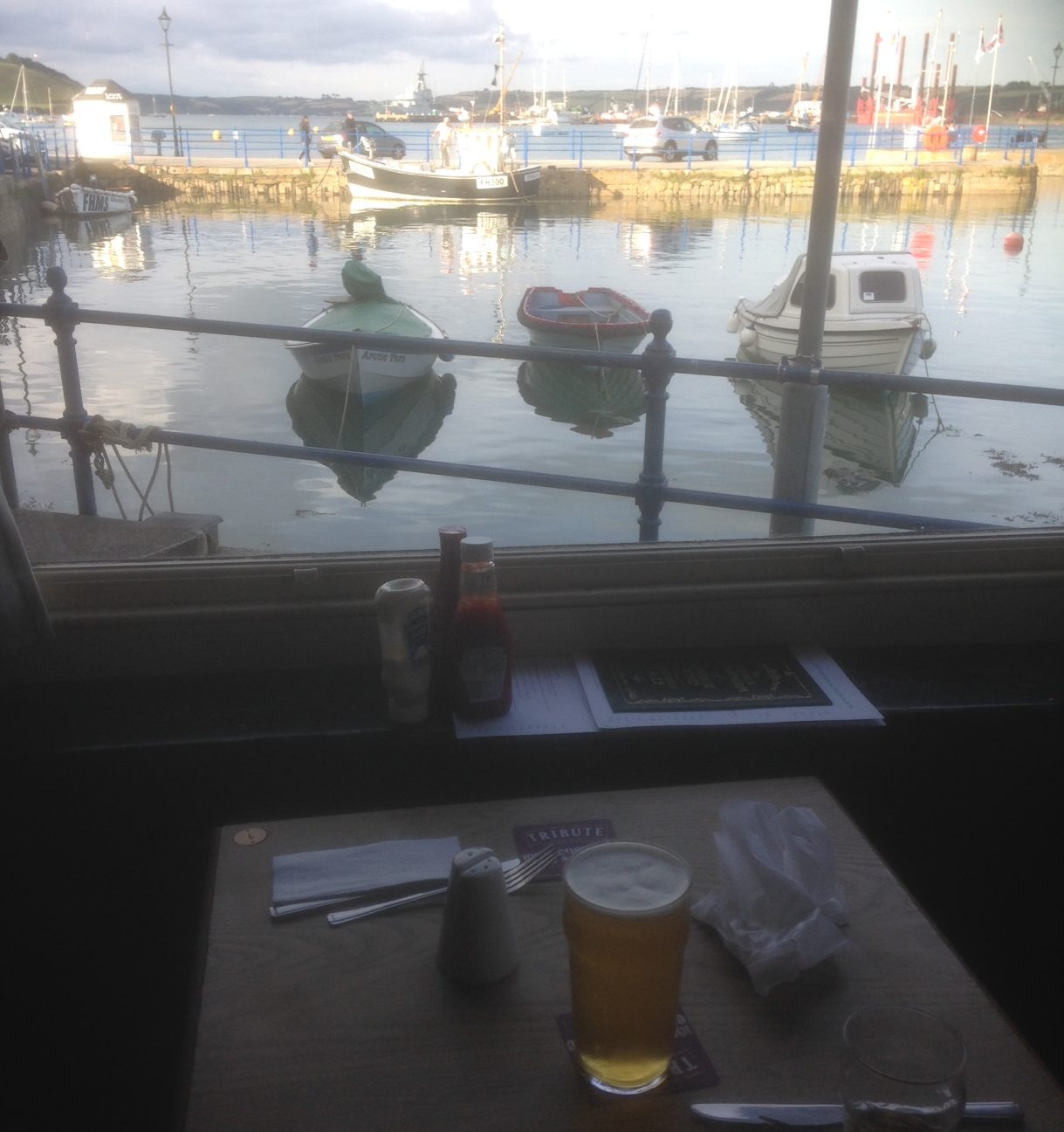 At the Seven Stars we had the "gold medal pint" poured straight from the keg behind the bar (the first to be poured – never heard that expression before) and had great "craic" with the really friendly locals, and Tracy behind the bar. This place has not been decorated since before the cigarette ban, judging by the nicotine stains running along the timber clad ceiling, but it added to the great character! Our favourite pint (I say "our", as Val has actually got into blond real ales on this trip) was the Cashmere at the Chain Locker. I'm looking forward to introducing Val to the Saltaire Blond at the White Beare when we return home –  Tracy at the Seven Stars said that Saltaire Blond is a favourite of hers but they can't get it down here.
After a couple of days we had an unexpected call from friends Mick and Jenny, who have recently acquired a new catamaran (Millbrook near Plymouth) and needed an excuse to have a day off from their labour of love in fitting it out to their standards. What were we doing for lunch? So an hour and a half later we had a nice lunch on the back of Calypso, and later (after tea and cake and then gaining calorie credits with a walk to Pendennis Castle) had dinner in one of the restaurants which does have a sea/river view.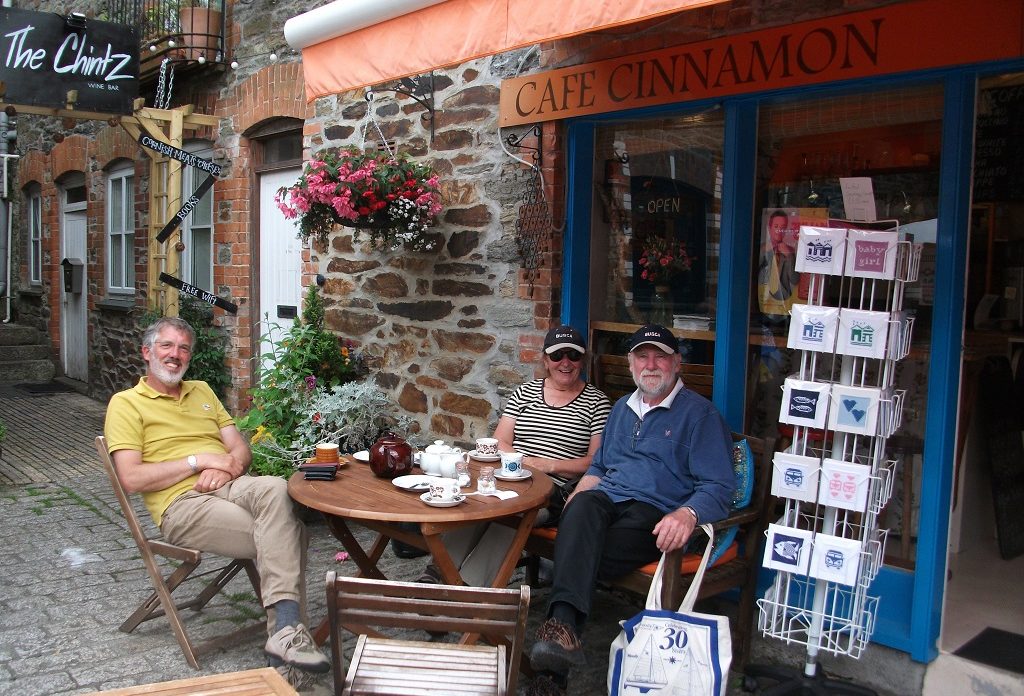 A lovely day, and hopefully M&J felt it worth the 3 hour round trip from Plymouth!
We were already booked in to South African restaurant the day after, and so after another long walk arrived at Amanzi to eat lovely Espetada and Bobotie. I turned down the option of "Monkey Gland sauce" with the Espetada.
We sat on the next table to a lovely Danish couple and inevitably got chatting. They are on a tour of the South West and put us to shame with their command of English. I hope "Miss" (Jo) is not reading this, as we have yet to get out our Spanish books to reinforce the night school Spanish course we undertook last winter. We will do so soon, Miss, promise!
We visited the Falmouth art gallery – it is not huge, but houses a large tapestry work by Grayson Perry, one of Val's favourite contemporary artists. It was something to behold (and we had previously enjoyed the fascinating television series documenting the background to the series of tapestries, being a 21st century social commentary.)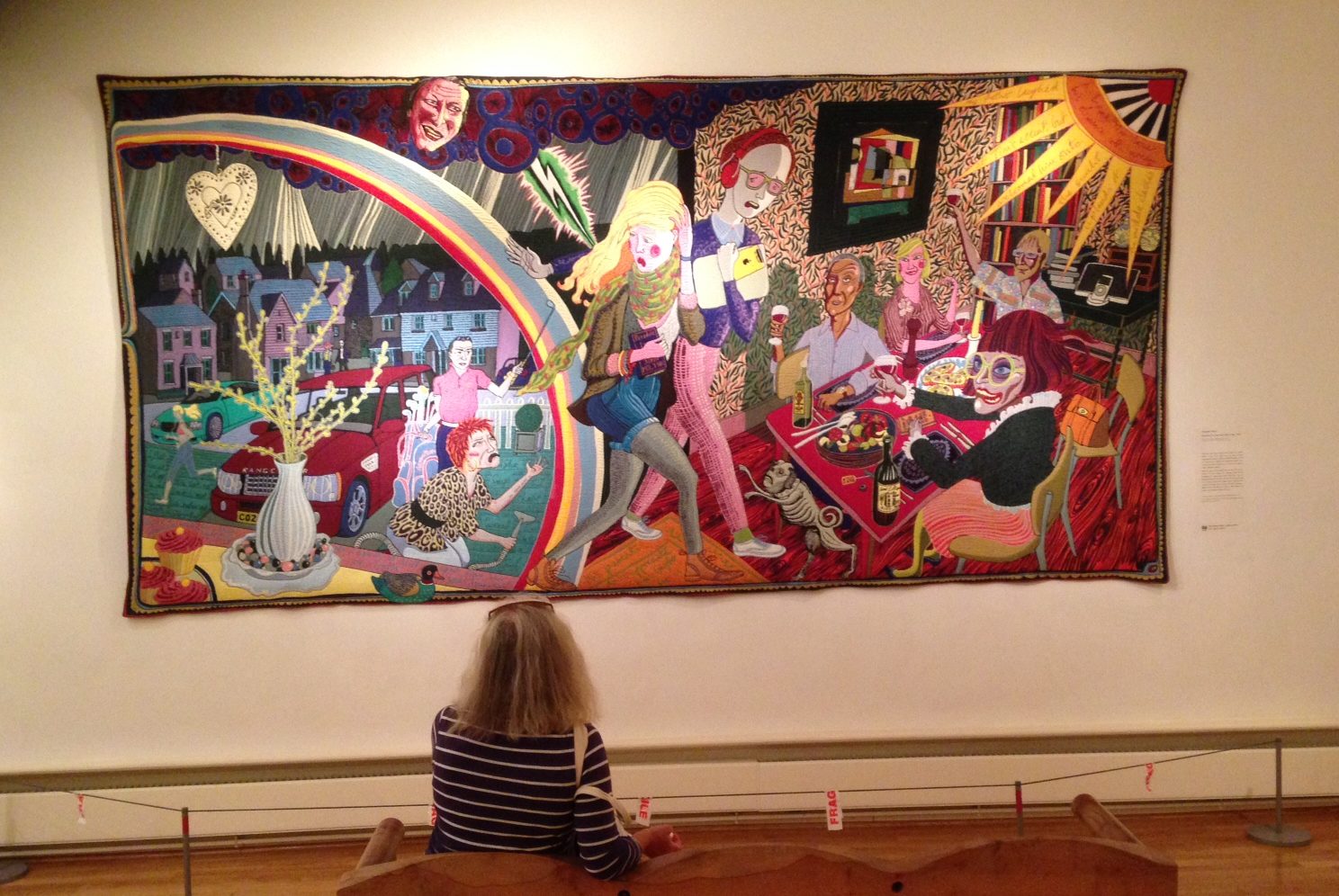 We walked to Penryn on Sunday (not much there but it was good exercise(!)), and on the way back stopped at the glamorous Greenbank Hotel to watch Andy Murray win Wimbledon. We weren't exactly dressed for the occasion, with the blue rinse, jacket and tie brigade enjoying afternoon tea in the lovely lounge area. We were demoted to the "Working Boat" bar on the lower floor, overlooking the hotel's quay, which suited us better.
It was a good job Murray won in straight sets, and accordingly there was not too much stagger in evidence on the way home!
A rather nice Halberg Rassy arrived behind us and was familiar – when we saw Stella Maris on the river pontoon at Arklow we thought then that we recognised her. Well now we got to meet Al and Ingrid, who thought Calypso familiar too – it turned out that both have been berthed at Kip marina.
Ingrid has family in Gibralta, and that is where they are headed, next stop Britanny. Al gave us some useful tips and we enjoyed their company – but as usual these encounters are all too short. We hope to catch up with them on our way south
On our final day, Monday we walked to the beach on the far side of the Falmouth peninsula. The children were playing in the sand and Val eventually recovered her big child from the rock pools. Filey Brig has nothing on the rock pools here.
We found a lovely beach bar on the best sandy part – having long bemoaned the fact that we have no beach bars to rival the continentals in the UK. We know we don't have the weather but we can have a beach front setting, with glass screens and retractable canvas covers on the terrace area.
Well at Gyllyngvase beach somebody obviously stole my idea. We had a couple of beers on the terrace in a mix of glorious sunshine; rain (quickly dealt with by a push of a button, rather than the hectic twirling of long handles seen abroad); and back to full sun again, revealed with another push of a button. The cool breeze (will this summer ever warm up properly?) was kept at bay by glass screening, and voila – the perfect beach bar here in the UK.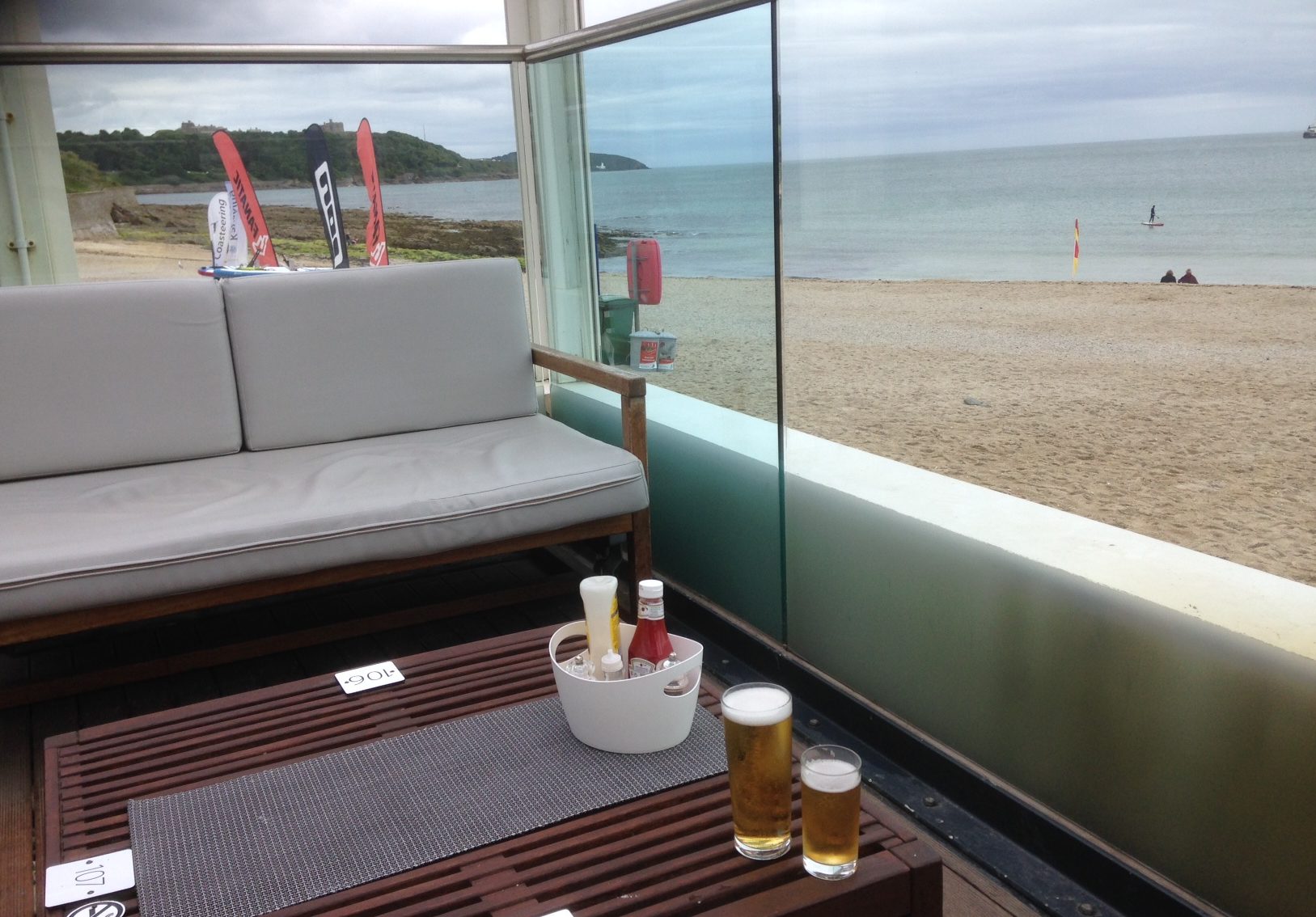 We walked back over the hill down backstreets towards Tesco and witnessed, from above, three youths on a flat roof, vandalising a flue. A shout from Paul saw them scarper, but when we hit the main street there they were. Well you can't unsee what you saw, and after years of managing properties and dealing with the aftermath of vandalism – Paul thought it was payback time and took photographs of the youths – advising them that he would be giving them to the property owner.
Much verbal abuse and attempted intimidation followed, and eventually the police arrived. Apparently two of the three are well known local undesirables, and so the ride home in the police car ensued (a first for Paul, but not, apparently, Val who has also had a ride in a black moriah). "Better that they don't get the opportunity to follow you home".
The liitle'un told us in no uncertain terms that it was illegal to take his photo because he hadn't given permission. So as promised it was deleted, but Val captured them perfectly in her journal: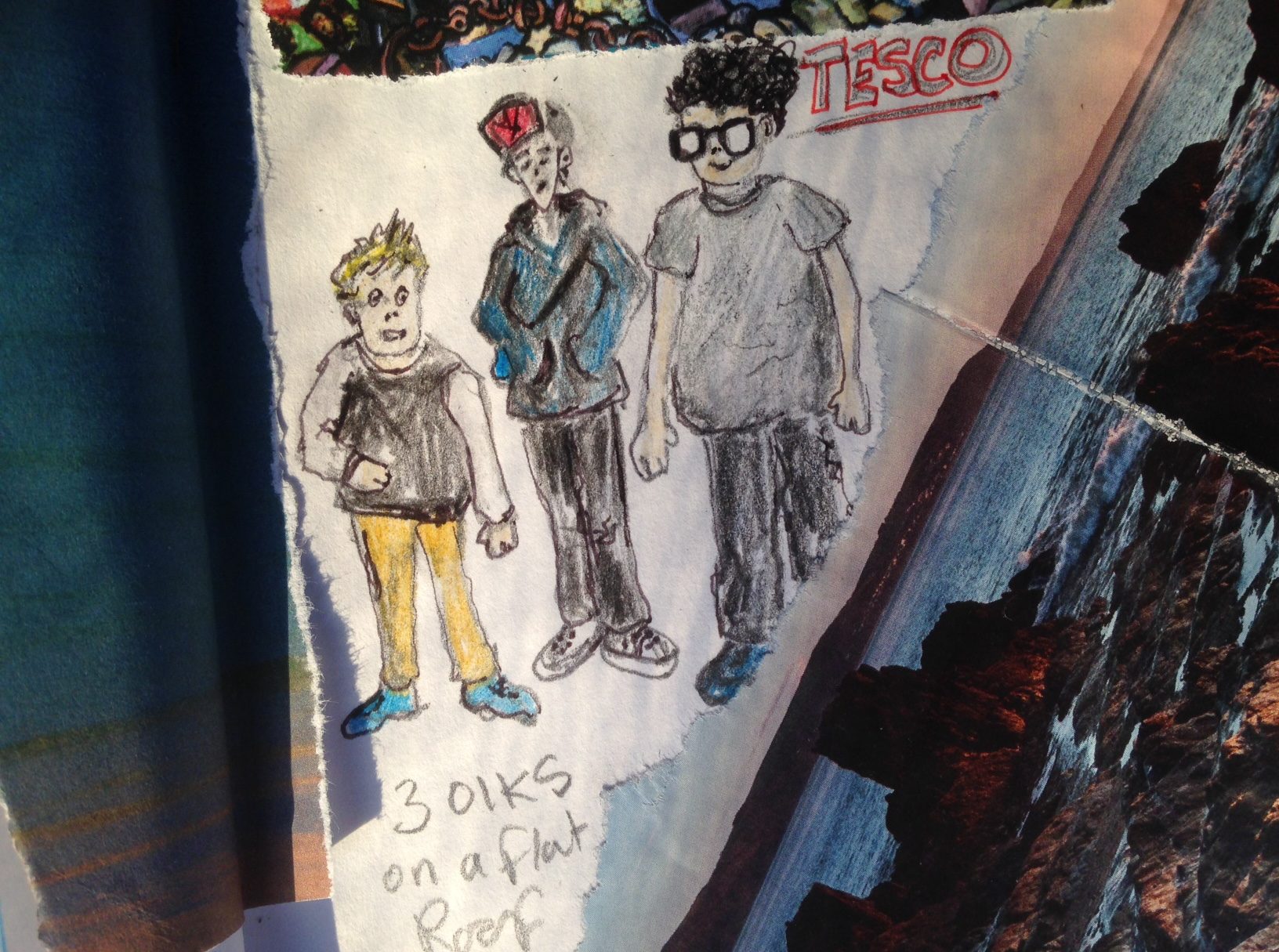 Had we stayed longer we would no doubt have explored other anchorages, including St Mawes, and perhaps taken a ferry up to Truro, but Fowey beckoned…..
PS – Val protests – her rides with the law related to naughty children that she dealt with in her role in the pupil referral unit!