A Marathon Around Land's End
Escorted out of Wales
We awaited the call from the lock-keeper on vhf to proceed to the lock and departed our berth at 8.30 am, Tuesday 5th July. After motoring past the oil terminal jetties we hoisted the sails at 9.30am, off Dale, and exited Milford Haven into a wind-over-tide situation: a biggish sea with 2m waves, heaped up by the contrary tide.
We sailed through it well though, always above 7kts and peaking at 8.5kts. As the waves started to reduce in size, but whilst it was still very lumpy, dolphins arrived to escort us out of Wales! There were 2 pairs of mothers and calves, shooting towards us from astern, looking at us with beady eyes as they passed the cockpit and then leaping around in the bow wave, before repeating the whole thing again. On a couple of occasions they jumped out of the water right beside the cockpit.
They did this in their two pairs – perfectly synchronizing their swimming and diving into the air – mother perhaps teaching child how to play. Tom Daley and those clones with nose pegs could learn a lot from these guys!  Unlike us humans, though, mother will continue to play like this after the calf has "flown the nest", and we look forward to many more similar encounters.
In fact we saw dolphins one more time on the trip – an hour or so later, but they were seemingly hunting – and we just passed through the hunting ground to witness them leaping around, teasing their prey.
Short, fat, hairy Welsh bloke, Kevin (sorry Kevin, but that's how you will be remembered; and you loaded the ammunition) was amazed that we had not seen dolphins on the trip to date. He said he rarely went out without them showing up at some point. I hope that will continue, and it is clear that we will never cease to be excited whenever they do grace us with their presence.
we didn't get any photographs as the camera was below, it was rough, and we didn't want to miss any of the show. Maybe next time……
During the first couple of hours we heard (and felt the sound waves) from the firing range (Castlemartin?) Here they fire from the sea at targets on land – an eery experience.
Anyway, we sound like we were enjoying ourselves too much, and indeed we were – for 7 hours the motor stayed off and we re-acquainted ourselves with the white, flappy things. The forecast suggested that we would sail until around 10pm and then motor the rest of the way, but a little after 5.30pm the wind abated and boat speed speed fell below 4kts – at this rate we would miss the tide pushing us along the South Cornish coast. And so the drone began……… but at least the sea state had calmed.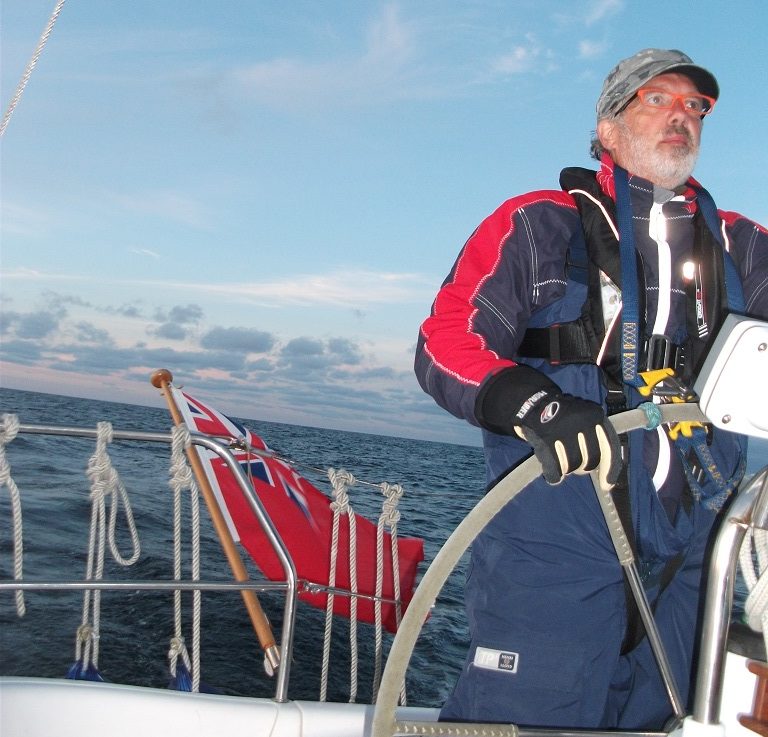 Given our battery charging issues we had turned the instruments and autopilot off after leaving the Castlemartin firing range and hand steered by compass until we approached Land's End (102nm approx from Milford Marina), having plotted a course to steer that allowed the tide to take us one way and then the next. We got it quite close and eventually had minimal adjustment as we reached the waypoint just before land's End.
The weather was just beautiful. We remarked how miserable it would have been with persistent rain, but mostly traveled in silence, meditating and battening down the mental hatches for the predicted 30 hour passage. We took it in turns to rest for an hour or so, and eventually the sun set: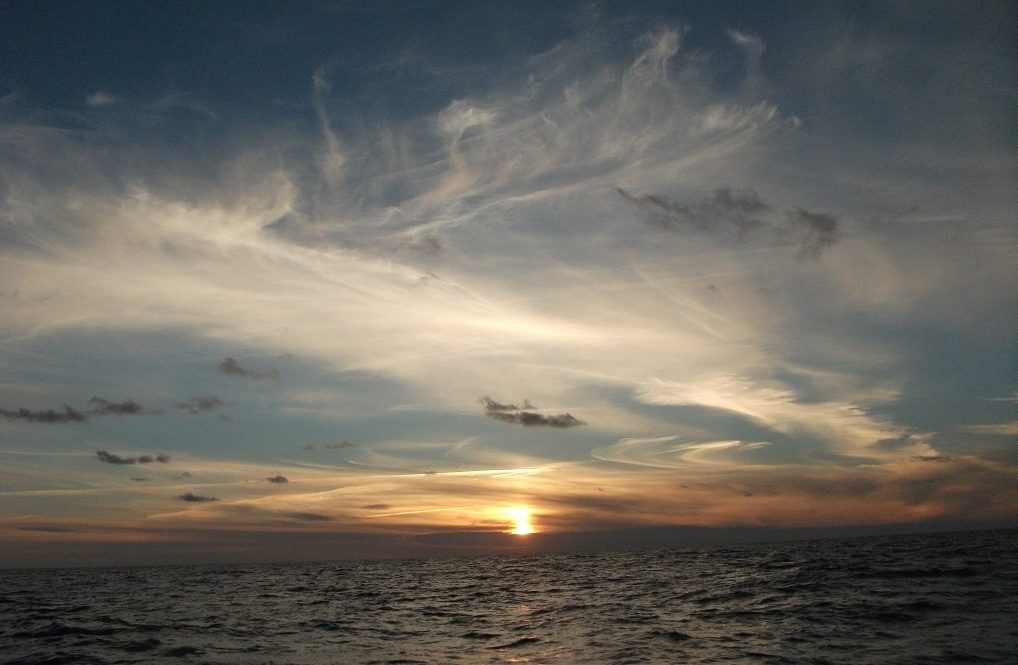 Experience tells us that Val needs sleep more than Paul, who took the majority of the night shift. When Val came back to the cockpit at around 3am she found Paul falling asleep at the wheel and mumbling something about being pursued by dead pirates.
Indeed behind us was a very strangely lit vessel – a large orange glow swinging wildly just above the water, with a white light at mast height gently swaying above. It had been closing on us for a good few hours, but as Val re-surfaced it was only a few hundred metres behind, heading straight at us. Paul moved to starboard, expecting to see the orange light change to a green starboard light, but it remained constant. He steered to port expecting the vessel to pass down our starboard side, but still it closed directly at us.
As we were about to get foghorn and torches to catch the dead pirates' attention it suddenly changed course and passed to our starboard, with Paul yelling at Jonny Depp to tell him what a cretin he was! And a few other choice descriptors.
What was it? A classic yacht with badly set port and starboard lanterns? On autopilot and suddenly waking up to the situation??
Nope – it was dead pirates 'avin a larf!
As we closed on Land's End twilight emerged…and as we passed Longships lighthouse a fabulous dawn ……..dawned!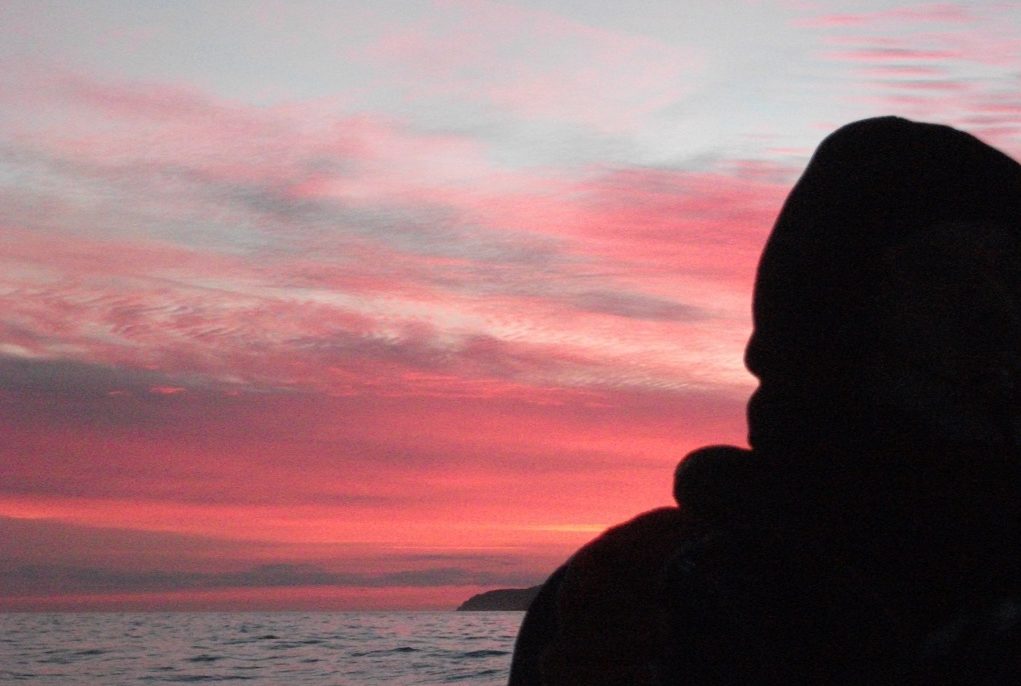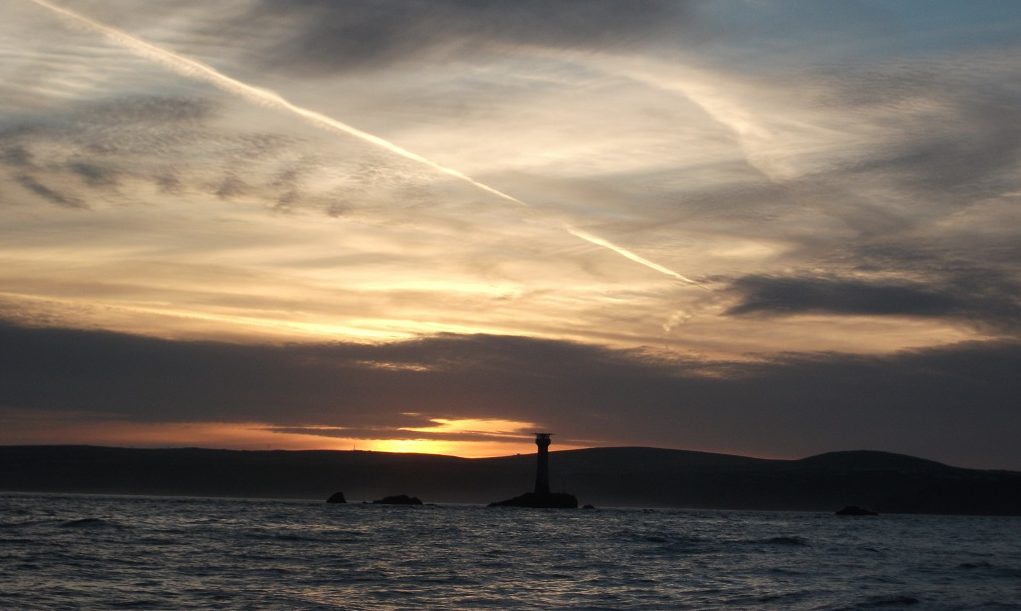 Unfortunately we chose a new moon spring tide for the trip (as dictated by weather) and we had, as predicted, 3.2kts of tide against us for a couple of hours, making for a very slow passage around Land's End. We were perhaps half an hour behind schedule, but still picked up a favourable tide towards the Lizard.
Our passage plan took us 4 miles off the Lizard to avoid the infamous overfalls off this headland. We knew that we could be arriving with a predicted Westerly Atlantic swell, and probably around the turn of the tide (ie against us) and a light Easterly wind –  and that it could, therefore, be lumpy. As it was, the "red sky in the morning" actually heralded a beautiful day and a flat calm oily sea (with gentle Atlantic swell). The sea state off the Lizard looked fairly calm, and so we adjusted course to an offing of under 1 nm. The sea had changed from its previous oily state in the overfall area but was fine, and saved us a good few miles.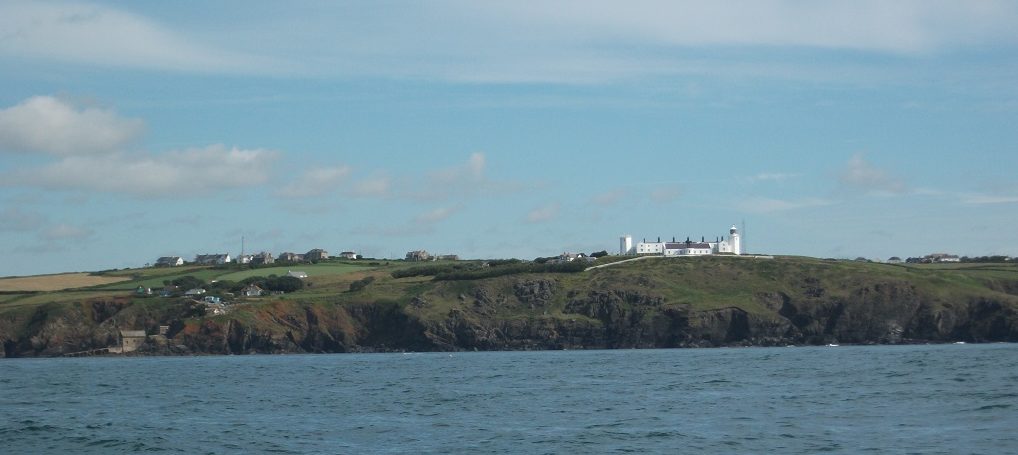 We rounded Lizard point and headed up towards Falmouth against a little tide but in beautiful conditions, prompting stripping down to shorts, slapping on the suncream and topping up the tan! We were enjoying the last part of the trip.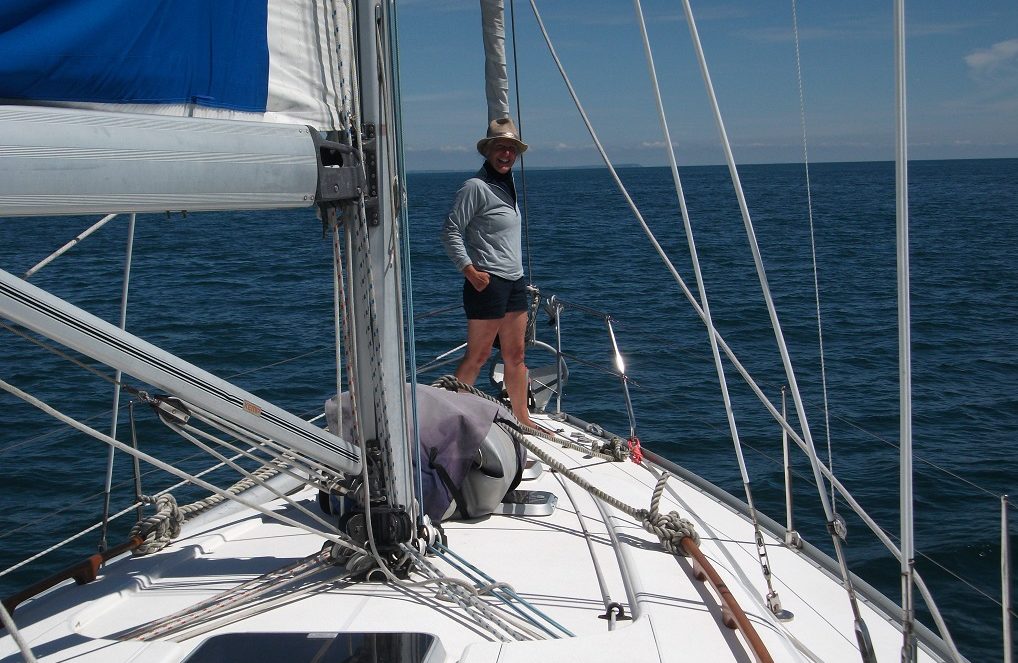 We called up Port Pendennis Marina and booked a berth so that we could walk ashore and enjoy the (from research) lovely town. There are many mooring balls and options to anchor, but this ensured that after arrival at 2.25pm and a couple of hours catching up on sleep we could have a shower to freshen up after our 29 hour and 55 minute journey – having taken 5 minutes off the passage plan!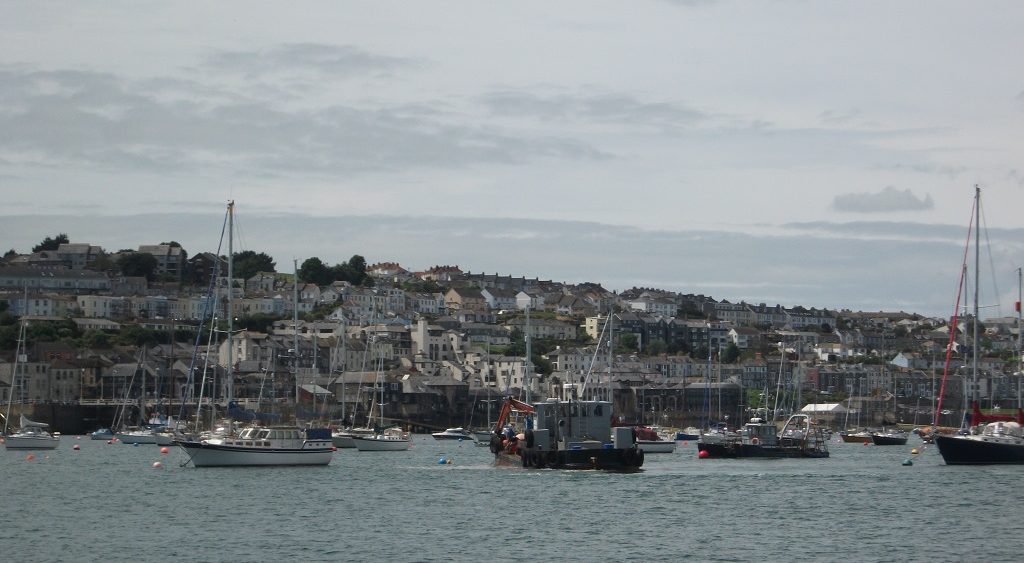 So – did we enjoy it or just, as predicted, endure it?
Well; we loved the first quarter (sailing); endured but didn't enjoy the middle half, but absolutely loved every minute of the last quarter. Will we rush to do it again? No. Will we do it again? Yes!!
Distance since leaving Kip – 538nm