Pornichet and Pornic – and visitors!
……and catching fish – at last!
We had to be back to the mainland and in Pornichet marina by the last Saturday in July, where we had arranged to meet Alice and James who were coming for a week's holiday. Paul's back was sufficiently mended to leave the madness and noise of Le Palais by Wednesday – which would give us time to reorganise storage in the aft cabins to have one cabin clear for our visitors!
The forecast was for a grey day with a reasonable sea state and NW to W winds of sufficient strength to give us a reasonable downwind sail.  For once the forecast was spot on, and we sailed the entire 37 nm. At times the sea was a bit rough and rolly, but Dotty coped well and we could concentrate on dodging the odd shower under the spray hood – and fishing.
The approach to Pornichet is through one of two buoyed channels through off-lying shoal areas. Between that and the huge La Baule beach (and the marina) is a large bay with fairly shallow water – mostly 2 to 3m below chart datum in the approach to the marina. This would need watching at a very low springs tide or with ground swell entering the bay at low tide, but we had fair sea conditions and 2m rise of tide when we arrived. There was a fair old swell at the entrance to the marina, but conditions were immediately very calm when we entered and were directed to a hammerhead – where a boat with 4 lovely Danish crew rafted outside us later!
After being ribbed for lack of success on the fishing front for nearly 3 months, Paul finally caught what he was after. Having spurned the opportunity to catch mackerel with feathers, Paul's perseverance with the tuna hunt finally paid off. After a good fight this 3kg monster was landed: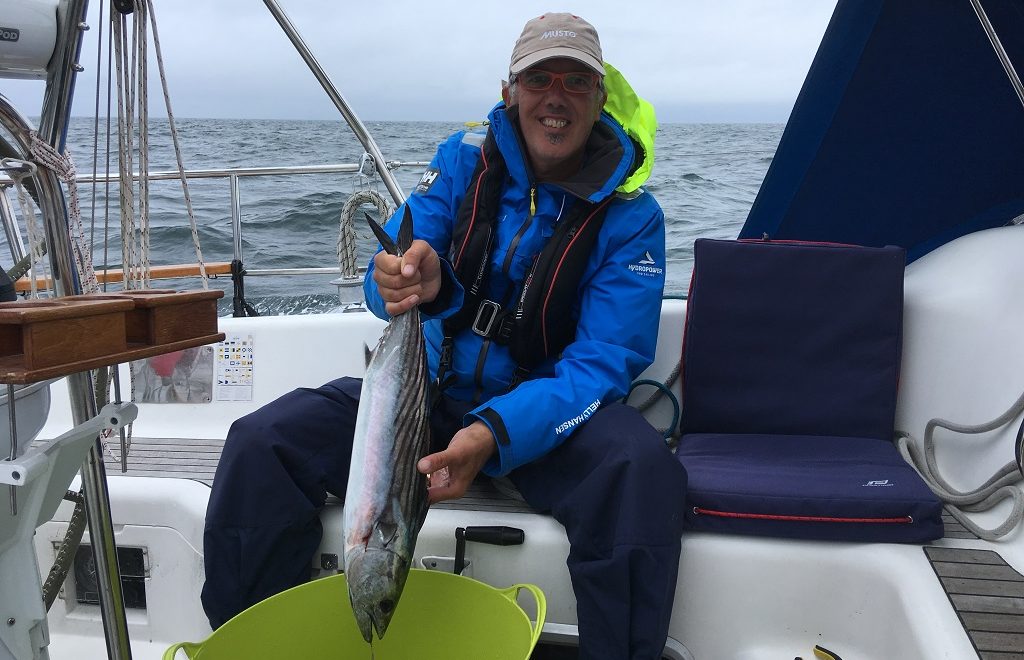 Not quite the tuna we were after, but a member of the tuna family all the same. Googling Bonito recipes suggested that it is best suited to fish bait, but we cooked it all the same (marinaded in orange juice, soy sauce and ginger) and enjoyed the meat which had a mackerel-like texture. It was on sale at the amazing indoor market at Pornichet at 11.90e /kilo, so clearly not regarded as fish bait by the French – but what would they know about good food?!!
Pornichet is a bit of an uninteresting concrete marina, obviously constructed in recent times a little distance from shore, and connected to the land by a long bridge. When we first walked out of the marina there must have been 30 or 40 people fishing from the bridge, some with rods and some using nets with cantilever stays: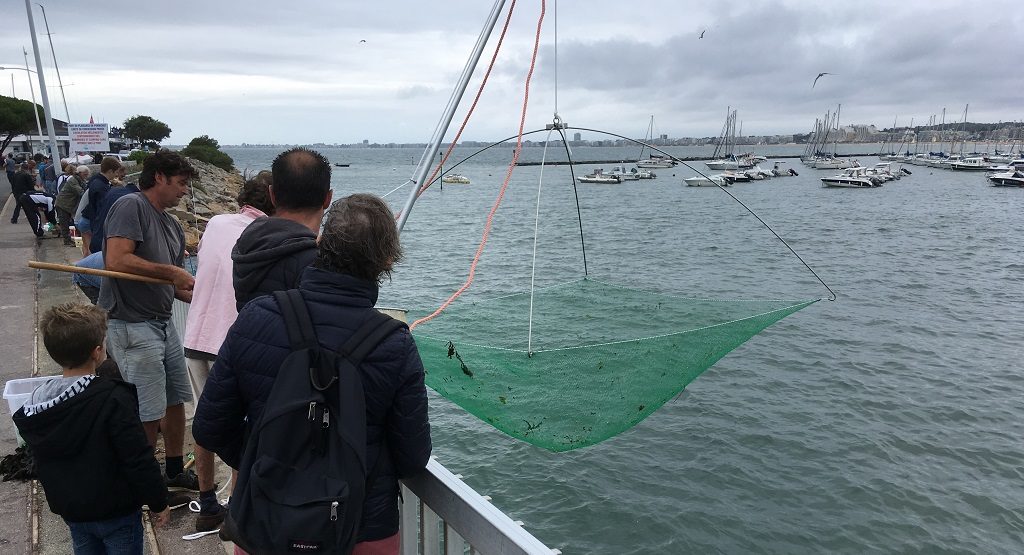 ……. and all fishing for these minnows! We should have taken our Bonito for a stroll and showed these losers what real fishing is about!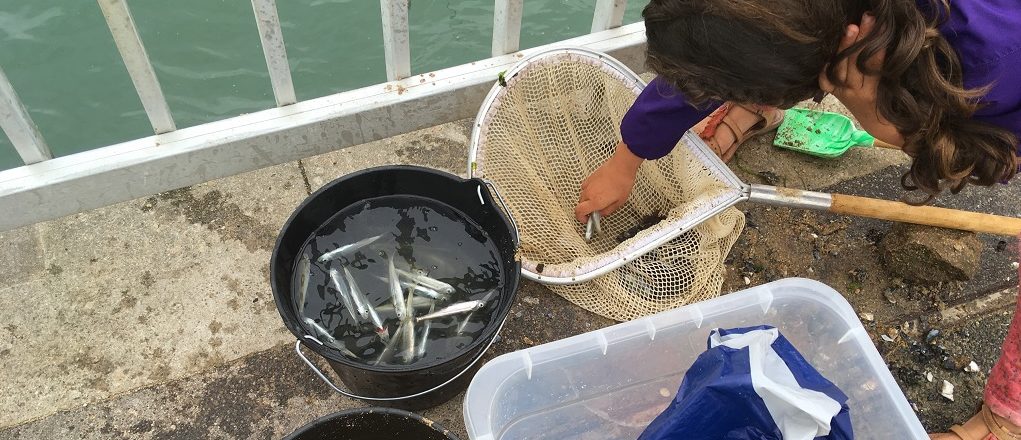 We worked hard to get the boat ready for our visitors – re-ordering our aft cabin stores – with the result that there was barely room to step inside the port cabin – and cleaning. We rewarded ourselves with really excellent pizzas in one of the string of restaurants in the marina complex – "P'tit Mousse".
We were excited to see Alice and James after 3 months away. They arrived on Saturday afternoon, after the excellent Pornichet market, just a short stroll from the marina, had finished. The weather forecast had improved from the very unsettled conditions predicted only a week ago – to being generally good. The marina can be seen top right below, taken from one of the beach bars along this huge beach (with modern apartment blocks fronting and older villas behind).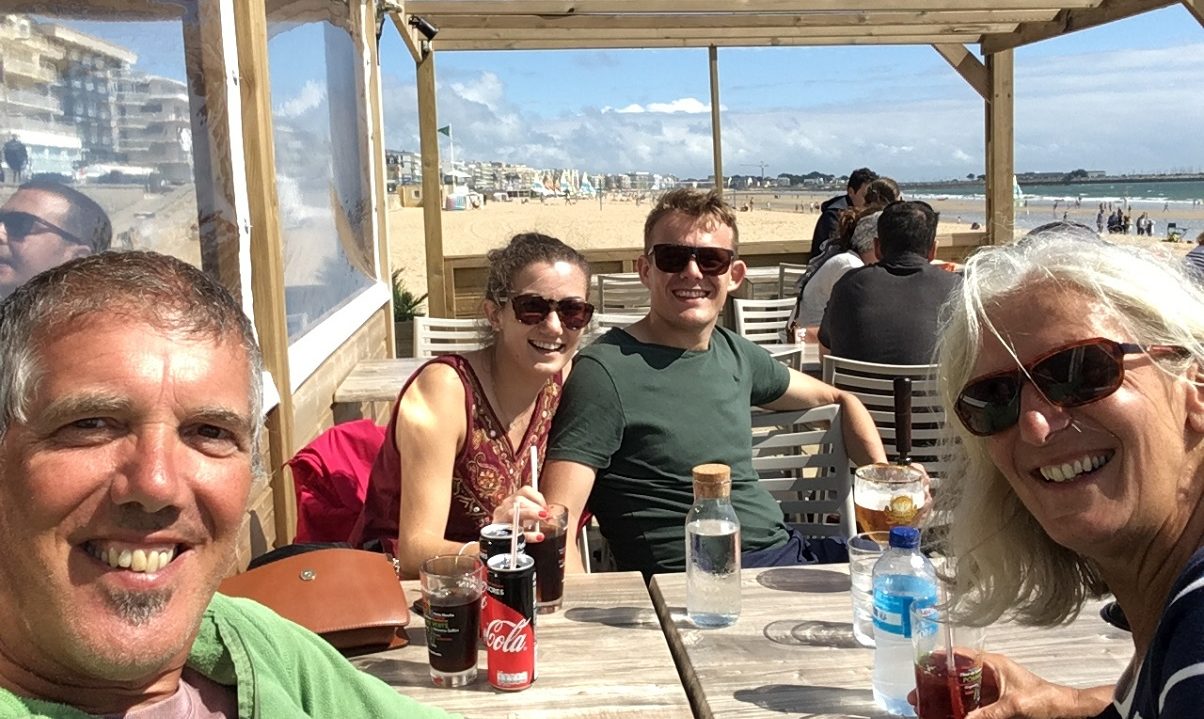 We wanted to spend a couple of nights away from Pornichet, and the best weather window was to set off the next day to Pornic, a sail of around 20 nm to the South. We had a superb sail all the way there in good weather (Val can be a bit nesh, hence the coat below).
James wanted to fish, having never done so. He landed his Bonito (see top photo) after just 30 minutes, when Val said "well done James, it took Paul 3 months to catch his". She is very good at rubbing it in!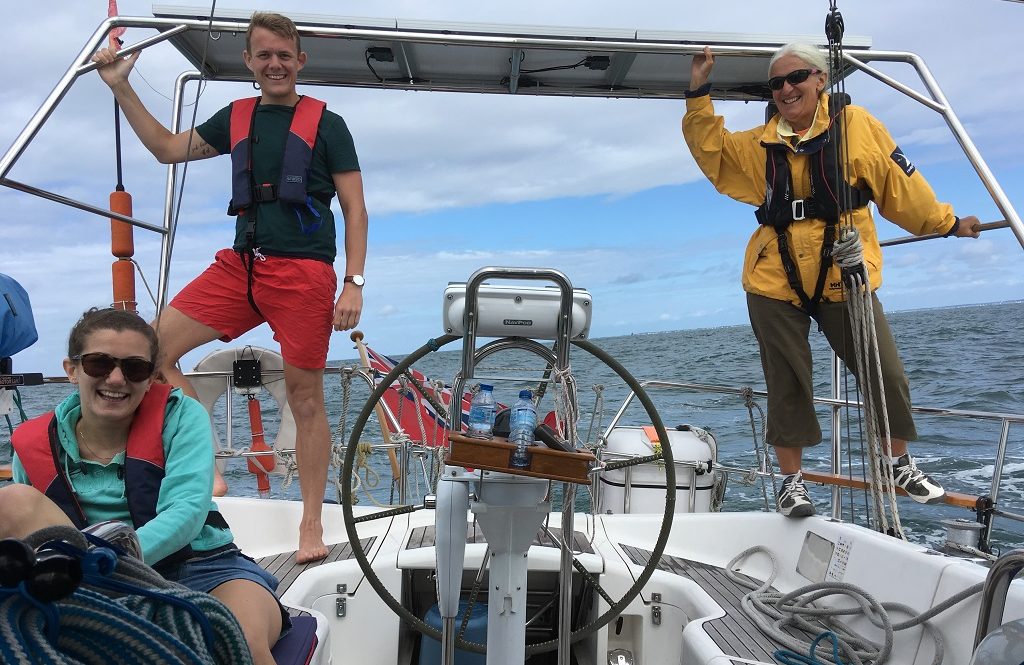 Again the approach to Pornic is shallow – with less than 2m below chart datum at the entrance. Again, however, we had a good 2m+ rise of tide. As we sailed along the coast near Pornic, in around 5m of water, we reflected on how we could not watch the depth sounder in Scotland when we passed over a shallow patch near our home marina where the sea bed came up to just 7m below our keel. Here we were under full sail with only 3m below the keel and perfectly comfortable! Our experience and abilities are increasing little by little.
Pornic has a modern marina which is somewhat prettier than that at Pornichet, but the most expensive one we have visited in France so far at 38e per night. Facilities are OK but not great – and not good enough given the high cost!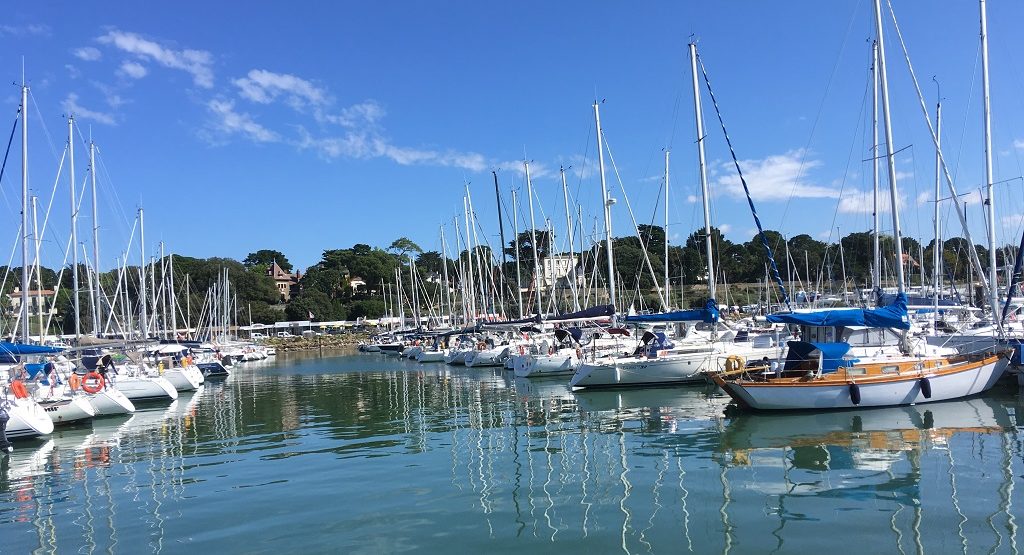 The marina sits a little way out of town as the town harbour dries completely. There is a very pretty 10 minute walk into the town, which was absolutely bouncing with tourists when we arrived, a couple of hours after arriving at the marina.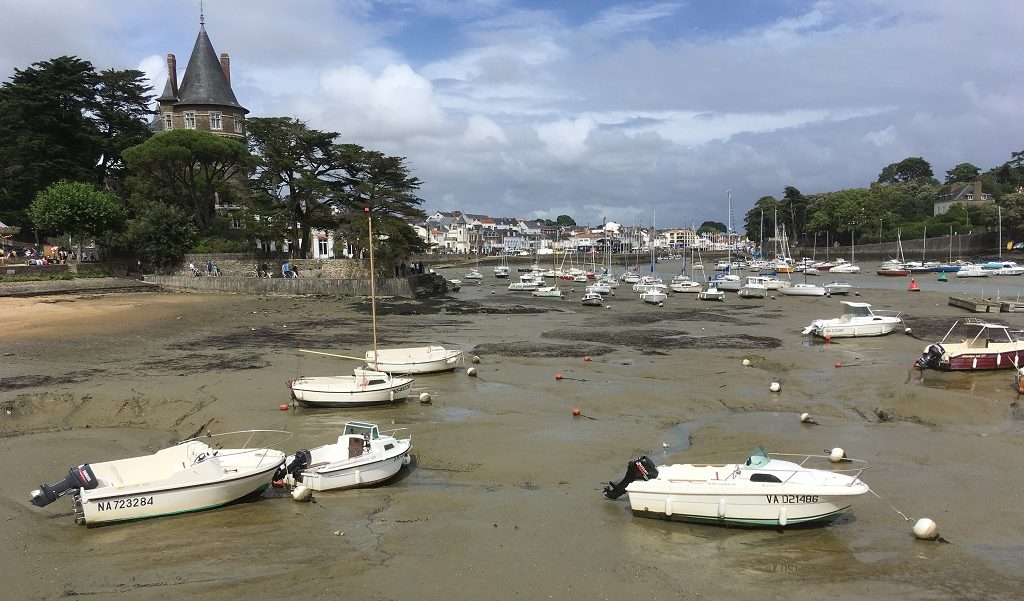 We had a great meal out at "Un Coin En Ville". A bit more expensive than some, but great food and good value prix fixe"menu".
Next day we walked West from the marina past the busy adjoining beach…..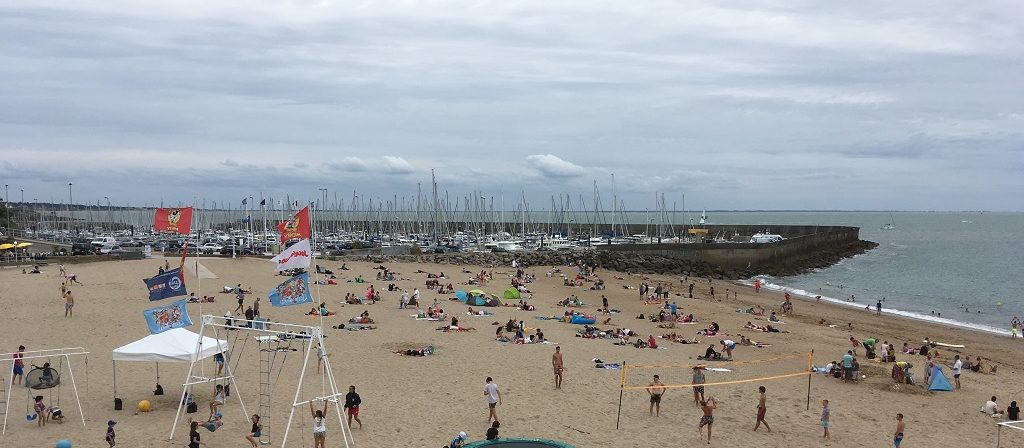 …… and on past other beaches, one of which had a good view of one of the many fishing platforms that we had seen on our sail in along the shore…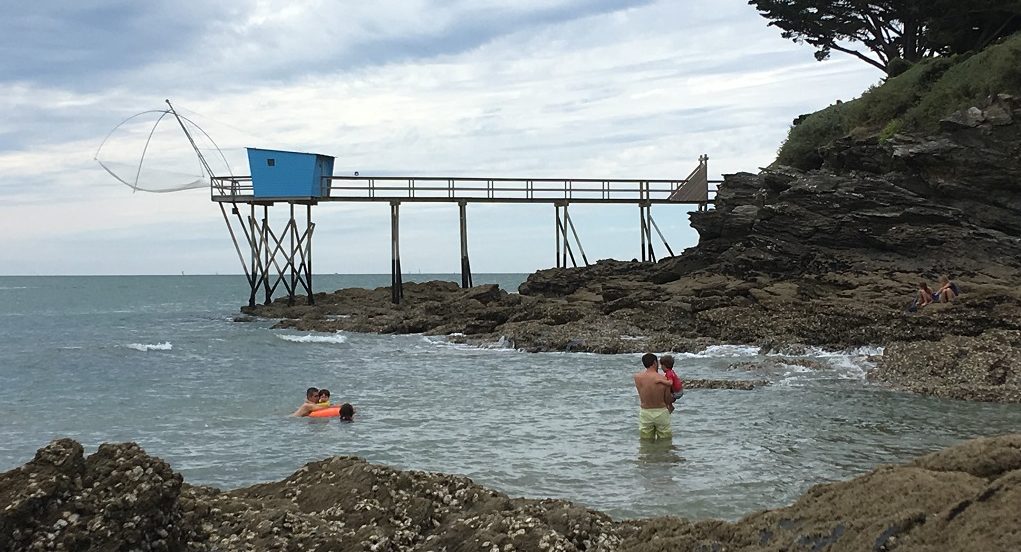 We sailed back on Tuesday (mostly motor-sail with a cracking sail at the end) for an appointment at the race track. The Pornichet Hippodrome is a short walk from the marina and the 5e entry fee for 9 trotting races was good value. We had never seen trotting races before and it was quite comical at times – with numerous disqualifications for galloping! Our best hope of a win was a good length ahead within 100m of the finishing line when the bloody nag broke into a gallop!!!
Val and Paul won the betting competition by losing only half of their stake. It was a bit of a lottery with a dozen or so horses in each race – and in the race for novices over half the field were DQ'ed.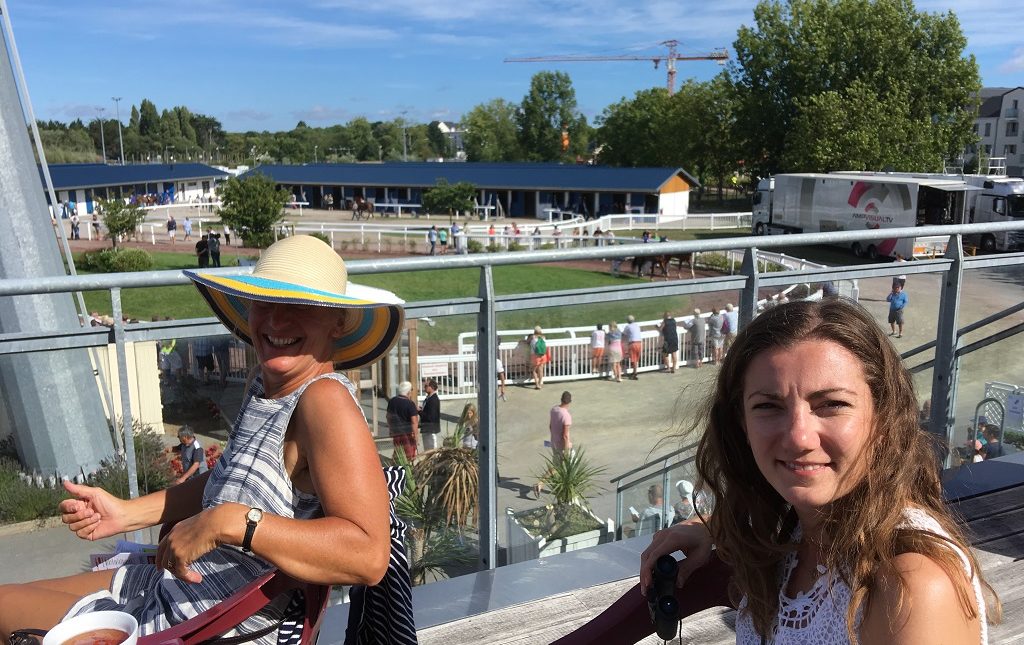 Wednesday was scheduled for a trawl around the market in the morning and a visit to 3 Muscadet vineyards in the afternoon. Having picked out 3 that were recommended by guru Hugh Johnson we set off hoping that the throat stripping Muscadet of our youth was a thing of the past (as we had heard), and that Hugh could be trusted with his pointers.
Well the answer was that it was better than we could have hoped. The countryside was beautiful (where we enjoyed a picnic) and the wines were superb and, no doubt due to the reputation of the bad old days, really good value. Between us we returned with fifty odd bottles, having enjoyed a very interesting tasting session (the difference between years, growers, soil/rock types etc all being remarkable).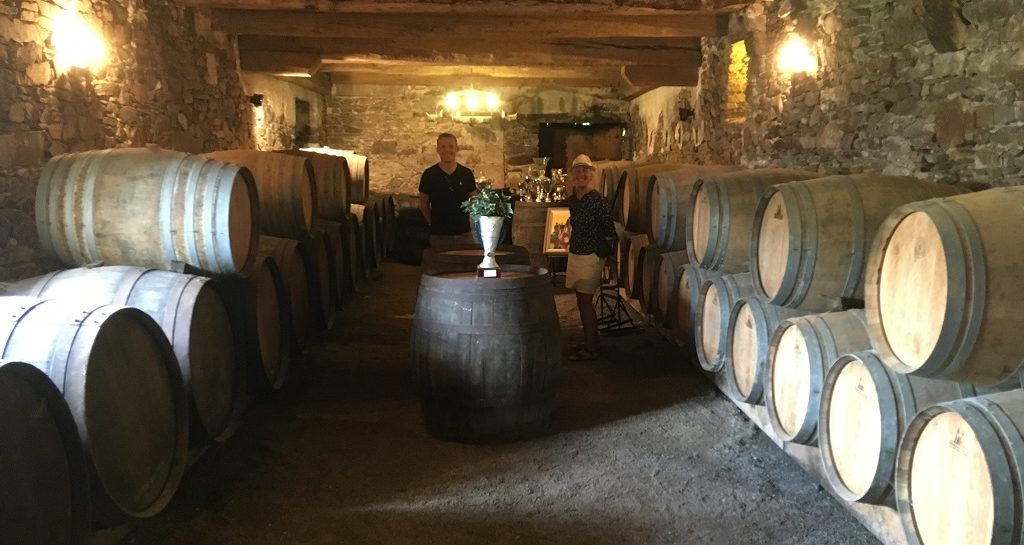 On Thursday we celebrated James' birthday with a trip to Nantes, one of France's largest cities. We went with high expectation, and whilst this is a big city with some magnificent buildings, Nantes was not the spectacular city we imagined. However we had a good day out, catching the train from Pornichet station which is a 20 minute walk from the marina.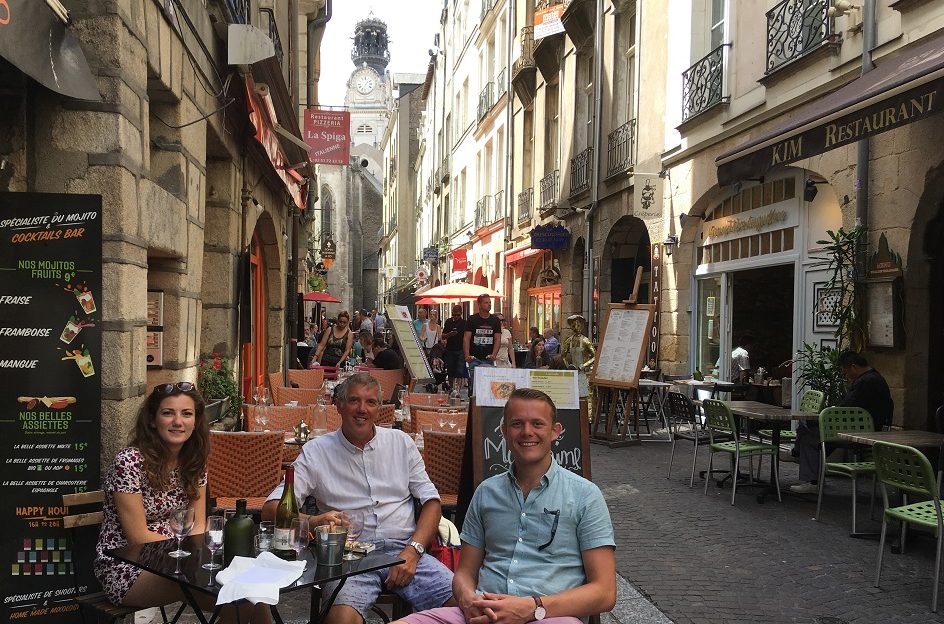 On Friday we visited Rennes, a somewhat smaller city, but with a much nicer centre (for us). We enjoyed Rennes in spite of the rain, which came as Alice and James left France after a busy but most enjoyable week.
Distance sailed since leaving Hamble Point – 586 nm