Noisy Le Palais and a bus ride to Sauzon….
We had originally intended to visit both Sauzon (small harbour with mooring balls (exposed to easterlies)) and Le Palais (main town with pontoons in the inner harbour behind a lock gate). However Paul's back was still very slowly recovering and not up to launching dinghies! There are mooring balls in the outer harbour at Le Palais – a bit cheaper than the inner harbour pontoons, but a dinghy is required to get to shore. There are also swinging moorings outside the harbour – but they would be quite exposed and to us at least would be no fun except in very settled weather.
The lock opening times are just a few hours around high tide, as published on the harbour's website. We had been advised by one of the Irish contingent not to charge in when the gates open but to hang back, as otherwise you end up just hanging around jockeying for position whilst the tight mooring arrangements are sorted – "there'll be plenty of room" he said.
Well he was absolutely right, but we didn't realise just how long we should have held back.
After a brisk 17 nm crossing from Le Crouesty in a very fresh breeze, sailing the whole way, we arrived off Le Palais 5 minutes before the 13.30 scheduled lock opening time. After hanging around 10 minutes we called up the harbour on VHF 9 (the channel used by pretty much all marinas around here). The advice was that it would take up to an hour to get departing boats out before anyone could enter.
Other yachts arrived, and eventually over that full hour there were around a dozen waiting to get in.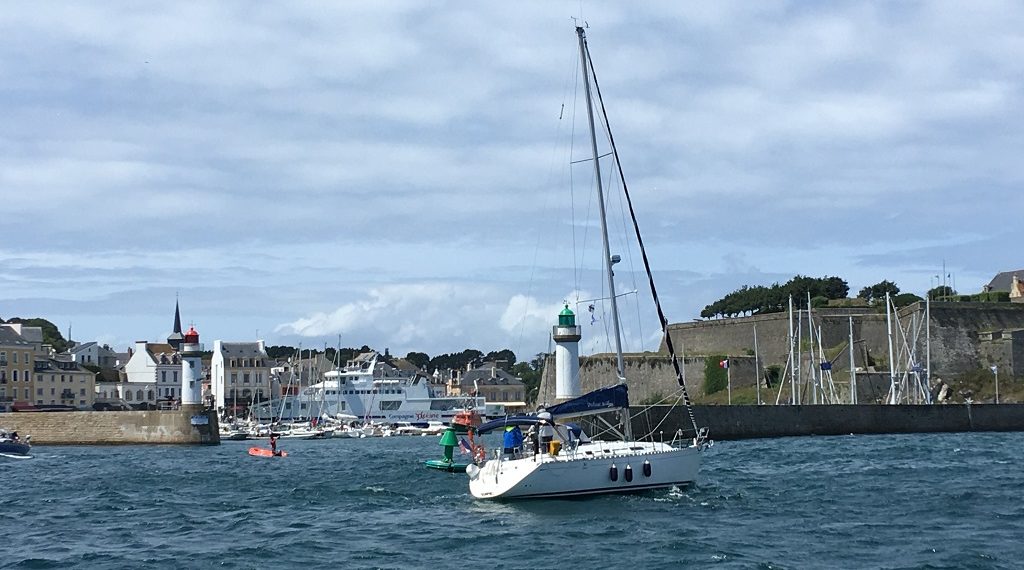 There were 3 harbour staff in separate dinghies whizzing around sorting out what became a somewhat chaotic berthing period. As soon as it was announced that yachts could enter there was something of a cavalry charge. As advised we held back for 10 minutes or so, but when we entered, with 3 others behind us, the reason for the advice became apparent – and we ended up stuck in the middle of a queue of yachts all trying to hold station in a fair old wind that funneled through the harbour.
It should be noted that yachts will not sit still in a wind – it's not like a car where you can just sit there with your handbreak on. The wind blows the bow off and will have you against another yacht or the harbour wall quite quickly if caught unawares. And so Paul must have spent not far off a full hour keeping Calypso moving forwards and backwards to keep "steerage way" on, dancing around with those in front and behind. It has to be said that this is quite stressful in a strong breeze, and our advice, adding to that which we received, is to hang at the back of the queue as the arrangements to berth are something of a shambles and there is more room at the back to maneuvre more easily. Oh – and in high season don't even bother arriving until an hour after the lock opens (unless taking a fore and aft mooring in the outer harbour.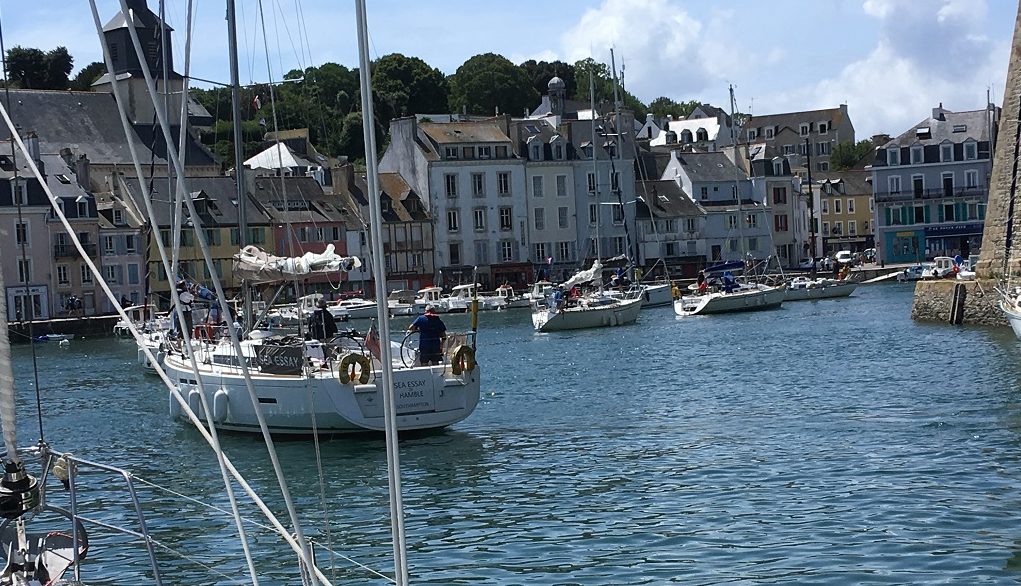 There is a footbridge over the lock which has to be raised to allow yachts in, and they allowed in 3 or 4 at a time. Once in there is even less room to maneuvre in the wind, but fortunately, as you can see here, we were first of our batch through and got tied up fairly quickly…..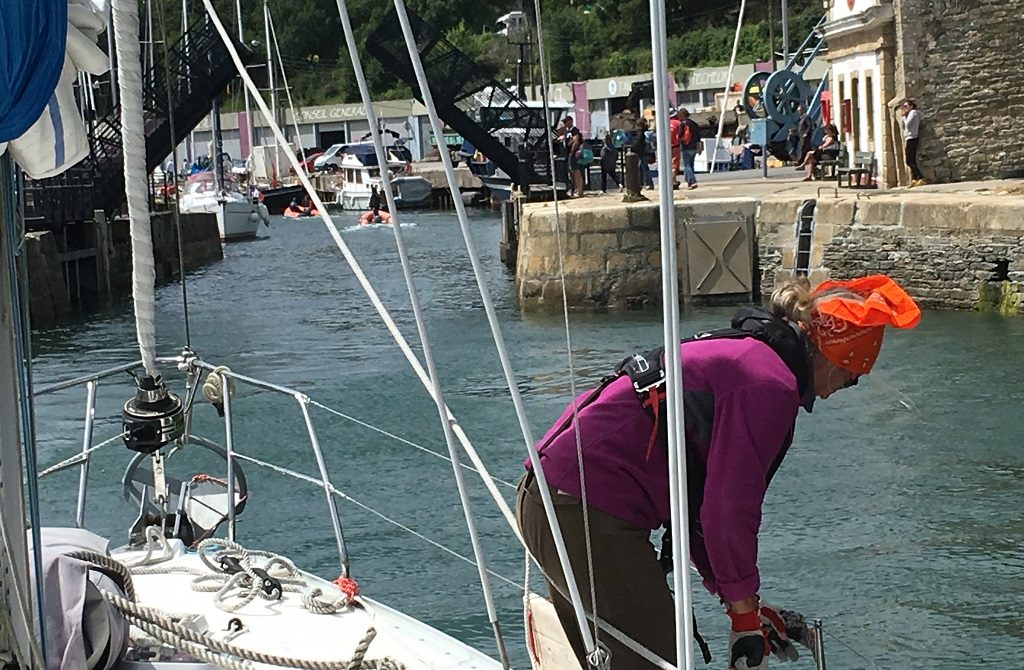 That said, more stress ensued when we were instructed to take a berth that was not much longer than Calypso, as seen in the following 2 photos – however we managed to squeeze in (in the wind, remember) without touching the dinghy slung off our neighbour to the rear and without tangling anchors with our neighbour in front – just! We turned the engine off fully 2 hours after arriving at Le Palais under sail.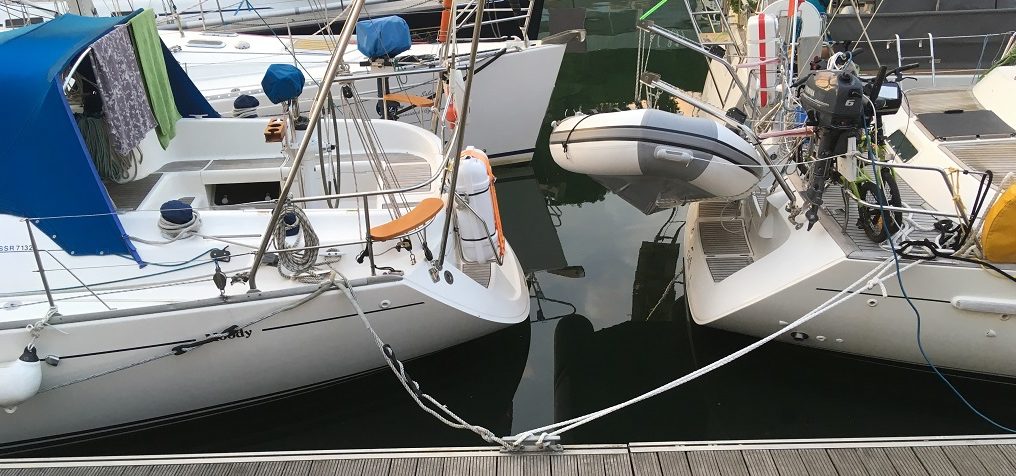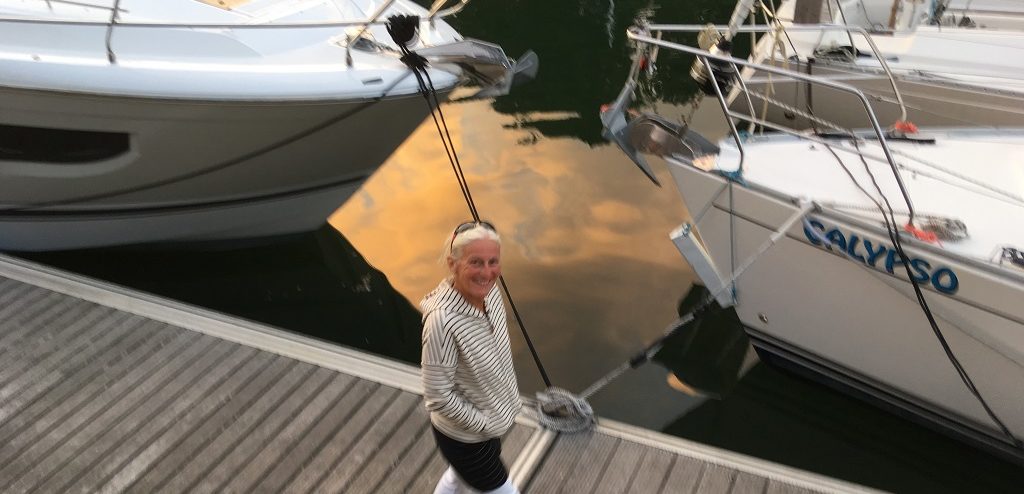 We were rudely awakened a couple of days later when a new neighbour to the rear, a 42 footer, was given a 45 foot gap to park in and tapped our stern when doing so – fortunately it was gentle and no damage was done. However after that we ensured that whenever those rafted outside were departing and leaving us exposed to arriving yachts we would be on board Calypso when the lock opened, leaving only once we had a new "fender" parked outside of us.
In this narrow inner harbour rafting 4 deep is the norm in July/August – and it is used by the island's supply vessels, making things even tighter. This photo was taken after an early morning lock opening saw numerous yachts depart, but before new arrivals in the evening opening. There is onlyone yacht rafted outside of us here in the centre.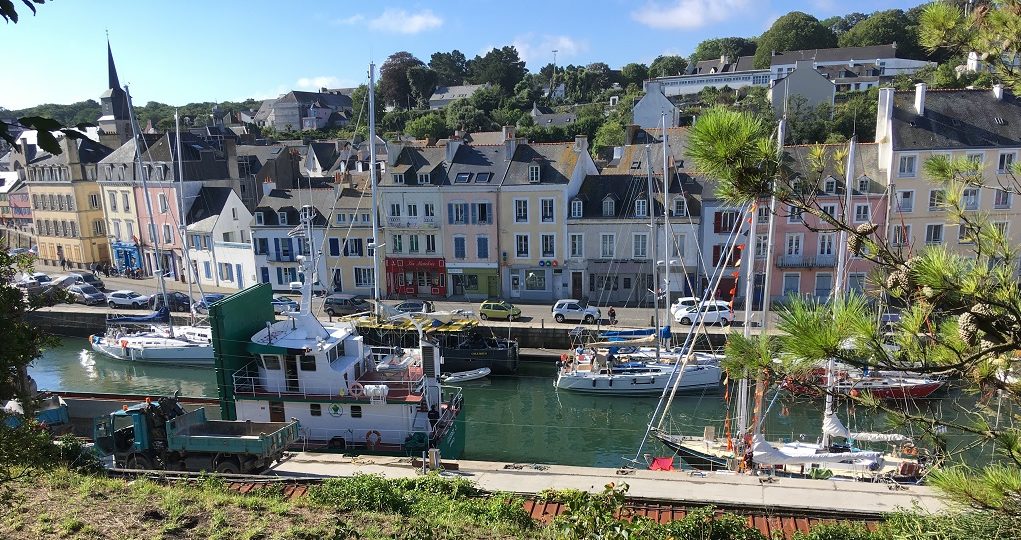 Below is the inner part of the outer harbour, showing the lock – and those of deep draft arriving/departing close to lock opening or closing times might want to stand off the starboard side of the harbour as this area dries completely (see top photo).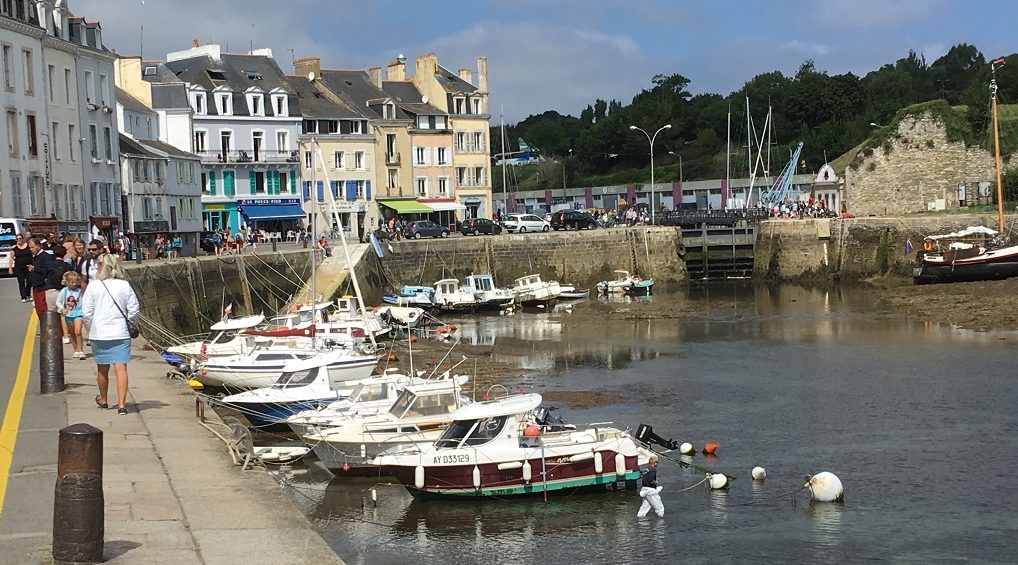 We had eagerly anticipated our time on Belle Ile, and whilst it was on balance a great place to visit, we had mixed thoughts.
The noise from people crossing Calypso from 3 boats rafted outside every day, most of whom had 4+ crew wearing clogs; and the noise from 2 nightclubs directly adjacent to us was horrendous – boom-boom-boom from the open shop frontage and loud chattering on the streets until the 2am closing, followed by even more people on the street shouting and carrying on for 30-40 minutes after closing time. One night a neighbouring yacht skipper was having a shouting match with a reveler who was eventually taken away in the back of a police van!
In spite of wearing earplugs and keeping hatches closed it was difficult to sleep from Thursday to Saturday – less so (but earplugs still required) on Sunday/Monday.
It has to be said that more crews rafted outside us were inconsiderate than the very few who take great care when crossing. However we did have a lovely Dutch family outside of us for a couple of days who were very much in the good neighbour category – the son even washing the deck at the front of Calypso when he mistakenly thought that they had left muddy footprints (that was an earlier neighbour!)
Shower/WC facilities were pretty average and quite a long way from the pontoons, next to the Le Palais bus terminus or next to the Capitainerie. A shower was charged extra at 1e, and even then the press button had to be refreshed every 5 secs (Capitainerie facilities) or 8 secs (bus terminus facilities). Do you gather we were unimpressed?
However the town with its long harbour frontage, good selection of shops and bars and a daily market (in season presumably ) was very attractive, and we had a very good seafood meal at Le Vivier restaurant, including locally caught "pouce pieds" (goose neck barnacles)………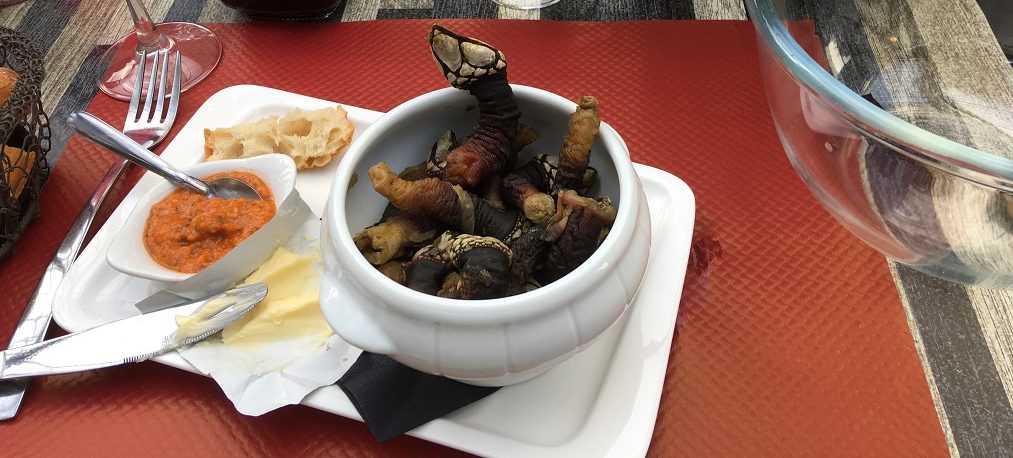 And we enjoyed visits to the Citadel and also a fortified urban area, all very well preserved. Our second visit to the urban fortification was to visit the island's agricultural show. Not a huge affair but there were cows and sheep to be judged……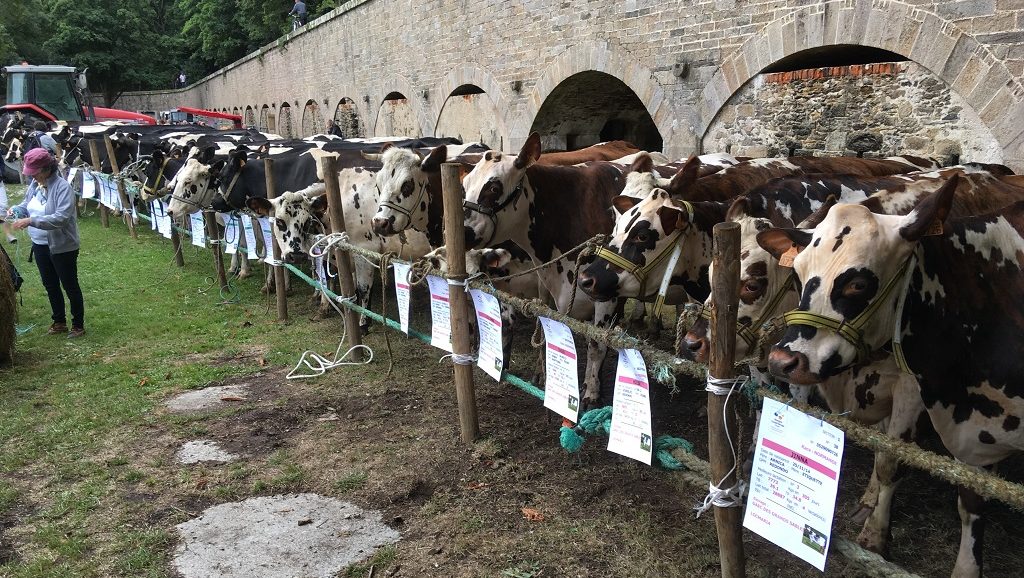 ….as well as the local heavy horses, most of which were owned by a pigeon chested chappy (in the blue cap on the left in the photo below) and displayed by various members of his family. The horses responded well to the family, but the blue capped grandad insisted on prancing around the ring after the horses whacking them on the bum with a stick; that was really unnecessary, and his horses were nervy around him. However he was thanked for keeping the tradition alive on the island in the speech below. We are starting to pick up spoken French a little better (but still just enough to get by).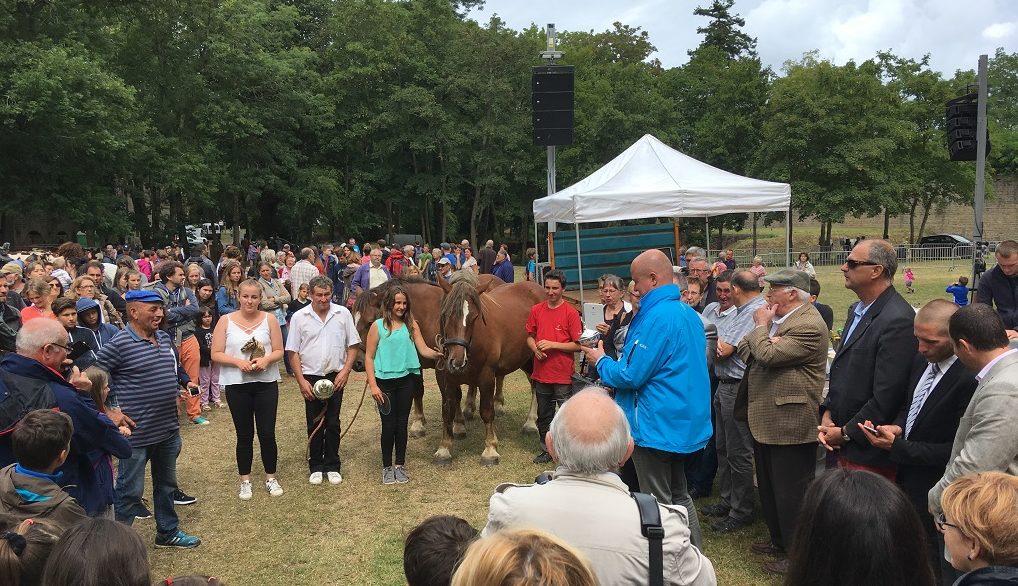 A real highlight for us, as fans of dear old Keith Floyd and his forays into French country gastronomy and customs, was the communal lunch on long tables, served by the farming community and where we sat first with older and then the younger generation – who were each happy to extend pleasantries as we managed to pay homage to Keith and polish off a bottle of red!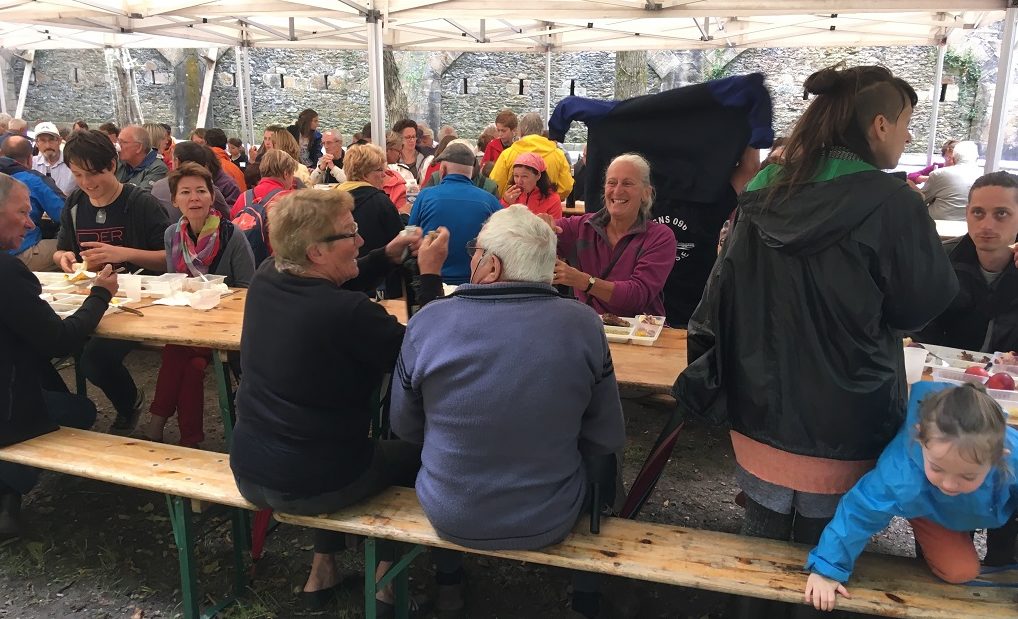 The setting inside the fortification was wonderful….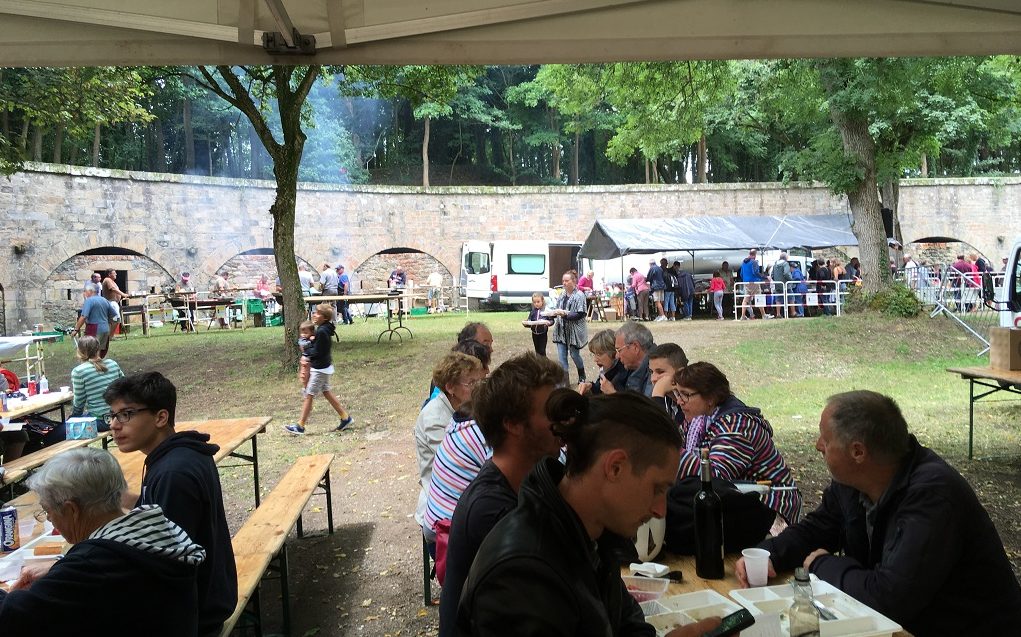 Sadly Keith is no longer with us, but to cap it all the guest celebrity chef on the BBQ was………ok – let's see who gets it right first – answers on a postcard please (or the reply facility at the bottom!)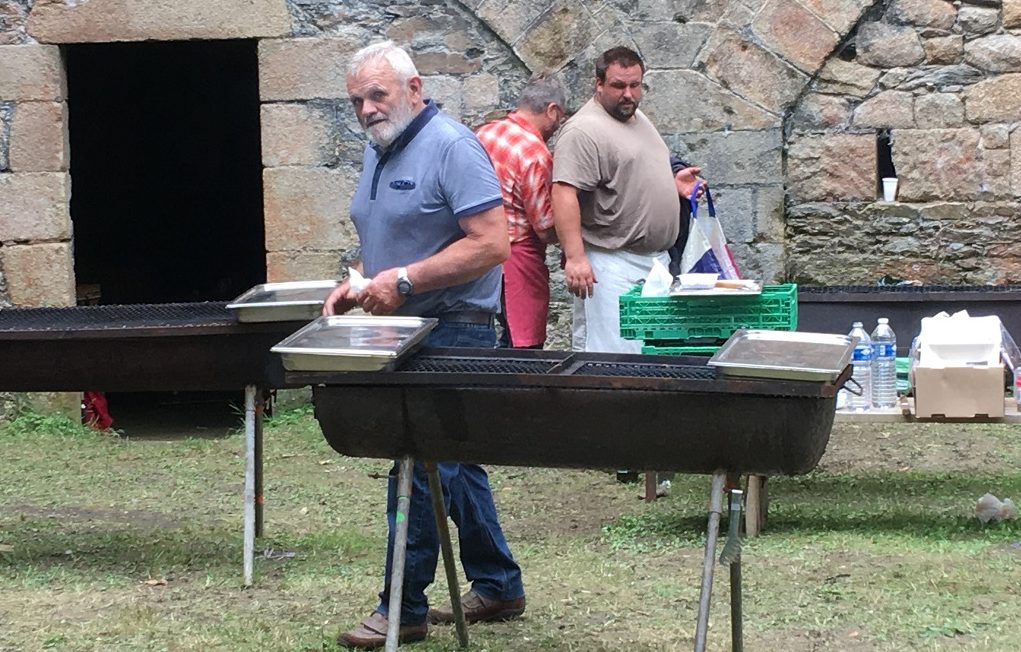 We had to settle for visiting Sauzon by bus as Paul's back precluded mooring and launching the dinghy. Others have said that there is not much there but that they prefer it to Le Palais. Each has its advantages, but we certainly would have enjoyed mooring up and visiting the drying harbour by dinghy.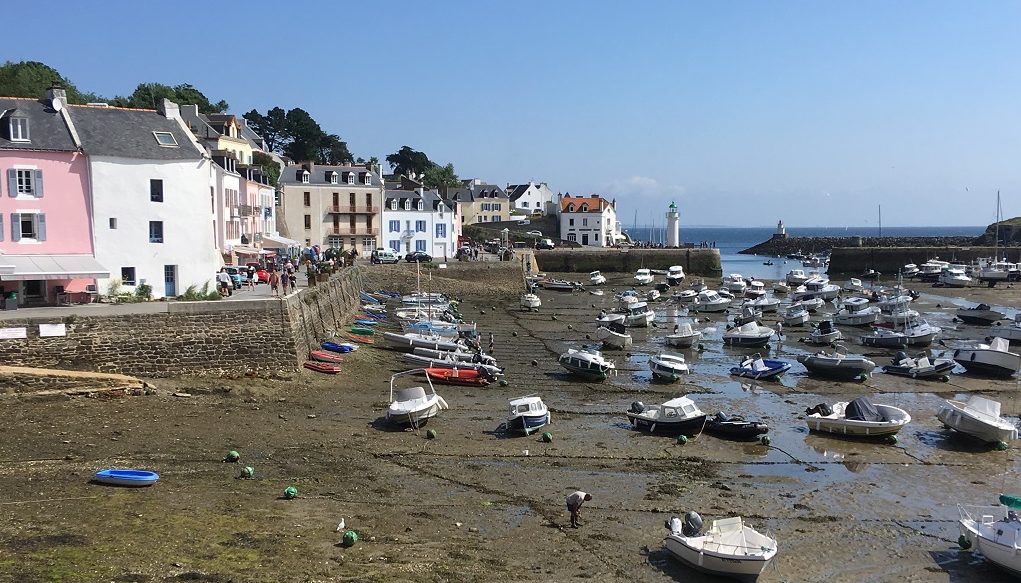 The outer harbour has a few visitor mooring balls but most are sited outside the harbour altogether. This place is to be avoided in Easterly winds. Some of the mooring balls look a little too close together perhaps: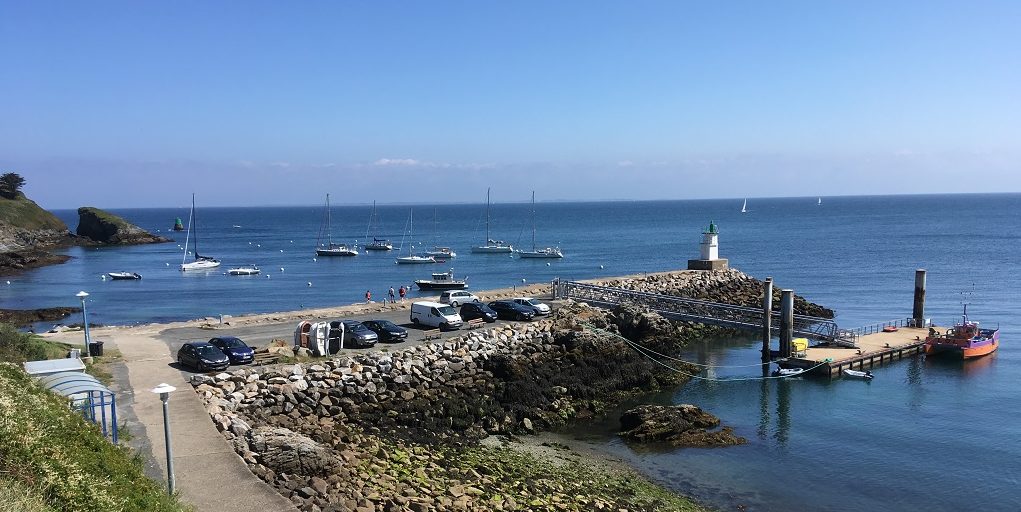 We had an excellent lunch at Cafe Cale – a seafood restaurant. It is round the corner out of shot in this photo, near the lighthouse.
We had a bottle of wine with lunch, but perhaps not as much as the man in the photo here – is he "planking"?!!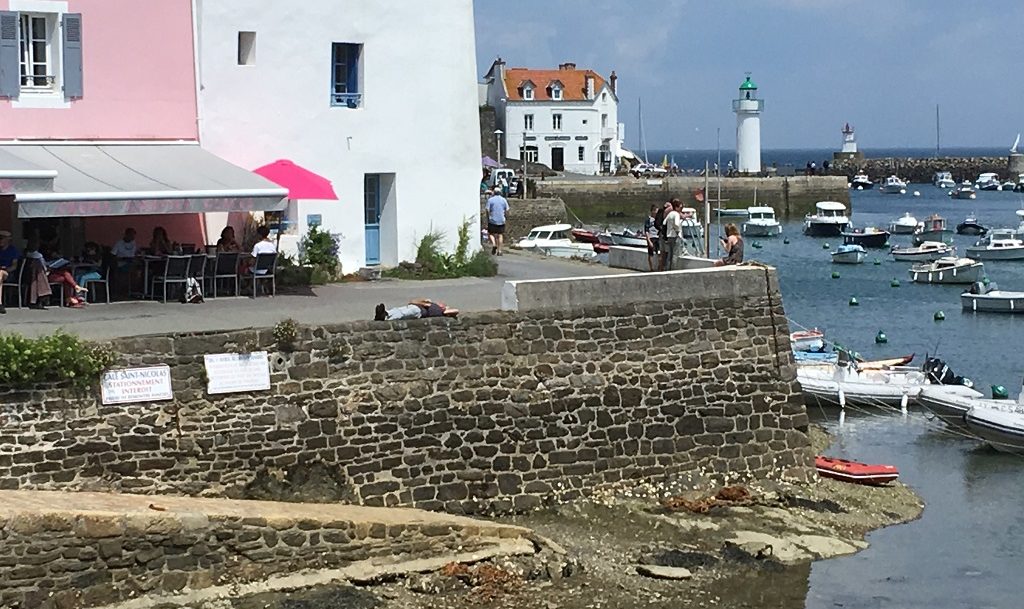 Make that "baguette planking" – unique to France no doubt!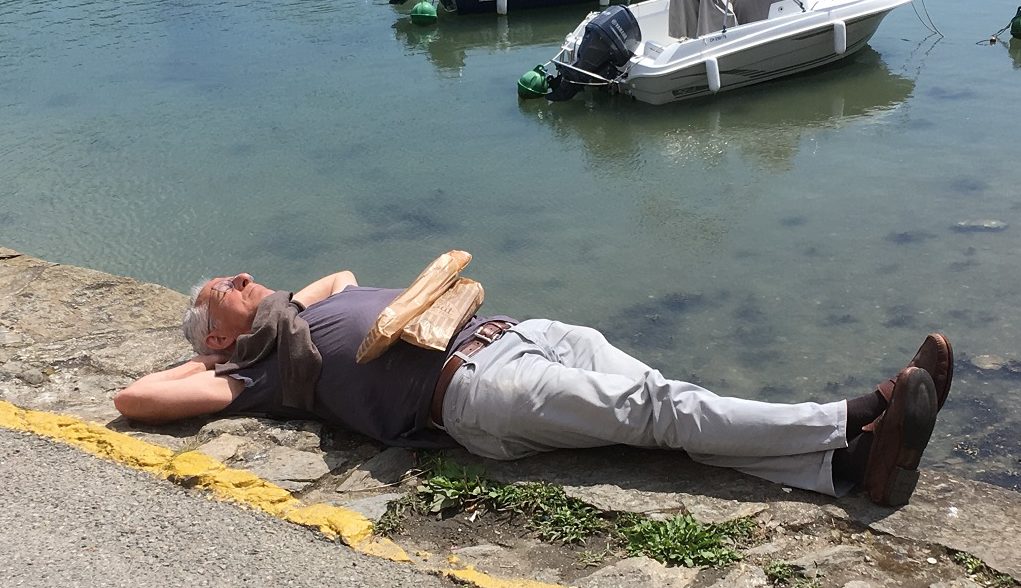 From the bus the countryside looked pleasant and we would have preferred to get the bikes out (…..remember the back?)
So as we left Le Palais what was in our minds? Relief that we were leaving, actually. Whilst we really liked the place we didn't like being rammed in the harbour too close fore and aft and 4 deep; and we certainly didn't like the disturbed sleep from the nightclubs. We would have left earlier but Paul's back prevented that. If we ever came back we would probably take a mooring in the outer harbour – or if wanting a pontoon it would certainly not be in the French summer holiday period (mid July to end August).
There was one compensation – the berthing fee was only 25e per night (plus 1e per shower)!
Distance traveled since leaving Hamble Point – 511 nm