Le Crouesty – Le sardine tin!
We left Vannes a day late thanks to alcohol poisoning – having waved off 3 of the 4 Irish boats that were party to the crime! They obviously have a stronger constitution than we. Our last day in Vannes was one of slobbing about and feeling sorry for ourselves. We all need one of those now and again.
So, Tuesday dawned, a grey day with ominous clouds replacing the blue sky and searing sun that we had grown accustomed to of late. By 12 noon it was raining – bouncing down at times and with thunder and lightening thrown in. We mentally made a list of which electronic gadgets we would put in the oven if the lightening got too close. Masts make good lightening conductors, and a strike fries all electronics aboard – except inside the oven, which acts as a Faraday cage.
The storm never got that close, and as forecast, the sun reappeared by the time of our intended departure – 13.45, one hour before Vannes high tide. That turned out to be a good choice as we never saw more than 3 knots of tide all the way out of the Morbihan – although we were at neaps, so didn't expect much anyway.
As we exited the narrow straight off Port Navalo we must have encountered a wind acceleration zone – the wind suddenly went from 10kts or so to touching 30kts. Fortunately we hadn't bothered with sails!
We entered Le Crouesty very easily – it is less than a mile outside the Port Navalo entrance to the Morbihan, and whilst there are shallows, the entrance is well buoyed and there is an easily followed leading line (red panel with white stripe in line with the lighthouse – not to be confused with the nearby white port entrance marker with a red stripe!!)
As we entered the wind abated and conditions were suddenly calm again. We tried radioing the marina on Ch 9 but got no reply – however this being peak time (16.30) in peak season (just after Bastille Day) the marina was very busy and there were 3 dories on duty, pointing visitors to their berths. Around the usual visitor area boats were rafted 3 deep out into the channel. Perhaps because we said we were staying 2 or 3 nights (we knew it would be 2 unless Paul's back relapsed) we were directed to a bertholder's space that we could stay in for up to 4 nights. And it turned out to be in a peaceful part of the vast marina – and so after the nightly disturbance in Vannes we could enjoy a full night's sleep and not have to use earplugs!
Now before we describe Le Crouesty (the marina, in the town of Arzon) we must state that this is going to be a very unfair report. With Paul's bad back we could wander no farther than the periphery of the marina (not the prettiest) whereas others have said that if you get your walking boots on there are nice places to see. So, with that caveat, and apologies to Le Crouesty (the staff were lovely) here goes:
Crouesty is not regarded as an interesting place to visit – but a convenient stopping off place whilst in transit – especially to time the tide into the Morbihan. There are 1,432 spaces in this marina – it is huge! But not pretty. Here is an aerial photo that I pictured: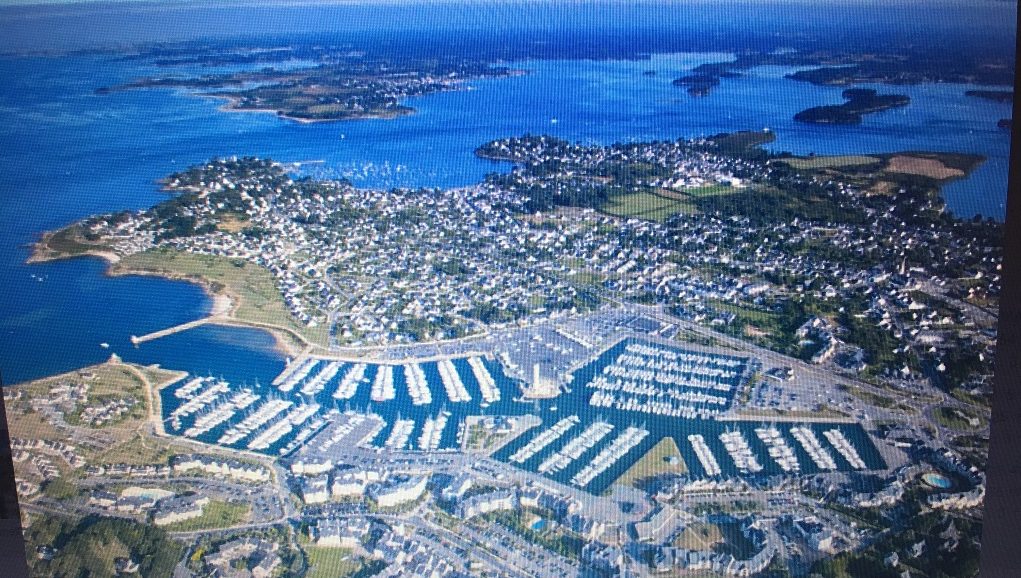 You can see the entrance to the Morbihan and part of the Morbihan itself above the marina. You can probably also see that the area around the marina is a modern holiday development – with a large beach just out of shot at the bottom. We had intended to walk to the beach and also across to Port Navalo at the entrance to the Morbihan, however Paul jarred his back in Vannes and is having to take it easy.
Around the marina is a modern development of shops and restaurants selling general holiday stuff – this photo is a good representation: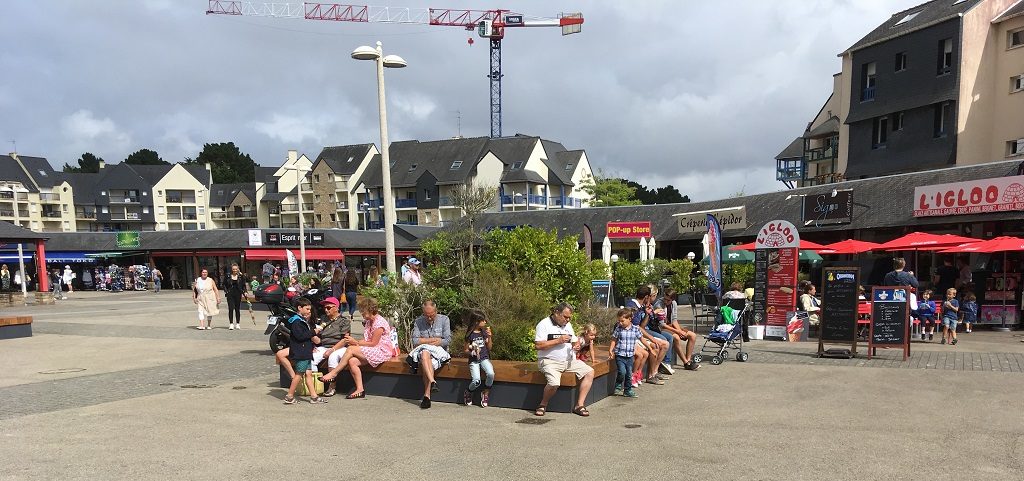 No Kiss Me Quick hats (that we could see) but yet another shop that sells nothing but tinned sardines and other tinned fish. They do sell tinned soup (fish of course). This must be unique to this area – no doubt having arisen due to the major sardine industry here. We have seen loads of these shops, at least one in every town. Now I can buy tinned sardines at the supermarket – why do I need to pay twice as much for a fancy tin from a fancy shop?? Bizarre!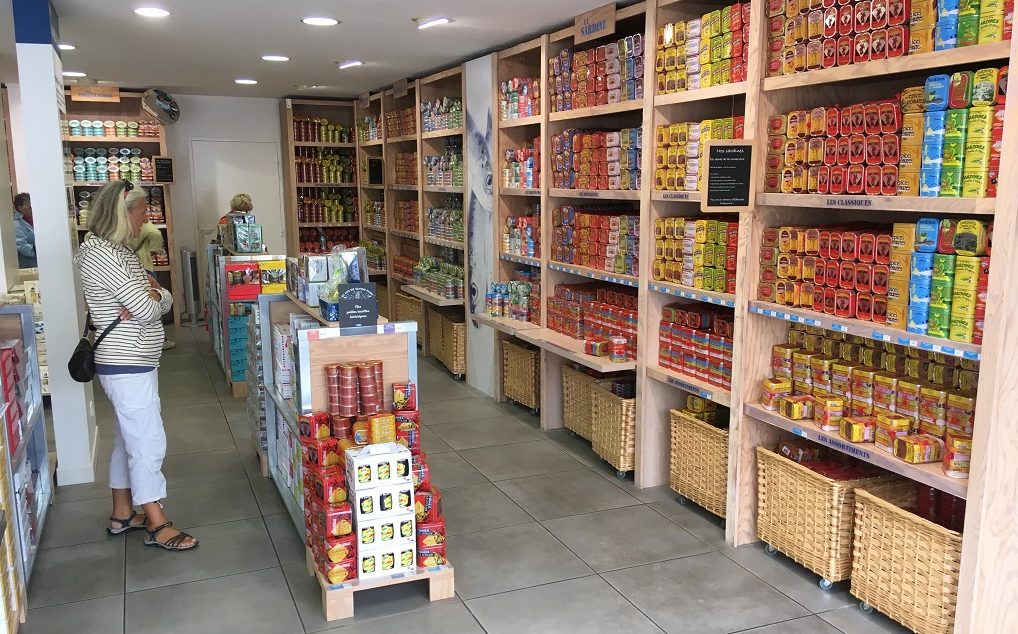 Oh – and on the same subject there are two biscuiteries selling Breton biscuits. Pretty much the same biscuits that they sell in every supermarket, but you see people emerging from these places carrying a fancy tin of plain Breton biscuits in a fancy basket. Our family may receive Breton biscuits when we return (they are actually very nice) – but they will be in a cardboard box in a plastic carrier bag. We are from Yorkshire, after all!
However – there is a large supermarket adjacent to the marina, the facilities are OK (not the best but ok) and there is slow wifi. Maybe if Paul could walk we would get a better feeling for this place – but the area around the marina itself is ………….(hmm, thinking of something good to say) handy for the supermarket! Our 2 night high season stay was charged at 36e per night.
Our next stop will be Belle Ile, all being well.
Distance traveled since leaving Hamble Point  494 nm