The marina in Vannes is a long, narrow (for a marina) canal that runs right up to one of the gates of the Intra-Muros (walled medieval city with many of the ramparts still in good nick). This has many advantages – proximity to shops, bars, markets and summer sales; although one big disadvantage is the noise of drunken young folk leaving the nearby bars at 2 and 3am! Arriving on a Friday we assumed this would end after Saturday – but no such luck, this is obviously a party city! Fortunately we have foam earplugs as part of the inventory, and they proved their worth!
You can see the ornate gate to the old walled city here: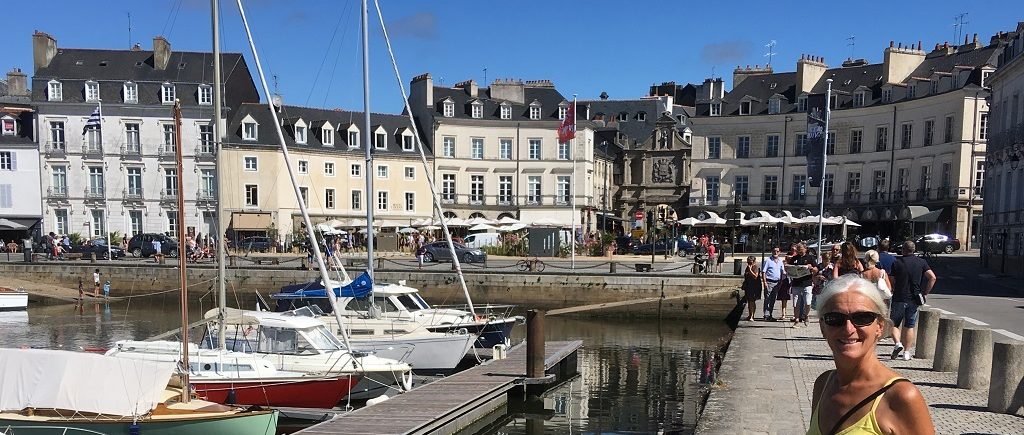 We arrived with the intention of staying a little over a week, the early part of which was to keep Lynne company as Adam had returned to the UK for a few days. David and Elaine (our Irish friends from L'Aber Wrach) had recommended that we visit here for Bastille Day celebrations on Friday 14th July, with the 2 day party starting the day before – and told us of the very interesting old walled city with its half timbered buildings. We thought there would be plenty to keep us entertained for 10 days or so, and so it turned out. On our first evening we invited Lynne and Jack and Debi, the nice American couple we had arrived with from Port Haliguen on board for a chat (ok, and a drink or three!)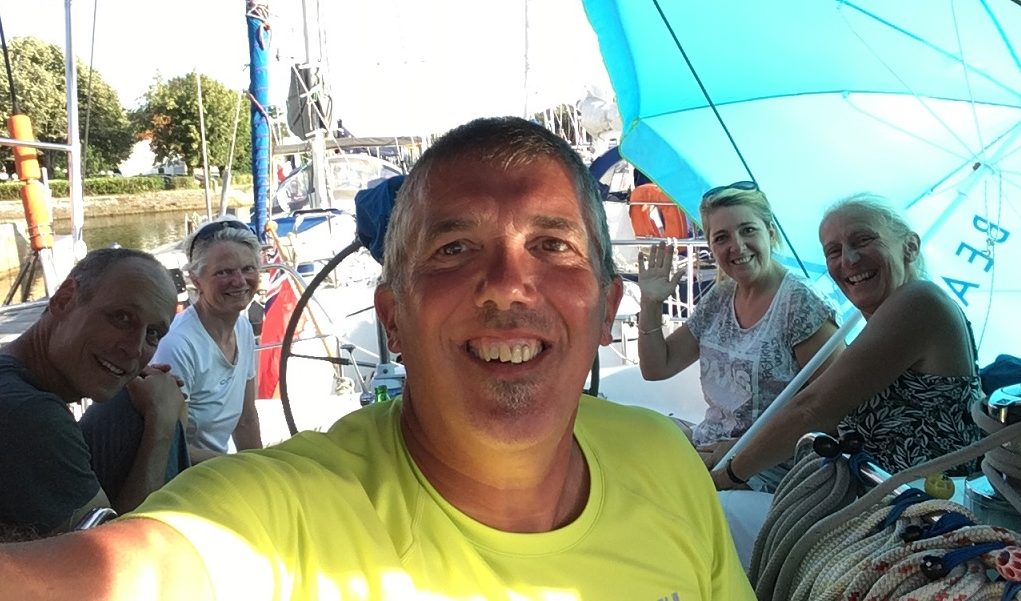 Many other folk obviously had the same idea, and whilst arriving a week early for Bastille Day celebrations gave us an alongside berth, that then meant that we had one and often two boats rafted outside of us. As our one night neighbour Serge said – the boat roof is like a drum, and we experienced both considerate neighbours (I was thanking Serge for being so careful and considerate of us) and inconsiderate ones – such as the yacht with 3 British guys who thought it appropriate to tap dance on that drum in clogs – and who seemed to forget something every time they went ashore!
Here is our position for the week – at times boats were rafted 3 deep on both sides of the channel, at this moment many had left – but not our outside neighbours.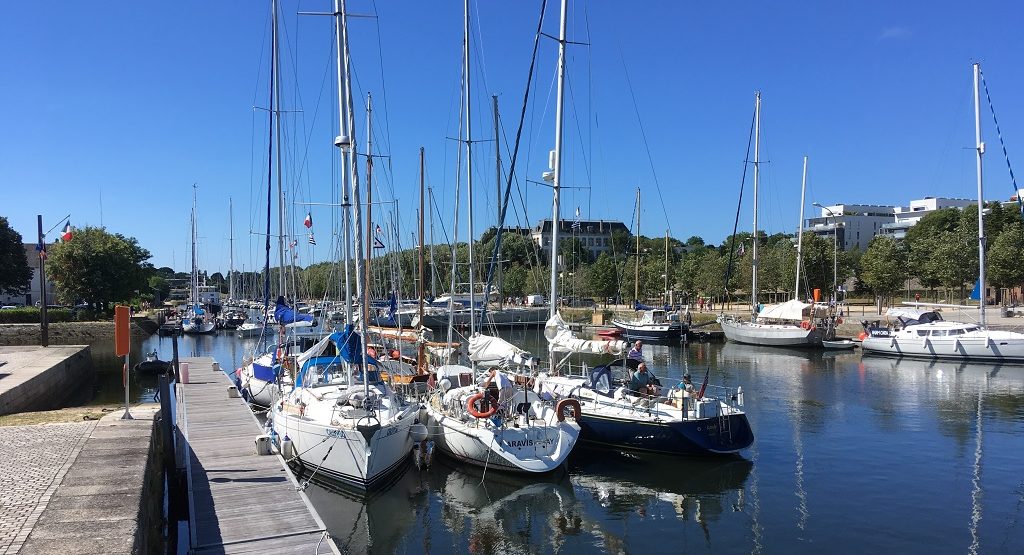 We assumed that we would have visited Vannes previously on one of our several family holidays in Brittany, but soon realised that we have never been here – for one thing we didn't recognise the Cathedral! It was impressive – as all Cathedrals seem to be: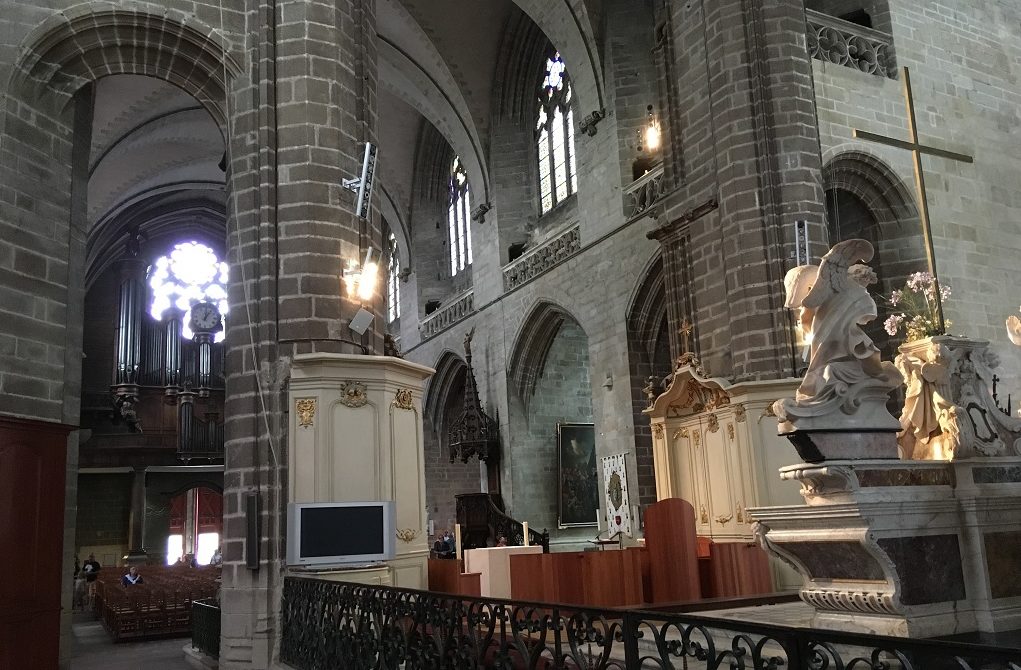 We knew that the market days at Vannes were Wednesday and Saturday and so on our first day awoke to a typical but large French market just a few hundred metres from Calypso: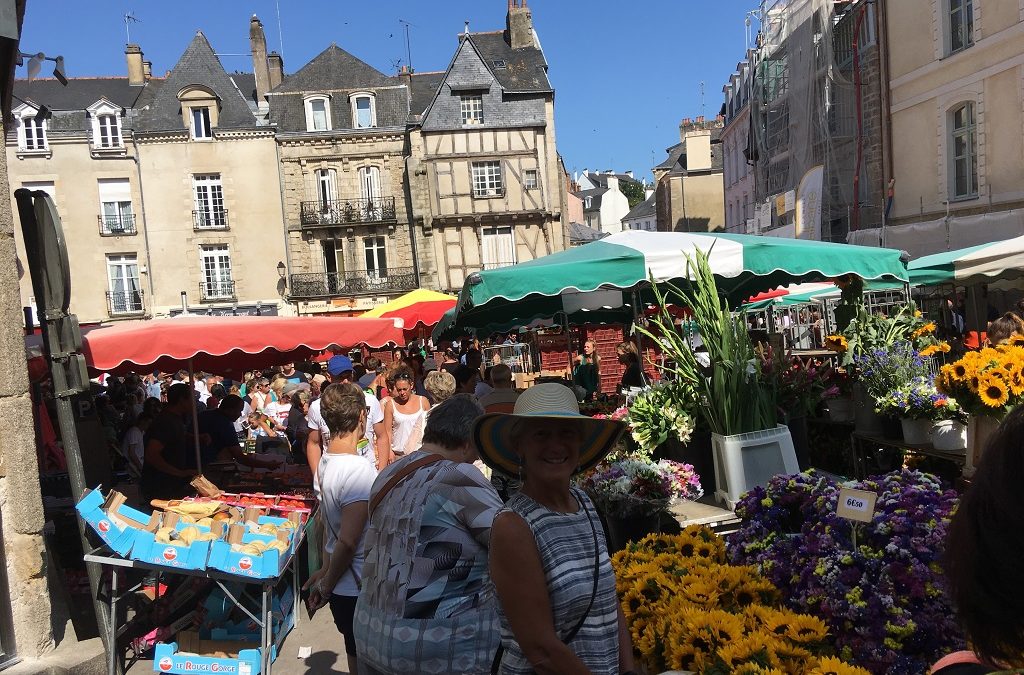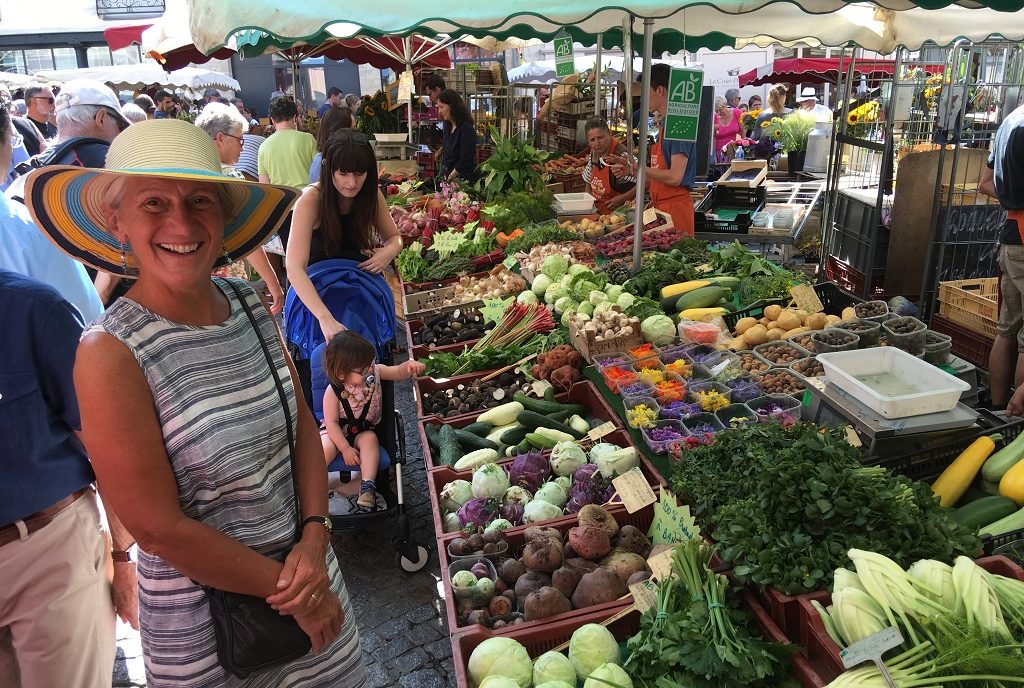 In addition to the outdoor markets were two indoor markets – this one dedicated entirely to fish: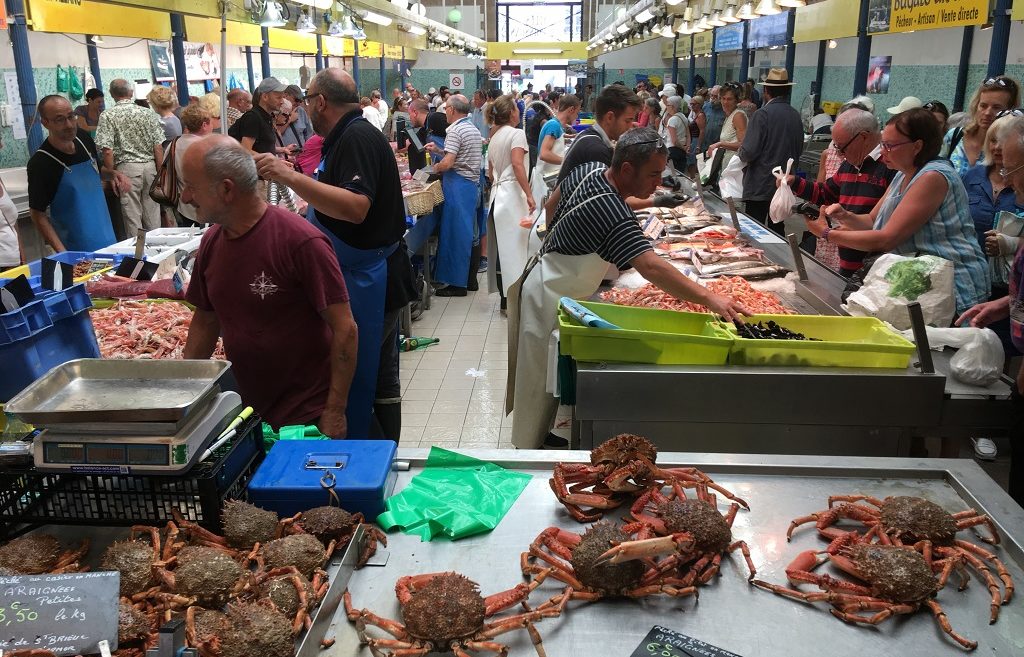 We bought spider crabs and had a wonderful salad – even tastier than the crabs we normally eat: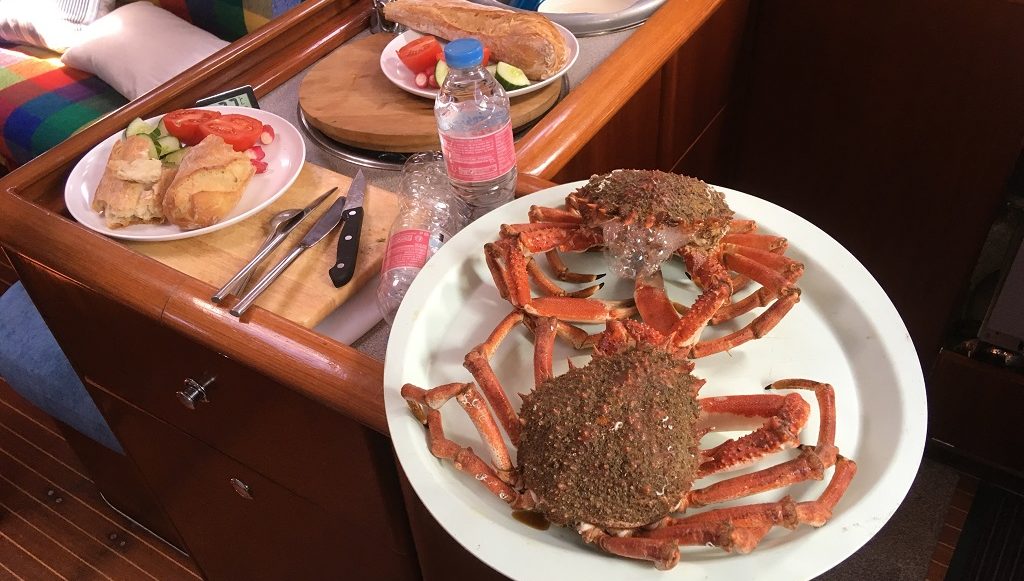 During the week we walked back down the entrance channel to Presqu'Ile de Conleau – with its surprisingly warm saltwater swimming pool: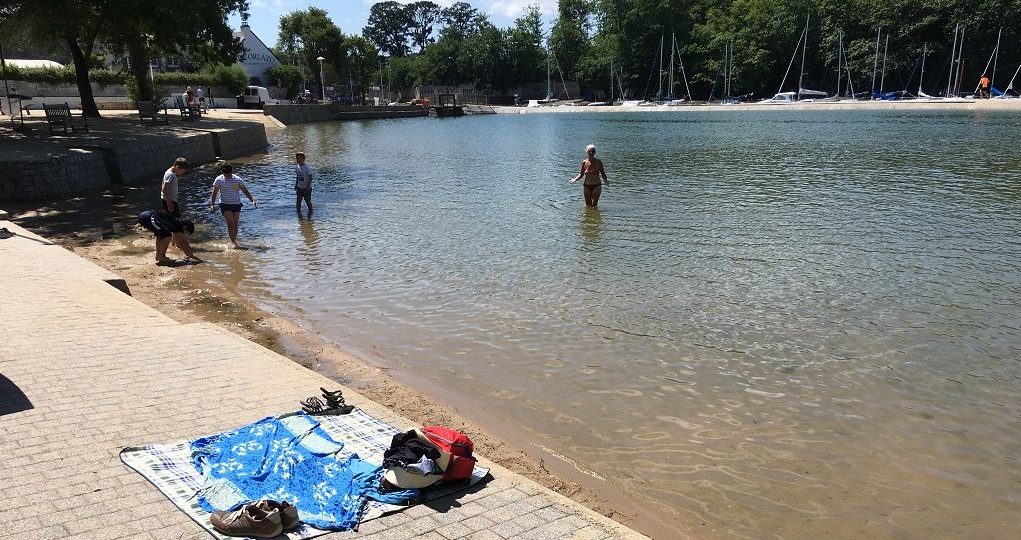 Behind and to the left of Val you can see Le Corlazo restaurant where we had lunch, the best meal we have had in France so far. We had a bit more wine than we should, and staggered home, collecting sea purslane on the way for use in another crab bisque.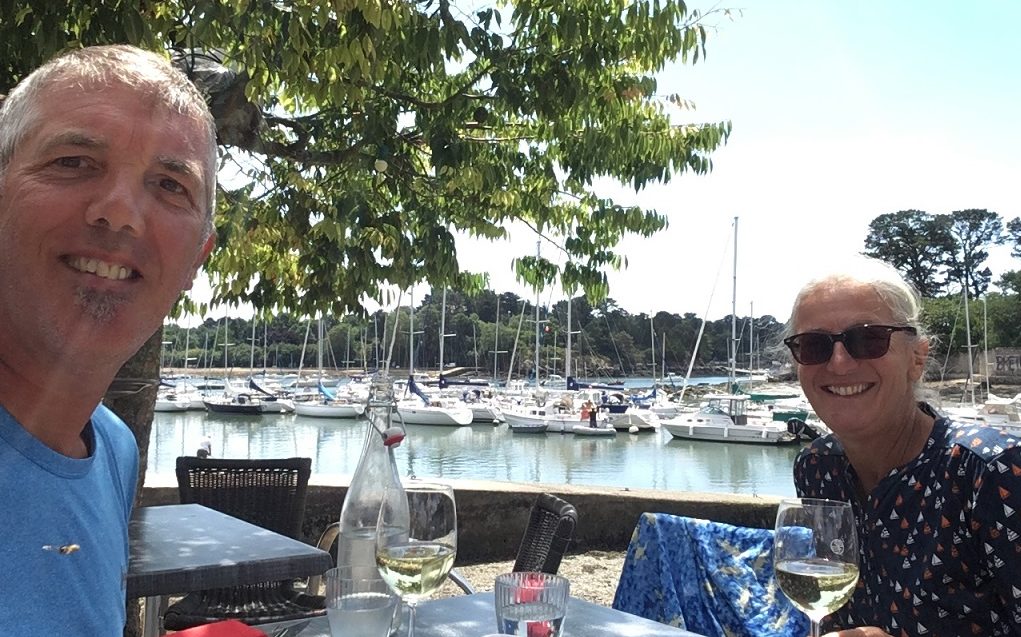 There are 2 golf courses accessible by bus  from Vannes – we chose Rhuys Kerver as the walk from the bus was very short. We played with Belgian Julian who spoke excellent English – interspersed with a good few Belgian French expletives!!
Val enjoyed the walk – here in the distance chasing a ball!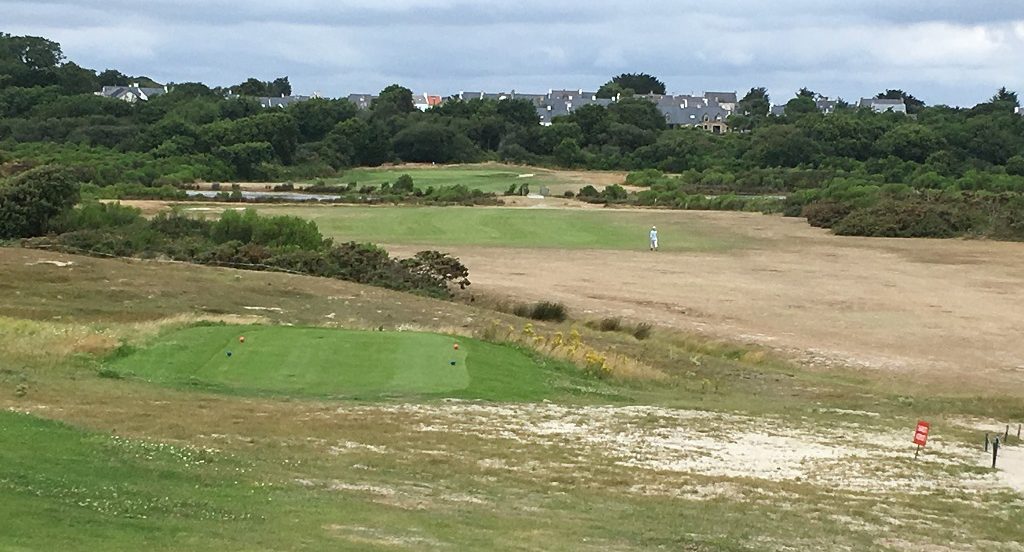 The highlight of the week was 2 days of celebrations, including Bastille Day on Friday, with processions and fireworks each day and a live band next to the marina!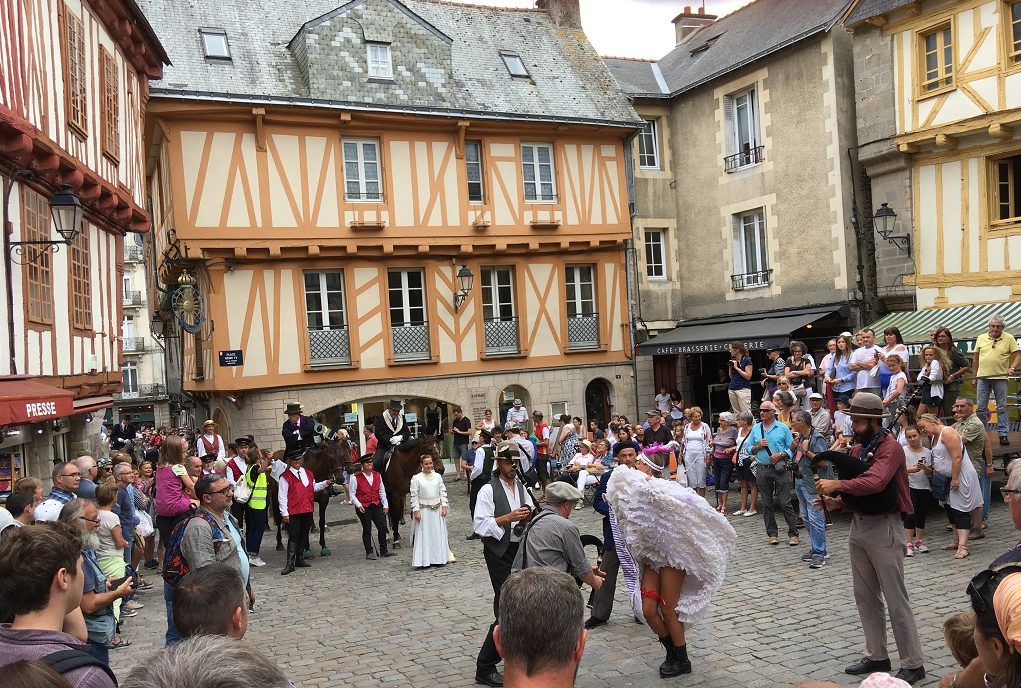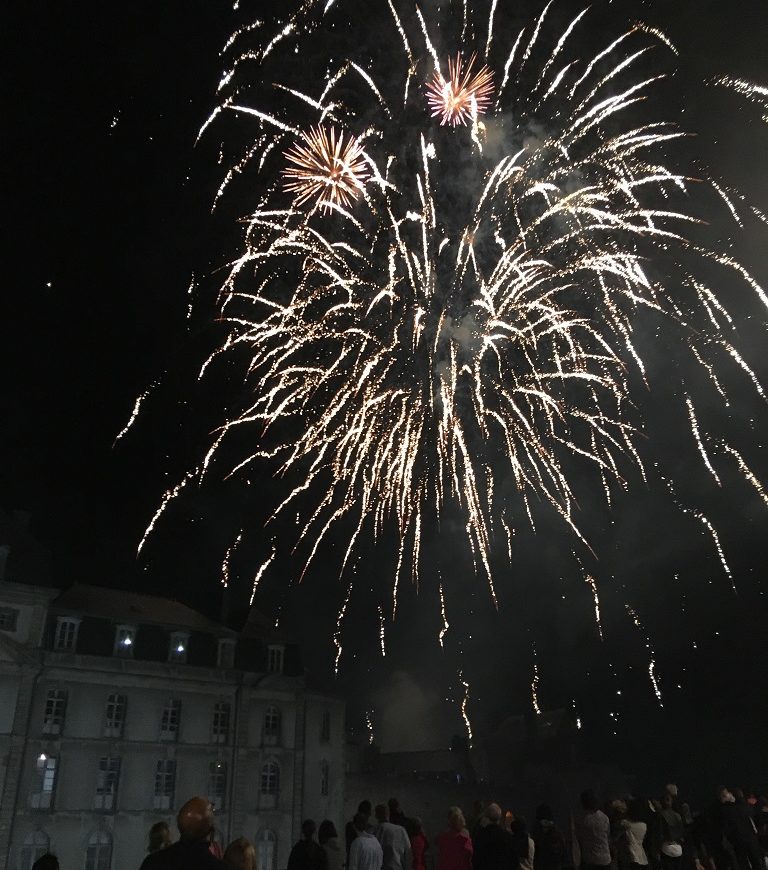 As well as socialising with the Bisphams, the Irish crews from L'Aber Wrach joined us for Bastille Day. This time they arrived with a third boat that had joined them – a mixed Irish and Scottish couple (all members of Royal Ulster Yacht Club) and who we knew as our neighbours from Kip – where we were parked only a few berths apart – small world, again!
Here are Raptor and Calypso next to each other – and we joined the Irish parties aboard Raptor, sadly letting down the English side by not managing to keep up in the beverage stakes!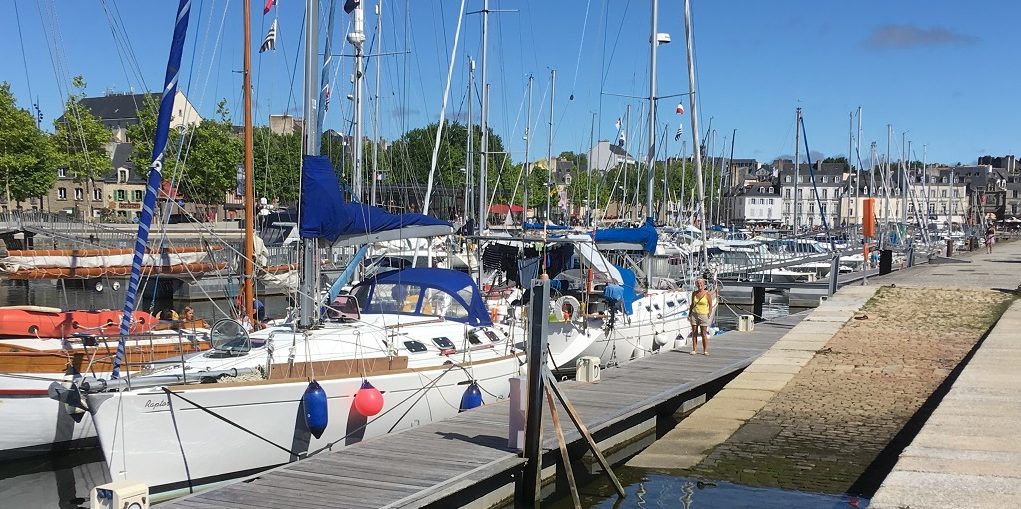 We are hoping to leave tomorrow, Monday 17th July (subject to Paul's back rictus healing)! We are not sure where – we will look for a visitor mooring on our way out of the Morbihan but otherwise will go the the huge Crouesty marina just outside the entrance. We intend to leave around 1 hour before HW Vannes. The tide coefficient is around 55, so we should see a little less flow velocity on the way out – although ebbs are often fiercer than floods, so maybe not??
STOP PRESS
We didn't make it on Monday – after another party with the Irish contingent (now from 4 different Irish yachts) aboard Raptor – thanks for a lovely evening Ian and Frances, and thanks for the photo, taken early on in the proceedings!