Plymouth Again – but NOT in the Haven!
Catching up with friends…
We had initially thought that we would revisit either Dartmouth or Salcombe, but in the end, with France still some way in the distance, we opted for another long day's sail (well, motoring, actually) and press on to Plymouth.
As usual we timed our departure to have the tide with us most of the way. Fortunately on the 24th May this was 09.00 am – just after breakfast, how civilised!
Soon after leaving we passed Start Point lighthouse, sitting on a headland projecting out from the coast. Many years ago this was the location for many of our night-school navigation exercises – calculating courses to steer and taking 3 point fixes to create a cocked hat position fix. We imagined a fearsome stretch of sea that needed careful planning to pass through.
Today it was a pussy cat!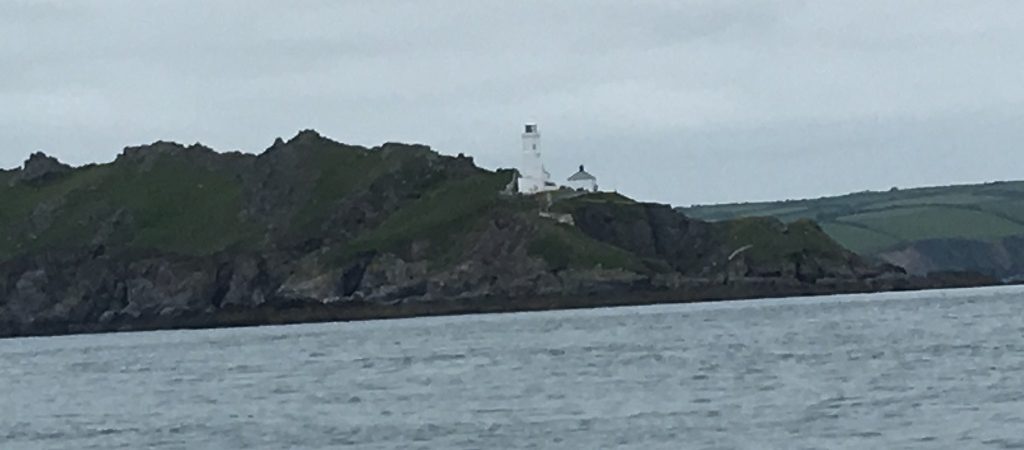 There was virtually no wind and so we motored the whole way on a flat sea, not even bothering to raise the main.
The 42nm took over 7 hours, even with the tide, confirming that our thoughts of a propeller change are justified!
We avoided returning to Plymouth Yacht Haven, given that they acted unfairly in our view last time we were there (increasing charges to the full daily rate the minute our 1 month at a lower rate was up). Instead we opted for Sutton Harbour Marina – going through the lock after refuelling at Queen Anne's Battery Marina, just outside. Lock free-flow times are published on the marina's website and so we knew that we would have free flow at our arrival time – but it is still necessary to call up the lock keeper on VHF 12 before transiting.
Sutton Harbour abuts the busy Barbican area, shown below – however most of the berths are sheltered from the hubbub behind the marina buildings, where it is quite peaceful, yet very accessible to the Barbican restaurants and bars and a short walk to the city centre beyond. We took the opportunity to fill our already overfilled clothes lockers at TK Maxx!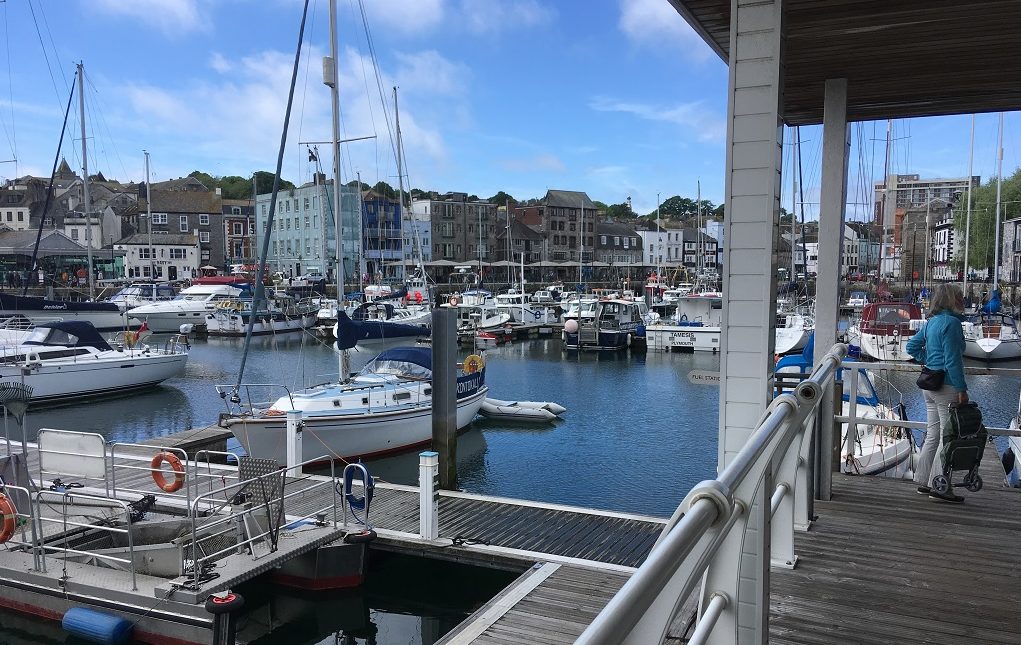 We did look for a fishmonger as Sutton Harbour is home to a small fishing fleet – and we were getting skate withdrawal symptoms. However Mr Google couldn't find one for us anywhere nearby or in the centre. There is a good choice of chandleries nearby though, and we visited Marine Bazaar, a short walk away, and acquired a few bits and pieces – plus the Hidden Anchorages of Brittany book – that we had seen when visiting the Bisphams in Weymouth. It only needs to encourage one more night at anchor to repay the £25 price tag – so on principle we will do that. And then flog it on eBay!
So after all the fish in Weymouth and Brixham, and instead of skate, on our first night we went back to the excellent Turkish restaurant that we visited on the Barbican last year and had a meat fest!!
Friends Anton and Issy from our Scotland days had urged us to go to the China Fleet Club – developed around 25 years ago to replace the British forces' club of the same name in Hong Kong, after the lease ran out (Hong Kong, that is, not the club!). We didn't manage to get there last year, but a walk to the centre, bus to Saltash and a mile and a half walk to the club proved to be well worthwhile – a truly fantastic golf course and a huge club/spa/hotel building with tennis, badminton, swimming, spa and beauty treatments. Val walked the first 9 holes with Paul and then left him with a local member to finish the round whilst she went for a swim and spa. Afterwards we stayed for the burger night specials (yet more meat, and very good) – before walking and bus-ing back to the marina.
The cost of the day – including golf, swim, food and transport? Less than £60 – amazing value. Good recommendation Anton & Issy!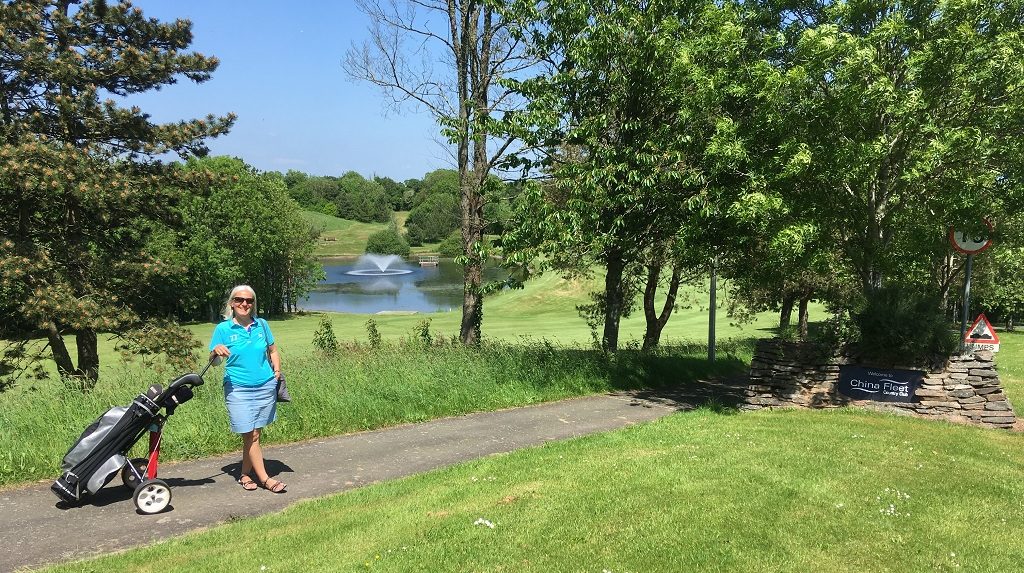 We had contacted Kevin and Mary of Dreamcatcher 2 – who had knocked on the roof and invited us to a Moody gathering last year (Moody Owners Association that is, it was actually quite a jolly affair!)
We had passed them as we left Brixham when they were en route to Torquay, but after a night in Dartmouth they returned on our 3rd night (Friday) in Plymouth and we took the water taxi to the Yacht Haven, where we had a good meal at the Bridge restaurant with them (yet more red meat), followed by a nightcap on Dreamcatcher and home on the last water taxi at 11pm.
The next night we invited them to eat aboard Calypso, followed by Saturday night out on the town. We had a couple of beers at the oldest pub in Plymouth (perhaps there a few who lay claim to this, but the Minerva dates back to 1540). We found a seat at the back away from the live music so we could talk (we're not as old as the pub but the hearing ain't what it used to be) and it was soon time to catch the last taxi and say au revoir – we hope that Dreamcatcher catches us up in the next year or two, who knows?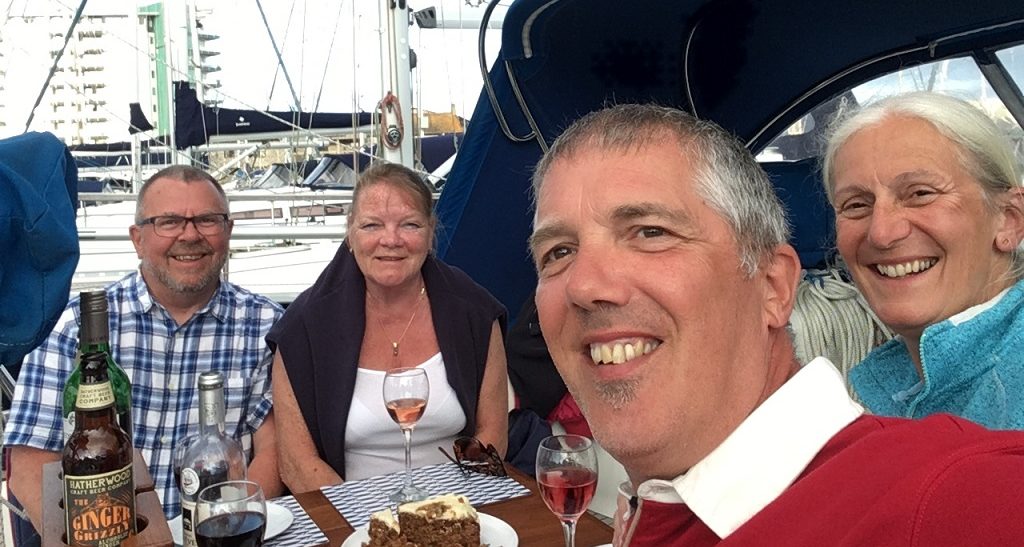 It will be interesting to see how our socialising develops as we leave UK shores and venture abroad with our limited language skills. However we have enjoyed the social life during our journey so far, albeit meeting like-minded people for brief encounters and then moving on.
After our delayed departure from Hamble Point and enforced lengthy  stay in Weymouth the weather window remained favourable, and so we were able to plan to leave Plymouth on Sunday 28th May.
When we went to settle the bill for our 4 nights' stay we were pleasantly surprised to learn that Sutton Harbour Marina have a mid-week promotion – and in spite of us being there Friday and Saturday nights, we received 4 nights for the price of 3. Very different from Plymouth Yacht Haven – Sutton Harbour knows how to win repeat business!
The facilities here are excellent – far from the cramped shower cubicles at some marinas; we enjoyed the comforts of a very large and very clean wet-room, with a shower that stays on until YOU turn it off!
The impression that we had gathered of Sutton Harbour, before we spat the dummy out in the Yacht Haven and spent our last night here last year, was that it is noisy and spoiled by the lively activities on the Barbican. Whilst we would not want to be berthed too close to the Barbican, the majority of the marina is well away, whilst still getting a feel for great atmosphere of the place from a low level murmuring!
This comes at a cost (no more than other Plymouth marinas – it is expensive here) – at just over £43 a night (electricity water and wifi included), however our 4 nights averaged £32.35 a night.
Distance traveled since leaving Hamble Point – 151 nm