Where we pause to smell the….fish 'n chips…
We were keen to get to France after being delayed by Westerlies in Weymouth. We did, however, want to stop in Brixham, which we missed on our way to Southampton last year. We understood it to be a very picturesque harbour.
Wind and tides were finally favourable on 21 May 2017. We left Weymouth at 05.58 (honest – that's what it says in the log) and motor sailed out against South Easterlies to take us South-East of the Shambles shoal area by 07.40, in time to arrive as the tide slowed and turned towards Brixham. In spite of wind with tide, initially the sea was lumpy but settled down as we headed away from the Portland Bill and Shambles shoals. We wouldn't want to be here in the wrong conditions!
As we turned West to head across Lyme Bay (now around 46nm from Brixham) the sails filled and we had a great sail for around 6+ hours, although during that time the wind backed to the East and gradually died. As it died, going dead downwind we attached a preventer and tried goose winging, but there was not enough wind to combat the rolling and fill the sails, soon forcing us to roll away the genoa and motor sail, then stow the main and motor under a bare pole – always a bit uncomfortable (the main sail provides a dampening effect, even when not driving the boat).
It took us over 10 hours to reach Brixham, the tide turning against us for the last couple of hours, but fortunately the tides are quite weak at that point. Brixham did seem to be a pretty place as we entered the large harbour and we were pleased to have chosen to take this very slight detour on our way West.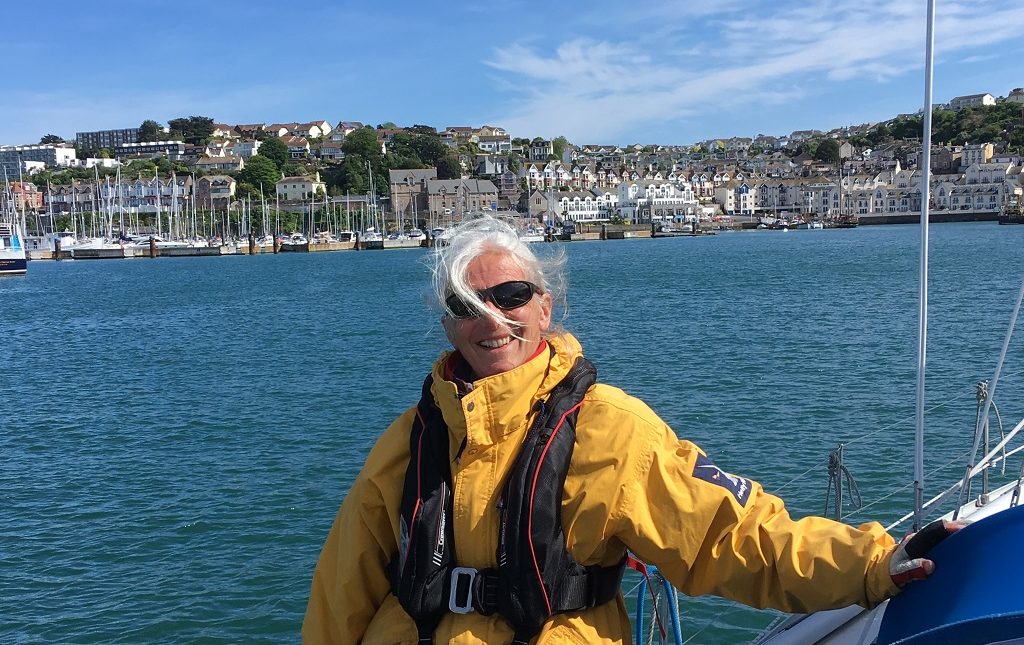 The entrance is very straightforward with no hazards to speak of. There are a few options for berthing/mooring here. We opted for the marina as we wouldn't be staying long and wanted to be able to walk ashore (and use the launderette facility). There is a council/harbour authority pontoon which we couldn't find much about (didn't try very hard). There are also visitor mooring balls (ditto). There are two small pontoons at the Yacht Club (pictured here, next to the fish quay/market, to starboard before the marina). We didn't enquire regarding depth, but the chart has them bang on the 2m contour, so needs care at springs. They are certainly cheaper than the marina, but no walking ashore, as you can see here: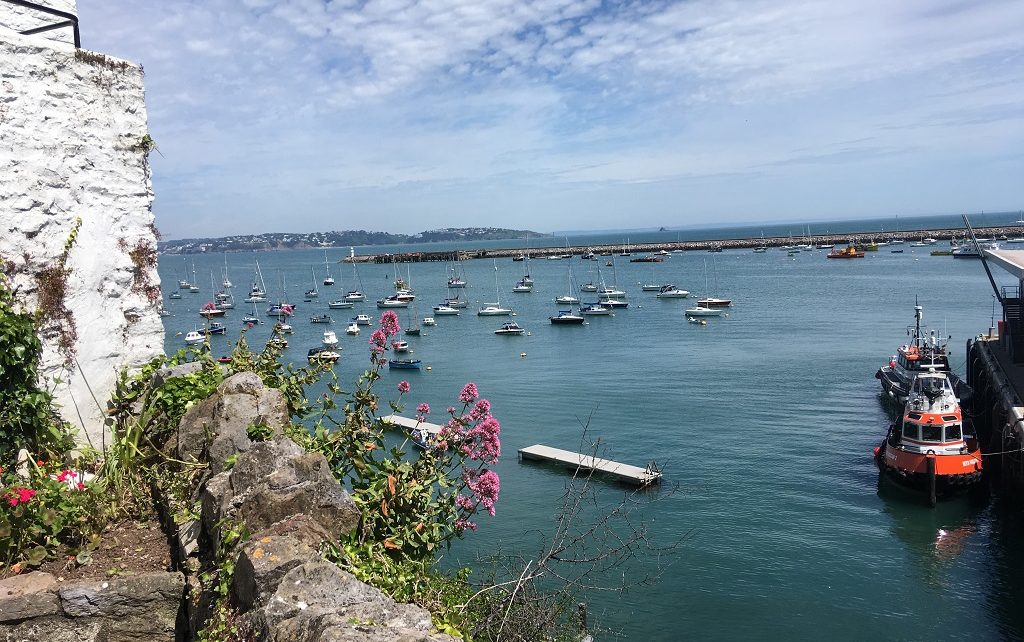 Earlier in the day, before we lost the phone signal, we had called Brixham Marina to see if we could reserve a finger pontoon. There is a long visitors pontoon for alongside mooring, but we had read that it can be bumpy and exposed and that it is better to request a finger pontoon berth. The marina confirmed the booking and were expecting us when we called them up on VHF as we arrived.
The marina, here below (behind Val) is a very short walk from the inner harbour and centre of town. It is run by the same company as Hamble Point (MDL Marinas), and because we had joined their "Cruising Club", we get free electricity and one night free in 7, with stays at other MDL marinas banked in the system. We therefore only paid for 2 nights of our 3 night stay – worth joining the CC at £35.33 per night for 11.5m. The pontoons are good with facilities being clean and ample.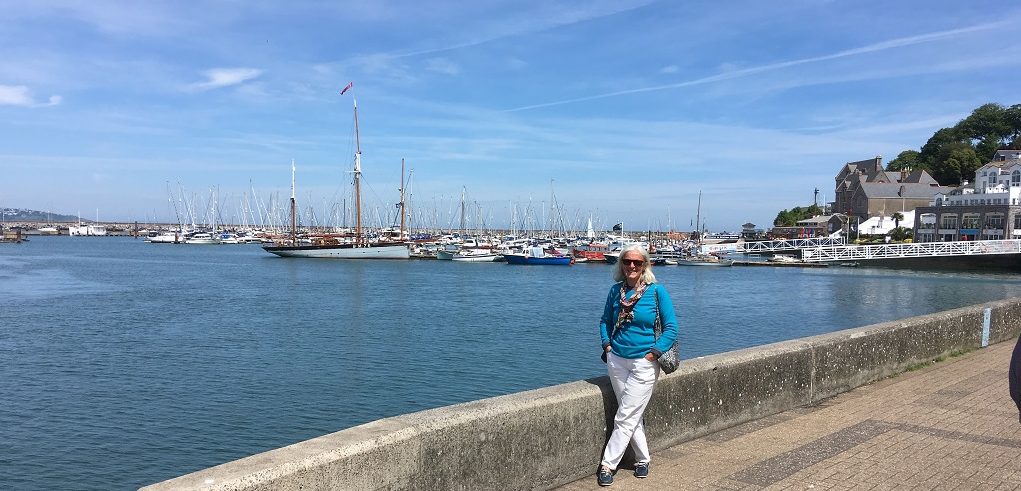 So – the burning questions – is Brixham as pretty as people say, and does the whole place smell of fish and chips as we were told?
Well the answer is yes, and yes, but perhaps in each case a little less than we were led to believe. Yes it is pretty – on the harbour front, but the town to the rear is not as lovely as our imagination had built it up to be. And yes it does smell of fish and chips – in small areas. Usually outside the chippies!! There was also the odd aroma of exotic tobacco here though (much nicer than stale chip fat!)
Brixham is England's largest fishing port by gross tonnage landed (fourth in the UK with the top 3 in Scotland). We usually enjoy watching fishing boats offload to see what is in the catch, but the separate fishing quay here is surrounded by high walls and inaccessible (there is a viewing platform set well back) and we didn't really see much fishing activity – unlike Weymouth.
We had a cuppa at the lovely yacht club (who welcome visiting yachtsmen) but didn't get chance to eat there – apparently the food is good and we can say that the views are lovely.
We spent half a day wandering around the shops – looking for DVDs in the charity shops and a bit of food provisioning. We bought skate from the fishmonger – third time in a week but we have enjoyed it.
There is a nice coastal walk heading East from the marina, up onto Berry Head, where sits the highest, shortest lighthouse in Great Britain: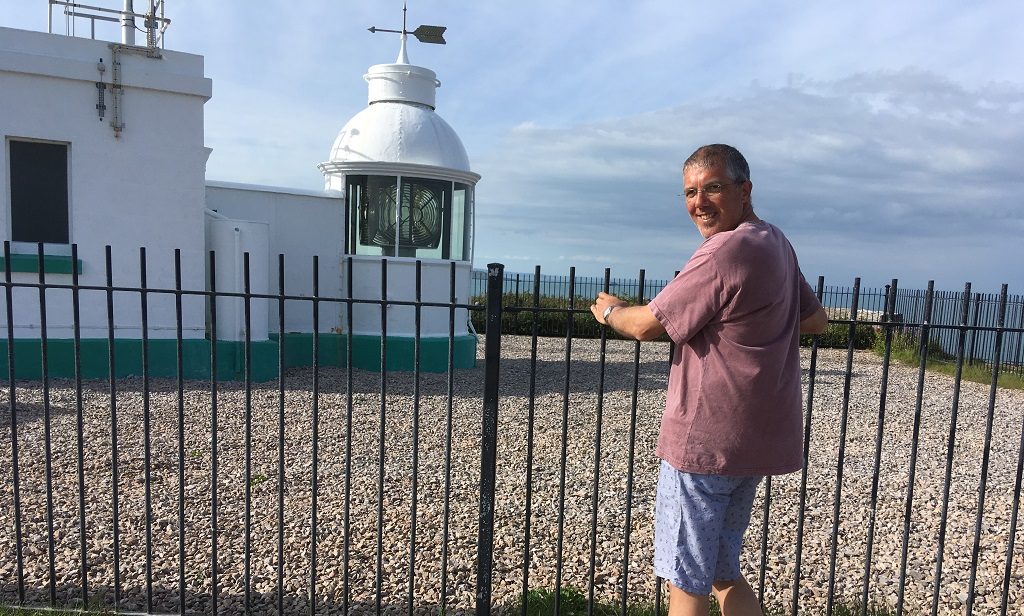 It is only 5m high but sits atop 58m cliffs.
On the way to the lighthouse is an amazing lido-like seawater swimming pool built on the rocks with bathing huts above – a really nice spot but far too cold at the moment for us (and everyone else – the pool was empty!)
We enjoyed our couple of days in Brixham, however we didn't feel too sorry that we weren't able to spend more time there. Especially as we didn't find a good pint! We needed to keep moving if we were to spend the summer in France.
Distance traveled since leaving Hamble Point: 109 nm