Losing our Virginity in Falmouth
Our rafting virginity, that is!
We were able to leave Plymouth at a civilised hour – and at 09.05 on Sunday 28th May we radioed the lock and passed straight through. We hoisted the mainsail to give some stability but winds were mostly too light to turn off the engine and we motored almost the entire 42 nm to Falmouth, other than for a 2 hour sailing stint.
Last year we had opted for Port Pendennis Marina but decided to give Falmouth Visitors Yacht Haven a try instead. As we arrived we radioed in and were advised to seek a suitable candidate and raft on the outside of someone already tied up. This ideally means finding someone bigger than oneself. There were, in fact, only two suitable candidates. The first, another Moody I am sorry to say, had conveniently parked his dinghy on his outside to stop anyone from rafting – ARSE!!! (I can say that with some conviction as this is a walk ashore facility and no need for a dinghy – and as we discovered later he had been asked to remove it earlier in the day).
The second was a nice looking and newish Malo 39 (Malo = expensive). So we rigged to raft to him and as we approached we had a friendly wave from a familiar face on the pontoon – Paul Cleaver who we bumped into in Milford Haven last year. "Need a hand?" he enquired – well yes we could do with that please – otherwise that would mean Val leaping from Calypso over to the Malo, needing a steady hand at the helm from Paul.
Actually conditions were calm and Val said she would have been quite happy crossing over to secure our lines, but it was good to have help from Paul and his pal Dick, who had themselves only just arrived on a bumpy overnight trip from Milford Haven.
So losing our rafting virginity was simple in the end. However we are still confused with the etiquette – given that the owner of "Rob" (the Malo) was below when we arrived and for the entire time that we were there never popped up to say hello or lend a hand. Etiquette dictates that when crossing the inside boat to get to shore we should pass in front of the mast – and we did. We also left our telephone number in the cockpit in case they wanted to communicate their intended departure date. Rafting is supposed to be a friendly, cosy affair and so losing our virginity was not what we thought it would be. Let's leave that thought there!
So this is the Visitors Yacht Haven: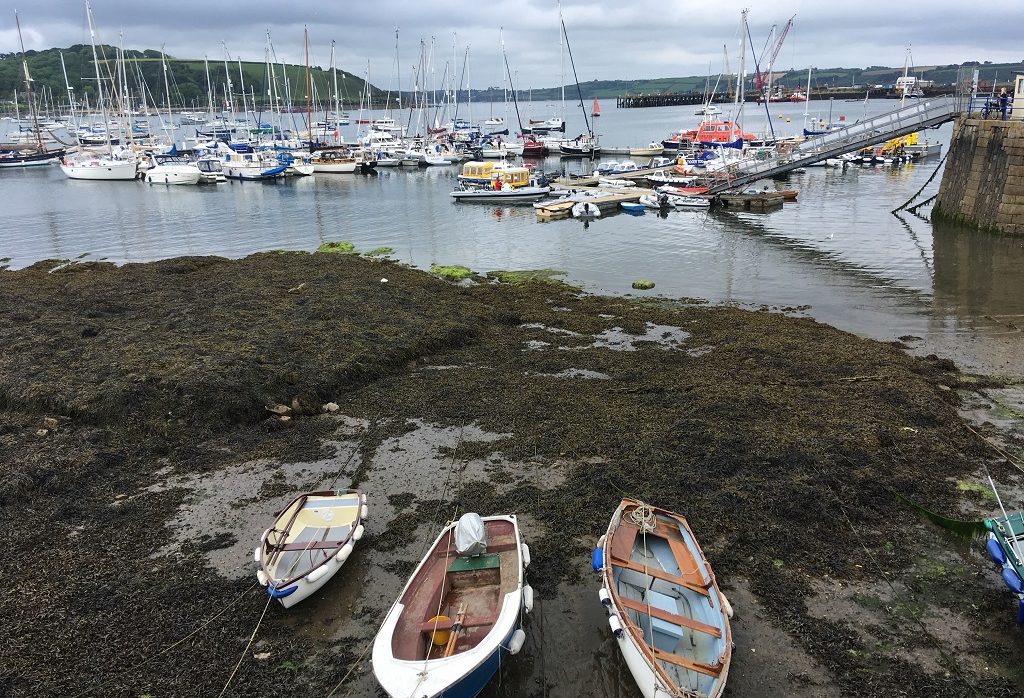 The facilities are perfectly acceptable, if not quite as plush as Pendennis, but it is closer to the town centre and right next to our favourite pub, selling our favourite beer of last year – Cashmere at the Chain Locker – which was closed for refurbishment!!!
However the disappointment of seeing the Chain Locker shrouded in scaffolding was soon forgotten when in the marina office we heard a Sunsail charter boat asking for a berth and being told to berth alongside the Moody – who would be told to move the dinghy – Karma we thought! And we went to a nearby CAMRA pub and had a thoroughly good pint, before going to dinner with Paul Cleaver and Dick. A most enjoyable evening, thanks guys.
We had anticipated that we might have to be patient in waiting for a weather window to cross to France, however the forecast looked good for an overnight Tuesday into Wednesday crossing – leaving us only two nights and one full day in Falmouth – a bit of a shame as we like it here.
We took the opportunity of wandering around Trago Mills – an amazing sell everything store (musical instruments to clothing, household, chandlery, DIY, autospares, fishing tackle etc etc and guns! Yep – we saw somebody buy one – imagine that at B&M Bargains!) We bought a new plastic container and a low wattage kettle. No trip to Falmouth is complete without a visit to Trago Mills!
There are two Tescos in the town and we took the opportunity to provision Calypso, knowing that the only supermarket near to the marina that we were headed to in France is a 4km round trip, and we wouldn't fancy that walk after an overnight passage.
We also failed in our vow not to buy any artwork at least until we got to France. The Old Town Hall Gallery had some lovely and well priced paintings last year but we resisted – this year we could not (better in the flesh, but here it is, circa 1910 and French, just to add diversity to our walls at home:)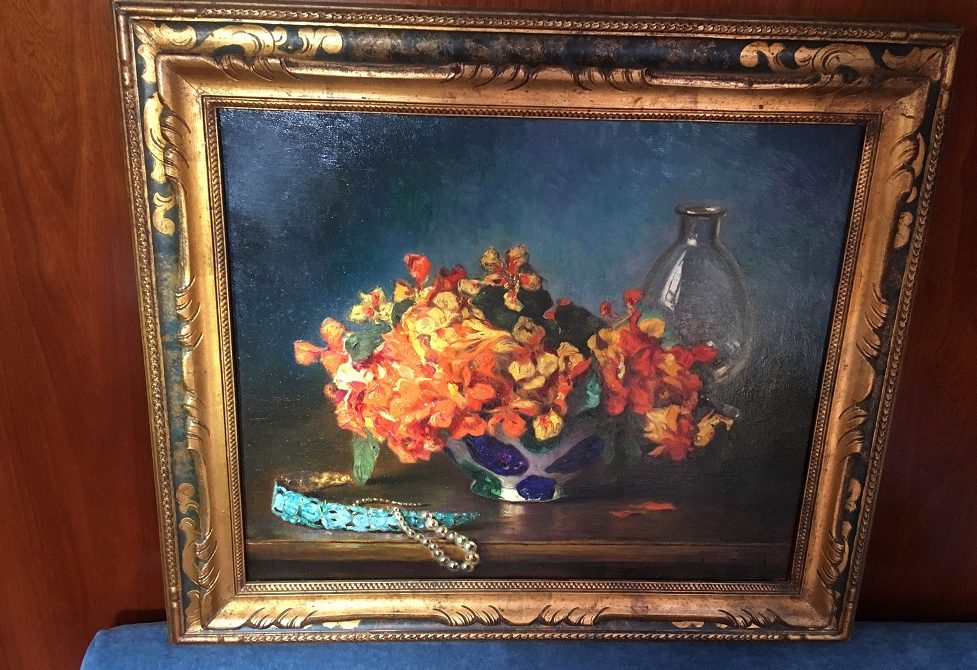 So – for the sailors – there are various mooring options around here including another marina further up river and mooring balls/anchor at St Mawes, but concentrating on Falmouth central area – our 2 nights at the Visitors Haven cost £32.75 (electricity is extra). There is an offer of one night in 7 free (not sure if that counts cumulatively or just in a single stay).
Staying on a mooring ball is cheaper, at £2.10 /m,  but even if we anchored here we would have been charged £1.40 /m by the harbour authority!
So with our departure set for soon after 11.00 on Tuesday 30th March, after our delayed launch and prolonged stay in Weymouth we appeared to have caught up with our favoured departure to France by "end May, early June".
Distance traveled since leaving Hamble Point 193 nm