L'Aber Wrac'h was better than we thought…
A prolonged but enjoyable stay
We had read that L'Aber Wrac'h (hereafter "L'AW" as it's a bit of a finger-full) was a busy crossroads for yachts arriving from all points of the compass en route to/from Biscay, England and other parts of France – sitting as it does on the tip of Brittany and a good place to time a passage through the Chenal Du Four – but it is said that there is not much there. We had intended to stay for only a day or two before heading on to Camaret.
In the end, waiting for the weather and tides to align, we spent 13 nights in L'AW. But we didn't get bored!
This could be a long post, so firstly stuff for the yachties so they can get outa here:
Most visitors are berthed on the northern outer breakwater. We were on the inside, which was fine, but we watched those on the outside having a bit of a rough time – including rudders out of the water when a fishing boat came in at full speed. In fairness he was the exception – most slowed down, but even so our advice would be to raft on the inside rather than have a bumpy night on the outside.
On arrival, having called up on VHF, a staff member usually comes out in a dinghy and guides visitors in. Some are given finger berths with a slightly shorter walk ashore, however the fingers are very short and narrow and we preferred to stay on the inside of the breakwater.
Facilities are OK. Not the best, but perfectly acceptable. The cost for our 11.46m is 30.60E (June – Sept) or 152.40E for a week. We paid for 2 full weeks even though eventually staying only 13 nights. An extra 4cm adds 1.80E a night as the calculation is in bands rather than a rate applied to exact length – seems to be the way in France from what we can see – good job we got the SSR registration certificate amended to the exact length!!
There are a good number of visitor buoys outside, which were mostly empty whilst we were there – not surprising as they are charged at 80% of the cost to come inside. Rafting is clearly quite common – we had 3 different neighbours tied outside of us, and when our friends from Weymouth, the Bisphams, arrived we tied up outside of them to avoid the string of yachts with 4 – 6 burley blokes tramping over the boat at regular intervals.
We arrived on Wednesday 31 May to discover that a large race to Plymouth and back was setting off from L'AW at the weekend. And so our first French friends arrived and tied up "a couple" (rafted). We knew that the marina would be getting very busy and so Val cleverly called them in to tie up to us so that we got a nice small yacht (Pogo 8.50) alongside us: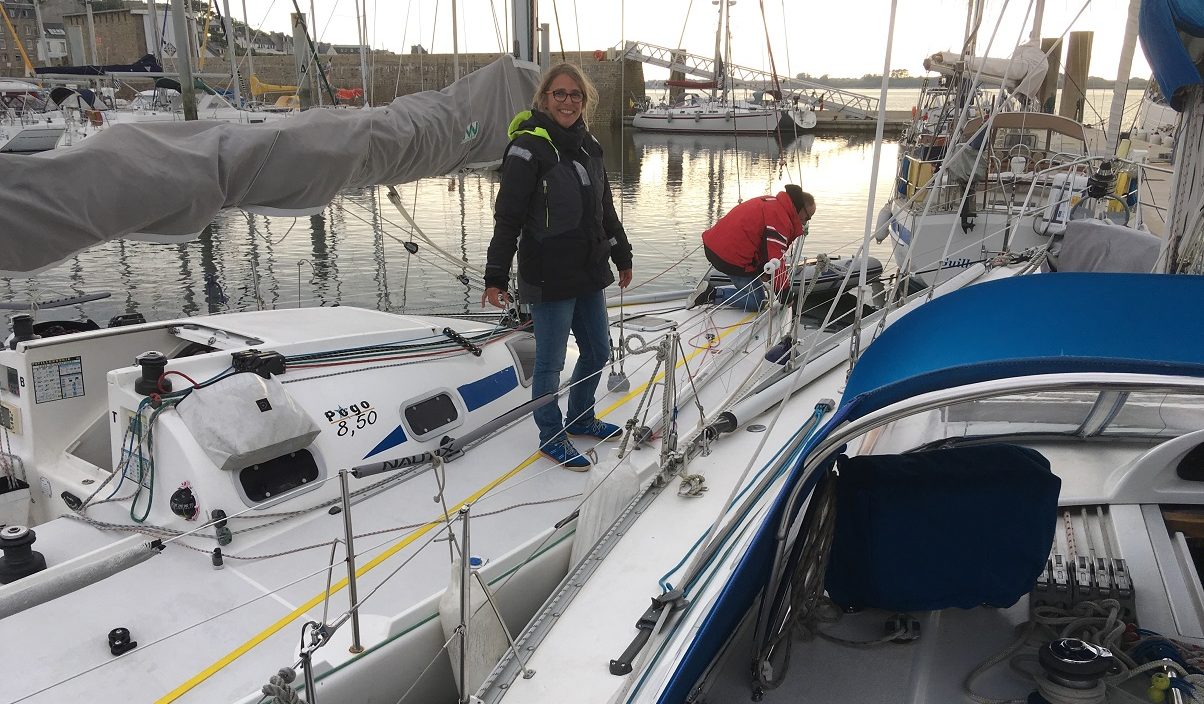 There was one rather large ocean going racer: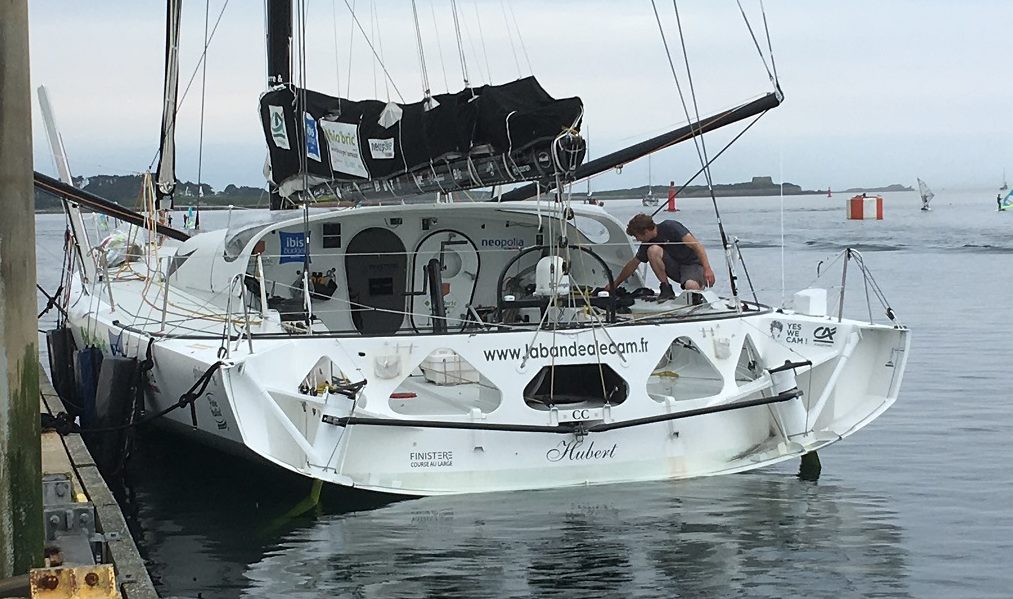 ….but mostly it was a variety of small to middle sized yachts jockeying for position near the starting line on race day: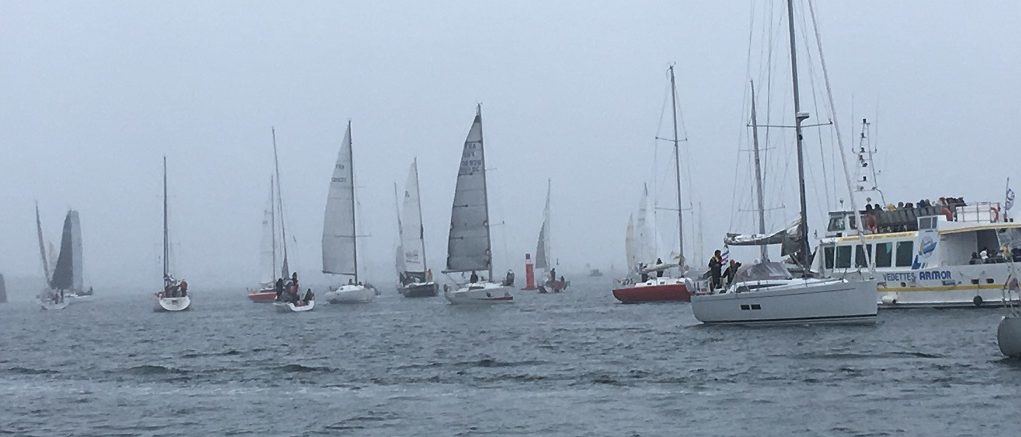 …..where they were well supported by the locals who really got into the spirit(s):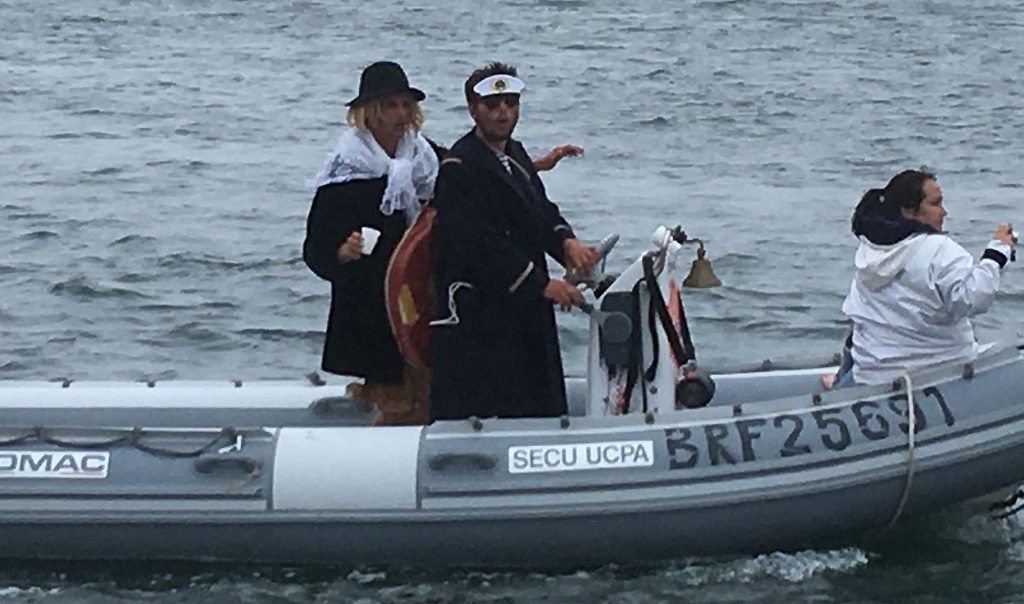 Whilst the racers were away, we were further entertained by a qualifying round for the French national woodcutting championships. There were various tests with axes, saws and chainsaws. 16 competitors took part – and with the head referee and starter for some reason speaking in English with a heavy accent (then translated by the announcer), Val ended up with the giggles when the starter's instruction to competitors was "hands on the wood" – 16 times!
We now have a new catch phrase on board…….and still she giggles!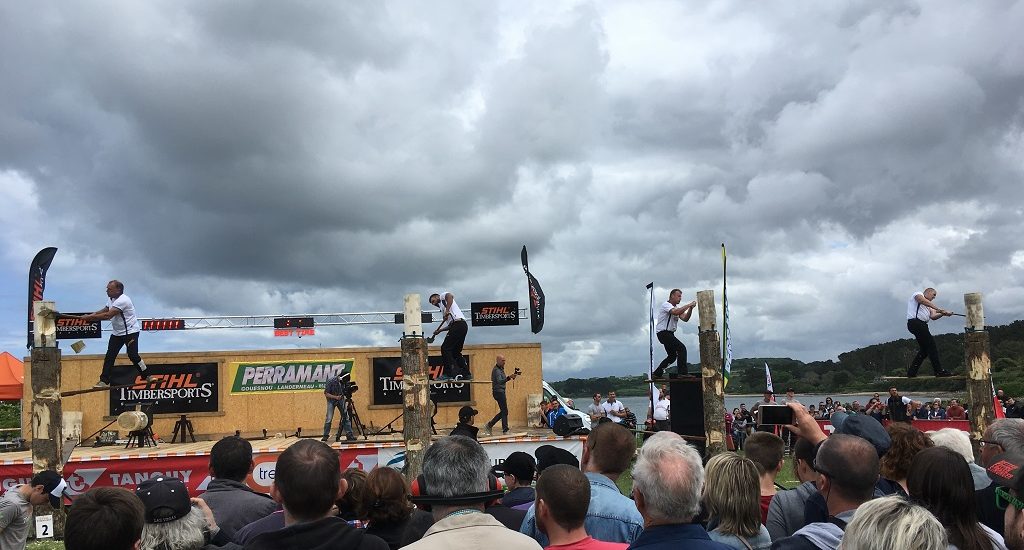 There are very lovely long walks from L'AW – the first headed upstream to Paluden, through fields and alongside the tidal riverbank where we picked samphire: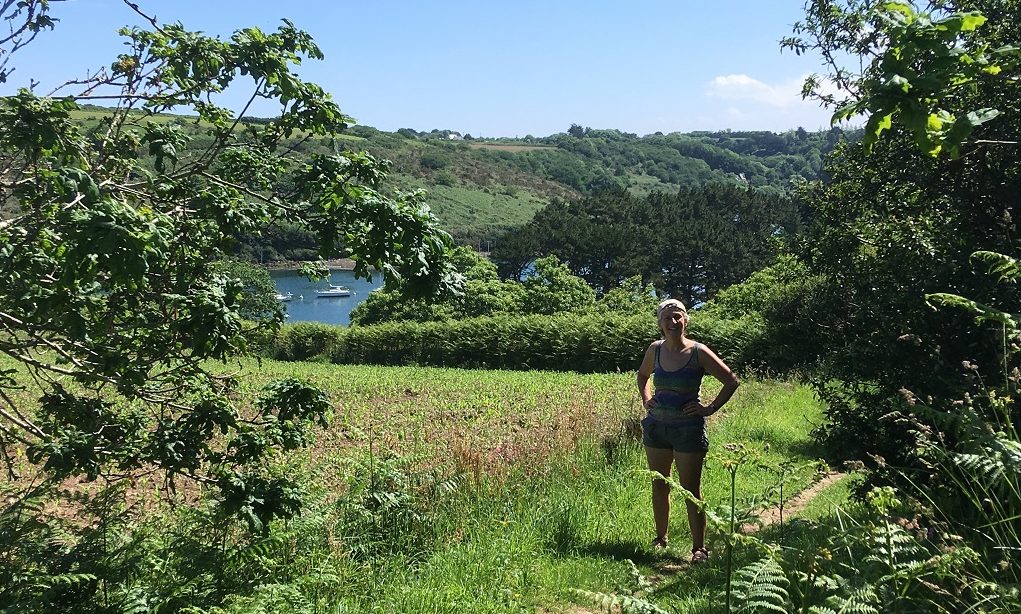 …through an old mill, now used for building new and restoring old wooden boats: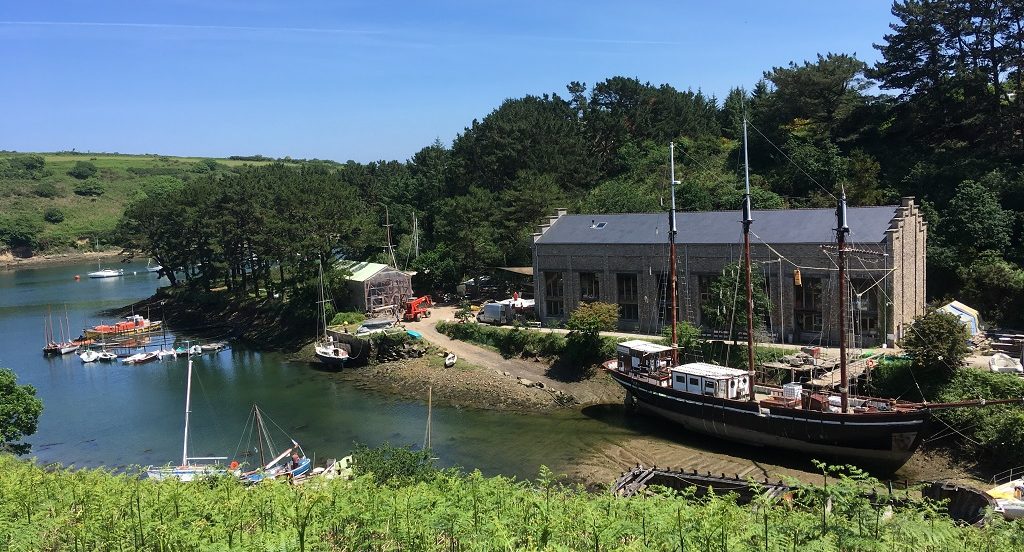 and to Paluden, where we bought a crab from a "vivier" who sells oysters, clams and crabs from tanks in the building where oysters and clams are sorted: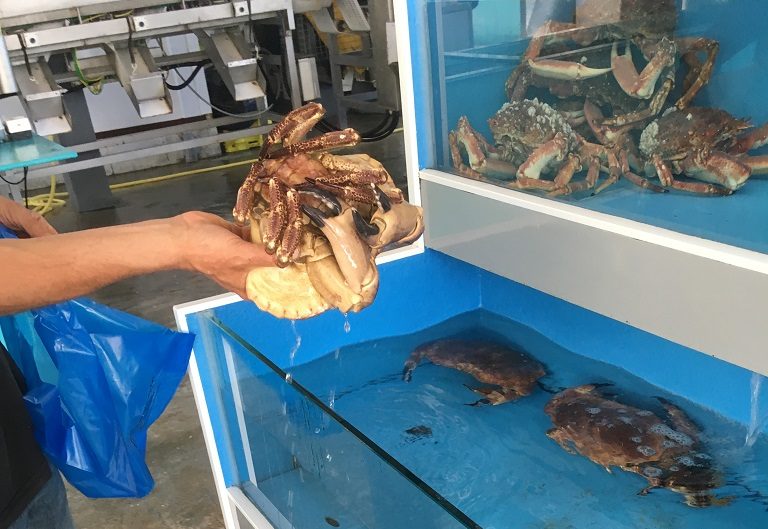 Our other long walk took us downstream, around the estuary and out to the beaches and dunes that sit behind the rocks protecting L'AW: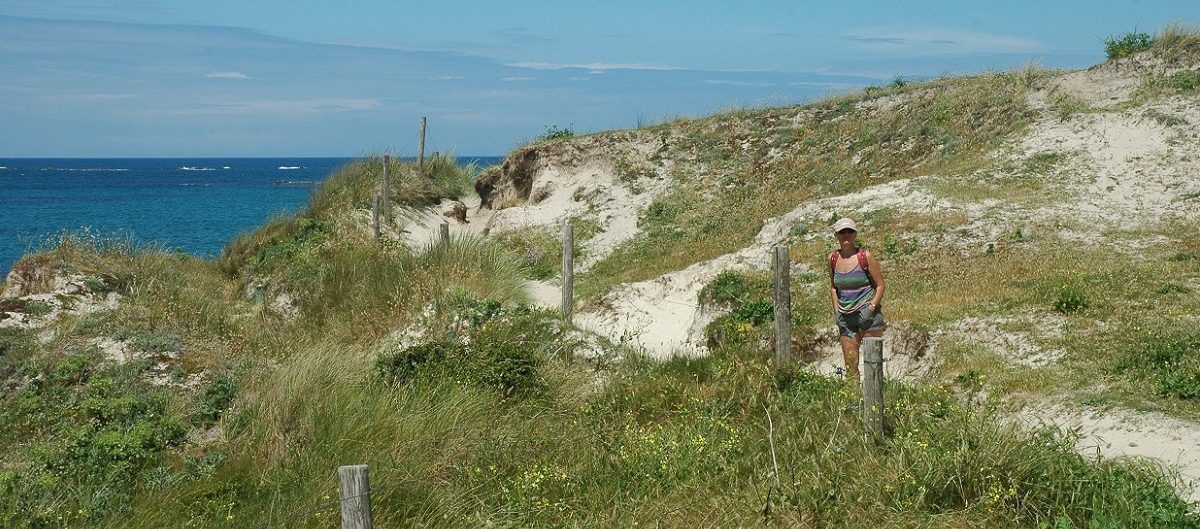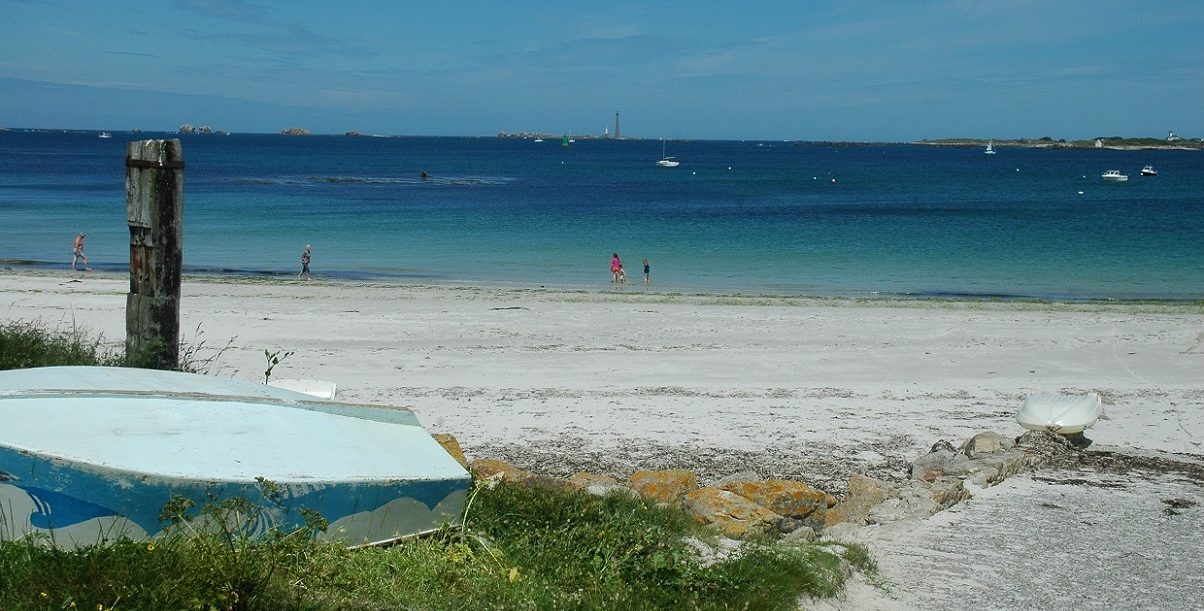 We also walked above up to the nearby large village of Landeda with its small supermarket, boucherie and boulanger, alongside a bar and a restaurant,  1.5km up a hill. We went to the old semaphore station, also up the hill, from where the extent of oyster beds was apparent at low tide – here just a few!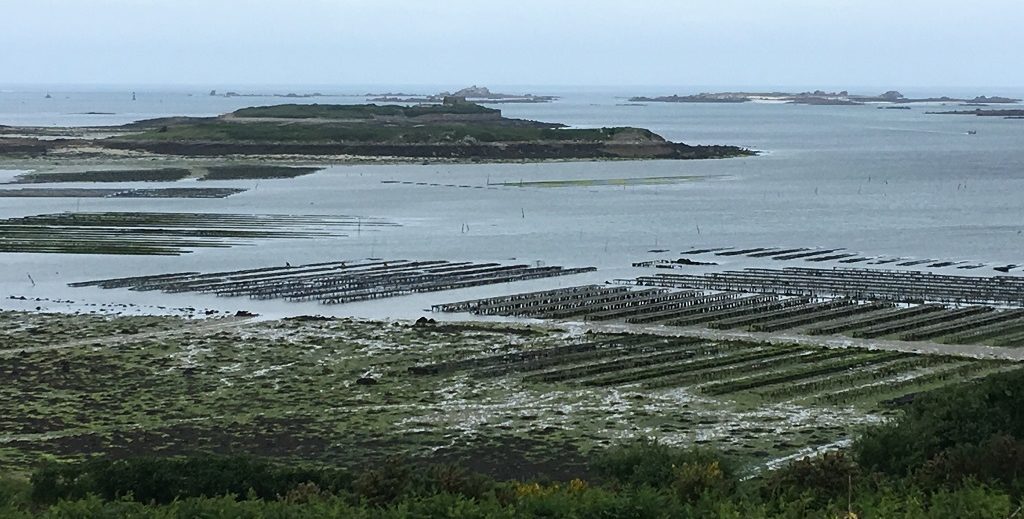 We caught the bus and headed to Brest – not the oldest and prettiest of French towns – they did a fairly good job rebuilding after the city was heavily bombed in the war, and we saw what the city once looked like at an exhibition in this tower: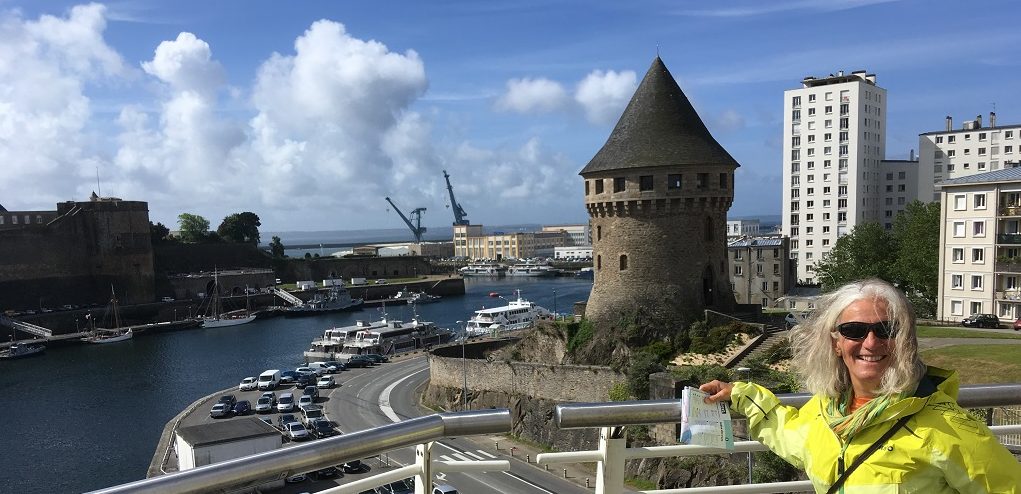 We had our first meal in France whilst there. We headed to one with a great reputation to find it full. The one we walked into was, sadly, rather forgettable!
Our livers had recovered from being led astray in Weymouth by the time the Bisphams arrived in L'AW (they had headed here via the Channel Islands and north coast of Brittany – being somewhat braver than us). They soon had the liver count heading up again, aided by some very lovely Irish people we met here, who were also waiting to round the tip of Britanny via the Chenal Du Four.
We enjoyed a sociable time towards the end of our stay here. Here on Calypso, some found David's joke funny (Val, Lynne, David and Francis):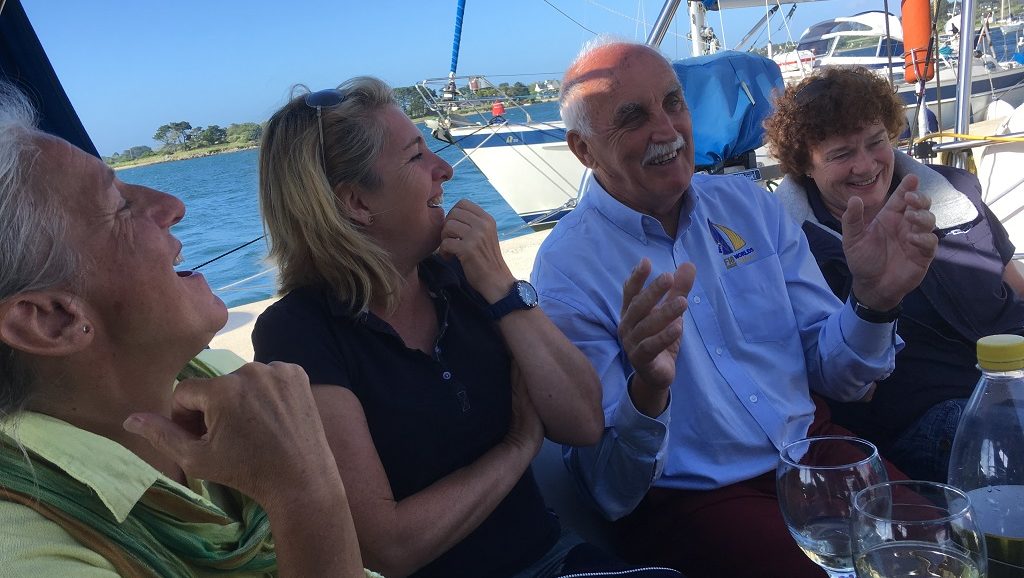 ….whilst the rest of us (Ian, Adam, Elaine and Paul) were clearly far too sober: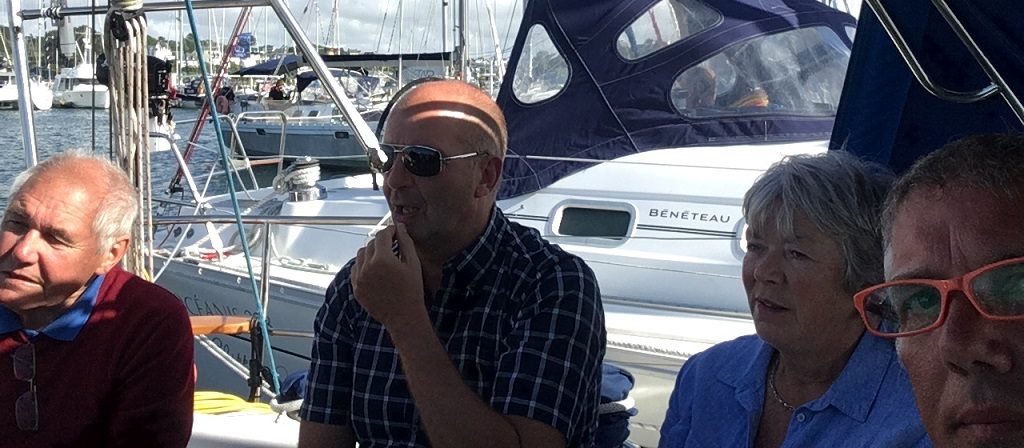 On our second weekend a techno rave had been organised and hundreds of twenty somethings descended on L'AW and went to the rave held in the grounds of the semaphore station. Paul and Val joined them and thoroughly enjoyed an hour in a side tent, listening to a very talented girl with electric guitar, sampling and overlaying weird and wonderful sounds made only on her guitar – the atmosphere assisted by the lovely smell of exotic tobacco enveloping us!
Val's sister Anne lives in the centre of Brittany and drove the 90 minutes to see us – and we had a lovely day out, first stopping for lunch in a fantastic beach bar in Santec (we said it was like being in the Mediterranean and the moules were excellent):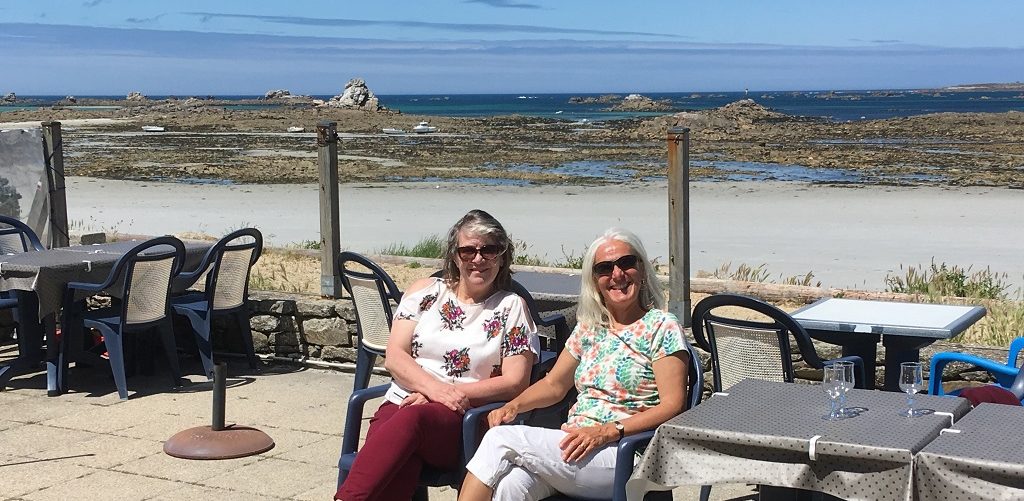 …and then wandering around the old town and ferry port of Roscoff.
Paul's fishing count still stands at an unimpressive zero, but catching crabs for the "shore crab bisque" was like shooting fish in a barrel – now there's an idea!!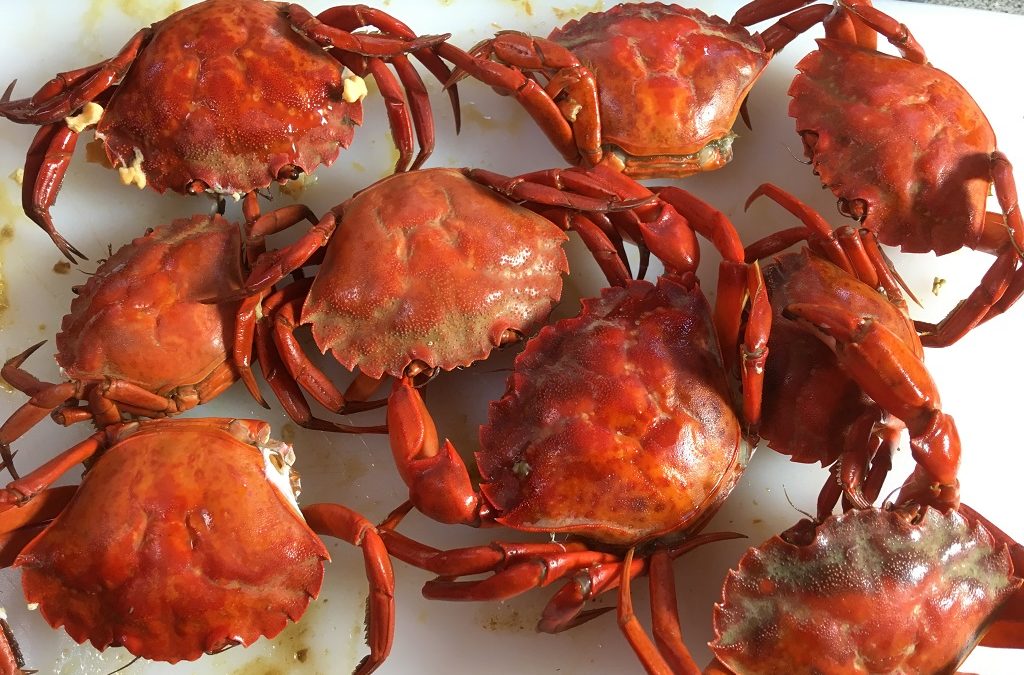 And so we enjoyed our prolonged stay in L'AW more than we expected, but finally conditions were right to move around the corner to Camaret.