Heading South – Getting warmer – Ile De Noirmoutier
A Salty Island – our new favourite in France
L'Herbaudiere, on the tip of the Ile De Noirmoutier, is just 15 nm south of Pornichet.  We sailed pretty much the entire way on a beautiful day and caught another Bonito on the way. Knowing by now that this was far too good for fish bait we were pleased to land it.
The entrance to L'Herbaudiere has a marked channel, dredged to 1.2m below chart datum. It was rather bumpy outside as we dropped the sails, but the entrance was straight forward enough, given that we had 3 metres rise of tide on top of the 1.2m dredged depth. Having called up the marina on Ch 9 we were met by a couple of cheery chaps in a dory who directed us to the visitor pontoon – an alongside pontoon where rafting is the order of the day in high season. However this was the last week of high season (last week of August) and for the one night we were on the visitor pontoon we weren't rafted against (others were).
After we arrived we got chatting to a lovely Dutch couple moored next to us – they introduced themselves as Marjolein and Justin. "Actually it's really Just" said Just, "but when I say that 'I'm Just….'  people look at me quizzically wondering what comes after the pause!"
Anyway Just was just lovely (as was Marjolein) and we got on really well – first sharing the Bonito with them, and later sharing a drink on their yacht. We had just (can't stop now) cooked our Bonito in a jar of a sweet curry sauce, but Marjolein had been more inventive, with a long list of ingredients including capers, basil and tomatoes – but we all agreed that this wasn't just fish bait!
Just as we were getting along so well we were moved (at our request as we were staying a week) to a nice long finger berth ("catway" in French – the first that was actually longer than the boat since we can remember) and our new friends had an itinerary to keep to on their return to Holland, but hopefully we will meet up again in Northern Spain next year, where we both intend to travel.
We decided to stay at L'Herbaudiere for a full week partly because we thought (quite correctly) that we would like it and secondly because our next stop (Ile D'Yeu) is 8 euros a night more expensive in August! L'Herbaudiere was 30.20 euros a night.
The marina sits in a pretty, small town with a decent sized fishing fleet and a Beneteau factory building motoryachts. Ile De Noirmoutiere may be an island, but it is connected to the mainland by an impressive bridge. There is a fishing fleet on the opposite side of the harbour, with at least 2 fishermen selling their catch direct to the public from the back of their boats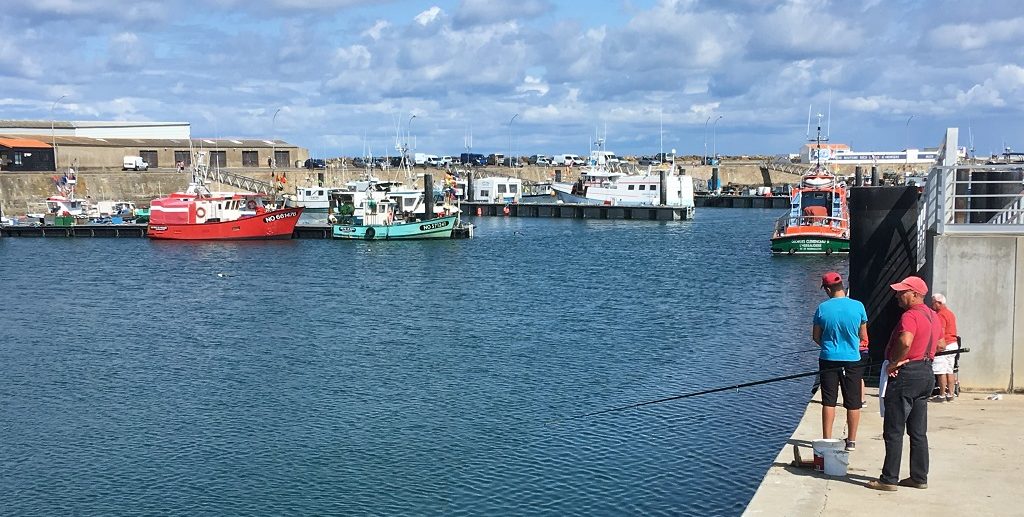 The marina itself is quite pleasant and with good facilities (some of the better ones that we have seen in France)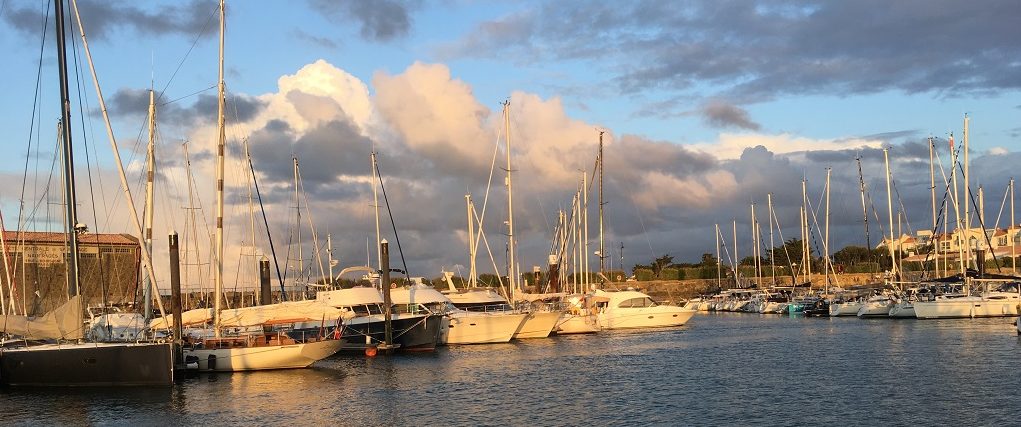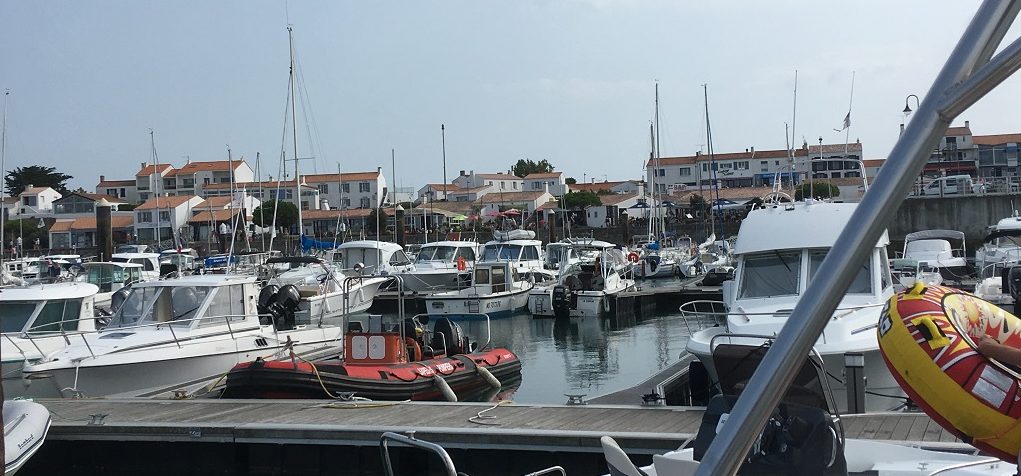 and there are a series of attractive restaurants and bars alongside – fortunately far enough away from the visitor berths and we were never disturbed! Here is the rear of the bars etc (never got a good photo of the frontage)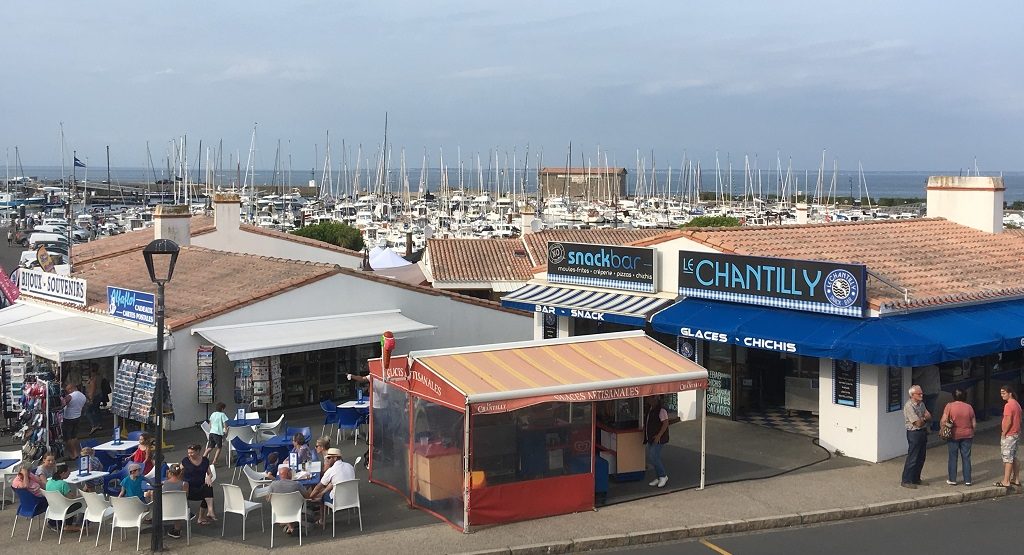 This is a busy tourist spot, seemingly with a significant proportion of the population of Paris holidaying here in gites, camper vans and tents. You will notice that the architecture is now distinctly southern European. The harbour front has several very well patronised bars and restaurants, a good foodie market on Monday, a small supermarket, poisonnerie, boulangeries and everything else required for comfortable living. Including, of course, a 2* Michelin restaurant, La Marine. We did try to book but for some reason they were full for the entire week!
We had to make do with buying a lobster directly from a fishing boat and rustling up a seafood linguine!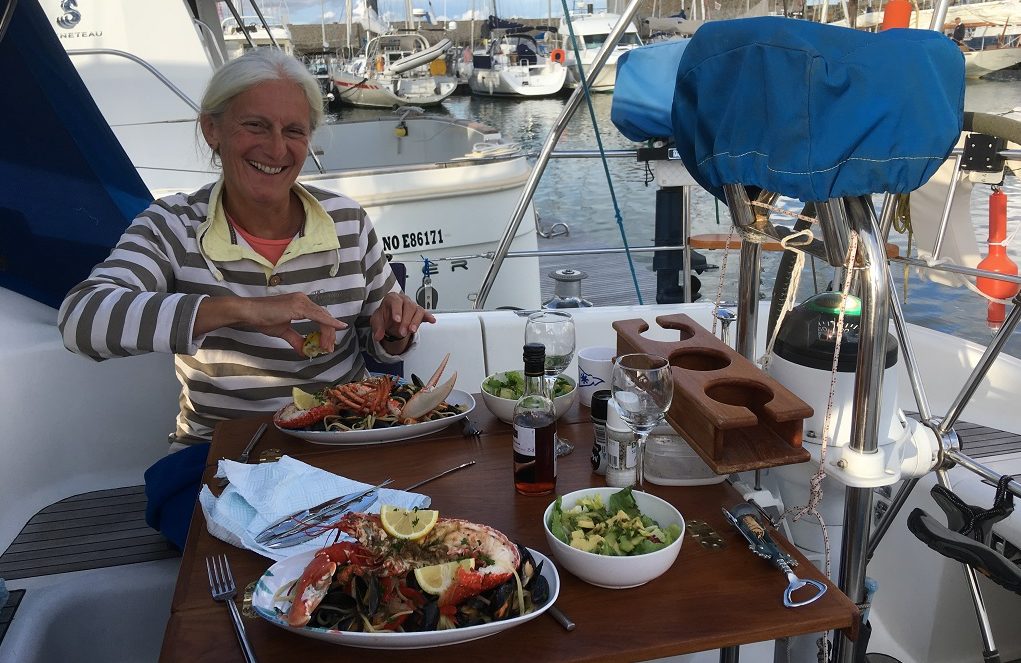 On our first day in the finger pontoon we were one of 3 yachts flying the Cruising Association burgee. This denotes membership of the "club" and is effectively an invitation to other members to come and say hello. Unfortunately "Heligan Honey" (named after the skipper's favourite real ale) were leaving that day but gave us the excellent recommendation of a restaurant on the edge of town (by the church) La Vieux Loup De Mer, and we went with Allan and Ros from the other CA boat (Musetta of Hamble) for an excellent 5 course meal for the princely sum of 24.80 euros – how they do this I know not, the ingredients must have cost 15 euros. Good recommendation Heligan Honey, thanks.
We're not thinking of re-naming Calypso after Paul's favourite real ale, but we liked the idea and Val is hereafter known as the Saltaire Blond!
The Ile De Noirmoutier is very flat, with a substantial proportion comprising "les marais salants" (salt pans where salt is produced by evaporating sea water – have a look on Google Earth). Accordingly it was time to get the bikes out, and we had a few days of cycling around the northern part of the island. Whilst (because of the bridge) there are a lot of cars on the main roads now in the high holiday season, there are plenty of off road cycle tracks and the quieter roads are very cycle friendly.
On our first trip we cycled to the main town – Noirmoutier En Ile  – and cycled back down the drying creek/harbour that runs up into the town……..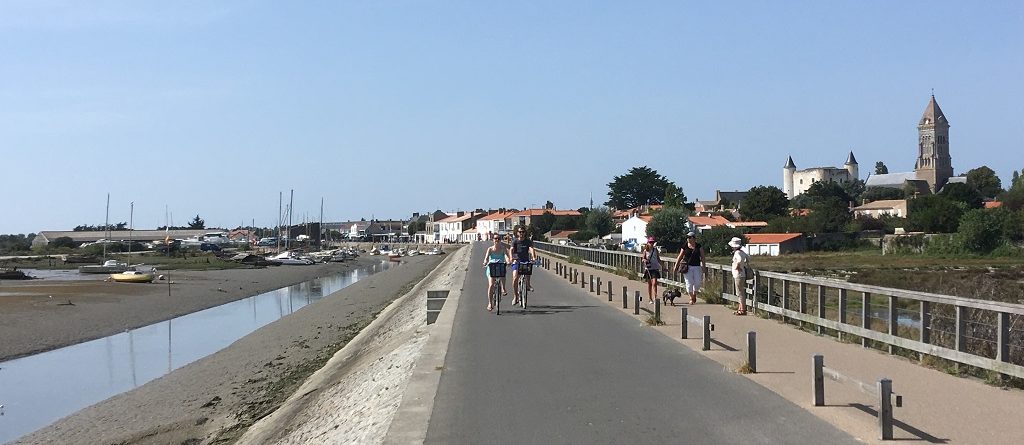 ……and through a pine wooded area studded with gites/holiday homes and camp sites, sitting behind lovely beaches running along the North side of the island, where we had a swim in the not-quite-as-bloody-cold-as-it-was-when-we-first-landed-in-France sea…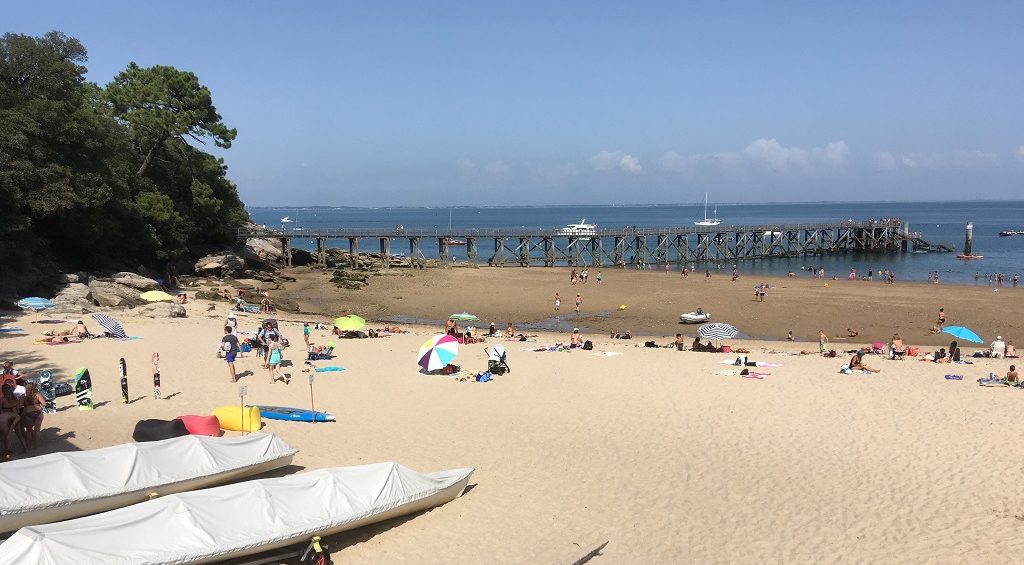 The next day (Tuesday) we returned along the off-road cycle route to Noirmoutier-En-Ile where there was a large (but not the best) market. Having purchased our typical French picnic ingredients (baguette, cheese and pate, what else?) we set off through the marais salants, which were virtually deserted other than the odd salt raker raking…….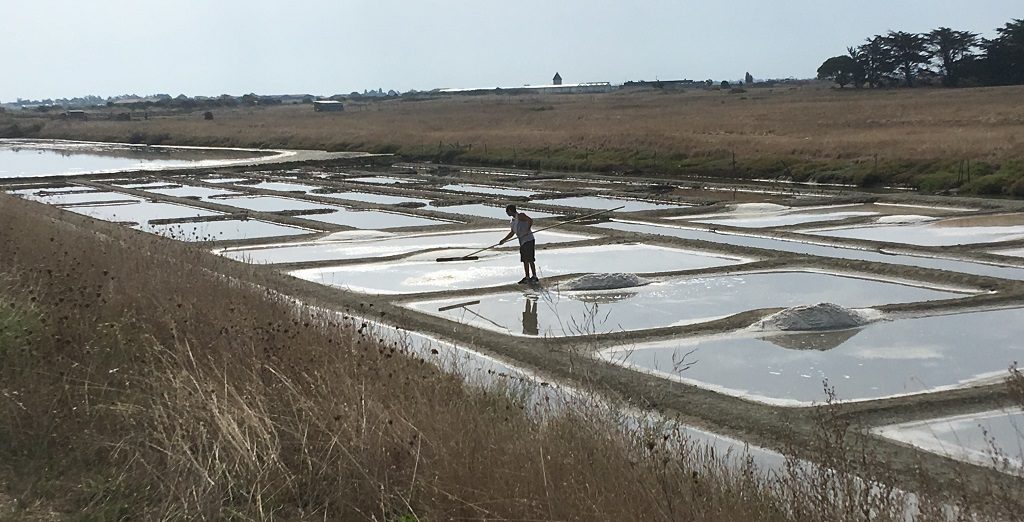 Through the salants was a network of mud tracks (we assume that there is no activity here in winter as there will be more water added by rain than removed by evaporation, so mud tracks work ok)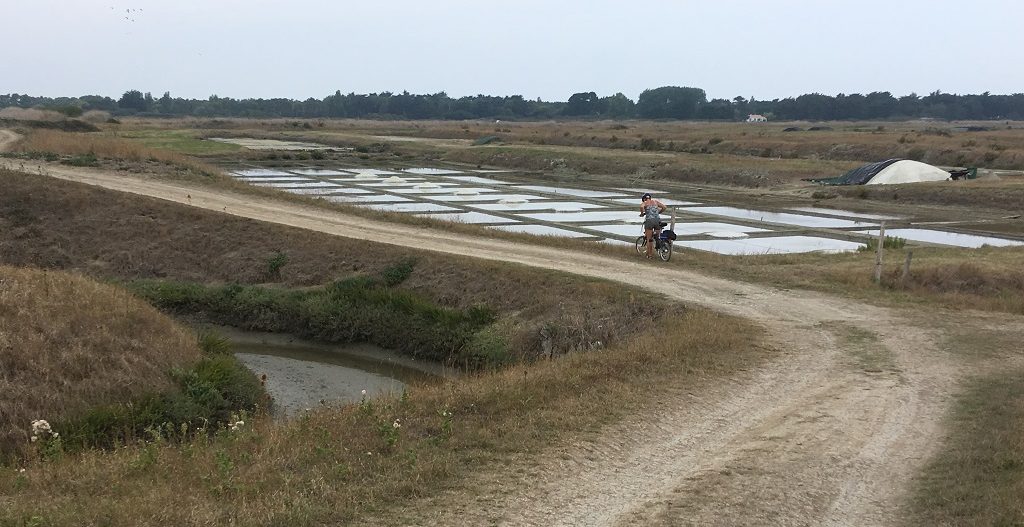 We followed the tracks towards a long beach to the South of L'Herbaudiere at the other side of the pine clad dunes that are seen in the photos. Having picked wild blackberries and grapes on the edge of the salants we walked through the pine wood towards a fantastic and nearly deserted beach. The dunes, of which the wooded area forms part, are of deep sand, far too soft to cycle and it was quite an effort just pushing the bikes to get over the dunes and on to the beach. The effort was well rewarded though, as far as Paul was concerned. This turned out to be the naturist beach – which we only discovered when the 3 girls swimming off the beach close to where we picnick'ed emerged……….No photos here though – the Saltaire Blond confiscated them!
Now many of the photos do have a rather grey sky – this was in fact a heat haze, as the forecast from Dear Old Aunty will show (this for Pornic just a few miles away).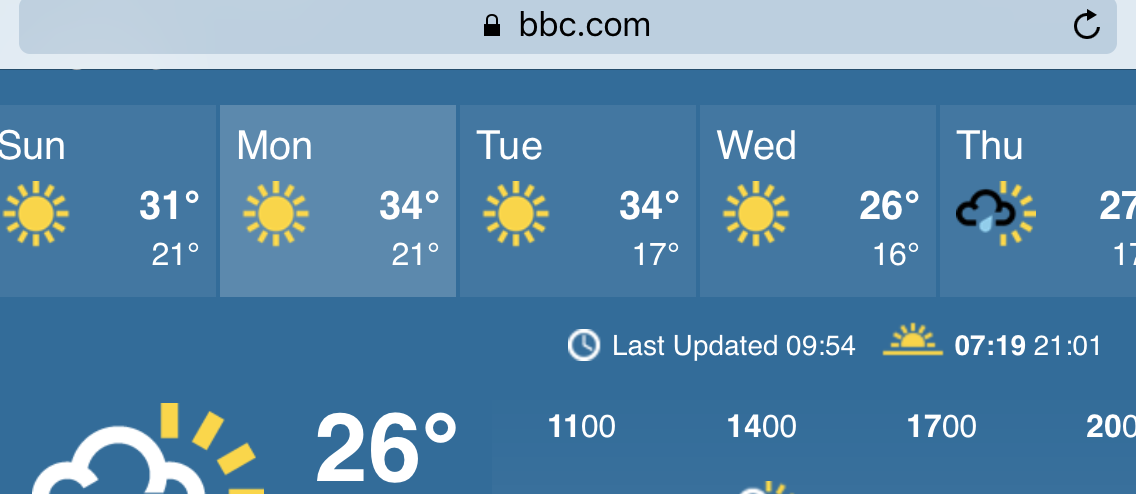 Next to the marina is yet another beach. Not as popular as some, much to Paul's liking, as he was able to practice his golf (the back is obviously improving!) Despite 2 shanks – one into the sea and one into somebody's garden (oops) most of the balls were returned to base. 2 down, 148 to go!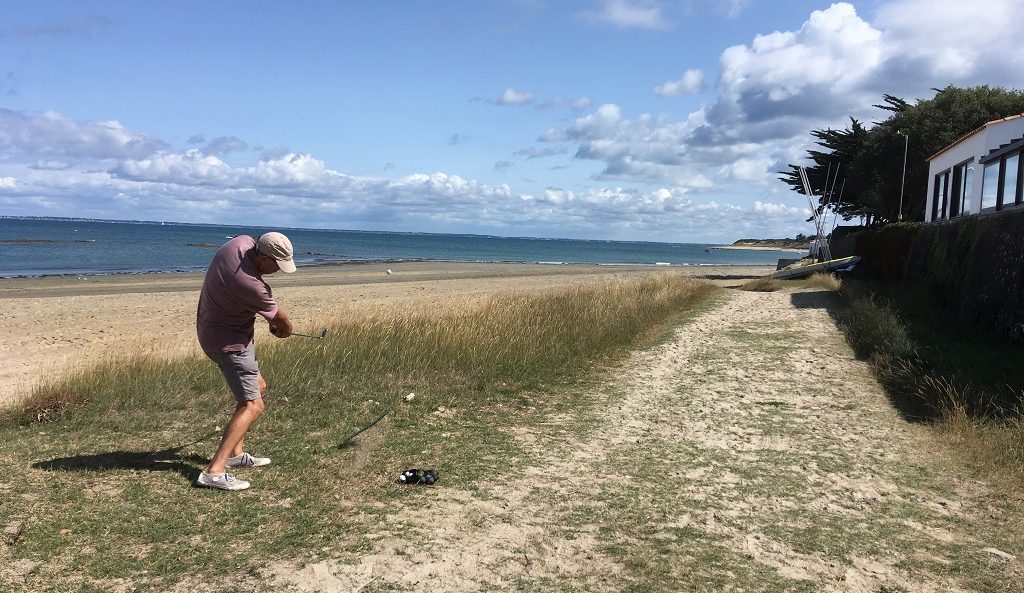 L'Herbaudiere has 2 chandleries, the most commonly found ones in this area – Uship and Comptoir De La Mer. We managed to source new mooring lines to replace the stolen ones. We ordered Liros Porto, as recommended by our friend Paul Cleaver of the Moody Owners' Association. It is very strong for its diameter and has a 15% stretch which helps to cushion the snatch of swell entering a marina – or created by the one imbecilic, inconsiderate French fisherman that each harbour seems to have (yep, there's just the one here too, waking us up at 4am on the visitor pontoon; but most are considerate). We also purchased rubber snubbers to further reduce snatch (as fitted to the stolen lines) and ordered 5 new lines as the ones not stolen were left behind because they are getting a bit tatty!
So – this is turning into a marathon – what else did we do in brief?
Bought 6 litres of wine (a box each of white and rose) from a Saumur producer who sells direct from his shop in L'Herbaudiere – at 16 euros for very quaffable stuff;
Drank too much, with no Bisphams here to blame;
Spent Sunday morning at a Foire du Brocante  – we love brocantes (antiques/old-ish stuff) and at least we weren't torturing our long suffering kids on this occasion;
Fished (usual failure, so what's new?);
Made more new friends – Alan and Ros on Musetta – (you'll hear about them again in the next episode – they were the advance party, setting off a day before us to the next stop);
Ate at Le Transat on the harbour front – pretty good: great flavoured seafood if slightly over cooked but we're being picky here;
Bought bread and transported it by bike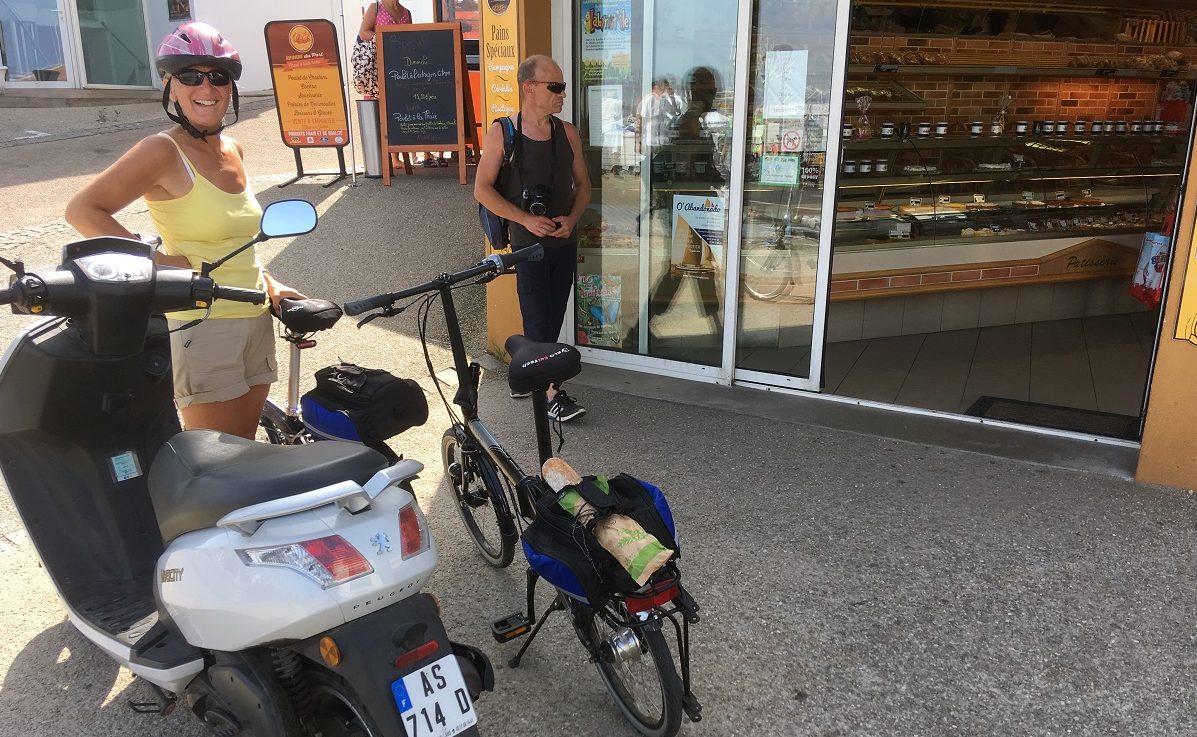 …..with the usual stuff for picnics on the beach (cheese and pate – forgot the red wine!);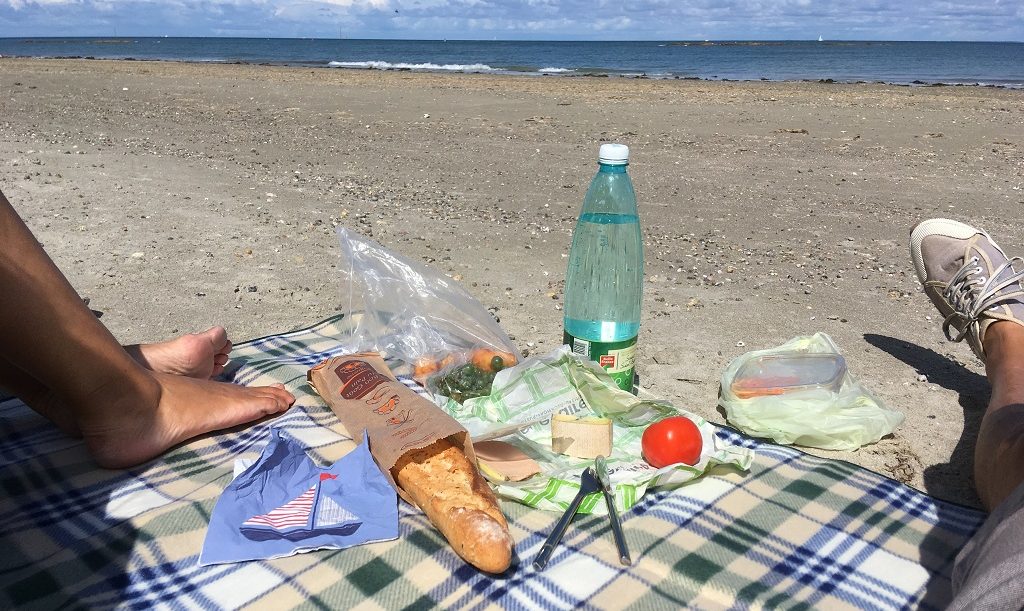 Generally had a great time – we LOVE L'Herbaudiere and Ile De Noirmoutier.
Distance traveled since leaving Hamble Point 601 nm