Back Home Then Return to Pornichet
Nous ne sommes pas les lapins jolies!
We had arranged to go home for a couple of weeks and traveled with Alice and James by ferry. Whilst home we caught up with family (here with Paul's mum, Alice, Jos and their partners, James and Gabby, having a pizza) and friends.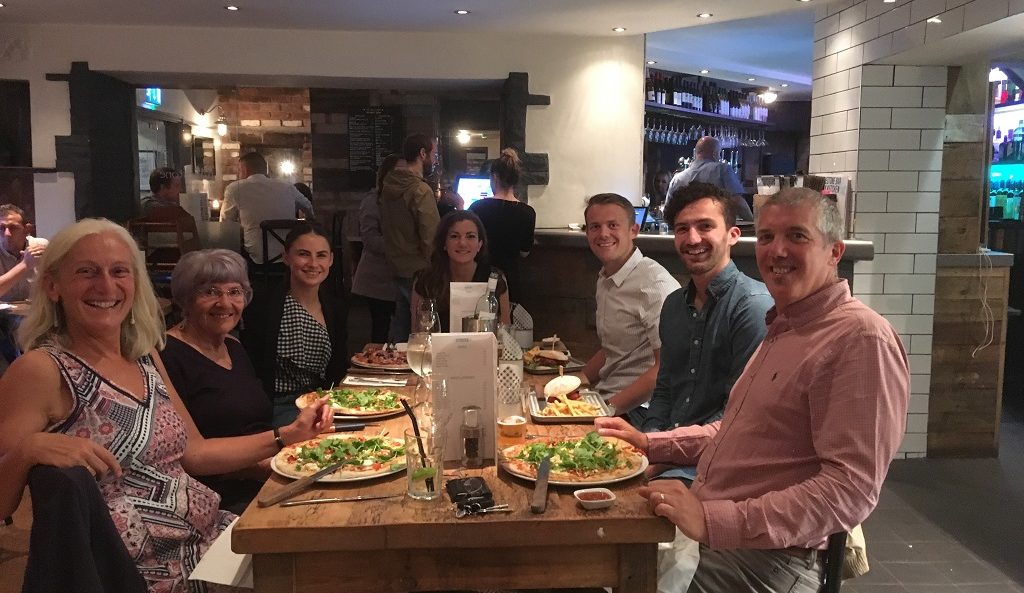 – 30 odd of our family and friends who were not on holiday joined us for a BBQ at home when surprisingly it didn't rain! We packed in a lot over the 2 weeks and were looking forward to getting back to Calypso by the end of it.
We had booked a return trip by ferry with Val's car, which we left at our winter home (boatyard); being transported from there back to Pornichet by Val's sister Anne who kindly gave up a day's holiday to do so, bringing with her our great niece Lills. We stopped in Guerande for lunch, where a market was just packing up. Guerande has an amazing, intact city wall and is very impressive – well worth a visit. We had a lovely day as well as a taxi ride, thanks again "R" Anne!
The day was only spoiled as we arrived back at Calypso to find that our 3 best mooring lines had been stolen and replaced with a very "ropey" rope – attached to a stay (which is not designed to resist force on a horizontal direction).
Paul had a rather difficult conversation with a senior manager/director of the marina. We had contacted the marina back in January, having identified it as a good place to meet Alice and James and leave Calypso there whilst at home.
When we had first arrived arrived (having reminded the marina of our impending arrival 2 weeks earlier) we discovered that no finger berth was available for the whole of our 17 days away from the marina – but that the staff would move Calypso from one berth to another as berth holders returned from their holidays away. We made it clear that we did not want Calypso left on a hammerhead with a series of boats rafting alongside (given some of the poor care/skills we had witnessed from some crews coming alongside). They assured us they would move her as often as necessary, and otherwise we would have hurriedly made enquiries of other marinas in the area.
However a few days after we arrived we had an e-mail from one of the Irish contingent that we had enjoyed meeting in Vannes – with a photo of them rafted 2 boats outside Calypso. An e-mail to the marina made no difference, and we could tell from the AIS, that we had left active, that Calypso had moved there 2 days after we departed and never moved again.
The manager/director tried to tell us that when they first moved the boat she was tied up using the black lines permanently attached to cleats in the berth (as most berths have in this marina) – but we took him there to demonstrate that this berth had no such lines! We also showed him the various e-mails dating back to January and recounted the assurances that we had received.
After a lengthy and slightly difficult conversation the manager/director accepted that we would be deducting a week's charges from what we owed them – some 202 euros towards new lines (there is a reduced weekly rate here, unlike other marinas who offer no discount for a week's stay in high season). We agreed that no marina staff had any involvement in the theft, but that a visitor boat rafted outside obviously took a shine to them – and asserted that we had not received the service that we were offered and would have taken our custom elsewhere had we have known what would happen.
OK – rant over, sorry to be even more boring than usual, but I feel better!! And we now have smart new lines! Purchased from………. See next episode.
We had a couple of days in Pornichet before leaving and walked South from the marina to find lovely beaches with nice old villas behind (pictured top). To the North is an amazing beach, maybe 6 miles long, with a few nice beach bars and backed by literally miles of high rise apartment blocks. In the next couple of rows back, however, the original old villas remain, and with the superb market and hippodrome we enjoyed the stay here (other than the services of the marina) more than we expected.