Not forgetting Polruan of course!
We left Falmouth on Tuesday 12th July at a civilised hour – tide times being favourable once again! As usual we had a forecast that would see us sailing most of the way – and as usual we mostly motored. Actually this time we covered around one third of the 23nm under sail – and it is so peaceful when the engine goes off. Not that the engine is deafening – just an irritating drone, compared to the sound of only wind and water.
There is no marina in Fowey (pronounced "Foy"), but plenty of well defined visitor mooring balls, a few mid-river floating pontoons, a couple of short stay walk-ashore pontoons and one overnight walk ashore pontoon at Mixtow. The pilot guide made it easy to work out the system, but Fowey Harbour Authority run harbour patrol vessels which can be called up on vhf 12 to give assistance in finding a mooring. Our mooring ball was £21.80 per night (£1.90/metre) and there is a loyalty card – pay for any 6 nights in the season and get a 7th free.
The sea for our trip here was gentle and we arrived in the River Fowey at 3pm with plenty of energy and immediately set about inflating the dinghy. There is a water taxi that can be called up on vhf 6, but in a place like this, dinghy-ing around is part of the fun! There are good floating pontoons for dinghies on both sides of the river, and at the head of each pontoon the RNLI have provided lockers to store lifejackets and other items when exploring ashore (the idea being to encourage lifejacket use in dinghies – dinghy-ing ashore is relatively dangerous, with perhaps the most dangerous time being returning to the boat after a long lunch!) The  dinghy docks are well used: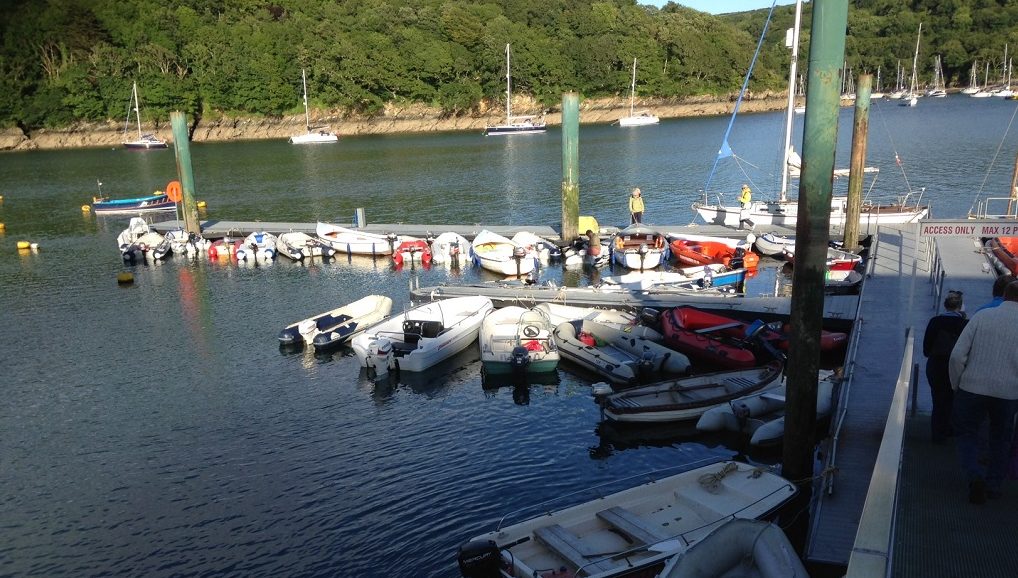 The weather window suggested that we would have 2 nights here before moving on to Plymouth before strong winds set in over the weekend, and we wanted to have as much time exploring ashore as possible. Given how much we loved this place we were pleased when the forecast for the weekend subsequently changed completely and we were able to stay 4 nights.
There are 2 lovely small towns at the mouth of River Fowey – Fowey on the West bank and Polruan on the East. Polruan is the smaller of the two (2 pubs, a cafe and a small shop), and Fowey is the tourist honeypot with associated well developed shop and bar/restaurant facilities (in old buildings). Here is the view from our mooring towards Polruan: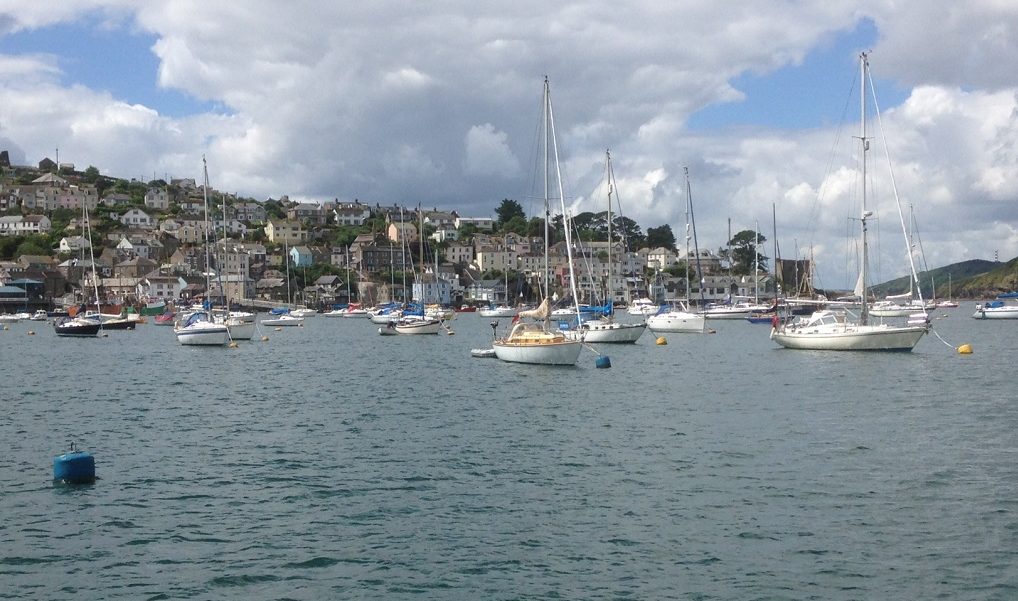 Given that we had less time on this first day of two (so we thought), we set off to Polruan, a short dinghy ride from our mooring. We had not reached the head of the ramp from the dinghy pontoon before Val had secured an invitation to have tea with Allen and Dawn Goodship, a lovely couple with a yacht on a mooring and a holiday cottage overlooking the river in the lower (old) part of the town. We chatted over tea, following which we went to the Luggers Arms to book a dinner reservation for the four of us, en route to a spectacular clifftop walk.
There are many sure-fire ways of meeting people and making friends – some people have dogs, some have babies, and some play Pokemon Go and bump into each other; but on Calypso we have a Val! And actually, having a boat is a good enough introduction in itself. It's just a shame that we meet such nice people as Allen and Dawn for only fleeting moments.
We had a lovely evening at the Luggers with the Goodships (a couple deserving of that lovely name) and a really nice dressed crab salad.  Another memorable day.
Checking the forecast next day made it certain that we could stay an extra couple of nights. And so we had a day in the shops, galleries and bars of Fowey (insert photo of narrow, pretty street with posh-ish shops and galleries that neither of us snapped), and exploring the pretty backstreets (which we did snap):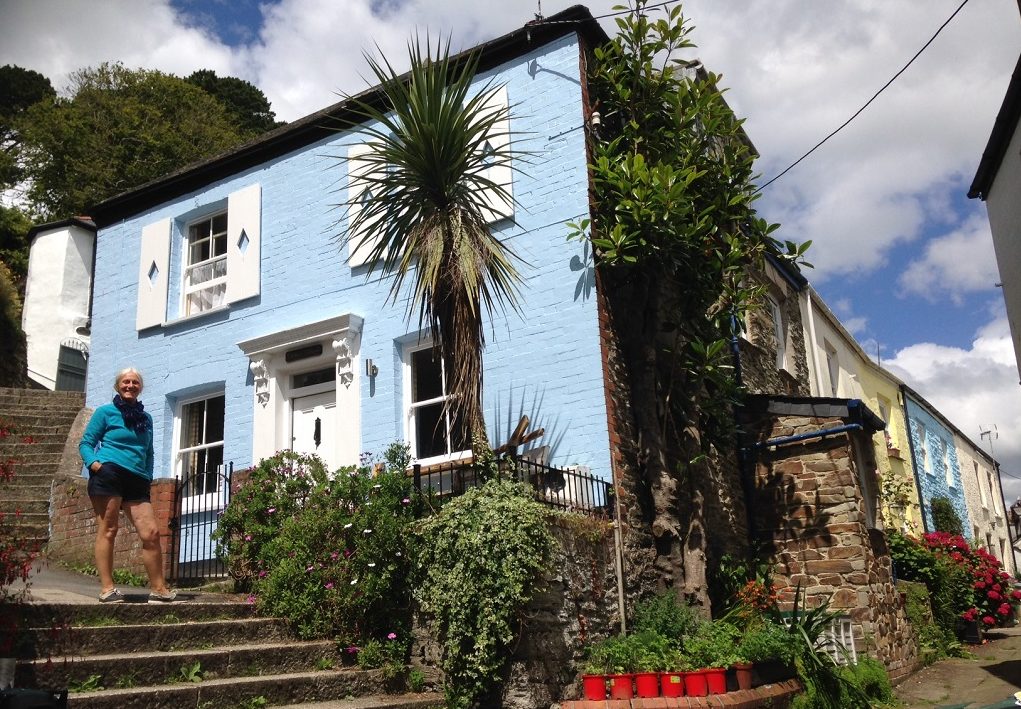 We walked to nearby Readymoney Cove – a lovely swimming beach overlooked by a fabulous house owned by Dawn French – viewed here from the opposite side of the river (Readymoney beach to the left), she lives in the entire pile: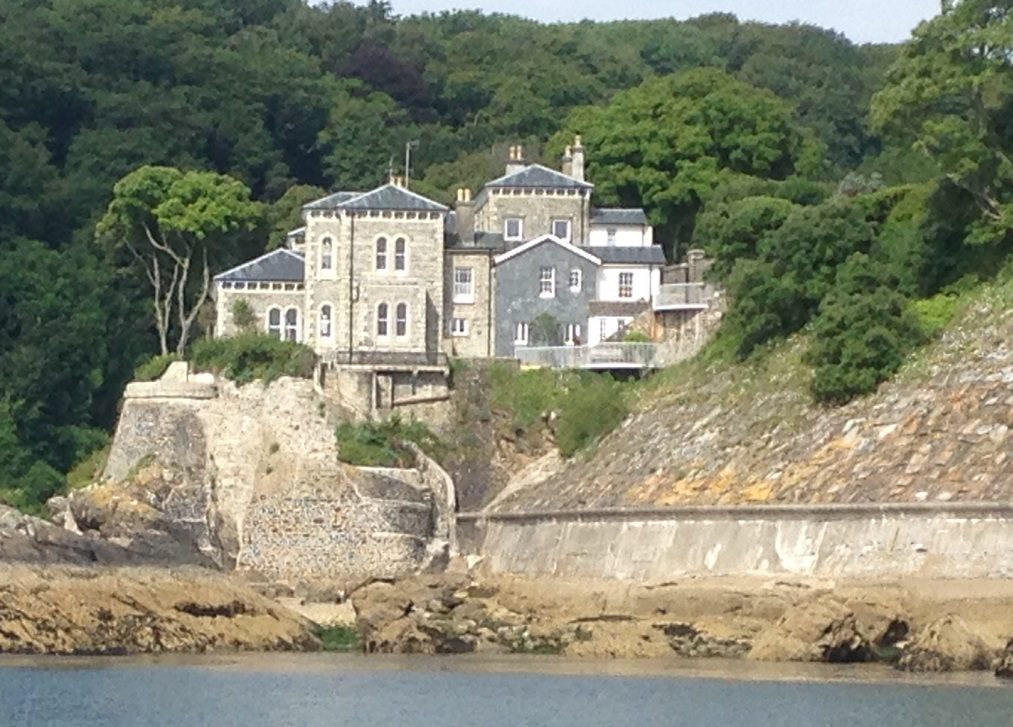 We had taken and deposited showering gear and a change of clothing in the lifejacket locker, and after a long afternoon retired to the lovely clubhouse of the Royal Fowey Yacht Club.
Fortunately (for our livers) the bar doesn't open until 6pm, and so we had our shower (take 2x£1 coins for a decent shower) followed by a quiet time reading newspapers in the beautiful lounge. Later we had a beer whilst we watched the Wednesday night racing. Here mustering and jockeying for position on the start line;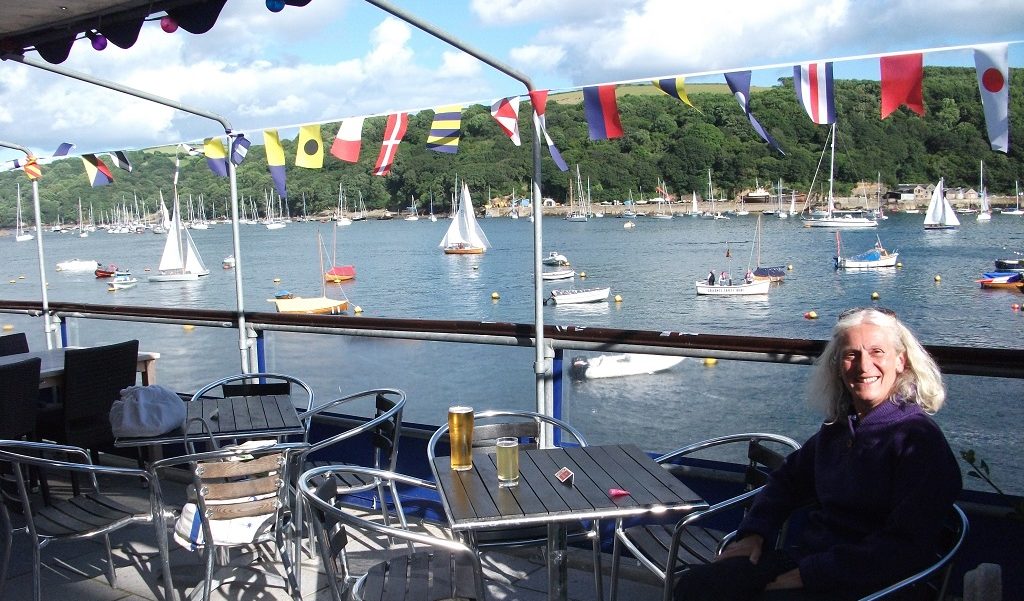 and here crossing the start line – Calypso can be seen in the gap, left of centre, with the tall mast: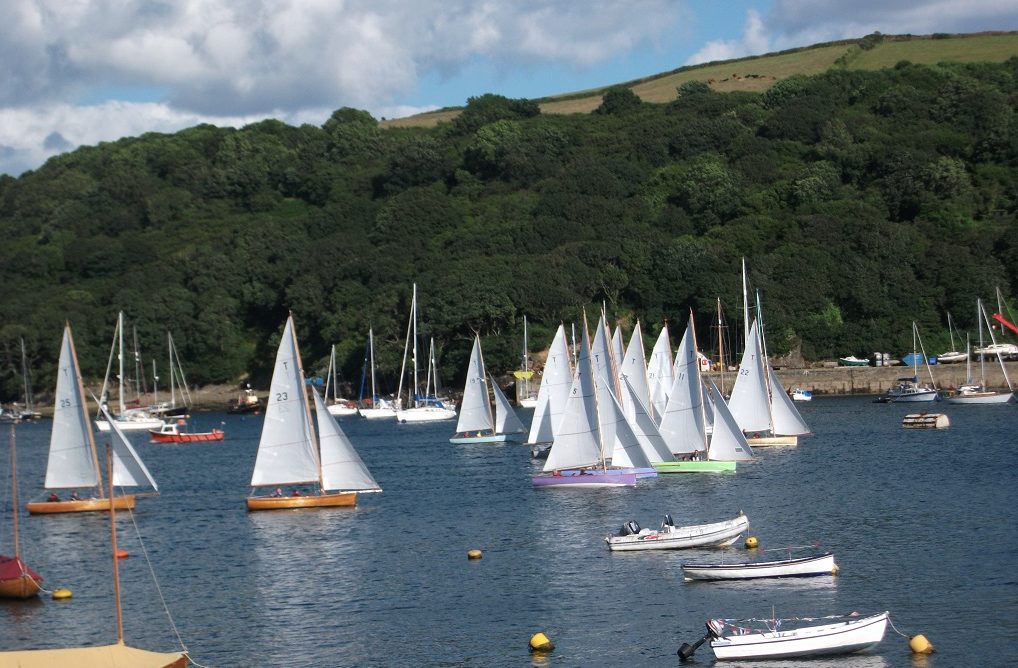 On our third day, Thursday, we decided to play Swallows and Amazons and head off up river. We substituted the pretty wooden sailing dinghy with our inflatable dinghy and its noisy, smelly 2-stroke Yamaha, but you get the idea! Paul told Val to bring the large brolly – for the dual purpose of protecting us against the forecast showers (that didn't materialise) and acting as a sail on the return, downwind leg (Val scoffed at that idea!)
Again the tide times were good – setting off upriver with the tide, returning as the tide ebbed from 1.45pm. We took a packed lunch and cold ginger beer (perhaps confusing Swallows and Amazons with The Famous Five), and so with a full dinghy the intrepid duo set off.
All went well for the first couple of miles – passing the Boddinick car ferry with Daphne Du Maurier's house at the side on the riverbank; passing the Mixtow boatyard and passing the riverside dock where china clay is loaded onto large coasters – here one is seen (earlier) being swung mid-river through 180 degrees, alarmingly close to Calypso, but they must have done this many times!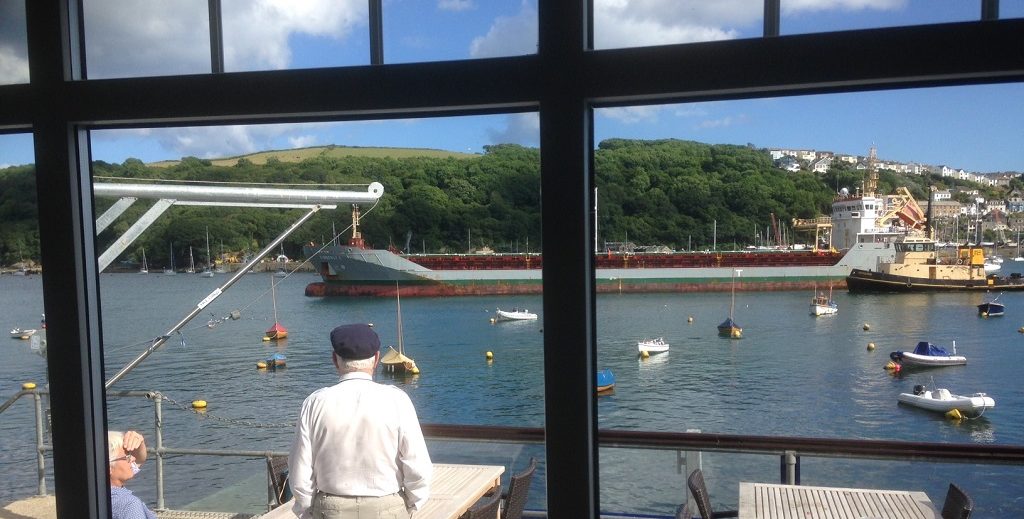 We rounded the corner and into a headwind and short choppy waves – but after another half a mile the engine stalled as we ran at tickover speed past an interesting spot. It is overdue a service and an erroneous forum posting had us running a 1:50 mix for a while instead of 1: 75-100. Oil fouled spark plug was the thinking – but whatever, it wouldn't restart and we had to row back. Val still thought Paul was joking when instructed to set the downwind umbrella – but a firm instruction saw the device deployed and – much to Val's amazement (but as expected by Paul) – the dinghy hared off downwind under sail alone. It's a shame we have no photo – but Val's disbelief is clear as she eats her words on the video which will hopefully, one day, be posted!
We rowed/"umbrellered" back to Mixtow where we tied up on the pontoon, had our packed lunch and sunbathed. After afternoon tea in the pleasant and strangely un-advertised licensed cafe in the boatyard we purchased new sparkplugs from the chandlery and returned to Calypso – under power this time as the engine re-started.
Val believes that the oiled spark plug had cleared itself. At this point Paul somehow forgot to  mention that he had discovered the fuel tap closed – having closed it to try and clear flooding petrol and forgetting to turn it back on again. What an idiot!!!
However the outboard seems happier with its new spark plug and correct mixture, and today Val-the-Disbeliever had to eat her words (always satisfying!)
On our last day we just had to "do" the Hall Walk, apparently regarded as one of the top 10 walks in the country (perhaps by the local tourist board, but we're not arguing). We took the dinghy to Fowey and stashed showering gear and change of clothes in the locker.
The walk runs from Brodinnick to Polruan, and so we took the Brodinnick ferry – just a good 3 wood over the river from the Northern end of Fowey. Here is Brodinnick with Daphne Du Maurier's house to the right: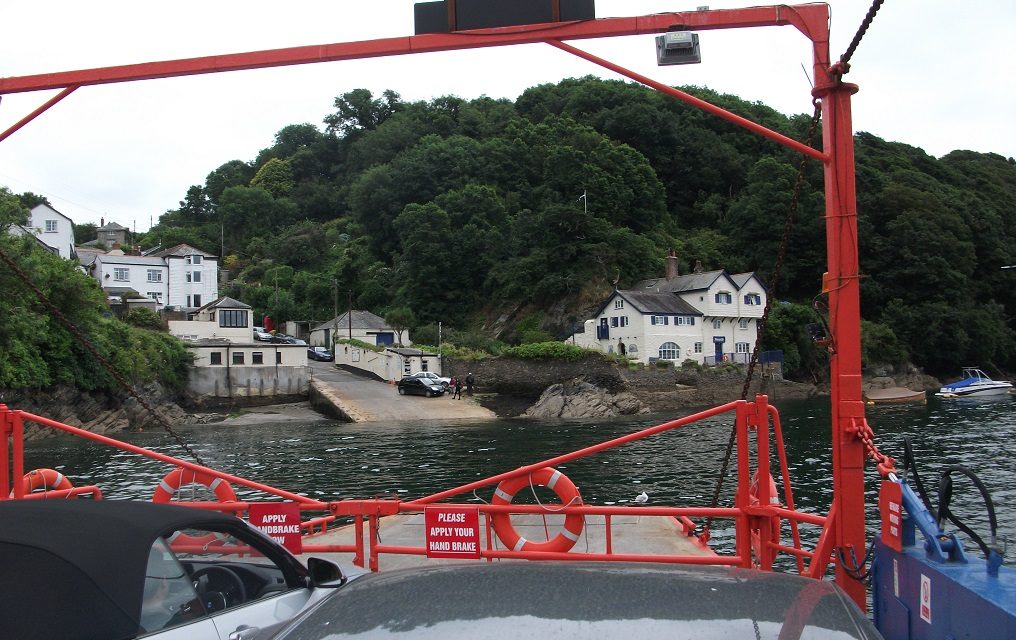 There is a pub here at the start of the walk and two at the finish (in Polruan). The walk climbs quickly, high above the river and affords fabulous views of Fowey: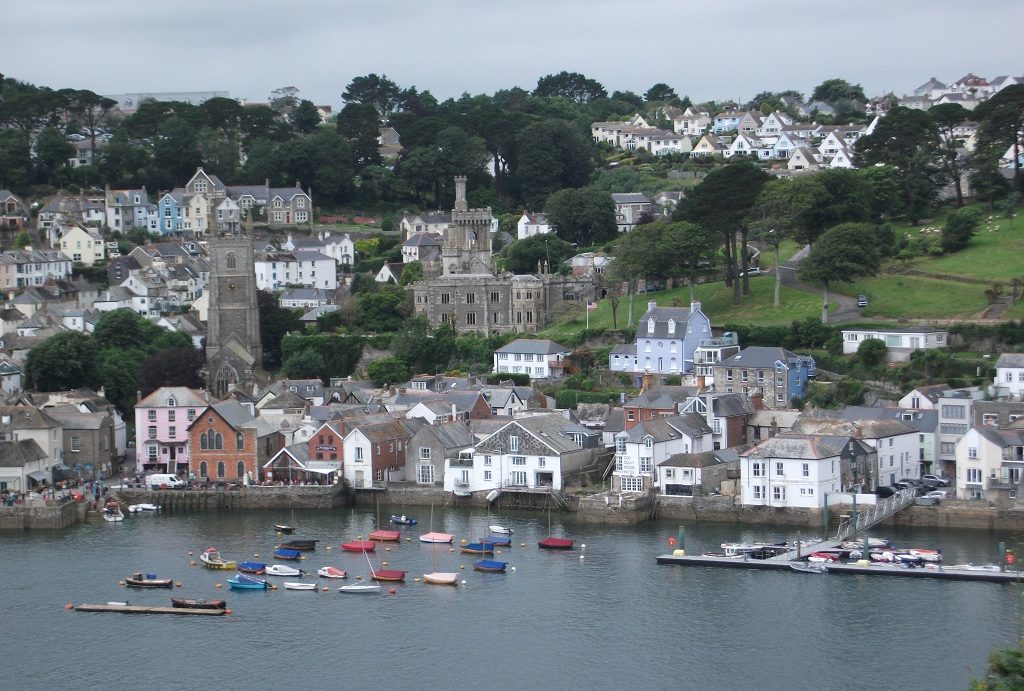 …and Polruan: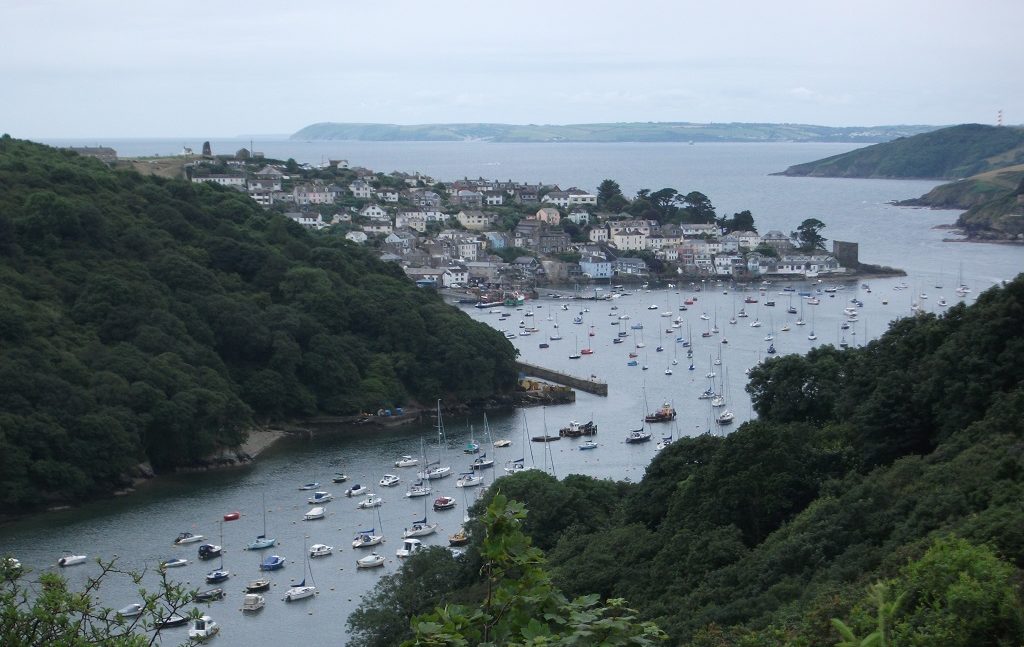 The path is steep in places but well surfaced and well trod. Half way along it crosses Pont Pill, where we had our packed lunch (the Famous Two forgot the ginger beer this time) and carried on via a detour to see the extraordinarily peaceful and lovely, large old St Wyllow church. We suspect this is where Dawn French worships as it has a real Dibley feel to it (seriously!) Eventually we reached Polruan and had our second ice cream of the entire trip before boarding the ferry back to Fowey.
Here we went to the Gallants Yacht Club, also with river front terrace but not quite as posh as the Royal Fowey. The showers were equally hot though, and half the price. The shower block is arranged so as to be accessible 24/7 to allow the weary, smelly, arriving yachtsman to spruce up.
We had excellent seafood that night at Sam's restaurant and – given a shortish trip at a reasonable hour next day to Plymouth – allowed ourselves to sample the real ales at the Galleon.
Distance traveled since leaving Kip: 561nm