Dolphins, Le Guilvinec & Loctudy
Dolphins come to play………..
Le Guilvinec was not on our radar until we chatted to a young French sailor in a bar – he said we shouldn't miss it – a large harbour with little in the way of visitor moorings, but a very interesting working harbour, where fish can be purchased from the trawlers (so he said). Indeed we read that 17% of France's fish is landed here.
The tide times were convenient for our departure, and at 09.20, 2hrs 20 mins before high tide we headed down the river, with plenty of depth throughout. Indeed the dredger had disappeared, presumably having finished deepening the channel at the entrance.
The trip to Le Guilvinec was only 23 nm which took us 4 hrs 40 mins including 1-40 sailing! Yes at last we had the engine off for a while, and a very nice sail it was too. After we turned the corner and headed west, directly into the wind and with the engine on, dolphins came to play – lots of them for a good hour on and off. Here is a photo that the Bisphams on Charisma, a little way behind us, took. We videoed them and the link to that on YouTube is HERE.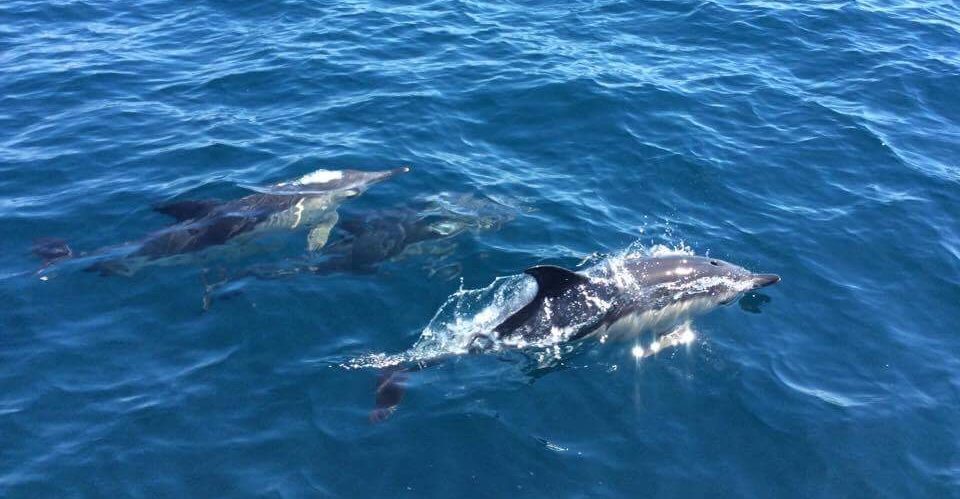 Again rocks abound on the way into Le Guilvinec, but there is a very clear leading line showing the safe channel (an orange topped light on the harbour wall and an orange painted stripe and top of a very tall building at the rear of the harbour kept in line show the way in from the south west on a heading of 53 degrees).
Once inside, this being a Sunday, there were a LOT of fishing boats: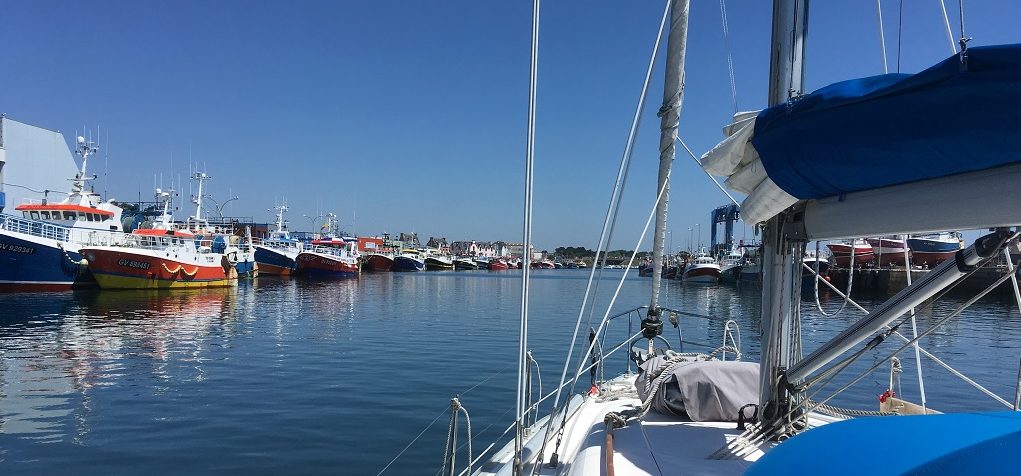 Information on visitor moorings  in the pilot books and online is not good. As it was Sunday the office was closed and so we could not telephone them, however a couple of guys in a rib confirmed that the "pontons visiteurs" were as I pointed, to starboard after the end of the fishing boats. There is also another visitor pontoon very slightly further in to port. Each accommodates 2 yachts on the outside. In fact we put Charisma on the corner of our pontoon when they arrived – bows first, pointing to shore, to ensure no damage to the rudder as ballast appeared to extend from the shore (as it happened stern-to would have been ok, but maybe not for larger boats or at all states of tide). It is said that rafting 2 deep is permitted, although that would have blocked the channel between the pontoon and moored boats (but a second channel is available on the other side of them).
We asked the nice chappy who came for the 24 euros a night berthing fee whether there are any visitor buoys in the harbour as we had heard – but he said not. The fee includes water and electricity.
Facilities – showers ok – WC's? We were pleased to have had our holding tank fitted! Not dreadful, but open to Joe Public. The small local fishing boat that left around 05.00 from the inside of the visitor pontoon had no regard for visitors – "la bite"! Val was awoken by the trawlers departing before that, but Paul slept through. There is a rush hour for returning trawlers from around 16.30 and pleasure craft are requested/advised not to enter during the following 2 hours.
The town clearly has a long fishing heritage and that was celebrated by many information boards and displays. Val liked this fisherman as he didn't smell of fish: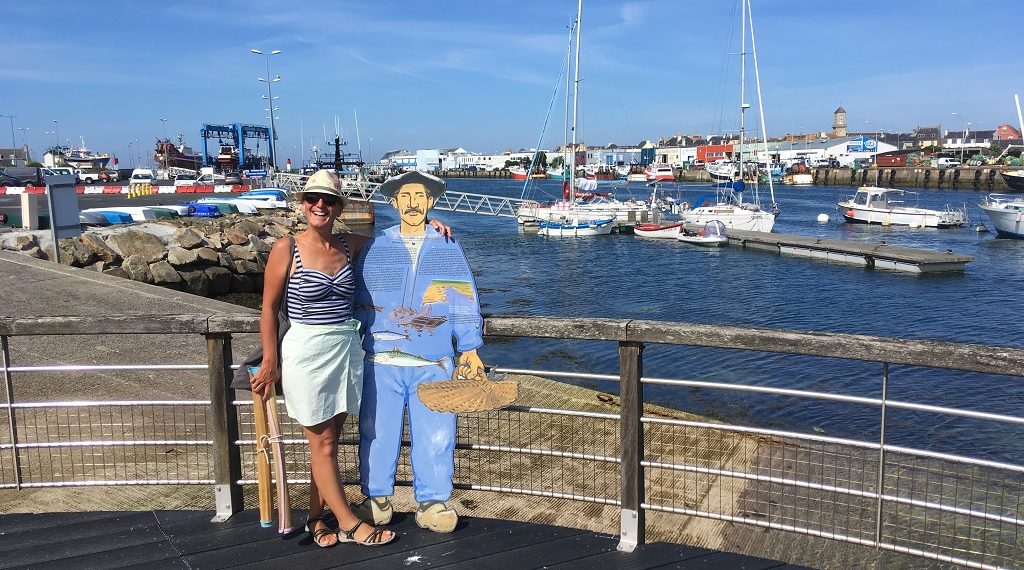 You can see here on the visitor pontoon Calypso and (at right angles to the main pontoon) Charisma with another yacht rafted outside of them.
So – how was the town and could we buy fish from the trawlers? The berthing chappy said that we would have to place our order for langoustines the day before with the trawlers, and we witnessed several locals doing just that. We settled for a very large poisonnerie at the rear of the harbour buildings. A sign advised that "langoustines vivants" are available from around 17.00, and so we queued with a lot of people to purchase some. The shop had several very large tanks with live crab, spider crab and lobster to the left of this photo and the counter continued around the corner out of view: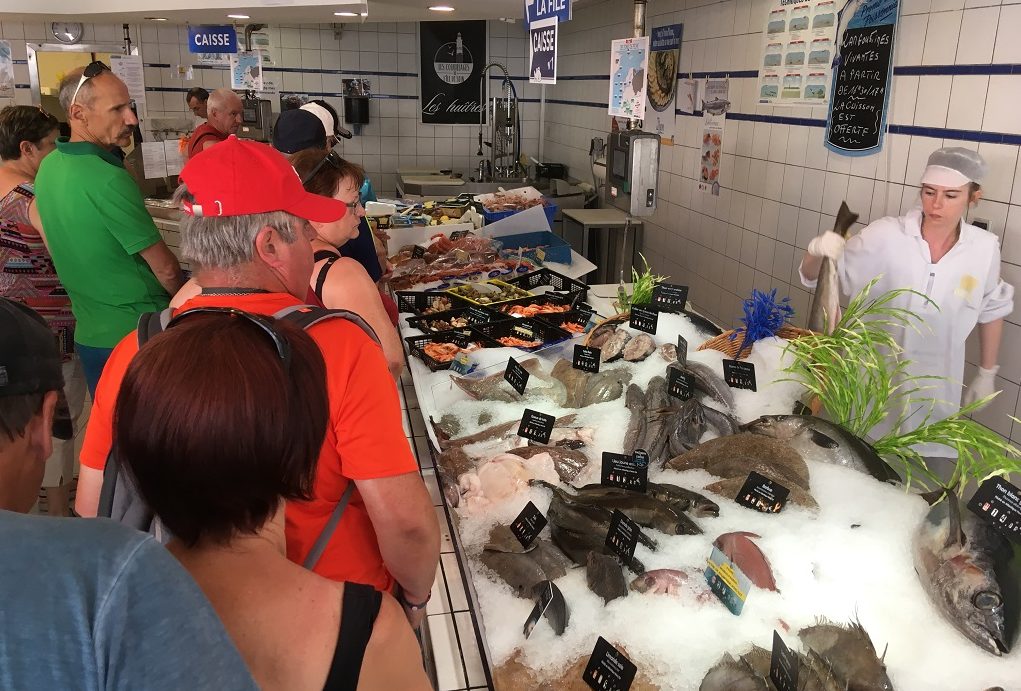 We're not sure if the langoustine tin had an electrical current through it, but by the time we got back to the boat the wriggling crustaceans were  dead – bereft of life – they had ceased to be, and were resting in peace – indeed they were ex-langoustines!
That said, they tasted delicious and we were happy not to have taken them back.
The centre had a few shops and restaurants and there was a great beach a 15 minute walk away where we swam on a very hot day – we were enjoying a 26-29c heatwave that lasted several days, and decided we could do with a beach parasol to add to our burgeoning inventory!
We were happy to stay 2 nights at Le Guilvinec, it was an interesting stay but that was enough, and so on Tuesday we said a fond farewell to the Bisphams and set off to Loctudy, some 13 nm away. Adam and Lynne were taking the opportunity of settled weather to visit the largely uninhabited Glenan islands, surrounded by shallow seas – we would imagine something like the Scillies on a smaller scale.
We had a very calm 3 hour 13 nm trip entirely on motor – not even enough wind for motorsailing. And unfortunately the Amanda MacWhirter method of attracting dolphins failed on this occasion – although Val did try very hard!
Again the entrance to Loctudy is shallow and we had to time our arrival with the rising tide, but otherwise the entry is not difficult and is well buoyed. The VHF channel for this marina is not well advertised and so we just went in as we knew where the visitor pontoons are from the pilot books. As we tied up, however, the marina dory swung by and said we would have to leave as they had a regatta of 49 yachts arriving for the night later on. Pete and Liz on their yacht on the outside of the wavebreak had just advised us of this fact, saying that they had thrown all the visitors out earlier in the day (we thought it was quiet as we arrived!)
We asked if we could tie up alongside on the outside of the wave break behind Pete and Liz – and permission was granted so we didn't have to go with our plan B (which we hadn't yet planned!) We still paid 28 euros a night (still outside the high season price hike) to be on the outside of the wave break.
The marina is excellent, with very good, clean facilities and free hire of bicycles. There was no small convenience store in the town that we could find (although restaurants and a great boulangerie – the one nearer the sea which served excellent sandwiches and pizza from a shop fronting a large bakery). However there is a large Carrefour supermarket a 15 minute walk away – where we found our beach parasol: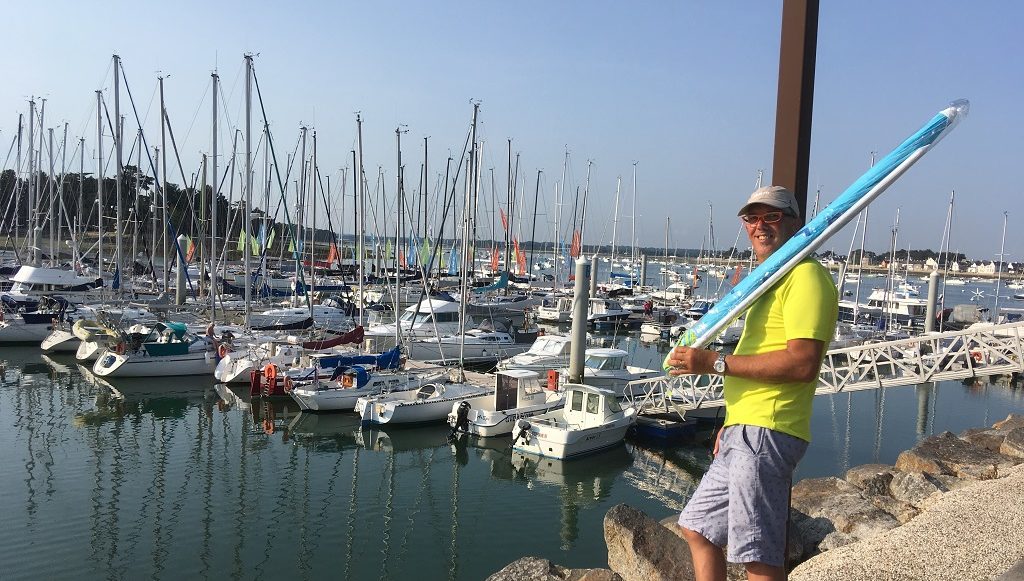 Whilst here we took the opportunity to fill up with diesel – the fuel dock was easily accessed and was used by a lot of boats whilst we were there – better to fill up from a source that is well used. We filtered the first 20 litres through a filter funnel that separates out any oil or gunge – and none appeared in the filter, which is very slow so we finished off with no filter, adding 75 litres to fill the tank, which is all we had used since Plymouth, in spite of our excessive motoring!
There is a separate large fishing harbour – before the marina and so no wash here from the trawlers.
On the first day,  shortly after we arrived we took the ferry across to Ile Tudy, just over the water, here viewed from Calypso: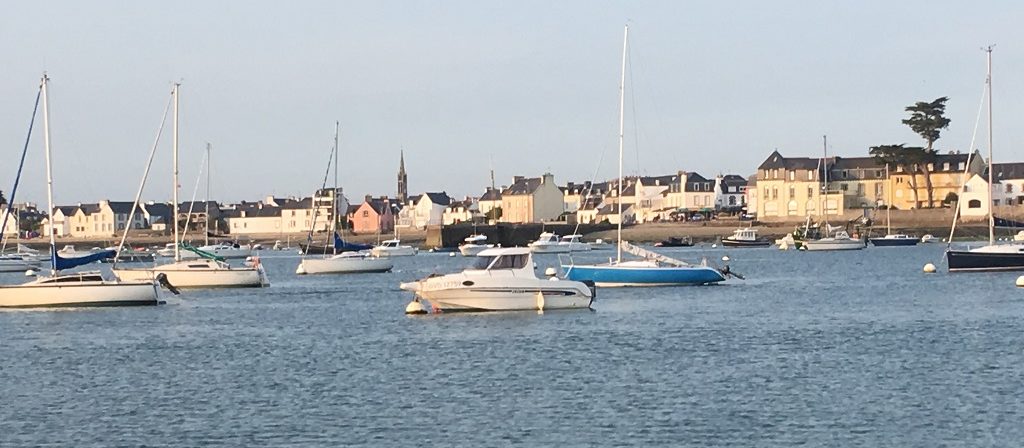 Ile Tudy is a long spit of land and not an island at all, but is a very pretty little spot with a big beach.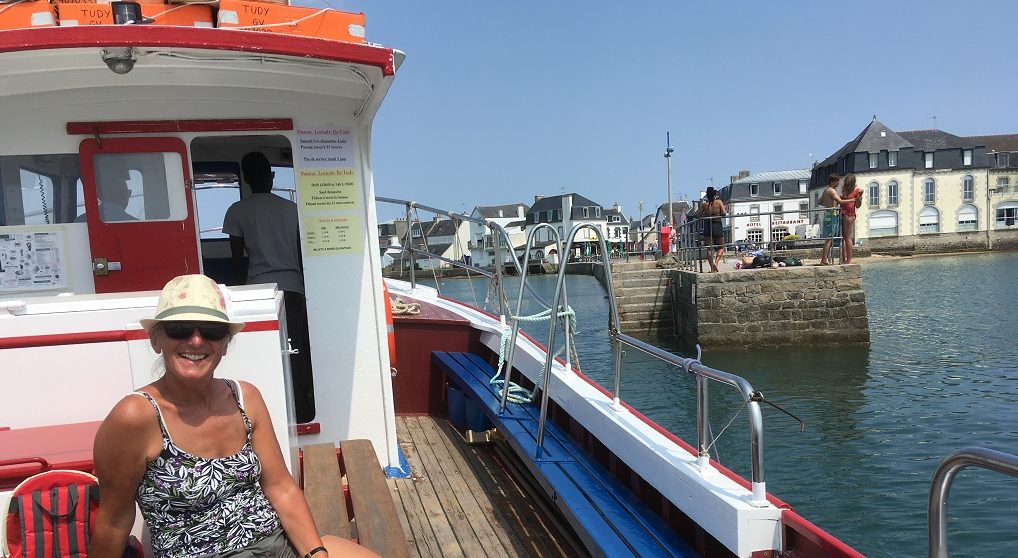 Not having our sun parasol we had a quick stroll round the town, down the beach and then had a beer before returning.
On the second day we caught a bus to Pont L'Abbe (check times with the tourism office near the entrance to the port as they are infrequent – very early and then 13.31 from next to the tourism office/mairie). Pont L'Abbe was a pretty town (will we ever find one here that is not??) – and after a bit of window shopping we set off to walk back to Loctudy – 12km and 3 hours said the lady in the tourist office – but we knew better. That included a couple of diversions and we walk quickly. Famous last words!
By the time we got back home our feet were sore and even with the benefit of the map app on the phone, we're not sure we went the direct route! That said, this is a fantastic walk and we were distracted by picking samphire and sea purslane, which grows by the acre here (minor exaggeration, but there is a lot) and we did still beat the 3 hour advisory – just.
There are very few houses indeed on this stretch – but some are lucky enough to live here: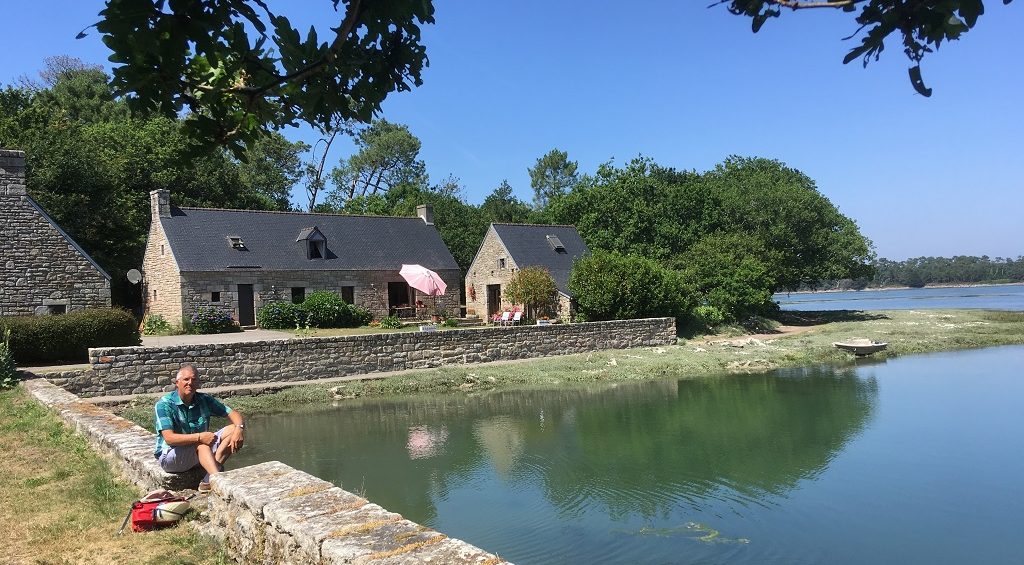 The standing stone here (beyond the sea purslane we used in a langoustine shell bisque) dates back 4-5,000 years apparently – how did they do this??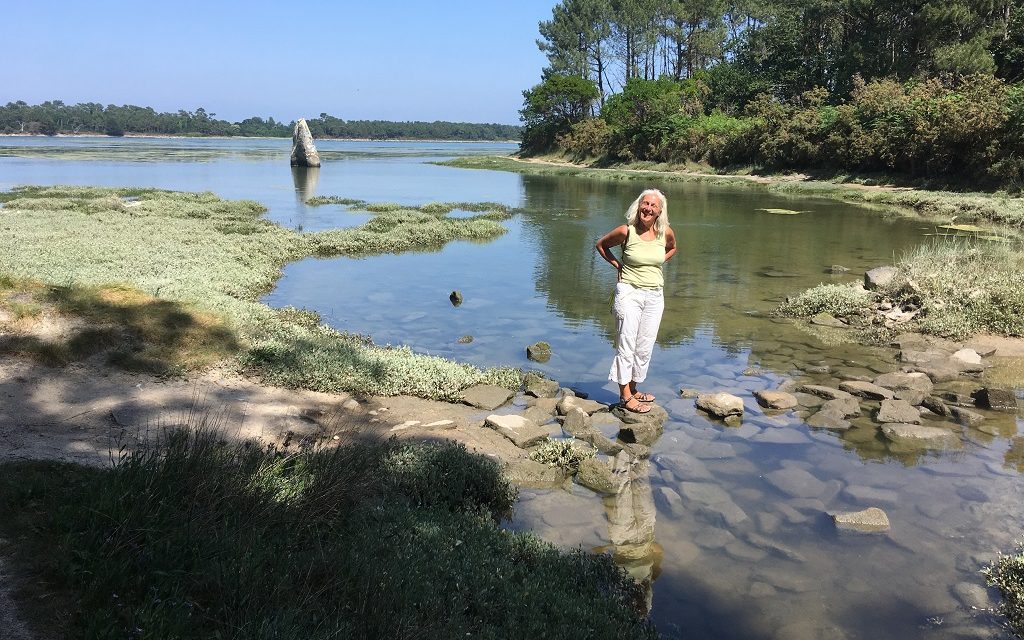 Just as we had hoped that with the Bisphams gone our livers would recover – "come on down" Pete and Liz! They took our lines when we arrived on the wave break and we chatted – as you do, before inviting them on board Calypso for a drink – or three. And the next night they invited us aboard their new yacht for more – and a fine yacht it is; a "Gunfleet 58". Now that is only 20 feet longer than Calypso, but believe us this is one large yacht! Sails are handled by hydraulic driven winches and furling gear. It has bow AND stern thrusters. Every light on the boat can be turned on and off from the chartplotter multifunction device and internal lights dimmed. You get the idea?
Like us, this was Pete and Liz's first and probably last boat, on which they will be living several months each year. For the first 6 months they have a professional skipper on board, Tony, helping them to get used to sailing a boat this size. Sensibly, whilst they wanted something the size of a 2/3 bedroom apartment, they opted for a yacht with a lift keel – and so with the keel lifted their draft is less than ours. Some large yachts might struggle with the shallow depths encountered around here.
They were lovely people and we enjoyed our 2 evenings with them, but the next day we both departed and went our separate ways: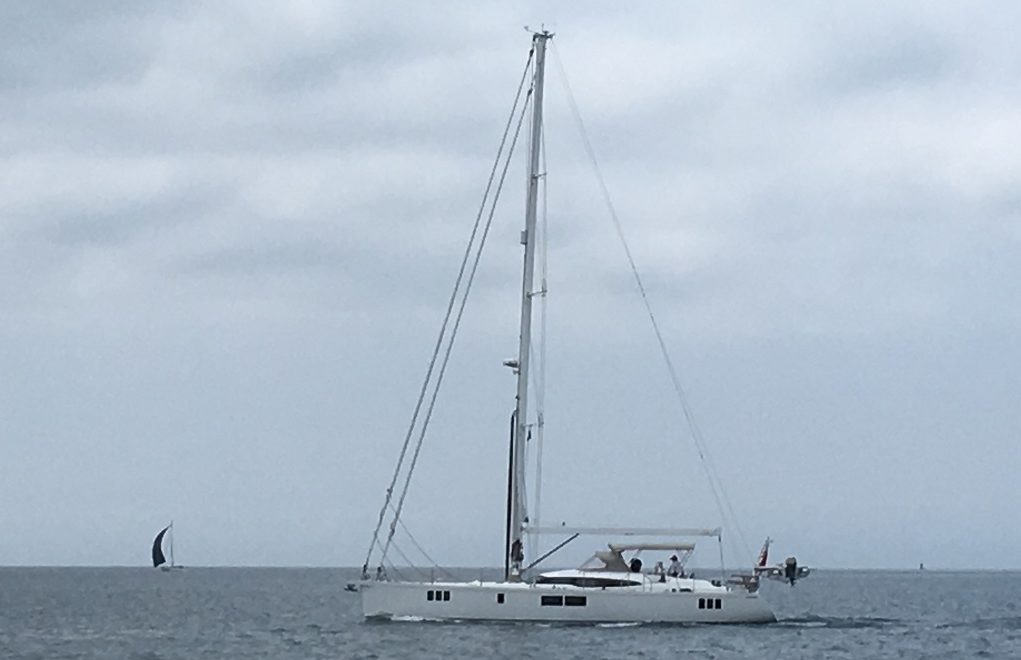 We both transmit on AIS and so we will know should our paths cross again – such is the life of the cruising sailor – making new friends and saying goodbye all too soon, not knowing if paths will indeed cross again.
However, another encounter with the Bisphams beckoned, and we headed to nearby Concarneau to continue the marathon "Wizard" cards and drinks spilling game!
Distance traveled since leaving Hamble Point 394 nm