Preparations for Biscay interrupted by a wedding! 
As we arrived at Les Sables D'Olonne we picked up leading lights very easily – two flashing lights, clearly visible during daylight. As we entered between the breakwaters (to either side) we erred towards starboard, where the dredged channel runs, keeping a close watch on all the traffic coming and going. The charts and pilot books tell us that the channel is dredged to 2m below chart datum, although one recent forum post suggested that there was nearer to 3.5m.  We had as little as 4.5m total depth, including (by our estimation) approximately 2.35m rise of tide, and so would disagree with the forum contributor! Here are the leading lights as we walked past them later: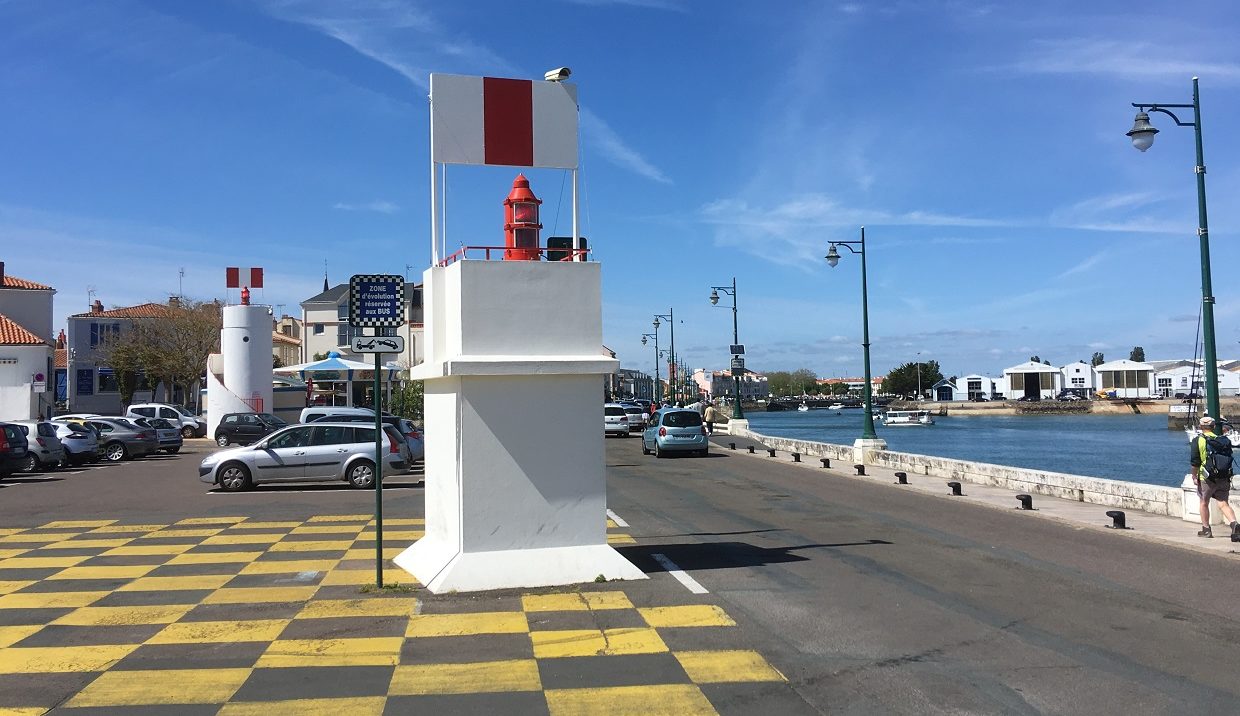 Note that the entrance was very busy when we arrived – but the opening photo above was taken early in the morning as we departed – hence it appears quiet!.
There are 3 basins in the Les Sables port – the first one houses the Quai Garnier marina and fishing fleet. The second is the commercial port, accessed through a lock and accessible to small cargo ships near high tide. At the end of the access channel, the third basin houses Port Olonna, a large marina, including the starting pontoon for the Vendee Globe single handed around the world yacht race, and where many chandleries, yacht services and builders are located.
Of the 2 marinas at Les Sables the smaller one is Quai Garnier, next to a stretch of bars and restaurants, behind which is the main shopping centre, with the huge beach (backed by high rise apartments) beyond.
We chose to spend our first 2 nights at Quai Garnier (26.50 euros per night) and then move into Port Olona to take advantage of the cost effective low season weekly rate as we headed off to our wedding celebration (101.80 euros a week in May!!!). The visitor pontoon is at the far end of the marina from the entrance channel, next to the fishing fleet (Calypso seen in the centre of this photo.)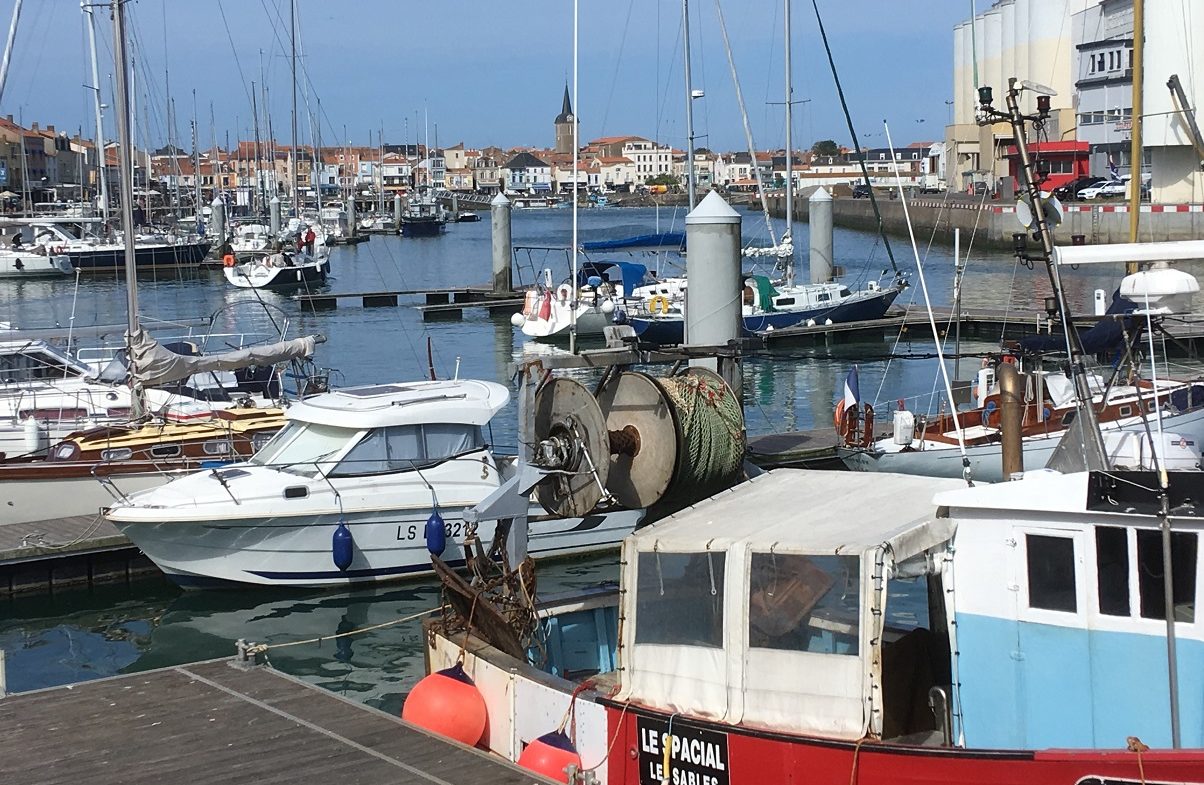 Val was pleased to find that this marina offered free washing and drying machines – and took full advantage. Paul was pleased to find a full complement of restaurants and bars at hand (but not close enough to disturb sleep!) We ate a decent, inexpensive meal at restaurant L'Escale which overlooked the boat (pictured below – tallest building), and we sampled the Irish bar, remembering fondly the Irish crews who added much to our time in Brittany last year – slainte; ET, DT, Ian, Francis, John & family et al if you read this!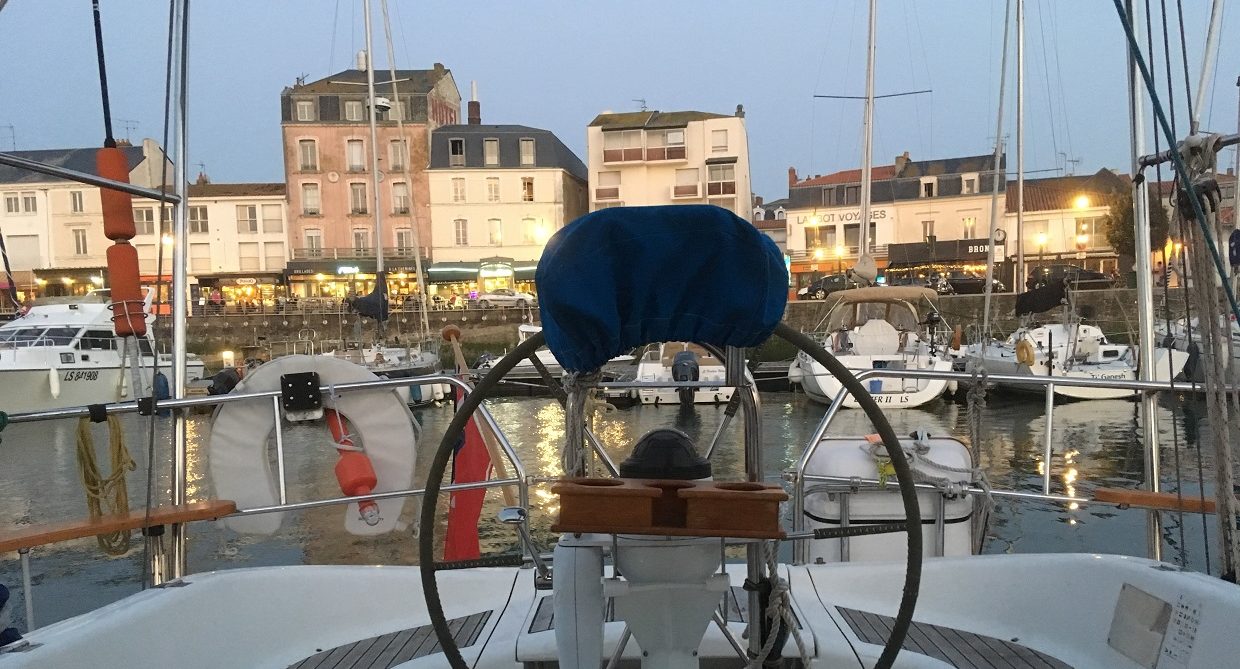 The view from the marina is almost Venice like – if one ignores the large silos of the commercial harbour to the right of this photograph out of shot!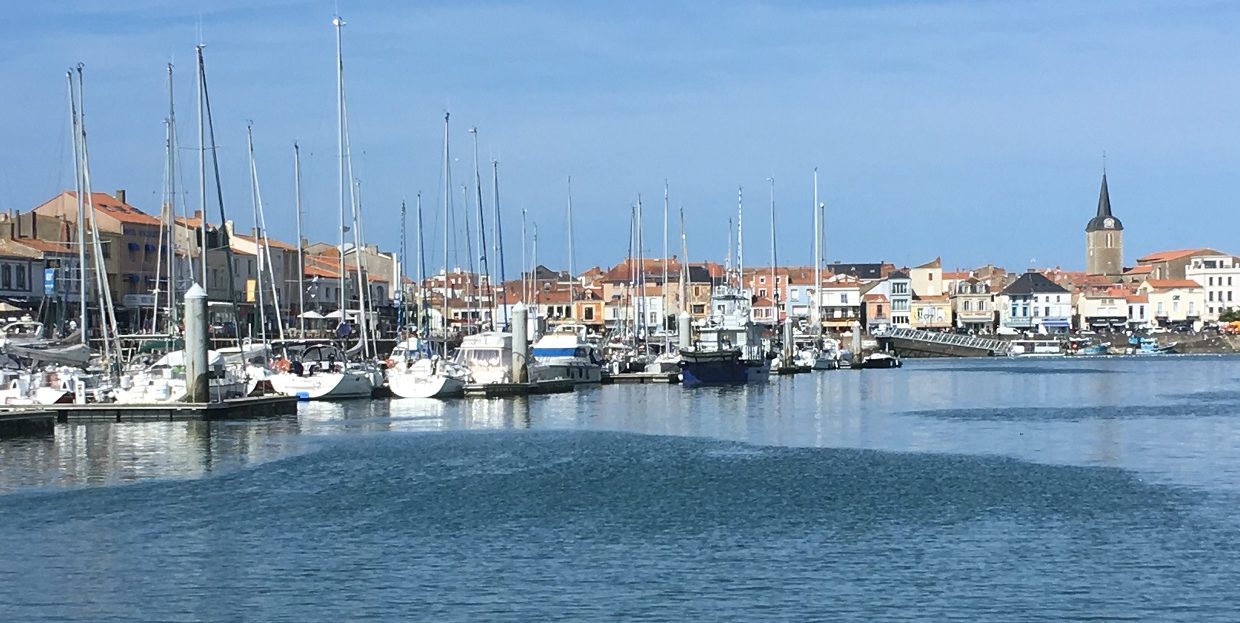 We enjoyed wandering around the town, window shopping, but the market is one of the best we have encountered – especially on the 2 days in a week that local farmers/artisan bakers etc occupy the stalls on the first floor. Ducks' "eyelashes" (literal translation – being the little muscle that sits along the breast) and duck "boudin noir" (black pudding) from the duck farmer a real treat.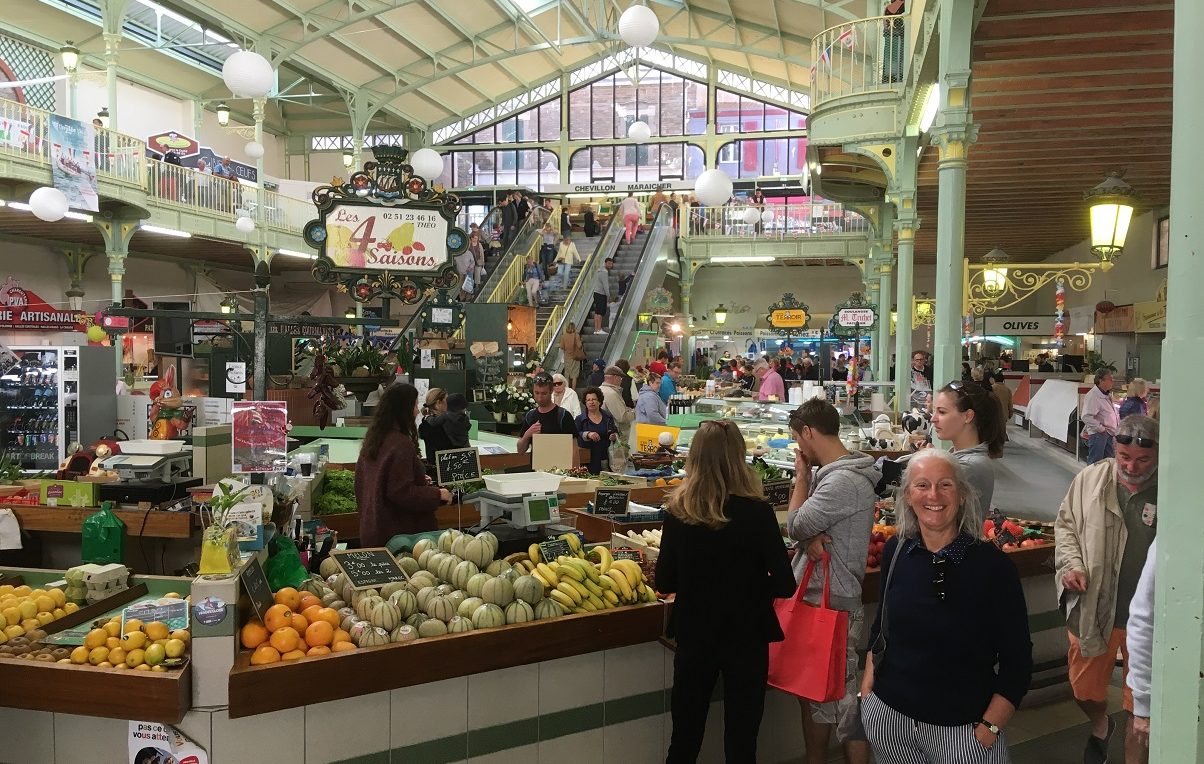 …….and the fish counters were superb. We had large, fat hake loin cooked in the Cobb and finished for the last few minutes with sweet apple smoking chips. To make the most of lighting the Cobb we then hot smoked a kilo of mussels, shelling them and keeping the meat in olive oil to eat later –  a first for us, but most certainly this will become a regular event! Here are three of around 6 fish stalls in the market: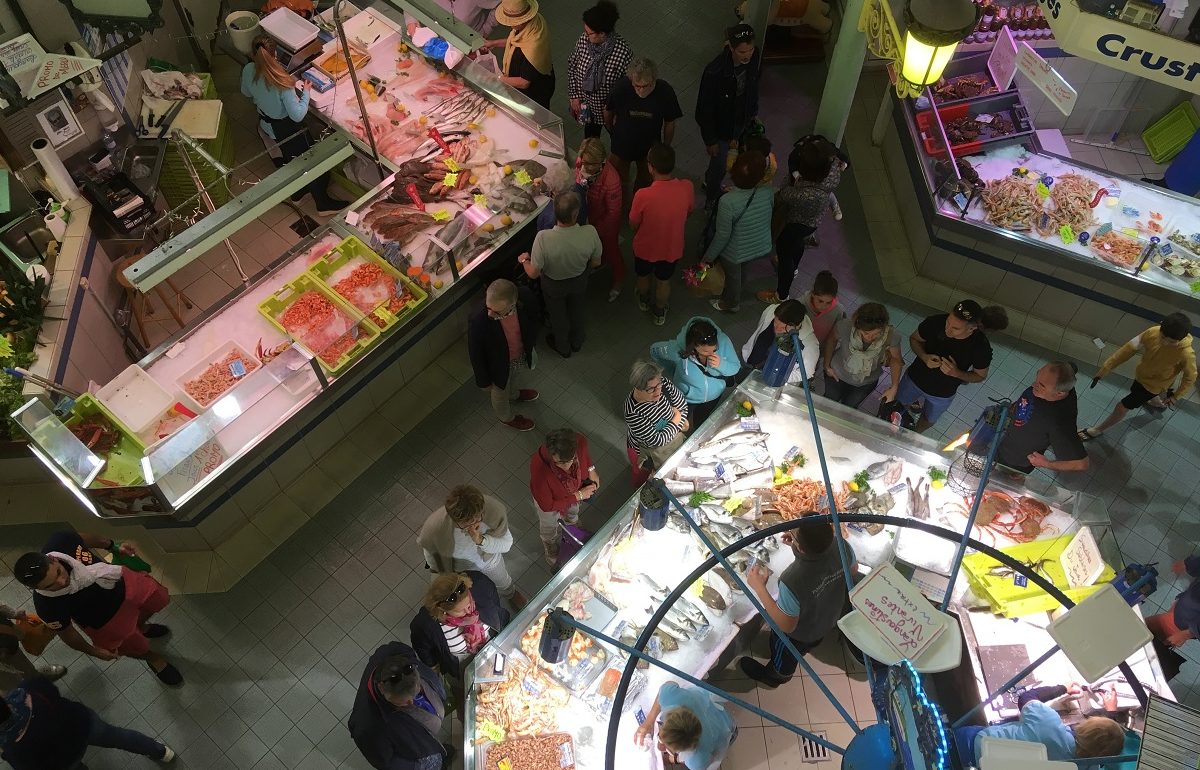 We walked along the beach front a couple of times, which was buzzing over the week which included 2 bank holidays…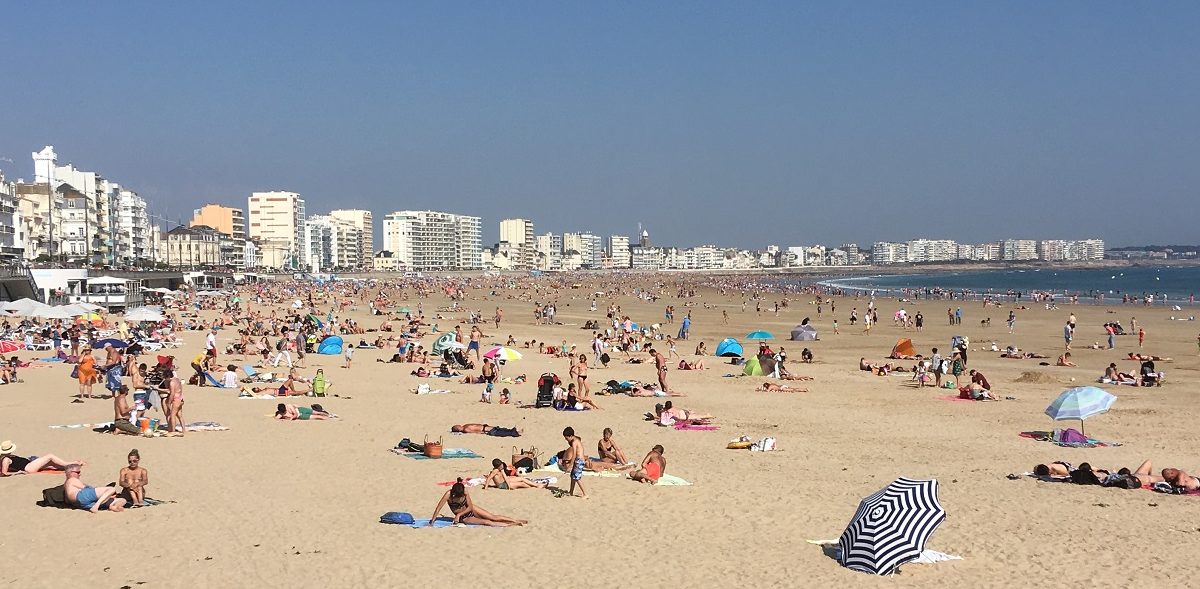 ……and then we moved around the corner to Port Olona, where we would leave the boat whilst heading to Bergerac for a wedding, and where we would prepare and provision Calypso for the forthcoming Biscay crossing.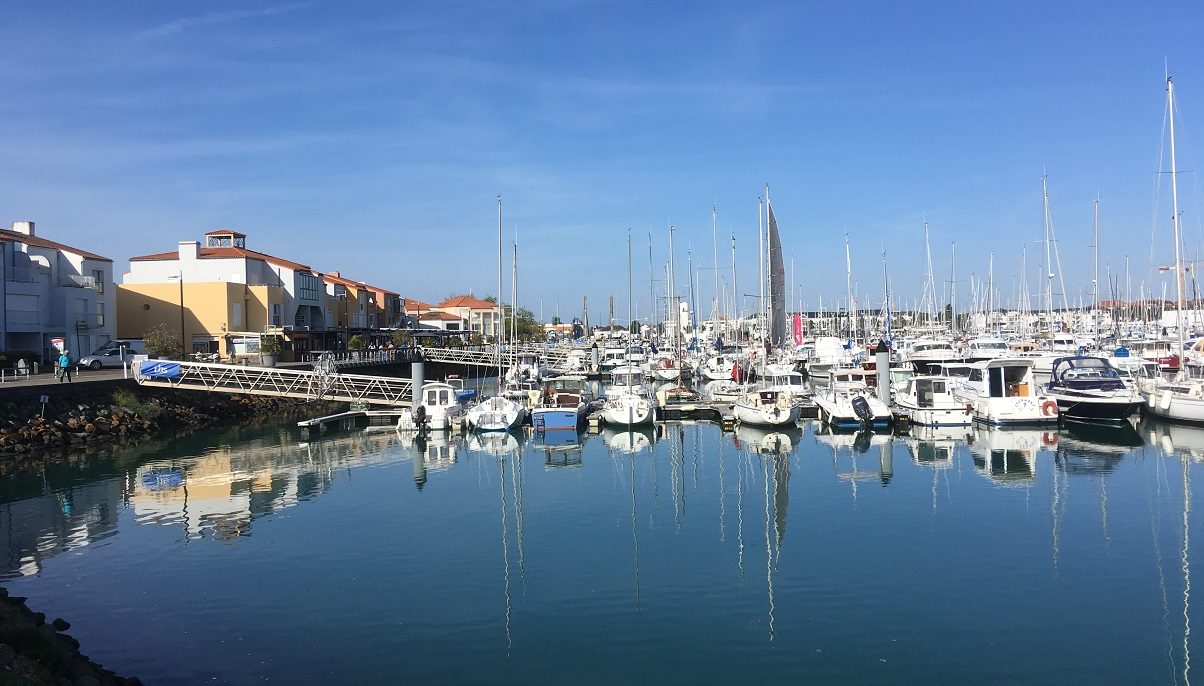 Standard instructions for arriving at Port Olona are to moor up on the arrivals berth (a long, alongside pontoon at the entrance, with fuel pontoon at the far end) and then head into the Bureau de Port, a modern building sitting above the pontoon to check in and have a berth allocated.
We were allocated a berth on pontoon A, nearest the Bureau de Port and thus nearest La Chaume, the district of Les Sables that sits on the West side of the entry channel and which looked quite interesting – and now a short walk from our berth (see opening photograph).
There are several bars and restaurants overlooking Port Olona in a modern development – not quite as characterful as Quai Garnier, but pleasant enough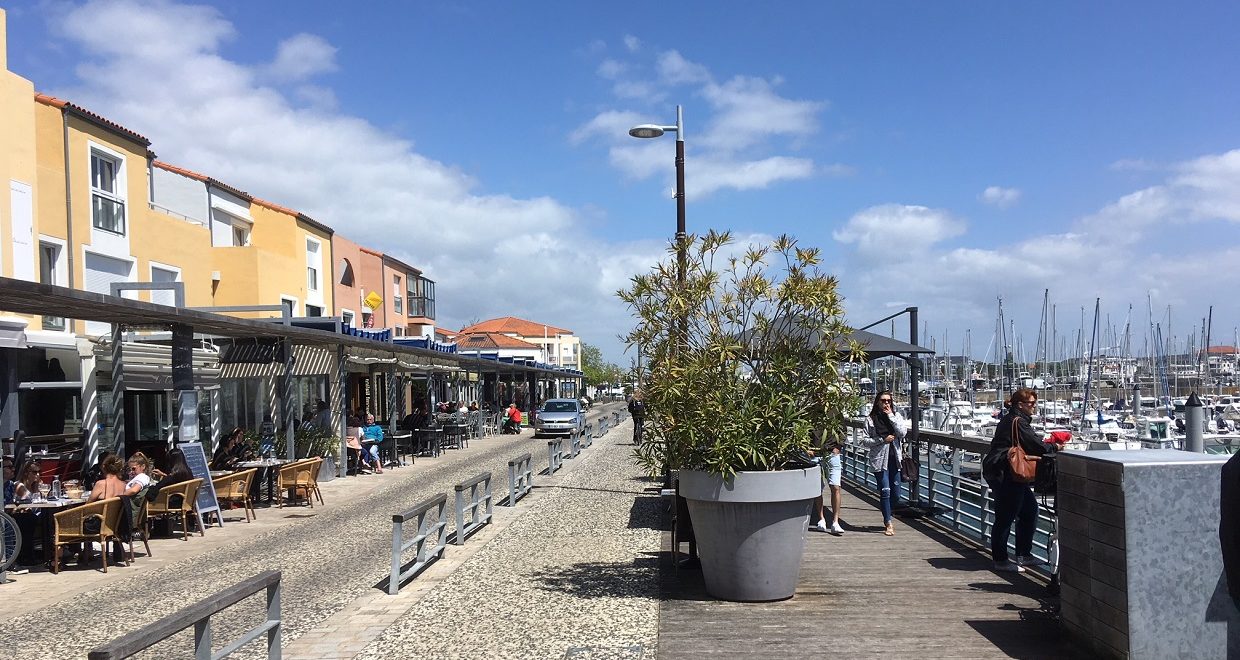 After all the washing Val had done at Quai Garnier (including all cushion covers etc etc), Calypso felt like a Chinese laundry! We had a day to put this all away and to pack for the wedding celebration of Vicki (daughter of friends Mick and Jenny) and Alan in Bergerac, where they are now living and restoring a large farmhouse, with enough land to live "the Good Life" (for those of us blokes who remember drooling over Felicity Kendal).
And so on Friday 11th May we walked into the town hall square (main bus terminus, a 15 minute walk) and caught the number 5 bus which stopped right outside Europcar, where we picked up a smart Renault Clio (with satnav, fortunately) and headed off to our lovely, quirky hotel Philis, a 4 hour drive away on the edge of Bergerac's delightful old town.
On the way we stopped off to relieve a small nursery of the last of their blackcurrant and gooseberry bushes – a wedding present to expand Vicky and Alan's orchard and fruit garden. We had arranged to meet Mick and Jenny shortly after arrival and found them in the beautiful historic centre of Bergerac in glorious sunshine and 25c.
Internet research had informed us that the town was holding its annual "Vinata" – with many local wine producers offering tasting of their wine, for a small fee (4 euros got us a (nice) plastic glass and vouchers to taste 7 different wines). With Mick as chauffeur we bought 3 books of vouchers between us and enjoyed the early evening sampling 25 different wines (for the mathematicians among you, yes we absent-mindedly withheld the odd voucher or 4!)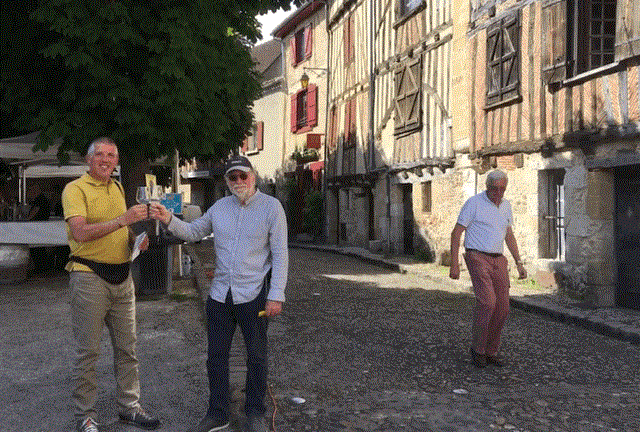 After a superb meal of mostly raw meat with scorched outer, cooked on an open fire in front of us, we retired and looked forward to the wedding day ahead. Unfortunately after such a beautiful Friday, rain was forecast for the whole of Saturday, and so the plan to walk through the vineyards from the farm to a neighbouring chateau for the wedding was scrapped – we would arrive by car and meet at the chateau.
The weather forecast was correct, but in spite of that we enjoyed a lovely wedding. Vicky and Alan made their affirmations in the ancient barrel chai, where good Bergerac wines were maturing in oak barrels (here with Jenny entrusting their daughter and welcoming Alan to the family, being photographed by Mick who had walked his daughter in).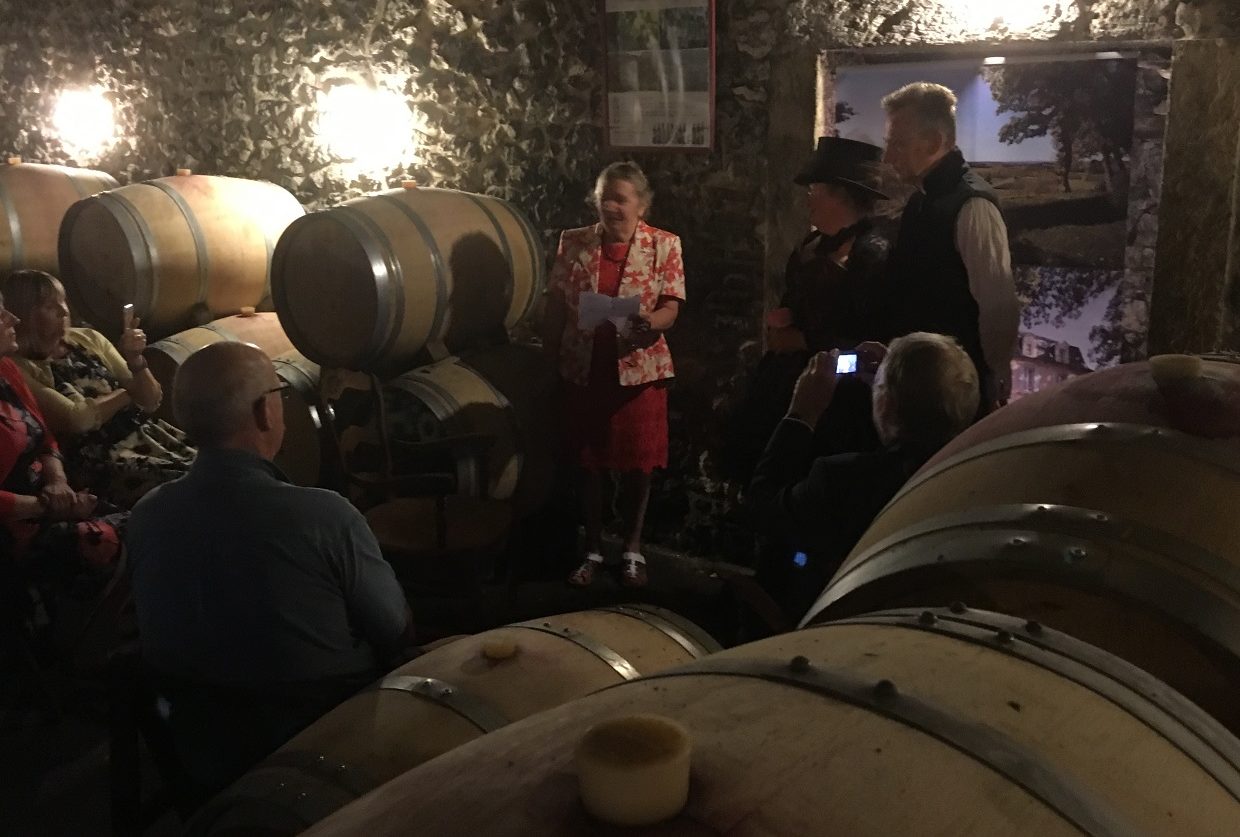 After this we had photographs in the garden (Vicky and Alan's farm house hidden behind Jenny)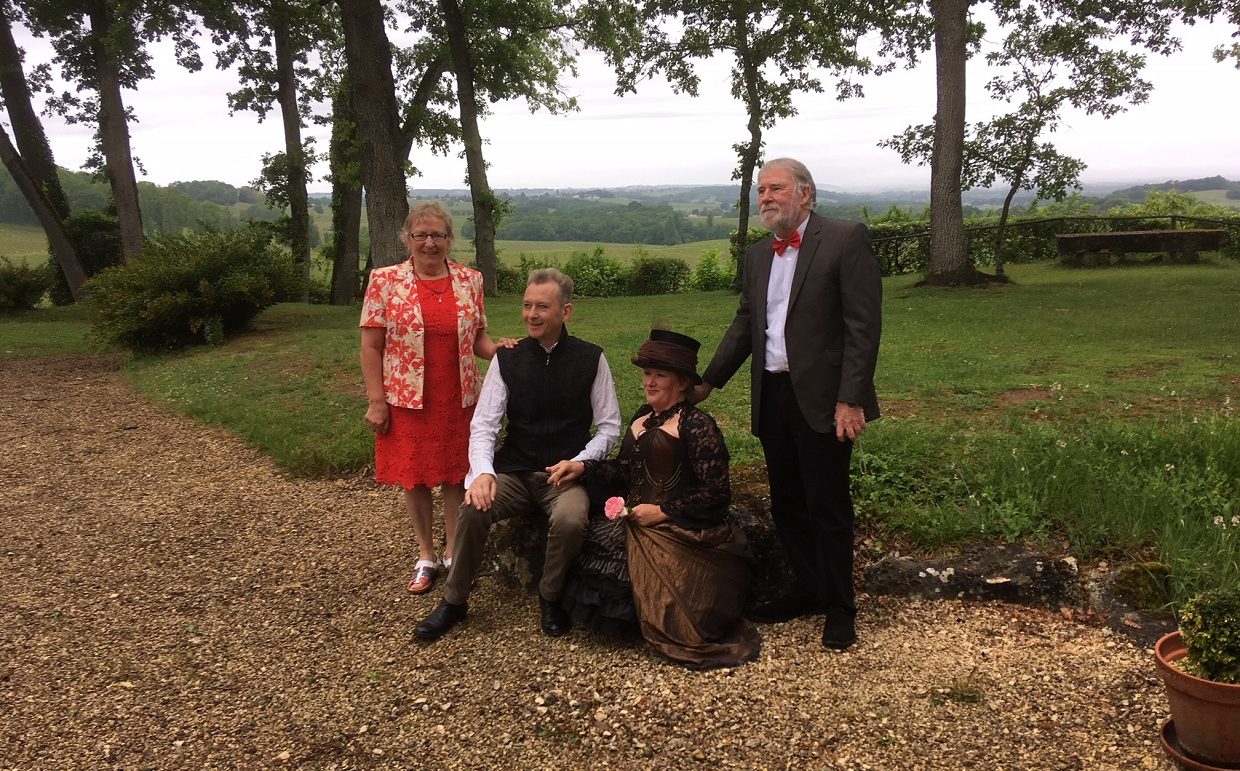 …and some guests (naturally including us!) enjoyed a wine tasting, here the owner showing the different stages of rot at which he picks his various sweet Bergerac and Monbazillac wines: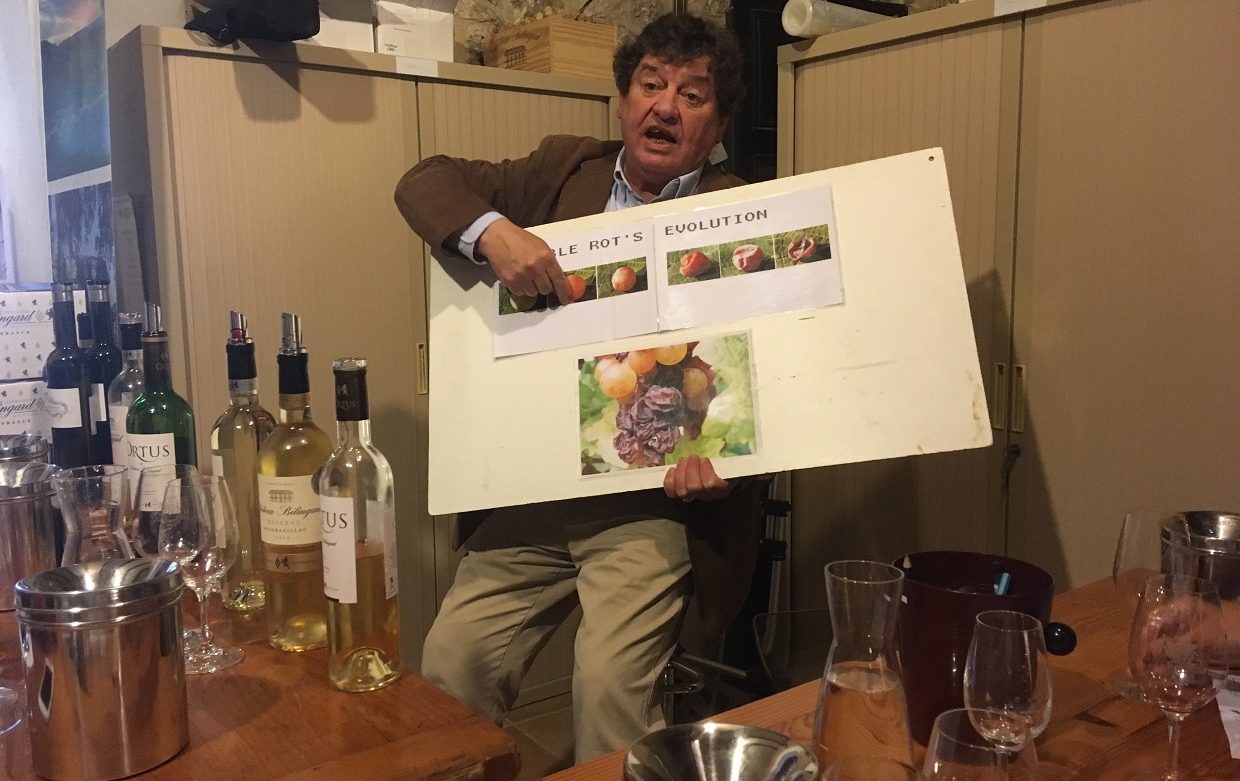 After that we all went back to the farm and had the wedding breakfast in a marquee – cold and wet outside but rockin' inside – here the bride and groom with their surprisingly good rendition of the Stones' Jumping Jack Flash (with supporting band, drummer and base guitar, not in the frame). Our hotel host, Philippe, had said that in France they have a saying – "mariage pluvieux; mariage heureux" – well Vicky and Alan's marriage is going to be very heureux!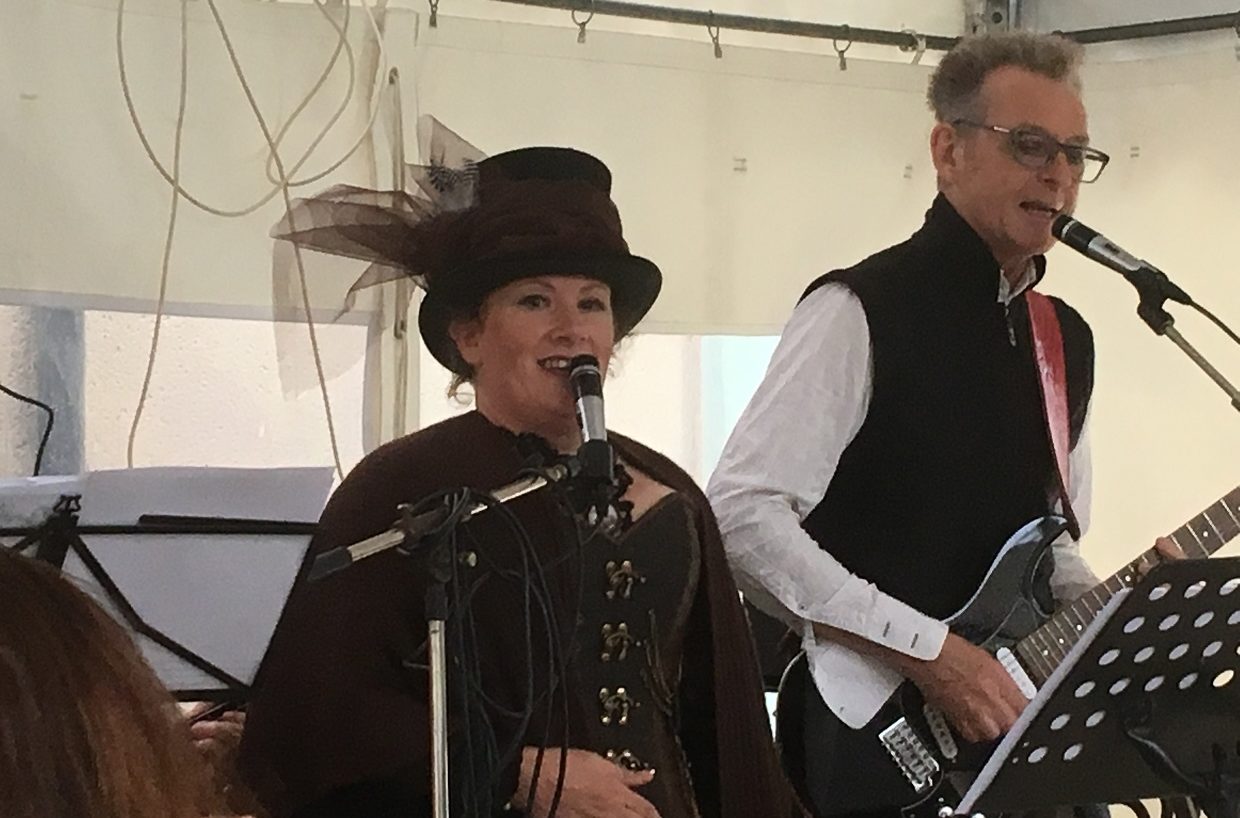 During the couple of hours between leaving the farm and being picked up in Bergerac for an evening meal in Saussignac, we visited 2 of the wine producers whose wine we had so much enjoyed at the Vinata. In the end (including wine bought at the wedding venue) we had around 30 bottles in the hire car, to add to Calypso's already comprehensive wine cellar (bilge)!
The next day we revisited the farm in glorious sunshine, where Val planted the wedding presents…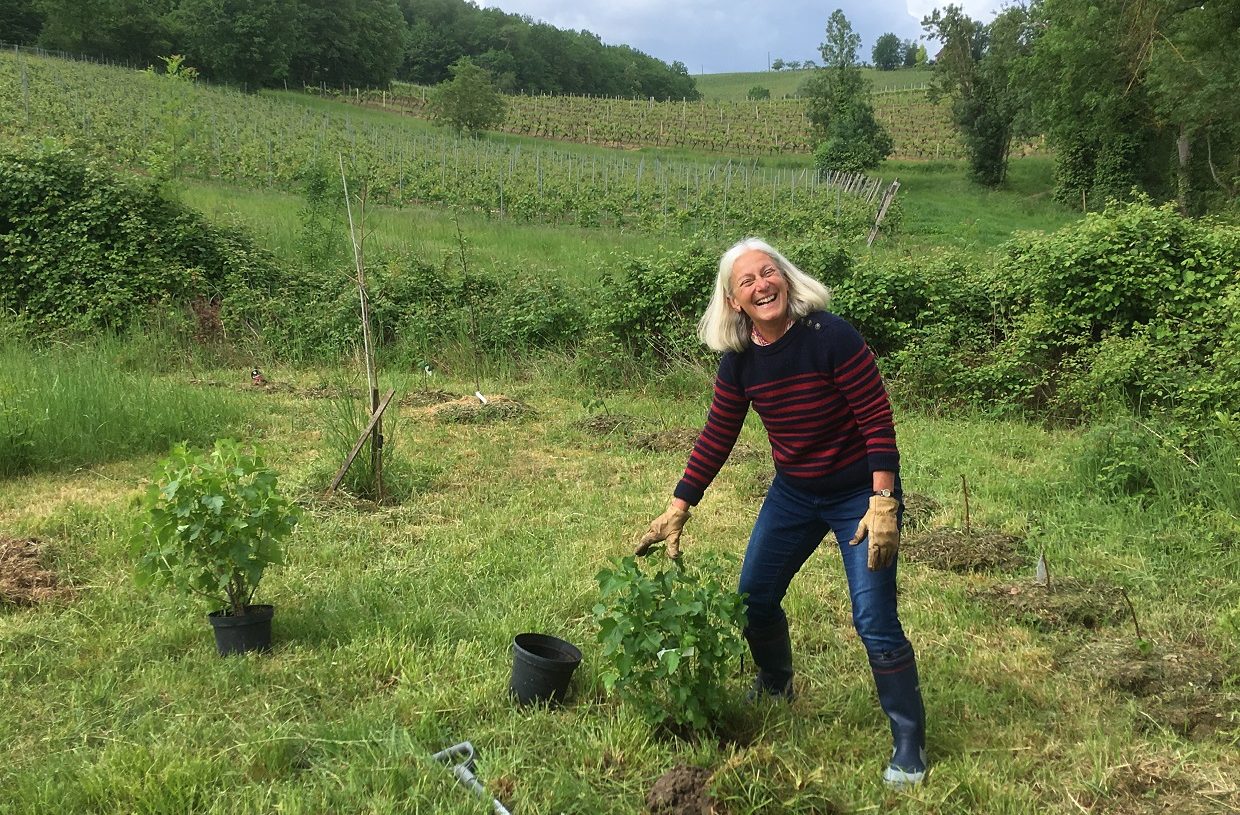 we had a wander around the farm (entirely surrounded by vineyard and woodland – just beautiful)…..and lunch outside the pretty farmhouse…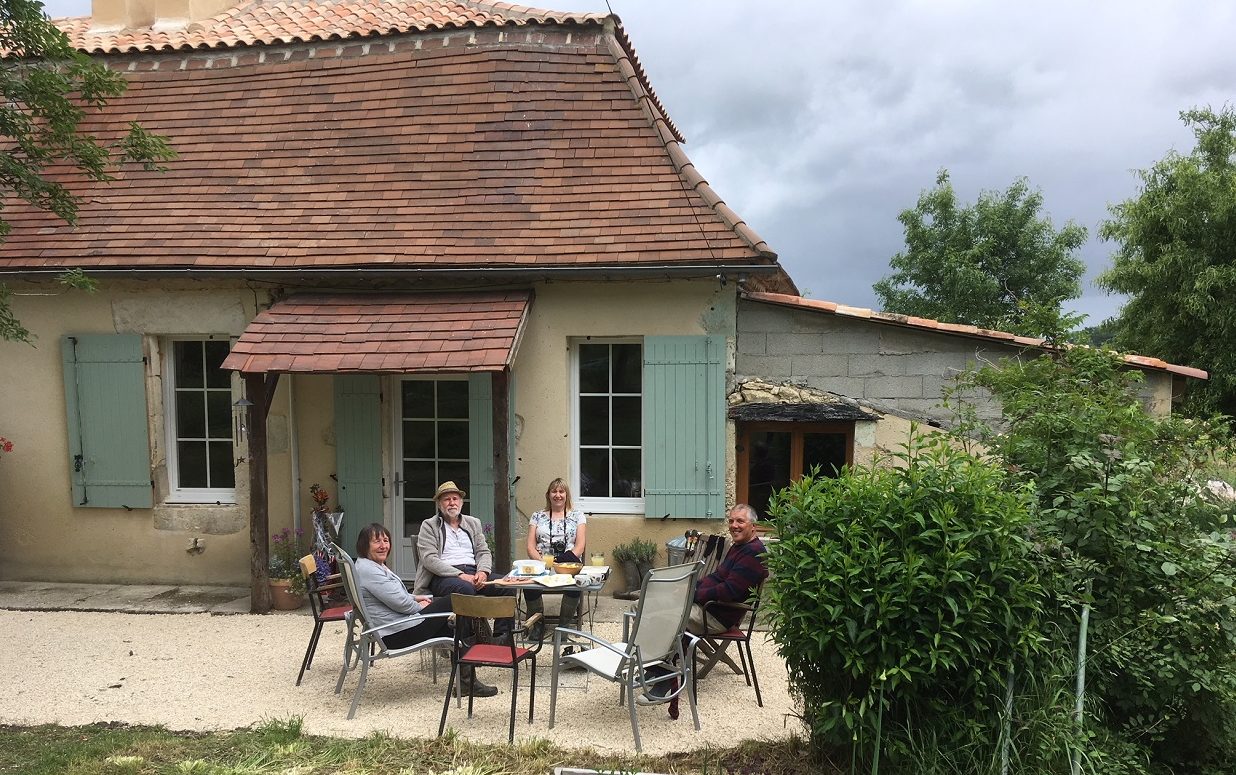 We have been to many and varied weddings, but this was right up there!! Thanks Vicky and Alan for inviting us, we had such a great time, in spite of the weather.
On the way back to Les Sables D'Olonne we had booked a hotel in the old port at La Rochelle. We wanted to visit, but the main marina is so far out of the old part of town that we decided that a hotel would be better than arriving by sea! We had expected great things of La Rochelle but were happy that we would only be there for an evening and the next morning – in fact we left a couple of hours earlier than planned. The main old shopping centre, behind the old port, comprised a grid of streets with lookalike large dull stone buildings with covered, arched pavements and shopfronts beneath. It just had no sparkle and we felt that the city council could have done more to pretty it up!
We have often wondered during since setting off on this adventure whether we would ever get blase about the amazing places we visit. Maybe this shows that we have become a little picky, as in the past we would have loved this place!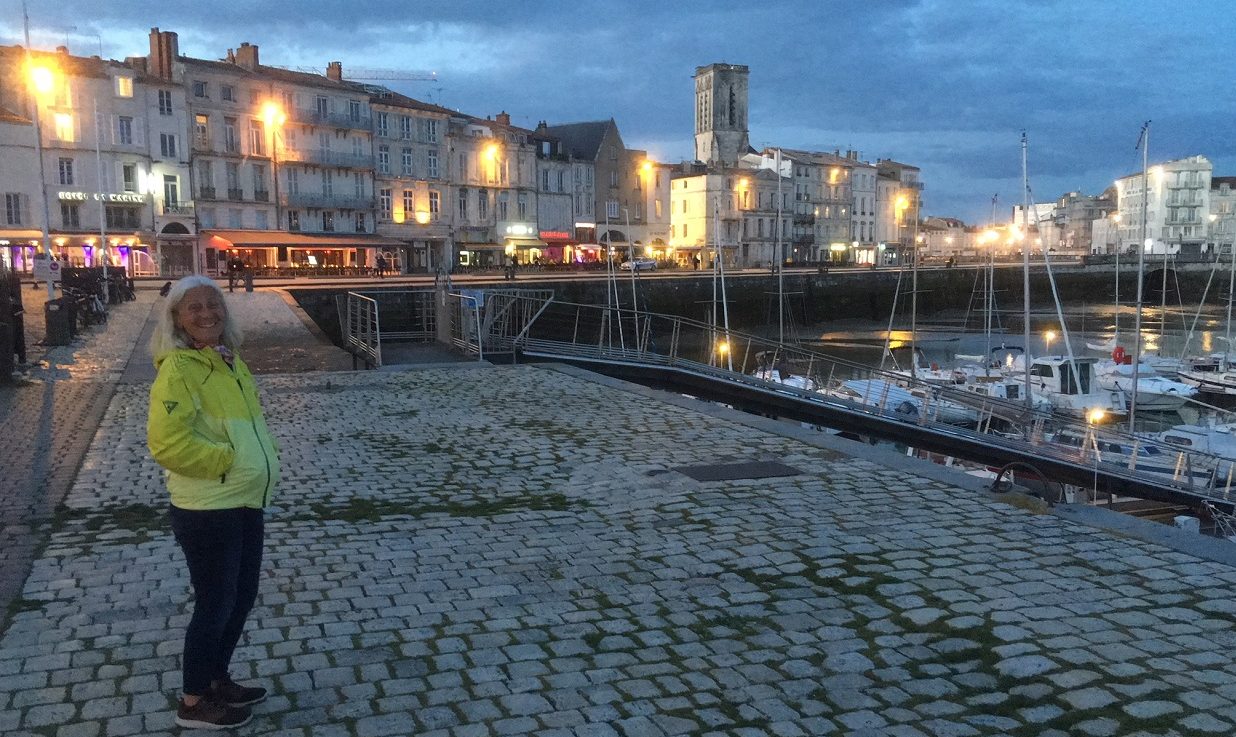 We arrived back at Calypso in Port Olona on Monday 14th May, with the intention of undertaking preparations for Biscay in the hope that we would get a weather window to cross Biscay around late May or early June. We thought that we could hop around between Les Sables, Ile D'Yeu and L'Herbaudiere (Noirmoutier), getting the bikes out and having a nice time whilst waiting – and undertaking our final preparations.
However the Gods had other plans – Paul had spotted a window whilst in Bergerac and continued to track it – and by Thursday the decision was made that we would head into Biscay on Saturday 19th May, and across to Gijon on a trip of approximately 2 days.
Accordingly the few days beforehand were rather busy, but more about that shortly. We were pleased that a weather window had arrived, but ideally would have liked another week or so to prepare, and to enjoy this area a little longer.
We did take time out to explore La Chaume on the West side of the entrance. There are some very good restaurants (we can recommend Mer et Terre), some interesting buildings, and the odd trompe l'oeil…(these are all flat walls – even the rooves are painted)…..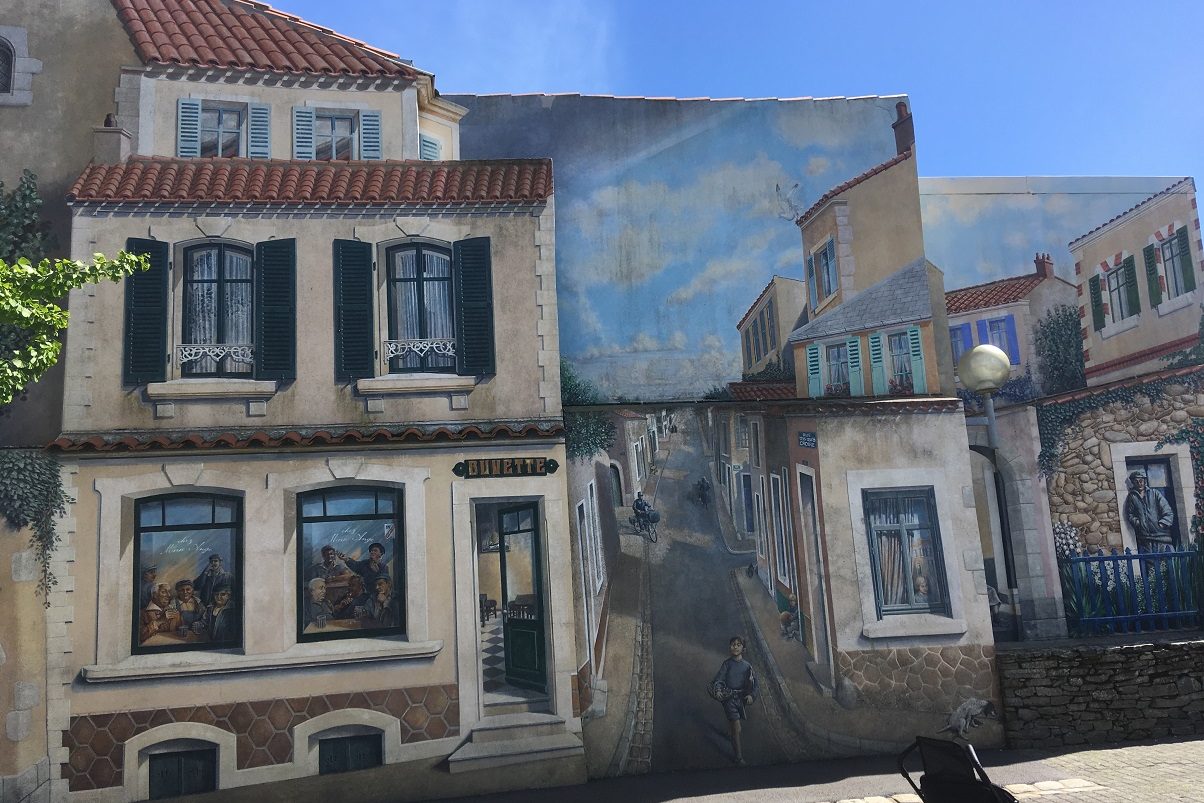 We had intended to get the bikes out and visit the salt marshes, along with a great stretch of beach running north, but took the window when it presented itself, rather than run the risk of being stuck waiting for such a good one (more about that later).
Our preparations included:- checking lifejackets and attaching AIS beacons to operate automatically when a lifejacket inflates (when it puts a "man overboard" (MOB) icon on the chartplotter and guides the boat back to the MOB); replacing main sheet and vang control lines; semi-permanently mounting the new radar reflector; installing new "pad eyes" (strong points to attach lifelines from lifejacket harnesses to prevent a MOB); engine checks; lighting checks; improving security of the dinghy on deck; checking the emergency grab bag and MOB rescue equipment; removing and re-sealing deck vents – hopefully the source of a roof leak we have been searching for (fortunately only when powerwashing the deck).
We spent time tripping between the 4 chandleries (that we came across) but found that Willy Balteau at Eric Marine was especially helpful.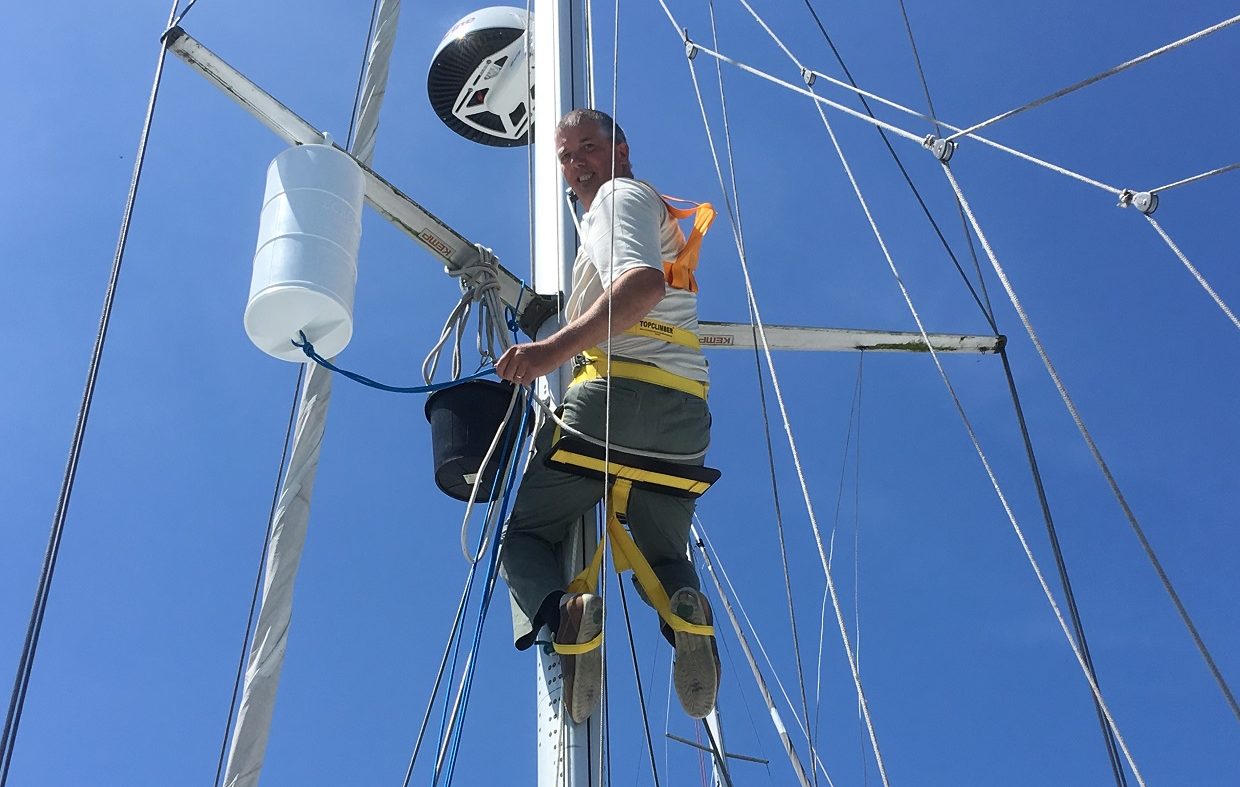 We have to say that we liked Les Sables very much, and left France having had a superb time there since arriving at the end of May last year. Special thanks to Anne and Phoenix for making it easy for us – and it's been great to spend more time together.
We post this in Gijon – so we obviously made it across!