Ile D'Yeu – Cyclists' paradise
Mixed weather and mixed feelings!
Various people along the way said that Ile D'Yeu is a must see, and so we went on Friday 1st September, the day that the mooring fee falls from 38.50 to 22.00 euros! Whilst in the end we did really like the island and had a great time, the marina was not well situated and the town it sits in was OK but shops and bars are a long walk from the marina – and the bars and restaurants were not as attractive as in some places we've visited.
We left L'Herbaudiere with around 4m rise of tide and so exiting the harbour was straightforward. We could also take the short cut between Ile De Noirmoutier and Ile de Pilier – where there is only around 2.5m below chart datum, meaning that we could not take this route at a very low tide. We raised the sails outside the harbour and a favourable wind allowed us to sail the entire way to Ile D'Yeu on starboard tack. We still had to keep well off Ile De Noirmoutier as the shallows/drying area to the West of the island extends almost 4 miles from land. All is very well marked with cardinal buoys, however, and re-positioning the plotter (now in the cockpit) again proved its merit.
The entrance to Port Joinville, after our 22 nm trip from L'Herbaudiere, was again quite straightforward. The description of the leading line daymarks was a bit confusing in the books, which mentioned various lights and landmarks and as we approached were were a little confused how they would all line up. In the end we realised that they were describing different daymarks with grammar that didn't make that clear!
There is just 1.4m below chart datum at the entrance (and 0.3m to port/0.9m to starboard just outside) and a large area to starboard within the outer walls dries, so some rise of tide is needed. Again we had plenty so no need to be over cautious – although this was the kind of entrance that would have given us sleepless nights just a couple of years ago! Being out here, "doing it" is rapidly improving our understanding/visualisation and confidence.
We arrived to be told to park up on pontoon B, the visitor pontoon with catways. Opposite is pontoon A where vistors berth alongside and no doubt raft in high season. We picked a catway opposite Musetta of Hamble, where Alan and Ros had arrived the day before.
We didn't get a photograph of the town frontage onto the port – it is not picturesque compared to what we have seen elsewhere, but here is a picture across the busy ferry and fishing port from the town frontage – with the marina in the background (Calypso is just visible!)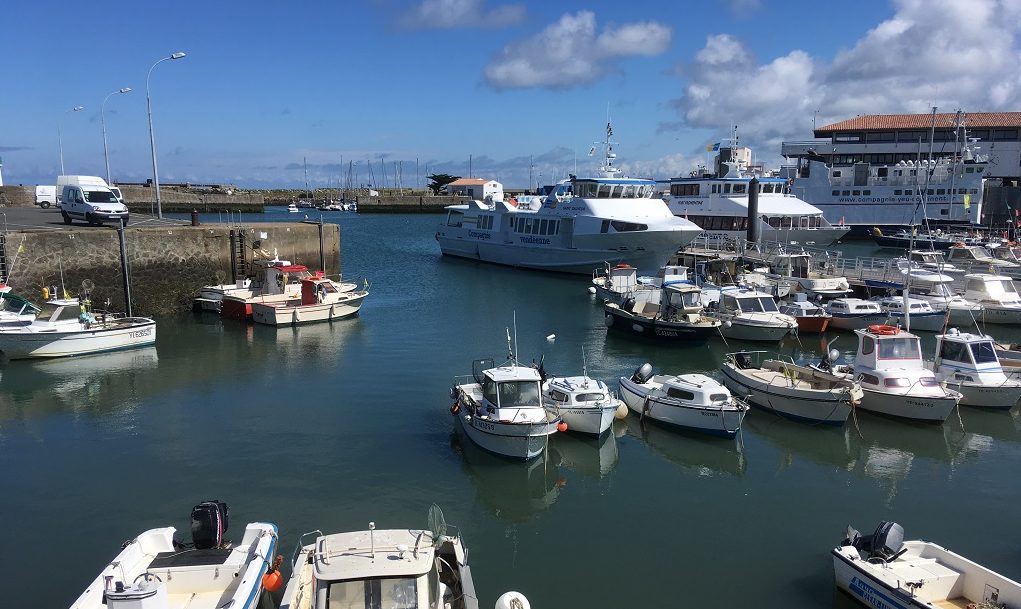 Around the rear of the ferry terminal is a locked inner harbour where the island's supply freighter loads and unloads using a very noisy crane which was in operation as we arrived, not a good sign of things to come – we were awoken twice in the early hours of the morning as large waste skips were thrown around by the crane with gay abandon. Back to the earplugs for the first time since the nightclubs of Le Palais! There is a heliport with a very regular flights at the other side of the harbour, but these were daytime flights with only brief and interesting interruptions to chit chat as it flew by.
The marina facilities were generally quite good, but with the noise and the route to and from the town being a bit industrial, this was not our favourite marina.
The town has easy access to 2 supermarkets, various boulangeries, and there is a small market (mostly food) each morning. Plus – a huge poisonnerie on the port frontage. We were surprised that neither supermarket opened on Sundays – the larger ones usually open in the morning, but not here, and the island was still fairly busy.
Ile D'Yeu discourages visitors with cars, but vast numbers of tourists arrive in season and hire bicycles,  judging by the huge numbers of bikes we saw parked up unused in the various bike hire shops – even though there were still large numbers of people touring around on bikes.
We mostly ate on board, but on our first day out on our bikes we headed straight for Port La Meule and a restaurant recommended to us by our new Dutch friends – which was, just…. excellent.
Before we ate we had a walk on the cliffs above the port (the restaurant is the building on the right near the head of the port).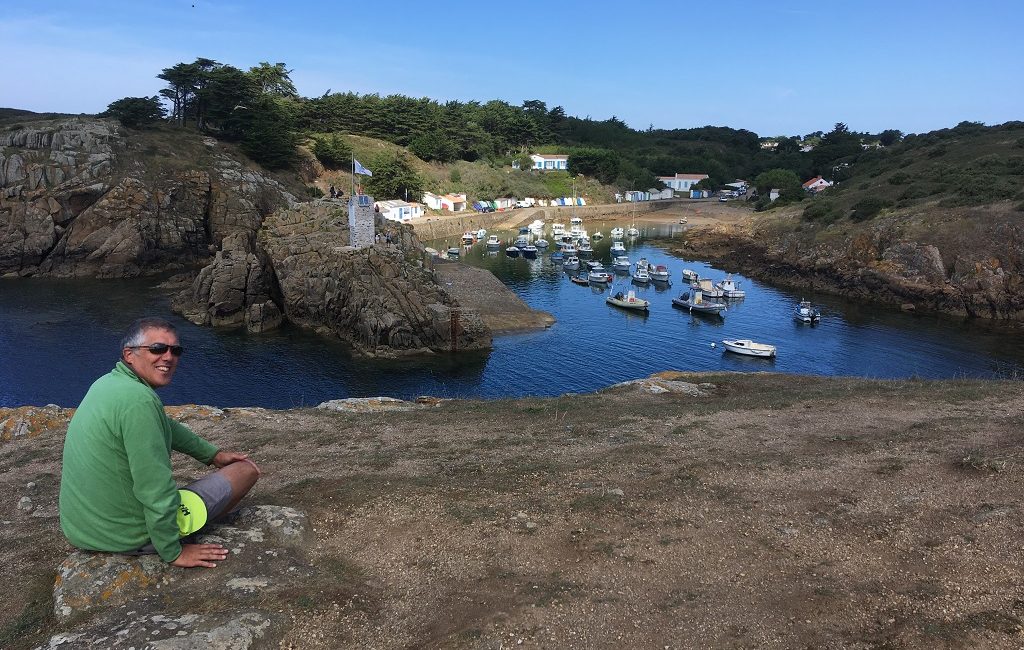 Here is a photo from the restaurant to demonstrate the popularity of the bike here – this being now out of high season with the kids back at school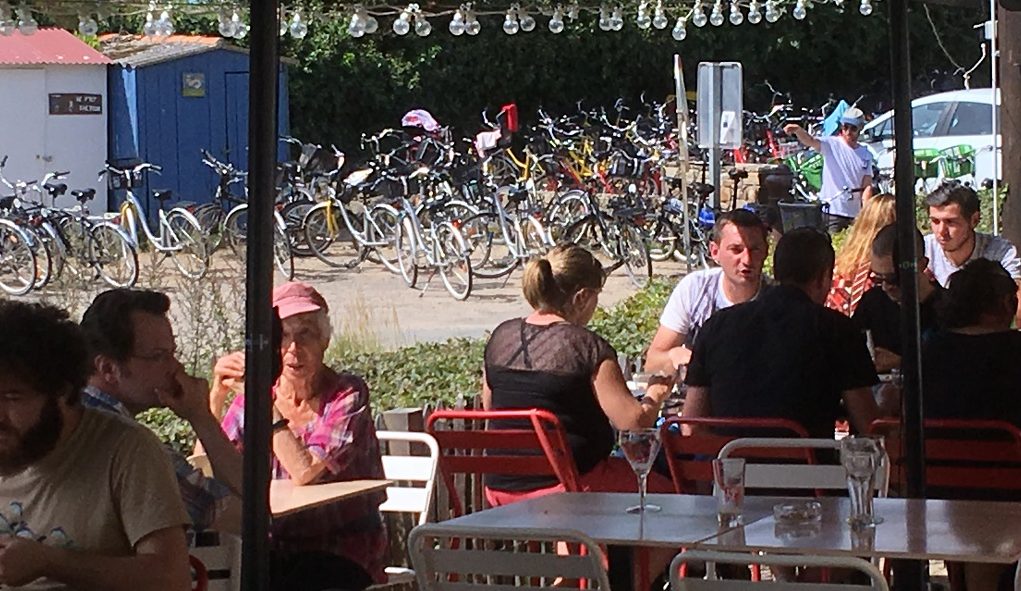 Whilst the restaurant appears a little ordinary, the food was extraordinary, voted our best in France to date. The starter of raw scallops with various vinaigrettes etc was followed by fish and shellfish dishes with amazing sauces including a vanilla hollandaise. We had to have a bottle of the rose and were pleased that we had set ourselves a short route on this first outing!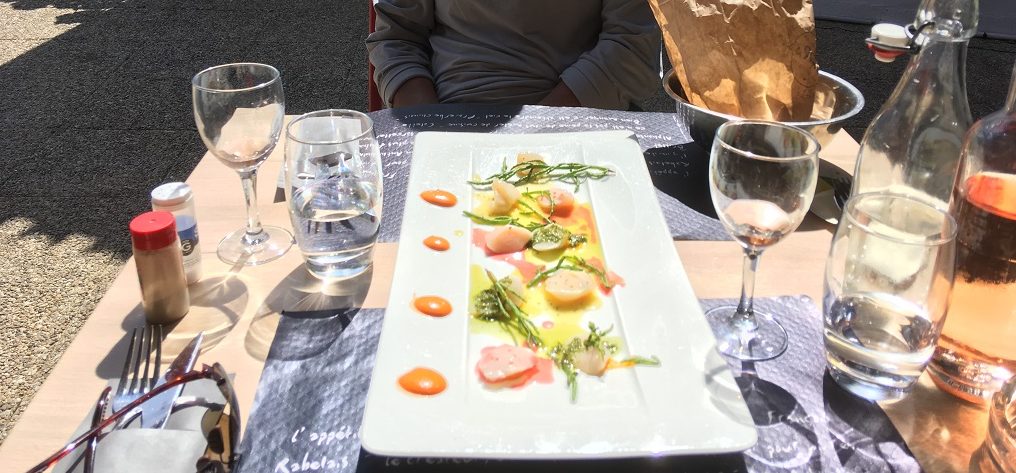 Coincidentally Ros and Alan interrupted their much longer bike ride and sat down for lunch as we were about to leave, and shortly after we left John and Debbie of Shiraz (another Cruising Association crew) arrived.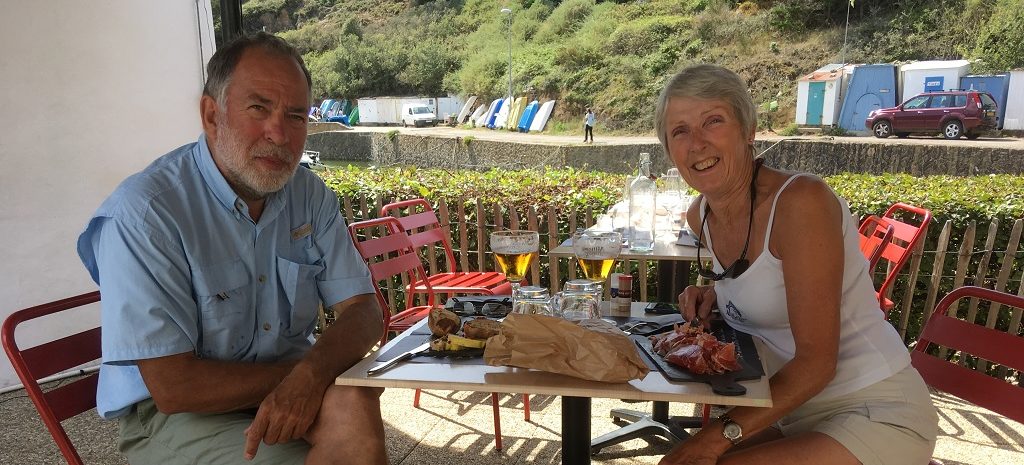 Alan and Ros would be leaving the island before us, but we took the opportunity of having a "Come Dine With Me" competition. This involved 2 very enjoyable evenings, with an honourable tie being declared (fortunately for us, the Musetta team lost crucial points when Alan "pretended" to fall asleep on their night!)
Alan and Ros intend to sail across the pond to the Caribbean and then North America in their beautiful Hylas 46. They have spent the last few years making this yacht better than new in readiness for their trip – and we couldn't believe that she was not virtually new! Ros keeps a blog, which we will follow and you can see HERE   This year is something of a shakedown trip before the long distances start next year.
Whilst in the marina we got chatting to a nice American couple who had arrived in their new Amel 55. They gave us a tour and we were amazed. The engine/generator/watermaker/calorifier room is bigger than the cabin we sleep in! That was followed by a tour of Musetta and then Calypso, leaving us feeling like the poor cousins, but we are more than happy with our lot, which we still remind ourselves of at least once a day when pinching our selves to make sure that this is not all a dream!
Again the architecture (and plant life) reminded us of Southern Europe and we definitely felt a long way from home, even without the foreign lingo!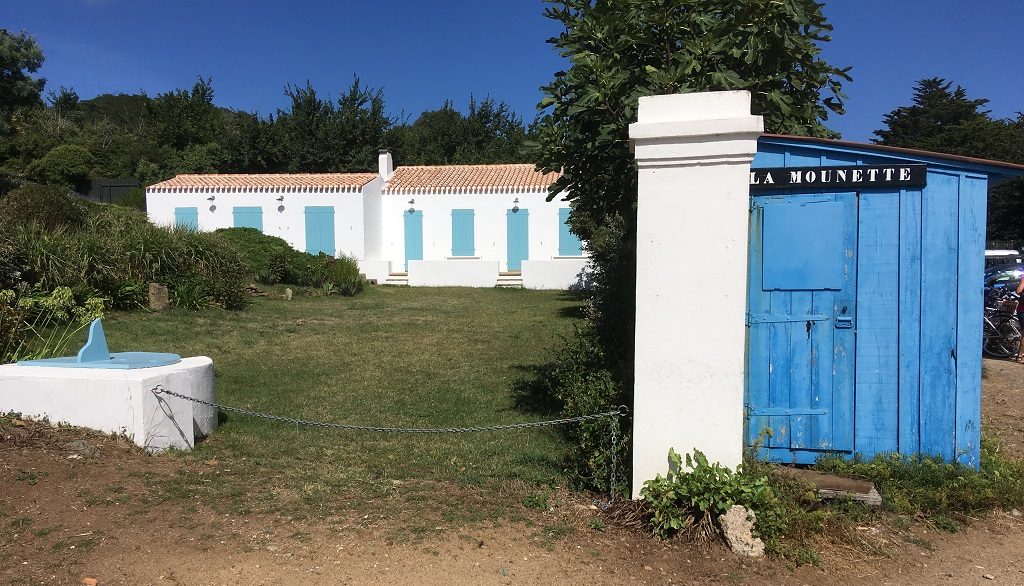 Val is starting to get to grips with cycling (having been put off for life by an fall as a young girl), and so we had a second much longer trip out – after stocking up with the usual picnic fayre.
We cycled to the south of the island but turned west as we approached Port La Meule, picking up an off road route along cliff tops, leading to the spectacular Vieux Chateau, a C14th fortification with outer walls (mostly intentionally destroyed) sitting on the cliff-tops facing inland, with a bridge to the inner  castle sitting on a huge rock and surrounded by the sea at high tide: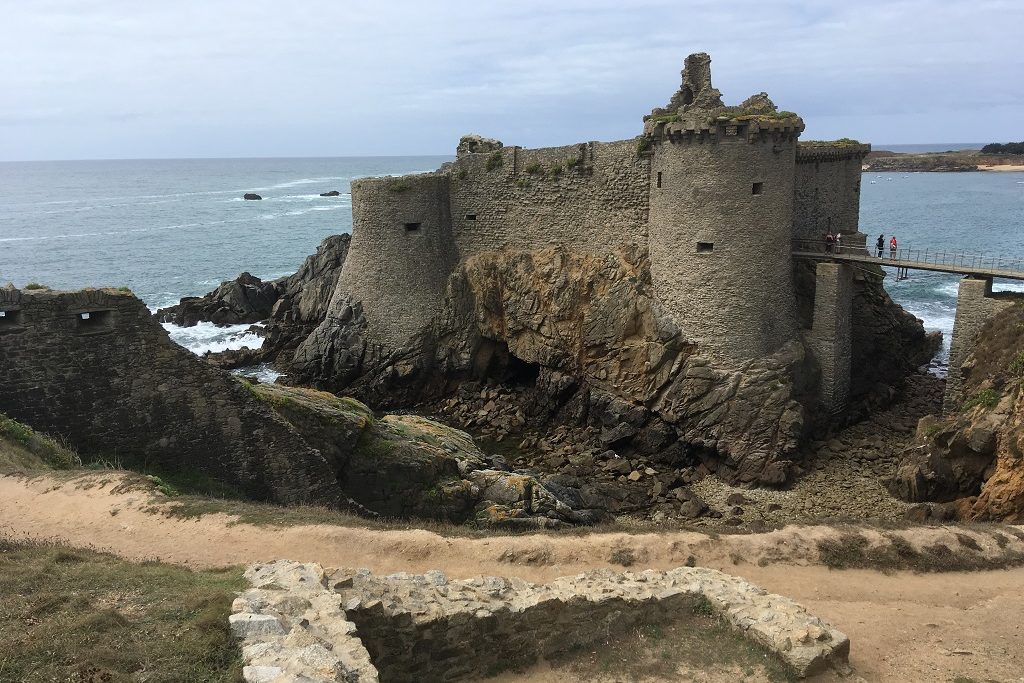 You can visit the inner part for 5 euro, but we arrived at lunchtime, and as we know by now, in France, everything stops for lunch. And so we settled for eating our picnic on the outer walls before heading off along the unmade coast track again.
There is an odd sandy beach on the south/west coast but it is mostly rocky and bleak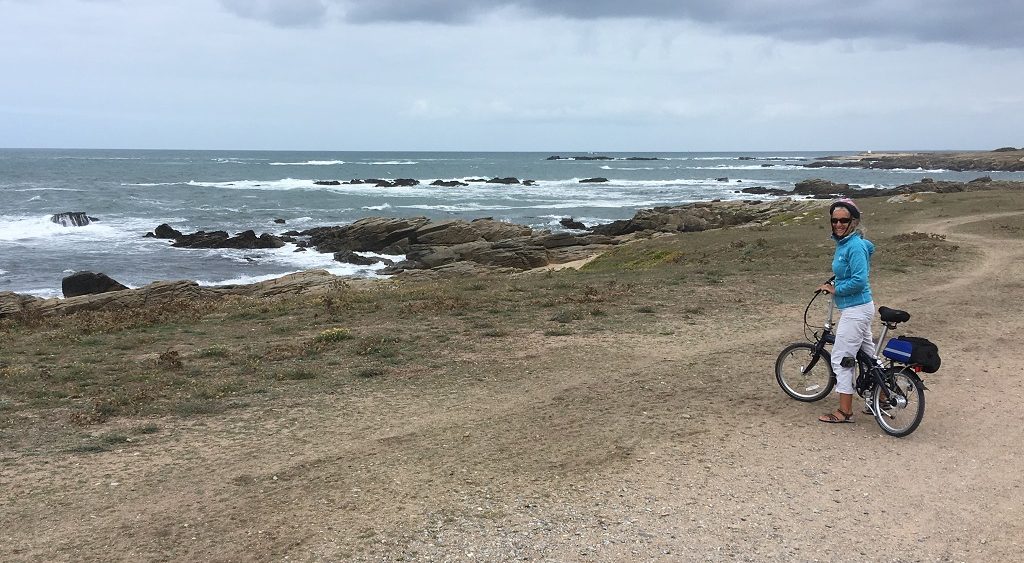 On many of the off road tracks the blackthorn grows in abundance – and we have never seen any as heavily laden with sloe berries as some of these. We have taken to carrying plastic bags when we head off; for the products of our foraging – which this year has included blackberries, grapes, rosemary, fennel, shore crabs, samphire, sea kale and sea purslane. To this we added a bag of plump, ripe sloes (they were not ripe on the south coast this time last year).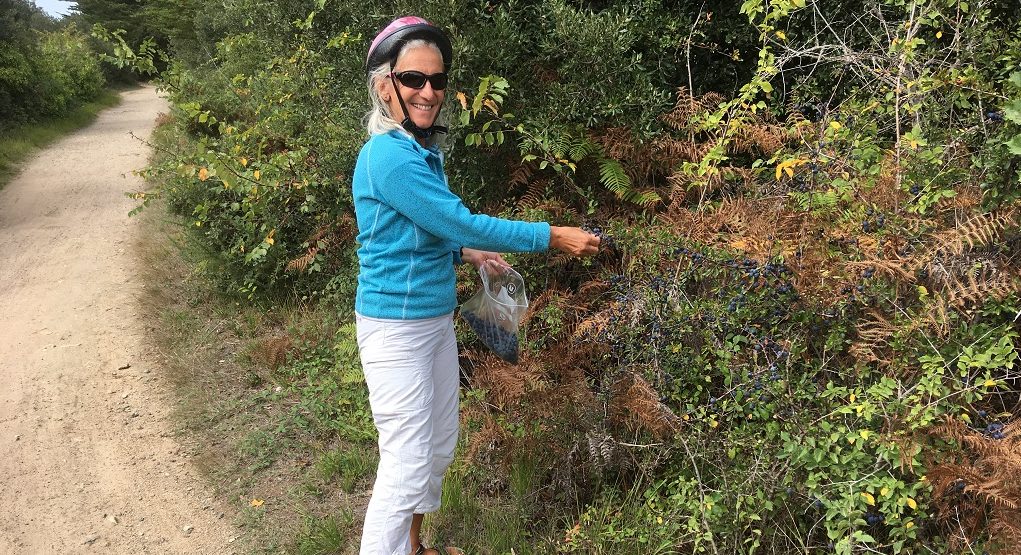 We have now started the process of making sloe gin as Christmas presents. "Shouldn't you keep that a secret?" you ask. Well we should, but don't worry, the recipients never read this blog. So maybe we should just drink it all ourselves!
We walked and cycled along the shoreline to the West and East of the marina – a rocky shore with some sandy bits (and more lizards than we have ever seen – one every few yards) to the West….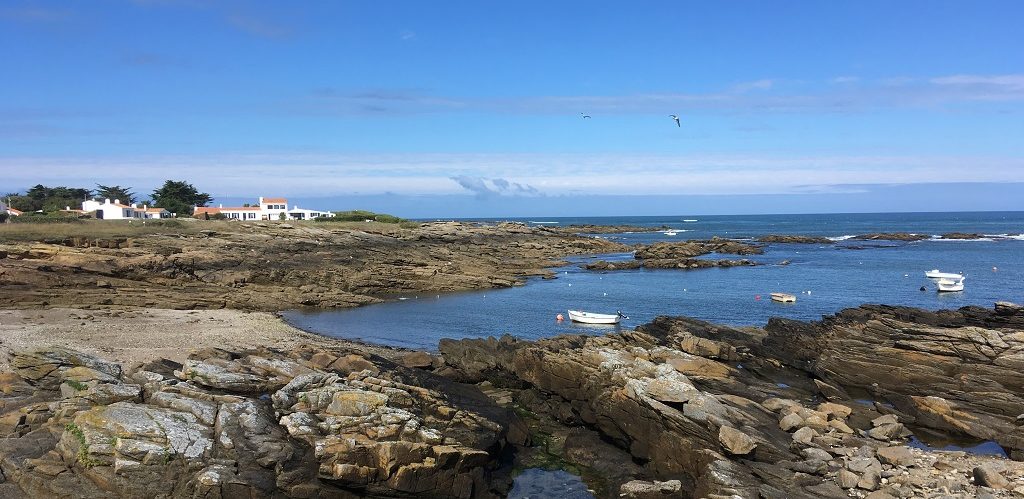 …and beaches to the East (marina here in the distance):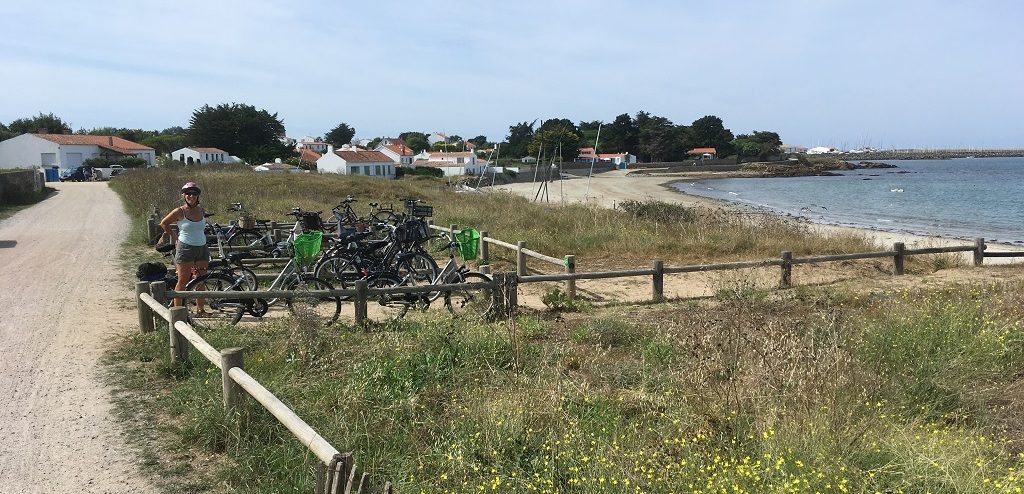 Our view of Ile D'Yeu was perhaps clouded by the mixed weather and the poor setting of the marina. The island itself is beautiful, and great for cycling, but perhaps we had built it up to perfection in our minds. Certainly we had a great time and were very pleased we had made the effort to get here, before heading back North to our winter base. However, unexpectedly, L'Herbaudiere on Ile Noirmoutier remains our favourite stop of the year – so far.
We cut our intended week's stay a day short to get towards our winter base before the forecast strong winds closed in, hoping for a good sail, depending on who got the wind forecast correct. We use PredictWind which lines up 4 different forecasts next to each other, plus a MeteoFrance app. The forecasts all had sufficient wind for a good sail, but two of them forecast NW in the morning backing W in the afternoon – which would see us motorsailing in the morning before sailing as the wind backed. The others, including GFS and MeteoFrance (which we have felt to be the more reliable sources) predicted W winds from the time we would depart, so a cracking 40 nm sail, all on port tack, to La Turballe (a staging post) should be had. Who gets it right? See the next exciting installment…………
Distance traveled since leaving Hamble Point  623 nm