Getting dirty – in more ways than one
Val and I have undertaken numerous sizeable DIY projects over the years and to the bemusement of our friends we actually enjoy getting our hands dirty. We had antifouled Calypso at the end of last season (using a product that can be left out of the water for 9 months without losing its effectiveness) and were in need of work – so we offered to help Adam and Lynne antifoul and polish Charisma. After 2 nights at Redon we headed downstream towards Charisma's appointment at the Foleux boatyard.
Just as we left Redon we spotted 2 otters in the water and climbing onto the bank with sticks in their mouths – nest building? Shortly afterwards we saw 3 storks flying high. We have seen many storks in Portugal but didn't expect to see them here. Numerous herons, many huge birds of prey (buzzards?) and a red kite were seen in this fabulous natural habitat. Here and there you will see an odd house and a small village set above the wide flood plain. The Vilaine is just beautiful.
En route to Foleux we stopped overnight on the free pontoon below the village of Beganne.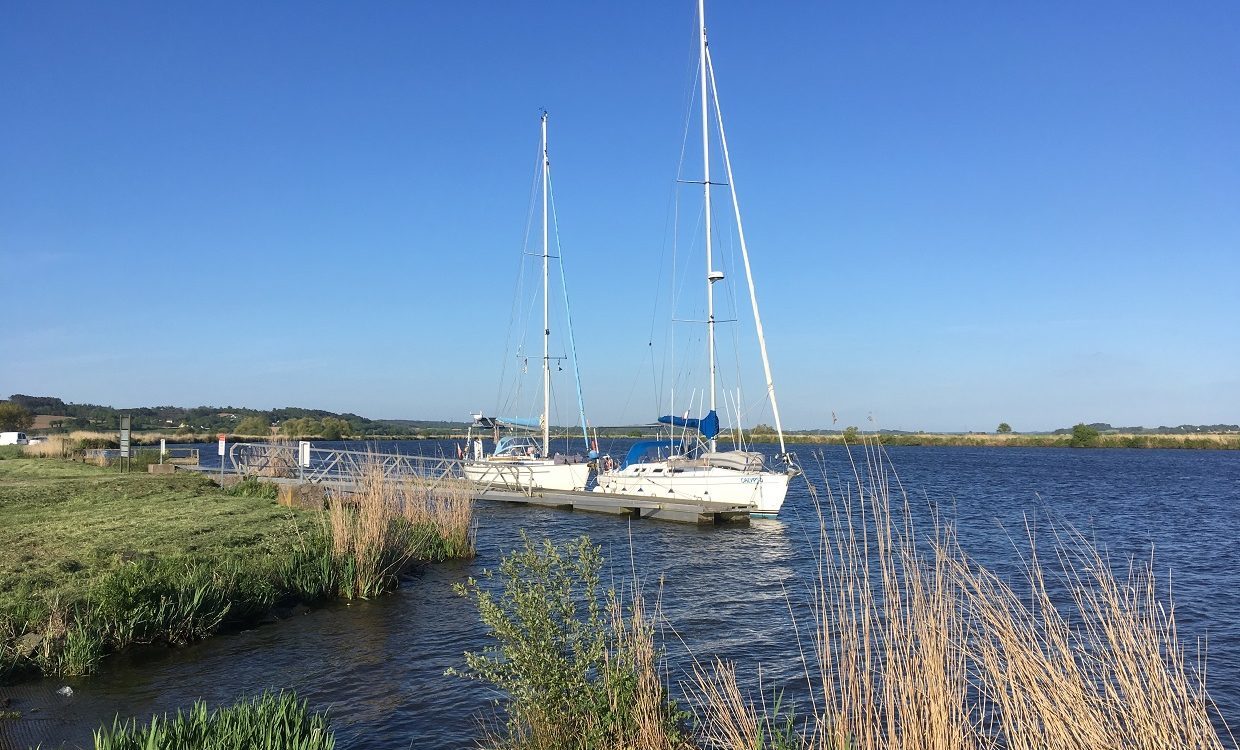 It sits in open flood plain with a pleasant walk up to the village, where we found a nice tabac/bar and joined the locals for a beer. Charisma and Calypso are on the pontoon on the background in the following photos: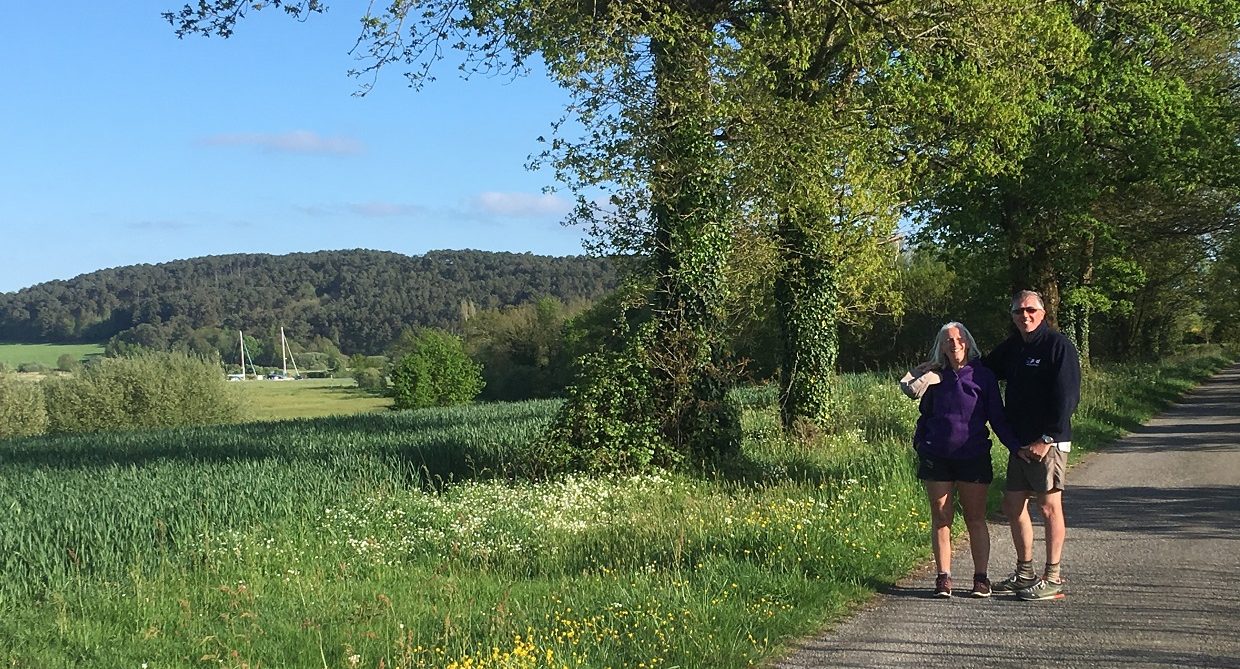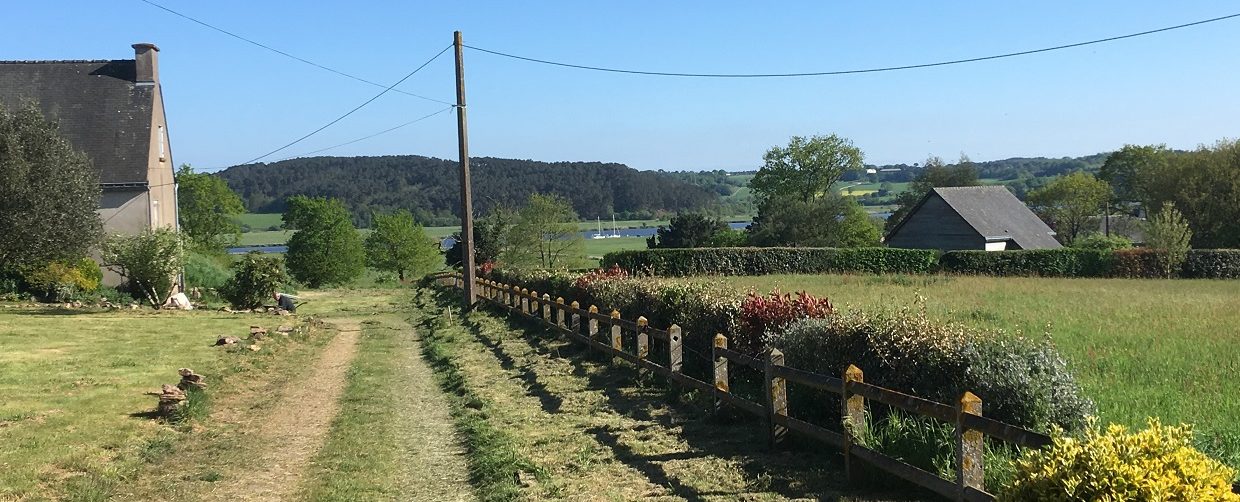 There is absolutely nothing at the Beganne pontoon – except for tranquility, nature and beauty (and a few anglers). We loved it, but the free stay is limited to one night and so we moved on the next day to Foleux, and the lift-out appointment at 12.00 for Charisma.
We have only ever been lifted out of a hoist bay by a traveling crane, and so it was interesting to watch Adam manouvre Charisma onto a sunken and invisible trailer (with hydraulic lifting pads) in a cross wind – only two attempts, he did well (and we were happy to be watching from dry land, as were the two guys having their lunch!)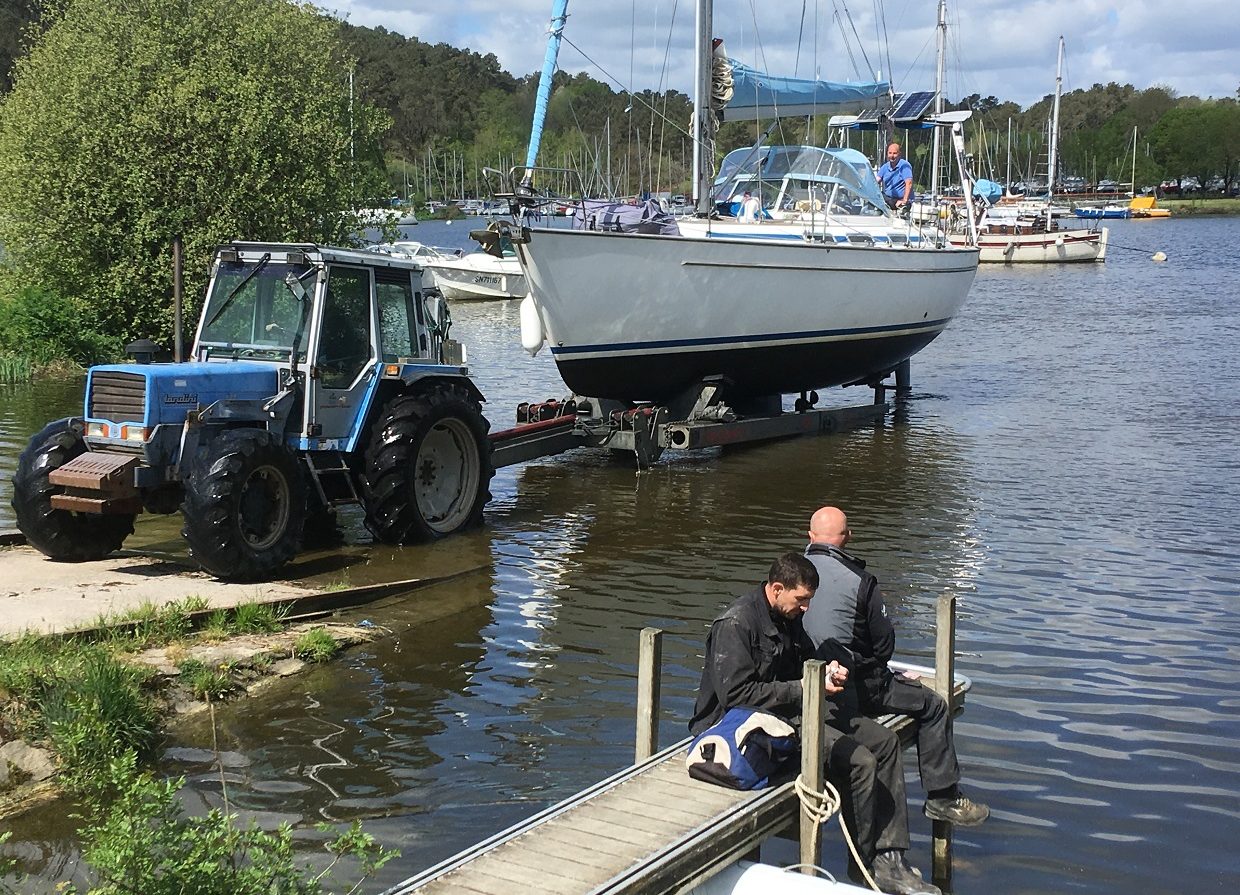 For the next 2 days we volunteers were driven like slaves by the evil Bisphams – we rubbed down and painted the hull and then scrubbed a winter's grime off before polishing the topsides by hand. We were pooped………….but we loved every moment!
We like time in boatyards, especially at this time of the year when there is a hive of activity, of people readying their boats for the coming season. Plenty of chat and banter, and camaraderie. We like it so much that we even volunteered to help the owners of neighbouring yacht Gemilly to route through the stinking rubish compound in an attempt to find their missing passports (possibly thrown out with the rubbish from their car on recent arrival from the UK).
After removing our rubber gloves, having trawled through tonnes of rotting waste (maybe I exaggerate) the passports were eventually found…………….in a coat pocket!!!!!!!
A totally unnecessary bottle of fizz was delivered as a reward for our assistance. It was nice to bond with lovely people in this way, and we hope to meet them again. If you are reading this, Gemilly crew – we knew what we were getting ourselves into!
We must also mention Rohan of Multi Nautique (the boatyard) – not just because of his enormous care and attention (everyone in the boatyard liked the way he works). No –  he is mentioned because 2 ladies in their 50's (one just gone 60, actually) were reduced to giggling schoolgirls every time the hunky Frenchy passed by. The innuendo was embarrassing. Enough said.
It wasn't all hard work and no play at Foleux. We enjoyed walking past some very interesting architect designed houses and glorified sheds, and on through lovely countryside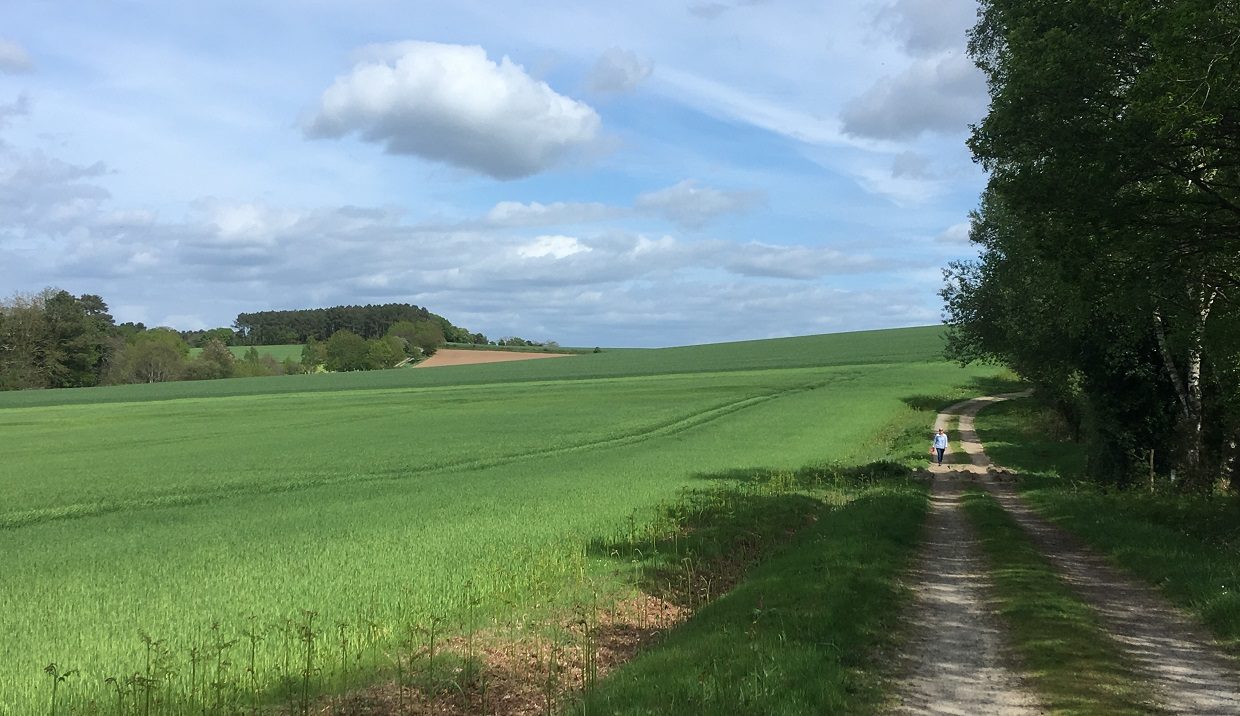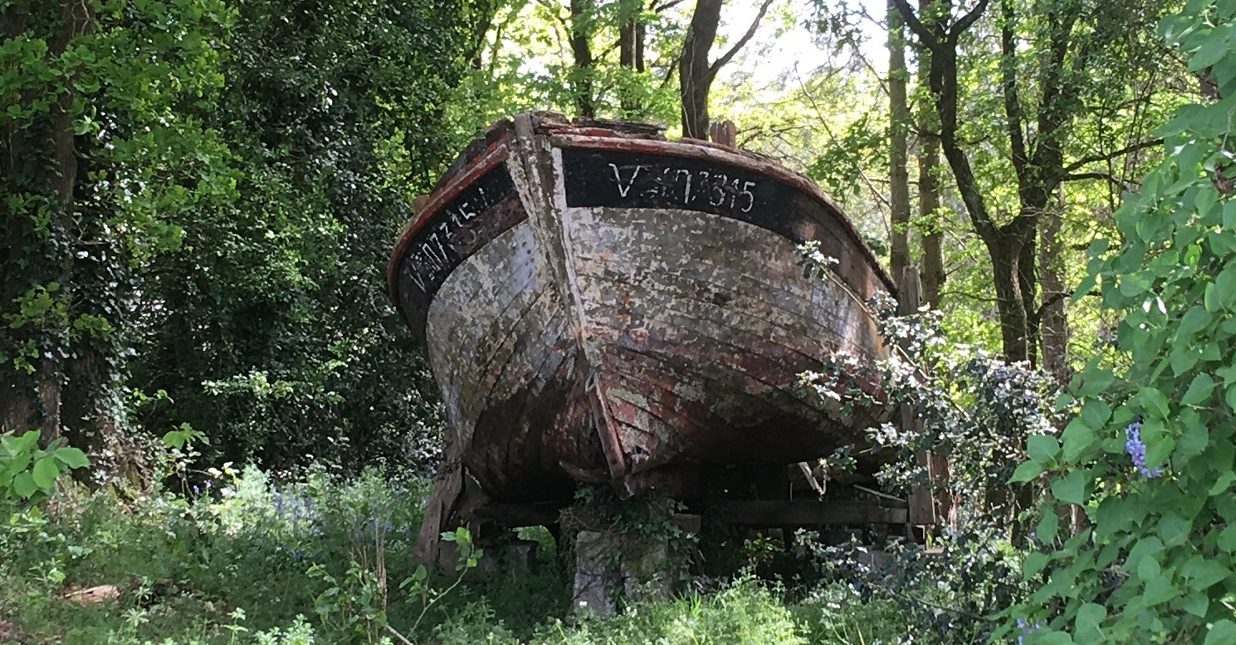 Adam took Paul on a shopping expedition back to Redon, followed by picking the girls up for a celebration lunch at a hotel in Rieux. After lunch we went to find the large sculpture type thingy sitting atop a wooded mound near the river at Foleux and looking like a "stick cathedral" as Val named it. We found that it was part of some strange venue for events/music with a real hippy vibe. The wooden erection we had viewed could be climbed on a spiral walkway around the outside – another "where's Wally":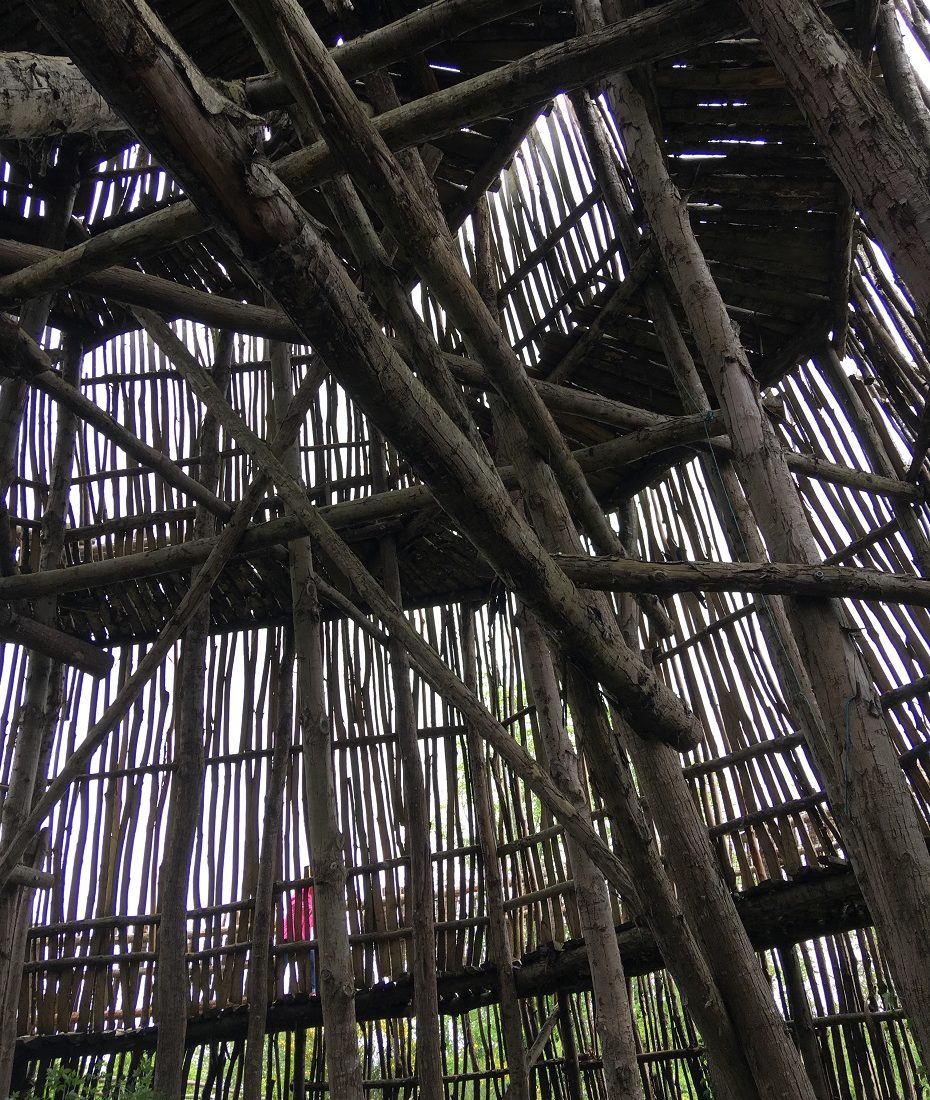 After 3 nights at Foleux we headed back up river for another free night at Beganne, and our final night with the Bisphams for a little while. We had a lovely week or so catching up with them. And we won't mention the outcome of the Wizard series – Adam and Lynne's favourite card game that they introduced us to last year. We should now admit, however, that we bought a set and practiced hard over winter for that moment!
We headed downriver next day, first to La Roche Bernard (no photos here – it was an awful day – see post from last year for pics); and then back to Arzal for 3 nights before heading out of the lock to open sea once more.
The Arzal Camoel marina is huge. This time we stayed on the Camoel side, initially quite dissapointed as the chandleries and bars are a long walk away on the Arzal side. However this was a very peaceful spot and we enjoyed being there.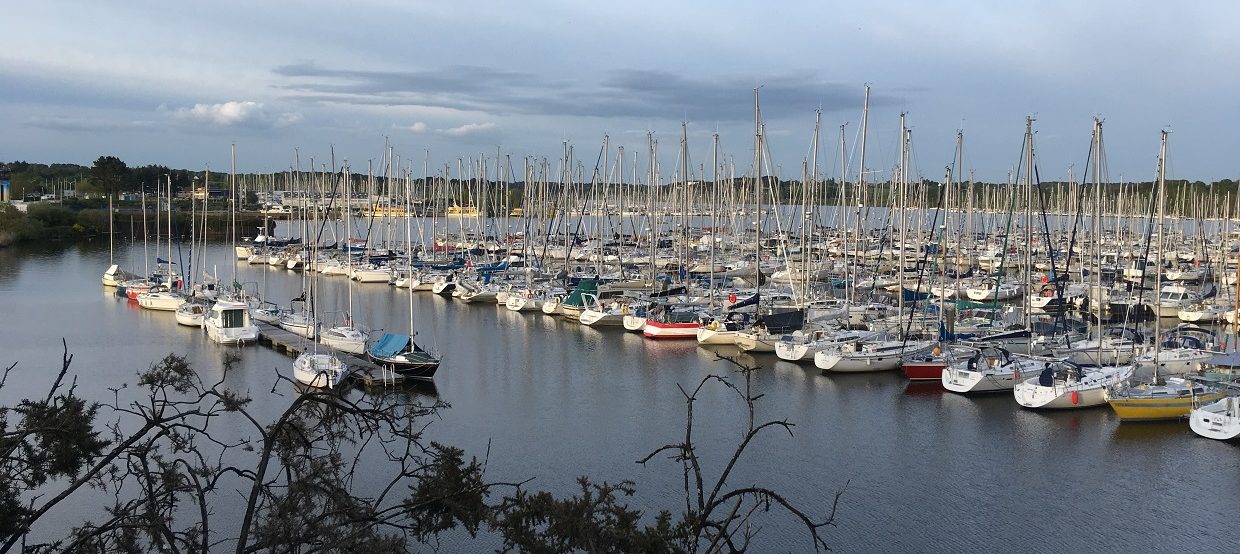 We did walk across the barrage to watch the fun and games at the 6pm lock (actually all fairly ordered for a change) and onwards for a beer. We did visit the 2 chandleries, and we did get a few jobs done.
The forecast was good for exiting the Vilaine on Thursday 3 May, and a passage plan for a trip to La Turballe was prepared – more on that shortly.
Distance Traveled Since Leaving Arzal – 45nm