One night in Port Haliguen
……………It's a shame we stowed the bikes……!
We set off early (for us – 9.00am) from Port Tudy into a bit of a fog. We left the sails stowed initially but after a while raised the main to motor sail, adding a whole extra half a knot. The fog was patchy – at times quite dense and at times the view opened and the sun tried to break through.
We fired up the new radar in anger for the first time – and soon discovered that we need to RTFM, when a large yacht suddenly appeared out of the fog just a hundred metres away and heading straight for us – with no warning from the radar. Other targets showed up well, but seemed to disappear as they closed in. Some never appeared at all. There are various settings for the radar that we clearly need to learn how to use! Sailing in fog in fog in darkness would be uncomfortable if we don't have trust in the radar. Ok I'll put that differently –  Sailing in fog in fog in darkness would be uncomfortable if we don't have trust in our ability to correctly use the radar! Paul has decided to take the RYA radar course over the winter.
We knew that we would have an adverse tide as we departed, however the tidal stream here is weak and we would not have more than 0.2 kts against us. By the time we reached the line of rocks and islands that run south of "Presqu'Ile de Quiberon" (a very long, thin spit of land projecting south from the Brittany coastline and attached by a narrow sandy isthmus – similar to Portland Bill in Dorset) the tide had turned and, as the passage plan predicted, we had around 1.7 kts with us through the Passage De La Teignouse – a buoyed channel through the rocky shoals.
We arrived at the very easy entrance to Port Haliguen at 14.10, having motored or motor sailed the whole 27 nm, to find that the marina staff were a little late in returning from their lunch hour-and-a-half and there was no response to our radio calls. However we knew where the visitor pontoon was, it was clearly signed, and it was largely empty. We knew that there was good depth on either side of the pontoon but selected to moor on the inside. With hindsight we would go on the outside next time – as whilst the very large pontoon was 75% empty when we arrived, this is a popular overnight stop, it is July, and by early evening the pontoon was full with yachts rafted up to 3 deep on the inside.
The reason that with hindsight we would have chosen the outside is that there is not enough room between that and the breakwater for rafting! That said we did have a very nice Northern English crew rafted outside of us, and they gave us very good tips about entering the Vilaine River across extensive (literally miles of) shallows that need to be crossed not more than 3 hours before high tide (per the advice) and through a large lock that becomes a chaotic bun fight for entry when it opens to allow boats through the barrage – where the advice was to join the cavalry charge and shoulder our way in rather than wait timidly at the rear! So with that and other useful advice we were happy with our rafting partner for the night, especially as it was flat calm.
At the rear of us was an American couple who had been sailing around Europe and as far North as Norway but who were making their way home, across the Atlantic via the Canaries to end an 18 month adventure. We got chatting and would later meet them again in Vannes, where we were both due to set off the following day. A French yacht sits rafted outside of them in the following photo: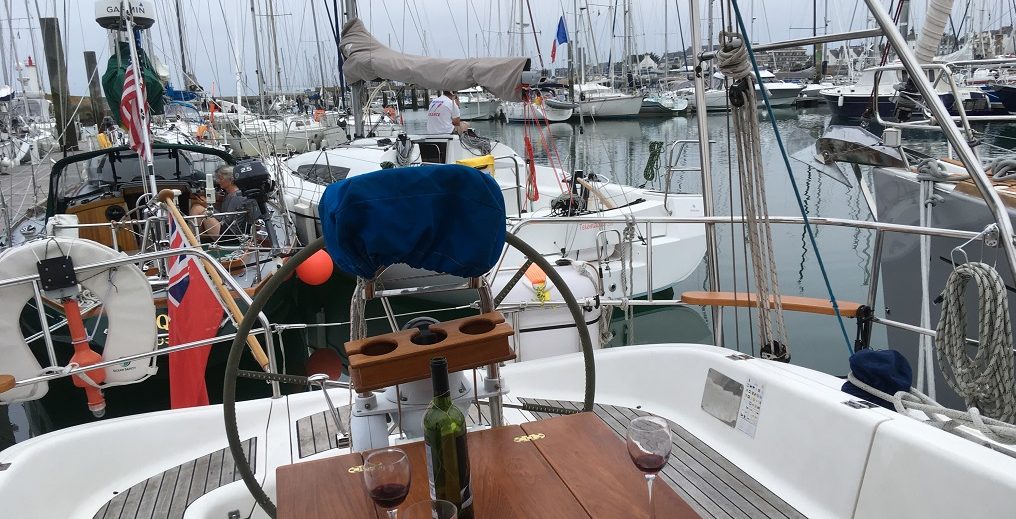 ……….It's a shame that we stowed the bikes because when we arrived at the visitor pontoon in Port Haliguen we discovered why we had read a report that in Port Haliguen "they located the visitor pontoon as far away from the facilities as they could possibly get!" Indeed it was a long walk, and you wouldn't want to get there to discover that you had forgotten your towel!
The Capitainerie and facilities are a couple of hundred metres to the right in this shot. The visitor pontoon is right away in the distance, just inside the breakwater – we were towards the right hand side of this photo: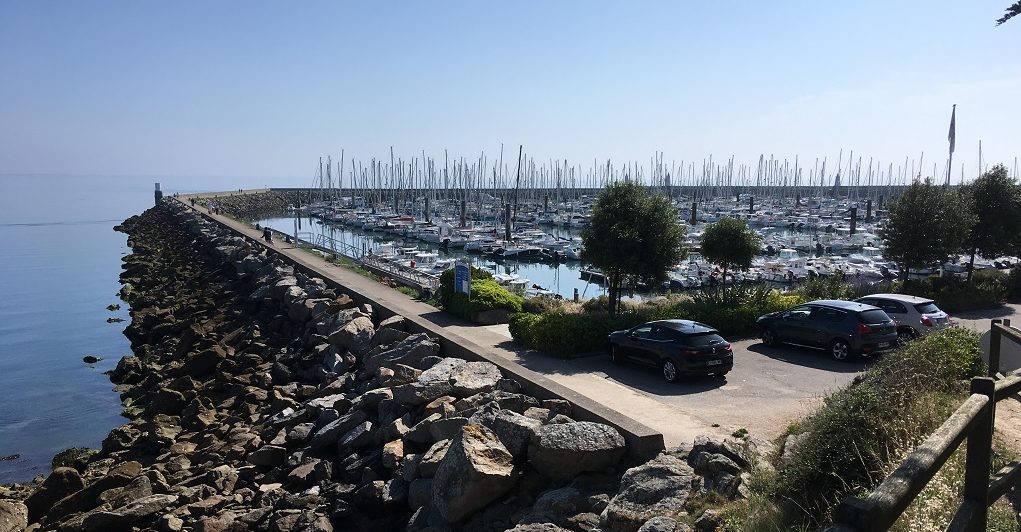 As soon as we arrived and had the boat in shore mode, we went and checked in to the Capitainerie, paid our 36e high season fee for the night, and walked across the presqu'ile ("almost island") to the main Quiberon resort with its extensive shopping area and sea front with bar after bar after restaurant after bar. A modern and very popular resort, and whilst not our kind of place we could see its attractions. We had 2 small beers (25cl each) in a tabac and paid over 6e for less than a pint – good job Paul's not a 5 pints a night man!
Port Haliguen is a modern marina inside a huge concrete breakwater in a location that is great for keeping a boat if you routinely arrive and head off for the weekend, but is not a great destination in itself. That could be a little unkind as there is a nice stretch of beach at the side of the marina with the coastal path running behind it. We walked along here the following morning as the entrance to the Morbihan is less than 10 nm (2 hours) away and we had determined that we would enter at around Port Navalo HW -1.5 hours – in this case around 15.30, meaning that we would set off around 13.15.
The beach was a great mix of sandy swimming areas and rocky shoreline where a few families were gathering shellfish: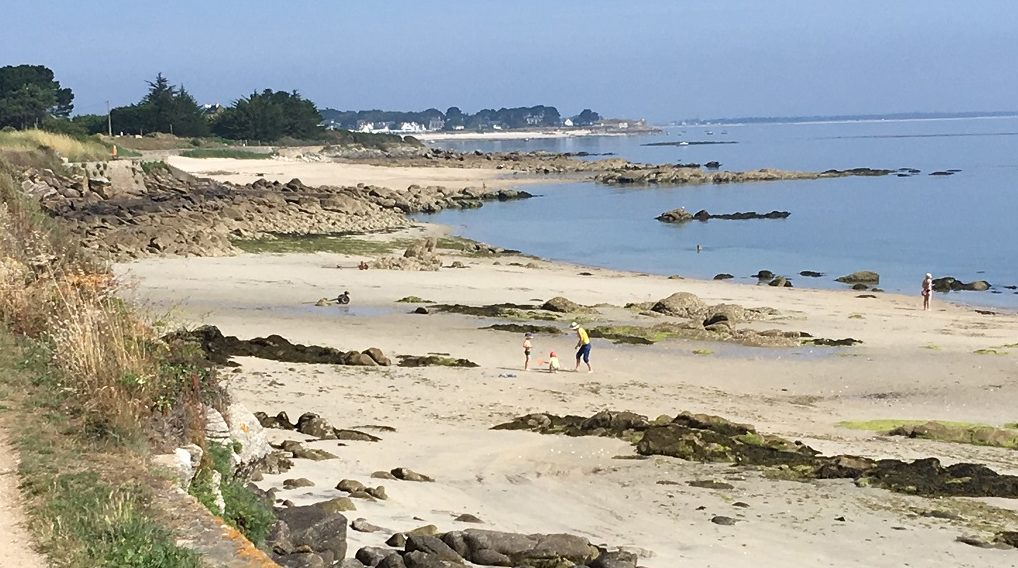 We also visited a small gallery that morning before the off , and whilst this place had nothing to hold us for more than a day or two, it is pleasant enough.
We can not move on from Port Haliguen without mentioning the facilities. They are very clean and reasonably spacious. There are 2 totally separate and large w.c. and shower areas, each having several showers and several w.c.s (all in open bottom/top cubicles) – and certainly in one there are urinals only slightly hidden from view of the main thoroughfare. But which is the ladies' and which is the gents'? We spent a good few minutes looking for the signs before realising that they were unisex!
We have become accustomed to the French "pissoteries" in town centres – open air urinals with no doors hiding the rear of men having a pee from the general public – but this was perhaps just a little too odd and frankly uncomfortable for our liking – and seemingly so unnecessary?? Perhaps they should charge 37e and use the money to buy a couple of signs for the doors!
Distance traveled since leaving Hamble Point: 460 nm