Rothesay to Bangor via Campbeltown and Glenarm – farewell to Scotland
We ended up staying at Rothesay for 12 nights waiting for a weather window, but enjoyed every moment. The weather was breezy but beautiful. It is not our intention to sail every day and visit as many places as we can (exhausting ourselves in the process). Instead we intend to linger and smell the roses (well, ok, the seaweed), just as we did here.
We caught buses and walked farther afield. On one day we recc'ed the Bute golf course at Kingarth, the bus conveniently stopping at the Kingarth Hotel, where we had a really good risotto (Val) and  THE best ever burger (Paul). I promised a sailing blog, but we must pause here to extol the virtues of the burger. Excellent ciabatta bread, good beef mince burger, usual salady trimmings, stilton and – la piece de resistance – haggis! FAB-U-LOUS!
Anyway, time to stop dribbling and get on with the tale. The golf club sits on the Southern shore, surrounded by open fields and looking across at Arran. A linksy feel, with gorse, and a nice layout. Well worth playing at £15 deposited in the honesty box for the entire day. On the walk back to the bus stop (via the hotel) we happened across standing stones: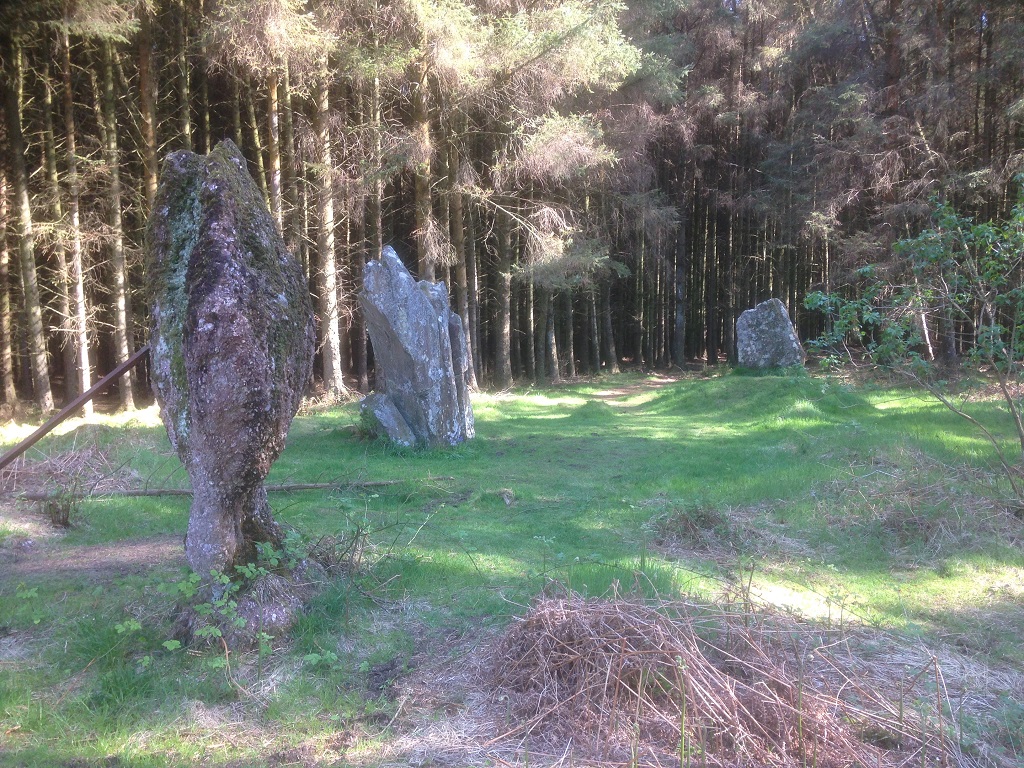 We had to return with the clubs, and did so the very next day.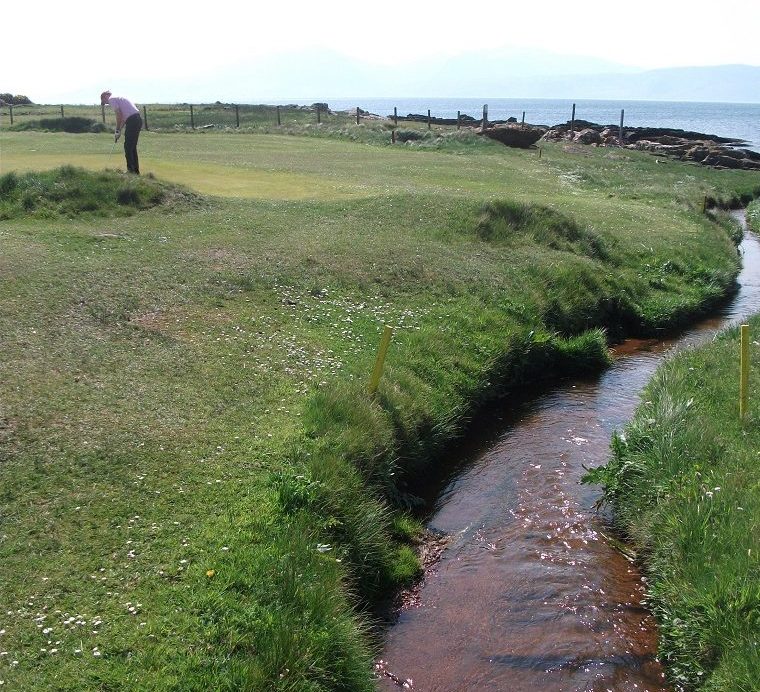 Eventually the time came to leave and we sailed out of the harbour at 9.30am on Friday 13th May – we are clearly not suspicious types! We sailed almost the entire 45nm to Campbeltown at the Southern end of the Mull of Kintyre –  arriving in the sheltered Campbeltown Loch at 4.45pm – an average speed over the ground of 6.3kts – and topping out at 8.6kts (with maybe 0.1 or 0.2 kts of tide helping).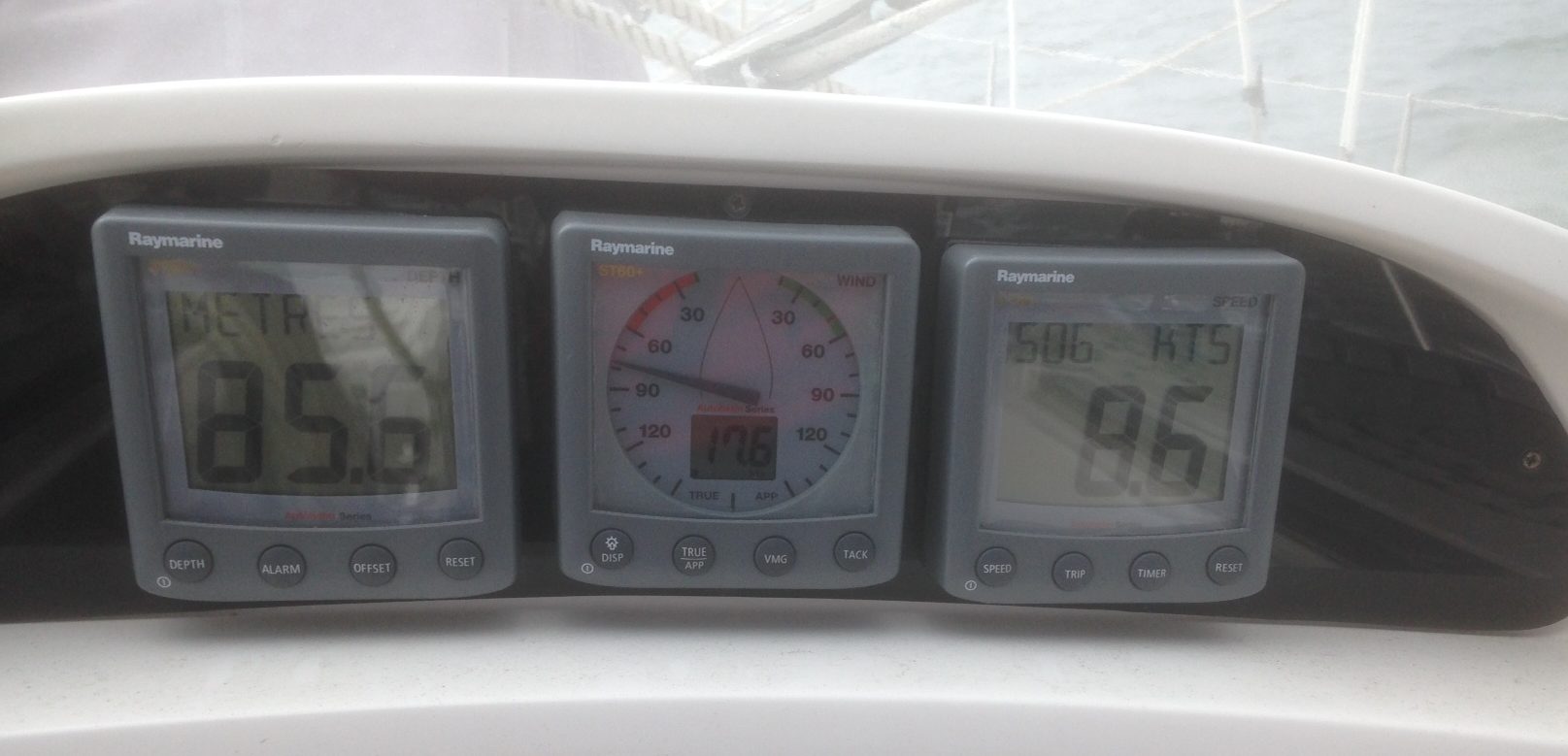 This was one of our best sails ever – the longest on Calypso, and we had finally made progress South. We had uncomfortable quartering seas around the southern end of Arran, winds up to 22kts, but not too rough. We had 1 reef in the main all the way, which was fine given the beam reach and downwind sailing course.
Campbeltown has a mixed reputation – more than one person has said "it's a dump", and others have said it's ok – but we found it a really lovely spot. We had considered sailing on the very next day, but shortly after arrival knew we had to have at least one full day here.
The marina has extended and improved in recent years. The pontoons are good and the toilet/shower block (new last year) is excellent. The cost is £20/night for under 36' and £25 above, including water/electricity and showers etc.. On arrival the marina manager met us to take lines and to swill down the pontoon to remove the "pigeon activity" (aka "shit"!)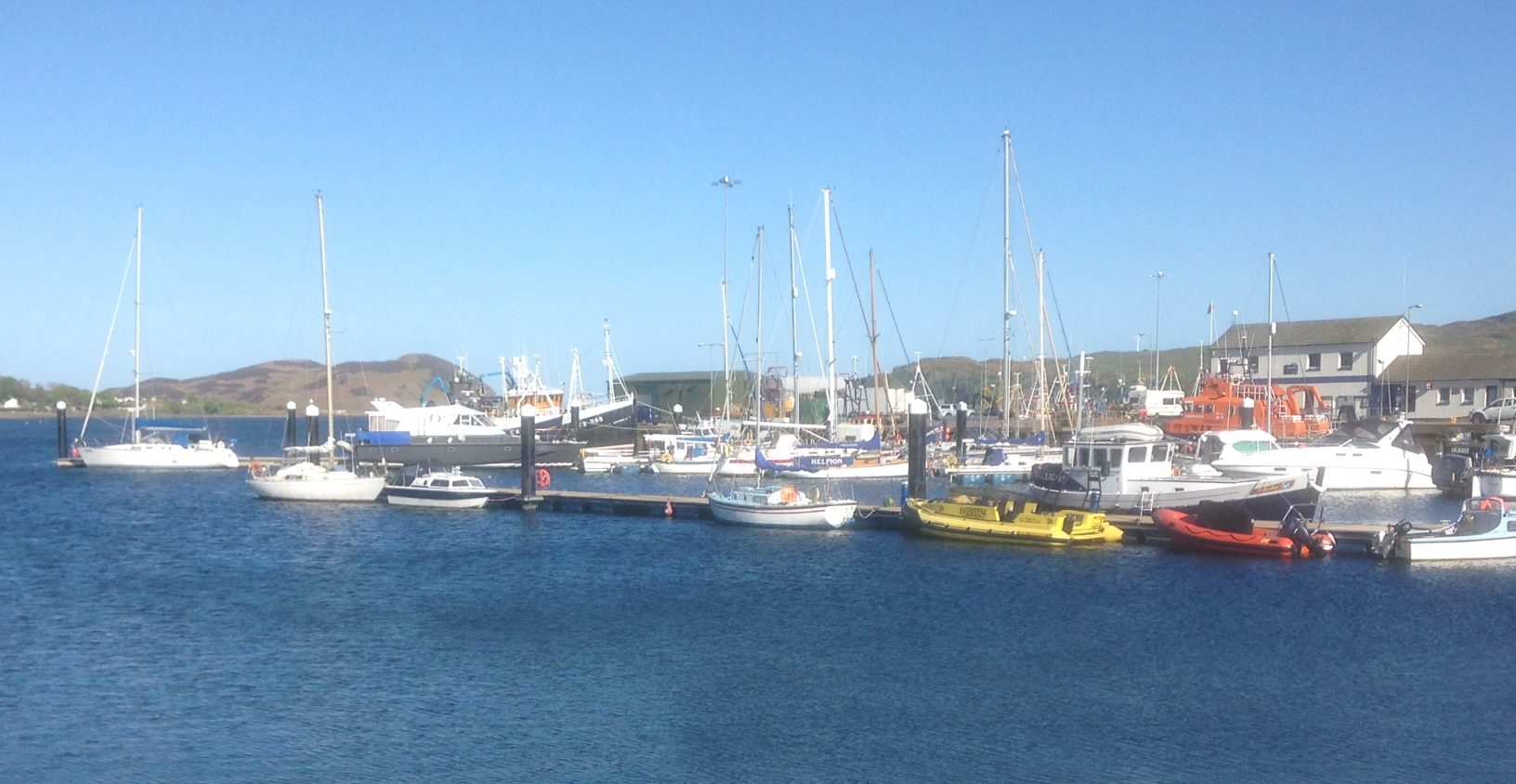 First night we went to the Ardsheil Hotel; as it turned out a great recommendation from an Irish crew we met in Rothesay. We met an American/Australian group of 3 guys who were on a golfing trip. The place was full of them. I will digress – the last time I was in Cambeltown was just after playing the Machrihanish Golf club with my father, some 15 or more years ago when holidaying with family in nearby Carradale. This was August, and the fantastic course was empty at the height of the holiday season. We saw one other couple all day.
Roll forward 15 years and another course has been built alongside the old course, a new hotel built and time shares are planned. Golfers fly in to the adjoining airfield from around the world The Ardsheil Hotel is full of foreign accents, and that is some miles away from the course – an overflow facility owned by the group that built the new course, I believe. The thought behind my digression is this – who had the brass balls to build a new course and hotel alongside this old but quiet gem, trusting his/her judgment that people would come? Donald Trump did something similar near Aberdeen, but we all know he's a nut job!
Digression over; the next morning we arose to another beautiful day, spent 20 minutes emptying and rummaging in the garage and got the folding bikes out for their first outing – Davaar Island, some two miles by road and another mile by a causeway that uncovers at low tide – access times provided by the tourist information office next to the marina.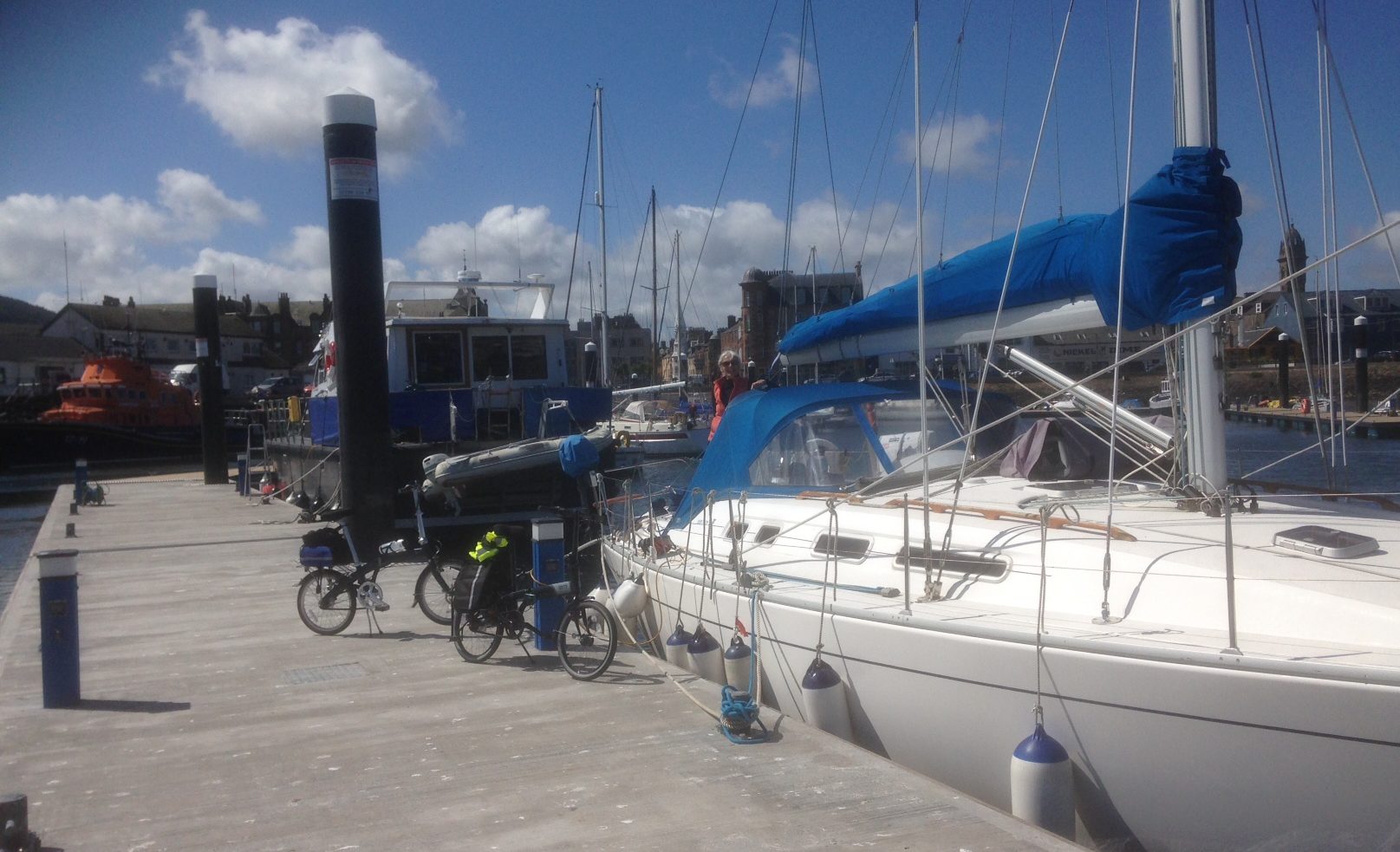 Alongside the causeway, a large flat area also uncovers, rich with shellfish and with a few people cockling when we arrived.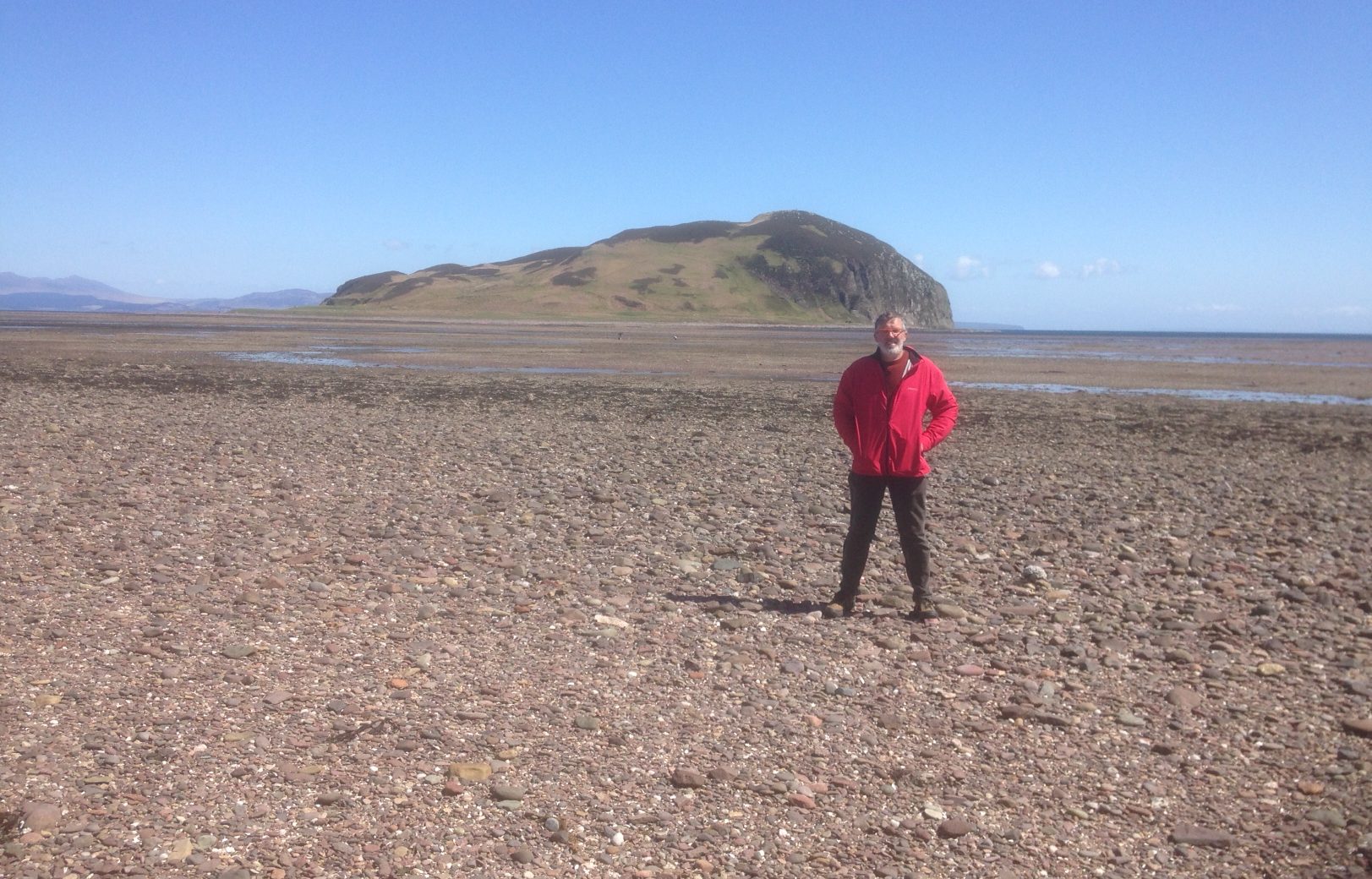 The first part of the walk on the island is a gentle stroll on grass, but then it turns to shingle and rocks: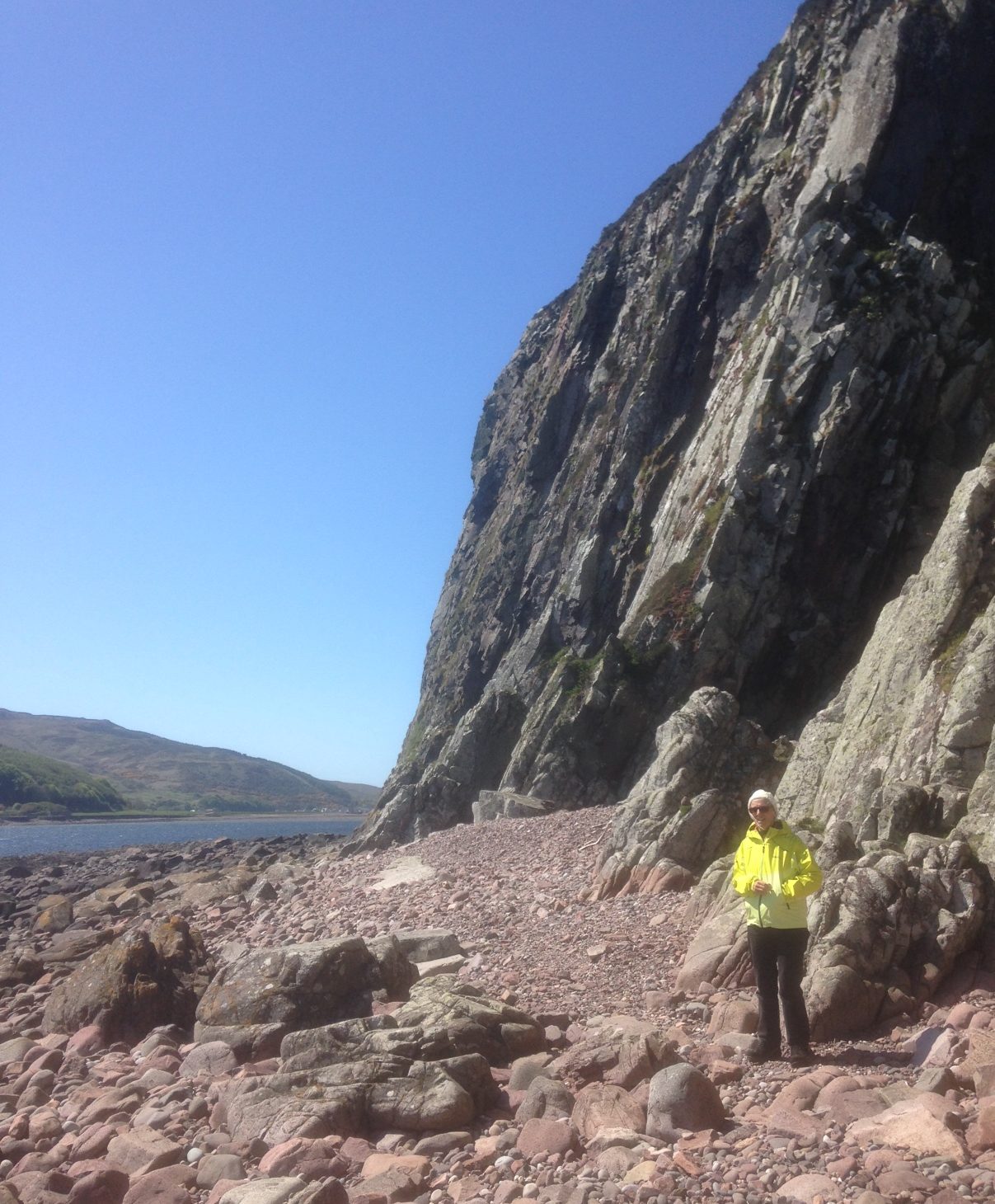 After a while a couple were sitting on the rocks – "it's about another mile" said he. "Oh bugger" said I. "Not really" he said – "it's there". And we were pleased to see "it" almost opposite where they were sitting.
The reason for this popular pilgrimage – "it" is a painting of Christ in a cave. Google Davaar Island for the full story, but it is quite impressive: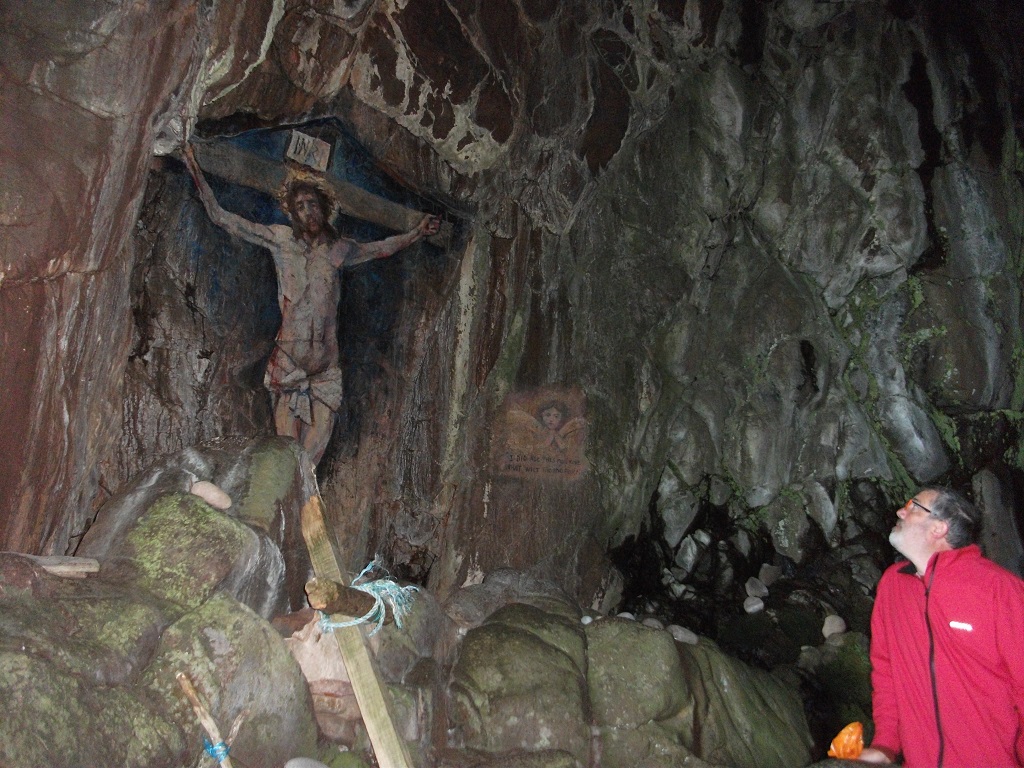 Outside again we got chatting to Andy and Hilary. Andy a Scot and Hilary an East Midlander who had settled at nearby remote but beautiful Southend. A lovely couple, we chatted a while before Andy surprised us with his impression of a kangaroo. He was carrying a very small pouch around his neck and suddenly the very small brown and furry head of a 13 week miniature dog appeared and yawned! Gooey eyed Val moved quickly over the rocks and stroked the furry thing in Andy's pouch. We are now friends for life!!
Andy and Hilary are buying an old camper van to strip out and totally re-fit. They need to get a move on so we can meet as arranged in Galicia next year or 2018. We strolled back together as the tide rolled in and said our goodbyes – it was great to meet you guys.
We returned on the quiet road to Campbeltown – dismounting with sore backsides, in spite of the gel saddles – we know it will get better as we develop calluses where the sun don't shine.
After testing the excellent new shower facilities and digging out clothes that made us look less like sea-gypsies, we walked to the Ardsheil for our 7pm dinner reservation. The hotel has clearly been upgraded recently – padded tartan cloth panels adorn the walls in the high-ceilinged bar, furnishings and décor generally plush throughout.
In the dining room we had a central table, surrounded by foreign accents. The next table-for-two was separated from ours by just enough space to define us as a different party; but close enough that we could have as good a conversation as though we were indeed at the same table. We're not complaining as Ben and Amy were great company. "Are you here for the golf" we asked.
Whilst they had visited for the golf previously, this was no golfing trip. Amy apparently has a fettish for wool and was on a buying trip. Whilst she must have reserved most of the space in her suitcase to take home wool, she presented quite tidily (maybe it is Ben's clothing that was sacrificed?!)
On the other hand Ben had a good reason to be here – it turned out that he was a whisky connoisseur – here to buy and ship back whisky for his impressive looking collection. Whatever the retirement celebration whiskey Ben ordered from the amazing hotel selection, it was excellent, thanks Ben. Must find out what that was. We enjoyed exchanging tales of trips sourcing whisky and wine. Not that we drink much, we just like researching and sourcing!
Meeting people has been something of a highlight of the trip so far and long may that continue. Thanks for your company, Amy and Ben – a shame we all had to retire early (jet lag and early cast off to Ireland).
We would have liked to have stayed at Campbeltown longer. It is a great place with a lovely old centre, good views and a local goldsmith who had turned out a ring that became the silver wedding anniversary present we have been looking for (not that it was silver, and only a year late!)
Campbeltown's reputation with some as a dump is long outdated. We would have been very happy to stay a week, but we wanted to take advantage of the favourable conditions to cross to Ireland.
We departed Campbeltown at 9.30am, expecting to sail the whole way across. However the Mull of Kintyre created a wind shadow for the first 7 or 8 nm and we motored for much of that. Here is Fair Head (Ireland) to the left of the Mull of Kintyre: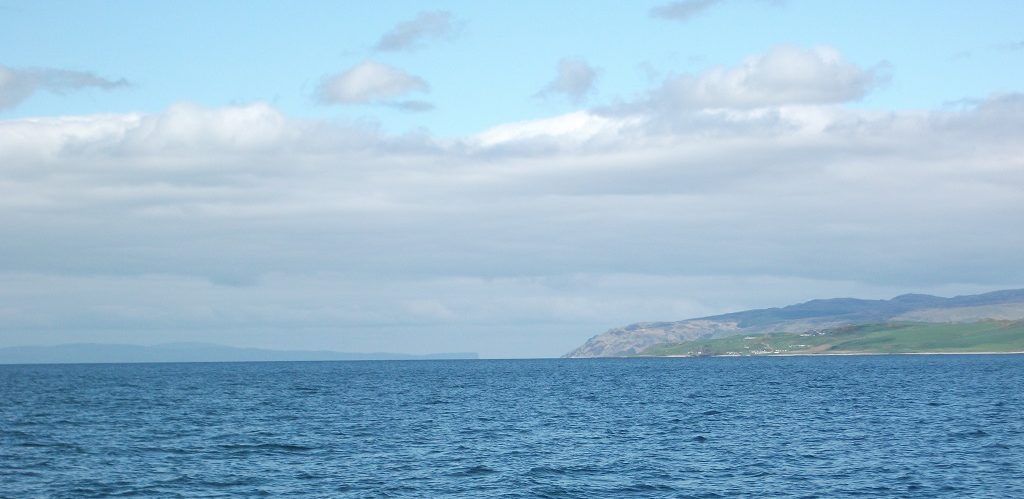 Once we found the wind we had a cracking sail across, hitting over 7 and 8 kts for maybe the next 20nm, before the wind eased slightly as we approached Glenarm, finally tying up at 3.45pm. The trip was about 35nm, so we averaged around 5.7kts – not bad with an unfavourable tide (but neaps, so not much) for the majority of that time. We had winds ranging from 2kts when motoring to 16-22kts mid North Channel. The sea was rather lumpy at times but only uncomfortable as the wind abated and the boat slowed down in a lumpy sea as we neared Glenarm.
We bade farewell to Scotland with mixed emotions – very excited but a little sad to leave our small part of the best sailing ground in the world. It was a shame that conditions thwarted us from going up the west coast when we had our long holidays.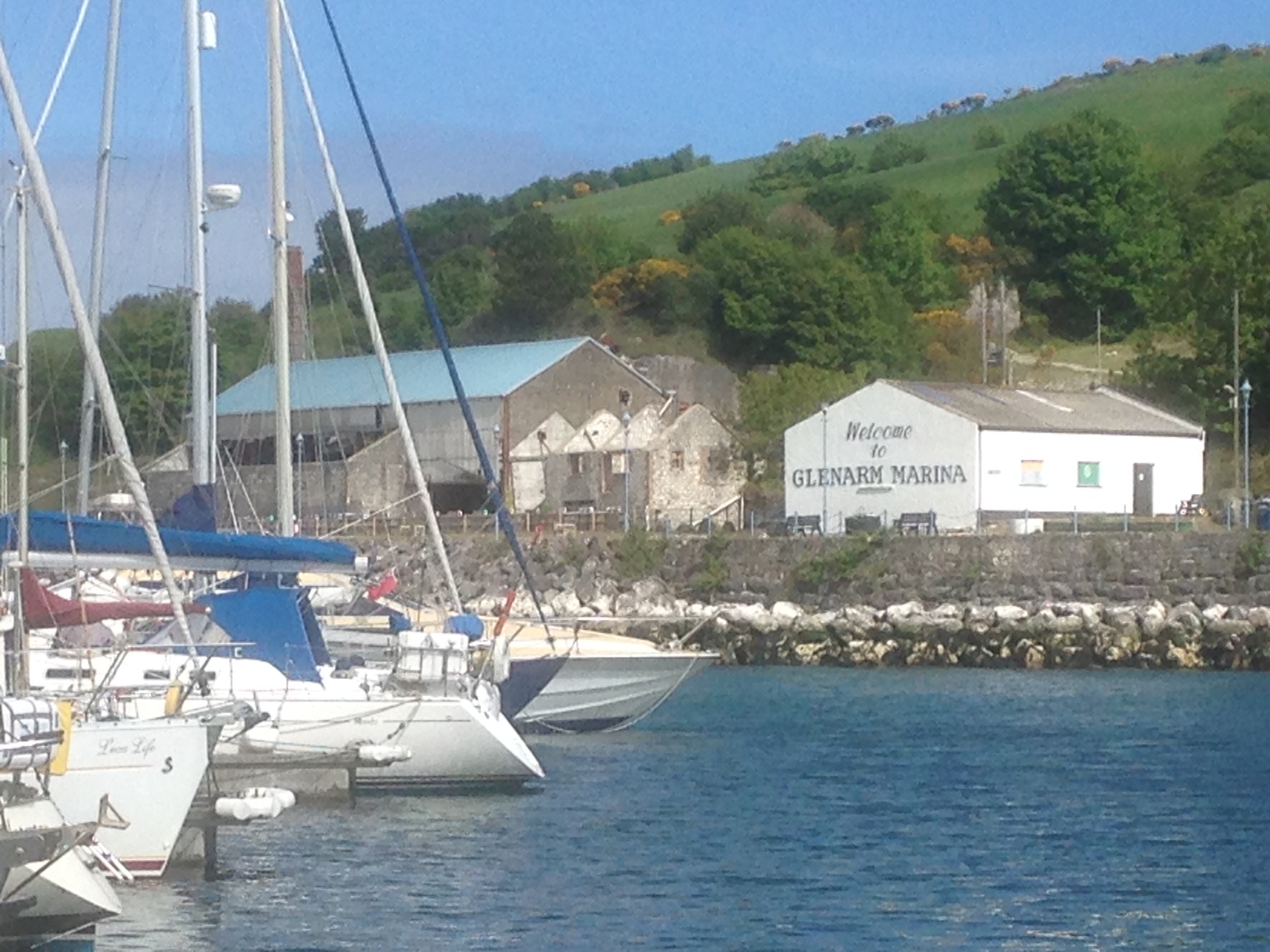 A warning for those who follow – outside Glenarm harbour is a fish farm. To the north are 3 orange buoys which have been there unattended for so long that they are covered in black weed and we didn't see them at first whilst putting away sails and heading into the sun. I think we may have snagged one for a short period. I mentioned to the marina employee that he should have a word with the fish farm to get them cleaned.
Glenarm was a lovely introduction to Ireland (Paul's first visit): the Guinness in the old pub confirmed the rumour that Guinness is definitely better in Ireland; the historic old town with castle and lovely old houses was very pretty; the scone at the castle tea-room was amazing; and best of all as we were due to leave early next day to catch the tide the marina refused to take any money from us, but gave us the key to the modern facilities (including free laundry room).
We would have stayed, but wanted to get to Bangor before the winds went to Southerlies. So we got up at 5.00am next morning (Monday 16th May) and slipped at 5.30am to catch a favourable tide. The winds were light and so we motored all the way – unfurling the genoa only to cross Belfast Lough.
We could still see Scotland in the distance – here you can see Ailsa Craig to the left of "The Highlandman" with East Maiden lighthouse.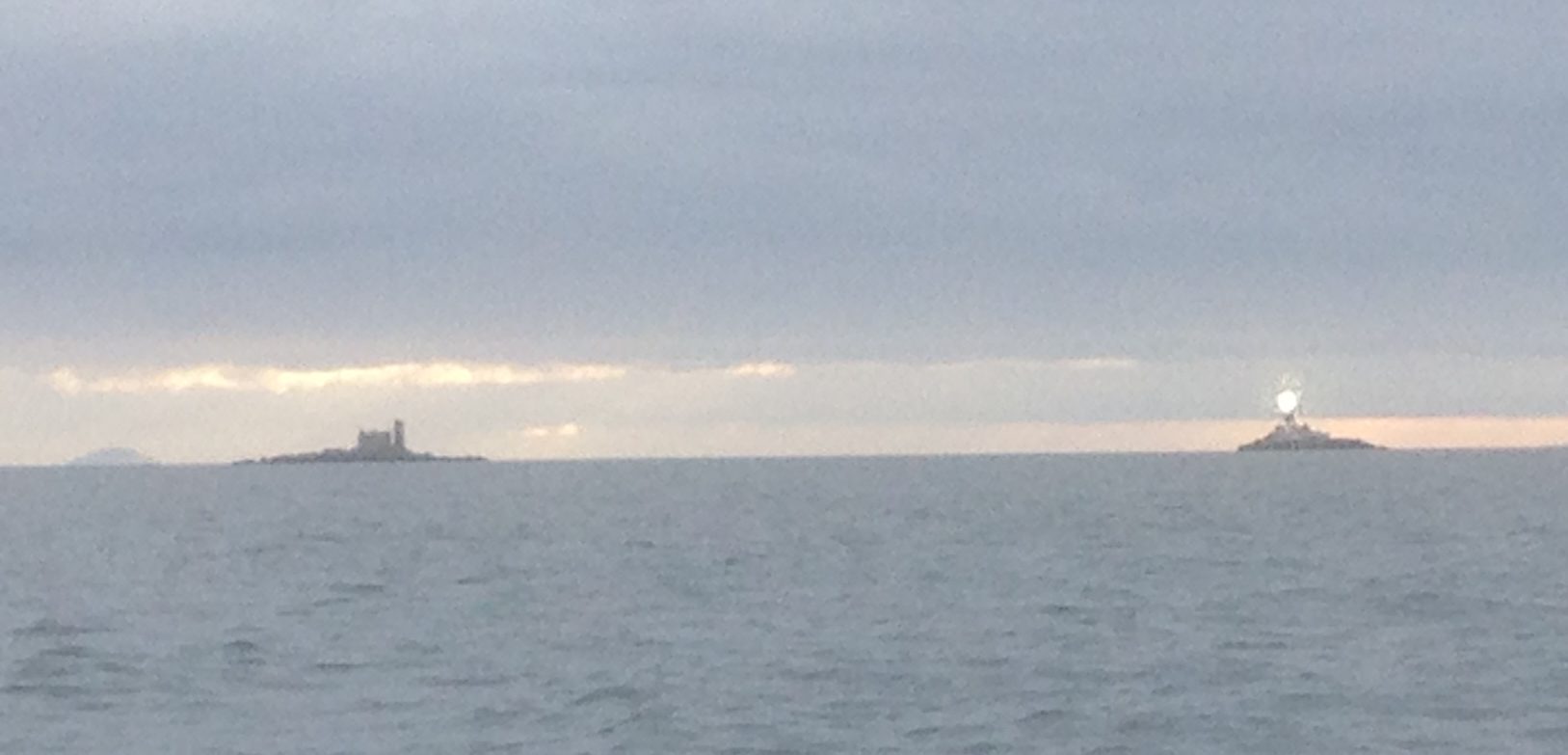 After 24nm we arrived at Bangor Marina and were tied up by 9.30, averaging 6kts, with the tide helping on average (against us for the last hour).
We entered and moored up in the spacious marina very easily. Our first impressions were good and the welcome excellent. We knew that Calypso's first owner kept her in Bangor marina. On the first evening another Moody owner stopped by and asked if this was the S38 that had been kept and raced here. He told us that there had been 3 identical yachts here, racing each other at the time, and that her then owner, Dr Moorhead, now owned the boat that sits diagonally opposite us on the main pontoon. A real coincidence. We would have to start working again to be able to afford the beautiful Swan that he now races, once he trades up again!
Having not cleaned the topsides (we were delayed in getting Calypso out of the water by lack of cradles at Kip) and in the knowledge that her first owner is likely to swing by any time, Tuesday's first job was to get the pressure washer out, followed by the cleaner wax. We won't be embarrassed now, if he does happen by!
We rewarded ourselves with two things:
Firstly a shopping trip – they have a TK Maxx – hurray!!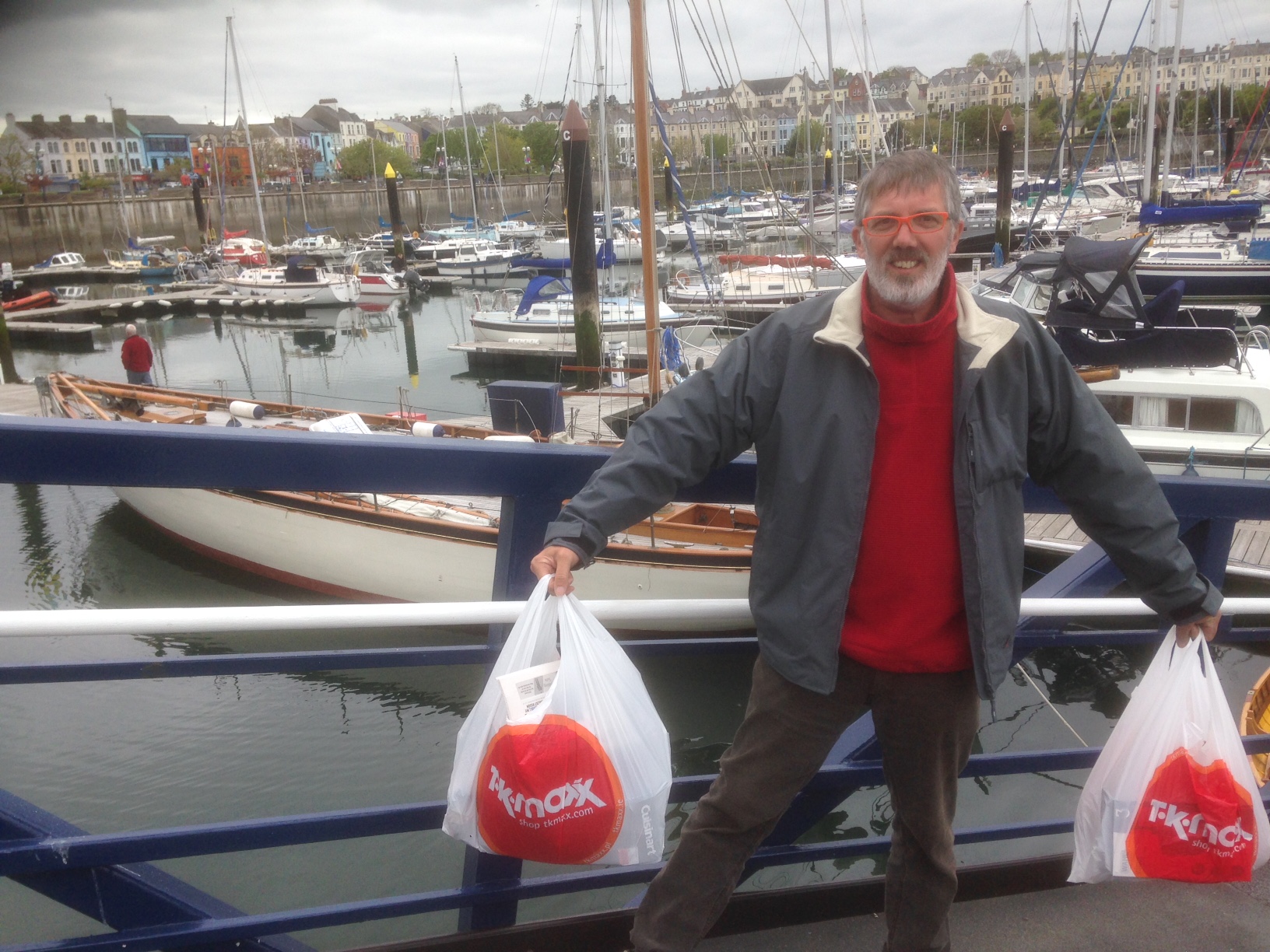 Secondly a trip to the Royal Ulster Yacht Club (Calypso had RUYC lettering on her transom when we acquired her). The huge clubhouse is reminiscent of the grand old red brick clubhouses of the best of the links golf courses on Merseyside/Lancashire coast. Inside did not disappoint: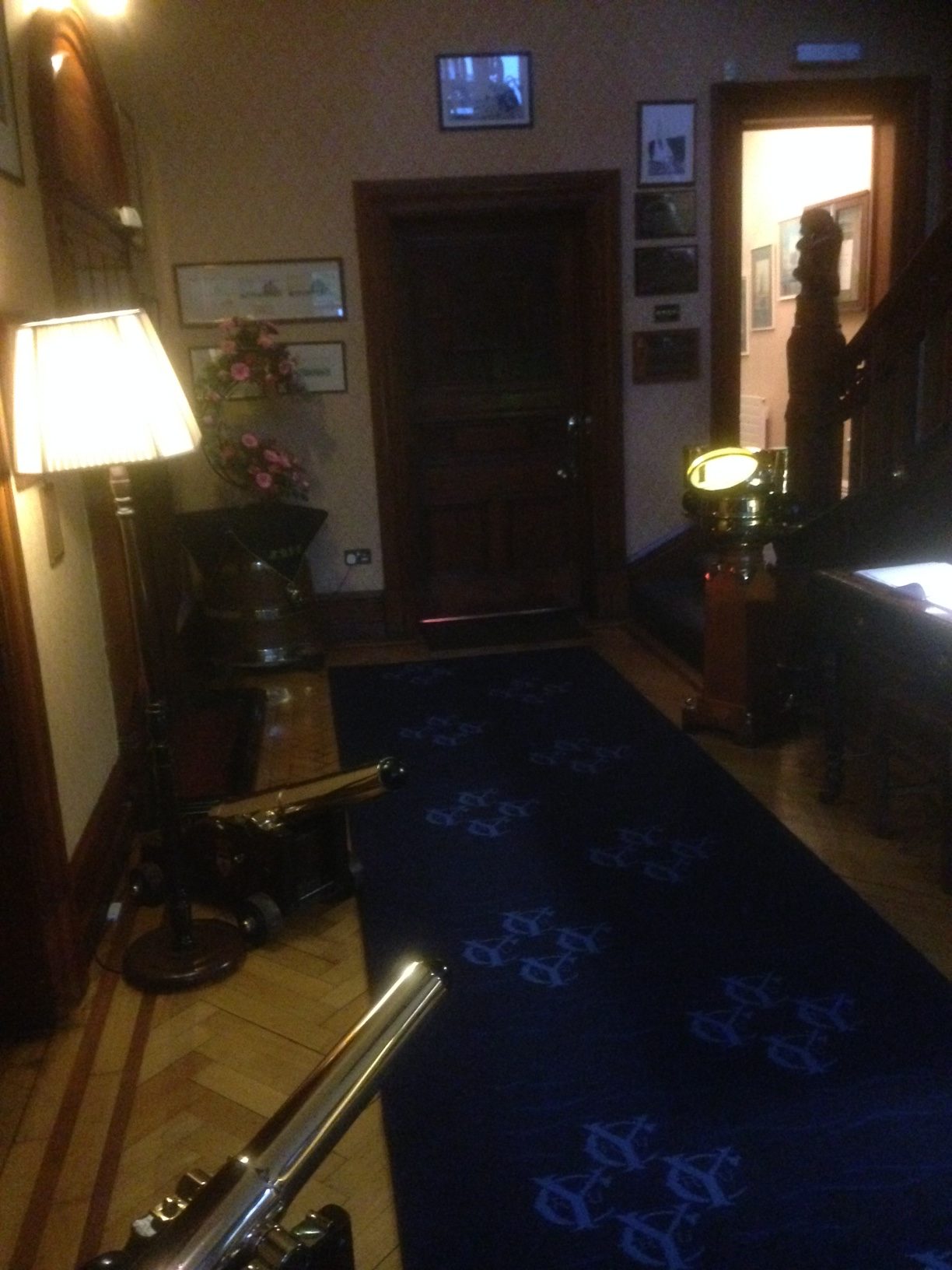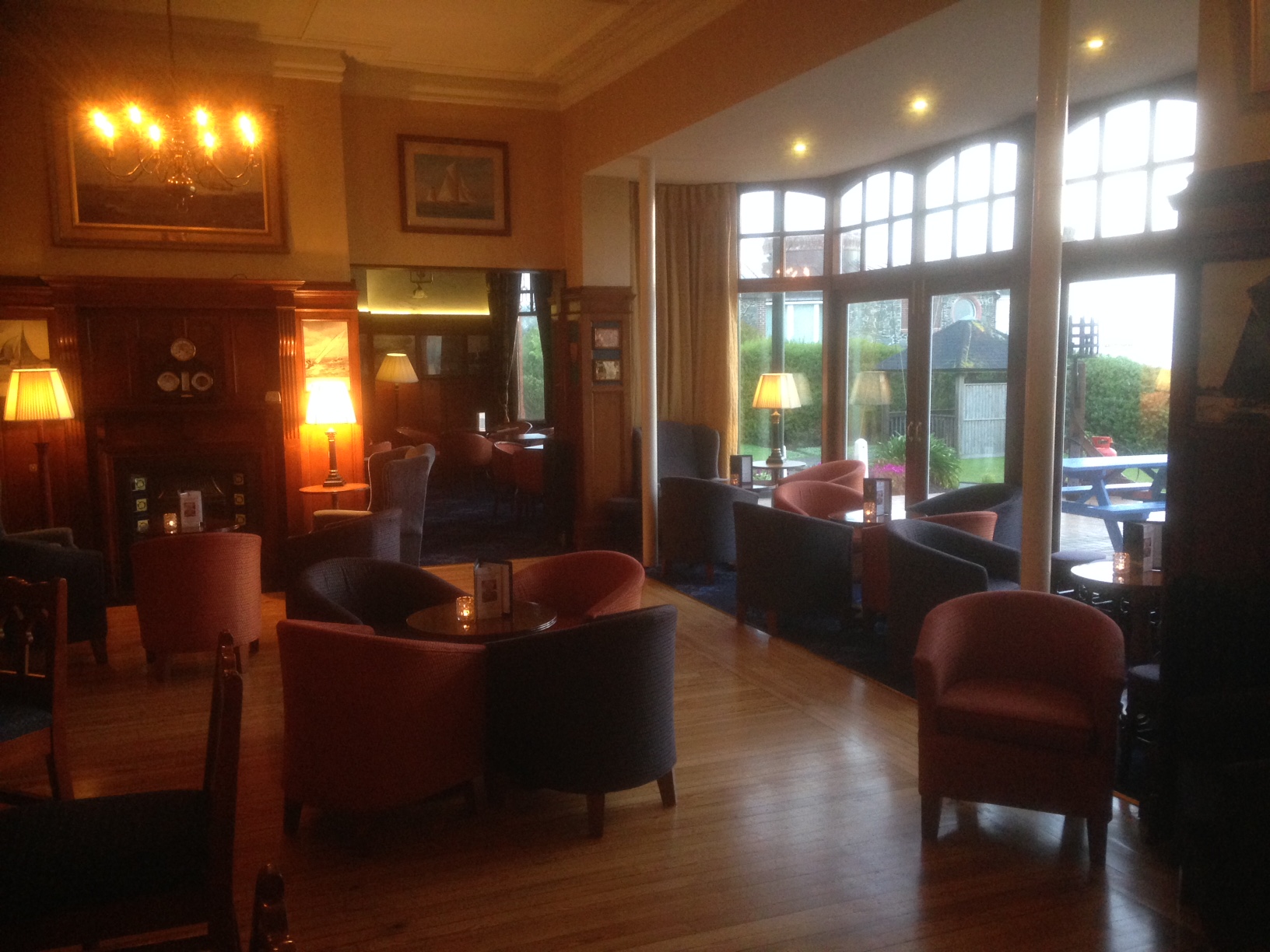 …….and the food was just amazing, accompanied by good wine, all at private member club prices. To those who follow – you just have to go!!
Tomorrow sees Paul playing  in the Bangor Golf Club seniors' open – one of the very few perks of growing older is to play really good courses such as this for not a lot of money (£10 to play in the seniors' open versus £40 to just turn up and play as a visitor.
So today saw us walk the 4 mile round trip to Nevada Bob's to buy a sand wedge to complete the "boat set"! If there is no mention of the golf in the next post, please don't bring it up.
Distance travelled since leaving Kip – 149nm