Winding down to season end……………Vilanova and Xufre
We were booked to be lifted out of the water for winter at the Xufre boatyard on nearby Illa Arousa on 26 September and left the marina at Caraminal on 19th September. The forecast had changed and so rather than anchor off A Pobra Do Caraminal we headed 2.5 nm up the ria to Escarabote – which looked pretty on the approach: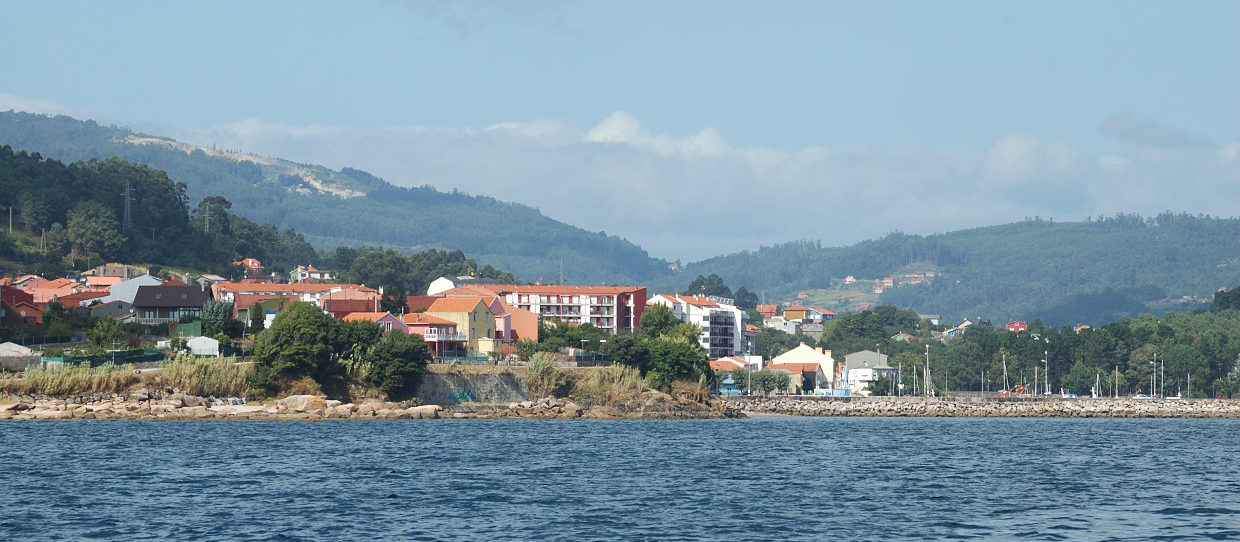 We anchored to the East of the harbour with its small marina (right of shot above) and had a very peaceful evening on board, watching dolphins swimming around us and eating in the cockpit as the sun went down.
We were unable to visit the town as we had run out of glue and our attempt to repair a leak on a seam of the dinghy with a tiny patch had failed!
The next day the wind shifted back to the South and so we motored back down the ria to anchor off Caraminal. Given that we were effectively stranded aboard we stayed just one night before heading in to the marina at Vilanova (Marina Arousa), 5 nm across the ria, passing through the mussel bateas on the way: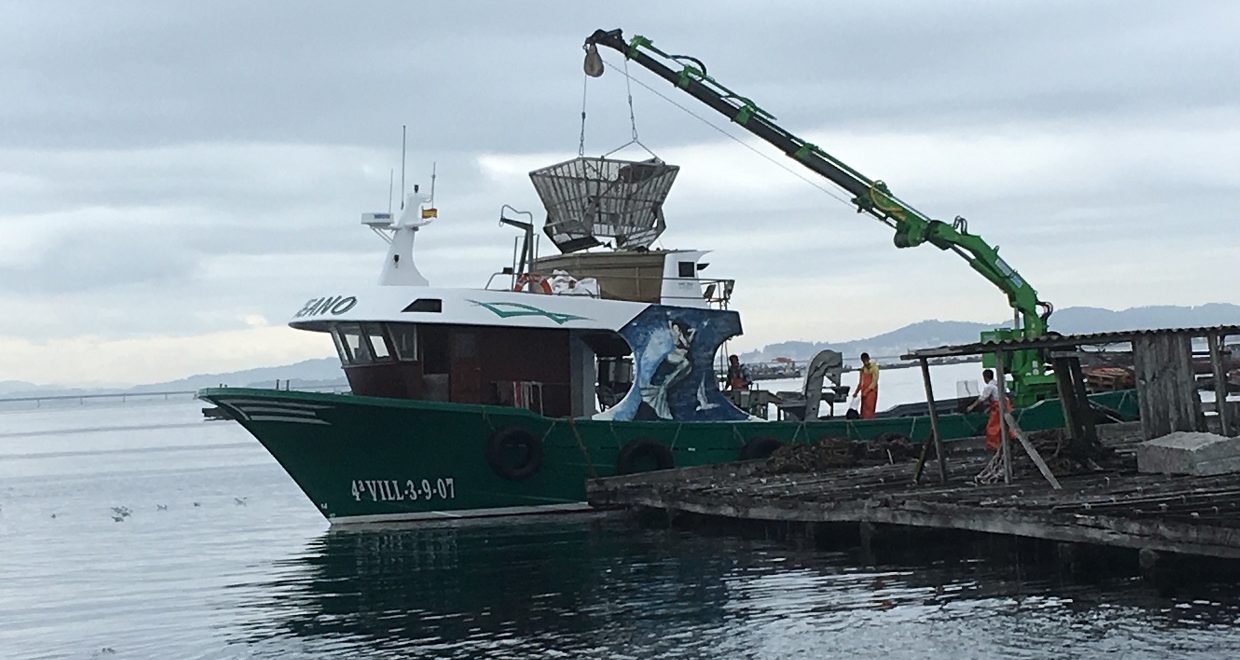 The small marina at Vilanova was pleasant enough and wc/shower facilities were perfectly adequate, but we just didn't get why this was one of the most expensive marinas we had visited in Spain at 28.25 euros a night. No discounts for either of the marina group passports we carry or for Cruising Association membership – and nothing for staying a few nights (there may be a weekly rate but we wouldn't be staying that long).  However we were given a bottle of wine on arrival, the pontoons were a good length and in good condition.
The marina is accessed through a fenced boatyard and in the 4 days that we were there we did witness the 24 hour security that perhaps contributes to the high cost. One man and his dog were there through the night. We were not given a card for the pontoon security gate as there would always be someone there to let us in (and surprisingly we never had to wait more than 2 minutes at the gate).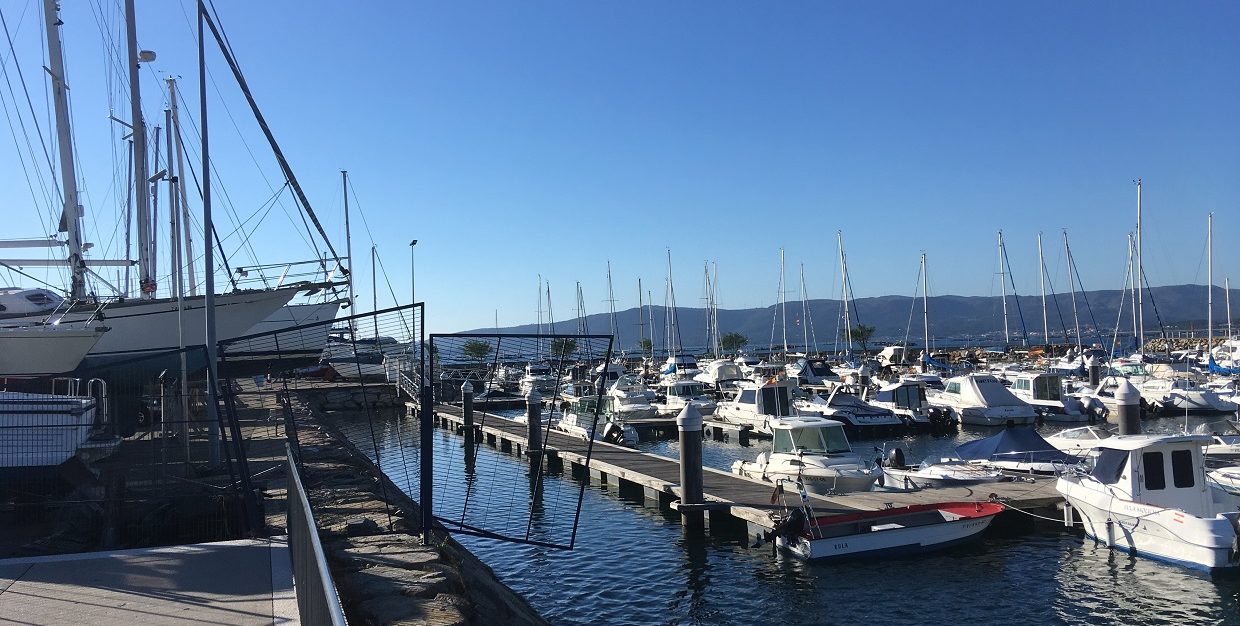 This could be a cheaper winter option than our selected boatyard at Xufre, but we were not regretting having booked there given Xufre's excellent reputation.
The first thing we did on arrival was to walk to Xufre to collect the Berlingo that we had left there when returning from our summer break to the UK. Xufre were happy to let us leave it within the secure yard, provided we left the keys to allow them to shift it if necessary.
This was a walk of over 4 miles, including the long bridge linking the island to mainland. On the island we watched the clam gatherers on the beach. We have noticed that they tend to congregate on a beach in large groups and wonder if perhaps the commercial clammers are required to follow a set rota where beaches are closed to allow regeneration of stocks?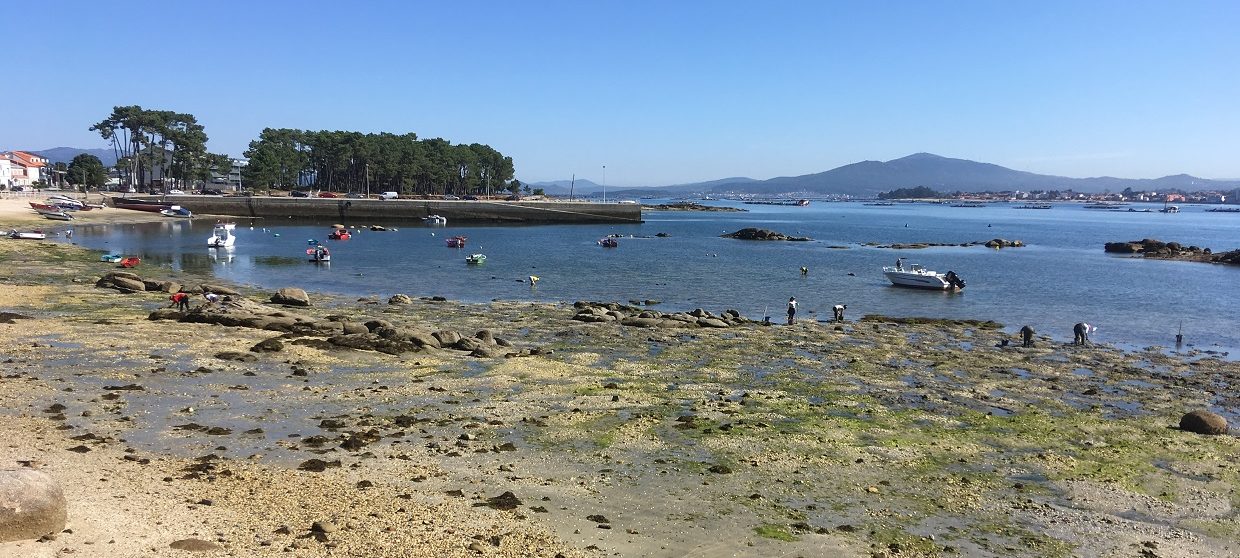 We returned to Vilanova in the Berlingo and over the next few days spent time emptying surplus contents of Calypso into the van – including the dinghy which will go home to be either repaired or replaced over the winter. We sorted through clothing to thin out our excessive wardrobes (including taking some of our many coats, fleeces and long trousers home now that we were heading South). We undertook the in-water element of engine service (changing oil and filter). We managed to rinse, dry and remove both sails in the very good prevailing weather.
In and among the hard work we explored Vilanova. We had read a report on the Cruising Association "Captain's Mate" app that the town is "not very interesting". We must disagree – perhaps the correspondent had not wandered in the right places. We found an attractive rocky/sandy beach front walk, many interesting old buildings and one lovely old courtyard restaurant, contrasting the very modern glass fronted restaurant on the harbour wall and a choice of others in the normal form around the town.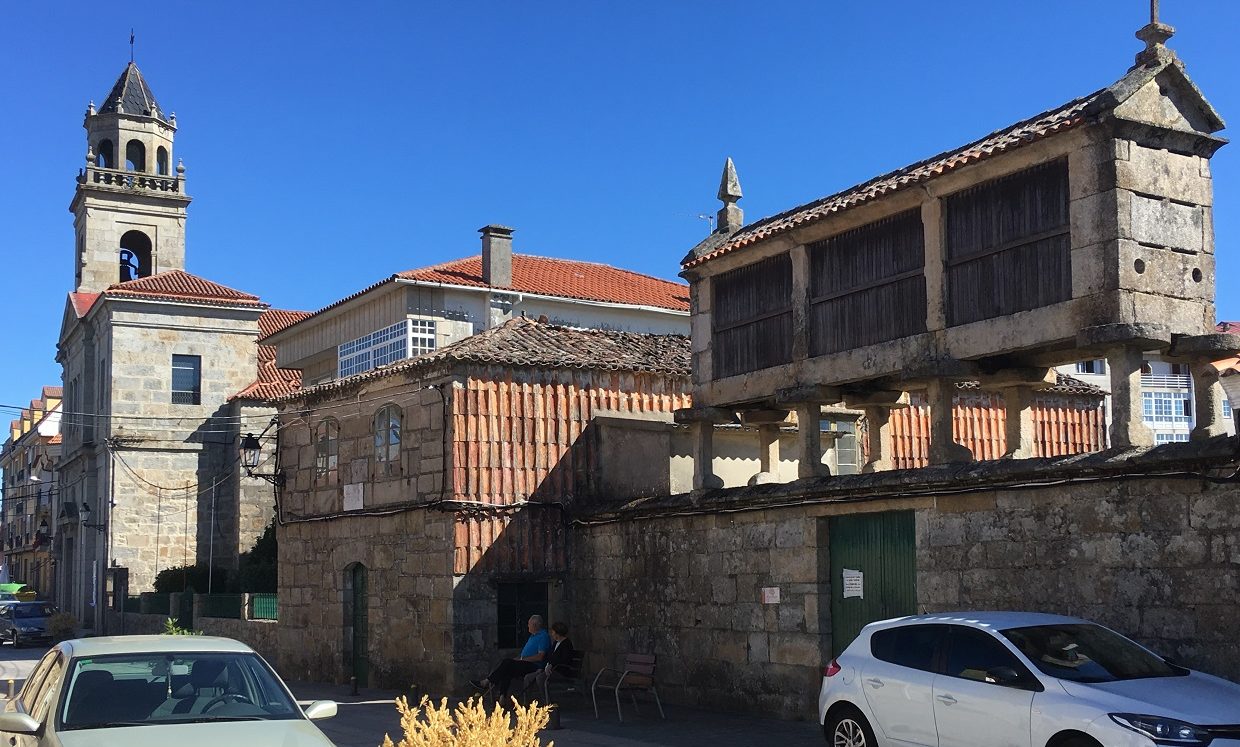 There was another museum to Vale-Inclan in the beautiful house he grew up in. The gardens around the attractive house were a pretty and peaceful haven, but none of the photos are worth adding here – other than yet another caricature image of the writer in this sculpture: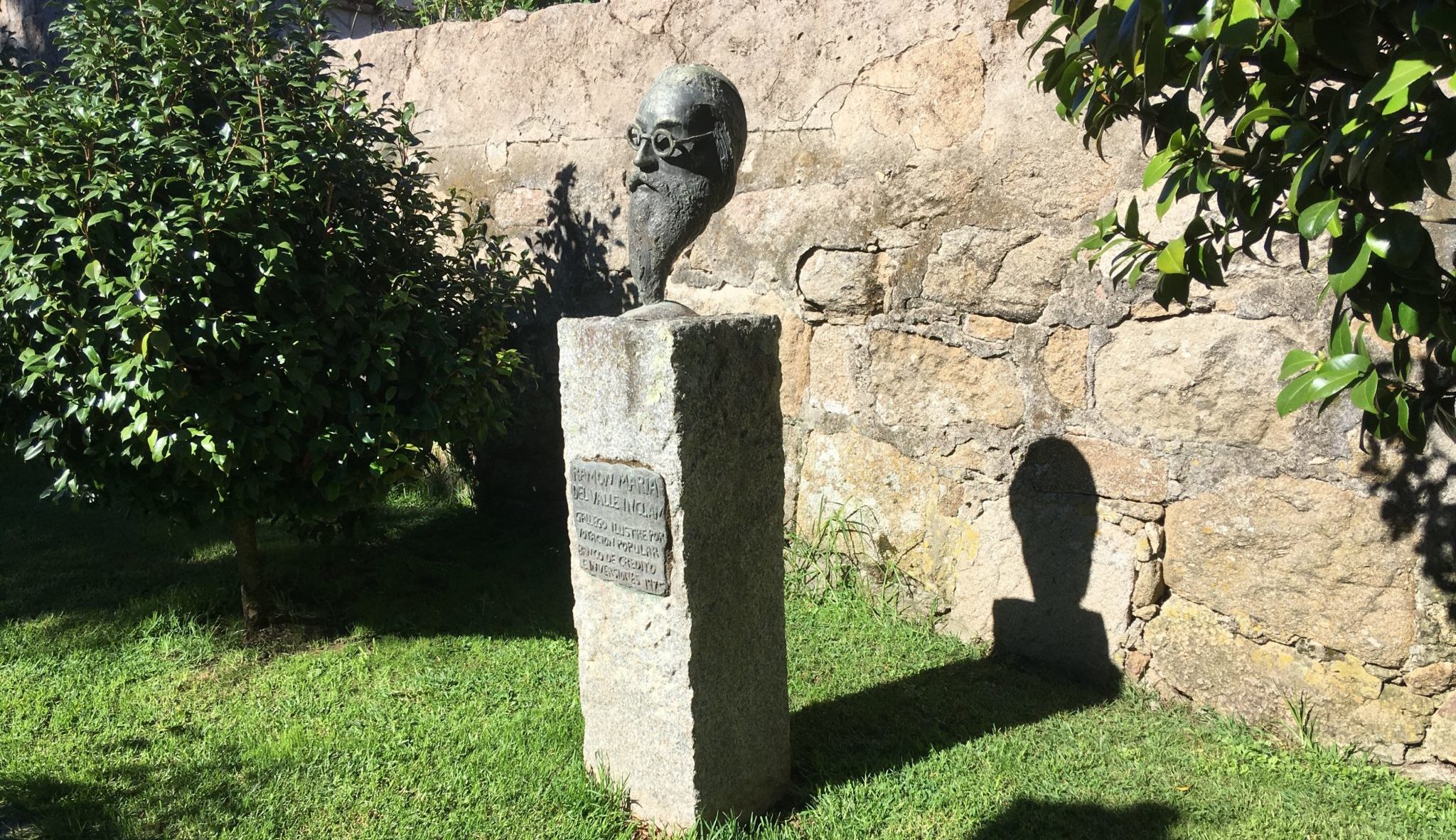 Many mussel and clam boats operated out of  the harbour adjoining the marina. As the boat below unloaded a huge number of sacks of newly harvested mussels there were 13 articulated and 3 rigid bodied trucks being loaded with mussels!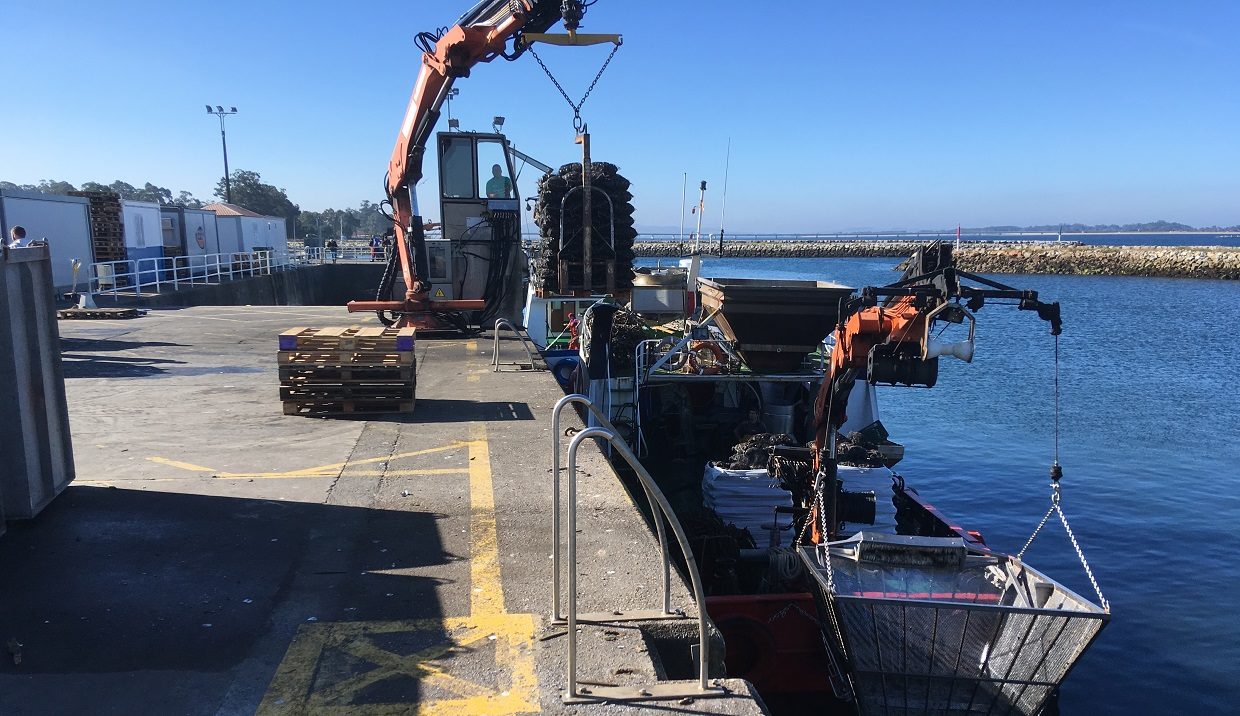 This town's share of the huge industry has supported the construction of a large market building ("Lonxa") on the quayside, which was an impressive sight at night: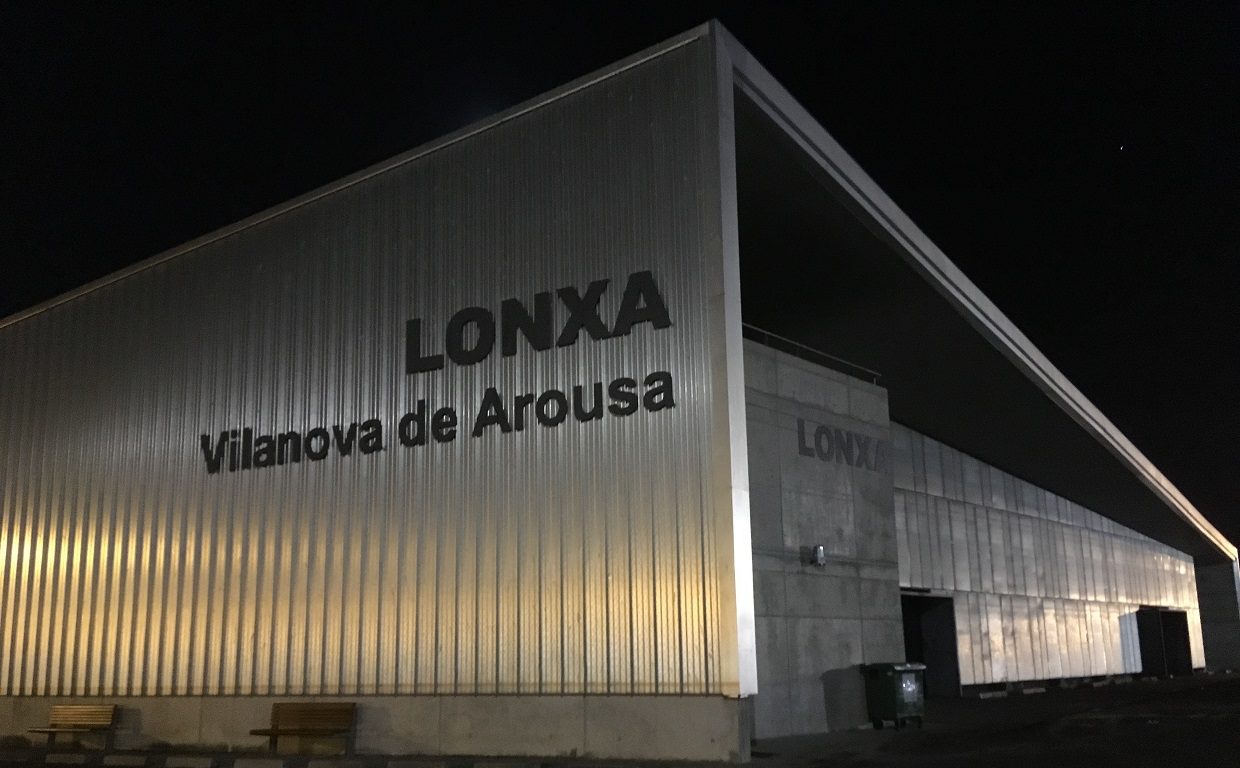 After 4 nights we motored the 2 nm across to the waiting pontoon at the Xufre boatyard, rafting outside 2 other yachts.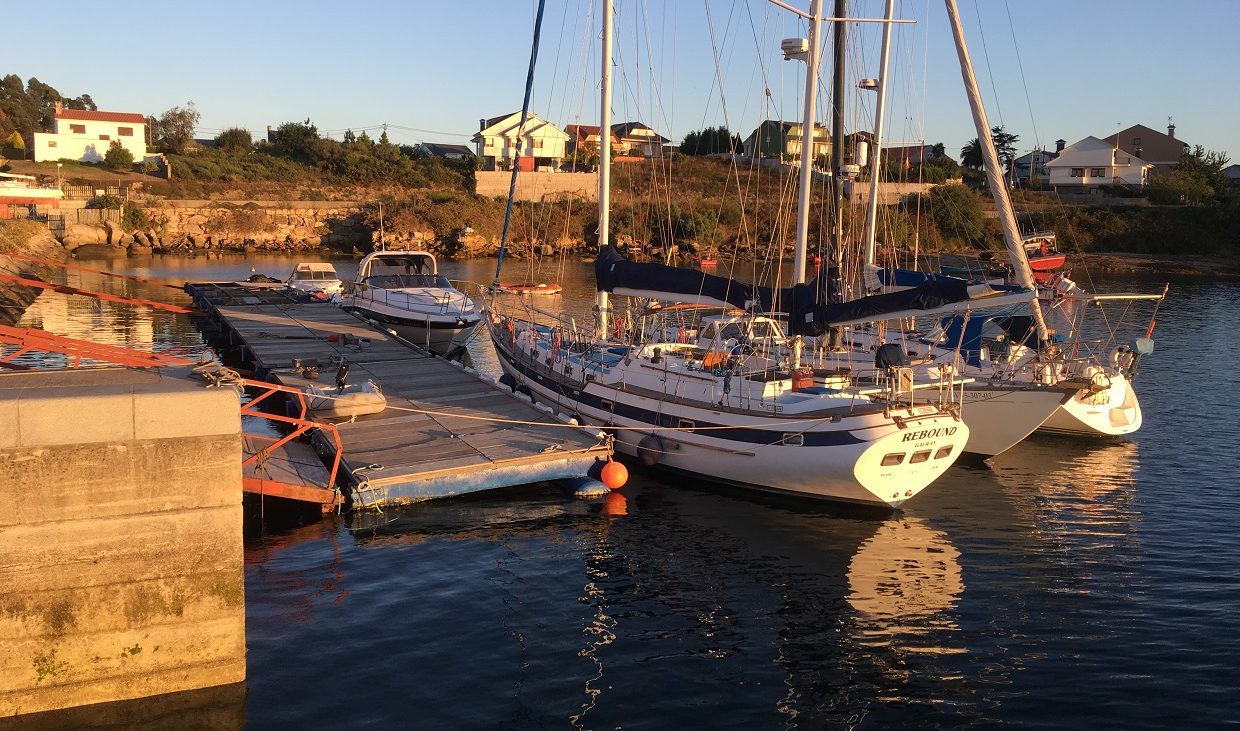 Our first job was to go back to Marina Arousa to pick up the Berlingo. Xufre is unusual in the transport services it offers to its clients. Not only will they drop off and collect clients from the Vilagarcia train station 15-20 minutes away, they keep an oldish car on site for use by clients wanting to use it for shopping for groceries or for boat parts/tools etc.. We took it to Vilanova to collect the Berlingo: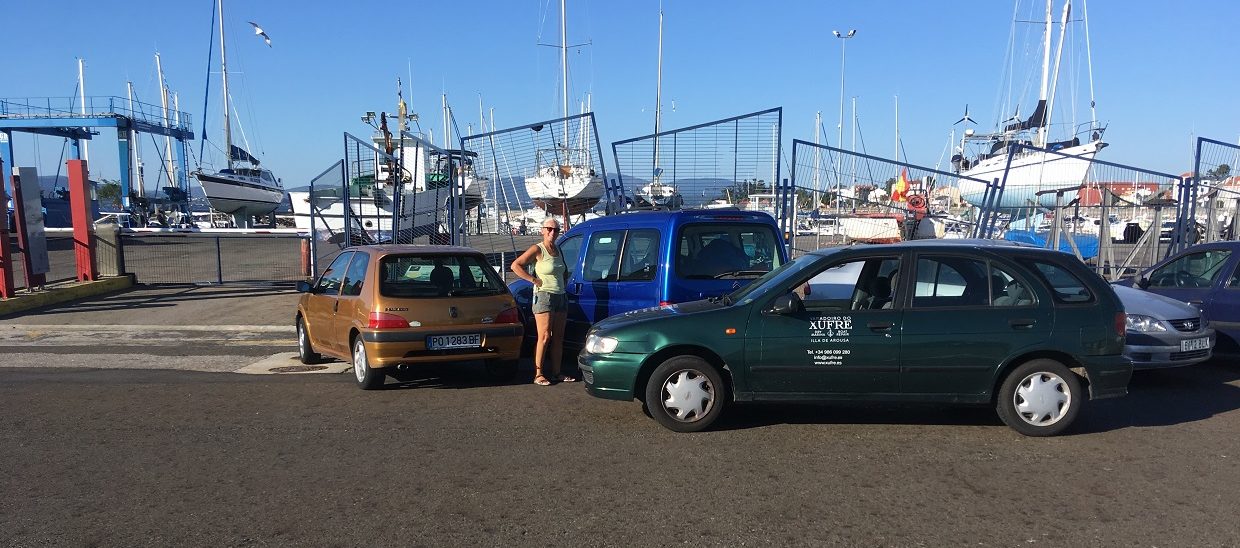 Next day at Xufre we were lifted out by the biggest travel hoist we have seen – capable of lifting 180 tonnes! We were placed in a cradle in the middle of the yard before a smaller travel hoist moved us to our final position. Xufre's clients include many local fishing and mussel boats, small freighters and the Adouanes (customs) boats. They have a huge shed and a tall tower crane, seen in the top photo lifting the mast from a very large sailing vessel. Charles, who owns that vessel, said that he has had difficulty having the mast removed previously because of its height.
Wc/shower and laundry facilities are provided in a small cabin, but were much better than we had anticipated. There was even a good book exchange. Xufre are certainly anxious to make clients comfortable here.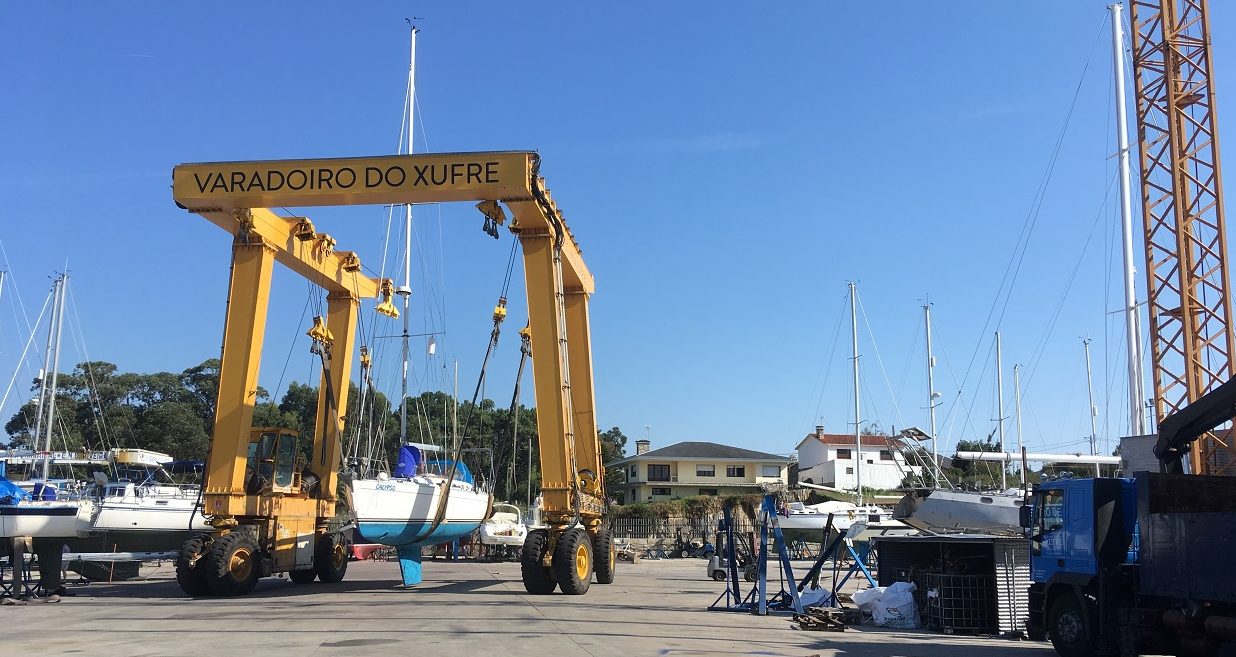 We lived aboard Calypso in the cradle for a few nights, further sorting effects and removing anything that was surplus to requirements – we had failed to follow advice to avoid taking excessive amounts of clothing and tinned foods when setting off 3 years earlier and needed to get a grip! Indeed at one point Paul had FIFTEEN coats and jackets on board!
What clothing remained was placed in vacuum storage bags, along with leather shoes, boots and belts as we had experienced mould growth on leather last winter. Hopefully, having found and sealed 2 deck leaks since then, we expect the boat to be be drier this winter. To deal with any moisture entering the boat we deployed several of the crystal moisture traps that had worked so well last winter (but which could not entirely cope with the moisture levels caused by the leak).
In the yard we met other crews preparing boats for the winter. Charles (he of the tall mast), Lonan and Mora and ourselves walked to the nearby village centre with its numerous bars and restaurants and had a good night out.
After a hard morning we took time off to visit nearby Cambados, capital of the Rias Baixas wine region (and another sizeable mussel boat harbour). Cambados has a lovely old centre. Again the very bright sun and dark contrasting shadows prevented us from taking photos worthy of posting here – below is one photo of the large square with historic and impressive buildings surrounding it. Most were in shadow so you will have to take our word for it!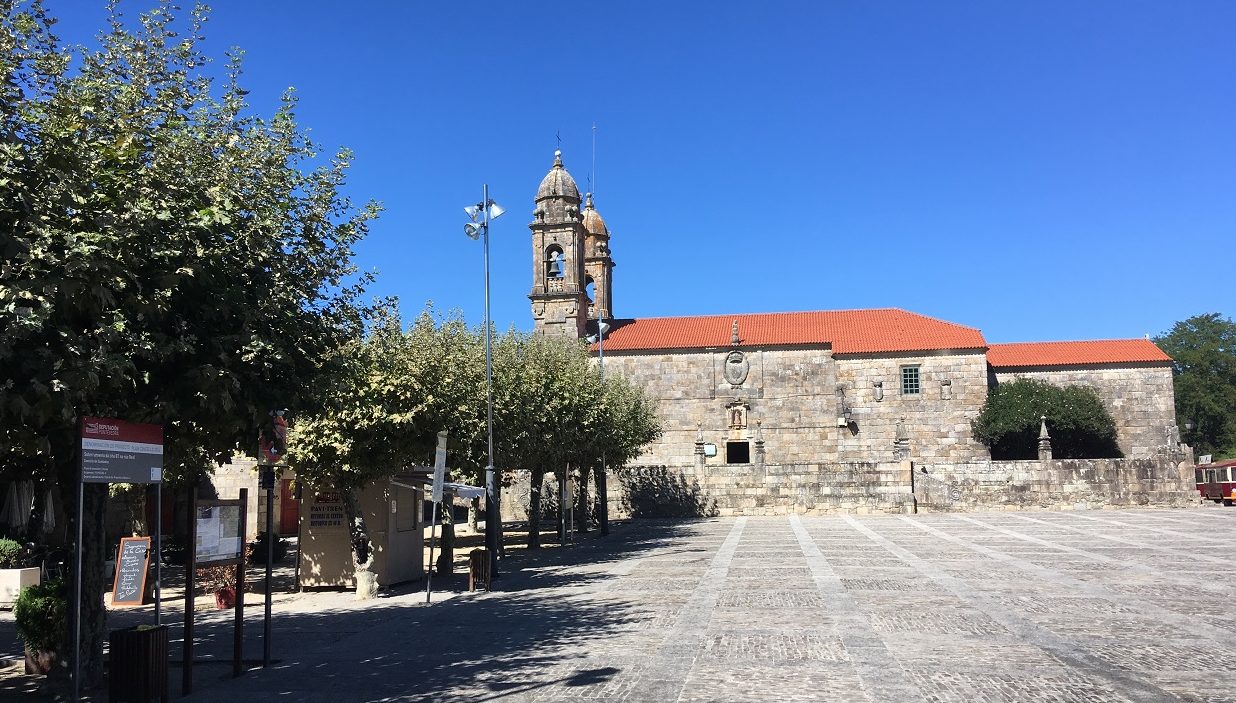 As we left Calypso we spread and weighted down a cover across much of the coachroof and saloon windows to try and prevent the leaks we had seen last year. The cover was made of the material used for wagon side curtains and so hopefully will not shred in the wind!
The owners and staff at Xufre were very friendly and helpful. They advised that we would receive photographs of Calypso through the winter, and could look at the boatyard from the webcam on the tower crane. Their 2 large German Shepherds, Bowe and Bekka, will patrol the yard every night, barking at strangers to alert of possible intruders. However when we arrived we had been introduced to them, and when we returned from our nights in the village they had heard and met us at the corner of the yard, greeting quietly rather than barking at us. However we did witness the howling bark that warned strangers away. We left Xufre on 28th September, happy that Calypso is in safe hands.
We had taken the rear seats out of the Berlingo to give us more volume to store not only the stuff taken off the boat, but also our tent and camping gear and the wine that we would acquire on our road trip across Northern Spain and up through France – a report on that will follow here shortly (along with our annual statistics and highlights/lowlights report).
Distance traveled between Arzal and Xufre – 771 nm