Roaming and Raving round Rothesay
We had called the Rothesay berthing master on our way back from Portavadie.
"Hello Dave, it's Paul on Calypso here – have you any room?"
"Aye, you're the guy who cannae steer in reverse" was the retort. Yes we have plenty of space – even fer ye".
And so we arrived on Sunday, allowing Graham and Amanda to catch the early ferry on Monday morning, leaving us to sit out the forecast high winds for a day or three. So we thought.
We were due to be booted out of Rothesay to make way for a motor yacht muster coming in here Friday 6th, but Val sweet talked Dave into tucking us away in a corner with the permanent berth holders. We are very please because (a) we really like it here; (b) we will clock into the weekly rate which is very good value and; (c) we can snatch a few more moments with Dave before we leave Scotland.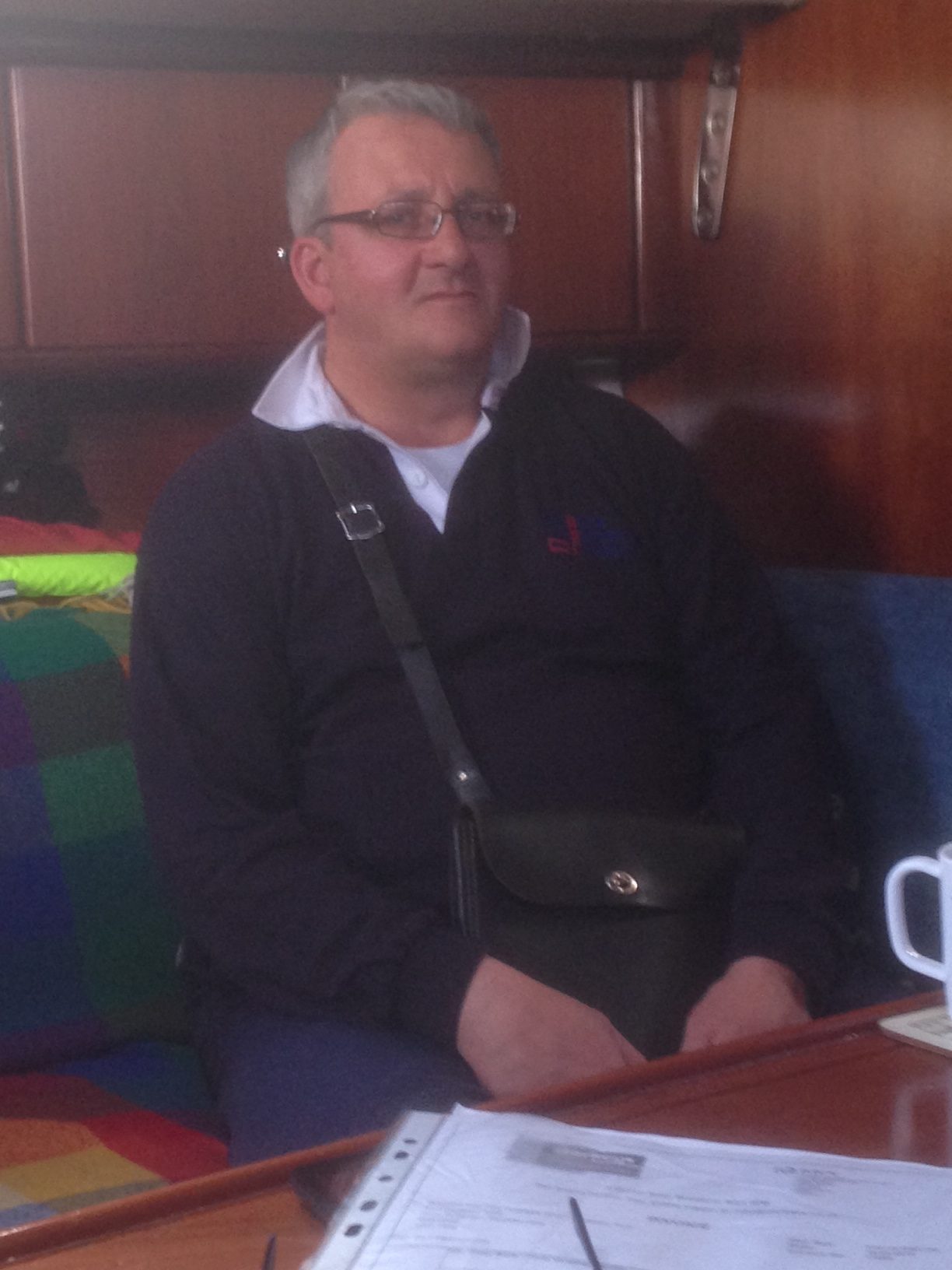 We liked Dave from around an hour after we met him – our (OK, Paul's) initial view turned 180 degrees when we realised that his criticism of our (Paul's) parking abilities and almost anything else he could think of was really his way of saying "Welcome to Rothesay", and that WE (ie Paul) shouldn't be so sensitive! Dry humour is one thing, but Dave has a Saharan wit like no other.
Dave is indeed witty and kind natured. We also discovered a spiritual side when we saw him tearing off in best Sunday suit – complete with bicycle clips and bicycle – to deliver a sermon at his church (as lay preacher).  We love Rothesay, and Dave has added to our good feelings for the place. Before we leave the subject of Dave; my Christian friends may like to get a flavour of Dave's spiritual side via his blog – www.waverley710@wordpress.com  subtitled "the ramblings of a wannabe theologian". Dave is taking a part time theology degree and is clearly deeper than his witty front suggests.
We find people on the island generally very friendly. They stop their cars and wave you across the road, making zebra crossings almost redundant here. One of us left our umbrella on a bus – she was relieved when on the way back, several hours later, the bus driver jumped off the bus, ran across to the bus depot and emerged a few minutes later, triumphantly waving said brolly!
We are pleased that we have had an enforced stay here for longer than the few days we intended.
We say "enforced", but in fact many saltier sailors than we would have set off days ago. Perhaps we should be a little braver, but we want more experience under our belt before venturing out in 30+kt winds. Then again, we read a forum discussion about the winds in this area being much higher than forecast over the last week or so and our decision to stay put seems vindicated.
Perhaps if we didn't like this place so much we would have moved on, but our week here has been delightful and there is plenty of time to get to Plymouth in time to return home for an August wedding (we hope).
So how have we filled our time during our week in Rothesay? The weather has been windy, cold (except the boxer short sunbathing day on Friday) but mostly dry and has allowed us to venture out:
Walking: the scenery here is just beautiful. Shoreside, beach and countryside walks, studded with pretty small and stunning large  houses; many built, we imagine, as holiday homes for wealthy Glaswegians.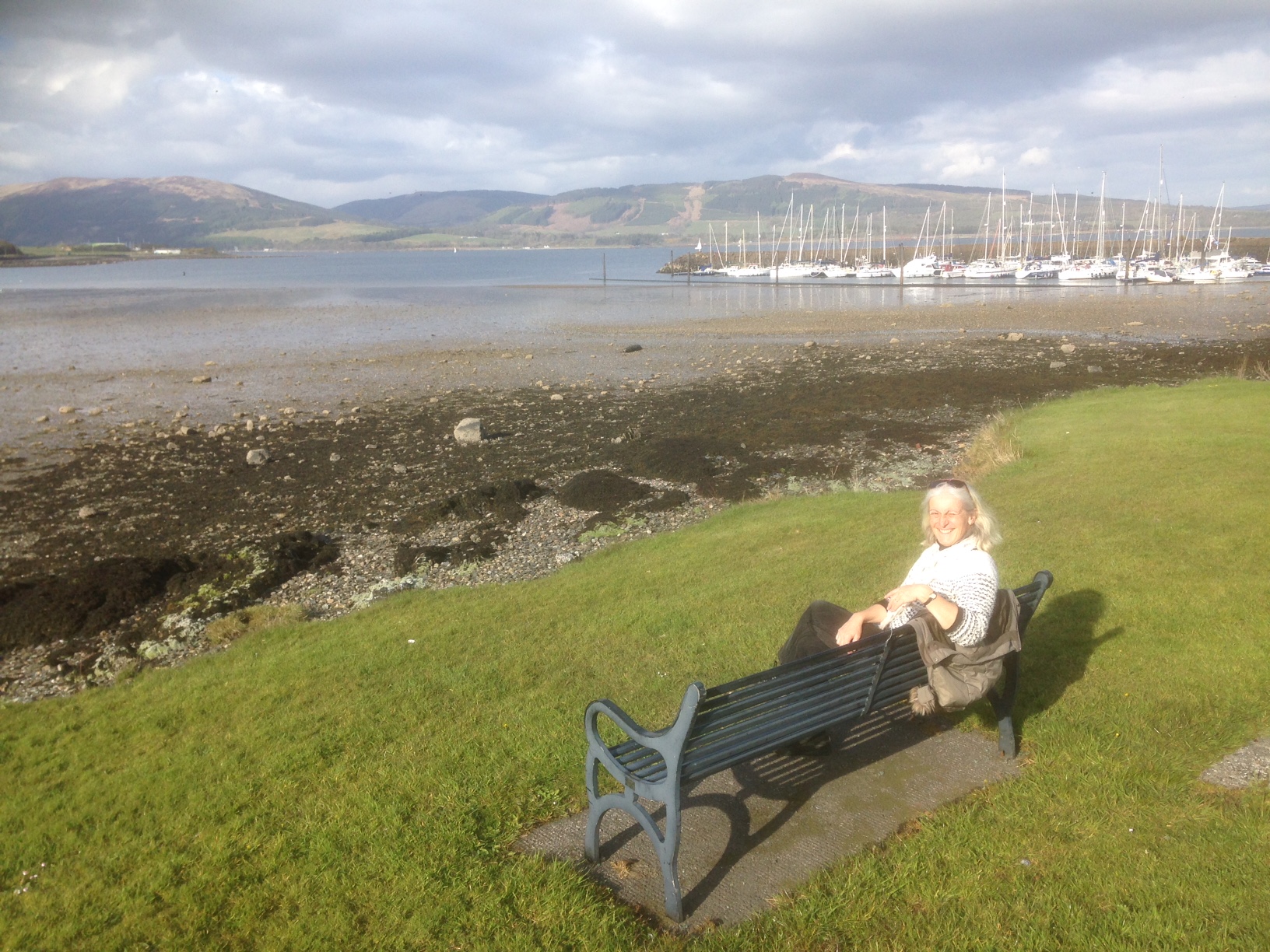 Working (on the boat): there is still a lot to do. We have been spending time organising "stuff" and also doing jobs such as installing a new step-cum-laundry-locker under the v-berth.
Paul was pleased at having lost a lot of weight over the last year, otherwise he might have struggled to get into the transom space to route AIS/GPS and wi-fi booster cables forward! This is still a work in progress – please can Kip chandlery (who we know will be reading this) send the rail mounts that we forgot to buy by pigeon post? OK, maybe we'll have to wait until we get to Belfast for those.
We are still finding places for things, but gradually getting more organised.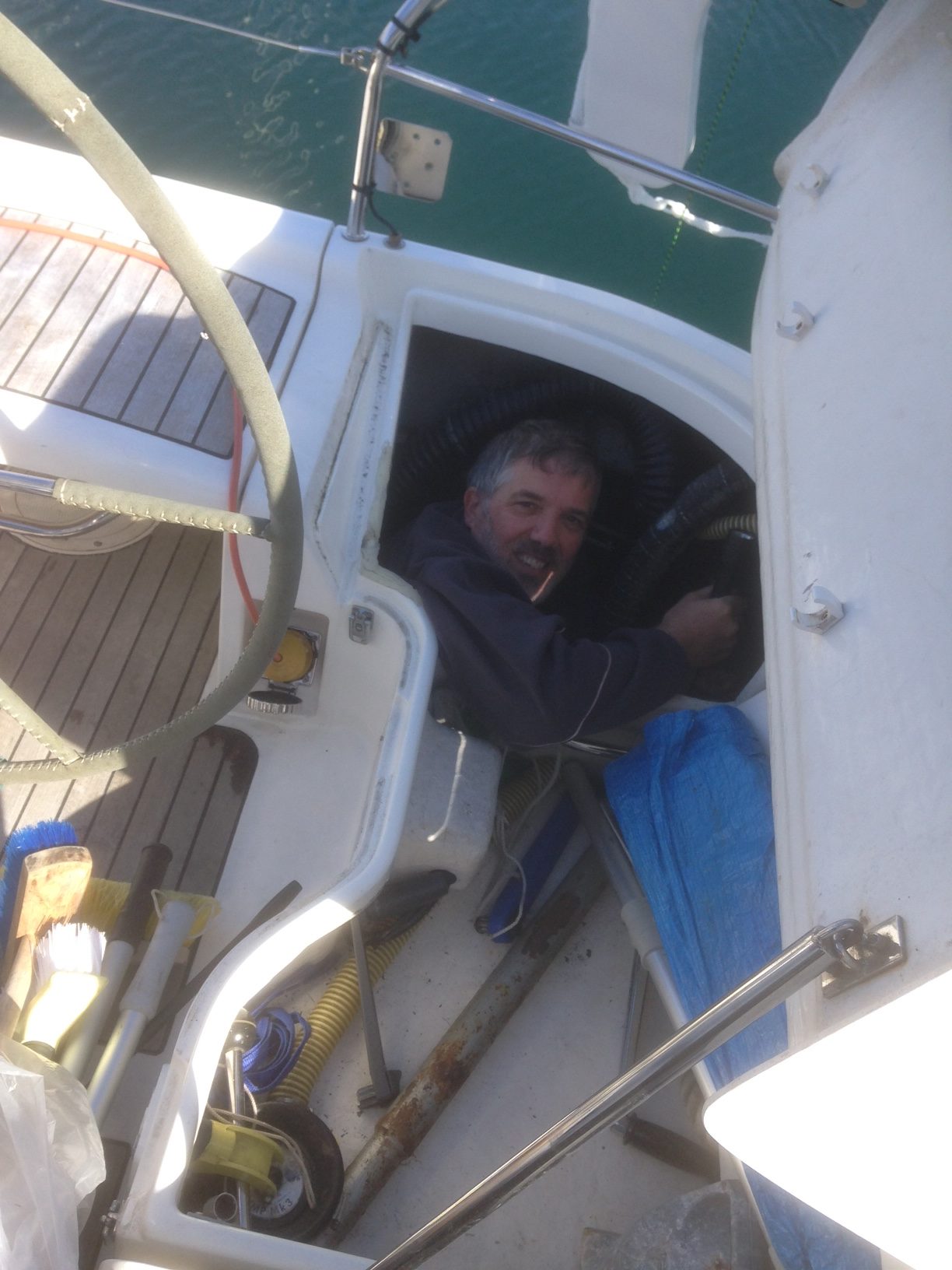 Eating and foraging: after the langoustine tails of the last post, we made a shore crab and langoustine shell bisque from our River Cottage "Edible Seashore" book. We added shore crab, whelks, cockles, mussells and limpets to the langoustine shells. It's amazing what can be foraged from the seashore – this is just a start, watch this space as we dine on seaweed and beach flora and fauna. Dave will not approve – he wrestled a handful of clams from Paul and chucked them into the depths of the marina – "not from this side of the island" he said! Feeling somewhat remorseful he then produced a large bag of squat lobster tails to replace the clams. He reminds us of someone – turning 3 clams into a pan-full of squat lobster! We are hooked – squat lobster is just the sweetest meat. Thanks Dave.
Today we foraged wild garlic to go with the mussells bought earlier (the mussells on the beaches around here have lots of seed pearls in the meat and are only good for soup, after straining). The mussell recipe we have designed is wild garlic, chorizo and tomatoes in cider. Could go one way or the other!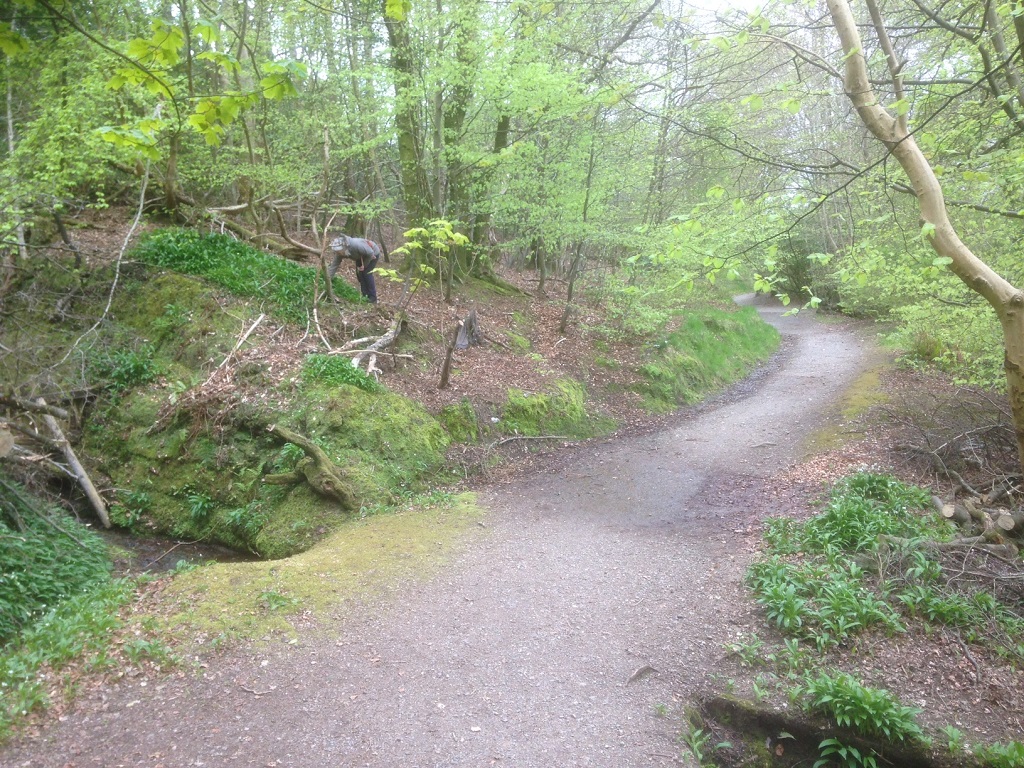 Enjoying live music: Ok, so the onboard guitar could be better and this blog's title "Raving" is a bit of an exaggeration! Relief from Paul's guitar efforts was achieved with a night out at the Port Inn in Port Bannatyne on Thursday – here is Val appreciating "now the carnival is over" played and sung by talented local musicians at the regular Thursday night session.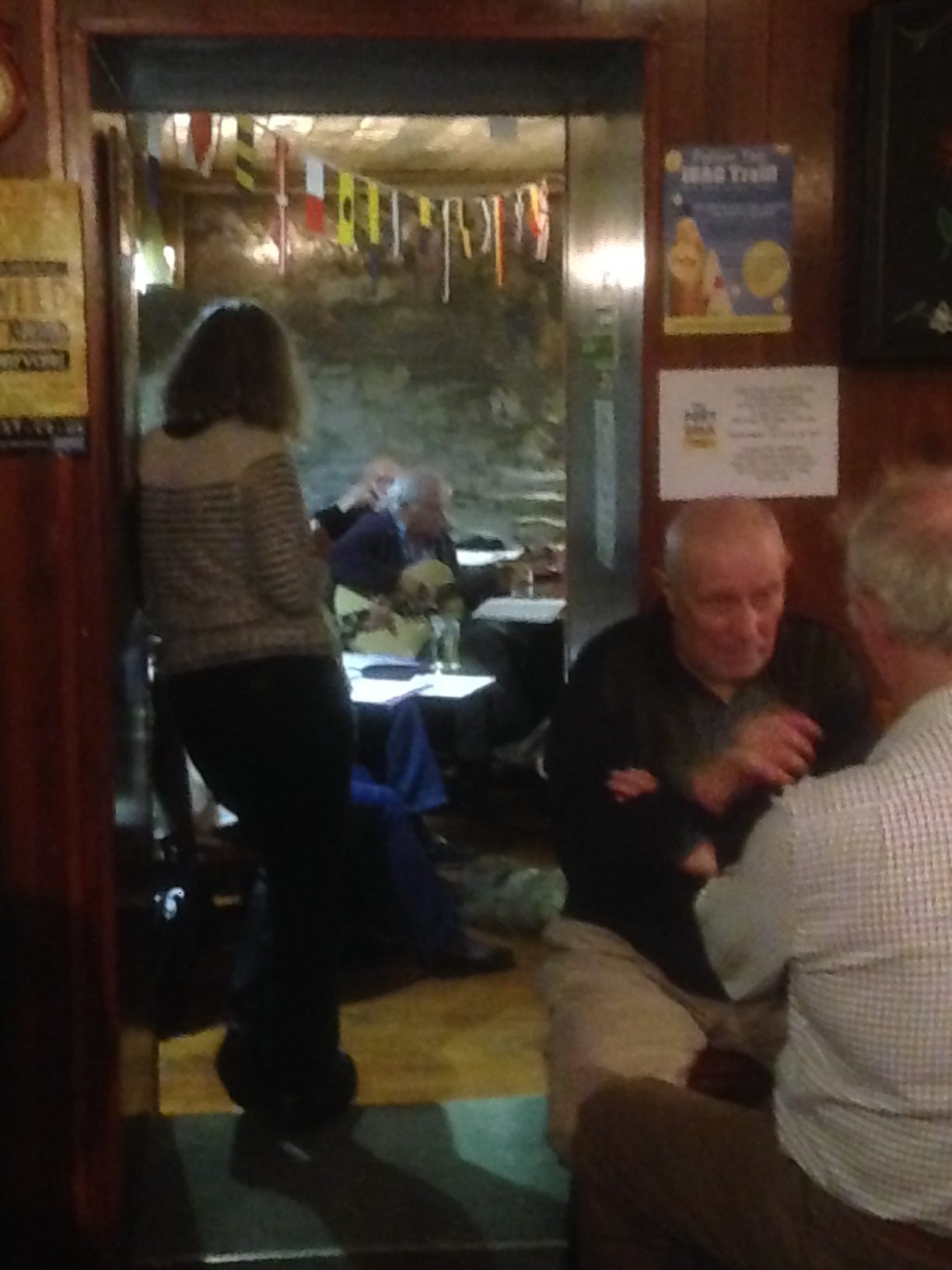 Last Sunday whilst out walking we stumbled across and had half an hour at the weekend long jazz festival with Graham and Amanda.
Tonight (Saturday) we will be enjoying the singing talent of larger than life Margaret Zavarone (cousin of Opportunity Knocks winner Lena Zavarone) at the Taverna, opposite the harbour. We last saw her on our first sailing trip with Mike Beard here many years ago and she was good – first welcoming us at the door with jet black hair, white face, scarlet red lips and scarlet suit. She could certainly sing! The Zavarone family have cafes in Rothesay and there is a small statue in tribute to Lena (who succumbed to anorexia) in the visitor centre.
Golfing:
On Friday we had a day of relief from the high winds – and walked to nearby Rothesay Golf Club for a round of golf in beautiful t-shirt weather – the views from the course are spectacular (Walter Hagen said the best anywhere in the world).
The views and weather were spectacular – but the golf? Well suffice it to say this was Paul's second round since October last year and he enjoyed the views!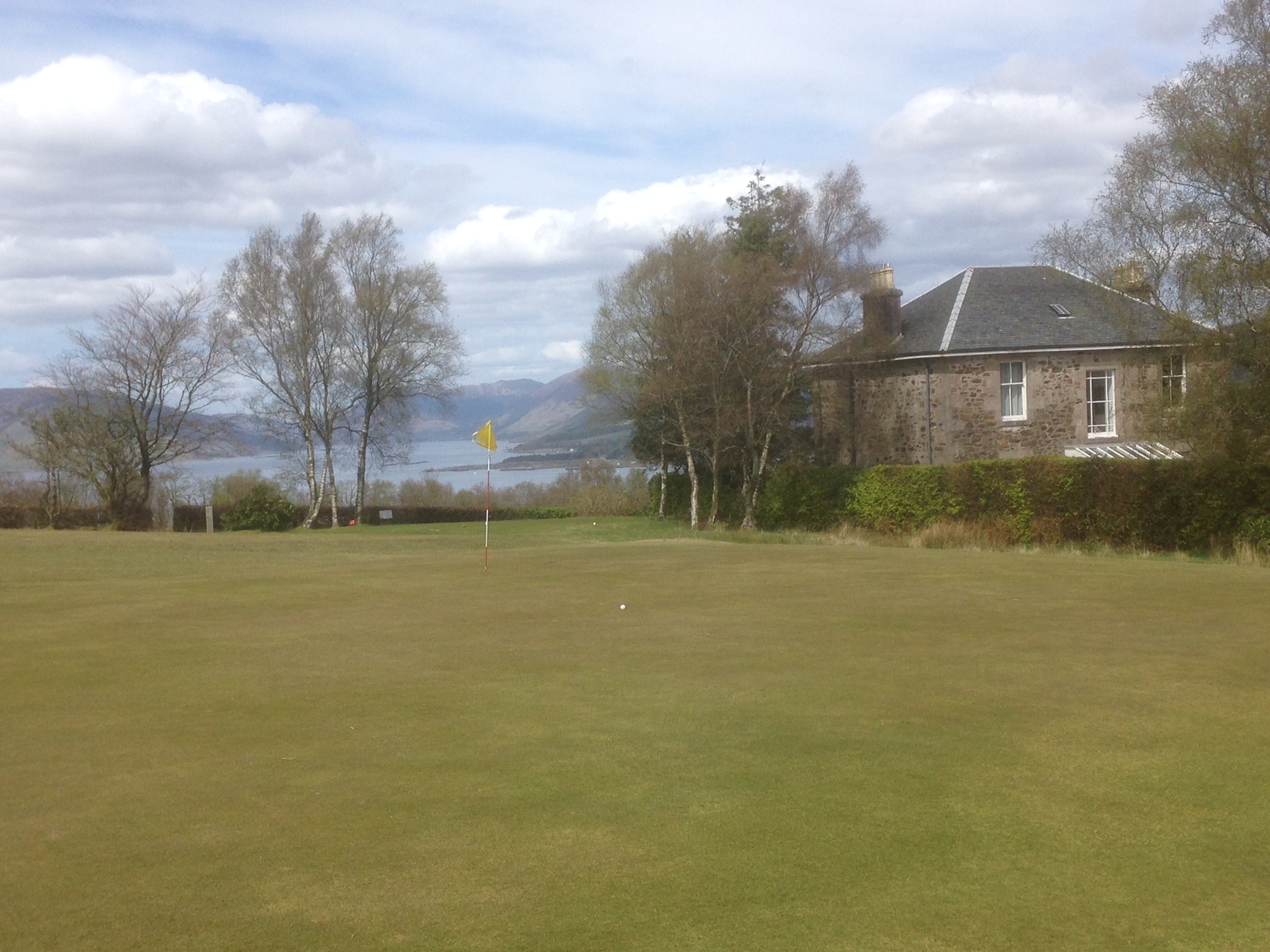 Shopping:
The sparse population means that B&Q have failed to monopolise the DIY market in the islands and highlands. That is why the fantastic Aladdin's cave-like hardware stores thrive – and they stock those really useful things that B&Q wouldn't make enough money out of. During our boat jobs we seem to have visited the local store nearly every day! And when you want 10 screws for a job you can buy 10 screws. We have a large plastic tub of unused screws at home – cheap per screw (!) but expensive per job.
No photos of screws, sorry, but here is our major purchase. We have been looking for a painting to remind us of our time in Scotland for a while. With a legacy from Paul's father we have bought this painting of Arran mountains (usually in the distance during our sailing time in Scotland) from Kilchattan Bay on Bute, where we have walked. We also spent time with Paul's parents in Scotland, hiring cottages for several years when the kids were small.  This will take pride of place in our house as a reminder of happy times sailing and with Paul's father.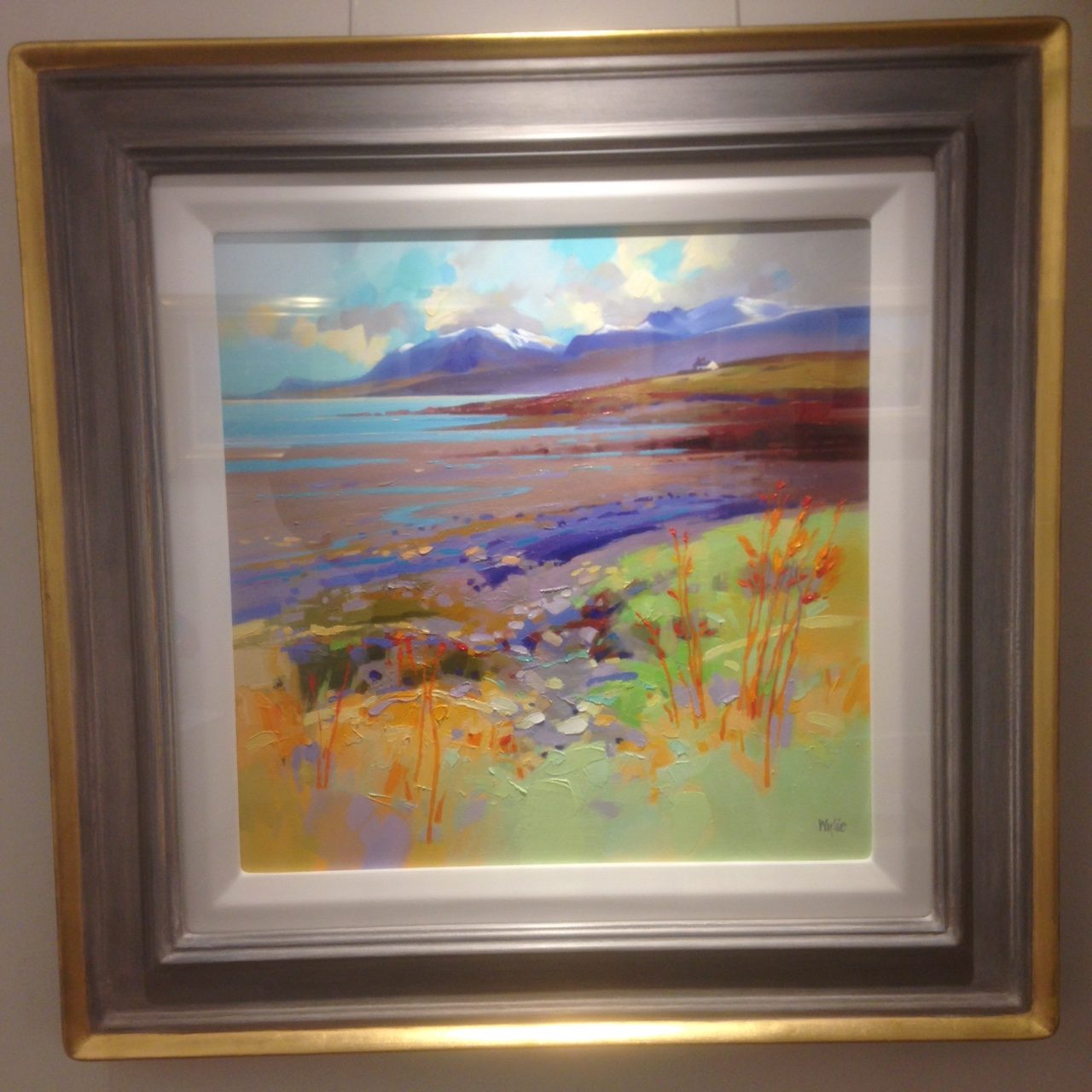 Are we getting impatient?
In a word, no. However we are hoping that the weather window appearing next week holds good.