Vilagarcia, Cabo Cruz and A Pobra do Caraminal
The marina at Vilagarcia sits within a self-contained basin of the commercial port, with a narrow entrance channel. We did not notice any excessive swell during the two days we were there. The office and facilities are situated on the ground floor of the building on stilts in the corner of the marina, shown below. The first floor comprises a large bar/restaurant with terrace. The facilities were extensive and clean, although there is no laundry here; we were directed to the Oso Blanco laundry by the marinero. The pontoons themselves are starting to deteriorate but after we rejected the first tiny finger, we got a decent  berth – right next to John and Debbie's yacht, Shiraz as it happened – although unfortunately they had gone home for a visit earlier on the day we arrived.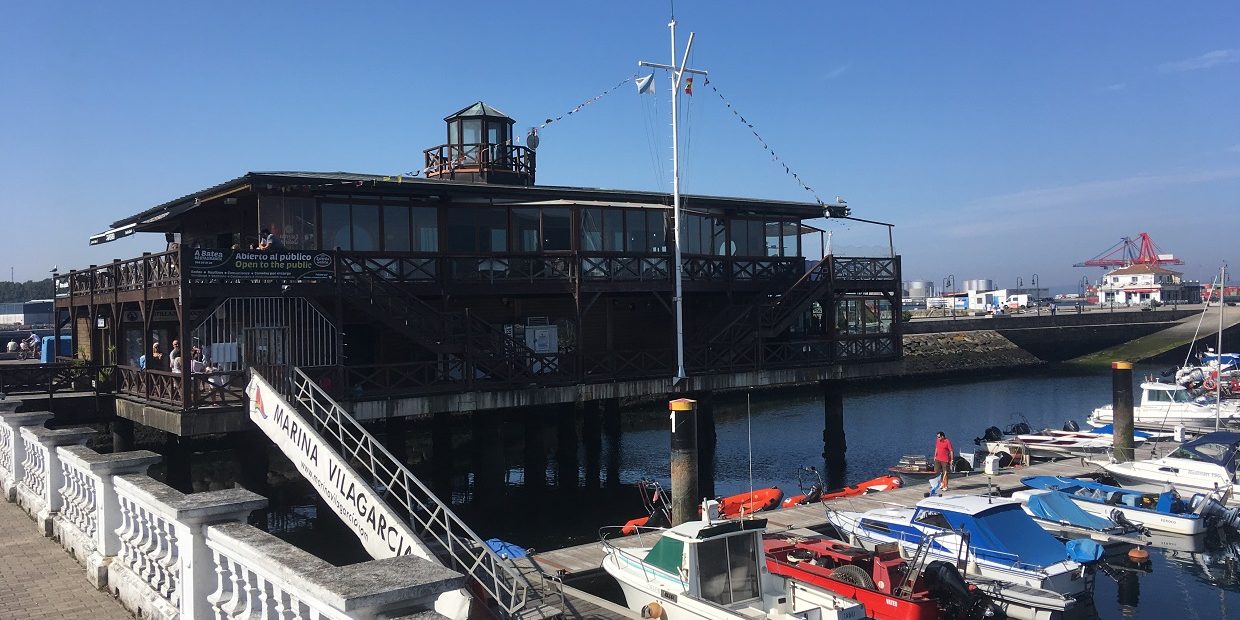 The mooring charges here are based upon the square meterage of the boat calculated by multiplying maximum length by maximum beam. A neighbour said he had told them that his yacht was 10m long and they had not questioned that – in spite of the 38′ length (11.5m+) being written on the side!
The staff here are very friendly and helpful and maybe we are too honest, and so paid at the rate of 0.52 euros/m2 for our actual size (0.45euros/m2 being charged October to March). However we purchased another discount scheme book, the "Passaporte de Marinas de Galicia" for 5 euros which gave us a 15% discount. In the end we paid 47.8 euros for our 2 night stay – somewhat expensive for these parts, but not when compared to France or UK.
The marina is virtually in the centre of this large town – the centre being just a short walk, past office/administration buildings and a MacDonalds! The town centre had all facilities, including a mainline train station a 10 minute walk away, two large supermarkets (maybe more) and a large indoor market comprising a huge fish market (with a few fish counters) and in a separate building a vegetable market.
The only thing we did not like about this place were the nightclubs overlooking the marina basin. These did not get going until after midnight and churn out very loud (and awful) music until 8.00am! Worse still the amount of litter generated is dreadful – we witnessed the morning after clearing up operation but did not notice anyone fishing the numerous bottles and MacDonalds packaging out of the marina. Fortunately we understand that the clubs only open Thursday to Saturday nights. Unfortunately we were there Friday and Saturday nights…….
In the streets around the indoor markets we came across a huge street market on Saturday morning. There appears to be a historic sector with monastery that we did not manage to explore, and neither did we walk to Carril, an affluent suburb and fishing port to the North of the town. We will return again to explore further.
Ros and Alan on Musetta arrived on our second night and came for dinner on Calypso when we had hake acquired at the market. We would leave the following day, but the Musetta crew caught a train to see friends in Vigo and would follow us to Cabo Cruz a couple of days later.
The size of the port and the town can be seen from the photograph taken as we left:

Our trip to the anchorage at Cabo Cruz was just 7 nm, which we covered mostly under sail, flying just the genoa but still averaging over 6 kts – perfect sailing conditions in flat water. The anchorage is protected by numerous bateas, which act as wave breaks, and the sea state changed noticeably once inside them. The colourful village is seen below as we approached: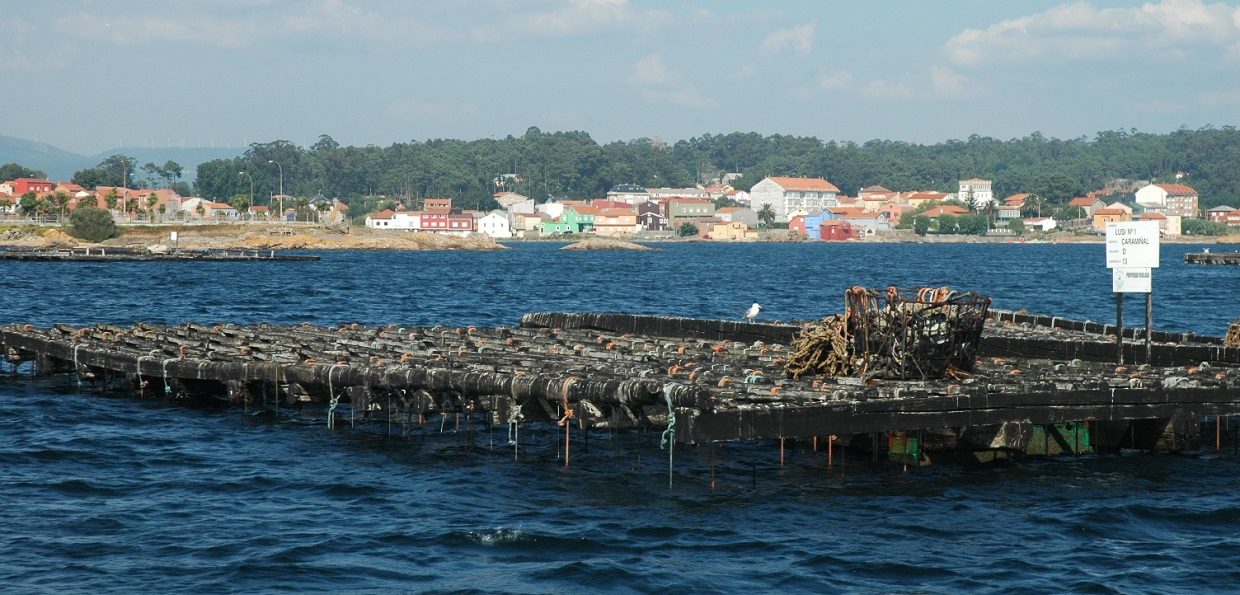 From the anchorage the village looked very pretty. The tradition of painting houses bright colours aparently started with fishermen using spare paint after painting their fishing boats – and so had matching boat and house!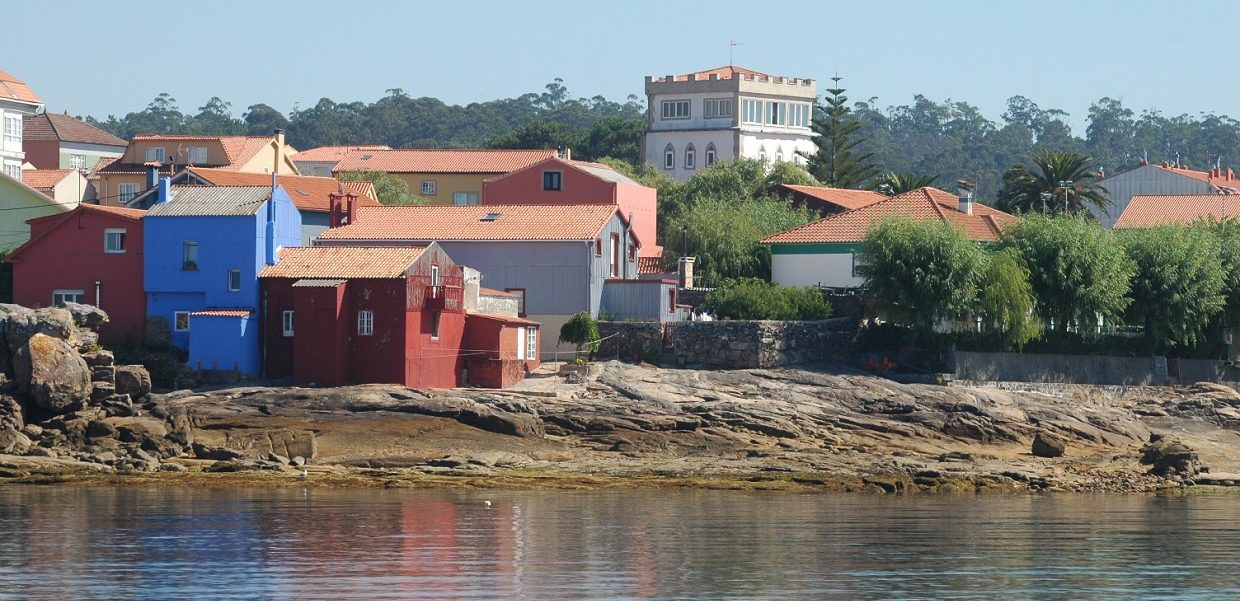 We went ashore and pulled the dinghy well up the beach (we were at springs):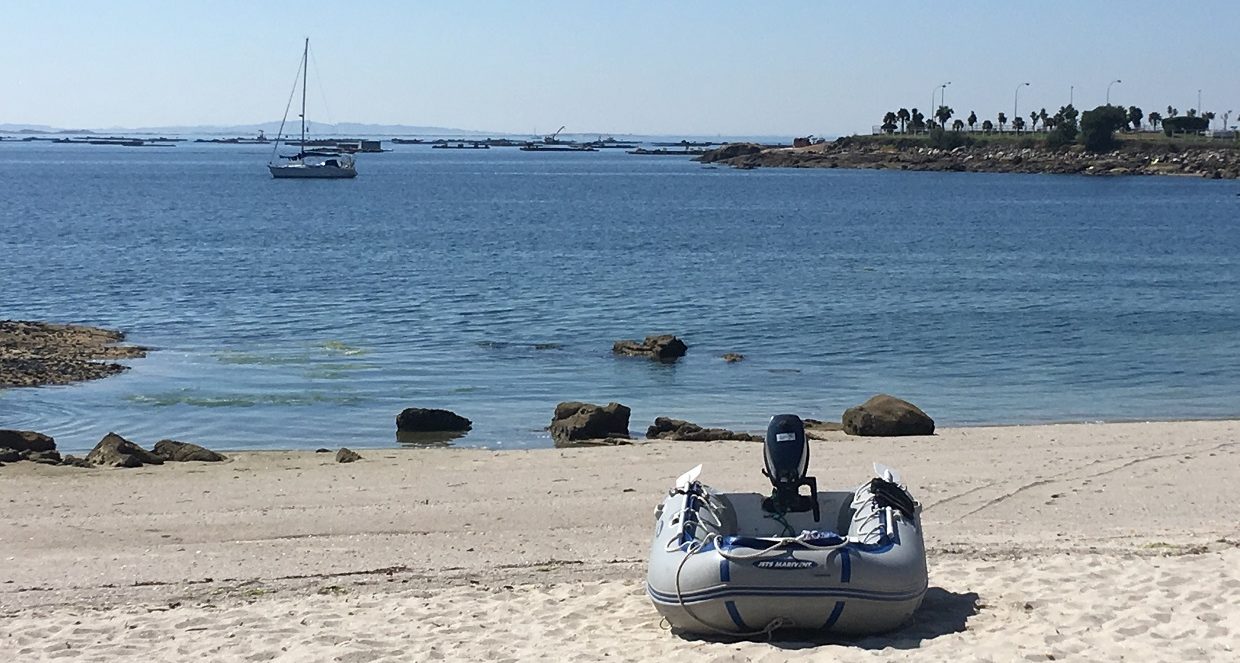 …..and set off exploring. We found the small supermarket and a butcher just behind the beach where we landed.
In the port we saw people coming and going out of a modern building signed "Lonxa". Google Translate told us that this was a "market" and so we wandered in. What we found was a wholesale market for shellfish, with hundreds of small baskets of all kinds of clams and cockles laid out across the floor. The large electronic board hanging above suggests that the baskets are auctioned, although we didn't hang around to see that.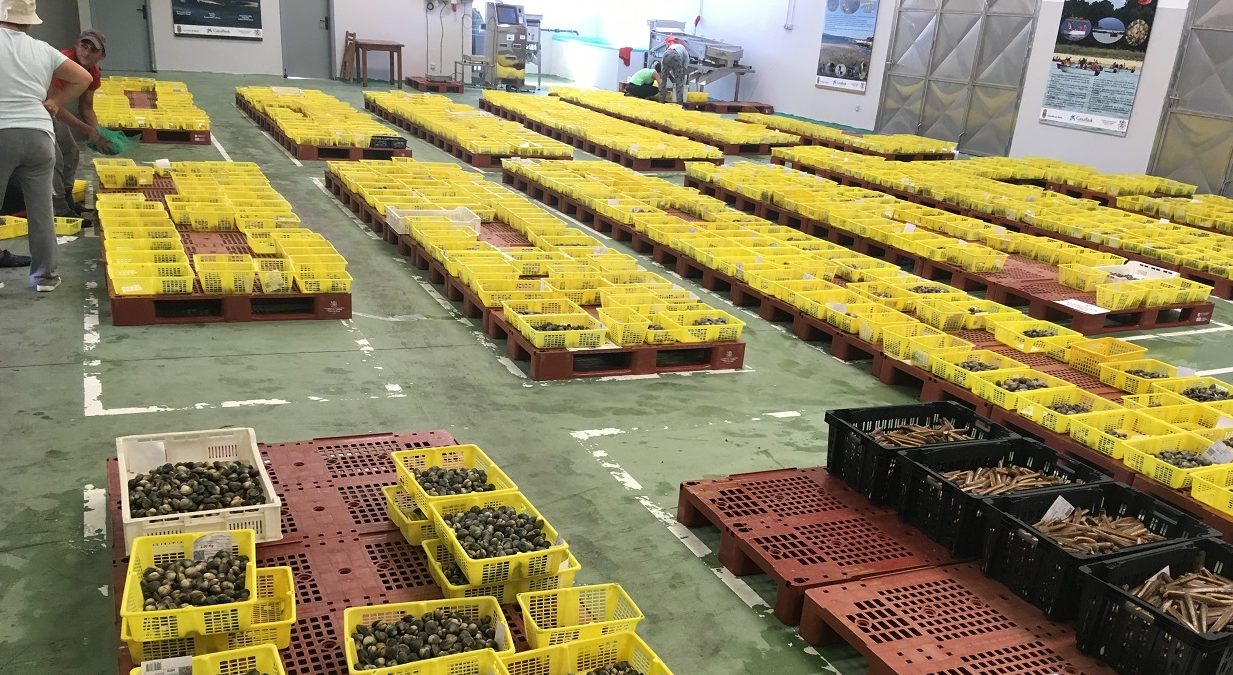 We expected to find bars and restaurants here, given the beach in our anchorage and another very long one to the East, however we found just a couple of small bars around the fishing harbour. The only restaurant we saw was at the new marina in one corner of the port (shown below) but we did not visit (although Ros and Alan did eat there and said it was very good):

Instead we carried on walking along the sea front North of the marina. Here was a very pretty coastline and behind it a relatively affluent suburb of the nearby town of Boiro: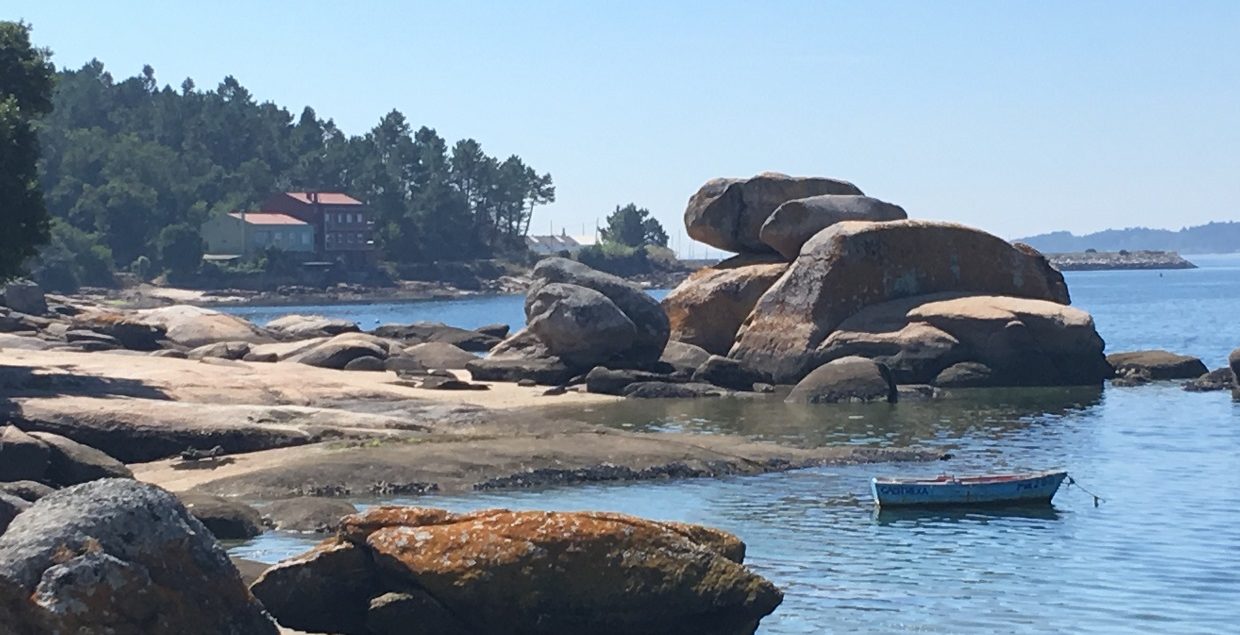 After a long walk we went back to Calypso and had an early night, one of us awake the next morning to witness sunrise……….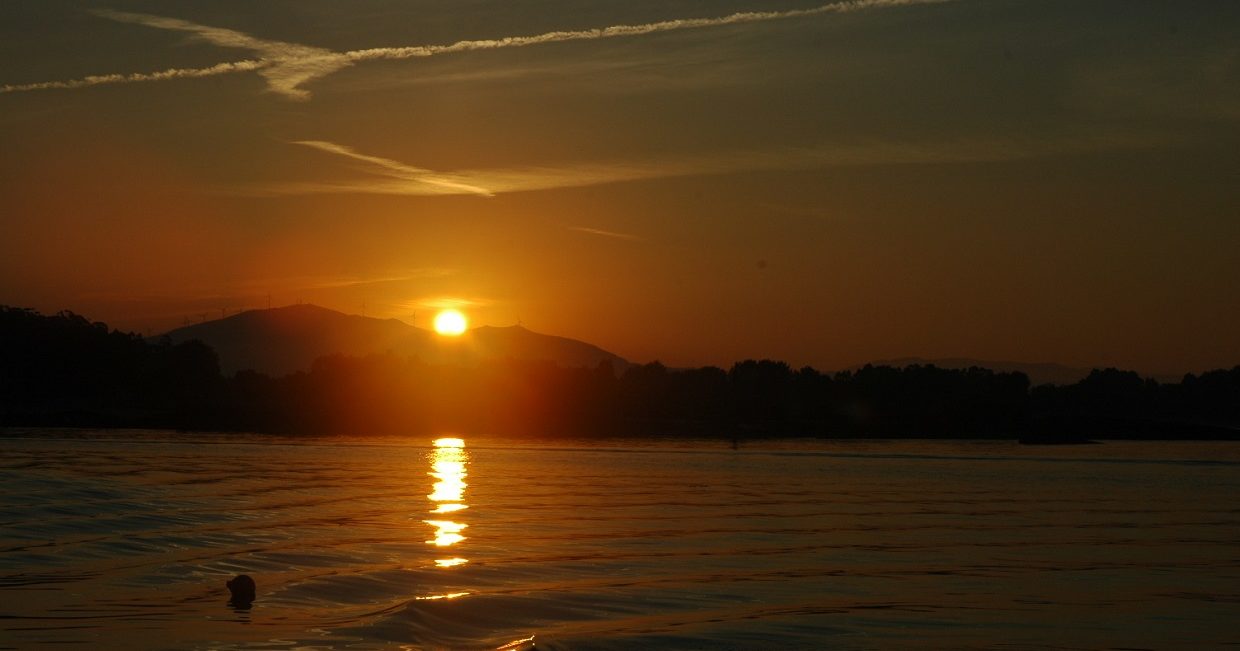 ……….and workers out early tending the bateas:

On our second day we walked along the track and boardwalk at the back of the beach to the East of town. This took us past a gang of clam gatherers, and on the track behind the beach was the lady we had seen before at the Lonxa – with her weighing scales, possibly purchasing clams direct from the workers??
The beach with its unspoiled backdrop was beautiful: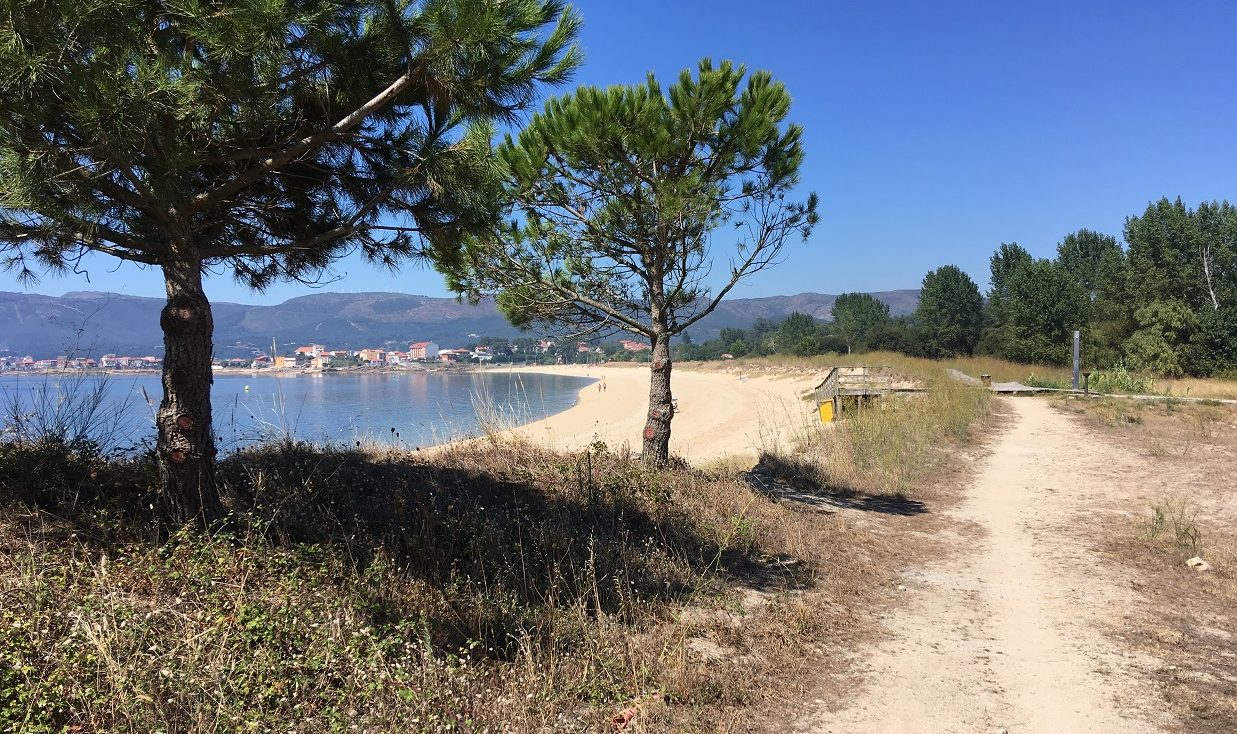 At one point we passed a man-made saltwater lagoon with some form of large aquaculture installation/shed. Then up through pine woodland and across to another lovely, deserted beach. At one end a boat yard that appears to look after the batea service craft, and at the other another shed possibly connected with the shellfish industry. Between them a lovely beach that appears to get few, if any visitors!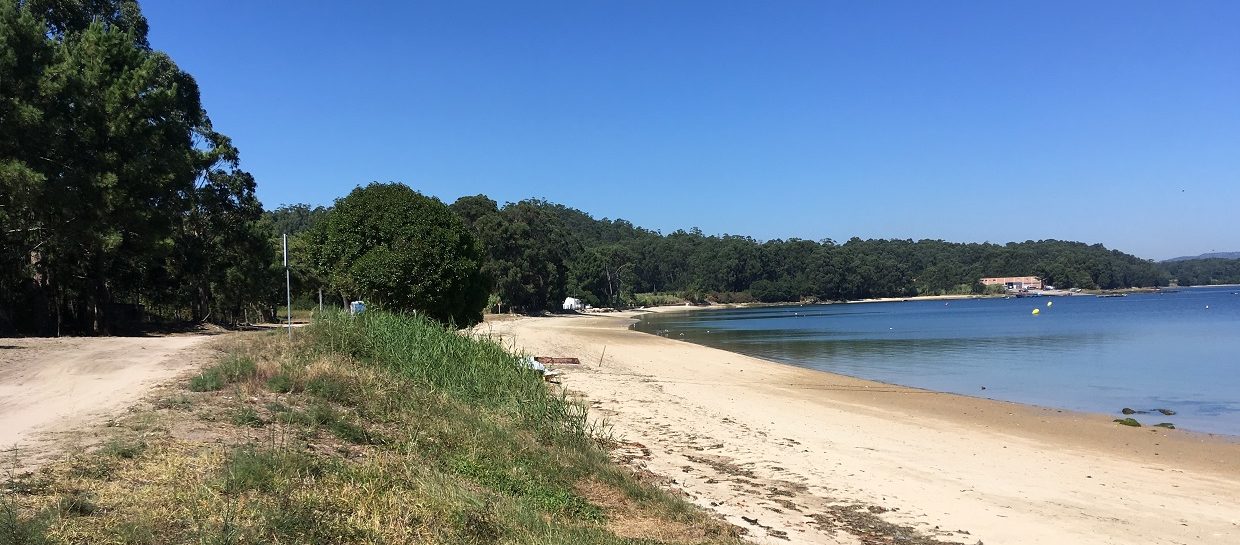 Returning through lovely villages we stopped at the beach for a swim and then back to Calypso.
The next day Ros and Alan arrived on their lovely Hylas 46 which they have refurbished and upgraded to better than new. That evening we dinghied across to Musetta to be fed a lovely clam dish and spend the evening in good company.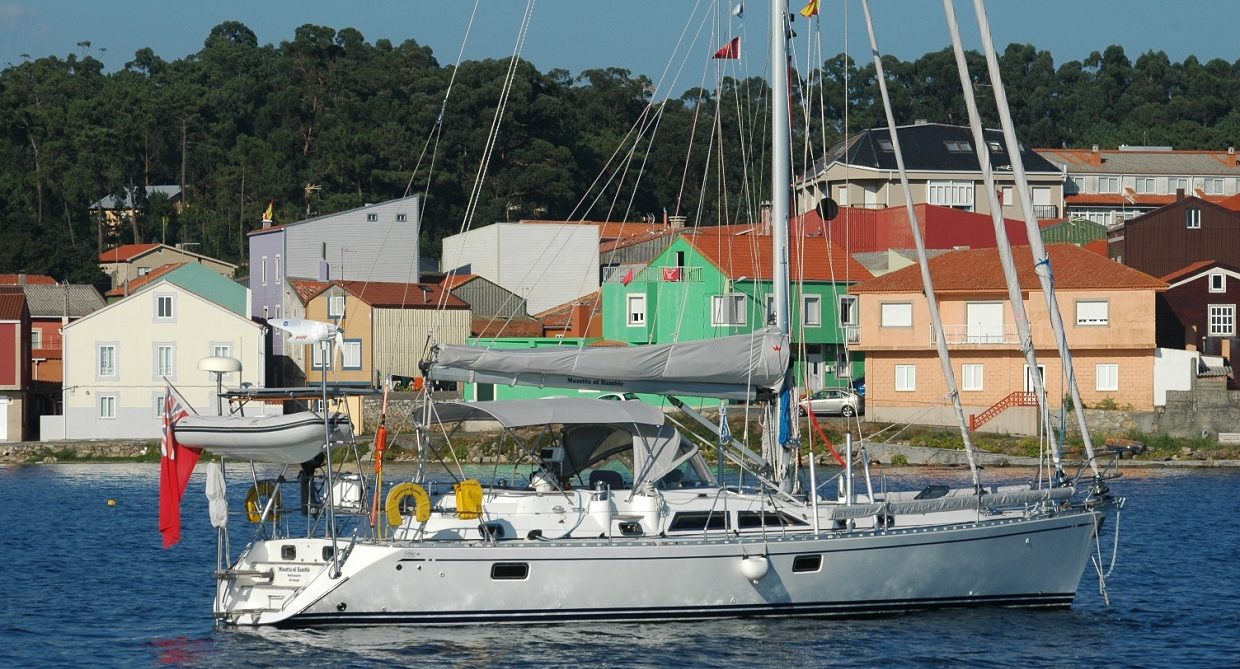 By the time it came to leave it was apparent that Paul's attempt to repair a very slow leak on the dinghy had failed spectacularly – fortunately we took the pump with us! Paul blames a dodgy (very old) tube of hypalon repair glue. Until we get a new tube of glue (unlikely in these parts where yacht chandleries are very few and far between) then we may be confined to marinas.
The next day we left Ros and Alan to explore Cabo Cruz and sailed (drifted under genoa alone at 2 kts) back across to A Pobra Do Caraminal. On the way the dolphins made an appearance but at our snail's pace were not tempted to come and play:

Ros and Alan would join us later. We had intended to stay in Caraminal with them for just a day or two and then find an anchorage, but our leaky dinghy meant that we would stay here a week before moving on.
As it happened there was to be the four day festival of Nazareno from Friday to Monday. The fair was setting up next to the marina, there would be live music in the nearby town square, and we knew that this would lead to sleep deprivation!
We went for a walk along the shoreline to the South of the town and around a headland with several rocky beaches. The first couple are only accessible at low tide as the walled grounds behind are in private ownership. This is a fabulous stretch and we walked it twice – the second time with Ros and Alan when they arrived from Cabo Cruz.
The shoreline comprises sandy beaches amid rocky outcrops. In places the pink granite was reminiscent of parts of the Britanny coastline.
There were very few people along here – a couple of sunbathers, an odd dog walker and a few people digging for clams.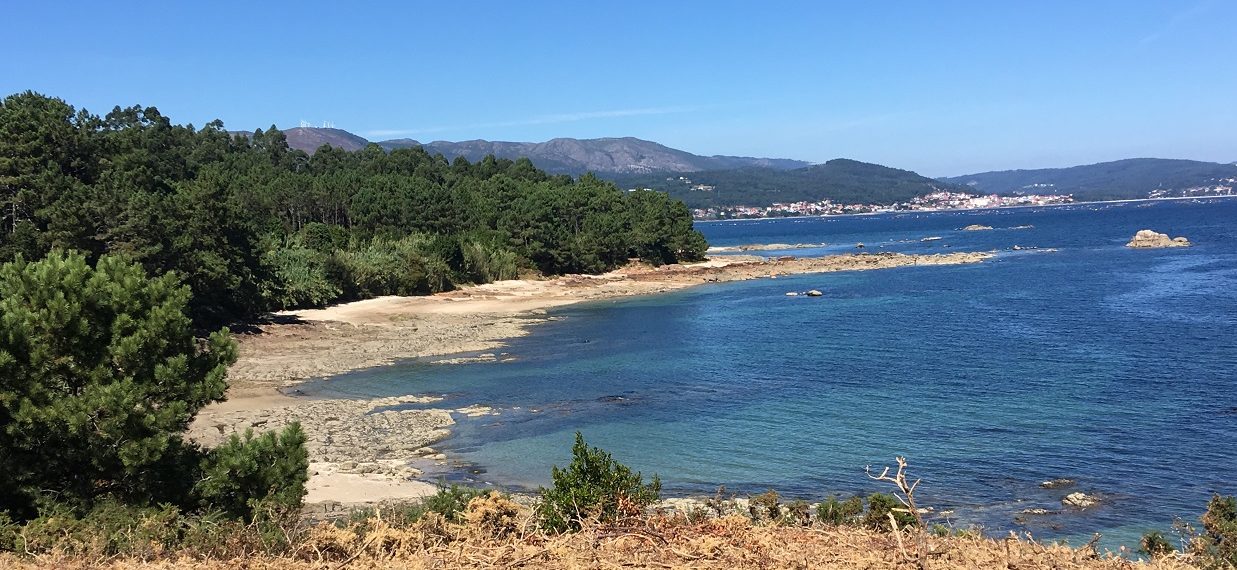 The last of the quiet beaches (Cabio) reminded us of the Seychelles: a deserted beach with wooded backdrop and stacks of huge boulders at one end: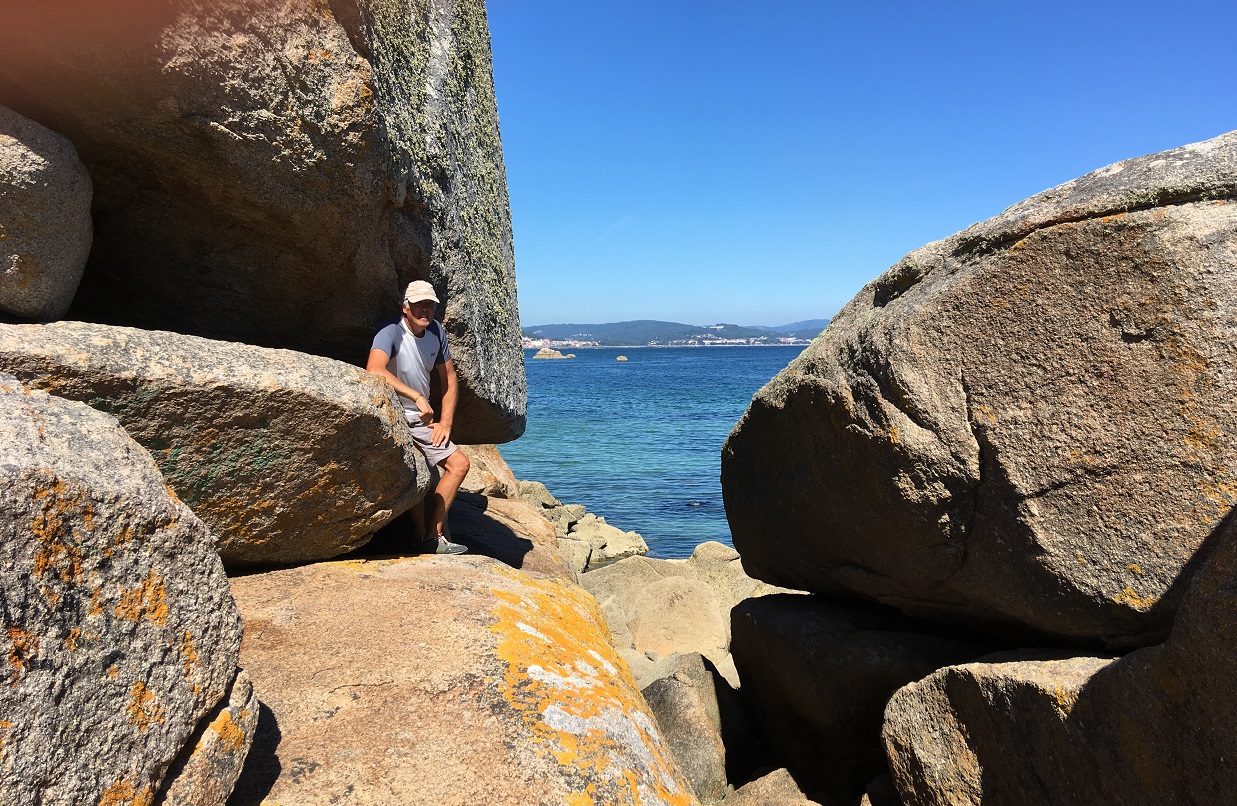 After this a path descends from a headland down past the most tightly packed caravan park we have seen, to a long sandy beach with beach bars and many sun worshippers and swimmers. On our first visit we had cold soft drinks on a day when temperatures were close to 30c. We watched people eat plates of excellent seafood and so resolved to bring Ros and Alan here for lunch – and we did, again taking the route along the beaches at low tide: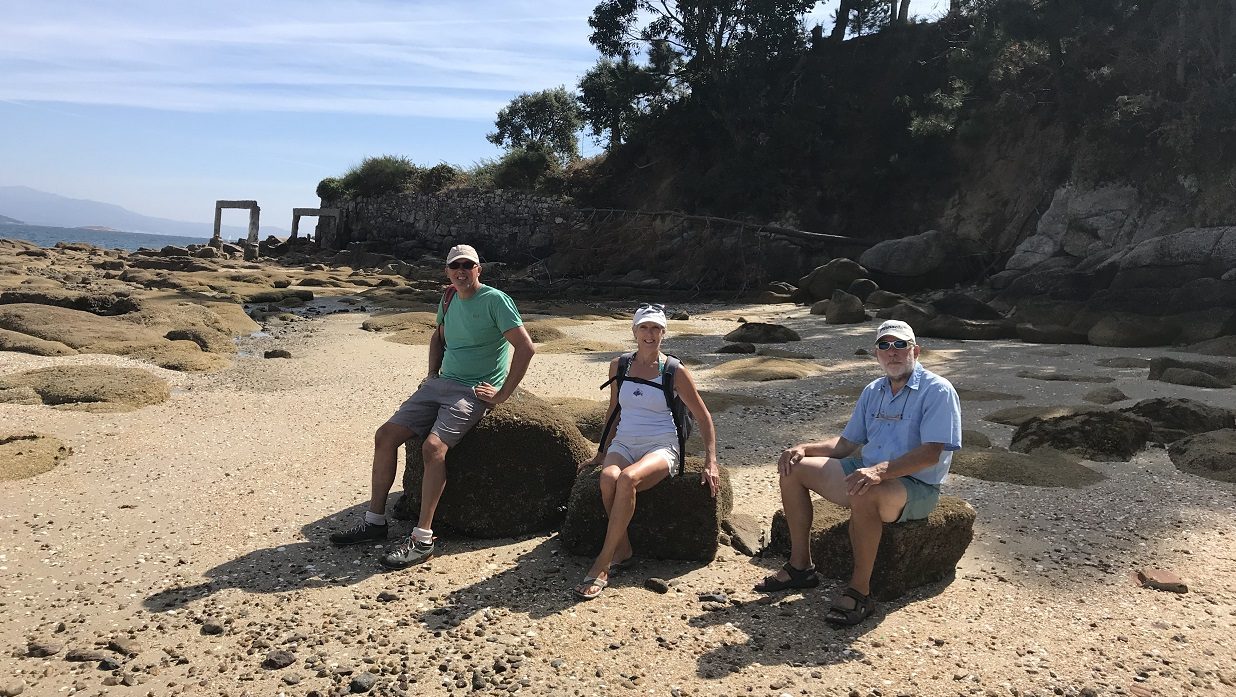 After lunch, which was indeed excellent, we wandered around to the next beach where all but Alan had a swim (he did regret not bringing his cossie!). The walk back over the inland route is interesting, passing pretty little cottages and a sizeable walled estate with large semi-derelict manor house, having great sea views from its elevated position. Another project for a lottery win!
We went back to our favourite restaurant, Nojiro, with Ros and Alan and had an equally good meal to that we had with the Cookies. Here it is, the taller building  in the centre: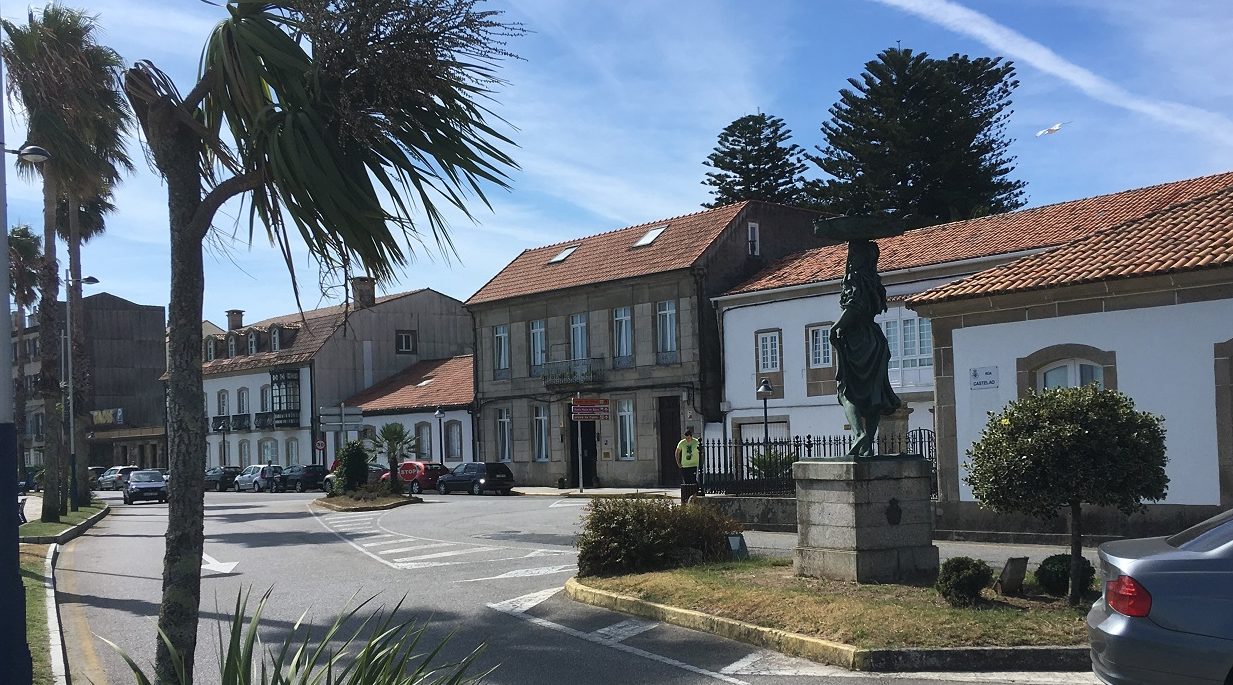 Later we would take advantage of the free live music concerts. There were two stages. The very large one housed an 8 or 10 piece showband from around 10.00pm who were really quite good and we showed the Spanish how to dance (they were line dancing in the main!) At around 11.30pm a well known (apparently) folk singer, Sonia Lebedinsky, took to the smaller more intimate stage. We had waited with anticipation after she was "bigged up" in the tourist office – but it wasn't our thing so we retired early (by Spanish standards!)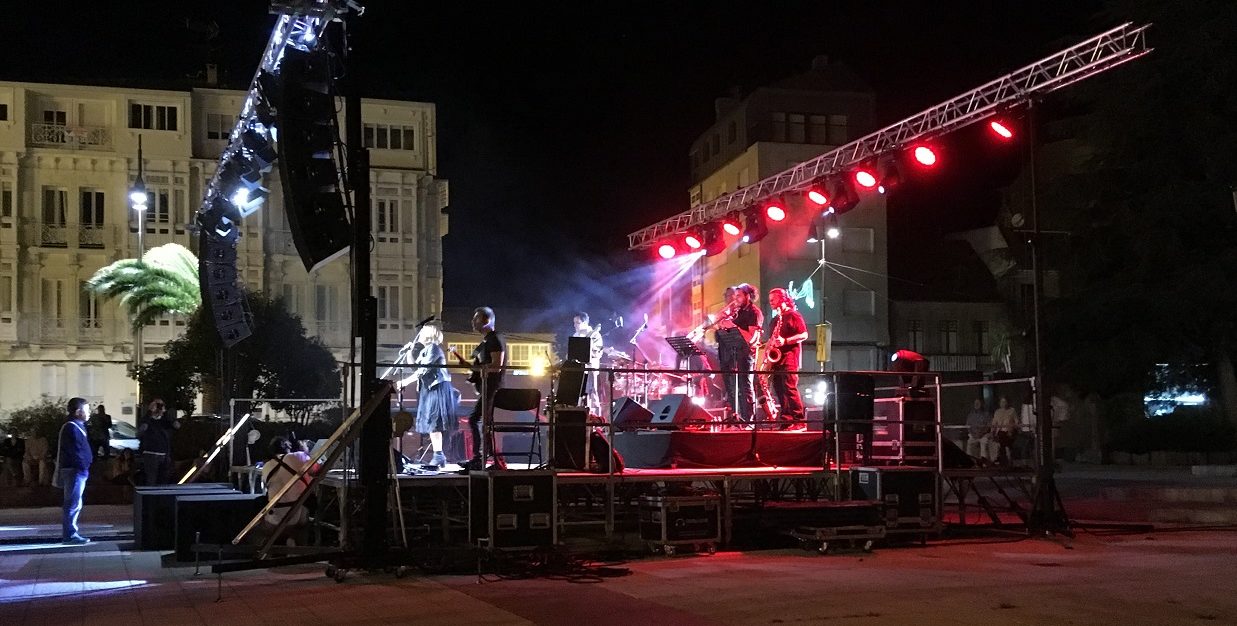 On Saturday afternoon we were invited aboard Musetta to go around the headland and anchor off the beach that we had swum off earlier. We had a lovely lunch aboard before Ros and Val swam ashore and back. Alan and Paul donned wetsuits and scrubbed at and just below the waterline of Musetta – proving that there's no such thing as a free lunch! Paul was impressed with the suction gadgets that were used to hold onto the hull whilst scrubbing – which are now on the Calypso wish list.
On Saturday night we all went to the Kunka taperia, when the town was heaving and the meal was OK but not as good as the first time – but not surprising really and we did manage to have a good time (again!)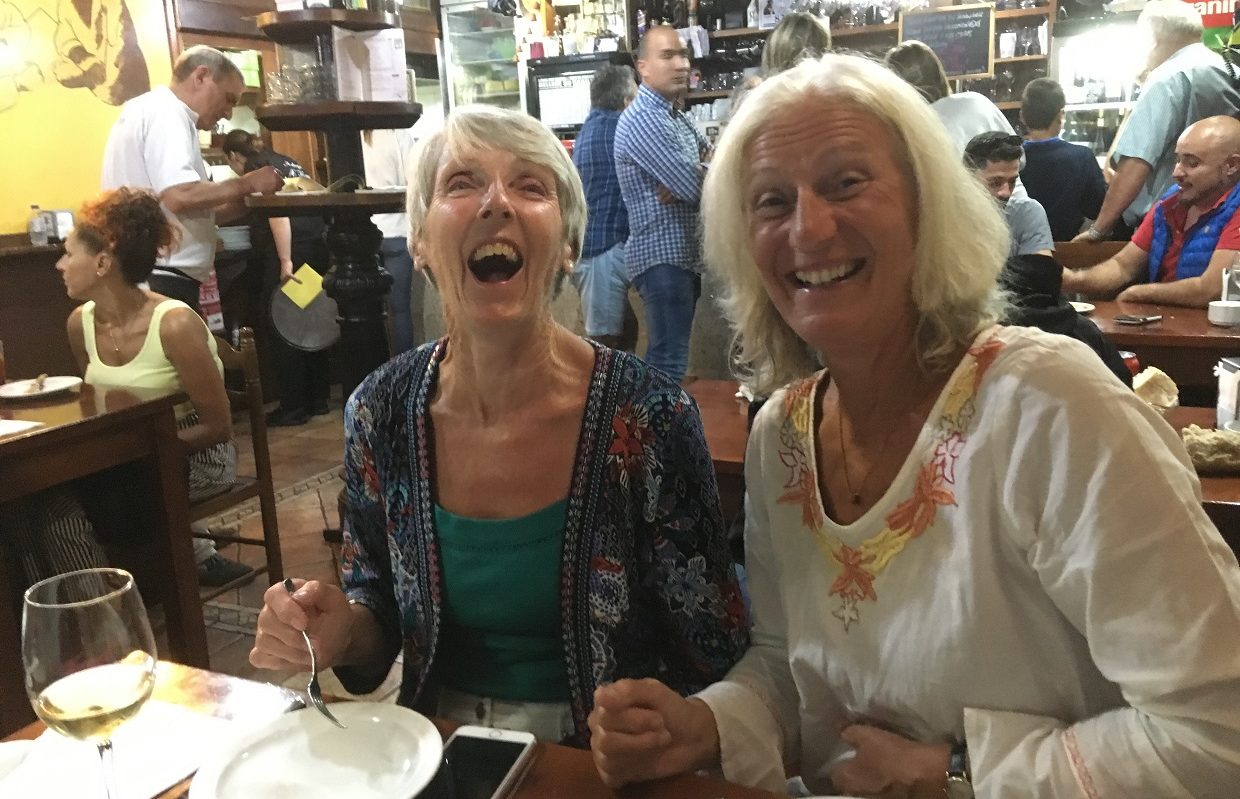 Sunday was the main event, when the population of the town multiplied several fold – including 31 full size coach loads (parked on the quay). This was the day of the Nazareno parade. We tried to work out exactly what this was about but have struggled. Something about a chap who was due to execute a few vagabonds but who fell gravely ill just before the execution.
Miraculously he recovered, and instead of executing them he got them to parade his coffin around the town. So now each year there is a parade where, after a service in the church, an effigy of Christ plus several empty coffins are paraded in a four hour long procession.
Some turn up bare footed and in purple robes – carrying candles.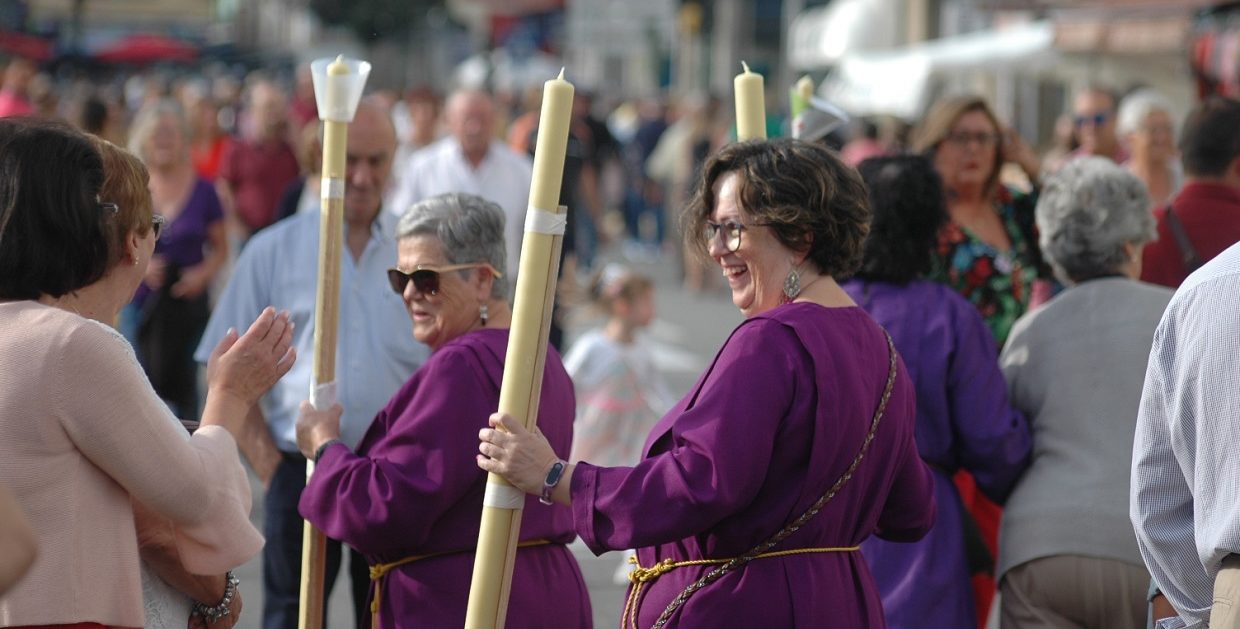 …………and the whole town is athrong! Here a very small percentage of the assembled crowd wait outside the packed church……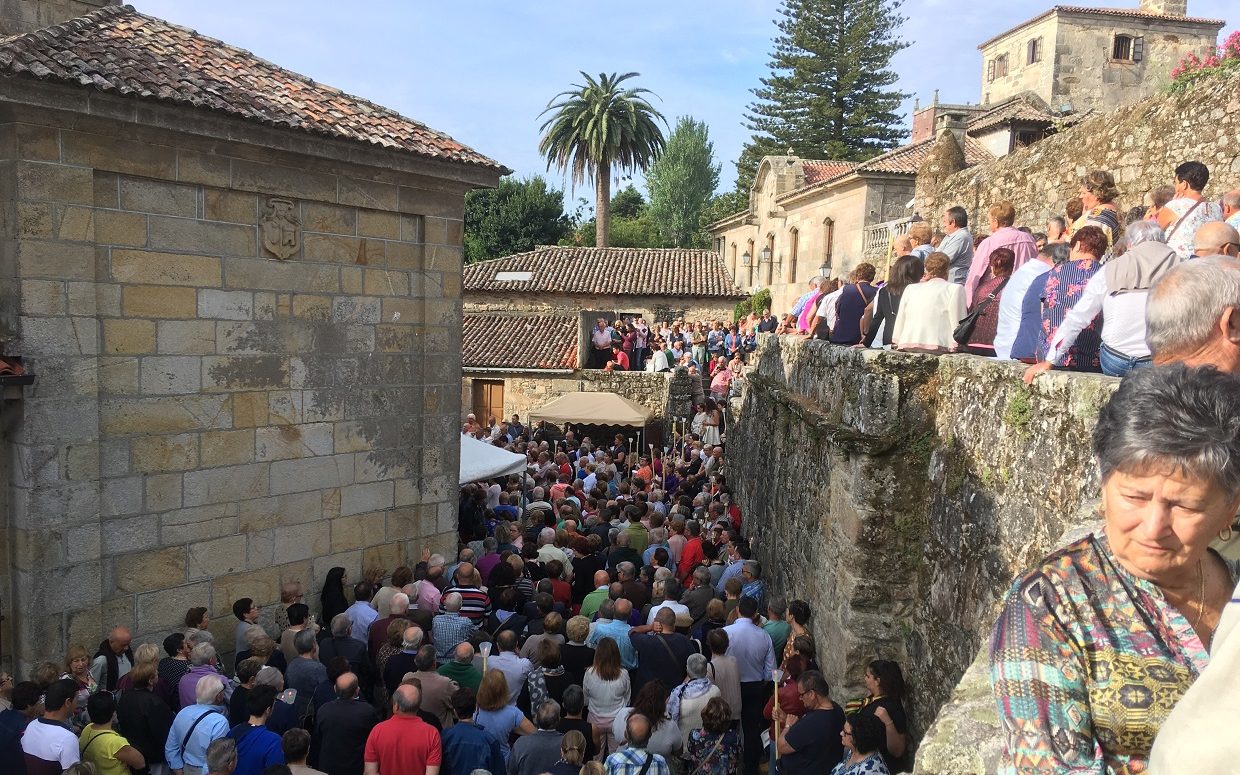 ……….all were waiting to see Christ emerge – and when he did he was on the TV………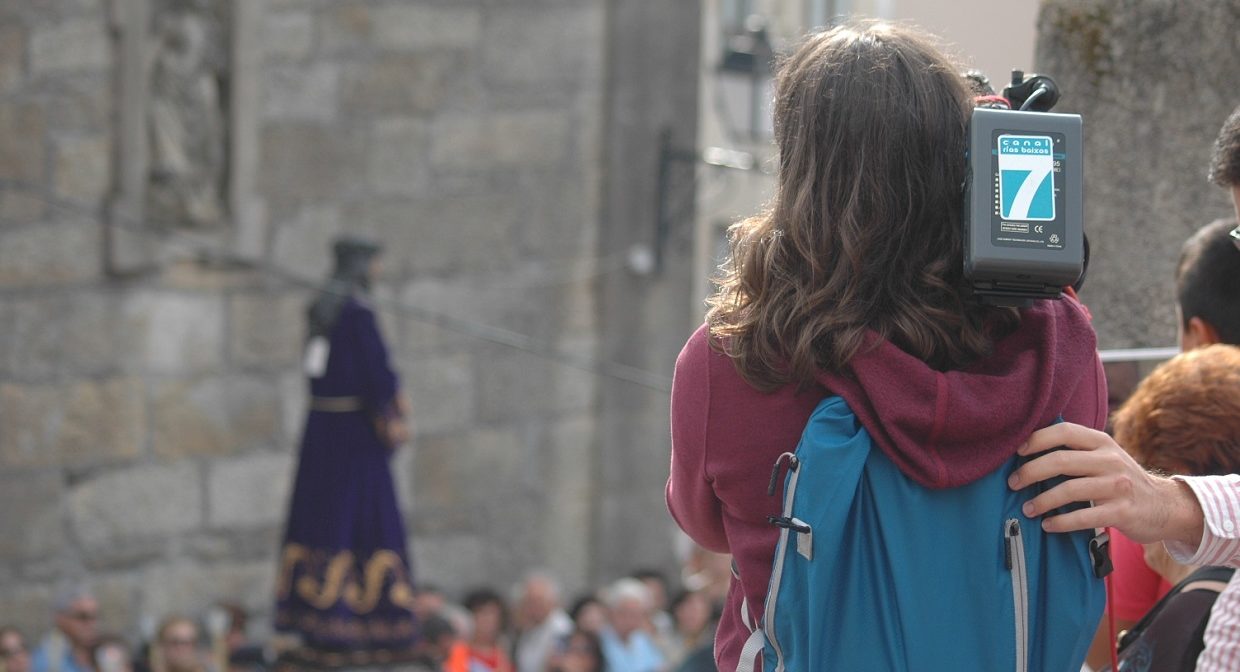 He was processed behind a brass band and a traditional pipe band…..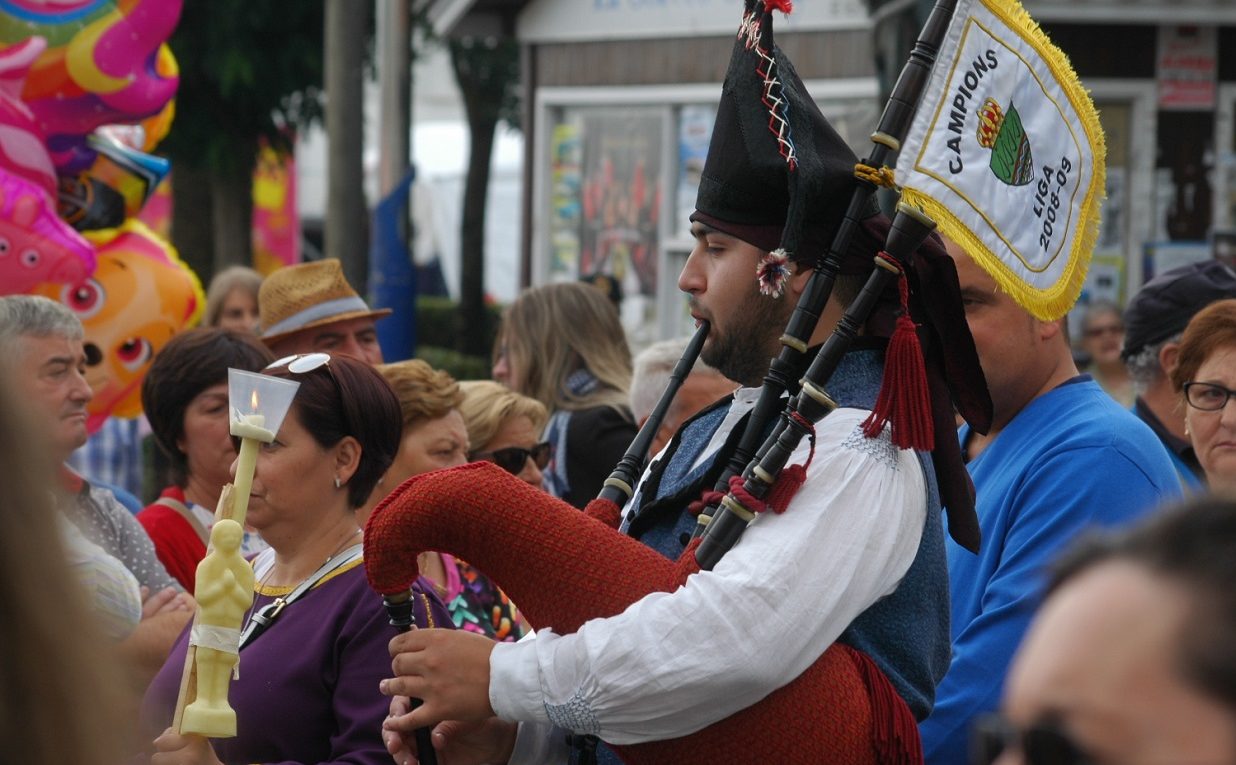 At one point the explosions started; and when that happens everyone jumps out of their skin. The effigy bearers are not immune from this and at that point Ros witnessed Jesus having a huge wobble – no wonder he looks so worried!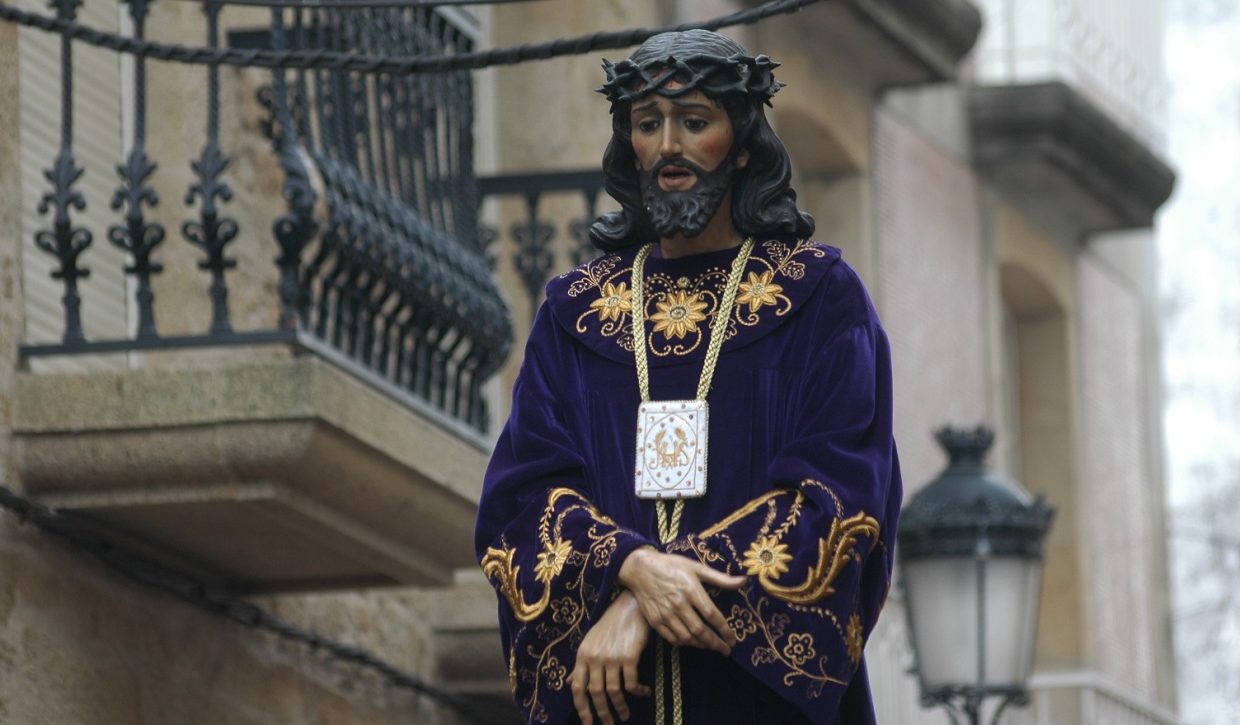 The procession of candle bearing pilgriams was several hundred metres long. It included local dignitaries and groups of mostly ladies looking good in purple….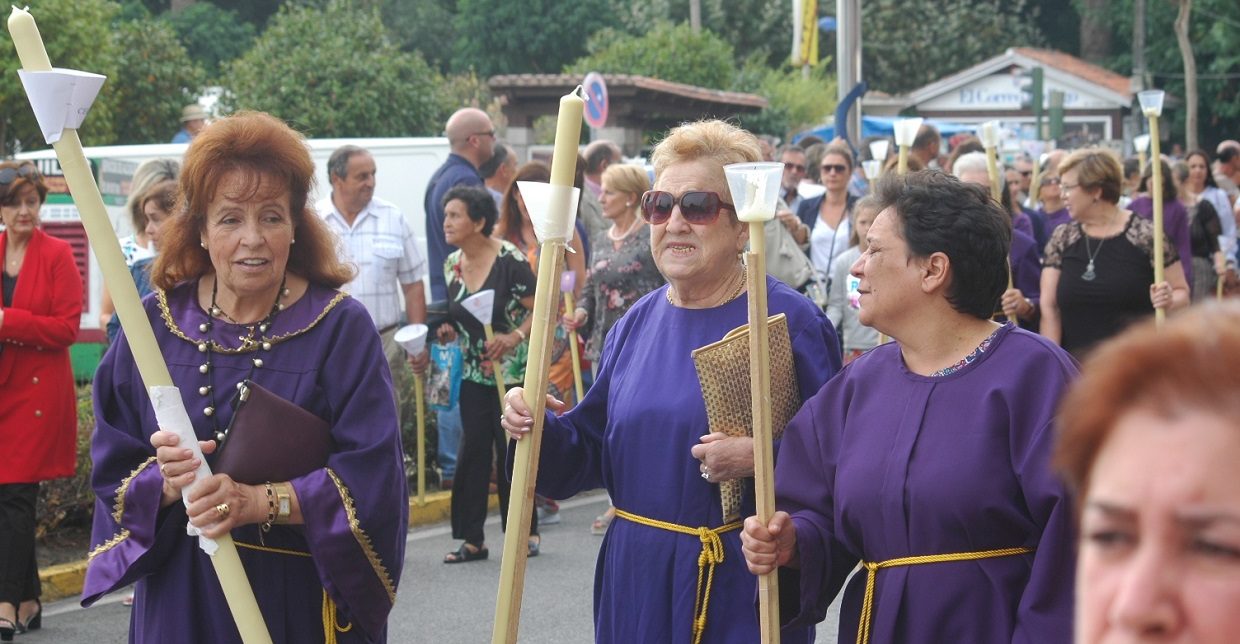 ……….and for a short while it included tourists joining in the celebration….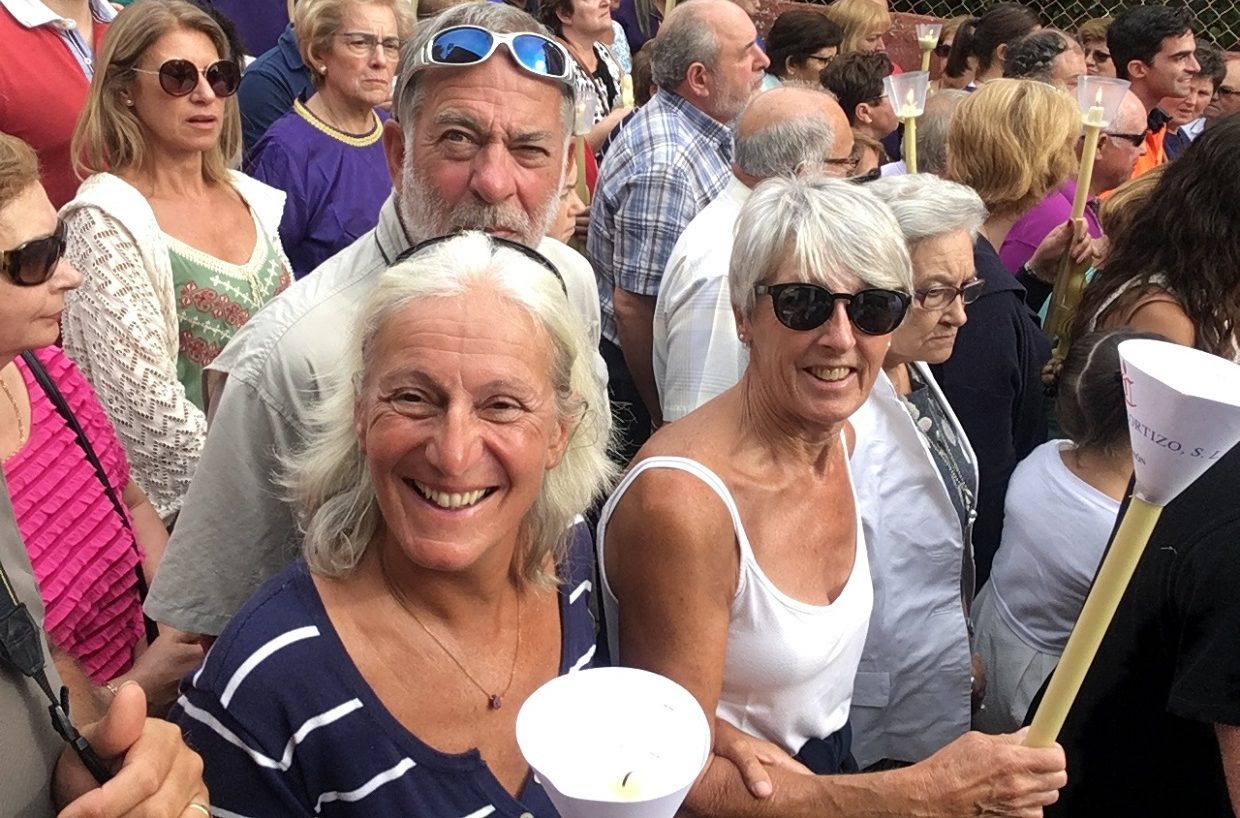 Most were pleased to see the holy effigy but we were not sure about this chap? Perhaps it was just that his wife has banned him from smoking in the flat…..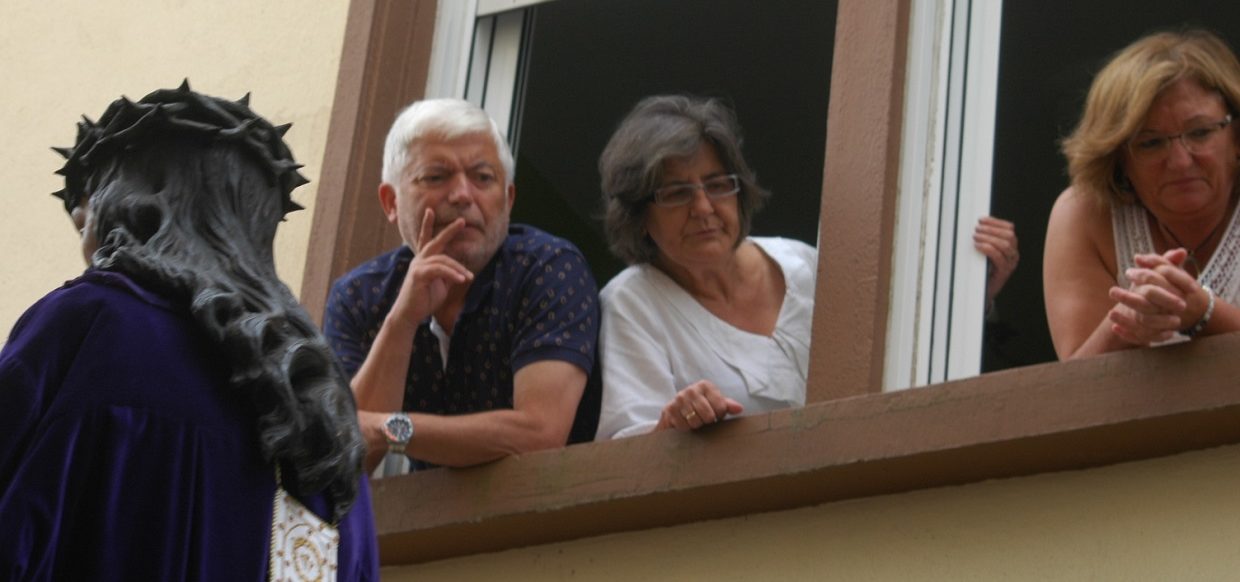 Eventually we came across the coffins – maybe 10 or so, carried around by families. We were told that this is a celebration of life, not death, in the same way that the executioner celebrated being alive and surviving his grave illness by having his coffin carried around the town to show that he had escaped death?? We are still none the wiser!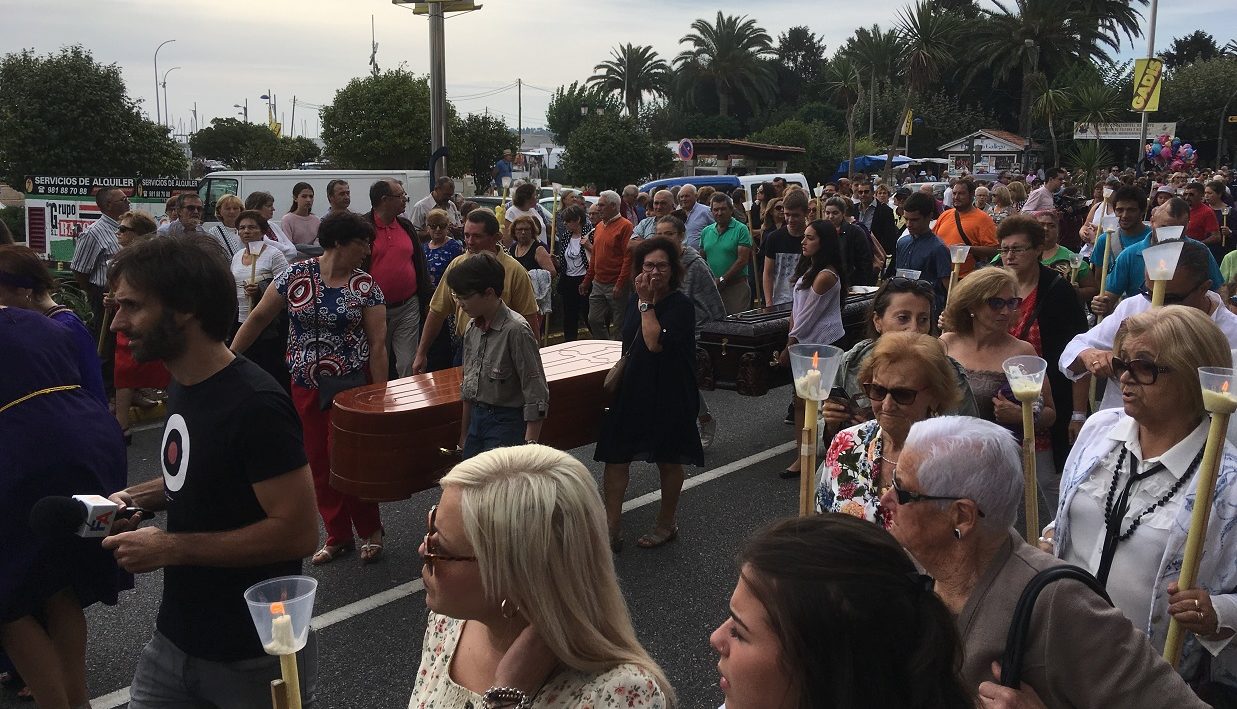 Another band followed that evening – we could hear from a distance that they were dreadful, the worst yet, and so we had an early night to recover from our recent excesses!
On the final day of the fiesta, Monday, the fair continued and a large children's funfair replaced the music stages in the main square. Shortly after lunch we bade farewell to Ros and Alan who were continuing their journey South (Canaries by Christmas, Atlantic crossing in January, Caribbean over winter and then up the Eastern USA coast to escape the hurricane zone before hurricane season).  We are sure we will see them again – but maybe not in our yachts!
We think that they went a day early as the fiesta reached its finale with a firework display – the colourful variety as opposed to the huge explosions that are the only fireworks seen to date.
Two years ago we reported being at the World Firework Championships in Plymouth. That was pretty spectacular – but this was even more so. Perhaps it was because we were closer to the action on the back of the boat. The pyrotechnics were launched from rafts in the sea between the marina and the beach. The display went on for 17 minutes, and every time we thought that we had witnessed the grand finale it just got better. The final salvo was so powerful it almost knocked us backwards – the shock waves pounding on our chests were like nothing we had ever witnessed before.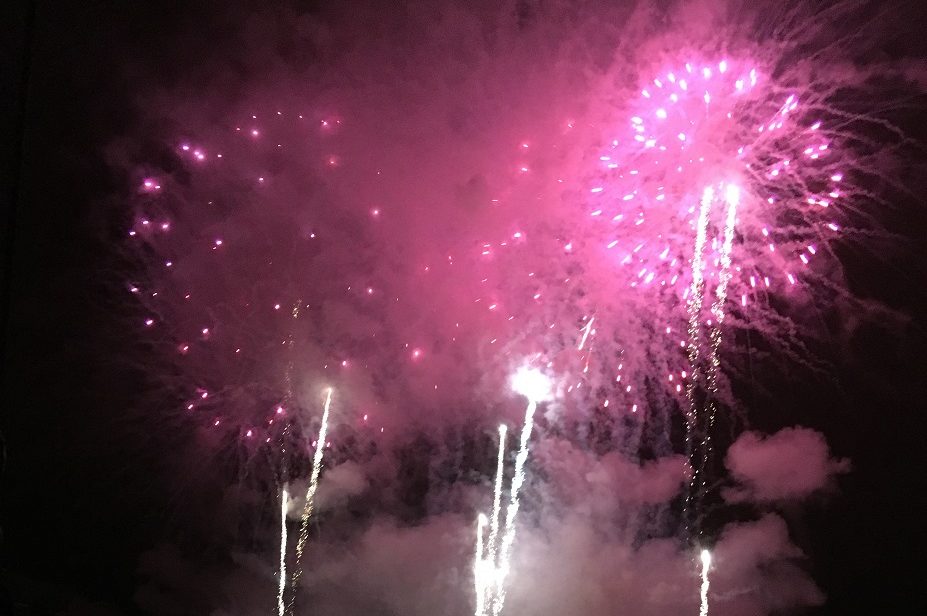 We may be back for this event next year!
Before leaving Caraminal we wanted to visit the museum of the local author, Ramon Valle-Inclan  (1866-1936). We had never heard of him but he is a major literary figure here in Spain, writing novels, poetry and plays. He was a bohemian who did much to re-vitalise Spanish literature at the time.
He was born across the ria in Vilanova (where there is another museum devoted to him) and lived for much of his life here in Caraminal. The young lady on the desk at the museum spoke good English and took time to tell us much about Inclan and his family here in the Ria Arousa. She gave us an excellent guide (to both museums) in English and set us on our way around the splendid museum.
Valle-Inclan was a very distinctive character – tall and wiry and with thick rimmed glasses, handlebar moustache and long beard – perfect fodder for the cartoonists and charachturists – and many were on display – including the statue at the entrance: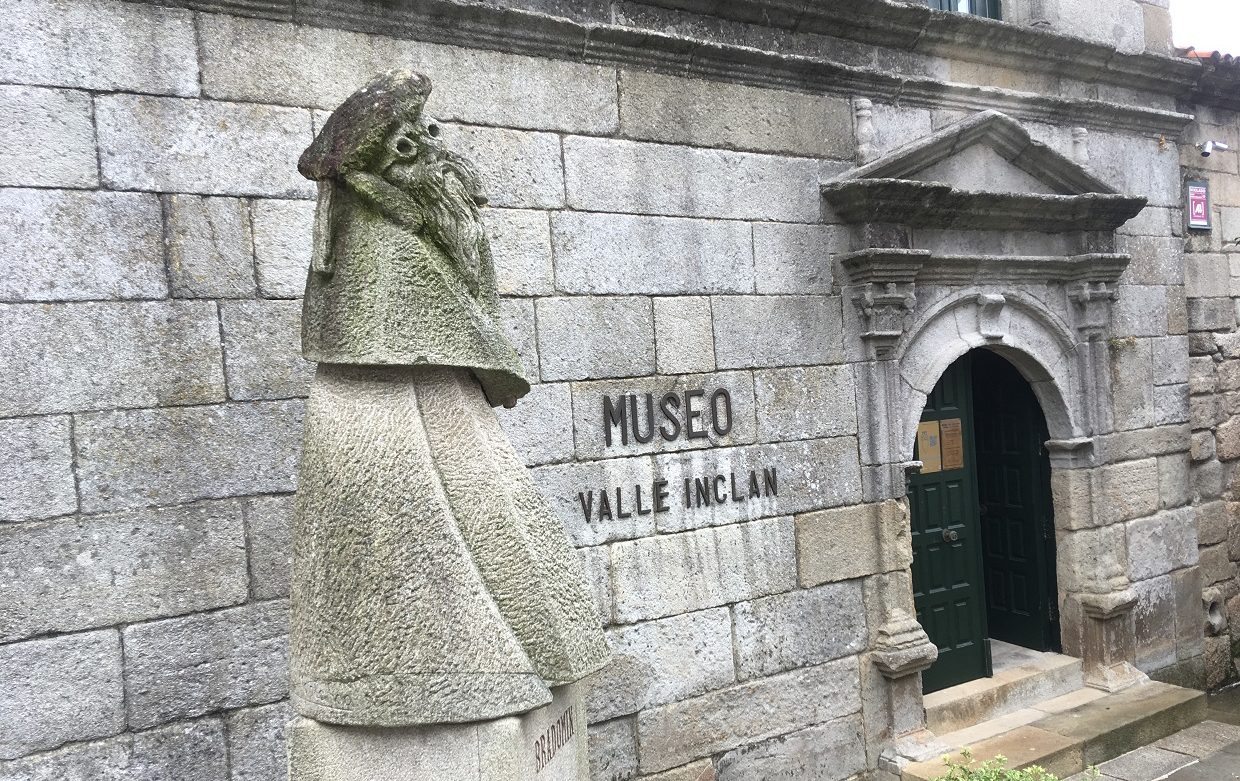 Inside there was a full size portrait among many exhibits in this sizeable museum, housed in a building where he once lived. We were glad that we delayed our departure for a day to enable us to visit.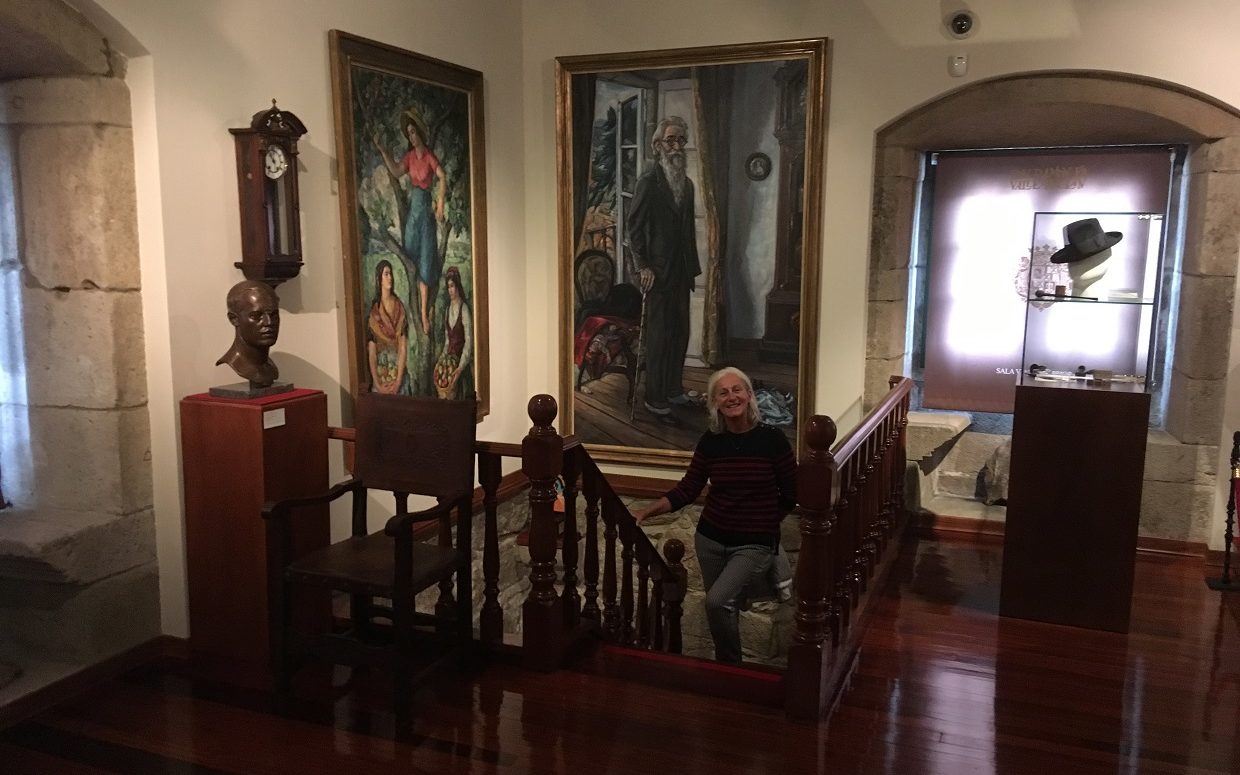 We stocked up at the large Gadis supermarket, and as I pen this we are about to go out to anchor. We wanted to anchor off a different town, but with winds turning South and South West (albeit light) – we thought that the best place to go would be………………….the anchorage off A Pobra do Caraminal!
Distance traveled since leaving Arzal – 759 nm