Meeting Friends Parts One to Five……..
You might think it would be more appropriate to feature a sunset at this stage; the end of our trip  – but this sunrise over the Hamble is more symbolic of our experiences this year –  which was the dawning of a new adventure.
Our winter base is to be in the Hamble River at Hamble Point Marina. As the tide runs through the marina, and as it had been several years since we berthed there (on a sailing course) we chose the course of prudence and timed our arrival on 16th September at slack tide. The marina housed us in the area with the bigger boats and we had plenty of room to maneuver.
Whilst the cost was quite high at £41.25 per night, we immediately joined the MDL Marinas' "Cruising Club". This gives us every seventh night free plus free electricity (and nights can be accumulated at any MDL marina and over any period of time). We tell you this as the marina does not always make this clear – Rick and Debbie (Friends Part Two – more later) were unaware, were on a much higher cost in their new 50 foot Farr, and were pleased when we told them!
On Saturday 17th we traveled to Reading for Paul's University reunion (Friends Part One). We had a great time catching up – 25 years after our last meeting. The occasion was prompted by a visit from Mark Grove – complete with his interesting new accent – a mix of Oxford English and Ozzie! I do hope it will not be another 25 years before we get to catch up again – we were a great friendship group and got up to all sorts of activities and antics together.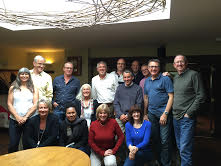 The following day Mark, Rose, youngest son Paul and mum Paula came for a trip on Calypso. Paula was the second octagenarian to have sailed with us (after Paul's mum). The sheltered waters of the Clyde and Solent ensured that both very sprightly ladies were not exposed to a rough passage!
We headed down the Solent on a beautiful, calm day. Initially there was not enough wind to sail, but eventually the wind filled in and we had a fantastic sail in perfect conditions – heading down the Solent at 7kts with young Paul at the helm, whilst having lunch on the cockpit table with no spillages!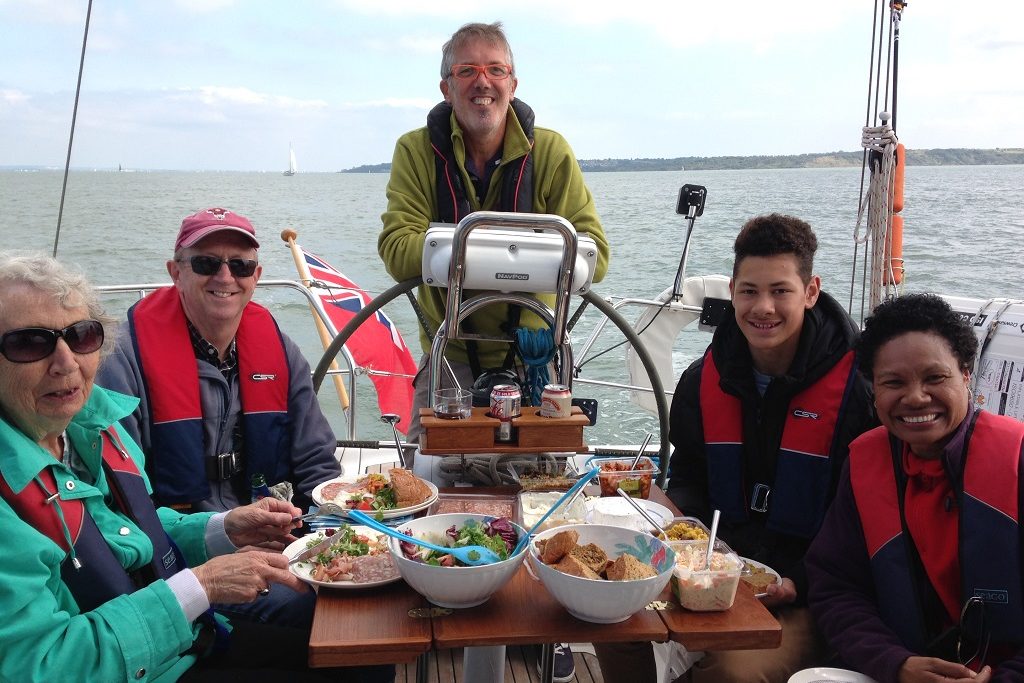 We had a good long day and passed three outgoing cruise liners on the way back up Southampton water: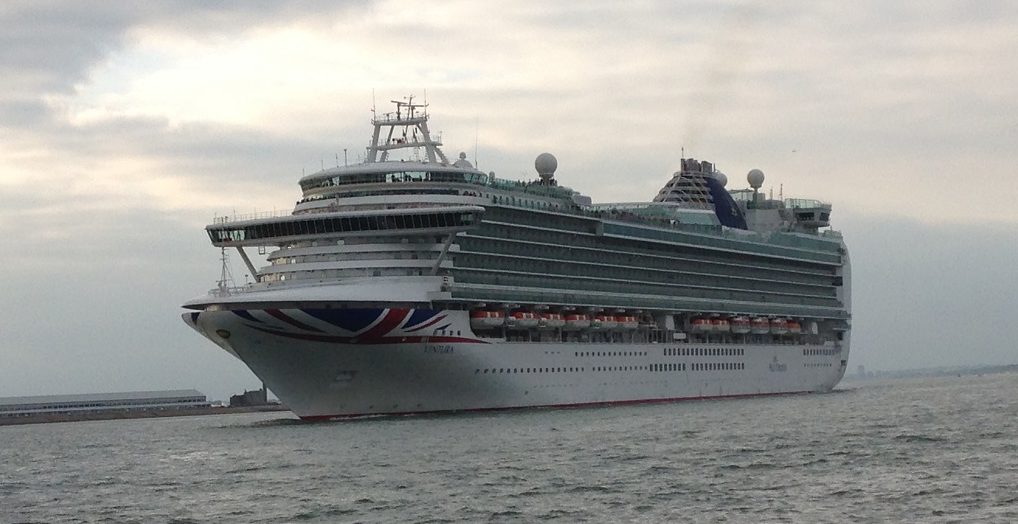 After dinner at the excellent onsite restaurant/bar, the Ketch Rigger, we said our goodbyes, with an open invitation for the Groves to join us whenever they can.
Friends Part 2 commenced when Debbie Asker identified us as seasoned cruisers and came looking for hints and tips (the fools!) – Debbie and Rick had just that week moved on-board their new 50 foot Farr Pilot House yacht. We quickly struck up a friendship and spent time aboard each others' vessels sharing stories and the odd glass of vino.
We visited them first, jaws dropping at the difference 12 feet makes! The volume of the Farr must be twice that of Calypso. Rick and Debbie were struggling to get to grips with the huge amount of technology, and it made us feel very much campers at the side of a 5 star hotel! We did invite them back, but can't compete with: hydraulic furlers; electric winches; vacuum flush heads; watermaker (desalination plant); bowthruster (soon maybe); fitted generator and so on and so forth……..
They had picked up a gem after the previous owner had spent 2 years getting the yacht into tip-top condition – all woodwork french polished and the boat belied its 16 years. We still love Calypso and had just as good a time getting merry together there the next evening! Still – selling the house was discussed (no, not really!)
So having picked up Farr Horizons that week, the Askers' plans are to go home to Lowestoft for 2 weeks before setting off at the end of October, just in time to be in the Caribbean for Christmas!!!!!! We really are water tortoises at the side of such adventurers.
Next year we may get half way down the French Atlantic coast, when the Askers will no doubt waive as they pass us after their 8 month Atlantic circuit. Hopefully they will stop and share a glass or two.
During the week we visited the Southampton Boat show 5 times to research and arrange the winter fit-out program – more of that in the next post, which non-sailors should avoid as it will be uninteresting in the extreme! Here's a preview photo of the show: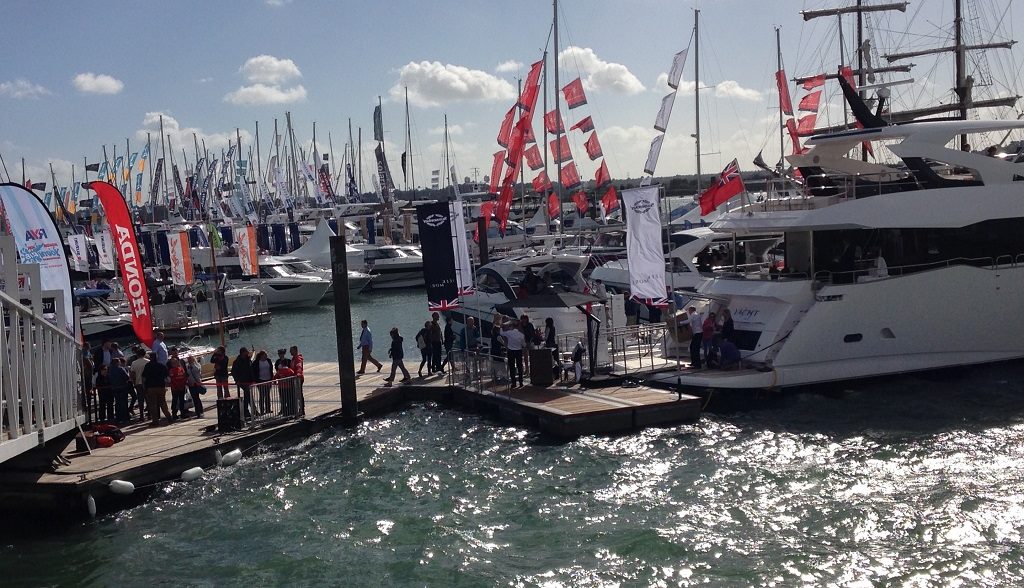 Here we encountered Friends Part Three. Our friend from Kip, Kenny McVey, started the Facebook sailing club – Sailing and Cruising Scotland, which achieved 4,000 members (including us) in its first year. Kenny, along with Jamie, and Kenny's parents had been invited to the show for the Sailing Today annual awards. Sailing and Cruising Scotland had been nominated in the best sailing club of the year category. The host said that only a whisker separated the top two – with Kenny picking up second place after the Royal Dart Yacht Club, who were celebrating their 150th anniversary. Perhaps Kenny would have picked up top spot in any other year.
Kenny had a busy year, organising very well attended rallies and running the Facebook group, with its associated equipment/boat sales page and a website – don't know how he finds time to run his commercial landscape maintenance business!
It was great to catch up, Kenny and Jamie – and the free champagne was a bonus! Keep up the good work.
Friends Part Four had been arranged months ago, and Scottish sailing pals Anton and Issy Tarczanyn came for a long weekend to stay and attend the boat show. We had a great time catching up, and a busy weekend with Friday and Sunday visits to the boat show, straddling a really interesting Saturday when Anton took us all to visit HMS Victory. Anton had served as a submariner and knew the area well.
The Victory was much larger then we imagined……..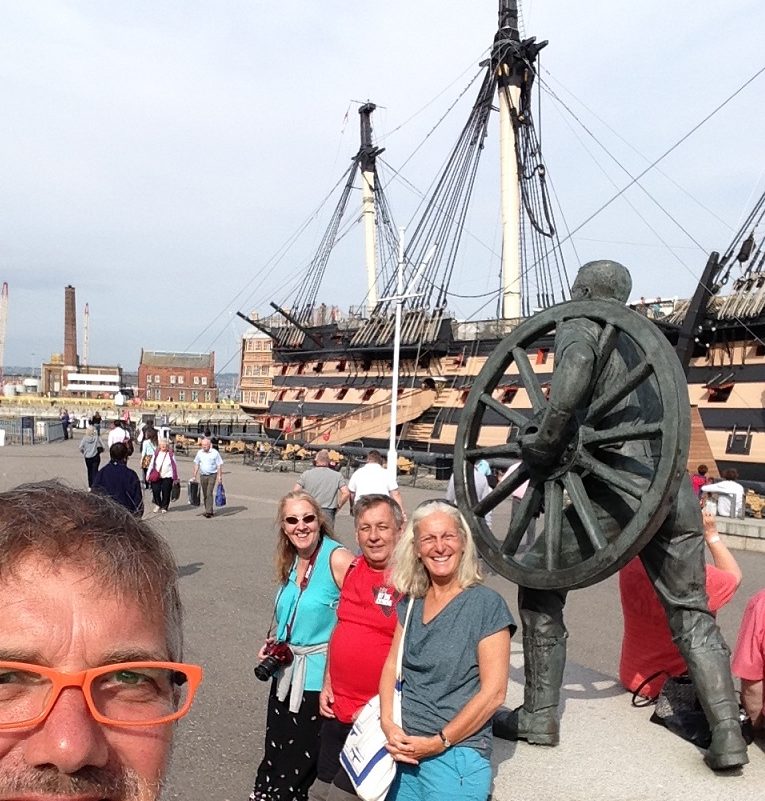 …..and the visit was fascinating. The conditions endured by the crew were cramped to say the least……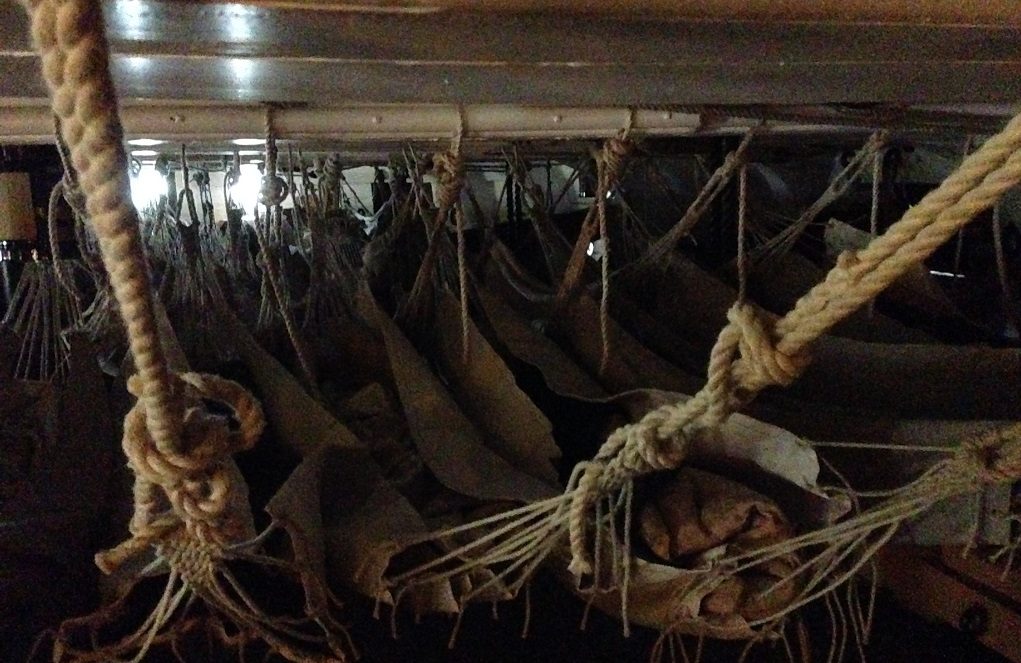 ………but they were here to fight, not on a pleasure cruise……….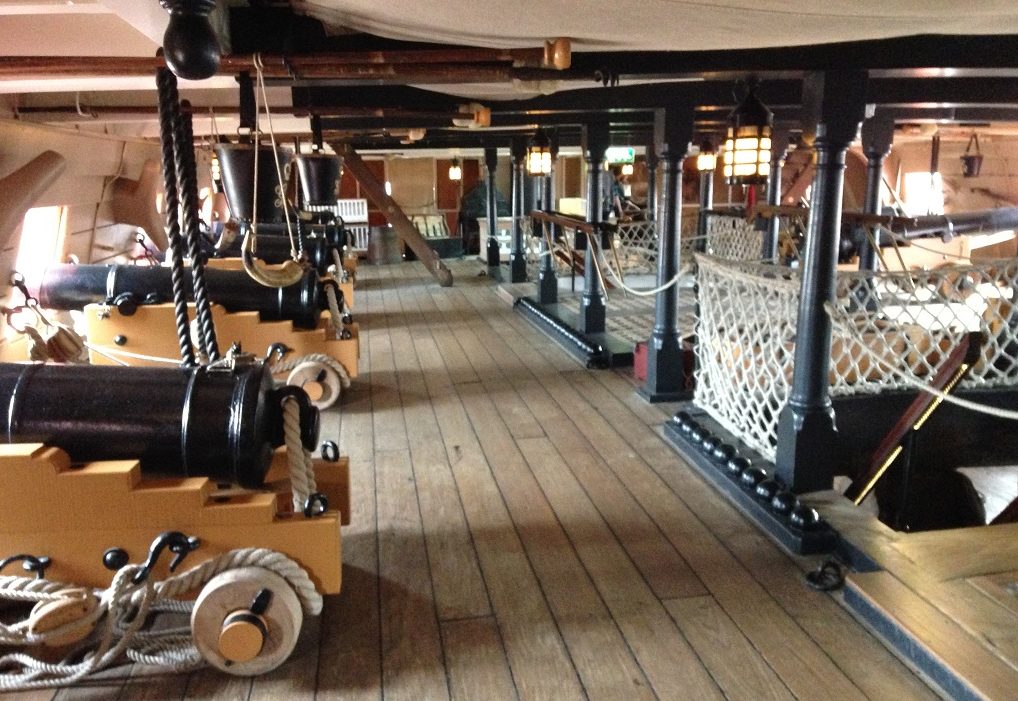 ………and not all returned – here Val stands on the spot where Nelson fell – kiss me she said……..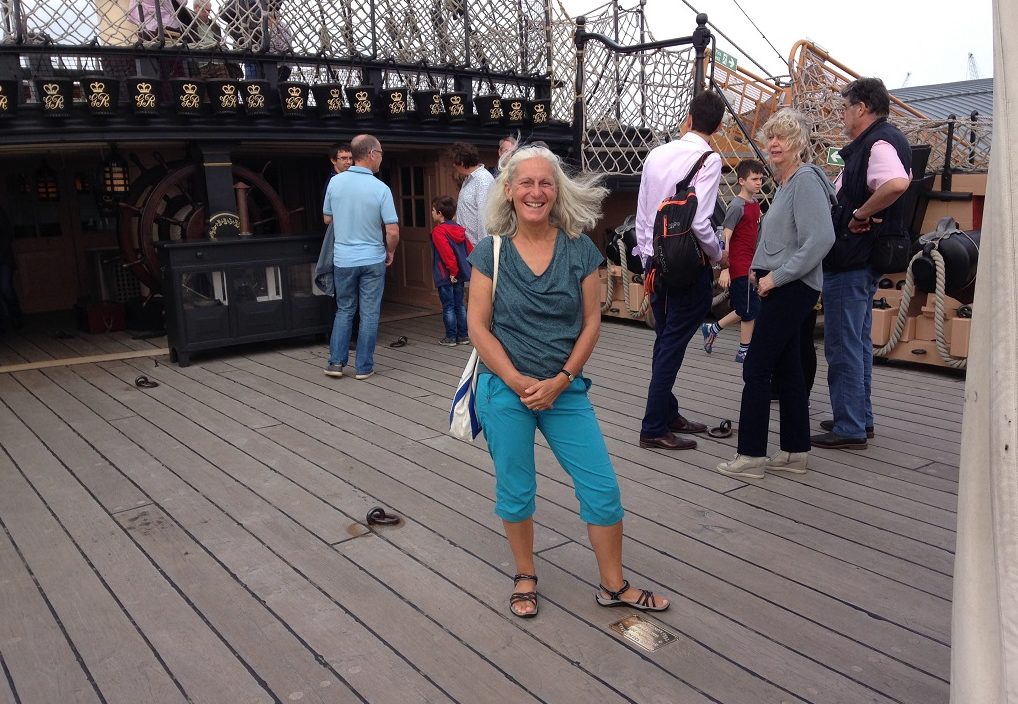 ……and who could resist.
Anton and Issy left us on Sunday to continue their holiday whilst we prepared to be lifted out to Calypso's winter home the next day….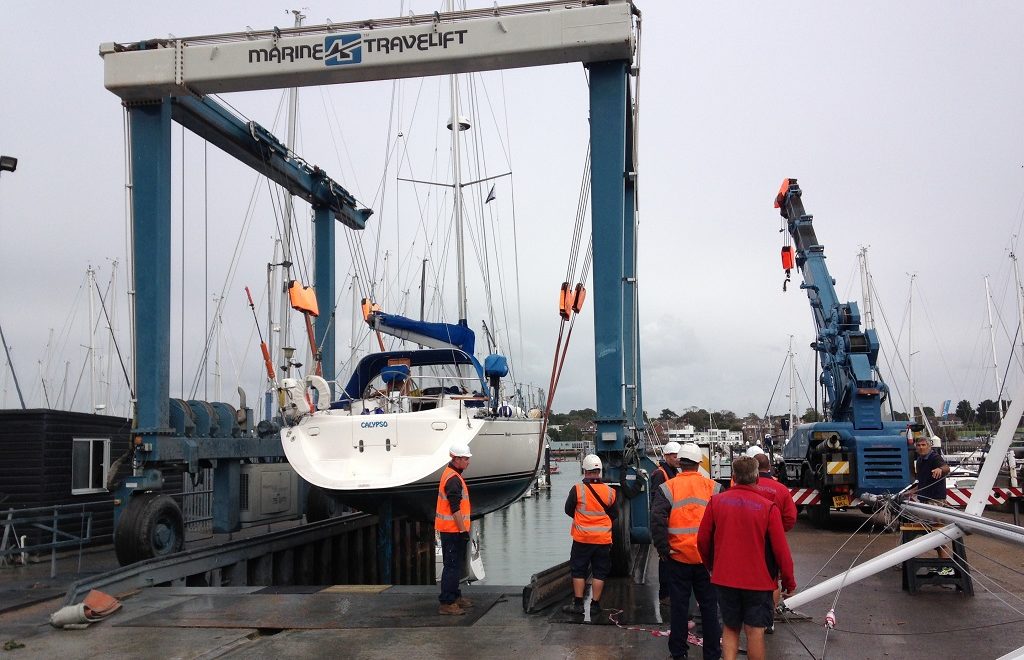 The team at Hamble Point were very professional. This is a big boatyard, and whereas we have been used to being taken to the winter spot by the crane hoist, at Hamble Point the boat is cradled on the spot and then transported across the yard by another toy: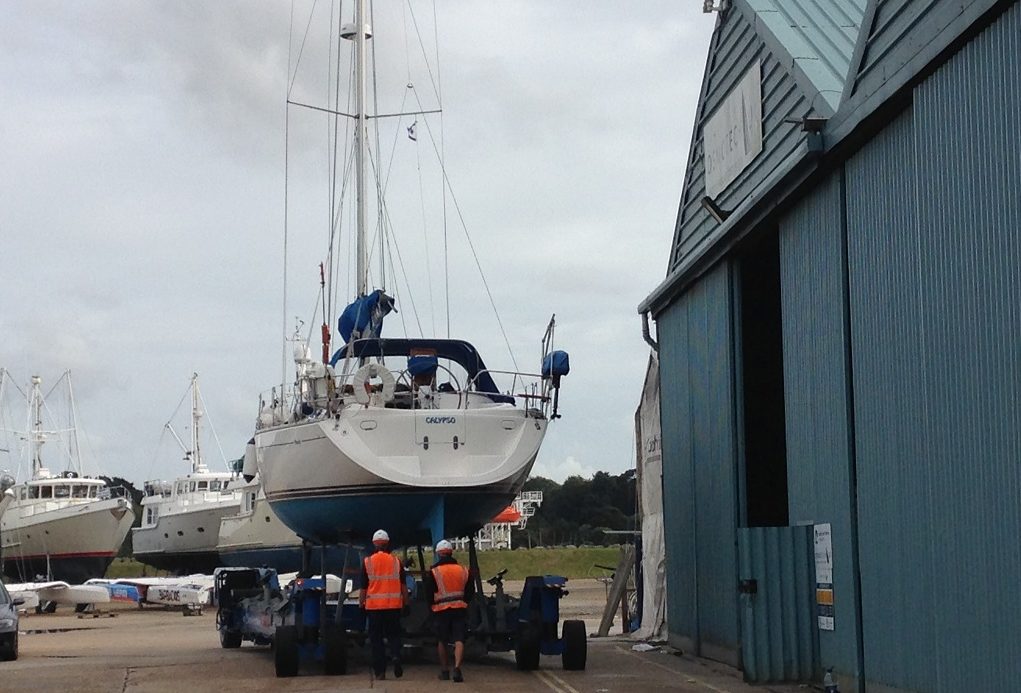 At this point the nightly rate fell dramatically to less than £12 – Hamble Point is a very good value venue for a winter haul out by South coast standards, and there are numerous tenants on site offering a wide range of marine services – which is why we are here.
We are also allowed to stay a few nights on-board in the cradle whilst working on the boat (but not to live aboard permanently) and will do so from time to time over the winter.
The boring detail of the fit-out will follow, but the final image illustrates the inspiration for the theme of this post: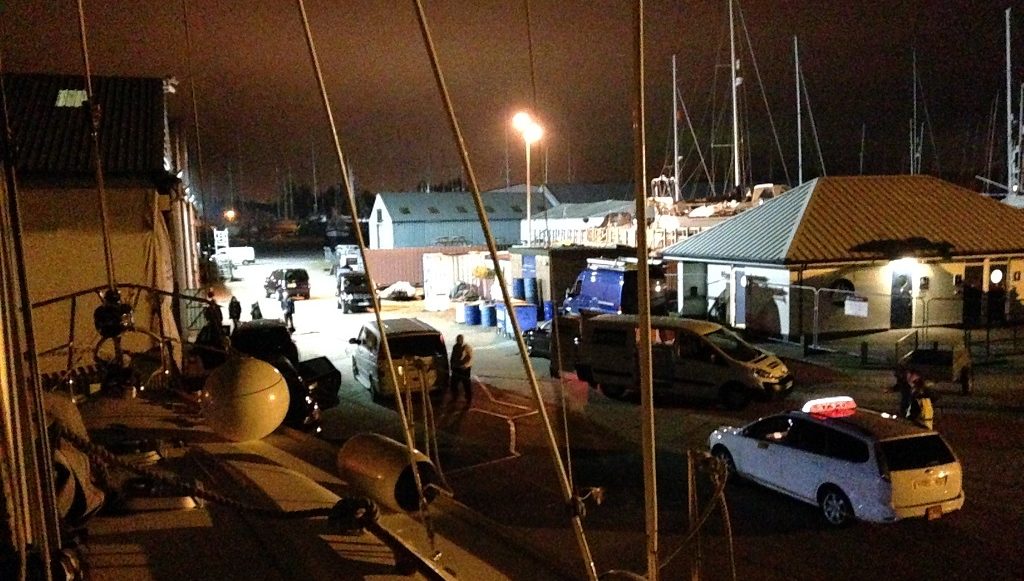 There was something going on all day near the cradle – and here is the view of the film set where Mat LeBlanc was throwing seats out of a Mercedes in an installment of Top Gear. Friends Part Five!
And we end the tale of our first year's cruise with a mention of all the new friends we have made. Some we will meet again and some we won't – but we enjoyed the company of some lovely people who helped to make this year special – a big thank you from us to you – you know who you are!
Distance traveled by the water tortoises since leaving Kip – 748 nm