Sitting it out in La Turballe
On 7th September we started our journey North towards our winter berth – stored ashore on the hard in a boatyard – having pre-booked our late September lift-out date as early as February. We had intended to stay another day but the forecast of high winds over the coming days meant that instead of a leisurely trip North we would knock off 40 nm of the trip in the one day to give us plenty of time, then sitting out high winds if need be, to get to our destination.
As detailed in our last post, the forecasters hadn't quite agreed on the wind direction, and as we headed out it became clear that the 2 most reliable sources had it wrong – the wind started out from the North West, and with our early heading a little West of North we ended up motorsailing for most of the first couple of hours (other than a half hour sail when a slight shift lured us into turning off the engine – only to turn it back on again when we got fed up of "pinching" at 3.5kts!)
However the wind did back, as anticipated, to a Westerly, and we sailed for the last few hours at rarely below 7kts and topping 8 on occasions, quite well-heeled. We did wonder how that will affect solar panel performance in the event of tilting them away from the sun? We may have to hand steer. We have probably hand-steered for only 10% of the time this year!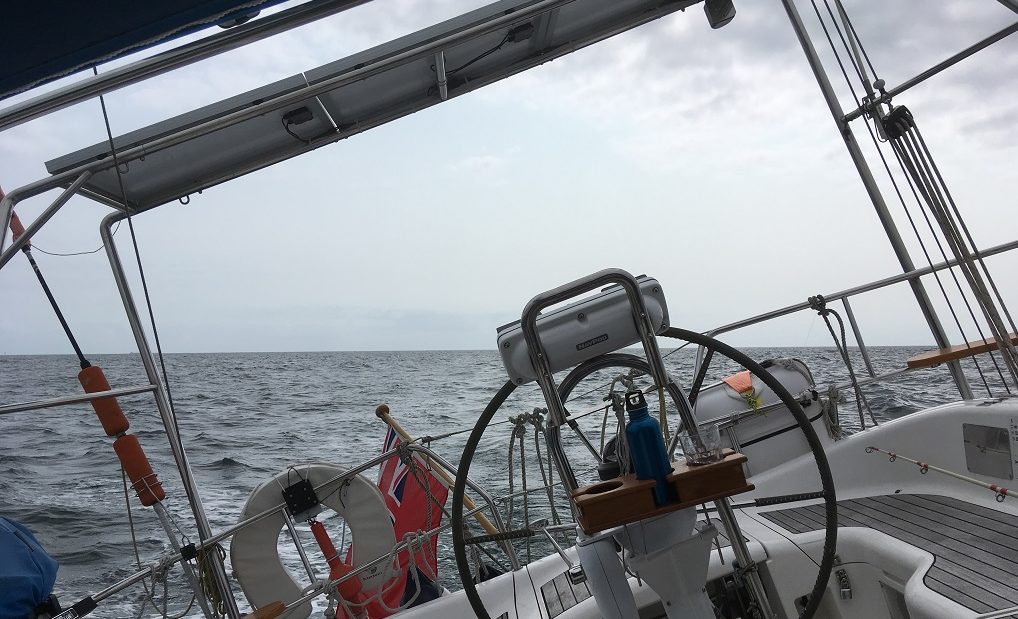 As it turned out we were very pleased with the amount of power generated by the panels on such a grey day.
We trailed 2 lures for much of the way – only reeling them in as we were averaging over 7.5kts – on the basis that we wouldn't fancy reeling a giant tuna in at that speed, and slowing the boat would be difficult!
However it seems that maybe the tuna family has also headed off home – to warmer climes; as our near 100% success rate of late was broken. However we would discover that in La Turballe excellent sea food can be purchased very reasonably!
The entrance to La Turballe has shallow areas especially to starboard. There are leading daymarks, however, and the daymarks (red circles on white posts, illuminated for night entry) are very clearly visible. That said, again we had a good rise of tide meaning that the shallow areas were not an issue for us at that time.
The entrance splits into 2 basins – to port for fishing vessels only and starboard for both fishing boat pontoons and beyond those to the marina pontoons. As we were in the calm outer harbour, securing lines and fenders and about to radio in, a dory with a young lady arrived to guide us to a berth. After enquiring of our beam she said that we were too wide to go in a catway (finger berth) and would need to go alongside in the main visitor area.
This can be seen in the photo below, being a U-shaped box (Calypso central beneath the really ugly building – very un-French-like) with hammerheads to either side and a detached pontoon (with electricity) at the centre. We pointed the bow NNW as the forecast high winds for the next 5 days were mostly from NW and W, and this would give us best shelter in the cockpit under the sprayhood – getting the orientation right can be the difference between sitting in a sheltered cockpit in the sun; or confined below decks!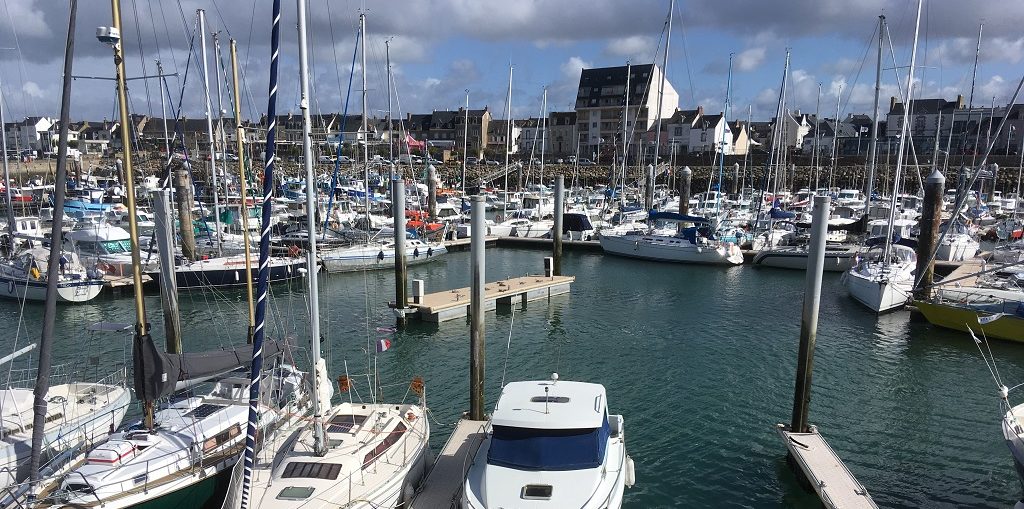 The winds were constantly between F5 and F7 from Friday to the following Thursday (the forecast including F9 gusts for a few hours on Wednesday – we didn't turn the instruments on to check), meaning that very few boats arrived or left. We use the PredictWind app which compares 4 forecast sources side by side: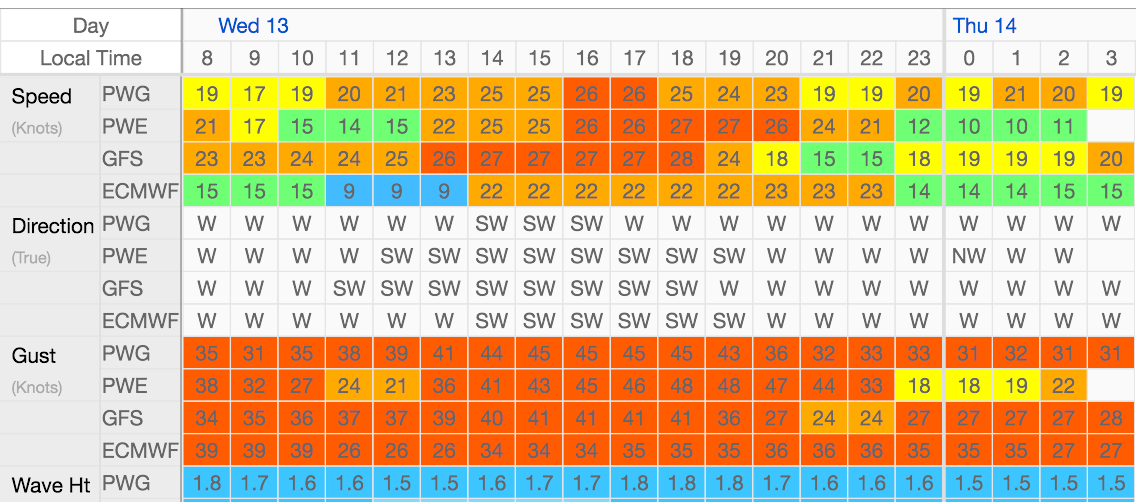 One hardy individual arrived in the strong winds and squeezed his 33' yacht plus dinghy extending from the rear into the 34' space in front of us. Fortunately we were aboard and as soon as he went for the space (he gave us no warning) we rushed to the front of the boat to fend him off.
As we have seen often, the yacht was equipped with a sturdy bow fender and the technique of ramming the pontoon in front was used – otherwise he would definitely have hit us. As it was, the dinghy acted as a fender, resting against our anchor (his problem not ours) whilst we shifted the yacht behind us, and then moved ourselves a few feet down the pontoon to give him just enough room. We have to say that many French sailors do seem to adopt a "close your eyes and hope" approach to berthing.
Earlier the same day a yacht had stopped for a few hours on the detached pontoon before heading off again. As they arrived the yacht hit the pontoon quite hard – with their fenders set too low and bobbing uselessly in the water. The previous day we watched as instruction on berthing was given to a crew of 5 students by 2 instructors – and we could see why the parking skills of so many around here leaves much to be desired! No doubt this will be one feature of our year-end review of highlights and lowlights. And no doubt we will have a berthing drama ourselves very soon after highlighting this!!
Anyway, back to La Turballe: there didn't seem to be much here when we read the books and looked online, but have been pleasantly surprised.
There is a small but really good (for food) market on Saturday and Wednesday. We discovered 2 stalls in particular. Firstly a poisonnerie that sold a wide range of fish and shellfish at prices somewhat lower than we have seen (eg line caught seabass at 18.40e/k rather than 34e/k elsewhere). Here are the ingredients for a "pig-out" seafood linguine that we made (mussels, crevettes, monkfish tail, monkfish roe and large clams –"vernis"??) with stock made from crevette shells and fennel. We are improving our seafood cheffery this year!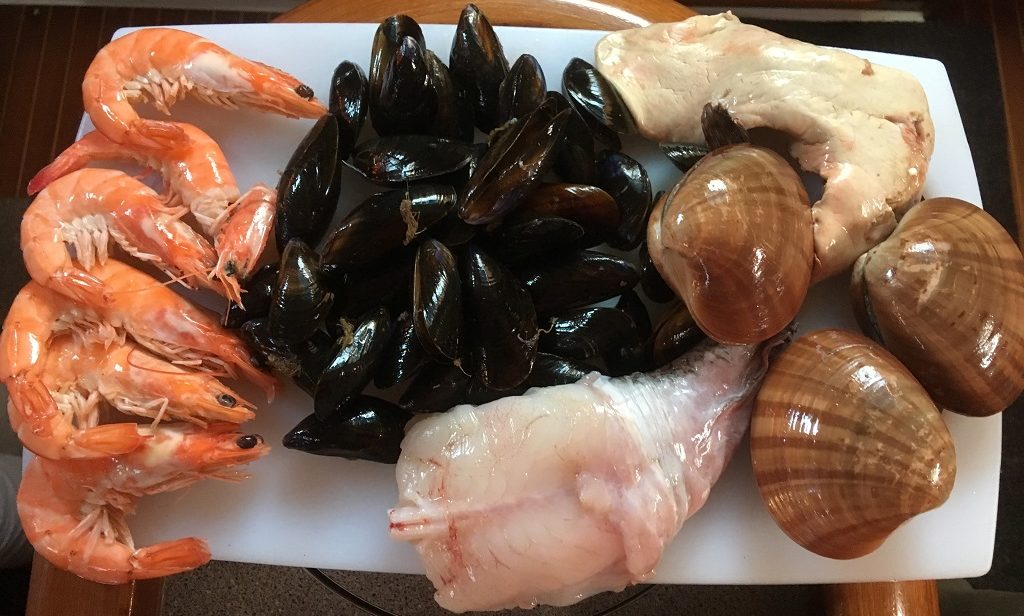 In the back corner was a real character on his stall selling home produced goods from his farm – various goats' cheeses, eggs, bread and fruit flans. All were unexpectedly good, and in part unexpectedly inexpensive given the quality. We went back for more on the Wednesday!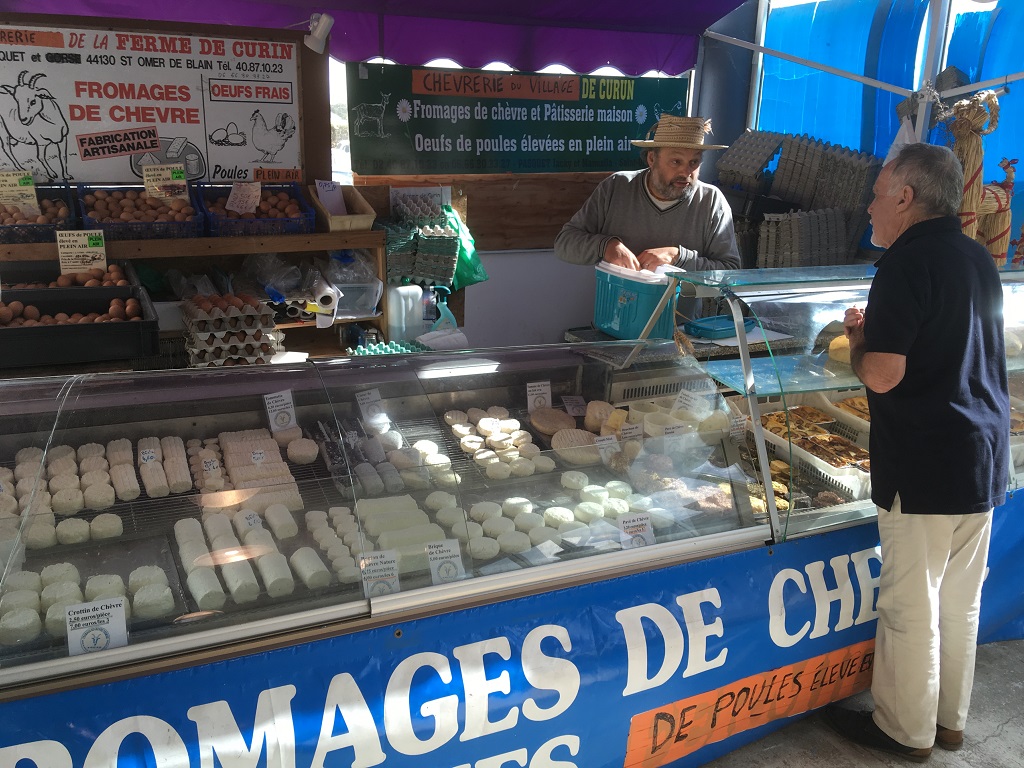 In addition to the market, overlooking the marina basin is a decrepit van that hasn't moved for years, next to a stall where fish is sold 3 days a week (MWF) – again at really low prices. The van is used as their store room!
The chandlery (Comptoir de Mer) is large and well stocked, and we took the opportunity of acquiring some end of year "destockage" bargains as well as acquiring bits for an odd job or two, including purchasing dehumidifying crystals in a container with re-fills, as we may not have an electricity supply to the boat for heating over the winter this year. Many say that they are a waste of time for long term winter storage, but we hope better than nothing, and we will probably visit in January and replace the crystals.
However in spite of the unsettled weather we did manage to get out and about. We had an odd walk on the beach to the North of the port, which is a bit more interesting than the very long, wide sandy beach immediately to the South (top photo South beach).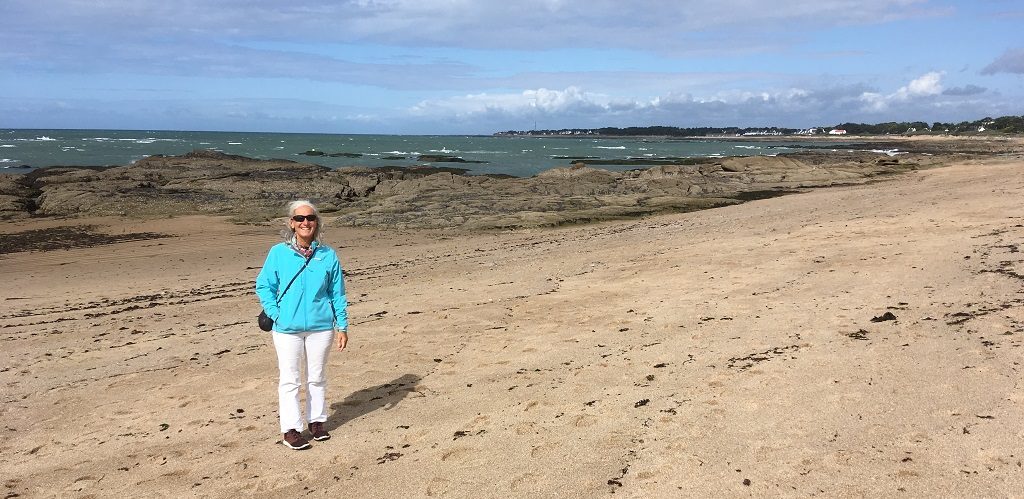 There is a bus line that goes to La Baule via Guerande and so we went to La Baule on market day (amazing by UK standards but ordinary by French), bought a bit of crockery and had a superb (and remarkably inexpensive – is it the change of season?) lunch at Le M, a very chic restaurant on the main high street just back from the seafront.
As we were waiting for food to arrive the lady maitre d' was chatting in fluent French to the lady sitting at the next table. Then it was our turn to be greeted – and as she started to welcome us in French Paul interrupted her with – "I believe you are English?"……"How did you guess?" asked the maitre d'……."Well you sounded like the policeman in 'Allo 'Allo"  he said. He had recognised the Northern accent in the fluent spoken French – honed from 16 years married to the chef and living in France.
She was lovely and we had a good chat. It just shows that you can take a girl out of the North but…….

We thought the 'Allo 'Allo policeman analogy was quite funny – but she just didn't get it, never having watched 'Allo 'Allo. Hopefully she won't be offended! when she does watch!
La Baule shares the same high rise apartment block beach frontage that we saw in Pornichet (the same stretch of beach after all) and immediately behind that sit the many and varied villas of a bygone era. We see enough of the sea and beaches, and our favourite part of La Baule (after Le M) was wandering the back streets: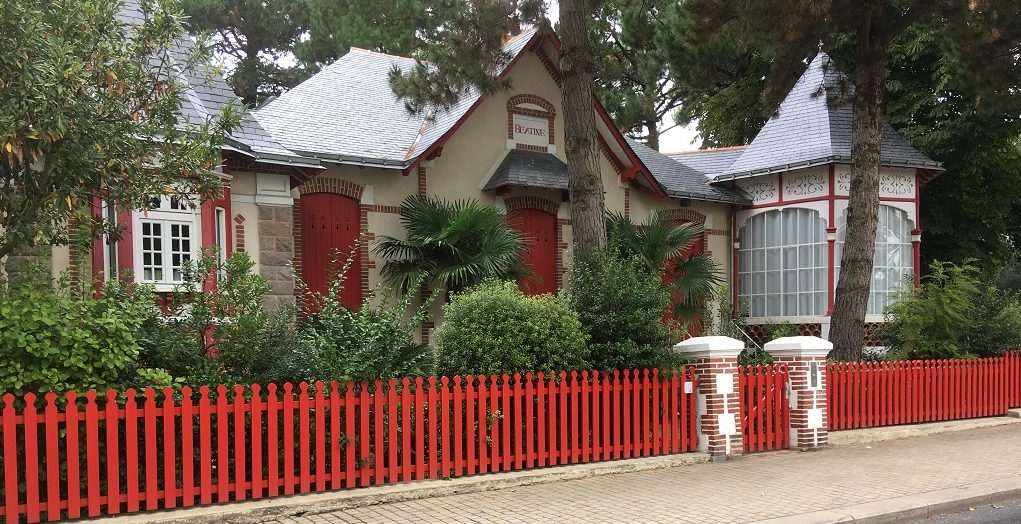 On Tuesday we caught the bus to Piriac for lunch. The marina here is only accessible at certain states of tide. When the tide falls the cill shown in the photo below retains water to keep boats afloat. The access to the marina is across a very shallow area, all drying above chart datum.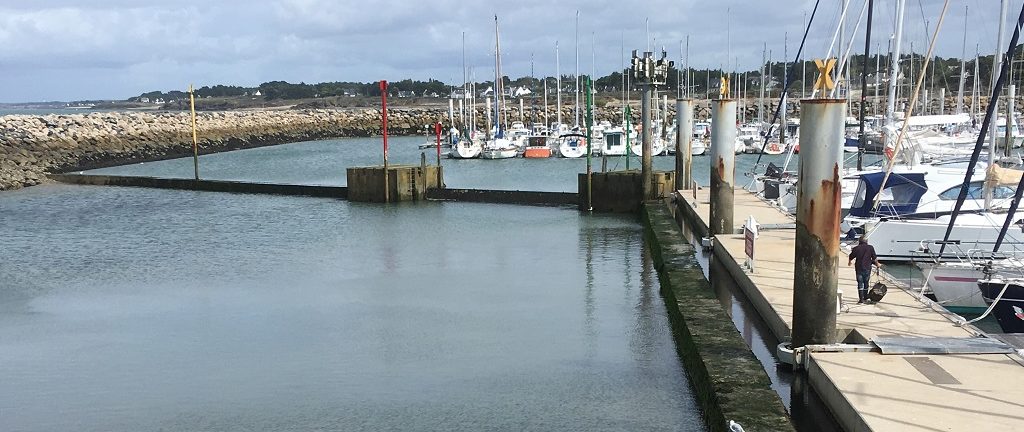 We would not be visiting here by boat as the available time to arrive and depart just didn't suit our plans, however we were told that the old town has more to offer than La Turballe.
There was indeed an interesting old town with a number of very old buildings.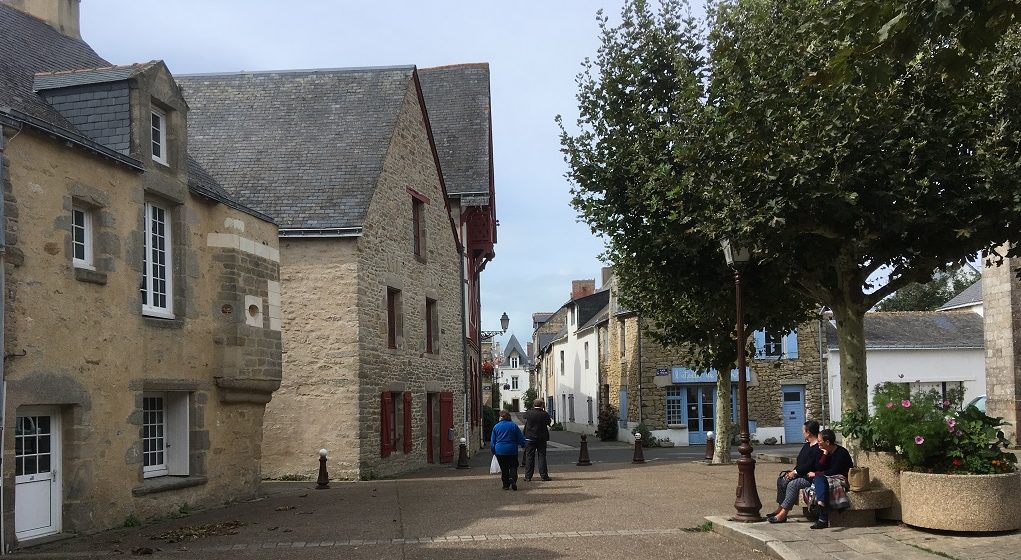 The commercial centre was almost entirely given over to bars and restaurants, with the odd shop selling holiday tat. And salt. And tinned sardines. We decided that the La Vigie restaurant, well situated on the front and as delightful as it looked, was just too busy – they didn't even have time to greet us as we arrived, but in fairness nearly every table was taken and the place was busy – unlike every other restaurant which was either closed or quiet. After waiting patiently we were given 10 seconds to decide if we would eat inside or on the uncovered tables on the quay, as the covered terrace was booked. After a very quick conference we turned around to discover that the welcome party had disappeared – at 12 seconds we were clearly wasting his time!! We selected Chez Grand-Mere which was the busiest in the back streets and had an ok but not great meal. We have been disappointed with general restaurant standards, with some exceptions (have we mentioned that before?!) But this was the first case of downright rudeness!
The trip to Piriac was well worthwhile if only for the incident on the walk back to the bus stop. Paul has often chided Val for inattention when crossing roads: "how can you expect the children to learn to cross the road safely when you just step out…..moan, moan, nag, nag…….". And so as we crossed a mini-roundabout his "quick there's a car coming" was (as usual) disregarded with (the usual) disdain.
As luck would have it this turned out to be a police car. Paul will never forget the condescending look on the young Gendarme's face, with gallic shrug accompaniment, as he pulled out the microphone in his Berlingo and with the loudhailer hailed a loud admonishment from 2 metres at the now hapless Val, stranded in the middle of the road on a painted mini roundabout. Priceless!
On Wednesday Paul went fishing and we ate this delicious line caught wild sea bass for dinner. Line caught has to be better and tastier than the farmed cousins and Paul has been keen to repeat his single success of last year: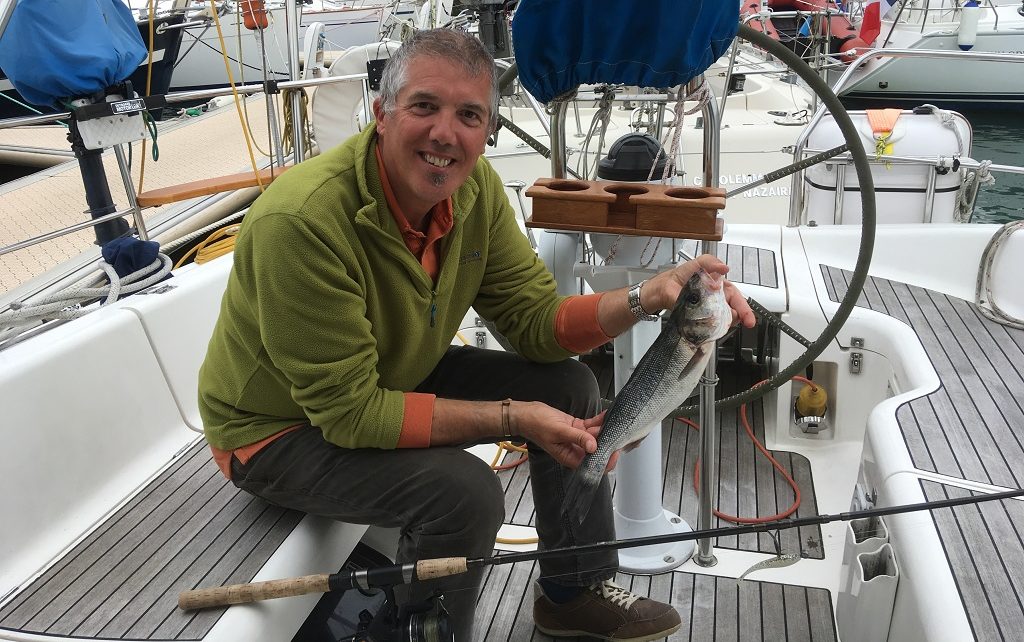 |
Unfortunately the fishing failed as usual, but this being Wednesday we managed to buy the fish at the market! We also bought the small live shrimps that have been on sale at 30+ euros a kilo compared to the standard cooked large 'crevettes roses' (king prawns to you and me) at half the price. We thought that we had to try them once at least. They must be amazing? The lady at the stall gave us a quick lesson on cooking – demonstrating clearly and enthusiastically how to toss them in the frying pan, quickly, and then to be eaten straight away.
Well that's what we did. And they were…….quite nice. And we have now tried them……
On Thursday we re-visited Guerande (last here with Anne and Lills on our return from Blighty). We walked through the graveyard as it was on the direct route from the bus exchange (at "Athanor") to the medieval centre. We are always amazed and impressed at just how well graveyards are tended in France, with many of the impressive marble slabs or more intricate monuments being adorned with ornaments and flowers. They are worth a visit to pay one's respects.
The old centre is surrounded by 1.3km of very remarkably ramparts, although a display at one gate advised that a 3 year, 3 million euro renovation scheme got underway this year.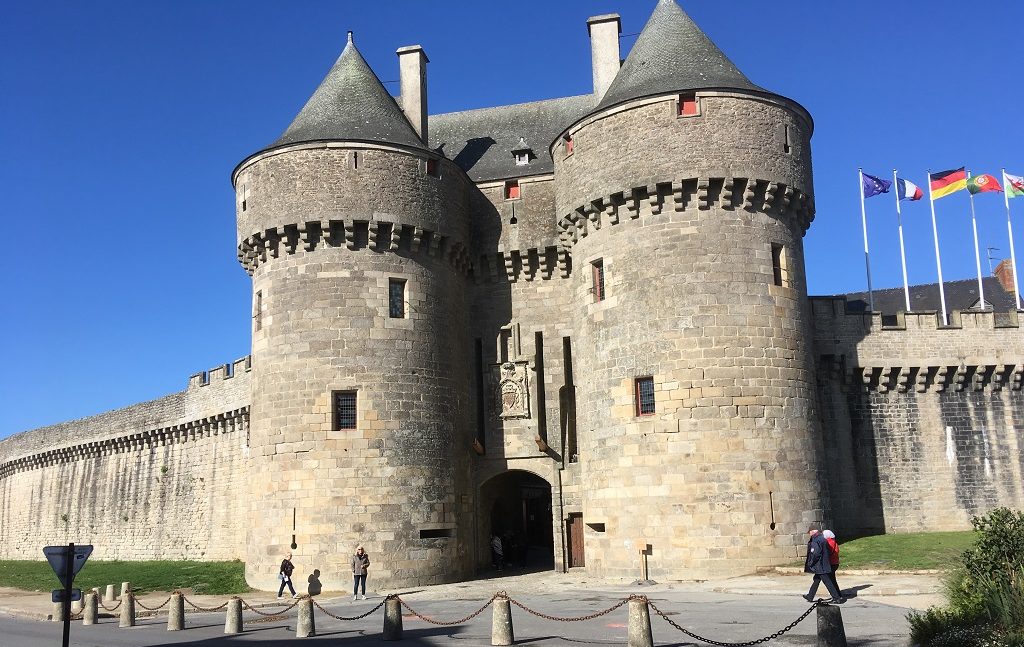 Inside the walls the commercial centre has a number of interesting galleries, antique/brocante shops etc. alongside the many selling the usual tourist tat. And salt. And tinned sardines! We walked down a few side streets, one of which housed a few decent art galleries that were not visible from the principle thoroughfares. We bought a few items from one brocante and a pair of earrings for Val before having a cheap meal of jambon/fromage gallette and caramel crepe with a cup of cider for 9.80 euros each. At least you know what you're getting with a crepe, and when hungry they hit the spot.
But then they just sit there!!
We could have enjoyed a lengthy walk around the walled city, but Paul's back issue is still not fully resolved and so we caught the bus back to La Turballe to spend the afternoon preparing for our 19 nm passage into the Vilaine on Friday 15th September.
The approach to the Villaine is very shallow – only 0.5 to 1.5m below chart datum for a 2.5 nm stretch before reaching the 5 nm long buoyed channel with depths from 0.4 to 3.5m below datum. Clearly the passage has to be timed to go in with sufficient rise of tide, and with the flood to ensure that if grounded the boat will be lifted off by the rising tide – and the chart does say that depths in this area constantly change. It is also inadvisable to go across this stretch of water in strong winds, especially from the West, however the forecast was for the winds to finally calm down on Friday – after the windiest week we have seen for some time!
The Vilaine river is protected by a barrage from flooding previously caused by high tides , and access into the river is through a lock. This year the lock has been closed on 3 days each week due to low water levels. It opens on Friday having been closed the previous 3 days – so we are expecting something of a rugby scrum when it opens! We hope to enter on the 14.00 opening, but agreed that we would wait for the 16.00 opening rather than doing battle for position – we have been warned that there is not a great deal of fair play in this scrum!
However this is September, outside of the high season and we are hoping for a quiet day…………
Distance Travelled since leaving Hamble Point – 663 nm