Here are a few items that we no longer need and will hopefully be of use to others. All figures are subject to postage in addition at cost (photos and more details will follow shortly). If you are interested send an e-mail to us  VPCalypso   ~ at   ~  gmail  ~  dot  ~   com    .We can send more photos and further detail if required.
ROPES: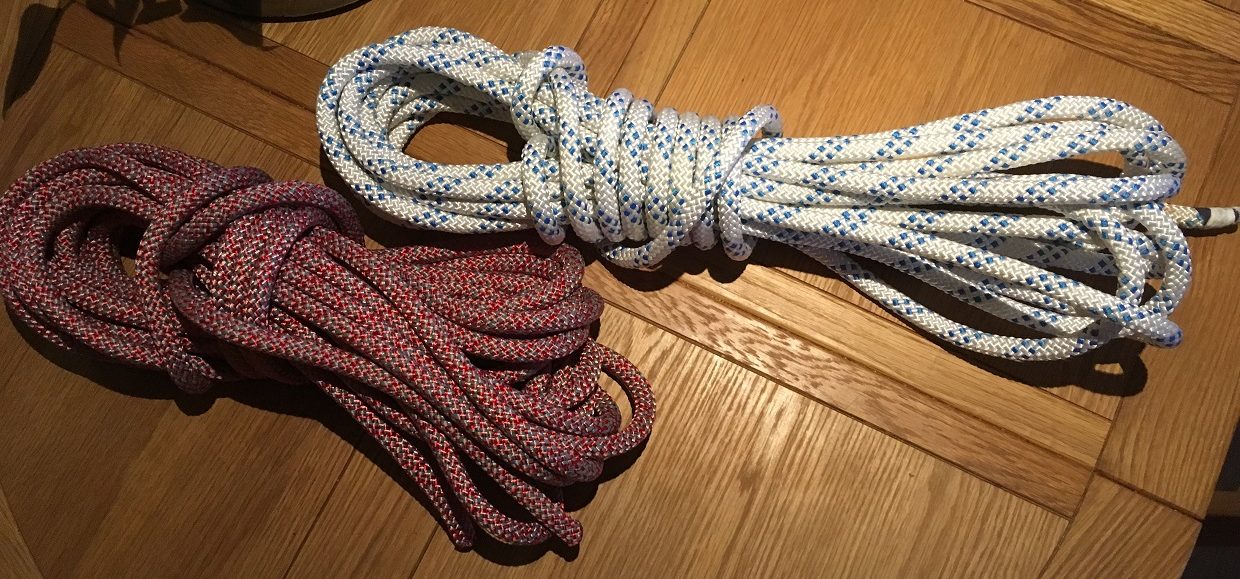 We bought 14mm rope thinking (with the assistance of calipers) that we had 14mm rope clutches. Turns out that they are for up to 12mm. So the following, never used ropes, are surplus:
Marlow King Braid 14mm white/blue (as described when purchased new on eBay) – 14 metres, £25 now sold
Liros Herkules Vision Red/Grey 14mm – 17.5 meters, £60 (£6.80/m = £119 at Jimmy Green).
FOOTWEAR: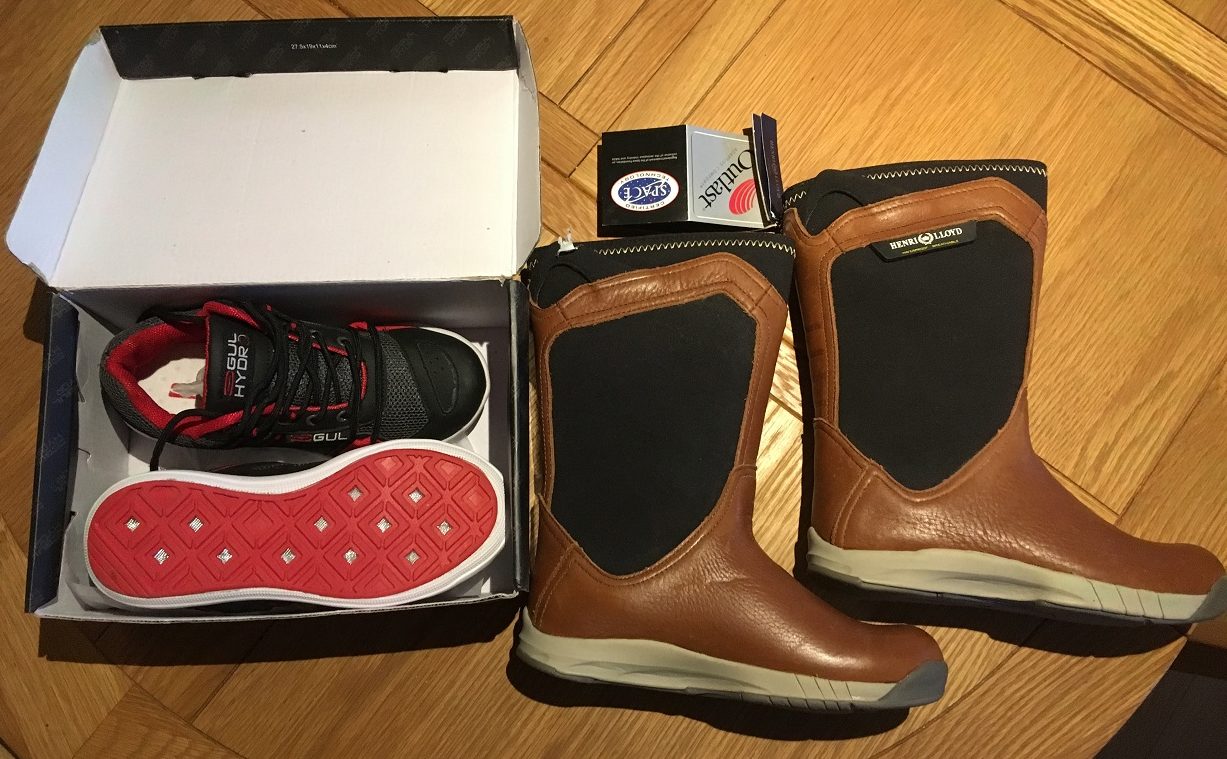 Our daughter is size 4. We bought some Gul Hydro deck trainers on eBay and a pair of Henri Lloyd boots at the chandlery for any wet weekends she might join us in Scotland. It was always dry when she visited!
It turned out that the Gul shoes are a little tight and so would suit a foot size nearer to 3 1/2 than 4. They are new in the box (around £30 new I think), £10
Alice never wore the Henri Lloyd boots and the tags are still attached. They are around £170 new. They have been stored in a locker inside the boat. £90
CHARTS AND PILOTS:

We have a number of charts which are mostly not current dated and which have not been kept up to date. We have used them for passage planning, but check the route with Navionics on iPad, as well as on the chart-plotter.
Imray Charts:
Y70 – Isles of Man Oct 2006: This is still the current issue (at Jan 2019). Bought new for our trip                 South from Scotland but we never visited! £9
C61 – St George's Channel (Irish Sea between Wales and Ireland) Oct 2012 : Never used and not updated (current version is 2016). £7
From Morlaix (western end of N Brittany) to Le Croisic in Southern Brittany (see photos for areas) – C35 (Nov 2003) – C36 (June 2000) – C37 (Nov 2003) – C38 (March 2003) – C39 (April 2003). We purchased these as unused at a boat jumble before heading down to Falmouth and across that Channel. In Falmouth we discovered the superb NV chart folio books and bought them. They are £47 each and you would need three to cover the same area (plus a bit more). We recommend that you buy those instead of the Imray charts we are offering – but if you just want something for passage planning and to support electronic navigation then you can take these off us at £25 the lot.
C38 – Anse de Benodet to Presqu'ile de Quiberon (March 2003) – we ended up with two of these! £5
Admiralty Small Craft Edition 2669 Channel Islands and Adjacent Coast of France 1997 £2.50
PILOT GUIDE – West Country (inc Scilly) Wiley Nautical 2008 7th Edition (current edition os 8th at £35). Used but in good condition £10 now sold
LIFE RAFT CRADLE: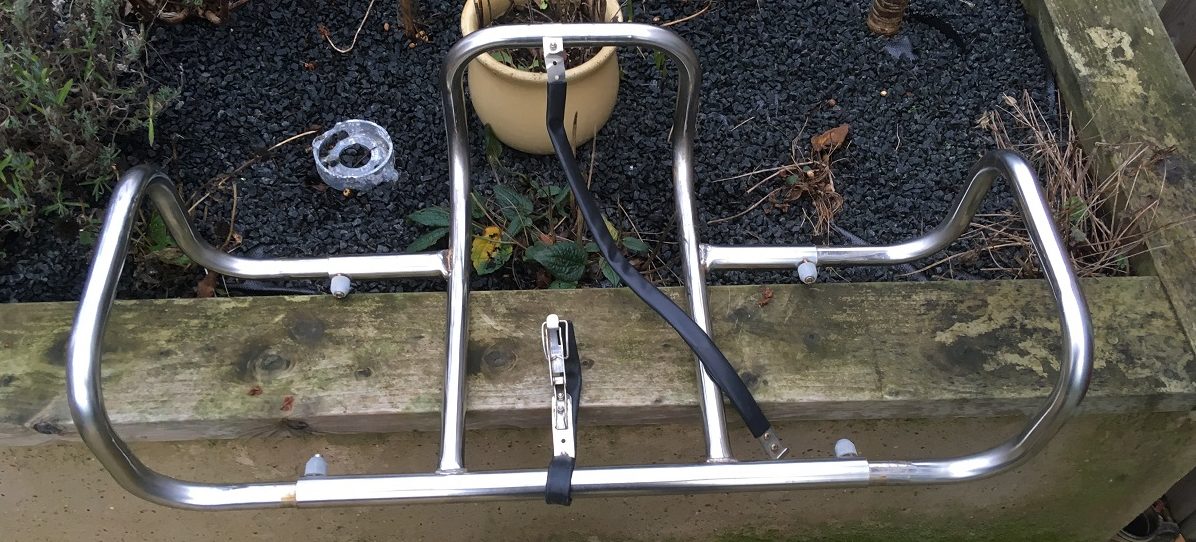 This was perfectly functional when we removed it, but we wanted to move the position of the life raft and to mount it in a portrait orientation. There is light rust staining at the socket ends as we don't have the product to remove it at home! It includes a metal restraining strap. £45
DORADE VENTS:

We bought these on eBay when away from the boat, hoping that they would fit. They don't! We paid £15 on eBay. There are a few minor surface marks, although we haven't tried any product (eg dinghy/fender cleaner). £15
FLYSCREENS:

Lewmar "B5961 Iss B" We have 8 of these. They came with the boat. We find them too fiddly. Maybe in summer in the Med where you can fit them and know that it won't rain for weeks they would be useful! £7.50 each
METAL VENTS: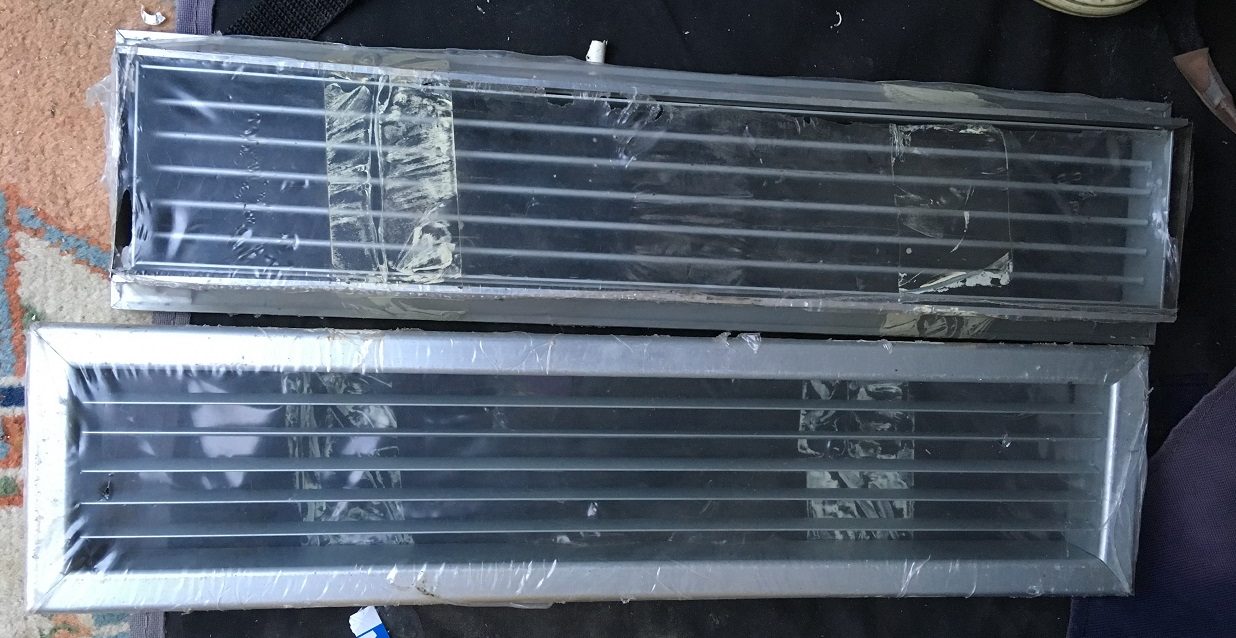 Bought from…….you guessed it – eBay! Needed one of these to ventilate the under bunk locker where the battery charger/inverter is located. However Osmotec suggested a beautiful polisshed wood alternative (at £70 which we thought was great value). So both of these are surplus to rquirement. Hole cut-out dimensions approx 437mm x 87mm.  Outer dimensions 455mm x 110mm.
We paid £30 for the pair. £15 each
CLOTHING:
PRORAINER T-CORE SMOCK – MEN'S LARGE: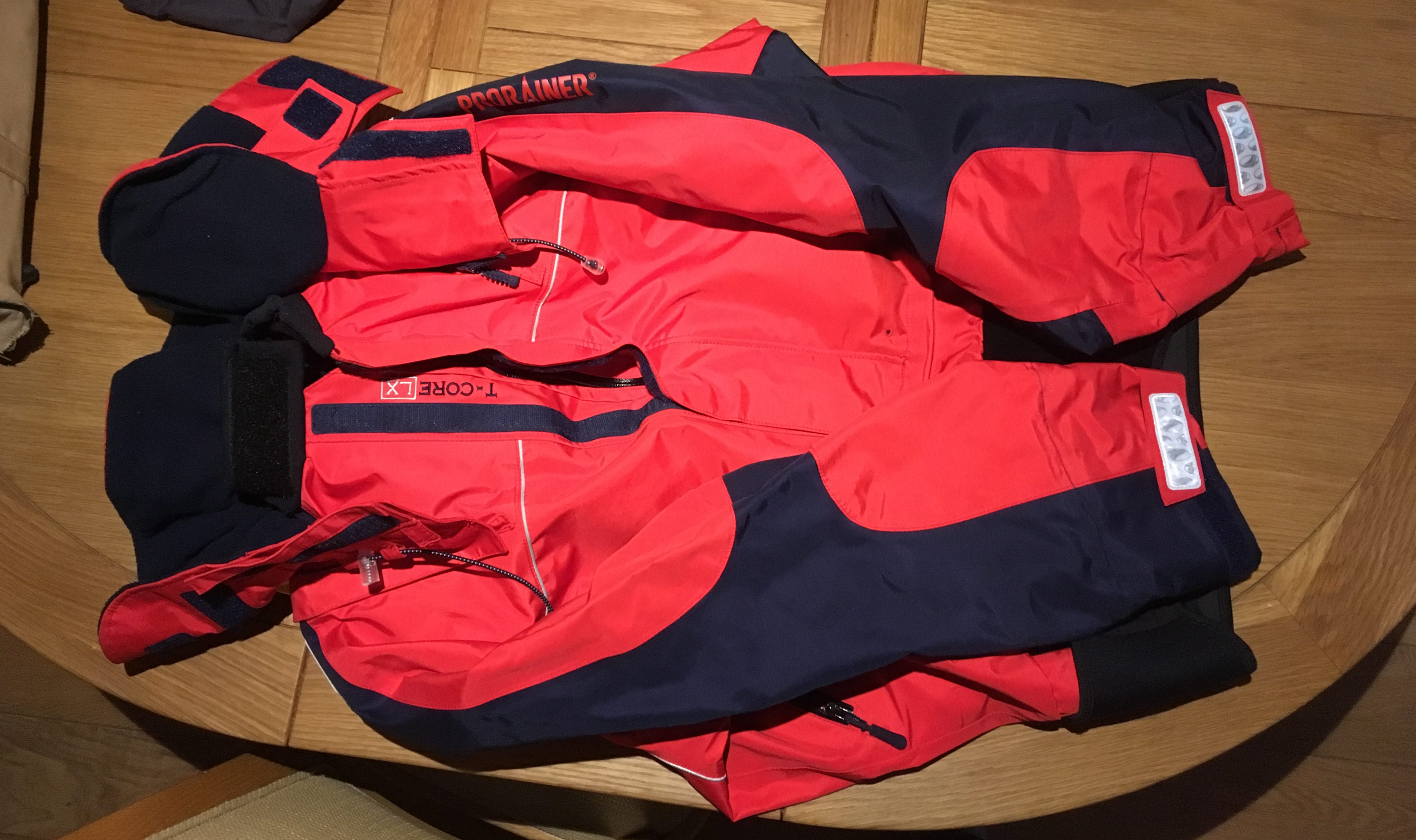 German quality smock with fitted neoprene waistband and yellow hood. I remember seeing these at the boat show several years ago reduced from £200 to £100 (must have been end of range) and thinking what a good buy that is – but I already had two jackets. Some months later this cropped up on eBay (new with tags) and I bought it for our son to wear when he came to the boat. For 2 years in Scotland we literally never sailed in rain. He used it once (in our third year there) and never since. It is not for a large, large person (I am somewhere between L and XL and it is a bit tight for my liking), but would be a good buy for the smaller large person at £70
GILL SPRAY SMOCK: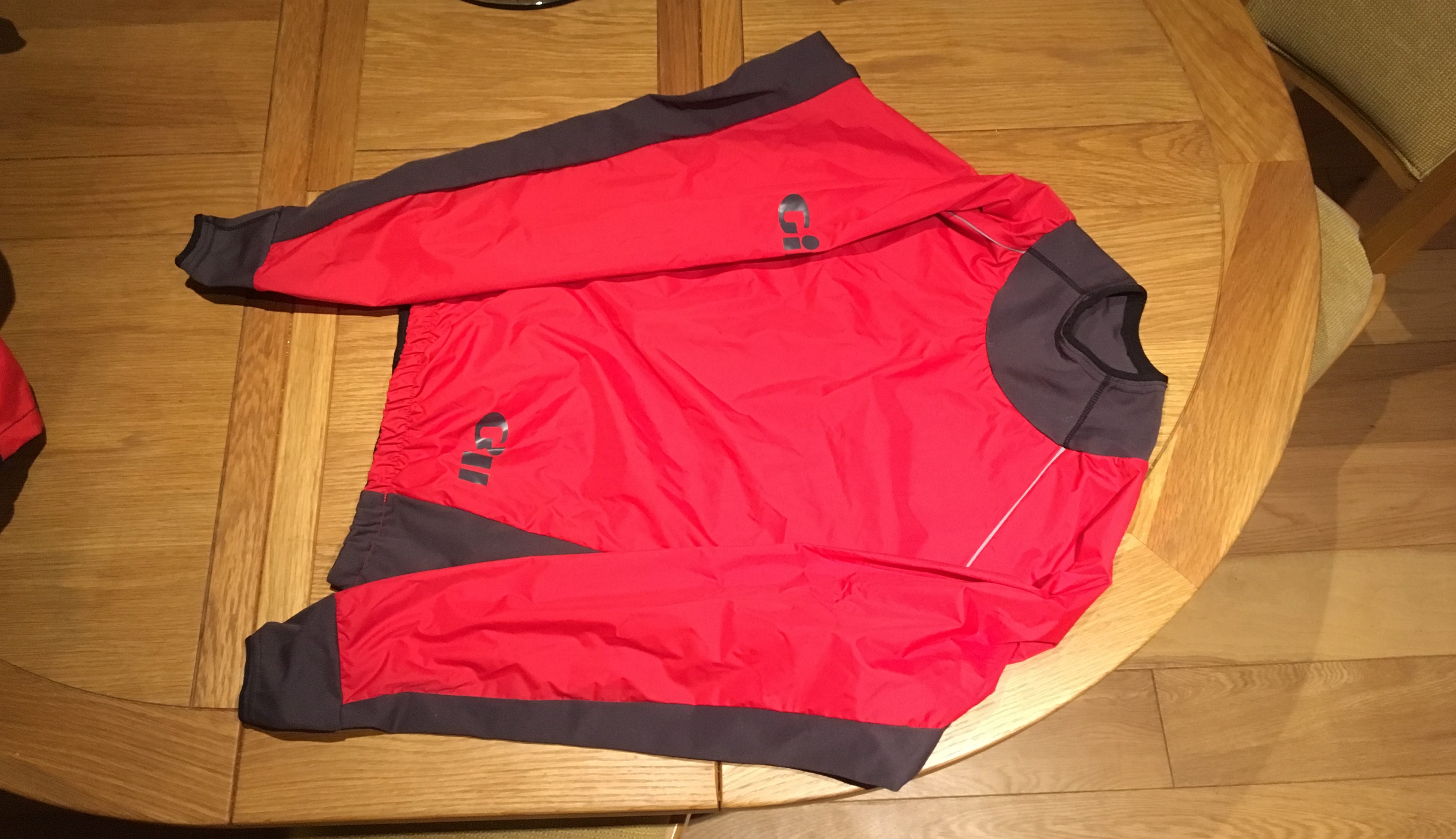 Size small lightweight spray smock with thin neoprene-type sections down each side and around the neck. Bought this for our daughter but she didn't like the neck as it was a bit tight for her (and she is a bit skinny!) Very good condition, barely worn. £20
TRADITIONAL GUERNSEY JUMPER: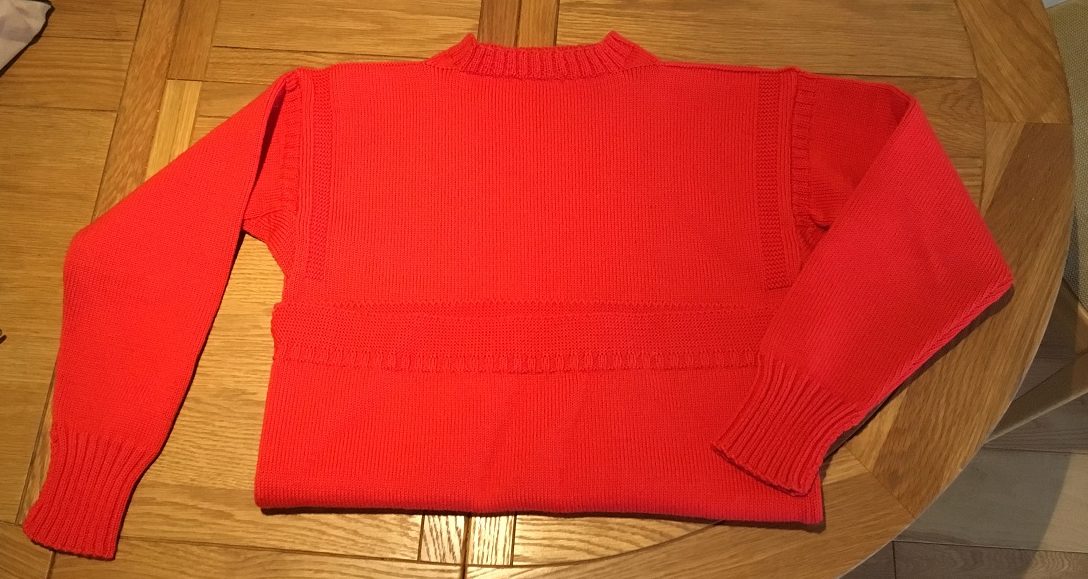 Paul bought this for Val from his favourite source – eBay! It was advertised as new and size 12. Val says it is very nice – and long (for those cold breezy days- shown folded above) – but it is a size 10!  She wore it once. £20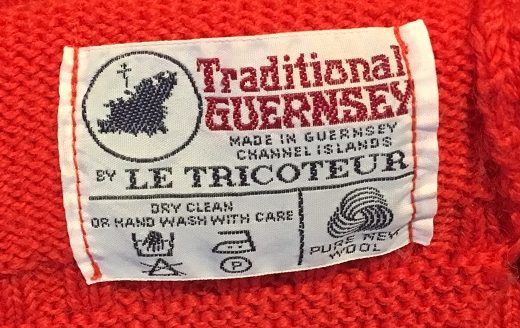 MUSTO EVOLUTION MEN'S TROUSERS SIZE 36″ WAIST:

Paul bought these and rarely wore them, keeping them for cold, wet and windy days – but we saw very few of those and then Paul carelessly lost 2″ from around his waist! So these are in very good condition having been worn no more than 2 or 3 times – and he is always a bit precious about his stuff so they didn't even need washing! £30
SEWING MACHINE: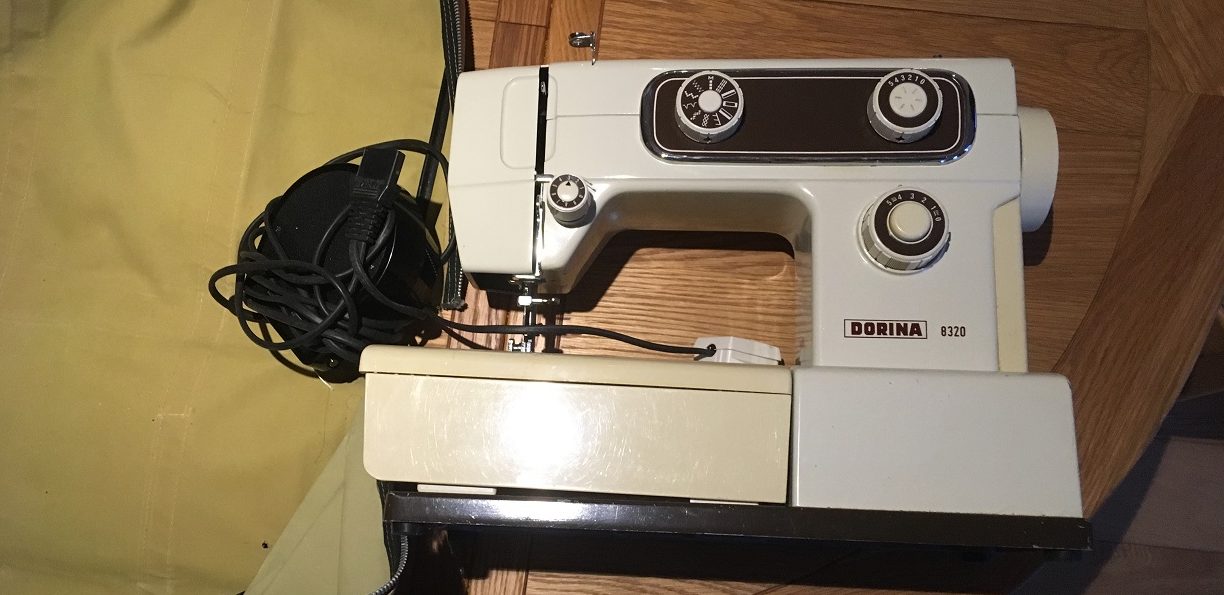 Pfaff Dorina 8320 with soft carry bag. We bought this for canvas jobs on the boat, it does zig-zag stitch which is essential. Bought from an eBay vendor who said it sews several layers of cloth and on the basis that Pfaff is a German manufacturer. Maybe we don't know what we are doing – Val created fitted sheets and other bits and pieces and we have repaired the zip on the lazy bag, 3 layers of cloth, but anything  more than that is a real struggle. So we have taken the plunge and bought a second hand Reads Sailmaker. If that doesn't work then it is our lack of skill! We paid £75 and it is good enough value at £65 but don't buy it for heavy duty jobs.
ALTERNATOR:
We already carried a  spare alternator on board for our Volvo MD2040B engine when at our re-fit we installed a Balmar alternator and smart regulator. The one we removed was working on removal but not being electrical engineers we cannot comment on its condition, other than to say that the engine would have done around 2,100 hours from new at the point the alternator was removed. We suspect it would be the original. £25 NOW SOLD