Here are a few items that we no longer need and will hopefully be of use to others. All figures are subject to postage in addition at cost (photos and more details will follow shortly). If you are interested send an e-mail to us  VPCalypso   ~ at   ~  gmail  ~  dot  ~   com    .We can send more photos and further detail if required.
ROPES: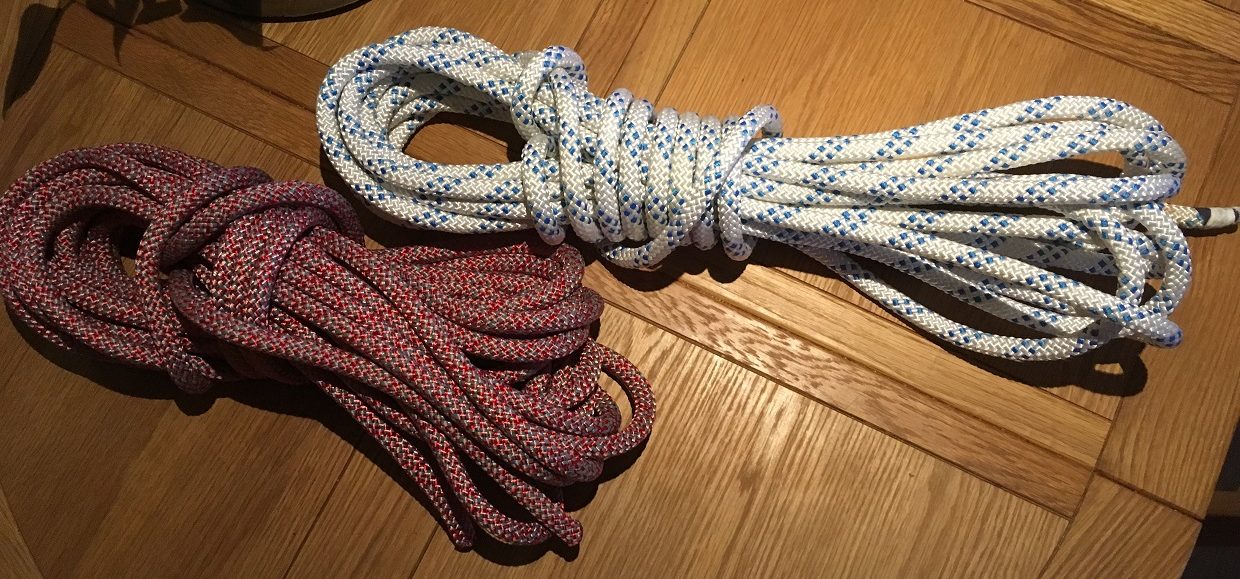 We bought 14mm rope thinking (with the assistance of calipers) that we had 14mm rope clutches. Turns out that they are for up to 12mm. So the following, never used ropes, are surplus:
Marlow King Braid 14mm white/blue (as described when purchased new on eBay) – 14 metres, £25 now sold
Liros Herkules Vision Red/Grey 14mm – 17.5 meters, £60 (£6.80/m = £119 at Jimmy Green).
CHARTS AND PILOTS:

We have a number of charts which are mostly not current dated and which have not been kept up to date. We have used them for passage planning, but check the route with Navionics on iPad, as well as on the chart-plotter.
Imray Charts:
Y70 – Isles of Man Oct 2006: This is still the current issue (at Jan 2019). Bought new for our trip                 South from Scotland but we never visited! £9
C61 – St George's Channel (Irish Sea between Wales and Ireland) Oct 2012 : Never used and not updated (current version is 2016). £7
From Morlaix (western end of N Brittany) to Le Croisic in Southern Brittany (see photos for areas) – C35 (Nov 2003) – C36 (June 2000) – C37 (Nov 2003) – C38 (March 2003) – C39 (April 2003). We purchased these as unused at a boat jumble before heading down to Falmouth and across that Channel. In Falmouth we discovered the superb NV chart folio books and bought them. They are £47 each and you would need three to cover the same area (plus a bit more). We recommend that you buy those instead of the Imray charts we are offering – but if you just want something for passage planning and to support electronic navigation then you can take these off us at £25 the lot.
C38 – Anse de Benodet to Presqu'ile de Quiberon (March 2003) – we ended up with two of these! £5
Admiralty Small Craft Edition 2669 Channel Islands and Adjacent Coast of France 1997 £2.50
METAL VENTS: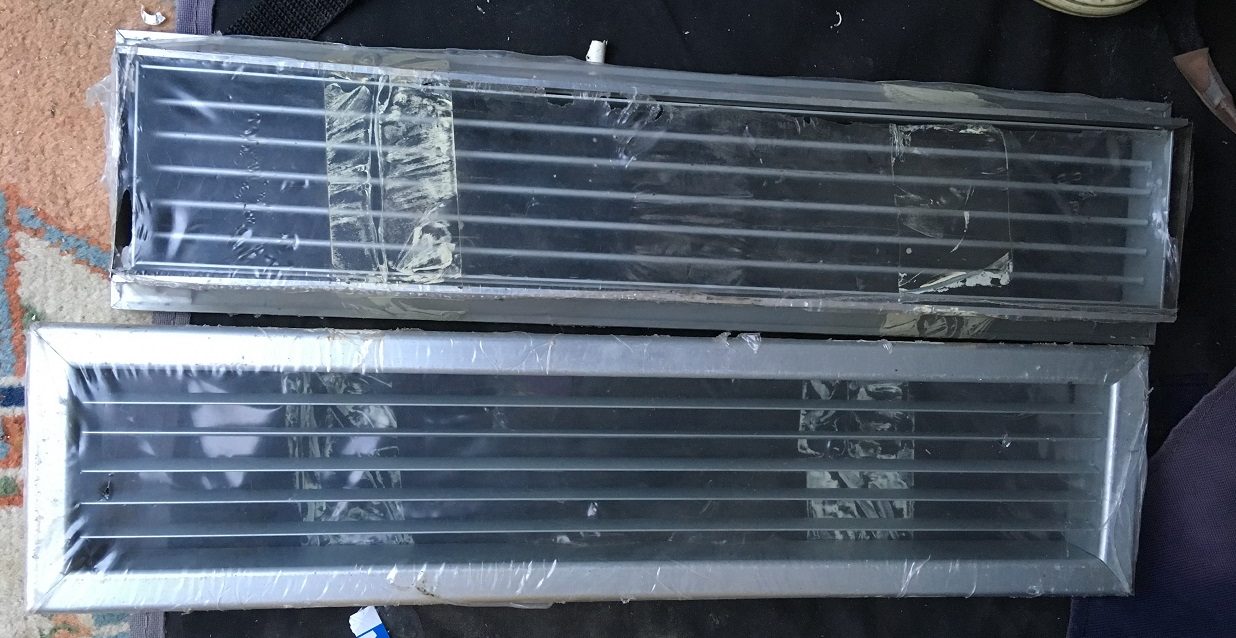 Bought from…….you guessed it – eBay! Needed one of these to ventilate the under bunk locker where the battery charger/inverter is located. However Osmotec suggested a beautiful polisshed wood alternative (at £70 which we thought was great value). So both of these are surplus to rquirement. Hole cut-out dimensions approx 437mm x 87mm.  Outer dimensions 455mm x 110mm.
We paid £30 for the pair. £15 each
PROPELLER
We had a Volvo 3 bladed folding propeller (saildrive LH version) fitted when we bought Calypso. It turned out to be badly specified at 17″ x 12″ especially now that our 9 tonnes (dry weight) has been increased with arch, thruster, increased battery bank and lots of cruising gear.
It has now been replaced by a 17″ x 14″ Featherstream, but is in very good condition. We used it for 6 seasons, the first 3 of which were when we were working and kept the bost in the Clyde.
The first season Calypso was in the water for about 9 months and the propeller anodes had badly corroded – one had dropped off.
Since then we have lifted Calypso to the hard for at lest 6 months each year and the anodes have been in good shape. Total engine hours has been around 450-500 over that period. There is little sign of wear.
These are around £1800 ish new and we are looking for offers around £700.
Here is the only photo we have of the prop cleaned up, from 2 years ago – we will post another when we get home at the end of this season. A photo of the prop just lifted from the water at the end of 2018 is shown in the post HERE