Rounding the End of the World!
When we returned to Coruna our friends, ("acquired" last year in France) Ros and Alan, were in the marina on Musetta. We enjoyed a couple of evenings with them before saying "hasta luego" and heading South. We had friends from England due to visit and wanted to meet them in the Rias Baixas, South of the renowned Cabo Finisterra, where apparently the weather is warmer and generally more settled. Certainly from our watching of weather forecasts it had been 2 or 3 degrees warmer. Capo Fisterra, as it is known locally, was once regarded as the "end of the world" and many pilgrims visit here, after reaching Santiago.
Fisterra is also renowned as a potentially very dangerous place in the wrong conditions, with winds accelerating around the cape.
And so on 23 July we headed out of Coruna for the 40 nm first leg of this trip to Corme, where we would anchor as there are no marinas South of Coruna until Camarinas and nearby Muxia, 60 nm away.
We motored out of the Ria in which Coruna sits, but as soon as we turned at our first waypoint the engine went off and we were sailing for a while at around 7 kts, gradually slowing through the day but always 5.5+ kts. We sailed the entire way, only dropping the sails as we entered the "ria" of Corme y Laxe (not sure if this inlet is strictly speaking a ria?). Typically at this point the wind strengthened to 22 kts, and as we struggled to furl the genoa manage to put a small tear in the sacrificial strip that protects the sail against UV when furled. We had forgotten to take the spinnaker halyard back to the mast from its port position at the pullpit. We have since sailed with the small tear, waiting for a calm day when we can drop the sail and effect a repair.
In the "ria are anchorages" at both Corme and Laxe, each inside an outer breakwater. However Laxe is not well protected from Northerly winds, and so Corme was the place to be. The chart shows a dotted line covering a large part of the inner harbour area. This was the outline of a fish farm (probably mussel "bateas") which we had read had been dismantled a couple of years ago. However no doubt remnants will remain on the seabed and we had reports from friends who dragged up rubbish with their anchor here – and who had witnessed one yacht having to call out a diver to free the anchor. Accordingly we chose an area outside of the delineated area and made sure our tripping line was set (attached to the orange buoy seen below).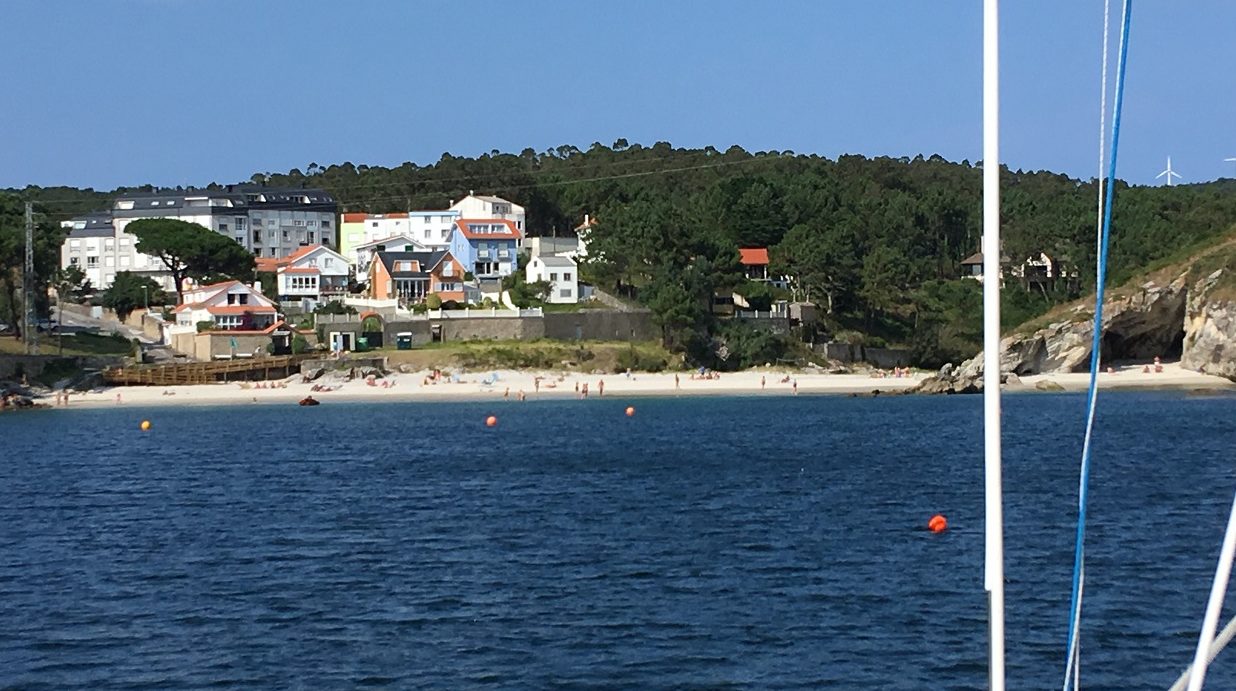 Corme was very picturesque, but the wind never dropped and so we didn't go ashore, even though the sea state was flat and we felt very securely anchored in spite of 20 kt winds blowing through. In the morning, in 20 feet of water we could see the anchor chain on the sandy bottom and just the roll bar of the Rocna anchor sticking out of the sand – the water was as clear as it gets!
There were a couple of beaches, the one below looked inviting, but we needed to press on – we wanted to head off the next morning as another good day of sailing was forecast for our 21 nm trip to Camarinas.

Another lovely day dawned and we headed out at 11.00 am, allowing the wind to gather strength (as forecast) to enable us to sail. The engine was off 30 minutes after leaving the anchorage and another good sail was had. However once again the wind was very strong as we entered Camarinas. Whilst Muxia marina at the other side of the ria is reportedly better protected in Northerlies than Camarinas marina (although Camarinas anchorage preferable with N winds), from our research we had expected Camarinas to be the prettier town and so headed there.
As we approached the marina the marinero was at lunch, and with such high winds (again 20+ kts) we opted to berth on the outer hammerhead and wait until the wind strength abated and the marinero returned from lunch. After a couple of bouncy hours the wind did slacken off and with the assistance of the friendly marinero we moved to an inner berth which was much calmer.
Having booked in for 2 nights (20 euros a night less 10% discount with the ASNauga "passport") we had a wander around the slightly disappointing town – probably the first time we had been unimpressed. Perhaps that was because we had expected much more, although the waterfront was not unattractive.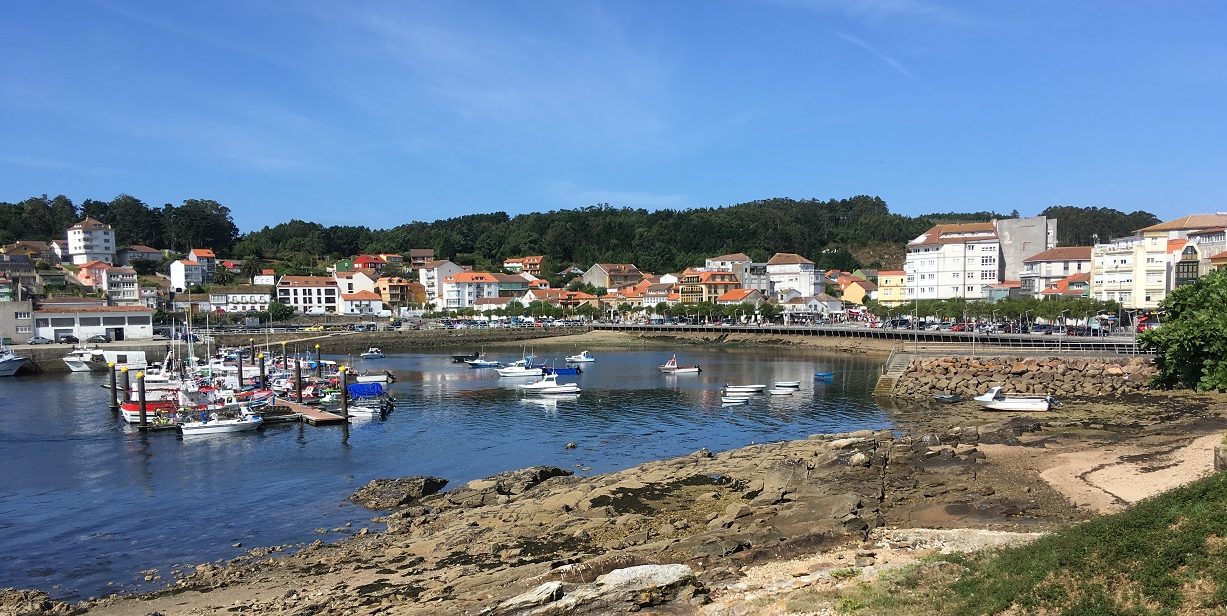 In fact over the 2 days we wandered the backstreets, seeing some interesting old buildings and people watching: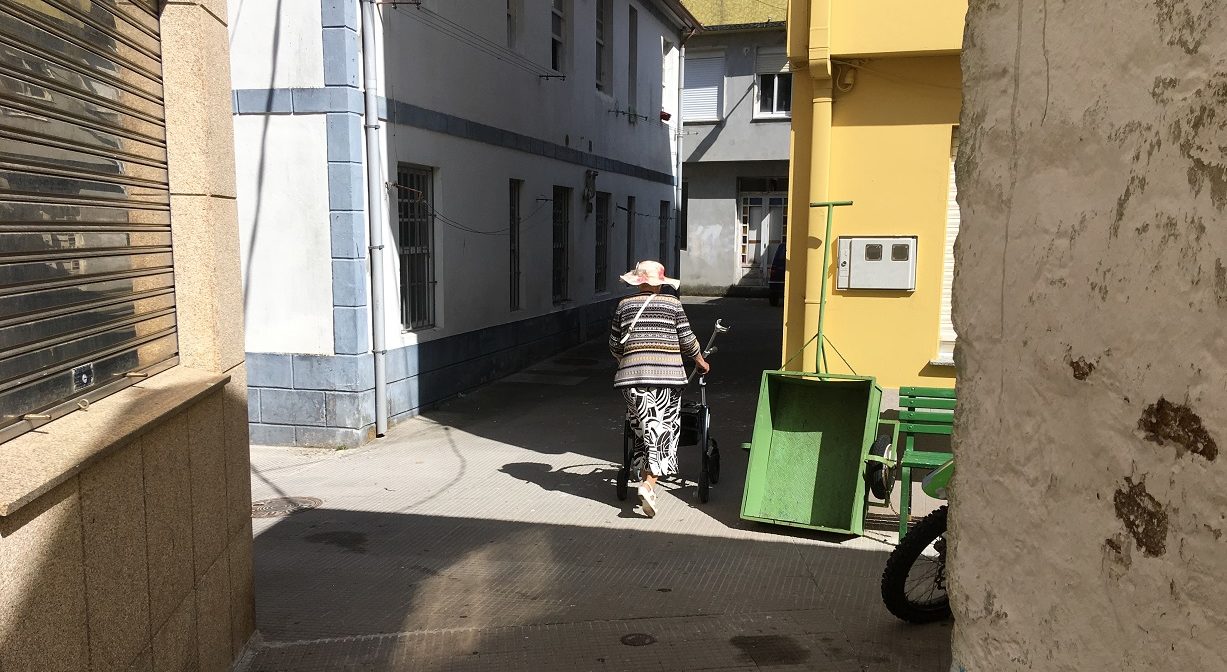 Whilst this is undoubtedly a poor town with many derelict old buildings and a great many abandoned, unfinished apartment structures, there were some interesting parts. We had a drink in a bar but elected to eat on board as none of the restaurants appealed!
Whilst the town disappointed, the walk out to the chapel Virxe Do Monte ("virgin of the mountain"??), which sits high above looking over the ria, made our option of Camarinas worthwhile. The route is a single track country lane, mostly un-metalled and in parts impassable for normal cars.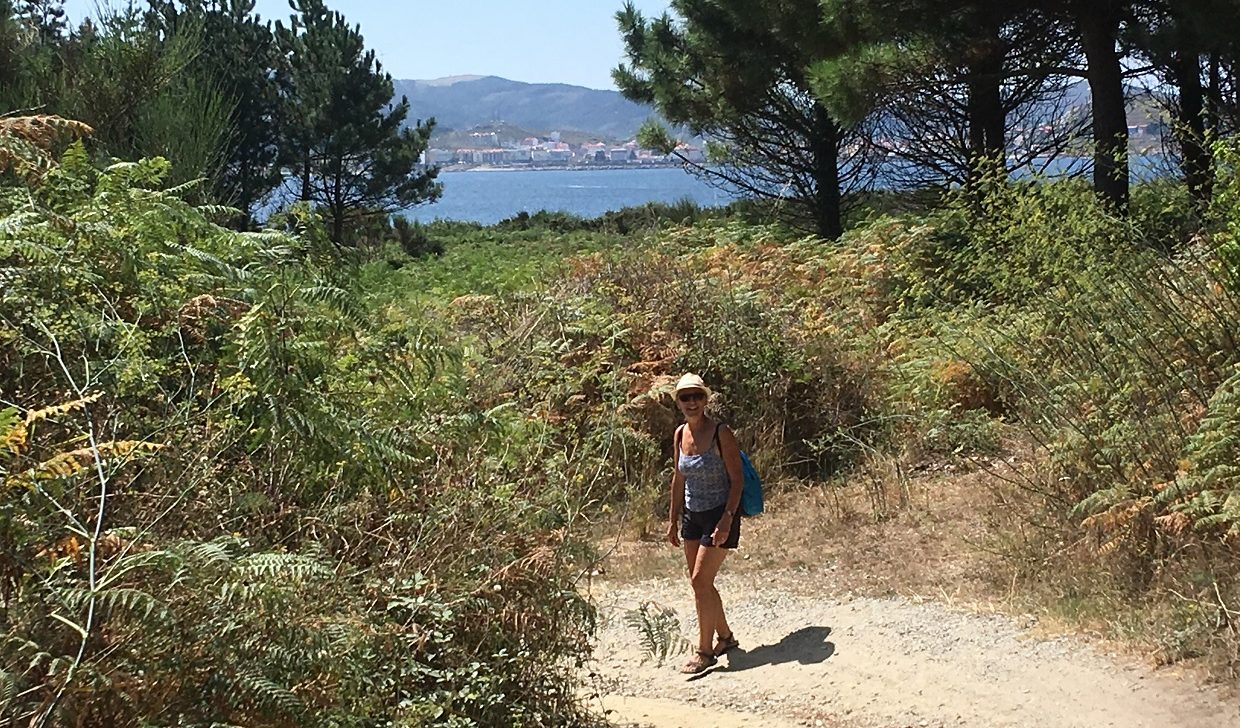 The walk took us past another large, disused cetarea within walled grounds (Val has this as her Grand Design project when she wins the lottery – there are derelict buildings not seen in the photo and a walled compound)…….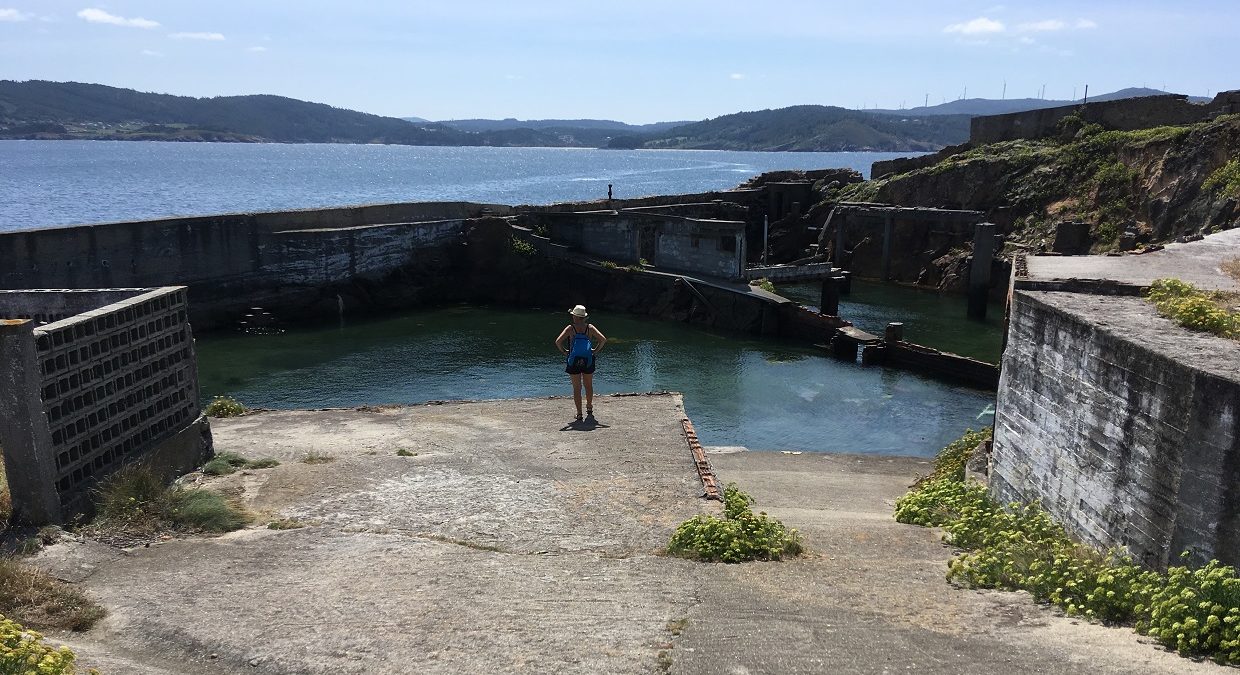 ……..through woodland, along a remote, stunning beach…….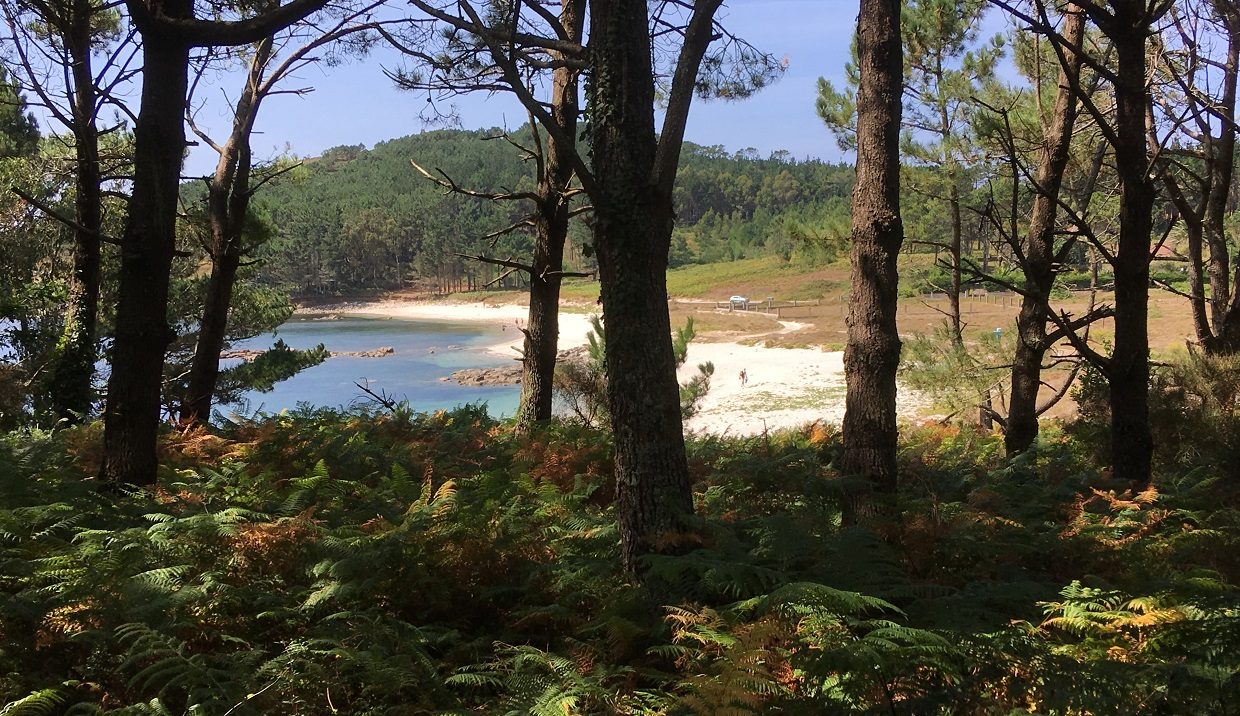 ……….and finally uphill to the church itself, where Val rang the bell once (we suspect that the yacht passing beneath us would have heard it).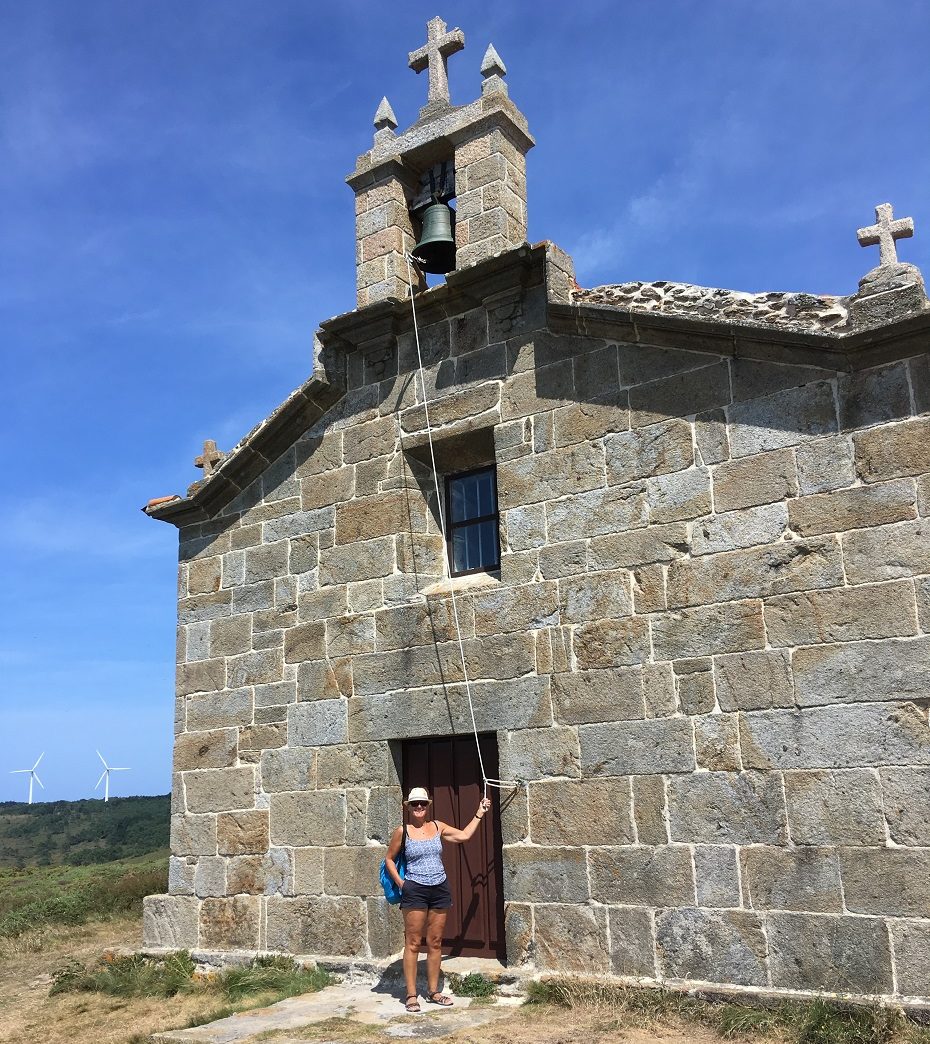 After 2 nights the forecast looked perfect for rounding Finisterre, a trip of 27 nm. Another downwind sail (the prevailing winds here during summer are Northerlies), with a calm start slowly building during the day.
We headed out past interesting looking Muxia, which we will visit next year. The amazing looking twin towered church on the headland is in fact only 4 years old, the original having been raised by fire (fact plagiarised without permission from Musetta of Hamble before they can get it in their blog – thanks Alan!)

We know that winds around Finisterre can be somewhat higher than forecast, and so before setting off we converted our Cunningham line to a third reef, only having a single third reef line on the leech otherwise. (For non-sailors – we made sure that we would be able to reduce the exposed part of the mainsail to a very small area.)
After 3 ½ hours of very slow motoring (we will have a new propeller next year) the engine went off and we sailed the rest of the way. With hindsight we should have put one reef in the main before going anywhere near Finisterre. As we approached (top photo) all was calm and we had a pleasant 12 kts or so of wind behind us.
By the time this photo was taken we were beam reaching around the cape with all sails up in 20-24 kts of wind. In spite of spilling wind to keep as upright as we could we were still bowling along at 7.5 – 8 kts. Fortunately the sea state remained fairy gentle and we almost enjoyed the experience (we certainly do now with hindsight – but would still have opted for the reef!).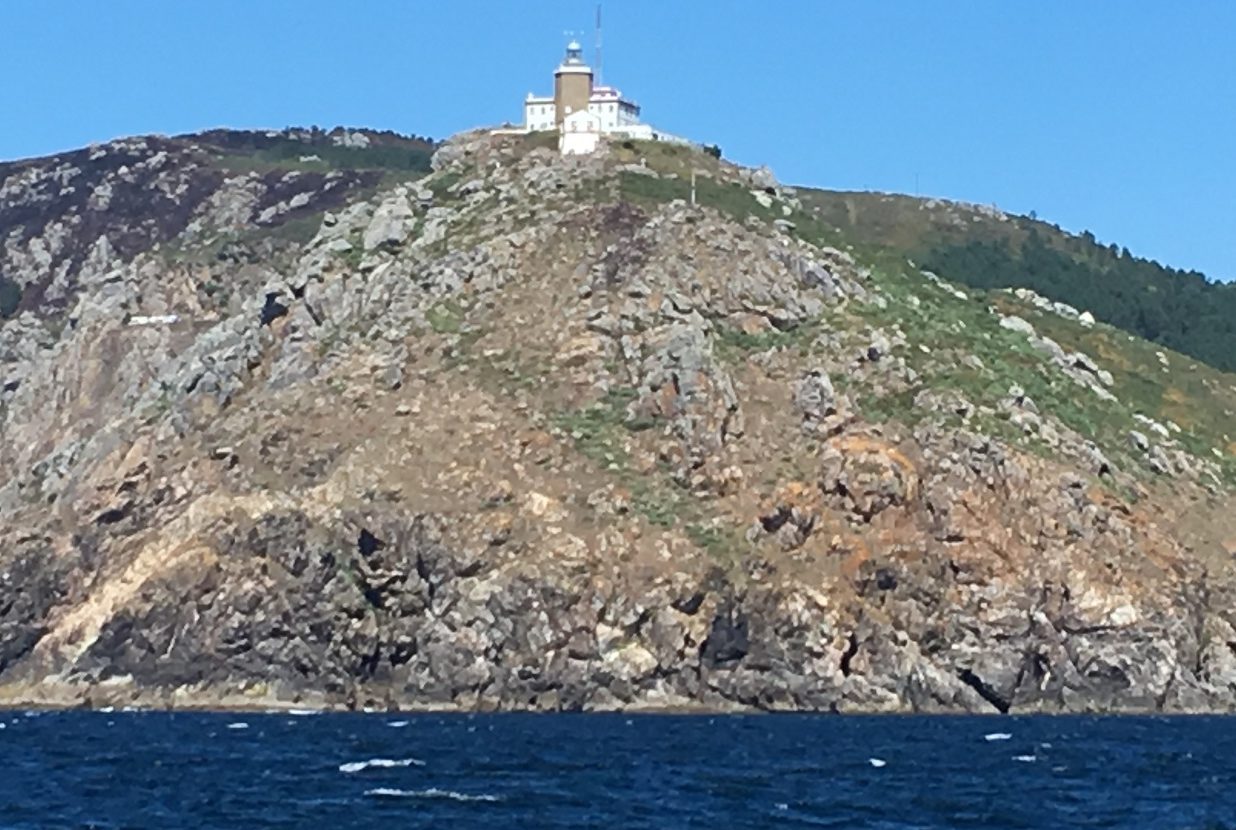 Things calmed down a bit as we entered the ria behind Fisterra. We furled the genoa, and pinching into the wind made our way up past the town of Fisterra to have a look at the anchorage off the large Langosteira beach. Whilst it is possible to anchor behind the large breakwater at Fisterra, this is not recommended in Northerly winds.
Langosteira looked like a good place to be – but a bit exposed in the strong North Easterlies, and so we carried on around the corner to Ensenada de Sardineiro, opting to anchor off the Westerly of the two small beaches (Sardineiro) – again in lovely clean sand with very little weed, shown here: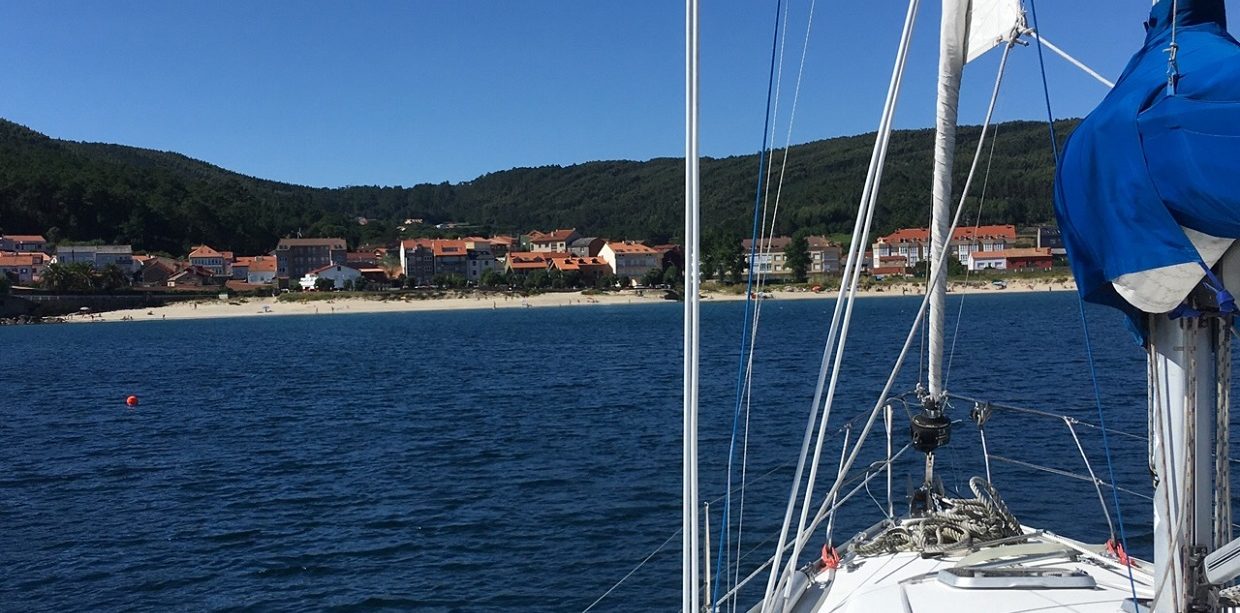 The Easterly beach (Estorde) seemed to be more popular – in the 3 nights we stayed at anchor here 4 other yachts used Estorde, whilst only one other came around to Sardineiro. We avoided Estorde as the chart appears to show that a fish farm once extended into that side of the bay, and we prefer to avoid a snagged anchor.
Ashore there is not much to Sardineiro other than a great beach, a good restaurant on the front (Cabanel – great food!) and a few other restaurants (including the similarly named Cabanas) and a small minimarket, struggling by the tips of its fingers to survive. We bought a few bits there, but there is not much fresh food other than greengrocery.
Again there were some interesting buildings (Paul found his project for a lottery win), but most interesting of all was the Finisterra-Muxia Way of the Camino which passes through. This is the end of the pilgrims' journey. After arriving at Santiago de Compostela from various parts of Europe, the pilgrims then walk to the "end of the world" (Fisterra) to cast away their sins, having been cleansed by their pilgrimage.
Apparently many also abandon their boots at the end of the pilgrimage – we had wondered why there were ceramic boots fro sale in the souvenir shops (thanks again to the knowledgeable Musetta crew for educating us again!)
As we walked from Sardineiro to Estorde we went against the flow of pilgrims – given away by rucksacks adorned with scallop shells, the symbol of the Camino. This must have been peak season for pilgrims here – we must have said "hola" to dozens of pilgrims.
When we returned to Sardineiro we continued through the town and up into the pine wooded hills beyond, following the pilgrims' way along another pretty track. As we picked blackberries for our breakfast the American pilgrim below stopped to pick and eat a few, chatting with us. He had set off from Ireland on May 15th, and here he was on 27th August, some 3 months and 3,000 km later, about to finish his journey. He looked surprisingly fit!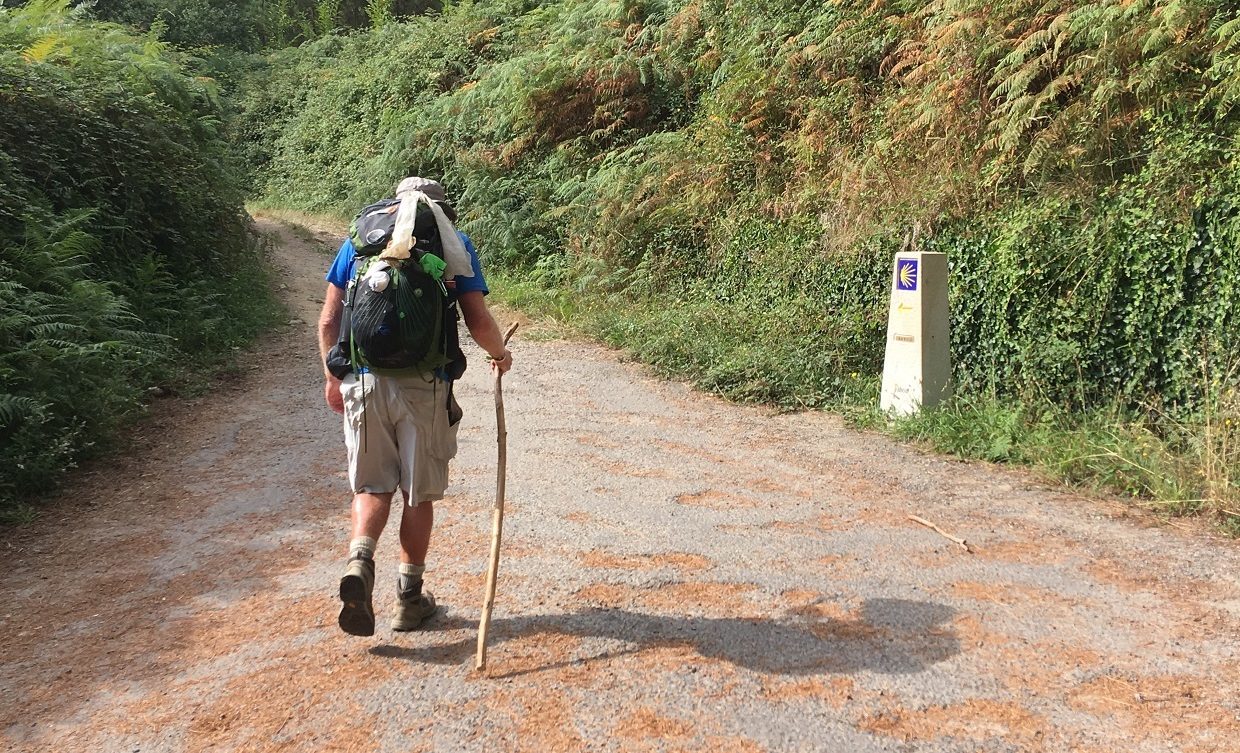 Whilst this had started as a lovely sunny day, we could see from the track above the town a fog bank rolling in. By the time we got back to the beach we could only just see Calypso in the mist. The fog in the Rias Baixas is apparently quite common but is unforecastable and usually very localised, often burning off after a few hours. Unfortunately this one stayed with us for the rest of the day! Whilst Calypso can be clearly seen in this photo, by the time we returned from our walk we could not see her from the same position!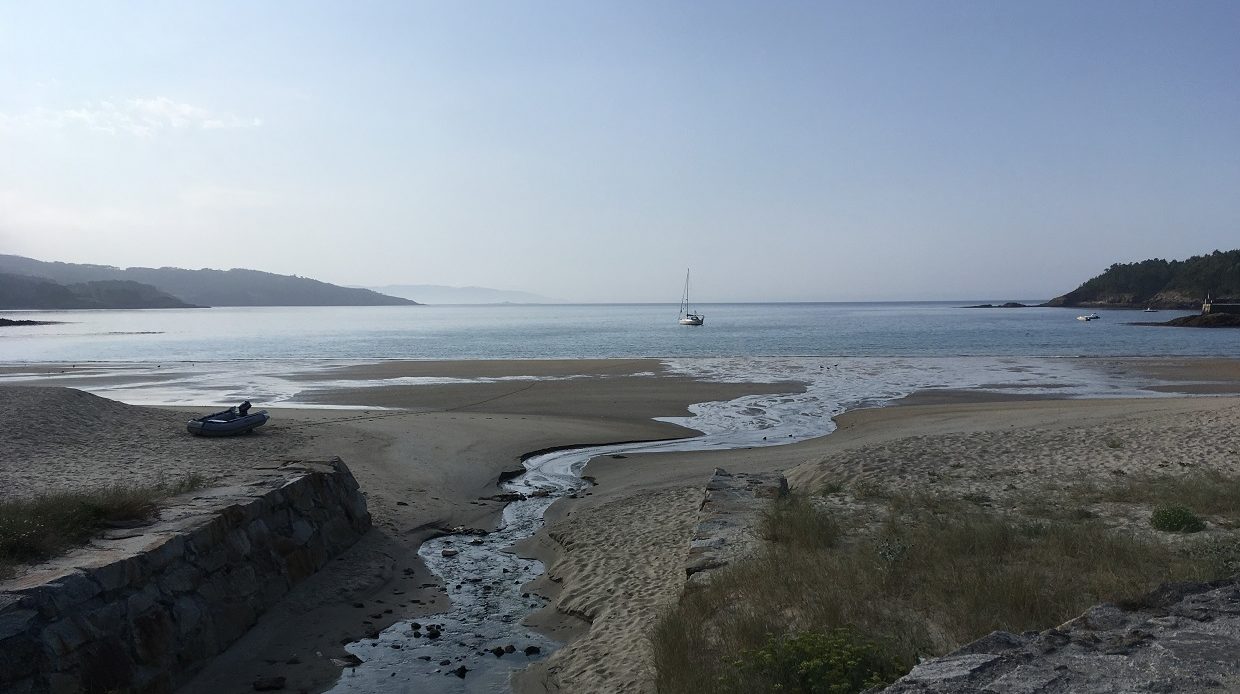 After 3 nights in this lovely spot it was time to move on, around into the Ria de Muros y Noia. We had told our guests of our good progress and arranged to meet them at the marina in Portosin, near the head of the ria. Before that we would anchor in the ria for a few nights.
We upped anchor on 29 August and headed slowly (under engine) into the flat calm. Just outside Sardineiro we came across a large "shoal" of swimming crabs, the first we had seen outside a market! We are not sure whether "shoal" is the correct collective noun and have named it a "scuttle" of crabs – after the way they appear to scuttle in the water out of the way of our outstretched net! You can see that their hind legs are adapted to paddles for swimming.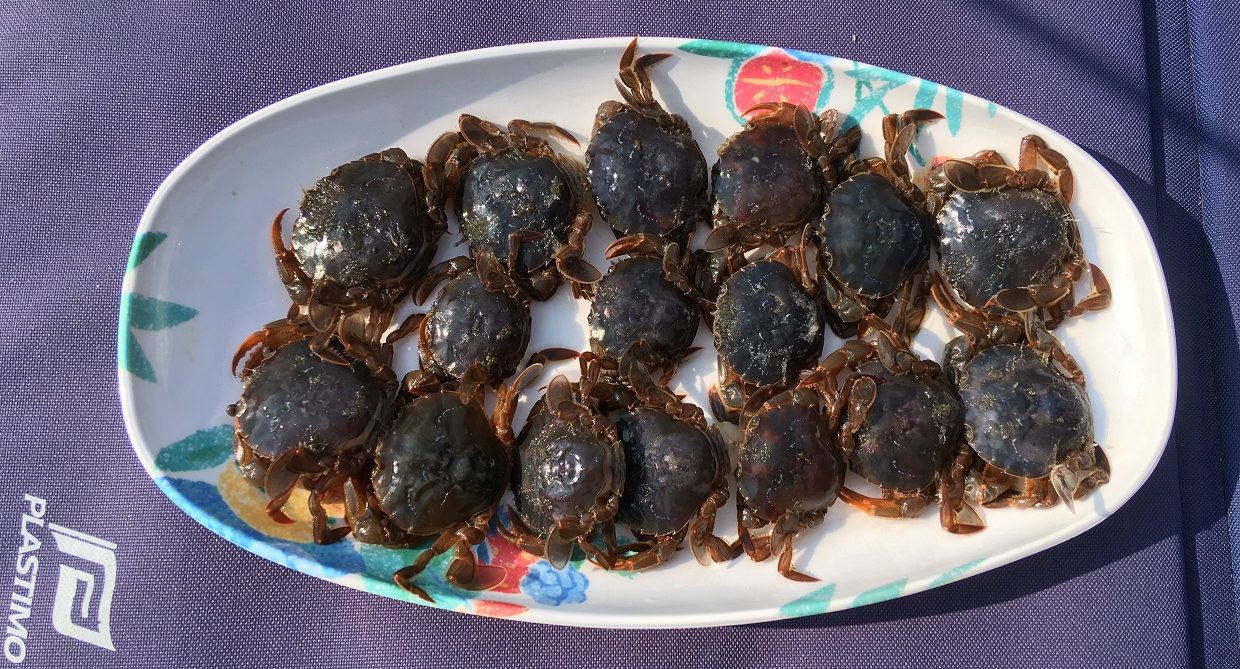 Once again the wind built as forecast. We were goose-winging nicely as we passed through the Canal de Los Meixidos – a one mile wide passage between rocks along the shoreline and off-lying rocky shoals. It appears that this is a favourite spot for crab/lobster pots, as this passage was strewn with them. We have been very surprised at how few pot markers we have seen and avoided in Spain – but normal service was resumed here! For once we had not fitted the preventer when setting up to goose wing, but the helm was up to the task and no crash gybes were seen, in spite of one buoy spotted very late!
As we rounded Punta Queixal to enter the ria, once again we had increased winds to provide an exciting ride for a short while – again topping 8 kts, even with our by-now-furry-bottom and old sails!
We opted for Ensenada de San Francisco for our first night, in spite of forecast North-easterlies. This was a very pretty spot, and we picked a spot of clean sand (between patches of weed) to drop the anchor after the 19 nm trip. The wind did blow for the 24 hours that we were here, and as expected we had a slightly rolly night, but nothing that kept us awake (sleep aided by the Anchor Watch app).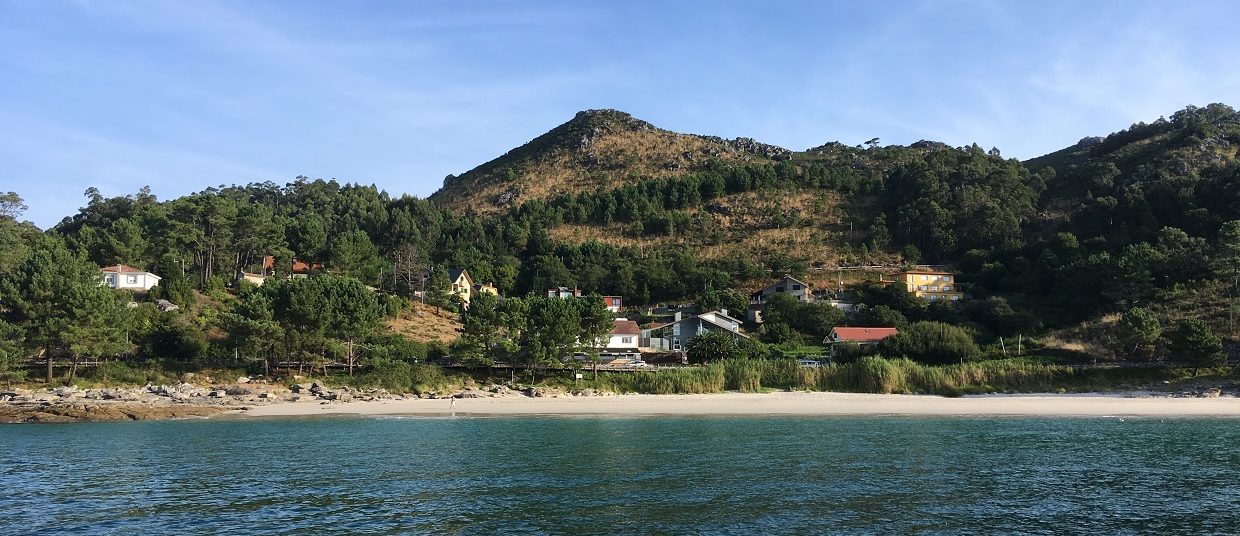 We were running low on supplies and so the capture of 16 swimming crabs was welcomed.
Scraping around our stores we managed to whip up a half decent dish of Cangrejos de Natacion con arroz (according to Google Translate!)
Some blogs have sections dedicated to their recipes – we don't, but if nothing else as a reminder to ourselves – this is what we used to make our dinner:
Half an onion, sliced, gently fried in olive oil – add red/orange pepper, half a fresh chilly, 1 tsp cracked fennel seeds, ½ tsp dried tarragon, 1 tsp chopped fresh ginger, laver bread (or other dried seaweed), fish stock (cube!), 1 lge tsp tomato paste, ½ glass of Albarino wine (or similar, remainder of glass for the chef) and 16 halved swimming crabs.
Bubble whilst cooking rice. When about ready add brandy and flambee.
And this was the result: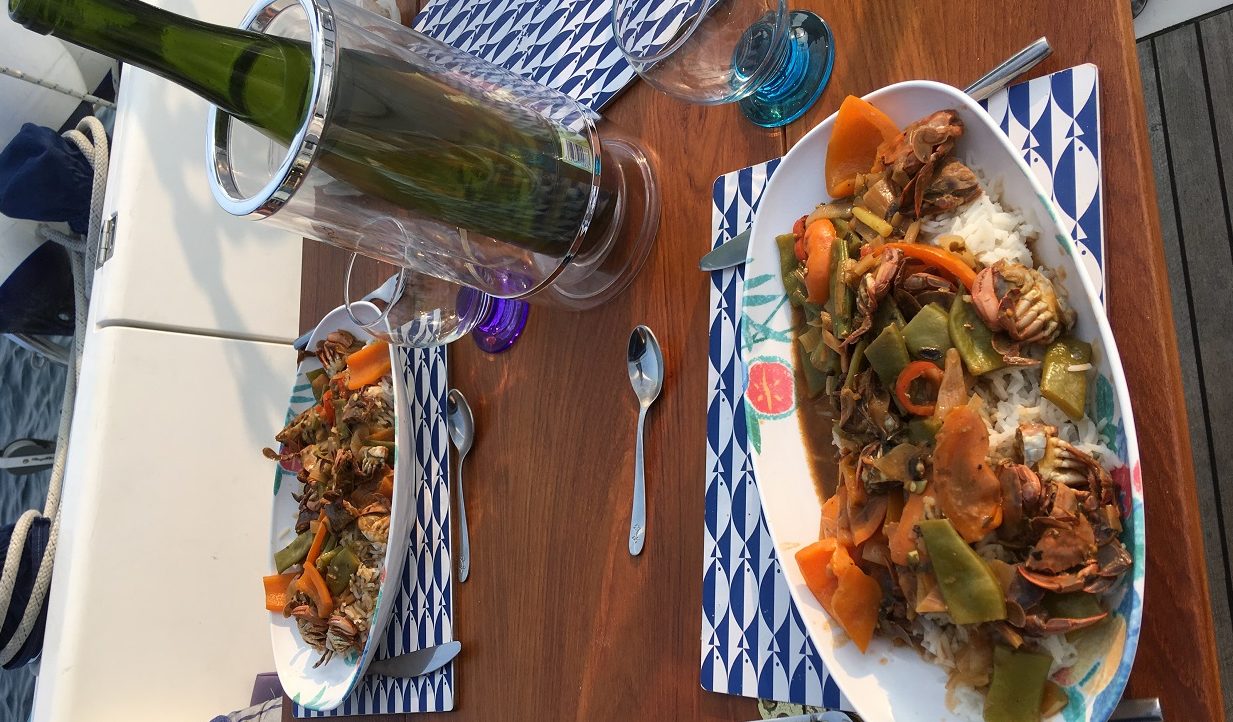 The point of this dish (as in the case of other swimming crab dishes we have seen) is to extract the flavour of the crabs. Picking the meat out of them would take 2 days. So to eat, pick up the crab and "slurp all the juice out and throw the shells away" (reproduced without permission from a childhood favourite song about worms!)
This was served with "Albarino Casero" – a bottle of local Abarino with no label at only 2.89 euros but tasting much more expensive! It's a shame we only bought the one bottle!
Albarino, incidentally, is quite an expensive wine due to its growing and harvesting methods. Because the climate here is quite wet the vines are grown on trellises, often supported by granite posts, to keep air flow around the grape to the maximum to avoid fungal diseases that thrive in humid conditions. The means that all harvesting is by hand.
Another interesting (to not many of you) fact is that whilst there are a number of larger vineyards, the 4,000 ha of vines in the Rias Baixas area are contained in 21,500 vineyards. The average may be a fifth of a hectare, but many smallholders have a couple of rows of vines in or surrounding their vegetable plots or just in their home garden and sell grapes to the larger producers – we commented on this as we drove back to the boat after our visit home. In fact the largest producer, Martin Codax, is a co-operative formed by 50 local families but now uses grapes from more than 1,400 vineyards owned by more than 550 families. It is not dissimilar to the also almost interesting fact about mussel bateas in the last episode.
OK I'll stop now – where was I?! Oh yes – San Francisco. We could have stayed another slightly lumpy night but decided to move on a couple of miles and risk our luck with the anchorage opposite Muros which is reputed to have less reliable holding but should be more sheltered, given the NE wind direction.
There were a few other yachts anchored here (we were the only ones to anchor overnight at San Francisco, although we thought the slight rolling was not too bad – maybe that's our inexperience showing).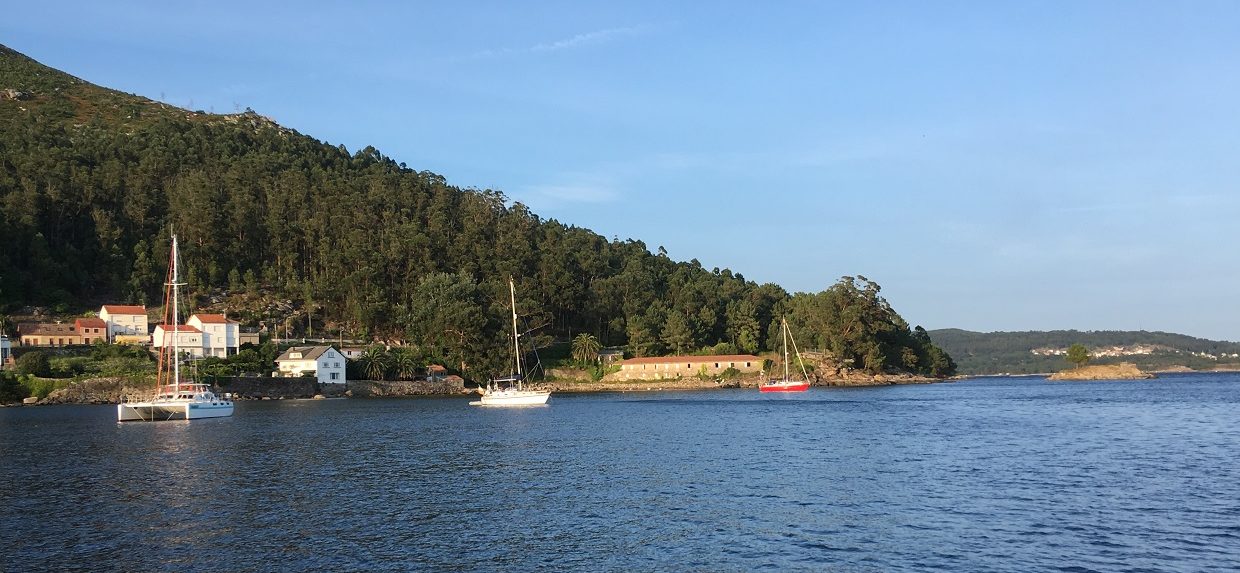 In high winds our first attempt at setting the anchor was unsuccessful – a first for us! When we raised the anchor and found a black bin bag full of old mooring line clinging to the anchor we forgave it and the Rocna's reputation remains intact! Second attempt was successful and we never moved an inch over the next 2 days when winds blew up to 25 kts – and when leaving we had to use the trip line, tied to a forward cleat, to retrieve the well dug in anchor – which came up with dense mud, shells and weed and took some cleaning!
During our second day a younger couple on a small old ketch moved position in the anchorage and moored near us. As Paul was nodding off they were perhaps 50m away. As he awoke a little later they were 200m away, dragging anchor towards the town! They upped anchor and tried and failed 3 times to get it to set near us, before moving back to where they came from in the first place – a less sheltered spot perhaps, but less weedy (and more suited to their danforth anchor).
Unlike at San Francisco we did drop the tender and go ashore. We waded across the extensive shallows towing the dinghy to reach Casa Anida for lunch – a delightful spot! Here is Calypso at anchor from the restaurant: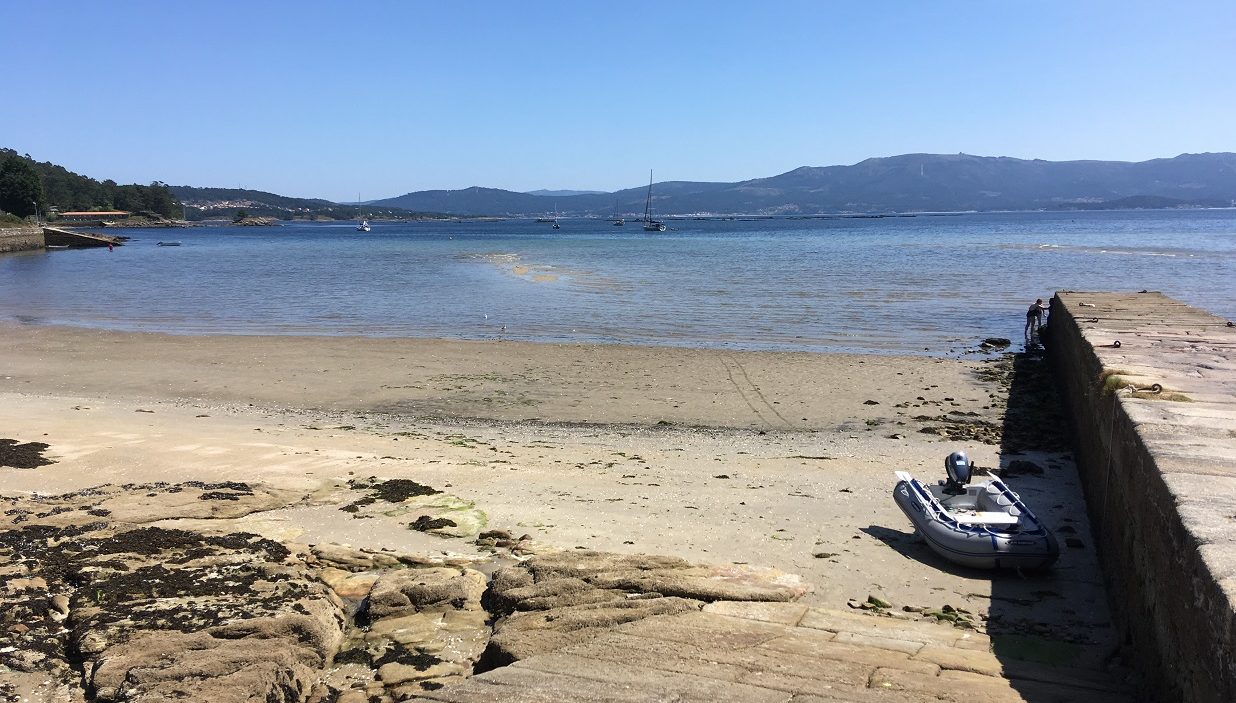 We looked across to Muros town from the restaurant, but decided to wait for our guests to arrive at the weekend and explore Muros for the first time with them – this is supposedly one of the nicer old towns in the area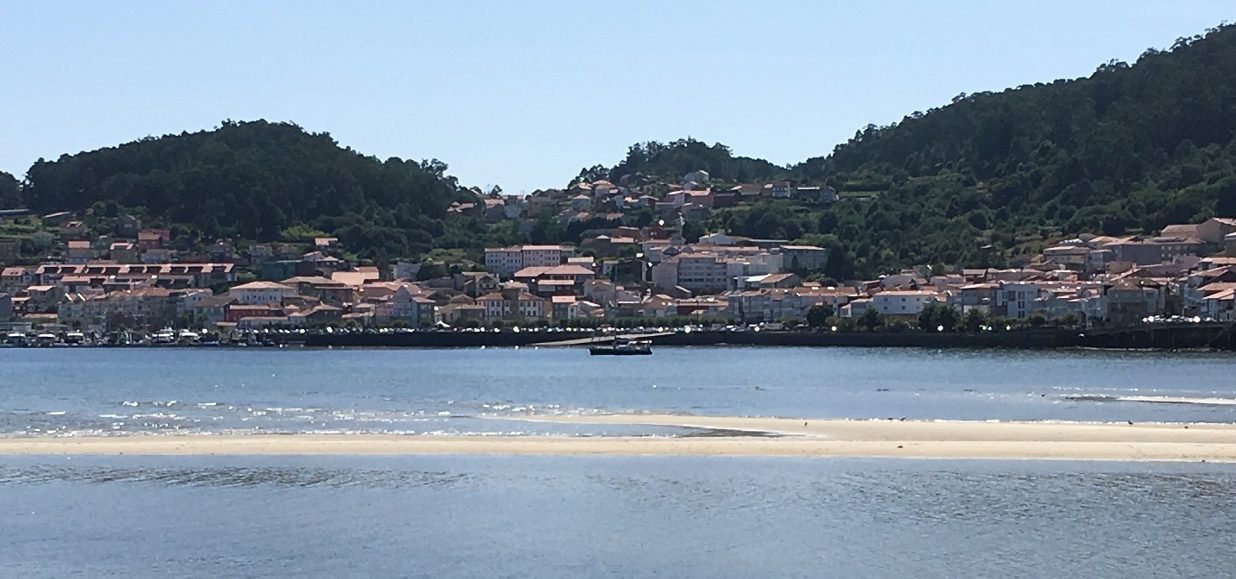 We had been blessed with good weather for our trip from Coruna to the Ria de Muros Y Noia and had arrived in good time to pick up friends Mark and Sue who were joining us at the Real Club Nautico Portosin marina on Sunday 9th September. we hope to visit Muros and then head around into Ria de Arousa before dropping them off at Vilagarcia with its excellent rail connection – but the forecast was looking like a week of high winds……………
Distance traveled since leaving Arzal – 692 nm