Last year we arrived home with the Berlingo full to the roof, having stocked up with more wine than intended. This year we wanted to visit our favourite Spanish wine regions (Ribera del Duero and Rioja) and so had removed the rear seats of the van to make more room….just in case!
Inevitably we departed the boatyard later in the day than we had intended – having tried 3 different methods of securing the new boat cover. Fortunately it was not far to the camp-site at Santiago de Compostela, and we arrived with plenty of daylight left to get the tent pitched.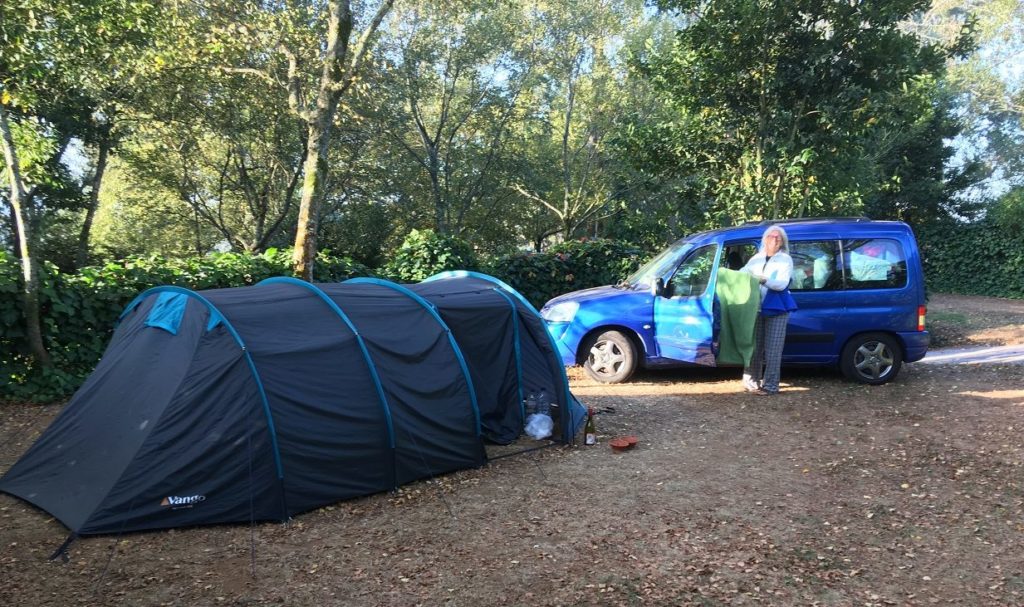 The campsite was very near to a bus stop with half hourly buses to the centre, but we chose to walk (about 25 minutes) to the centre. A short way from the site we joined the Camino, with a growing number of pilgrims as the different Camino routes merged near the centre. Many wore the scallop shell on their back-packs.
We had been walking for 20 minutes or so when this photo was taken. Some of these pilgrims may have been walking for months to get here….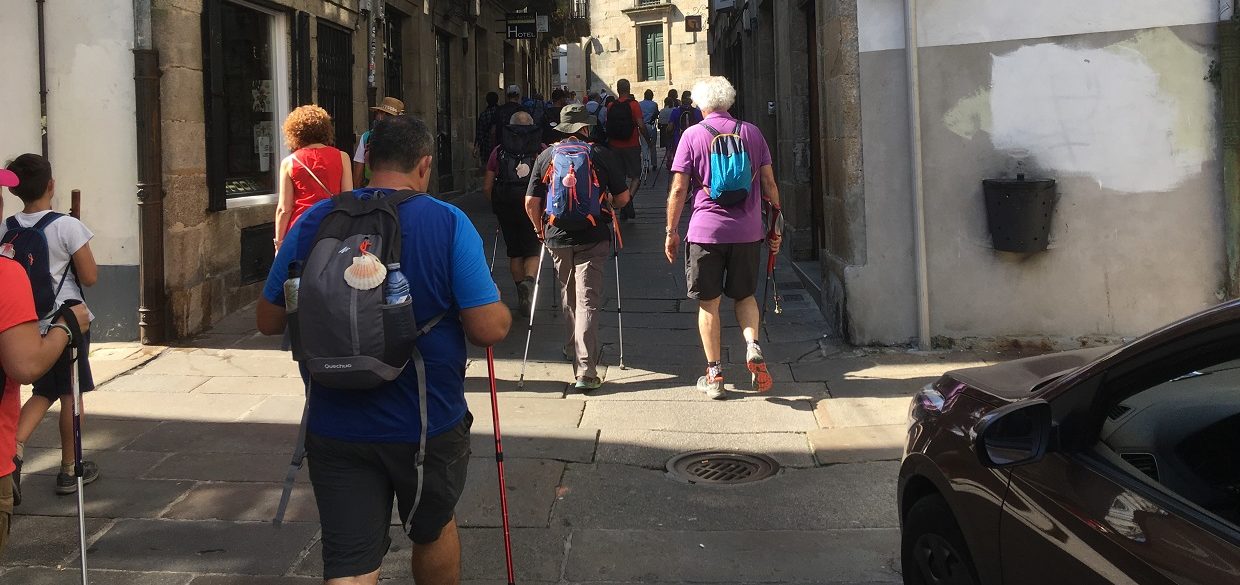 And soon we reached the Cathedral – one of the most visited sites for pilgrims in Christendom. We paid for entry into the museum (in two parts, either side of the main cathedral entrance) which was well worthwhile.
The first part was dedicated to one of the principal stonemasons, Mestre Mateo, who started as a stone sculptor but became principle architect at the cathedral during its construction over several decades spanning the late 12th and early 13th centuries. The exhibition started a in a bit of a glitzy fashion: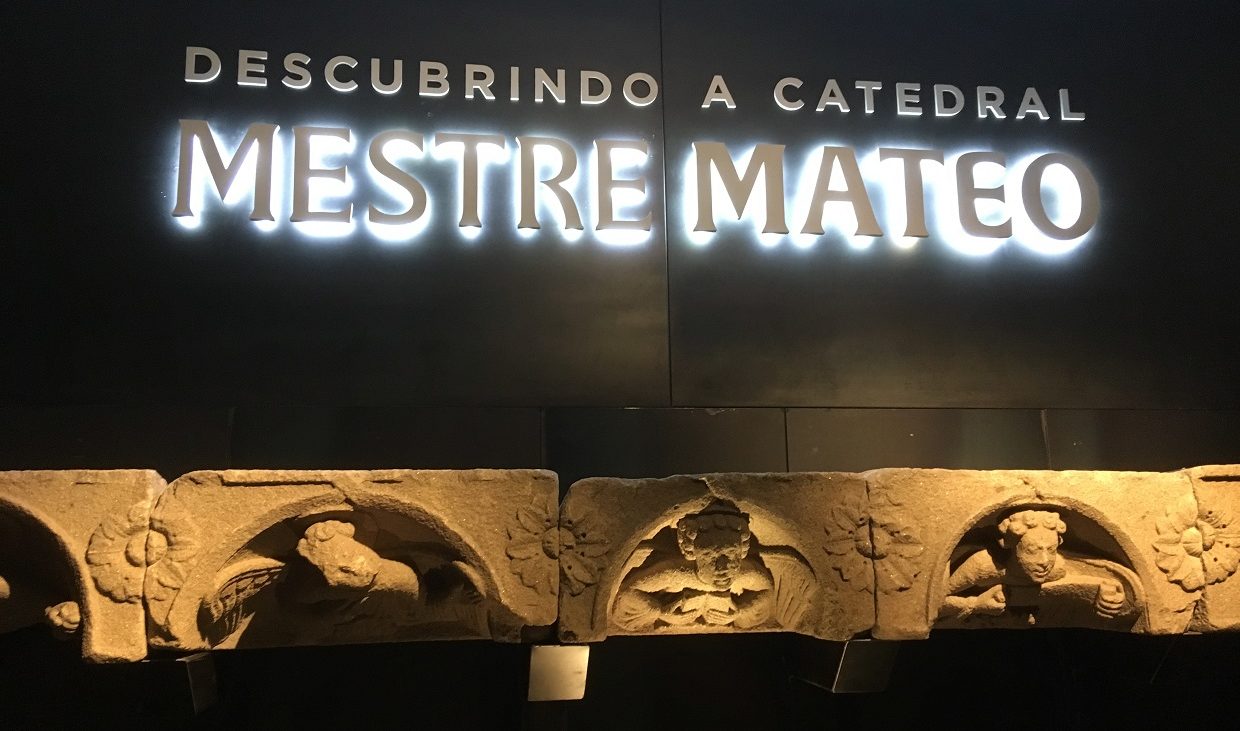 ….but was a peaceful sanctuary of a space on this day. Many sculptures removed from the cathedral during several upgrades are displayed in the museum, some of which can be seen HERE.
Given that we were here at the end of September Santiago was busy but not overwhelmingly so, and we found quiet areas within the museum. In the cathedral (entered from the museum, and apparently a good way to beat the huge queues at busy times) we joined a short queue to mount the altar and embrace the gilded statue of St. James from behind, following pilgrims who were wrapping their arms around him in a hug.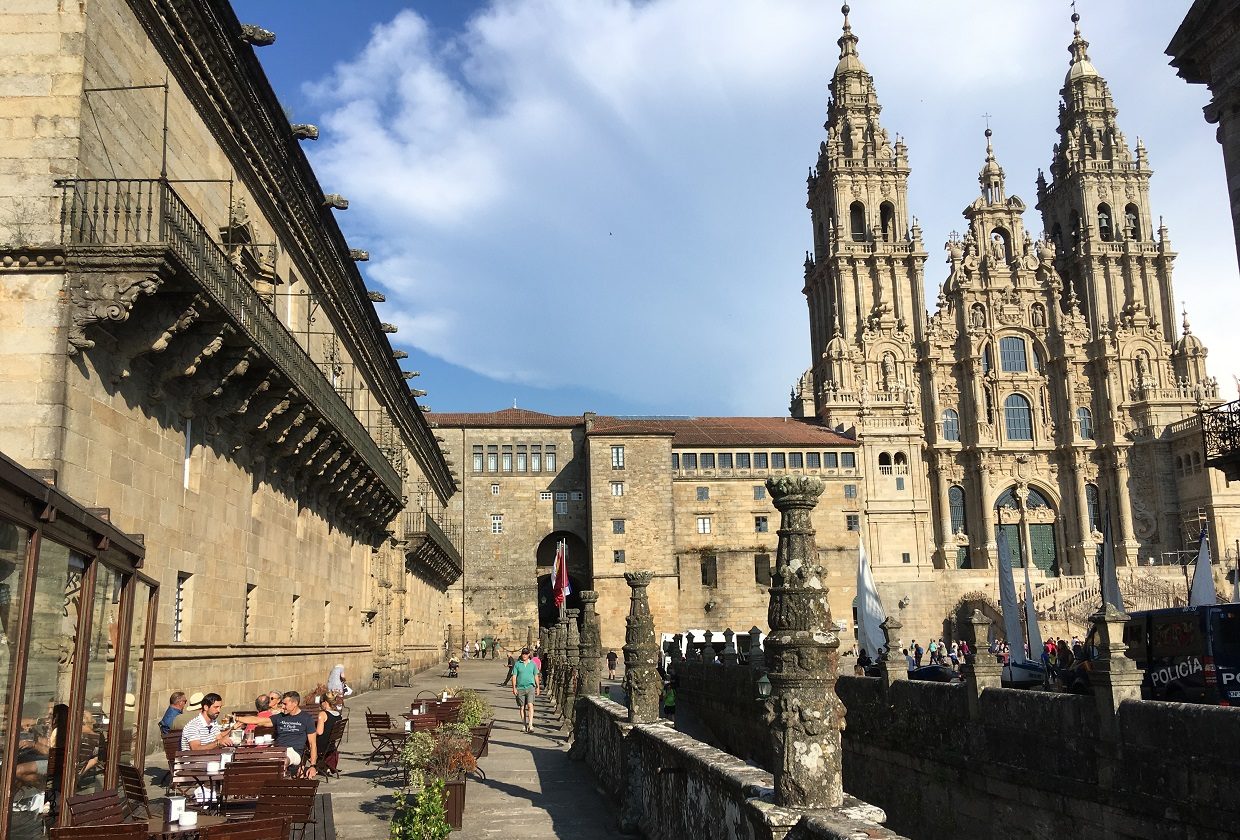 We do not know how many people visit Santiago each year, but 301,036 pilgrims received the Compostela certificate in 2017 (having had their cards stamped along the Camino for at least 100km for walkers and those on horseback, 200km for cyclists).
This has been an important pilgrimage since the middle ages. Perhaps the Compostela certificate is a newish thing, but numbers claiming the certificate have climbed steadily to the current numbers from only 2,491 in 1986.
The pilgrims' journey ends at the shrine where the remains of the Apostle St James rest – in this silver casket. It was quite something to be so close to an Apostle, and it was quiet enough to linger a while and take it in!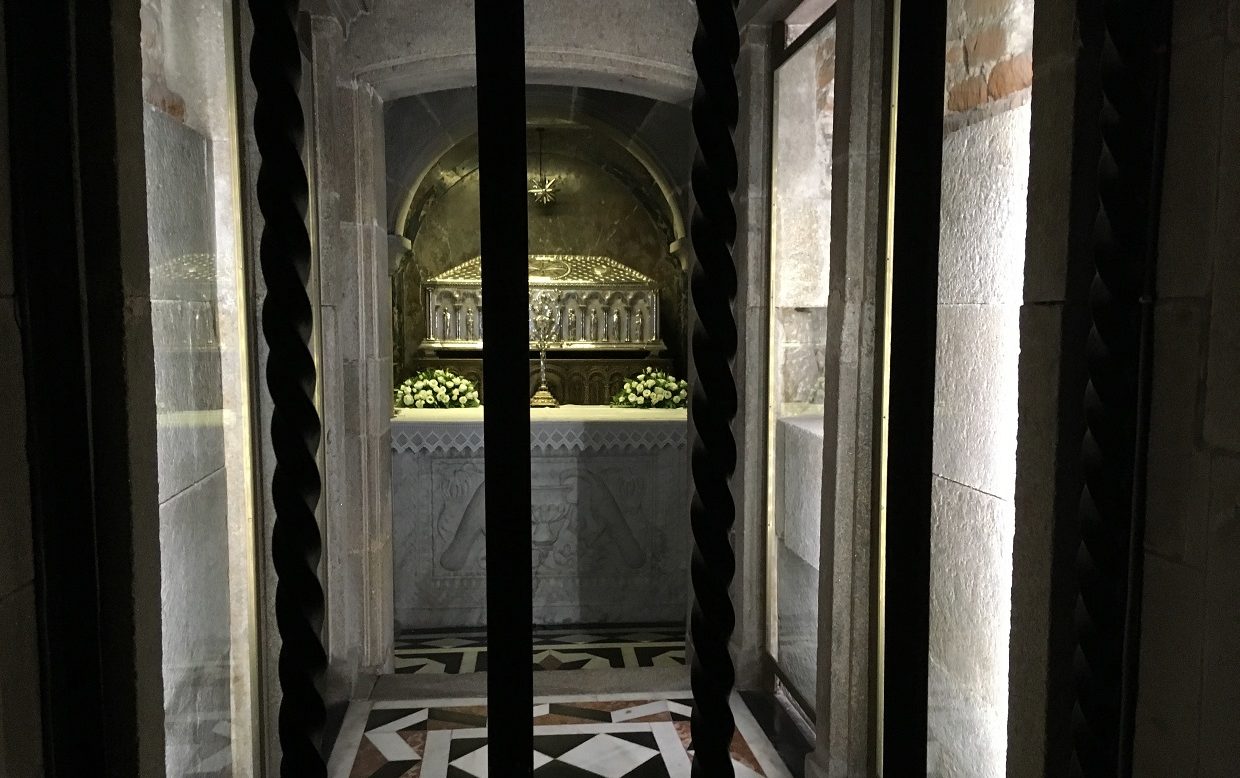 In contrast to the calm spirituality of the museum, the cathedral and its shrine, the surrounding streets were bustling. Whilst there were many good restaurants and bars, a majority of the shops were dedicated to the sale of tourist tat! Who are the people who buy all of this sh…….e!?!?
OK we did buy a ceramic tile to remind us of the sign of the Camino that we had seen so often on our travels this year!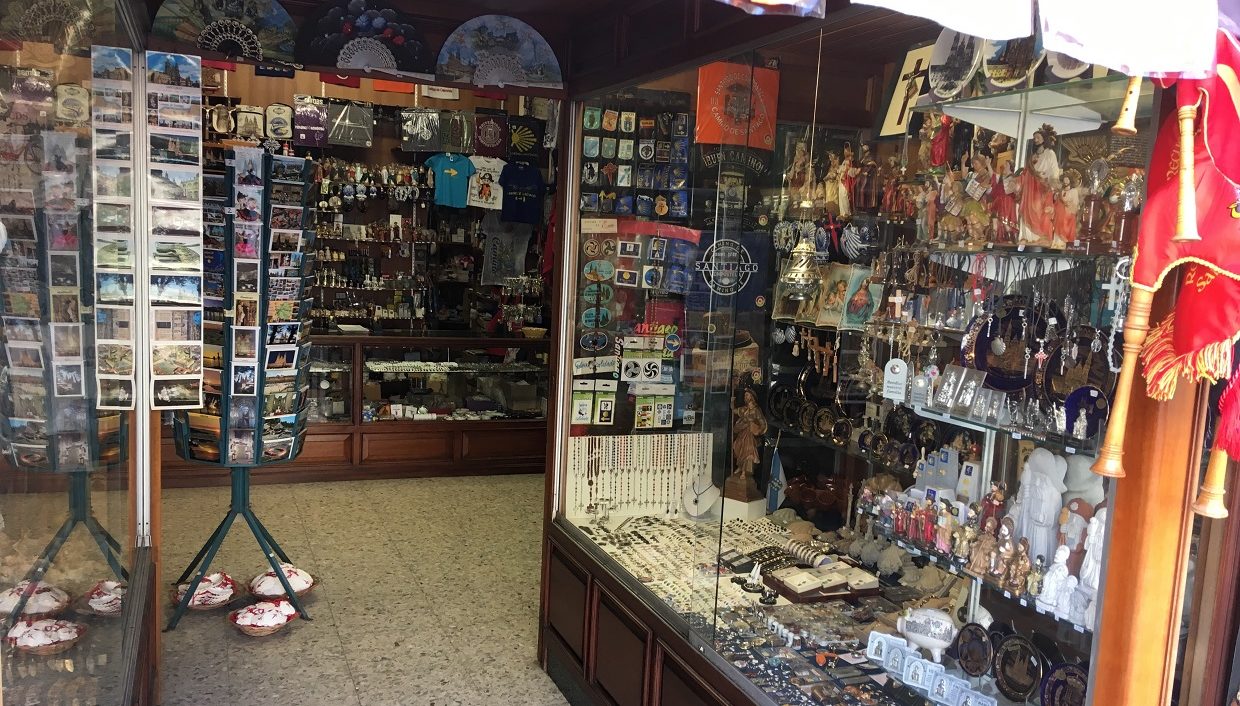 We really enjoyed our visit though, and prefer our last image of Santiago to be this one, taken as we walked back to the camp site after our second day of sightseeing……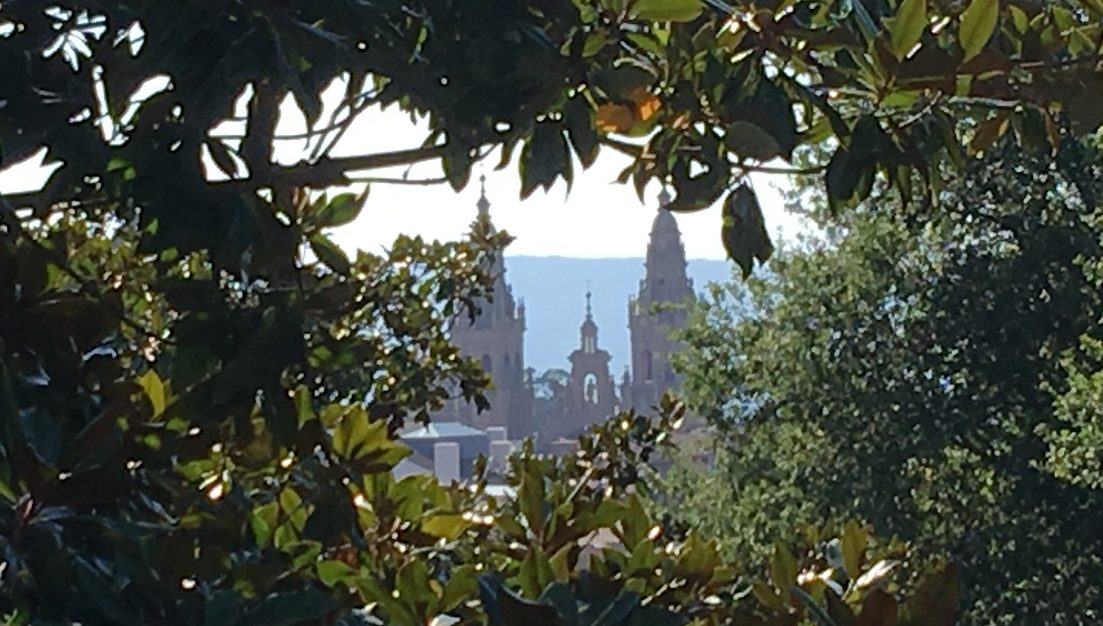 Moving on to our second destination we traveled to the Ribeira Sacra area. Ribera is Spanish for riverbank, and this area is sacred by virtue of the many impressive monasteries perched high above the river in this sparsely populated area. After getting lost (roads are few and far between and many are not marked on our new road map) we came across this monastery, now operating as a fancy hotel……..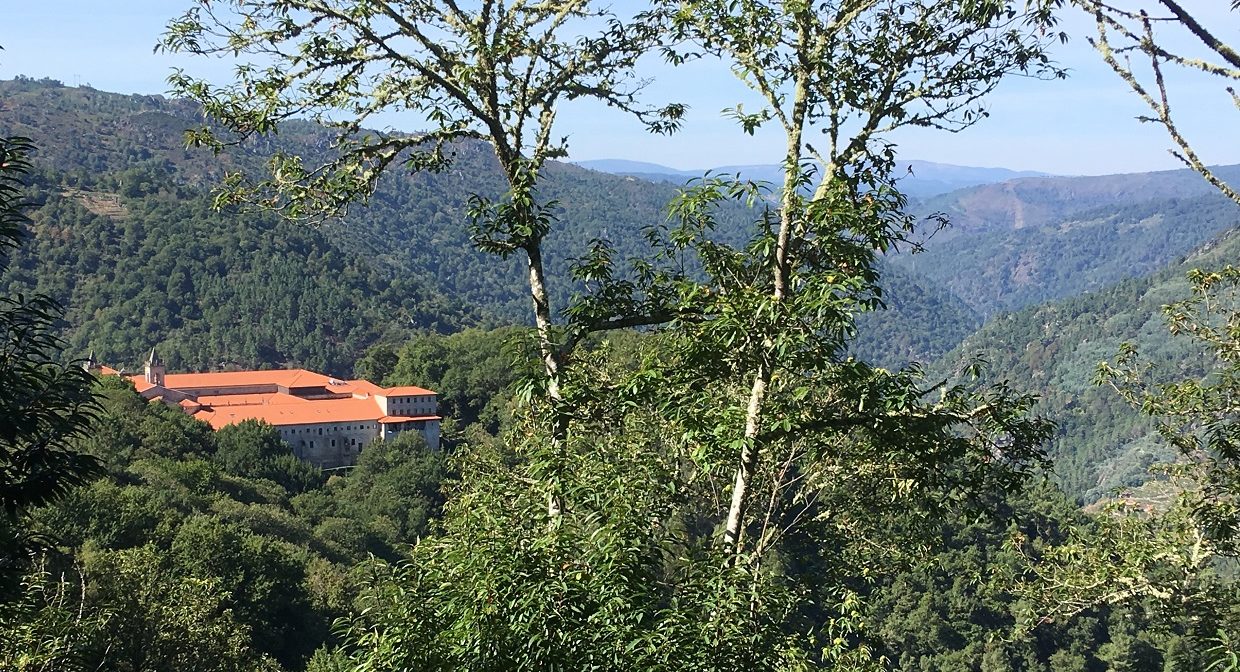 Shortly afterwards we finally found the vineyards, scrambling down the steep hillsides to the river below. Dating back to the Roman times, getting grapes from the vineyards was always labour intensive. Originally baskets were carried slowly uphill. Since a barrage was erected the rivers have become navigable, and some vineyards now take grapes downhill into barges.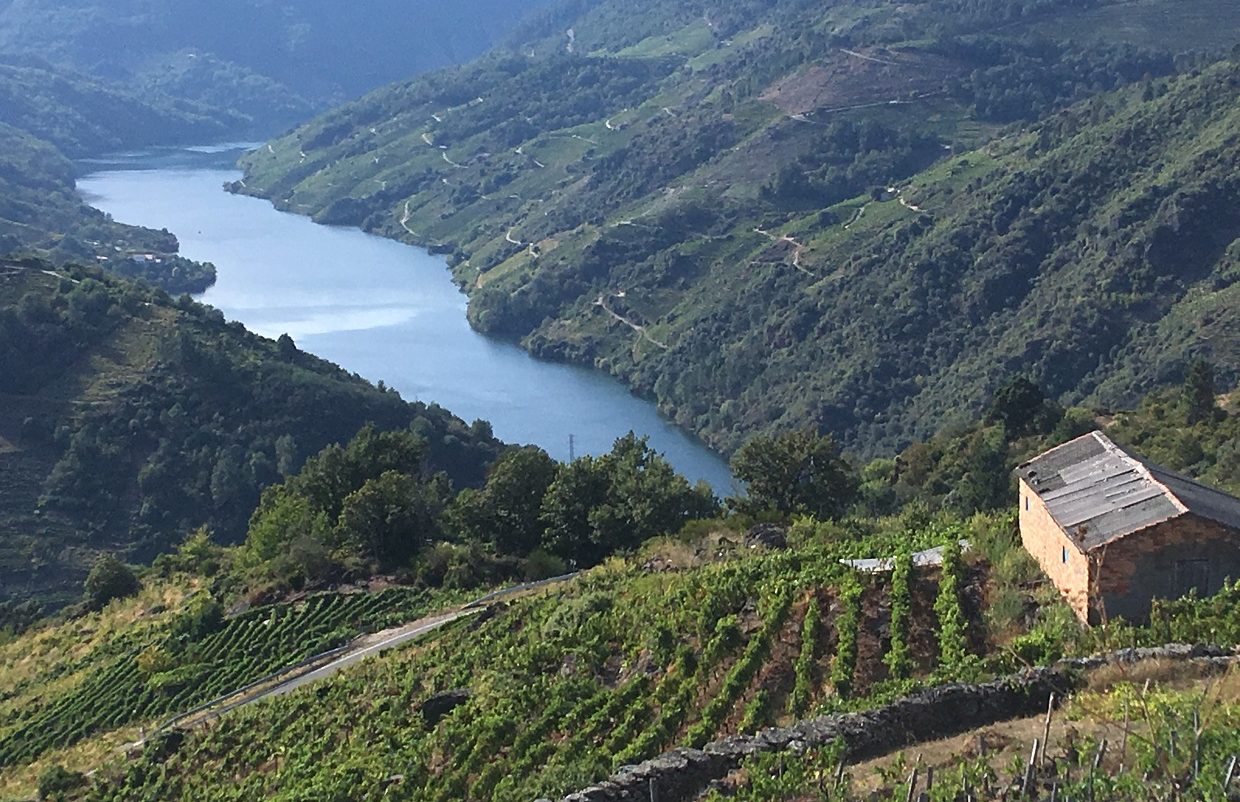 We dawdled along the gorge, taking in the sites……..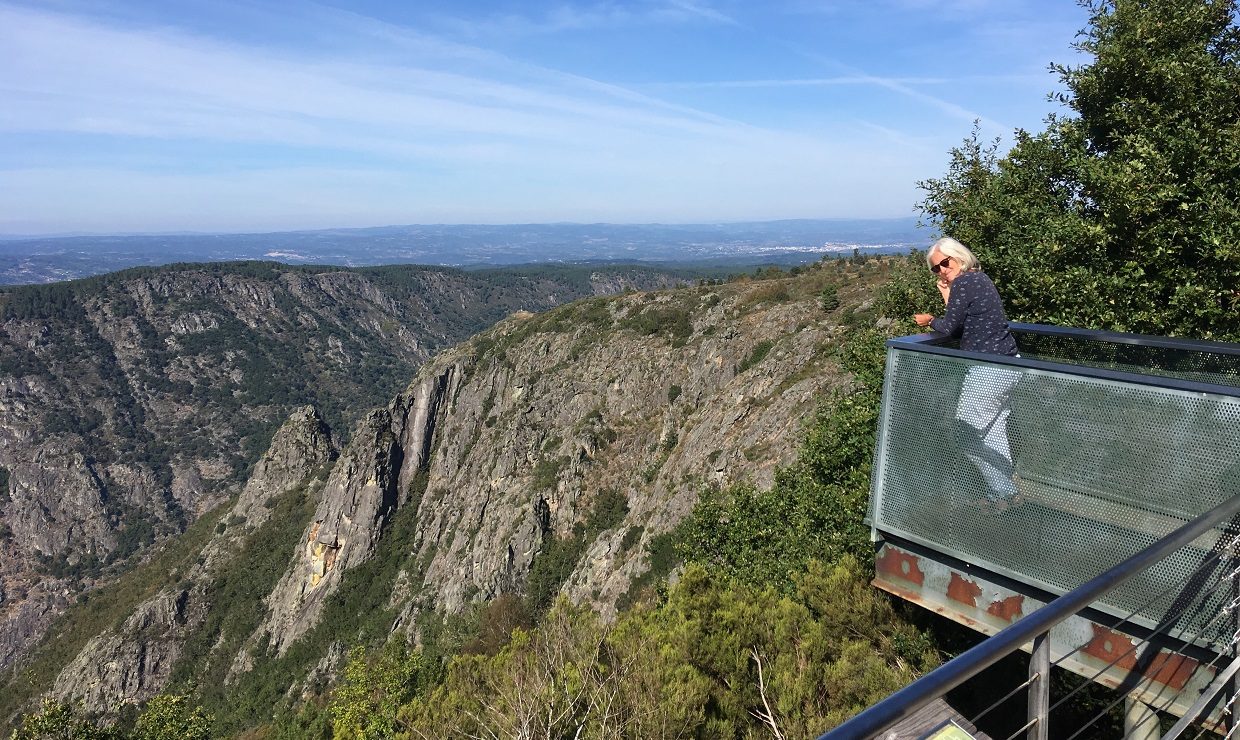 ……. but arrived at the Parada de Sil camp site to find it closed for the winter. After a night in a very nice hotel at Castelo Caldelas  (see HERE) we decided that this terrain was slow to traverse and so instead of driving around vineyards we bought a few bottles of Ribeira Sacra reds and whites in the wine shops in Caldelas and moved on so that we could spend more time in the Ribera del Duero and Rioja regions.
As we traveled East the green and hilly terrain gradually gave way to more gently undulating plains with ripened grain as far as the eye could see, and with hilltop villages dotted around. We headed to Peñafiel, home of the Protos bodega (among others). Grain gave way to vines as we neared.
It had been 2 bottles of Protos, drunk maybe 10 years apart, that first aroused our interest in buying wine for laying down (in our "cellar") and so we were excited to be here. Unfortunately the campsite on the outskirts of town was also closed for the winter. At the entrance we met English couple Nige and Viv in their camper van and a Swedish couple who had cycled here from Portugal, all expecting the site to be open, but not to be. After booking into a hotel we had a great night out in a lively bar, sampling a variety of local wines and great local cuisine (including lambs' testicles….sorry, "sweetbreads" for the first time).
Sitting high above the town  a bright white castle looks out ….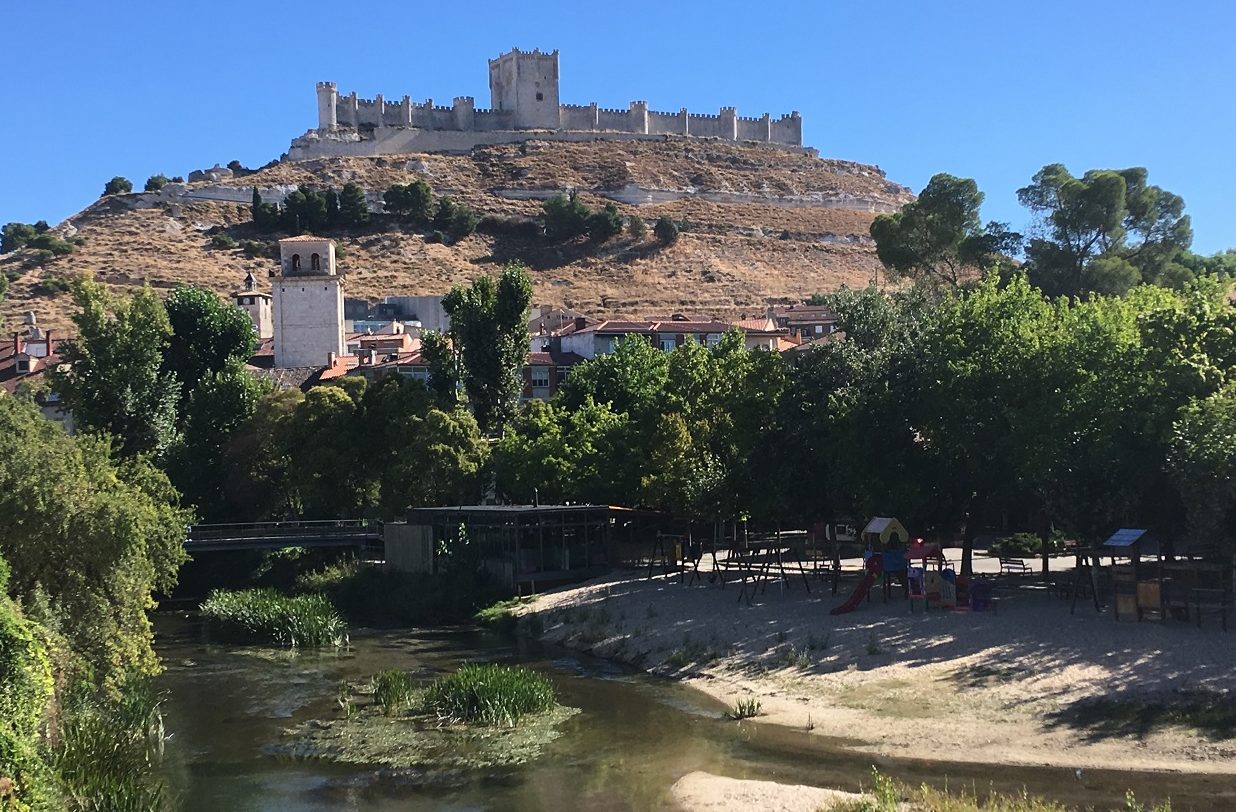 ……with grain in one direction……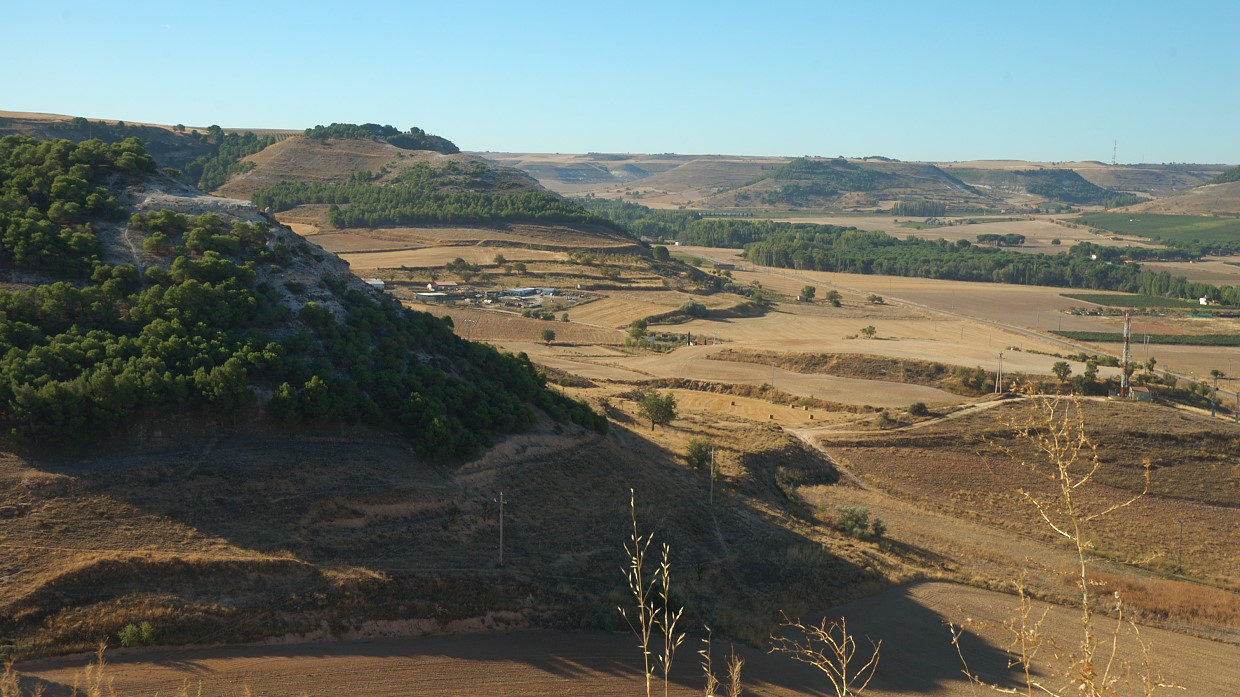 and vines in another……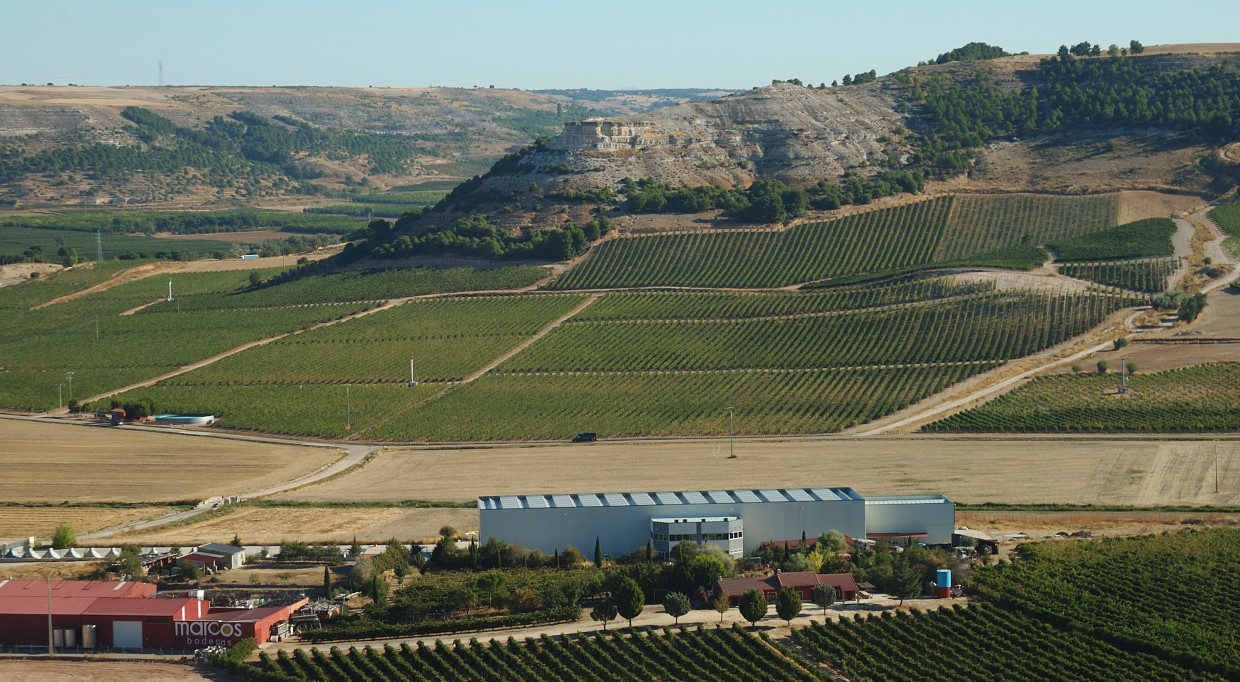 …..and below the castle sits the Protos bodega. This very modern building was designed by British architect Richard Rogers and Graham Stirk and opened 6 years ago. Wine is made here and stored in caves that sit beneath the castle.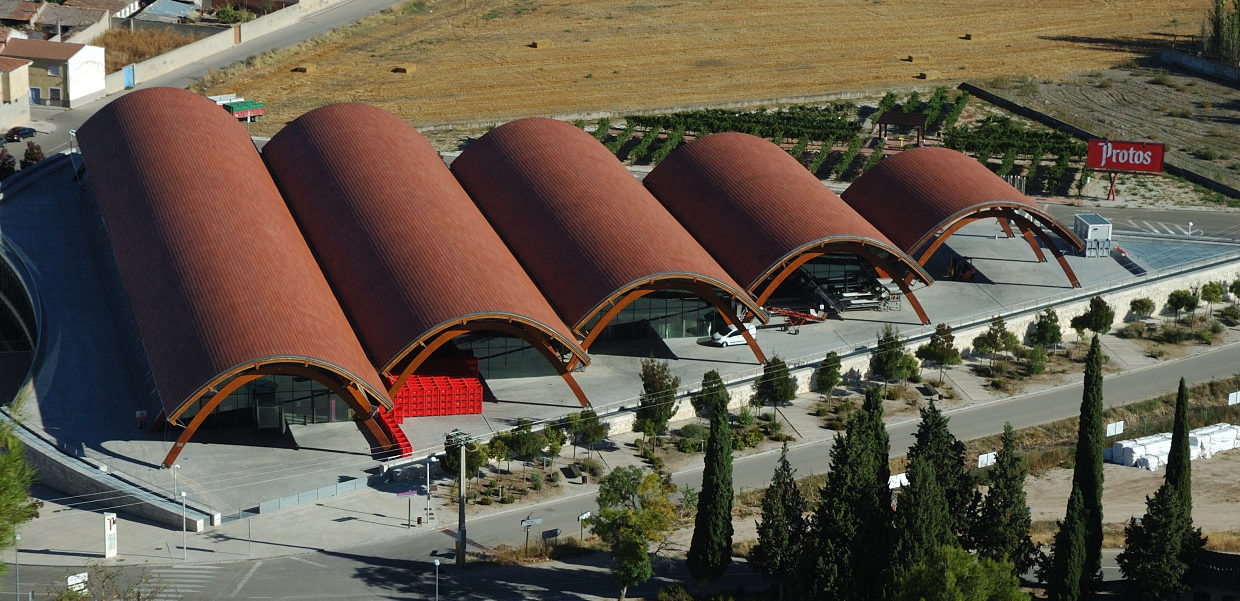 We had a wander around the visitor area, from which we could see wine production underway (we were now into the harvest).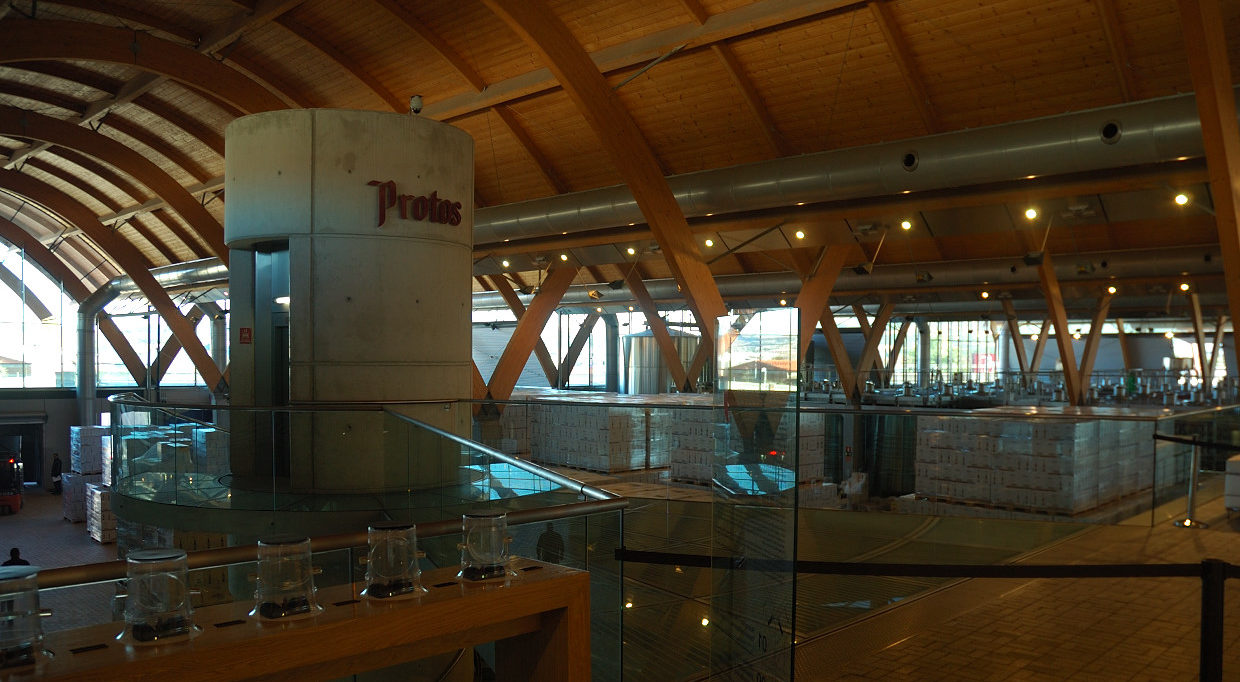 The photo below shows ventilation chimneys for the caverns below the castle; there were lots of them.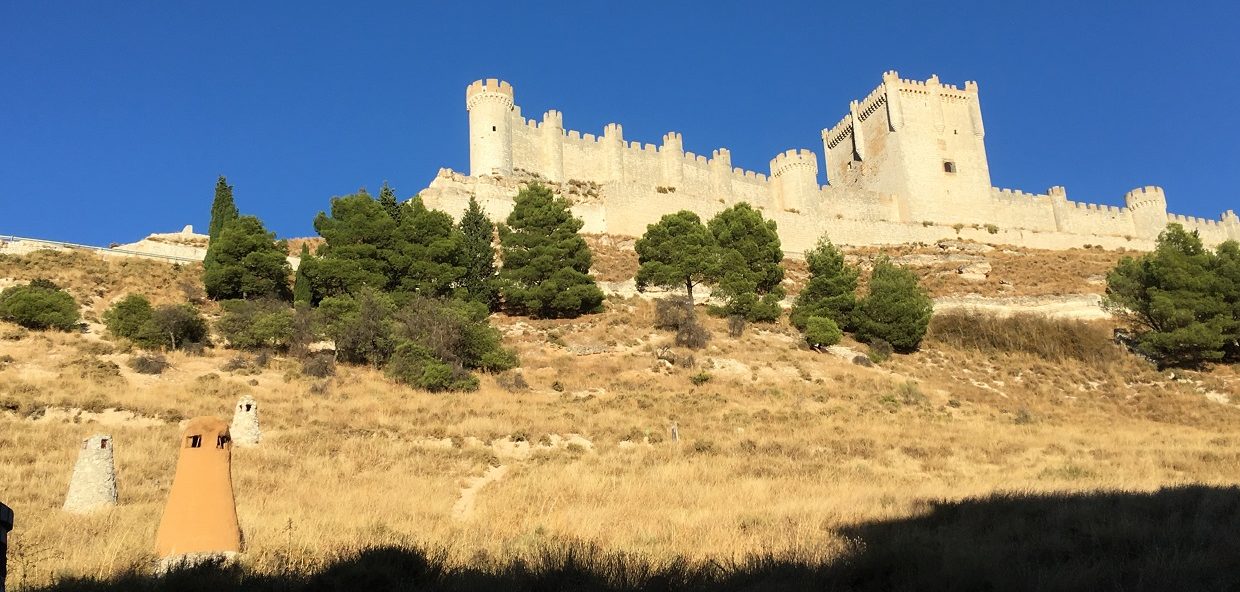 Unlike in France the Ribera Del Duero vineyards seem to require visitors to pay for a guided tour of the bodega if they wish to taste wine before buying. We had managed to blag a free tasting at the expensive but superb Abadia Retuerta and had peeked into Protos, but opted to take a risk and bought on reputation without tasting at a couple of well stocked wine shops in the town. We visited the castle and the local bullring and opted to head off to Rioja rather than hanging around.
The bullring looks as though it has been restored in recent years. This was not a form of bullring we had ever seen before. It is a square of medieval houses with just one narrow access point (ground floor only) where bullfights, Easter parades and other important events have been held since medieval times. Each house has balconies overlooking the square, and according to a silver plaque at the entrance, "certain families have inherited the right to use the balcony to watch festivals and other events held in the square, even though they may not own the house"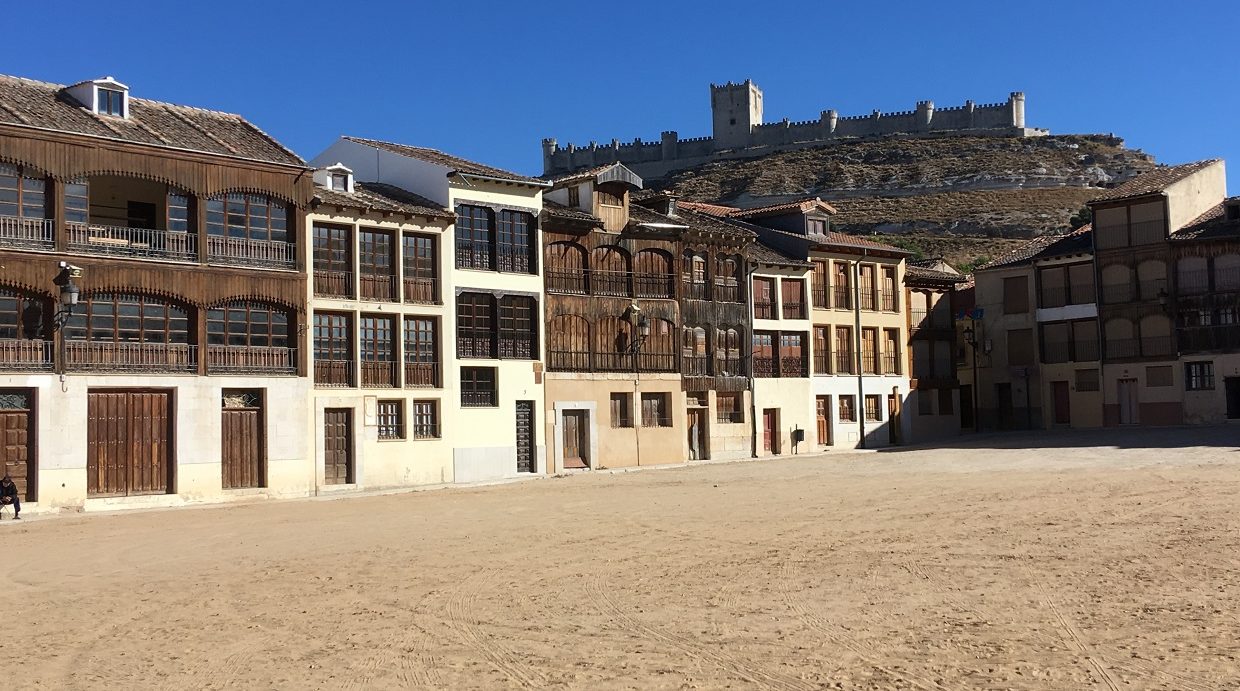 Moving on towards Rioja vines once more gave way to grain, but eventually the undulations of the plain became more rugged and huge chalk crags appeared as we closed on our destination – Haro, self-proclaimed capital of Rioja.
Shortly before we reached Haro we pulled off the road in search of lunch into a pretty looking village, surrounded by vineyards. Fonzaleche is remarkably well preserved, with every one of the old stone houses in the densely packed village in seemingly pristine condition.
We parked in the church square and observed three men leaving a bar, all carrying bread.
So in went Paul, tasked with acquiring lunch – "ay bocadillos"? he asked (are there sandwiches?). "No" said the camarero. "Oh" said Paul – "ay pan"? (bread?)
And with that the bearded gent sat at the bar smiled at Paul, crossed the room and withdrew a loaf of bread from the small basket sitting on the log-burner in the corner (centre of photo below).
And so we have a theory – none of the señoras in this shopless pueblo know of the secret basket – they think that señor has driven miles to the nearby town to fetch the lunchtime loaf!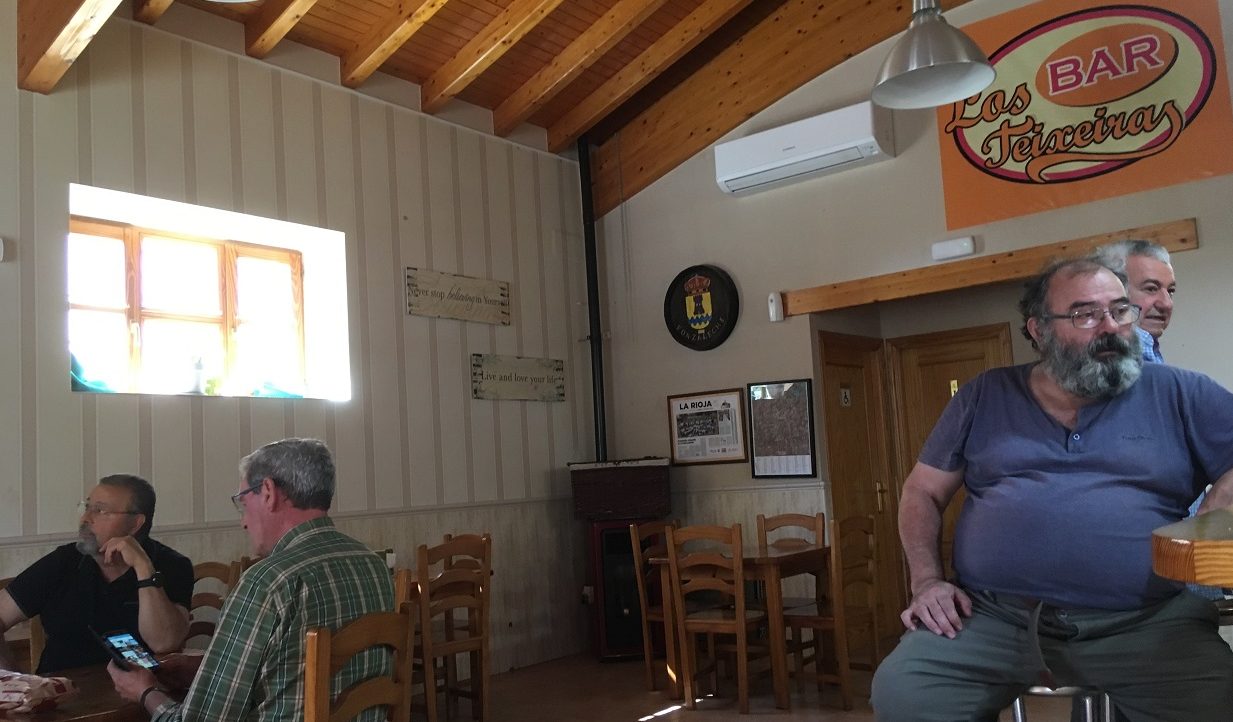 Arriving in Haro shortly afterwards we found its excellent campsite open for business and as we set up camp Nige and Viv (from the closed Peñafiel camp site) called by. We got chatting and arranged to have a drink with them later. We saw them each evening of our 4 night stay, one night eating superb lamb and steak with local Muga Rioja at an atmospheric restaurant. One of the memorable meals of the year. Whilst we had barely seen a cloud since leaving Calypso, the nights were turning cooler and we enjoyed evenings in the heated camper van – thanks Nige and Viv, we enjoyed your company and hope to see you fellow Northerners again soon!
Haro had a pleasant enough town centre, perched on a hill, but the reason we were here was the concentration of some of the top Rioja bodegas in the area around the train station below the town. Whilst visitors have to pay if they want a guided tour, each bodega has a "wine bar" where you can pay to sample the wines.
Paul had researched and we had specifically targeted some wines. Visiting Muga, CVNE, Tondonia, Roda, Gomez Cruzado, Rioja Alta and Pomal we tasted around 20 different wines. Some that we had high hopes for were disappointing, and some chosen on the spot without expectation excelled. We loaded some really very good wine into the Berlingo!
The "wine bars" were interesting, from the old mixed with new approach……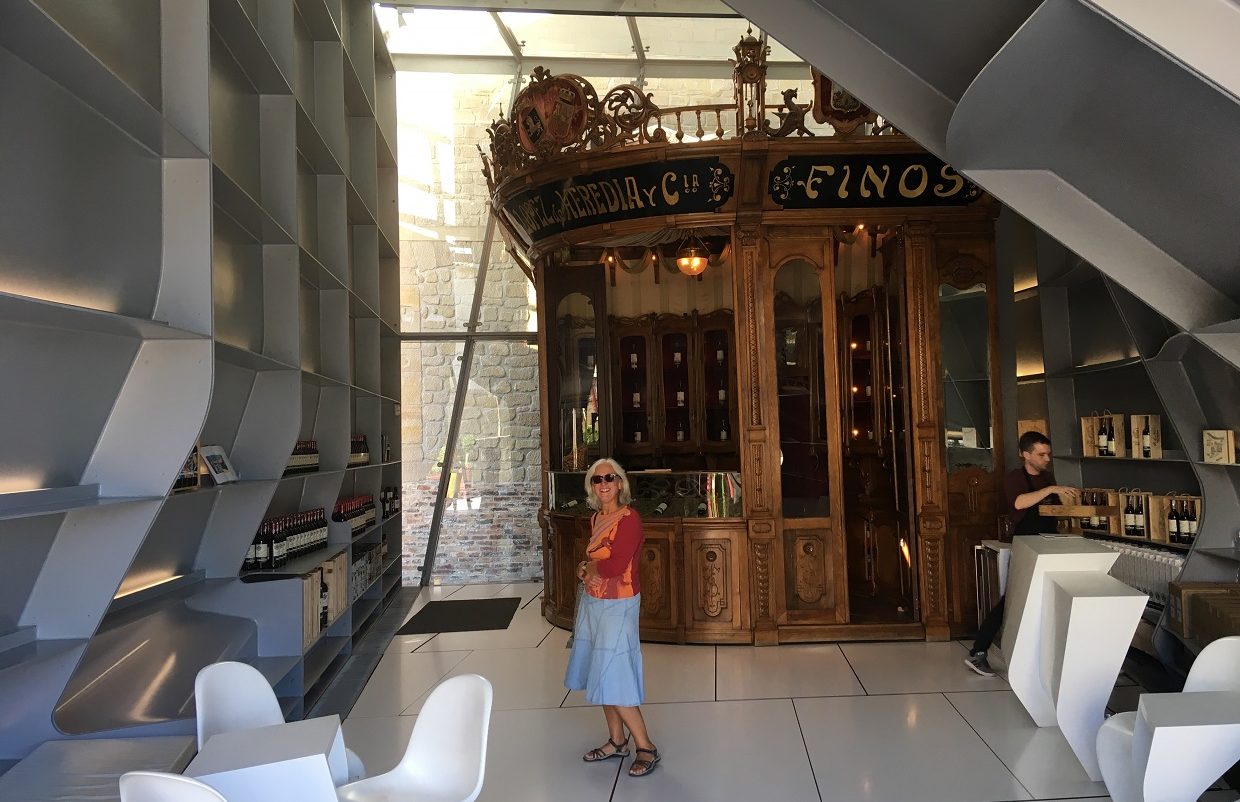 ……to outdoor spaces (Val fell asleep briefly here in the garden at La Rioja Alta)…..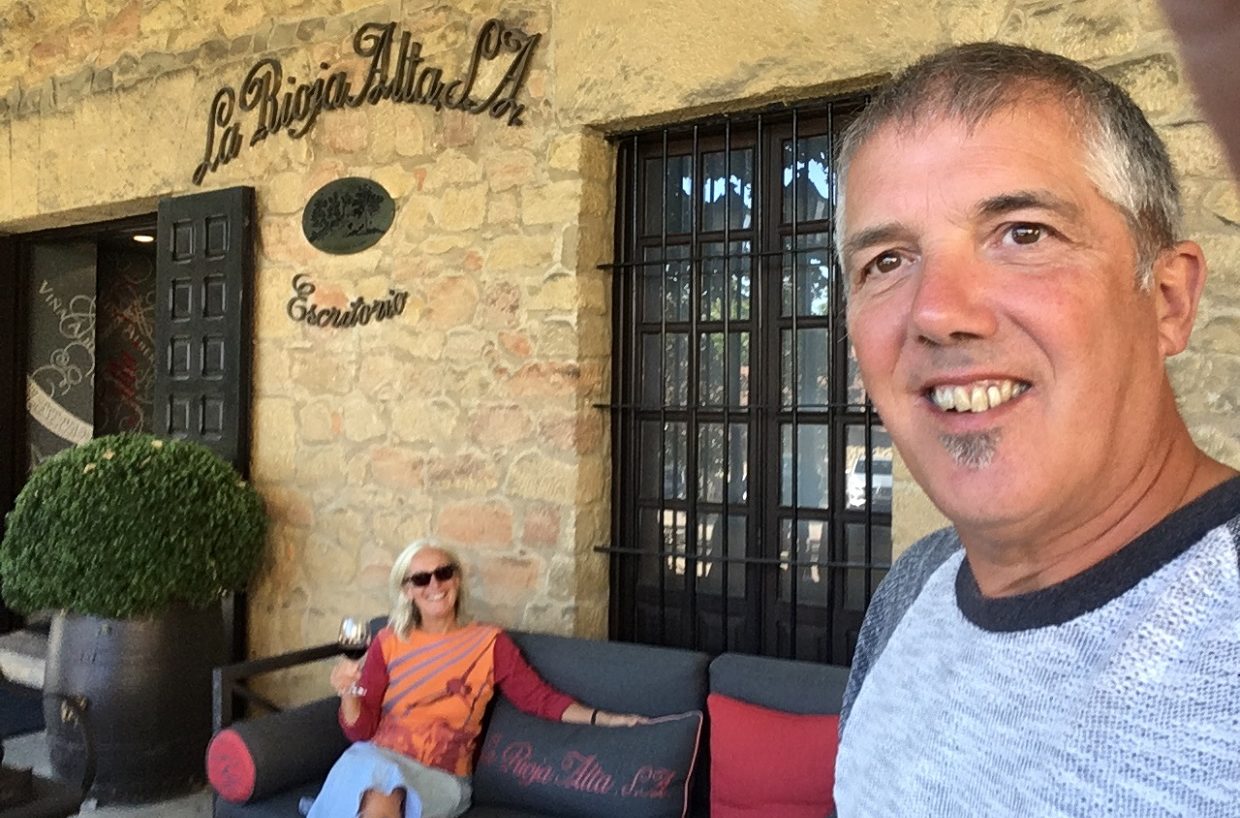 ……to modern glitz!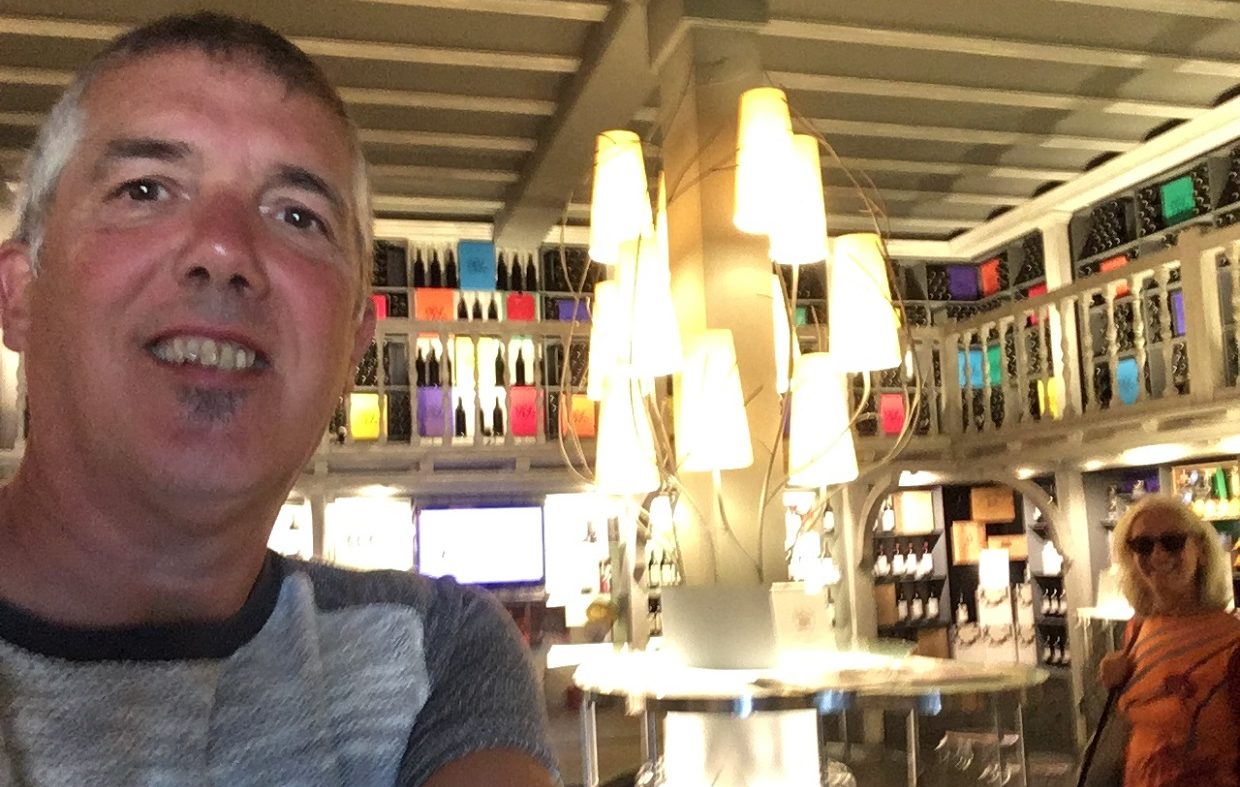 Our favourite Rioja was found, as predicted, at Muga…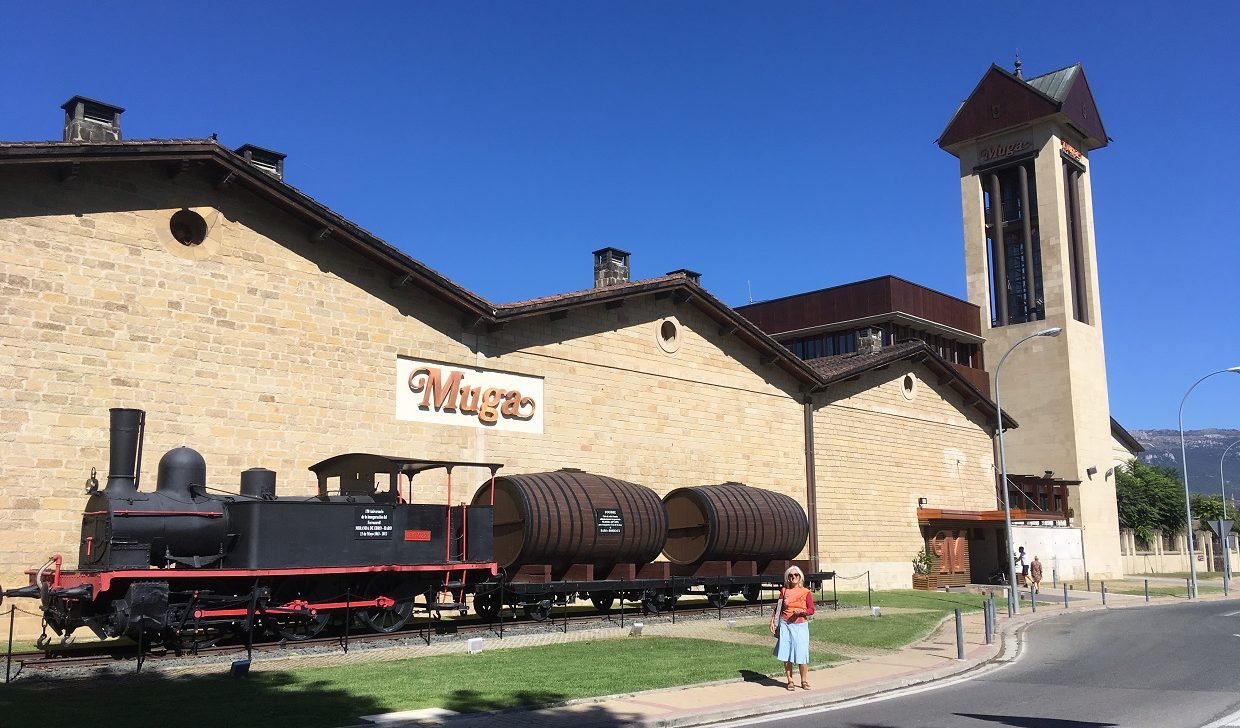 We wanted to visit the fortified hilltop town at nearby Guardia and drove from Haro through the Rioja landscape with its backdrop of the rocky limestone crags……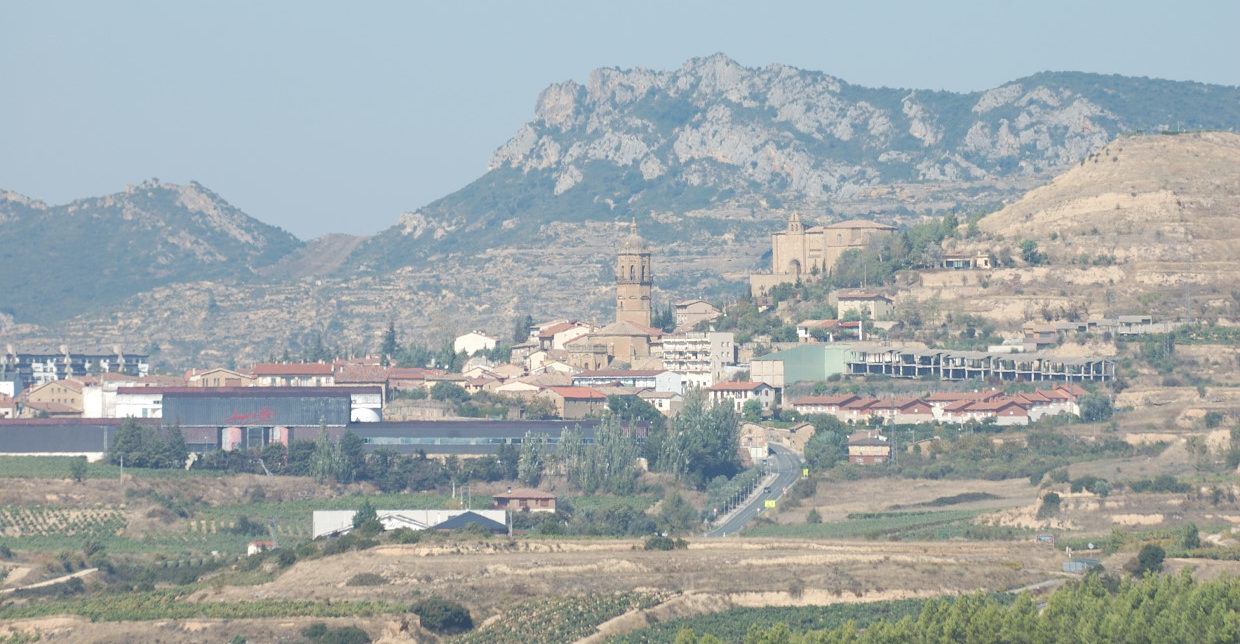 ……..and undulating vineyard country interspersed with numerous hilltop towns showing off churches, monasteries and castles.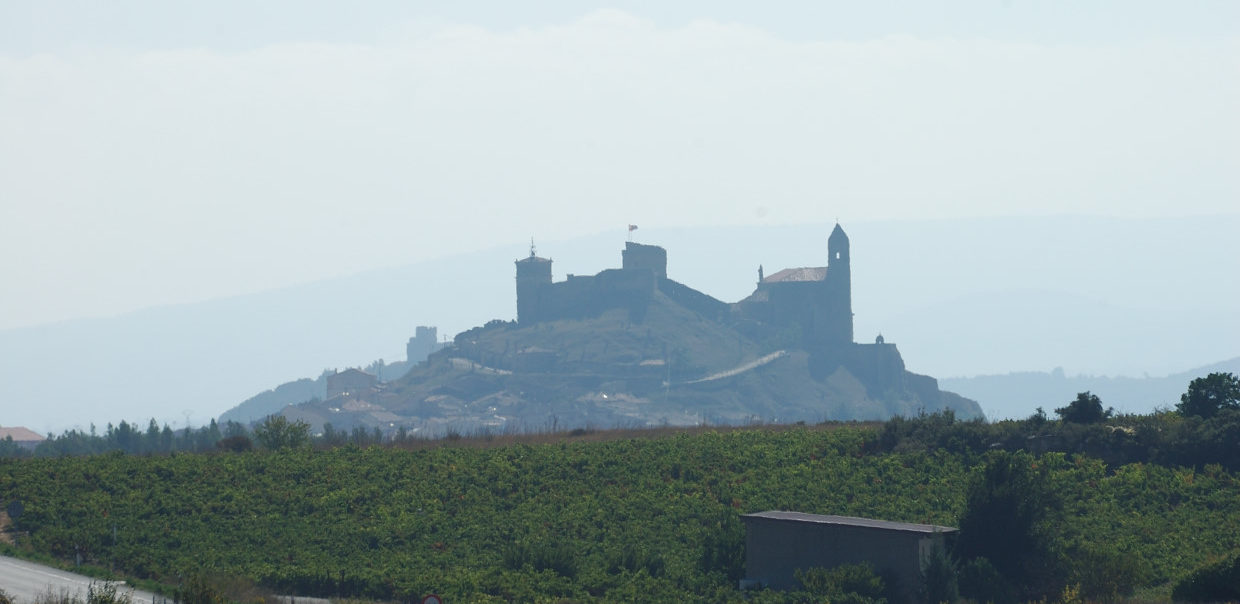 Everywhere the local wine industry dominated……..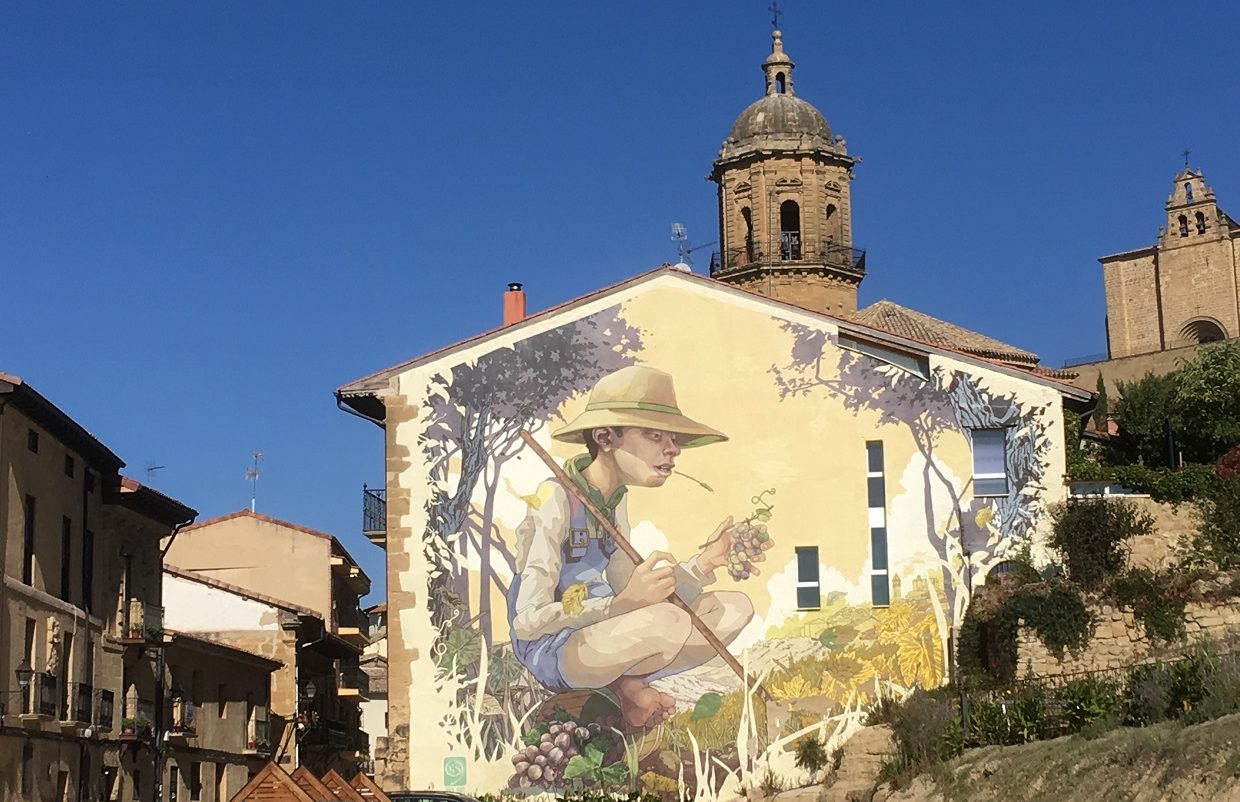 We stopped at a couple of large villages on the way that are not mentioned in the tour guides. At each we dallied for an hour or so; enjoying the very old, unspoiled centres with impressive religious sites as well as the views afforded from these hilltop settlements. There were others in the distance but we couldn't visit them all and have much to come back for!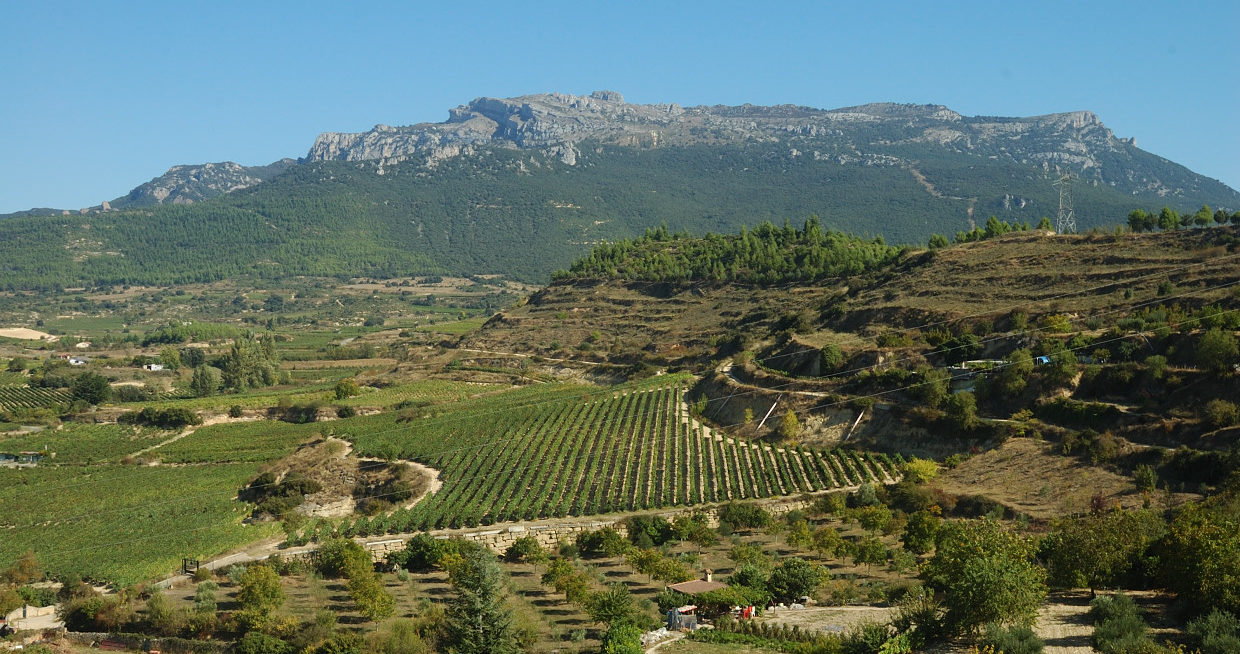 Guardia was certainly much more touristy than these villages, but was attractive and we had a good lunch at one of many restaurants here in the narrow streets….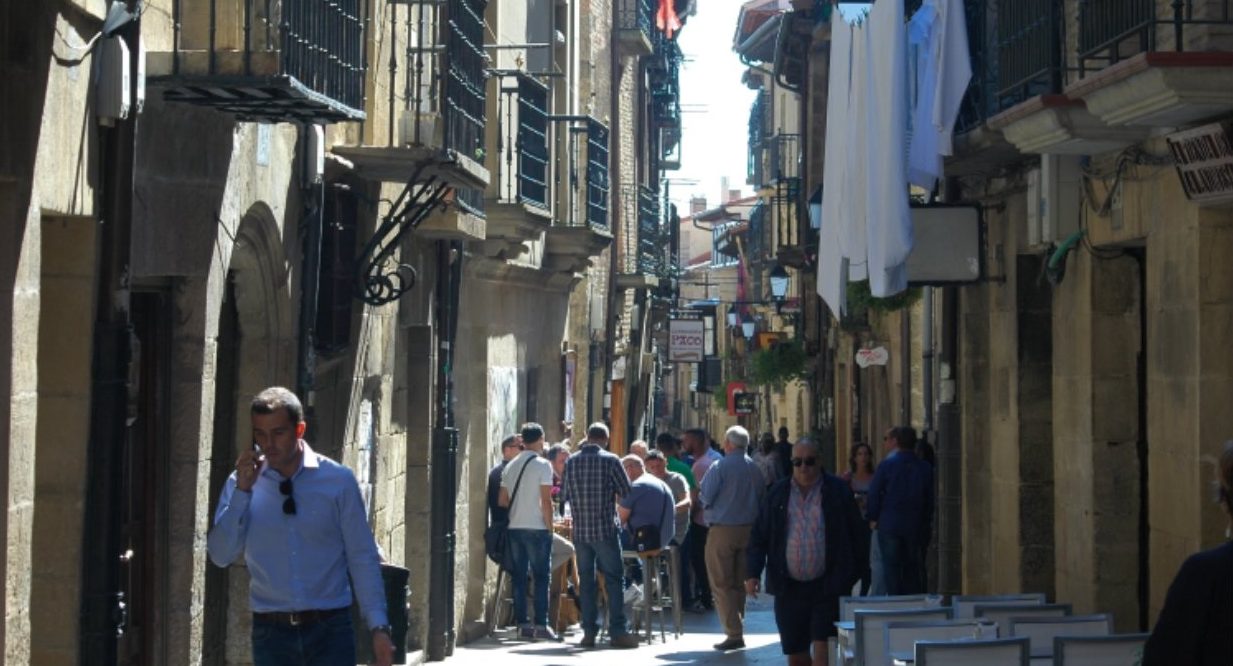 We strayed off the road on the way back to Haro…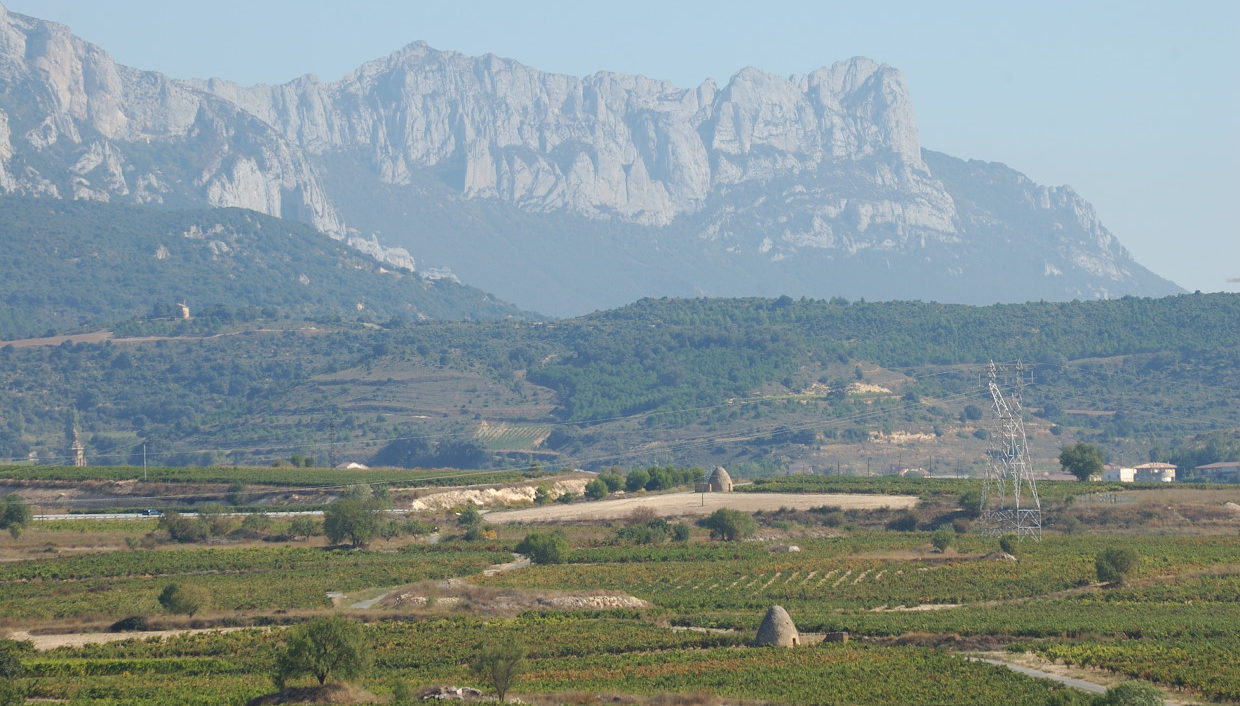 ……..and found confirmation that there's always been money in the good stuff….. We came across the entry of Bodegas Ysios into the competition for the most striking architectural design……..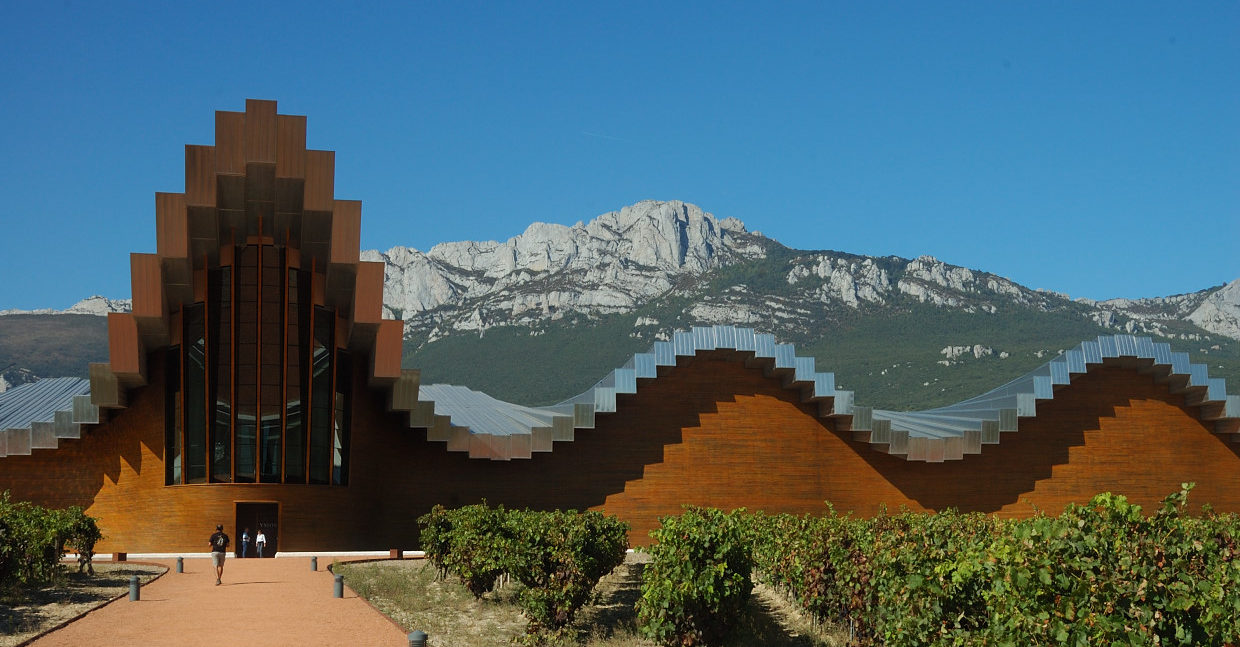 But it may not be the winner – have a look at the hotel at the Marques de Riscal Bodega HERE We didn't get time to see this, but the interest in architecture around here is obvious.
On the way back to the tent we stopped in at Bodega Roda to sample (and buy) their renowned wine and looked inside the barrel cave: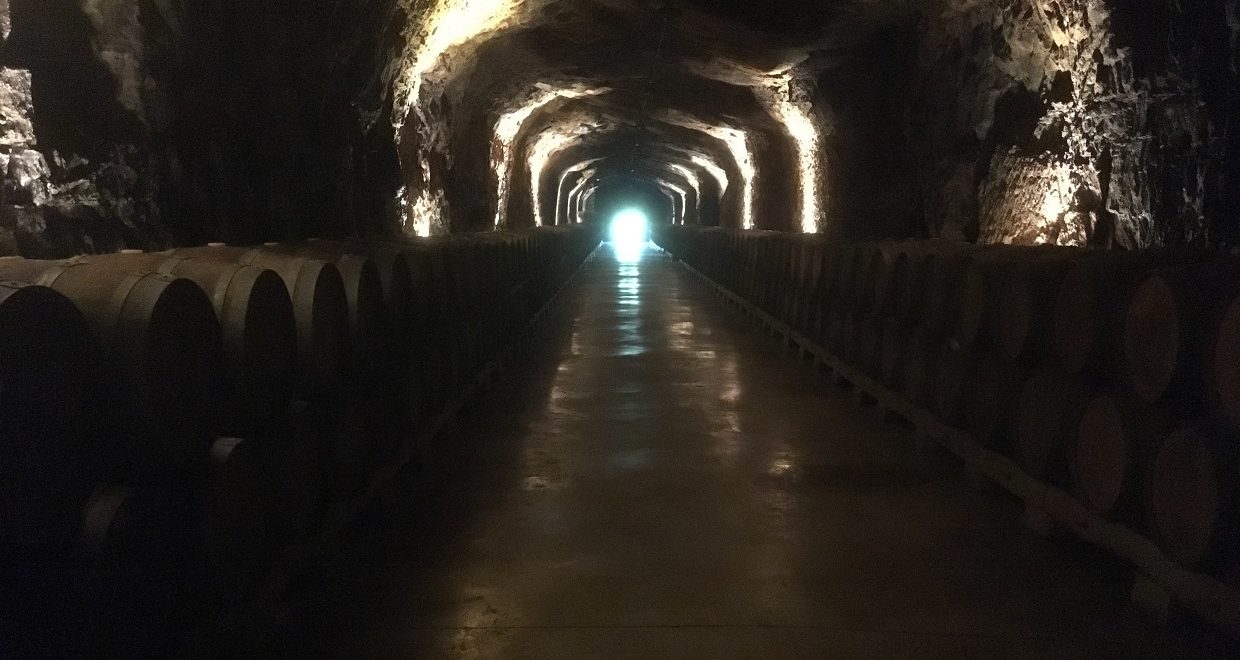 After 4 nights in Haro we had to head North to catch our ferry home in time for a friend's significant birthday celebration. We had decided to head up through France to enable us to visit a few Bordeaux vineyards again.
The first day we arrived back on the coast – at Biarritz. We had a pleasant enough overnighter, but Biarritz wasn't quite what we had hoped. It certainly didn't warrant the 24 euro cost of two ordinary single G&T's served in a very ordinary wine glass with a standard slice of lemon in an average restaurant! That sealed the decision to head off after just one night!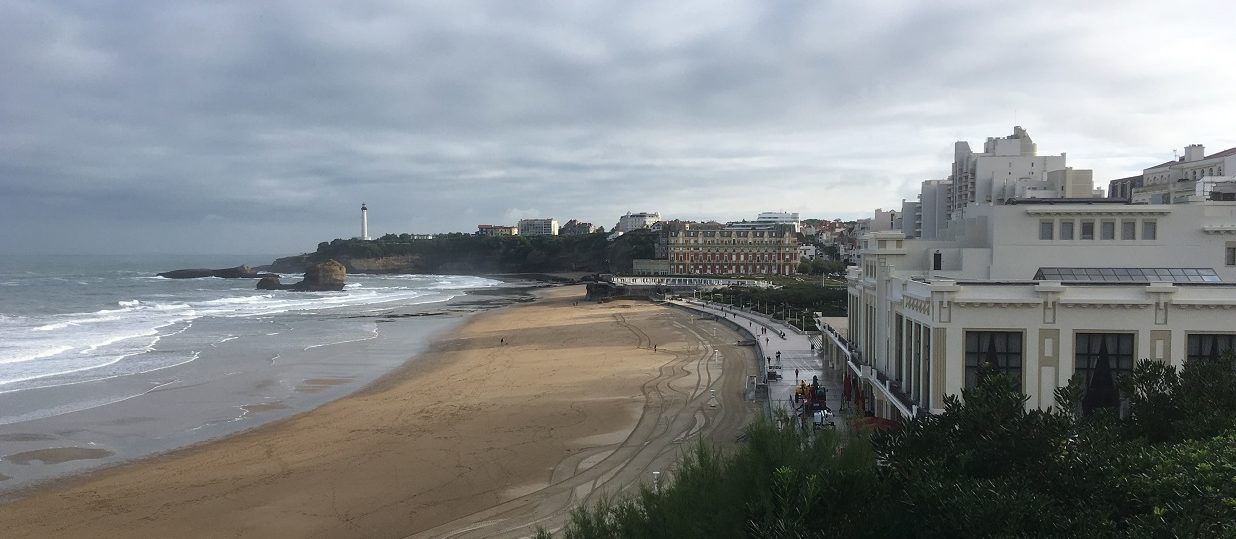 And so we headed to the Entre Deux Mers appellation controllee area of Bordeaux and 3 nights under canvas again. Firstly we bought some excellent value wines from two of E2M's best producers, before heading in a more expensive direction………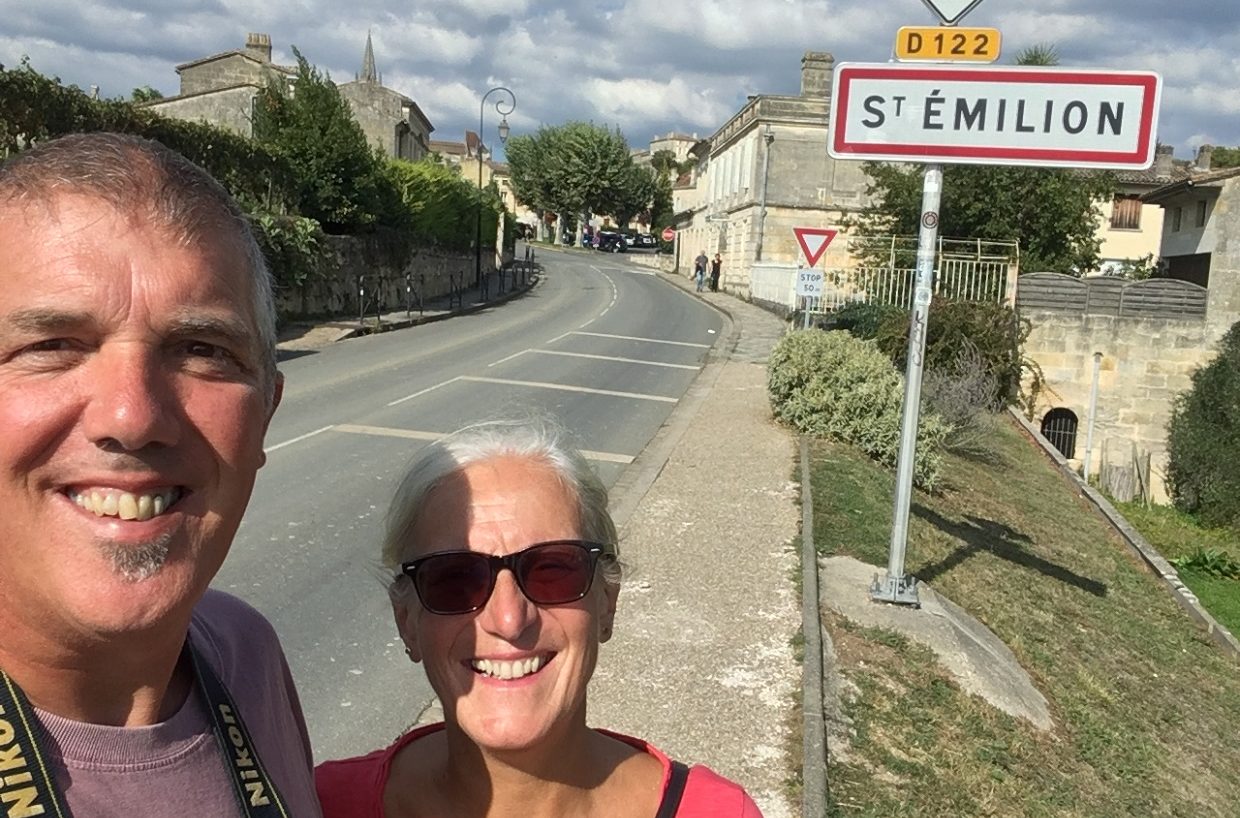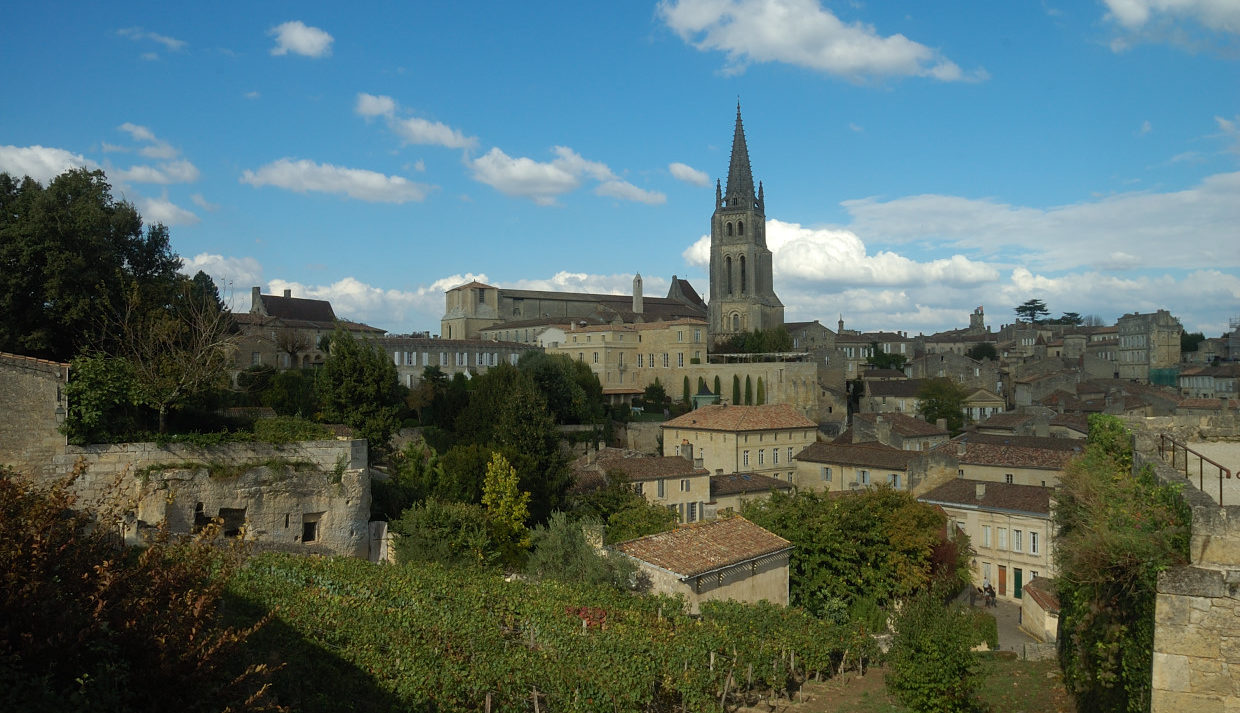 We passed one of St Emilion's top Chateaux – Angelus……..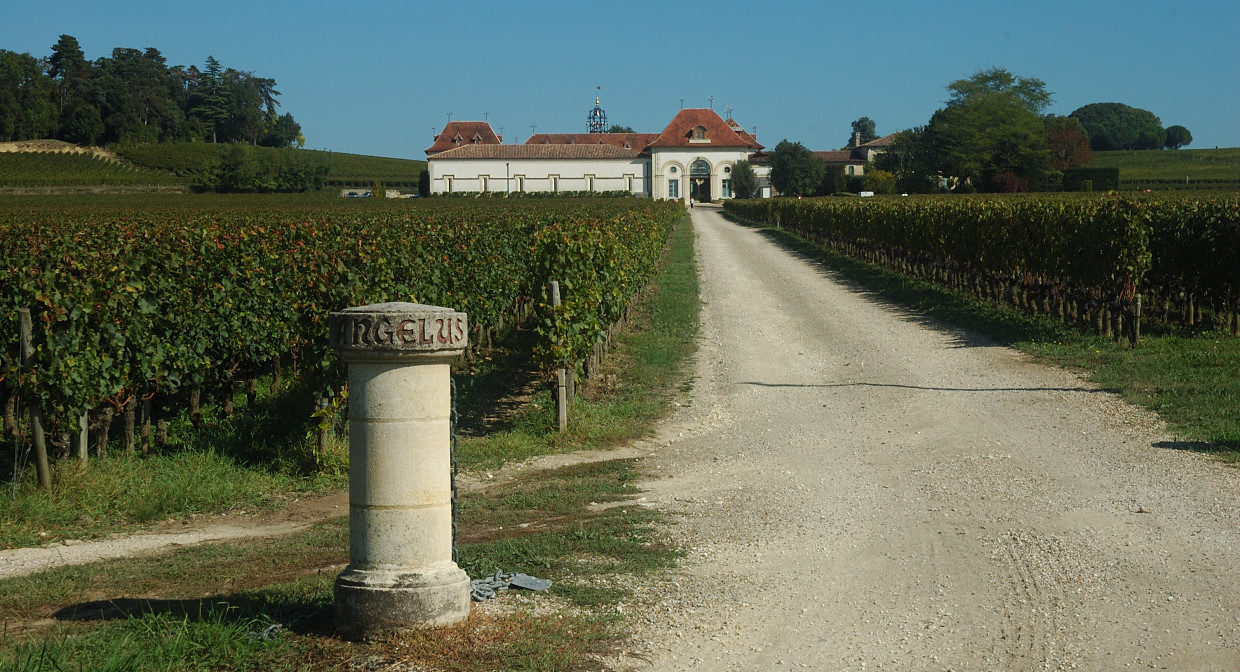 ………where we watched the harvest. Grapes are picked by hand and placed carefully in a single layer in stackable trays to ensure that the skins are not broken and the process does not commence until the winemaker wants it to. Workers were being supervised by a serious looking chap – but no less than you would expect for wine costing £400 a bottle!!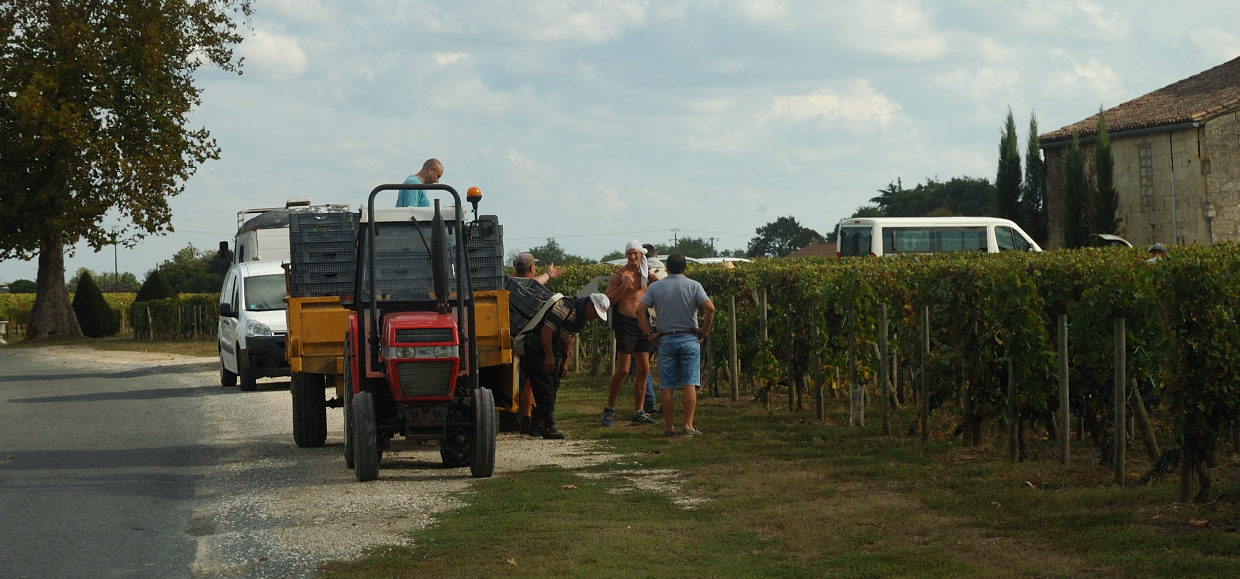 Paul's research had located a Grand Cru St Emilion that had achieved a Guide hachette Coup de Coeur and, after tasting, a wooden case was acquired for a fraction of the cost of one bottle of Angelus!
After our three nights in Bordeaux terroir we headed North and broke our journey on the outskirts of Nantes in the small town of Le Loroux Bottereau in the impressive home of Isabelle and Pascal. Our room in this magnificent old villa was really good, but the highlight was breakfast – some of it home made and ingredients all top quality. If you're in the area you can find them HERE . The name of the guest house is Il Etait Une Fois Chez Moi, and we were certainly made welcome in this home – including free french lessons from our lovely hosts!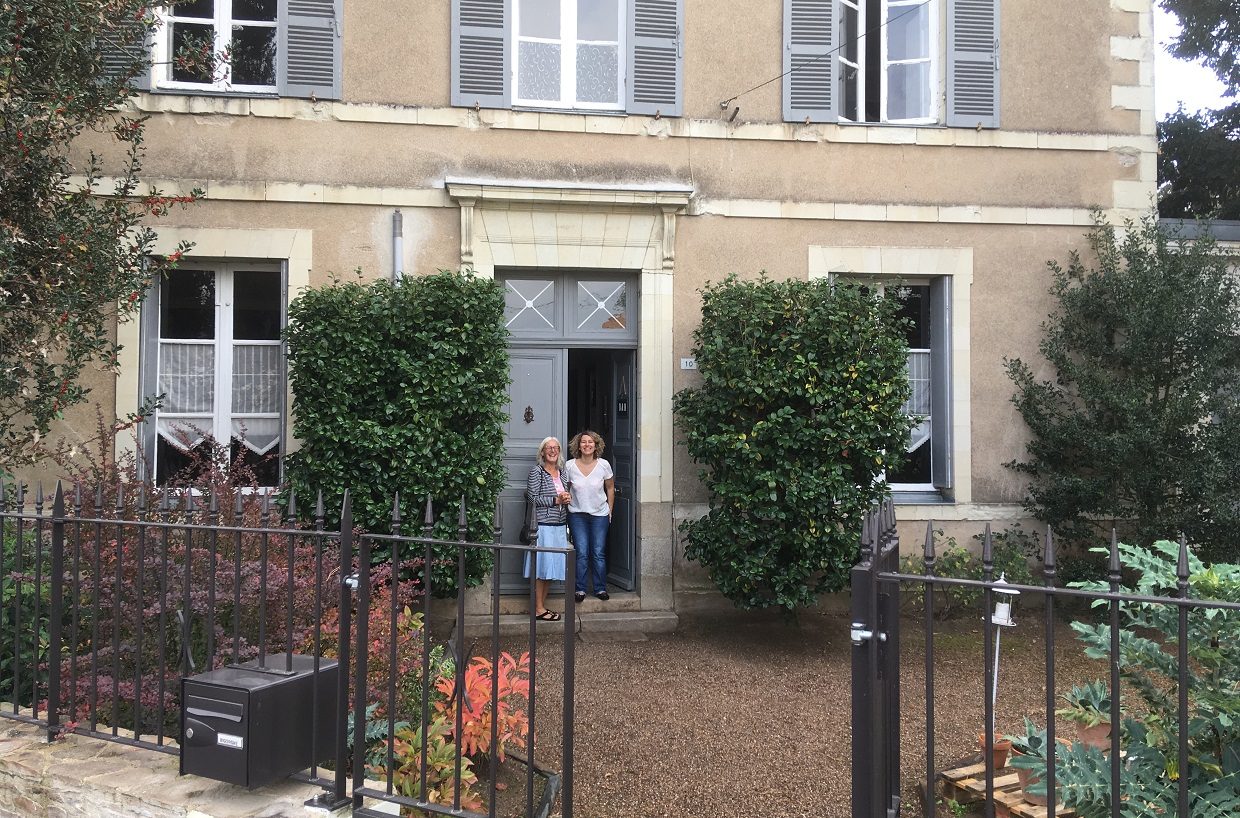 Moving swiftly on we traveled the next day to Cancale, near the St Malo ferry port. Just outside the town we stayed in the very comfortable Chambres d'Hotes "La Closerie de la Baie" run by the lovely Mr et Mme Plesse. Again over a welcome cuppa and next day at breakfast (superb again) we practiced our French, which after our time in Spain is now something of a Span-Fran mash-up! This is very convenient for the ferry and their website is HERE
After a smooth daytime crossing we were home at bedtime and looked forward to boring family and friends with tales of our best sailing trip yet!
To follow shortly is a year summary post – check back soon – but the post after that will follow our return to Spain in April 2019 – with the new propeller that we have just ordered (Volvo 17×12 LH saildrive prop, great condition, is now for sale!).