Whilst this is a sailing blog, we had such a fantastic trip returning home from the boat via Bordeaux that we wanted to keep a record.
When we returned to Calypso from our mid-season break in the UK we left our Citroen Berlingo at our winter destination, complete with a tent in the boot. After 3 days hard graft in the boatyard we headed South to tour the vineyards of Bordeaux.
Buying wine is a bit of a hobby of ours (no surprise there). We have twice previously toured the vineyards of the Loire Valley and twice attended the annual Lille wine fair. However whilst Bordeaux is probably our favourite wine region we had never visited.
We couldn't tour the entire huge region and had targeted the "right bank", on grounds that some of it's less famous wines offer best value for money. We had researched and planned visits based upon the producers recommended by Oz Clark, Hugh Johnson and Guide Hachette, and selected those whose websites showed them to be open to the public without appointment.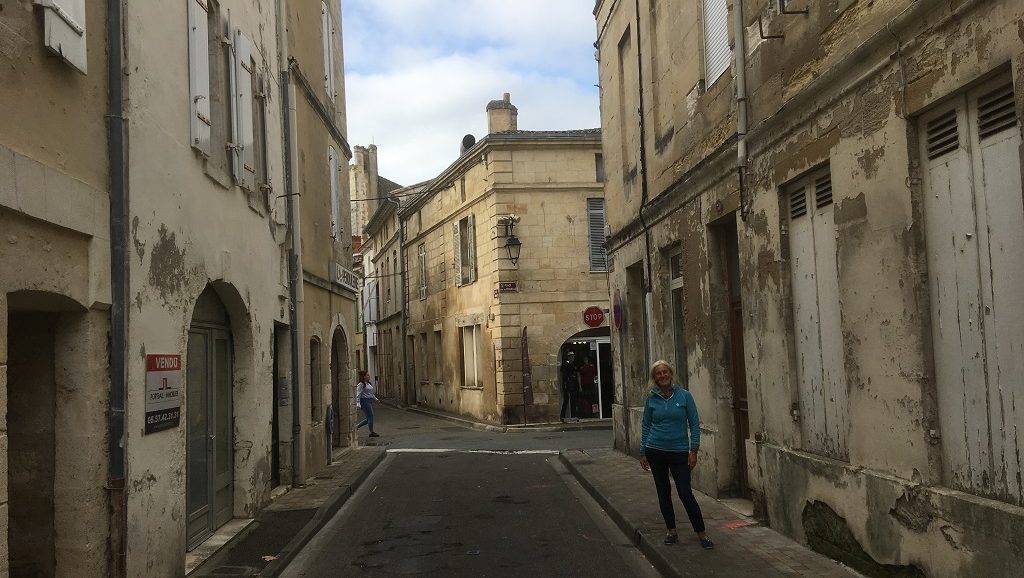 We arrived in the characterful right bank town of Blaye with its shabby chic back streets in the early evening and booked into a Chambres D'Hotes for our first night. After checking in we went in search of dinner, and a short distance from the chambres came across La Petite Cave, a wine bar and shop. Deep inside, beyond the racks of wine on sale and in cellars under the adjoining rear building we saw a party of businessmen sampling wine and headed in to join them.
Having ordered a plate of cheese and charcouterie with 2 glasses of wine of the day (a superb Blaye red) we settled down and eavesdropped on the group of UK businessmen having a wine tasting session with the South African owner, Les Kellen. Afterwards Les came and sat beside us in the comfy leather seating and chatted.
After an early career in education in South Africa, and via a wine bar business in London, Les arrived in this small intriguing town and has established an "oenotourisme" empire which includes hotel and apartments, guided vineyard tours, buying wines for over 3,000 private clients and running a new vineyard business in partnership with others – as well as La Petite Cave and a nearby restaurant and art gallery.
Les was proud to say that he is one of only 8 foreigners in the 250 strong panel judging wines in the annual Bordeaux competitions. We arranged to return another night to join one of his wine tasting sessions, before retiring to our hotel.
The next day we departed our hotel and went in search of our camp site at the heart of the 17th century Vauban defensive citadel, a truly enormous and well preserved fortification on the banks of the Gironde estuary and sitting impressively above the town centre. The citadel comprises outer and inner defensive walls and dry moat with a range of attractive buildings within, some housing businesses: hotel, restaurants, shops and tourist office. It is one of three structures constructed to defend against attack from the Gironde estuary. The estuary is so wide that architect Marquis de Vauban constructed fortifications on both banks, together with a third on a mid-river island. We didn't get to visit the other two parts, but this citadel is huge, immensely impressive and in amazingly good condition.
The campsite sits on an elevated position within the citadel with views over the estuary. For those without a tent there is also a hotel within the fortification.

Each pitch is separate from the next by high laurel hedges. Other tents and camper vans appeared and moved on over the 4 nights that we we here. We thought that our Berlingo van was full of stuff and could have done with more room, but when Neal and Liezel arrived from Spain on their motorbike – nearing the end of their several week long camping trip – and pitched their good sized tent – we realized that we just needed packing lessons!
Having established camp we set about our main task – visiting vineyards. Day 1 concentrated on the Blaye vineyards, and one highlight was a visit to Chateau Haut Colombier. Monsieur Chety and his family could not have been friendlier in spite of something of a language barrier (Paul gets by in French – just). We were taken to see grapes being picked over by hand to remove insects, stalks etc., before visiting the tasting room and sampling their excellent, great value wines. Unfortunately the camera was not to hand when, as we left (with a couple of cases), the family and staff all stood in line and gave a us cheery wave – a real "Rick Stein's Food Heroes" moment that will not be forgotten.

We visited Chateau Cantinot and had a lengthy chat with English speaking Yann Bouscasse (whose wife Florence was working in the office!) Yan told us that he had been in the family shipping business before purchasing Chateau Cantinot in 2002, turning hobby into business. He added Chateau Capron to the stable in 2010, and now with 30 hectares (75 acres) of vines this is a very sizeable business. It was interesting to hear his marketing statistics, with substantial exports to the far East, whereas very little finds its way to the UK. Perhaps everyone here in the UK seeks out the better known French appellation wines (but which offer poorer value for money).
On day 2 we moved to the Bourg vineyards around the neighbouring town. Some "Chateaux" are little more than farmhouses, but Chateau Tayac looked like a proper chateau, complete with palm lined driveway! At the chateau fly the flags of Canada and Japan (among others) – two of Tayac's main export markets.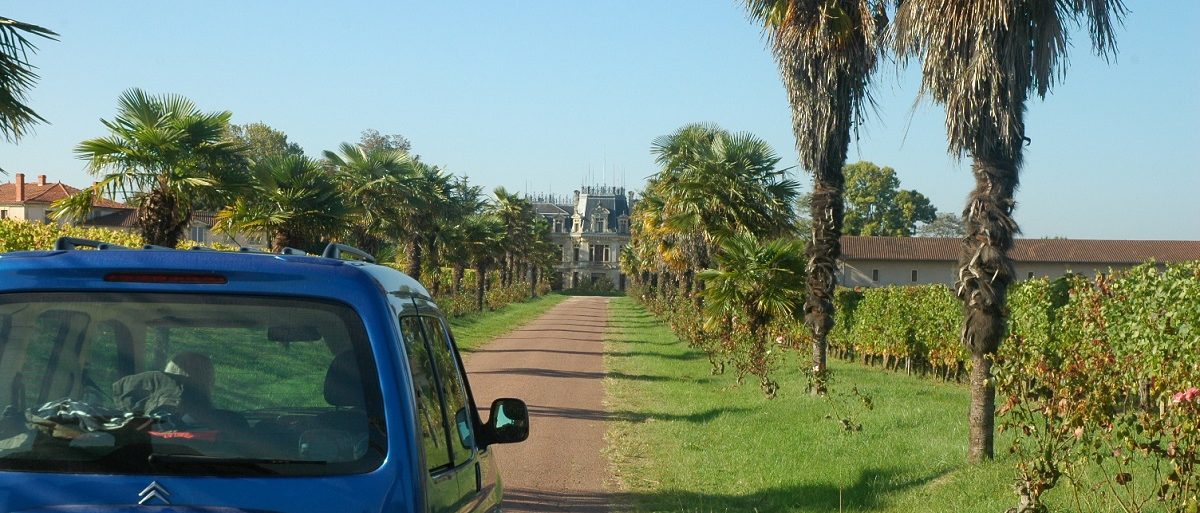 We were greeted and taken to the tasting room by Vincian, a secretary who had graduated from working the vines. At some chateaux the choice is limited to the latest releases, but here wines of many past vintages were on offer and we tasted a few.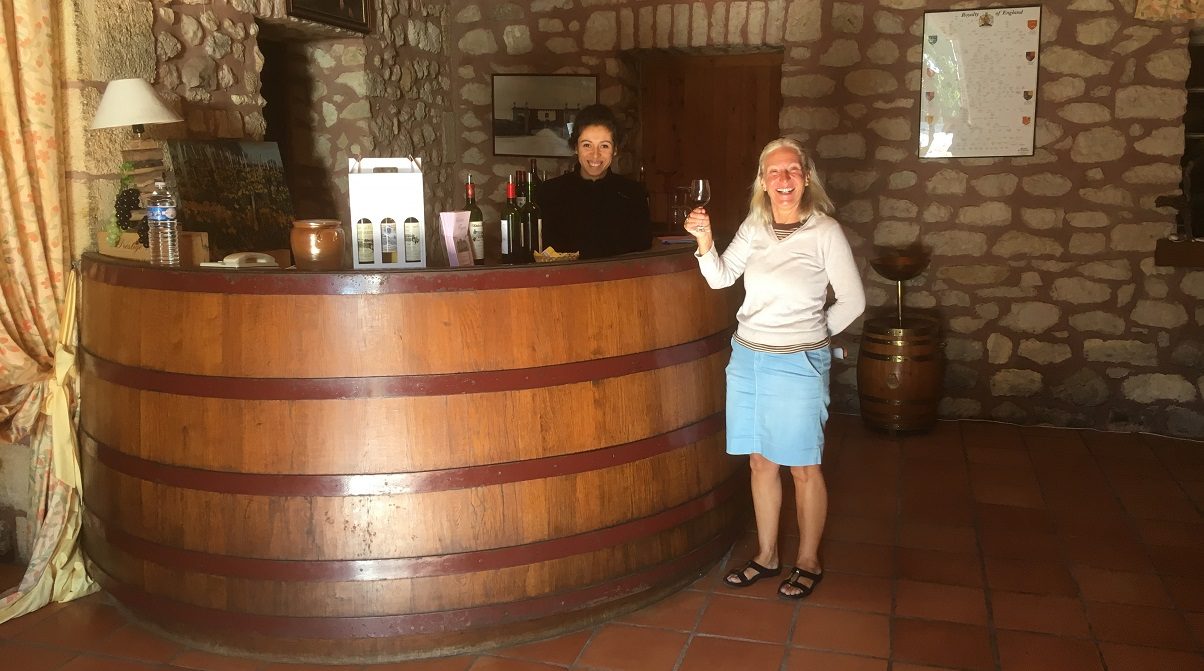 Bourg wines are generally long lived, and so we selected the great vintage of 2009 to lay down a little longer, and added the ready to drink 1996. There were several other vintages available and with hindsight we should have acquired a few more different ones. Tasting different vintages from the same vineyard can be quite illuminating. We discovered many years ago on a Loire tour that this nonsense about good and bad vintages is really not nonsense!
Vincian took us around to the front of the chateau to look down from a balcony over the lower terraces, where once stood a large fortification constructed by Edward of Woodstock, the "Black Prince". The last remaining tower can be seen in the distance. Vincian ended a memorable tour by kindly giving us the 2009 case in a wooden box. One of the things we love about our vineyard tours are the memories of these special days that come back to us when drinking the wine!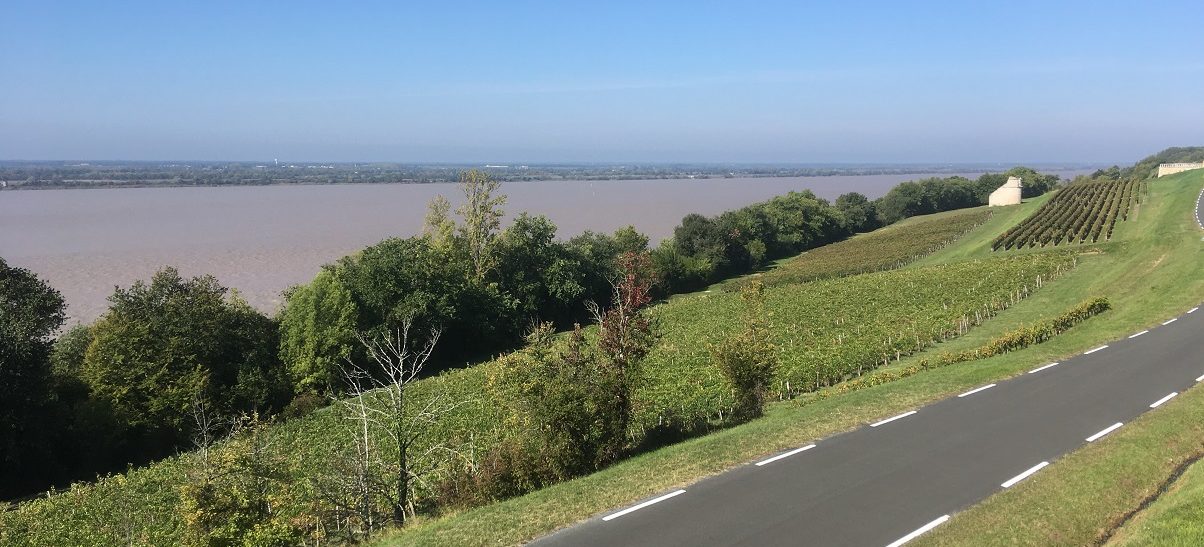 We had lunch in the very pretty town of Bourg, but unfortunately forgot to take photos!
In the evening we returned to La Petite Cave for our wine tasting with Les. With two English girls (Liz and Carla) and Peter and  Caroline from Berlin, all holidaying in the area, we sat around a high table and tasted wines ranging from 1978 to 2014, being taught how to judge aspects of wine by appearance, and how to swill, sniff and slurp to get the best appreciation of wine. Les avoided anything too pretentious or complicated and we all found the basics very interesting.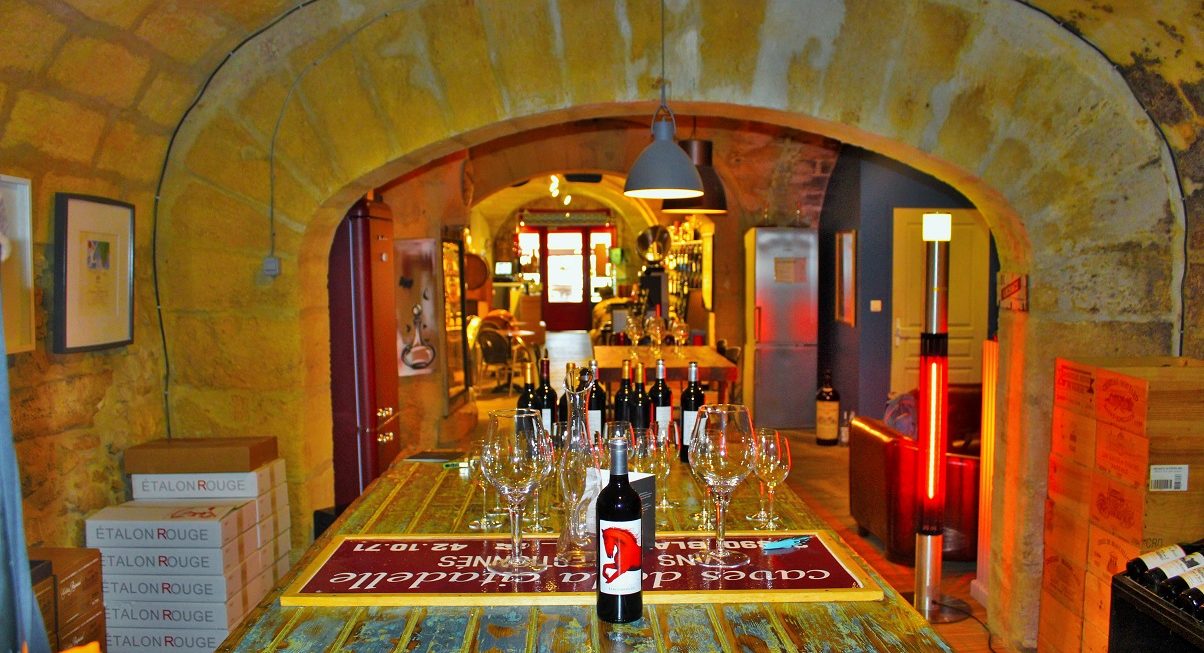 After the tasting Les showed us around his extensive cellars, followed by the site for the relocation of his new venture as a "garagiste" wine producer – which will be the only winery within the town of Blaye. Les has previously produced his wine in a rented site, and his new facility truly is just a large garage! Les aims to produce small amounts of high quality wine, with top consultant winemakers. We then saw his partner Clarissa's art studio, and the original artwork for his label – "Etalon Rouge"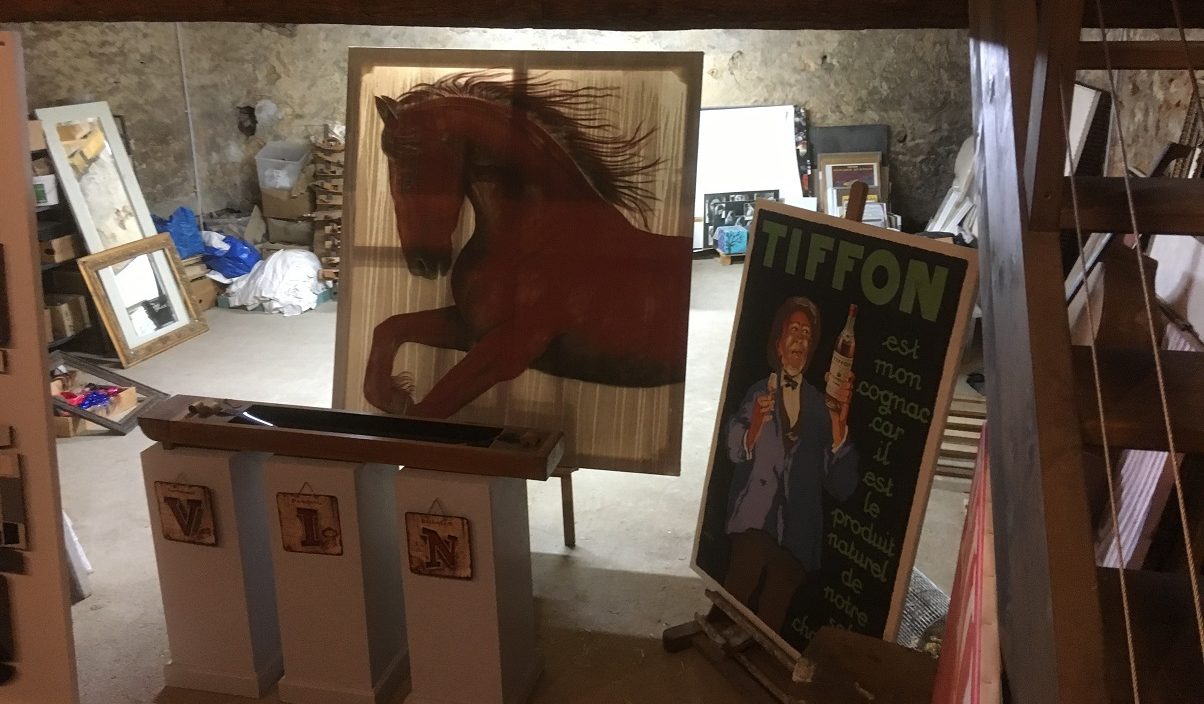 Our evening ended with dinner in Les and Clarissa's restaurant and art gallery – "La Galerie". Here we met a few of Les' friends including Johnny from London (below, left), currently trying to sell his holiday home nearby, and fellow shareholders in the Etalon Rouge venture, Eleni from South Africa, and American wine writer Tom Mullen (below right).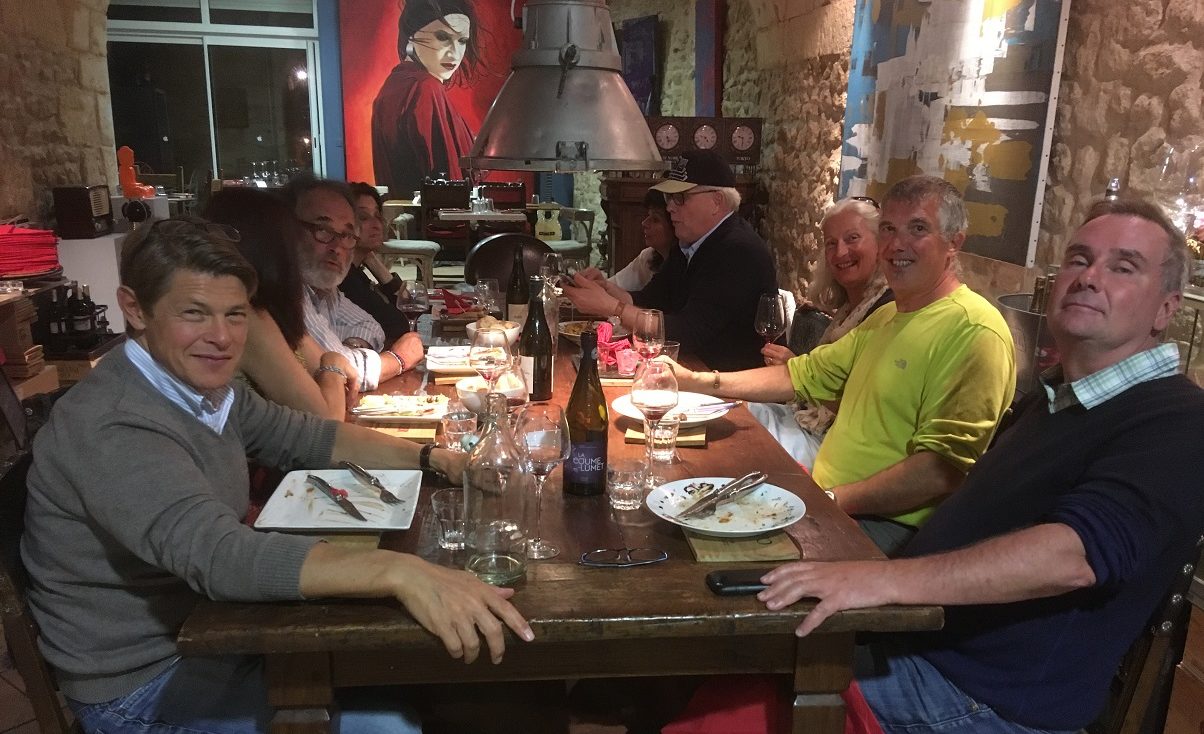 Tom writes a blog and also writes for Forbes Magazine and the Telegraph, among others. We have since followed his blog – we love his writing style, and his take on the characters around the wine industry. This is no stuffy wine encyclopedia! You can find it HERE. Tom has taken a career break to write, but from chatting with him and reading his work we doubt he will be resuming his previous career.
Eleni is a sports therapist. She is currently considering relocating from South Africa to Blaye, and we can see the strong pull of this place. Eleni took us to have a look at Les' aparthotel Villa St Simon (aparthotel not being an apt description for this beautiful historic building, furnished with antiques and artifacts). She had her own ideas on how to pose a photo: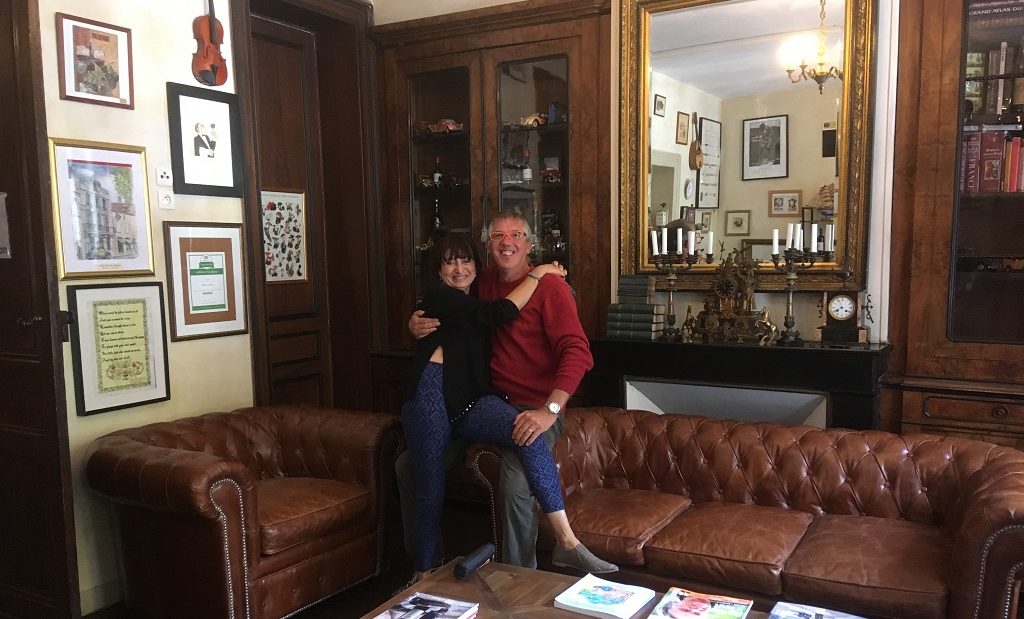 ………and whilst there she took a look at Paul's back and gave manipulation and advice: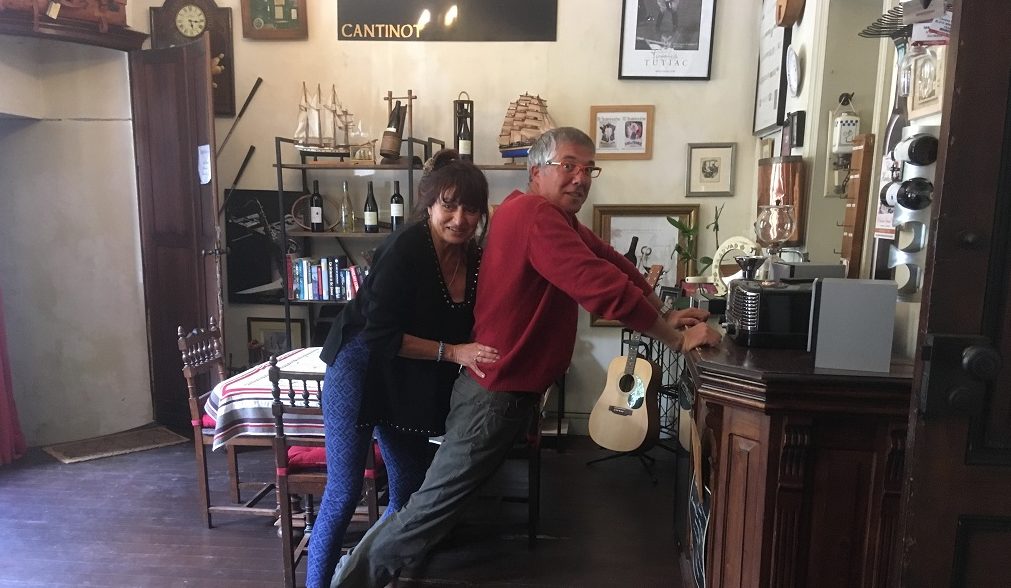 We had a great time in Blaye, thanks in no small part to Les Kellen and his friends and colleagues. If you are looking for a centre to tour Bordeaux from, look no further. The websites for La Petite Cave can be found HERE , La Galerie HERE and Villa St Simon HERE.    All sites have much better photographs than we can manage! Another site, BordeauxVillageBlaye (HERE) handles all the tours and packages for the businesses mentioned above and has more superb photography. Details of the citadel campsite are HERE.
For our next vineyard visit we returned to Blaye, and the busy tourist operation that is Chateau Marquis de Vauban. Formerly known as Chateau de Cone its new owners, lovers of the history of the area, proceeded to rename the chateau after the architect of the neighbouring Blaye citadel (who constructed well over a hundred fortifications around the country, including the one on Belle Ile that we visited earlier in the year).
Here the wine tasting is part of a tour of the winery that is charged for – and to the basic tour we added the horse and carriage ride to the citadel, around the town and back to the chateau. Whilst we are not used to paying for tastings, the carriage ride was well worth the 8 euro charge and more!
The 2 heavy horses plodded around at a gentle pace – until it came to climbing the steep bridge across the moat and towards the drawbridge at a full gallop – with the horses expertly controlled by Marine Hameroux – a slip of a lass and a member of the French junior showjumping squad. Here's our view, sitting up front next to Marine: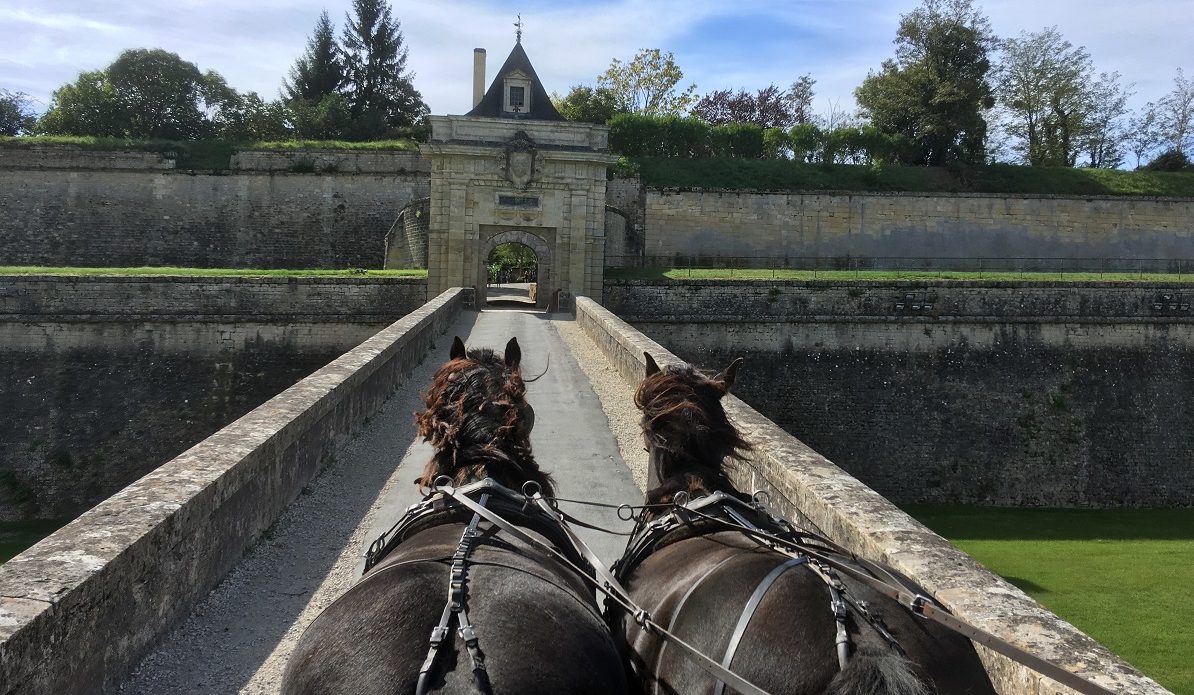 After plodding around the citadel:

…..and through the town…..

………we returned to the chateau to start the tour of the winery, with harvest in full swing. We learned a great deal about the wine making process and thought that the charge for the tour was good value in itself. We were joined on the tour by 4 students of the Bordeaux University oenology department, studying various aspects of the wine industry. Jash, Shruthi, Kunal and Sankalp, from India, have interests in various aspects of the wine production and tourism industry –  a marketing specialist, a yoga instructor, a chef and a wine maker.
Now what, you ask, connects a yoga guru to the wine industry? Well we asked that too, and the answer was that Shruthi teaches that a glass of wine is a great stress reliever – and when combined with yoga, life is………good!
Jash is a new Facebook friend. Since we left Blaye we have discovered that Jash is assisting Les Kellen with marketing, and that he and Shruthi have started "Vinyoga", a business combining those two life enhancing experiences. They were clearly enthusiastic and entrepreneurial, but inevitably Les and Clarissa have lent a hand, with Clarissa's fantastic studio space providing an interesting venue. Photos can be found on their Facebook page, HERE.
We then visited the next good value appellation, Fronsac, a neighbour of the more expensive Pomerol and St Emilion appellations. We enjoyed our visit to Clos Du Roy, followed by highlight of the day – visiting the hillside town of St Emilion. A lovely and vibrant town, we were pleased to be here out of season. It must be really crowded in season, but the atmosphere was great now at the end of September.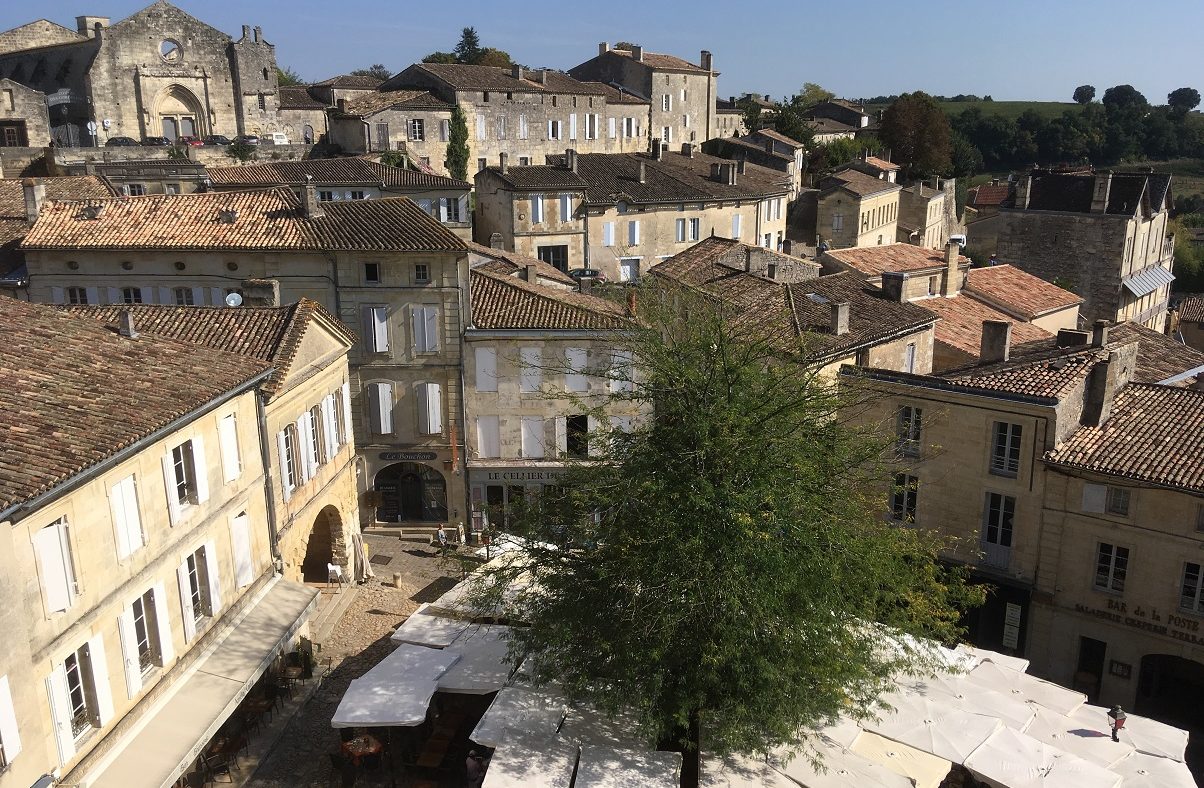 Bordeaux was a 50 minute drive from Blaye and we loved the city – the whole of the large central area comprising grand, imposing buildings and a designated UNESCO World Heritage Site. We don't understand why Bordeaux is not a popular long weekend destination – given the airport sitting on the outskirts of the city and the superb sights here.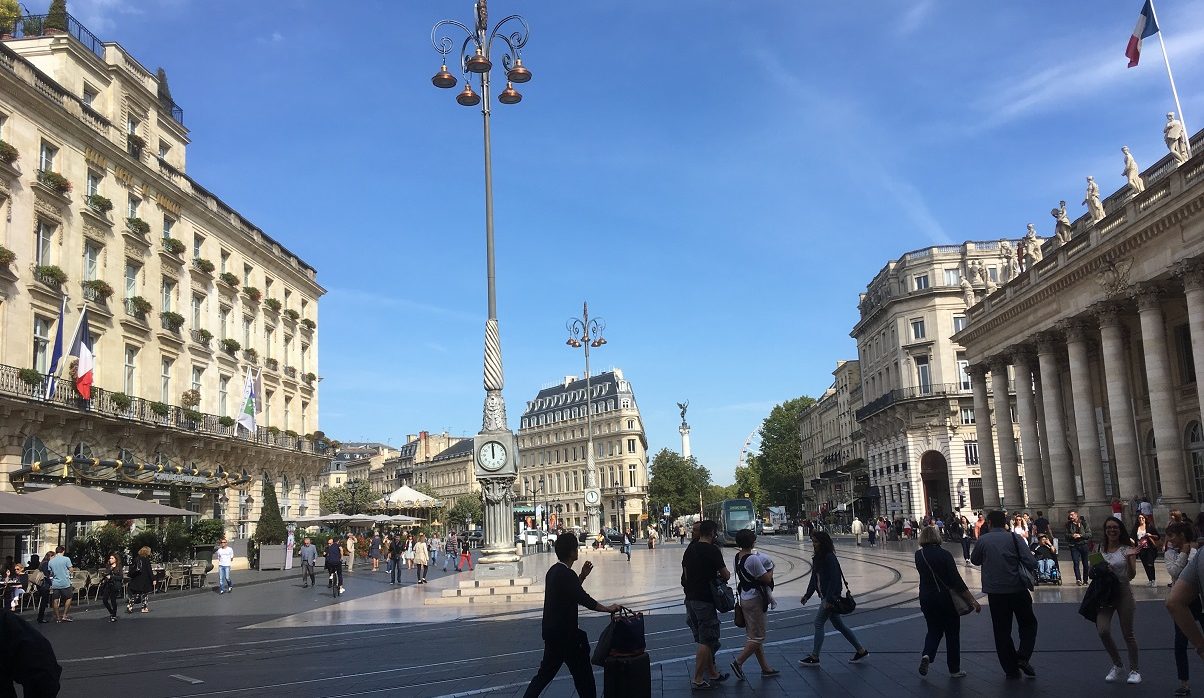 We found a very French French restaurant in the back streets for lunch….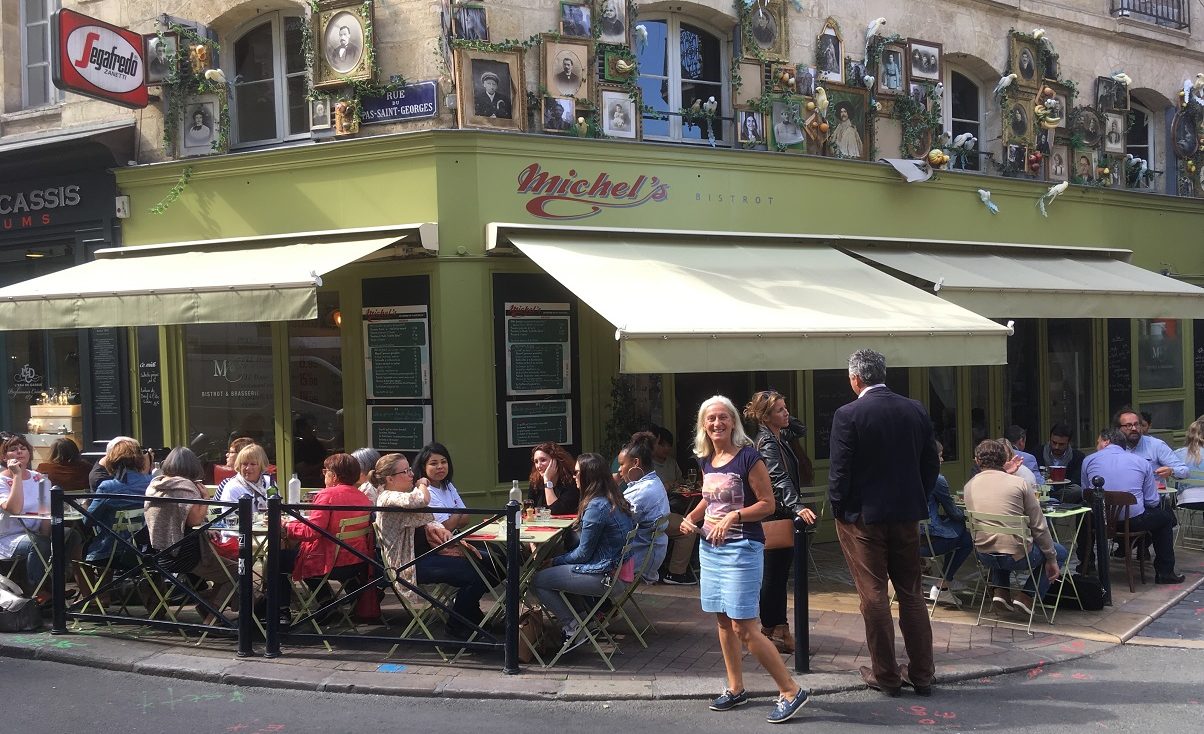 ………and strolled along the river bank after lunch……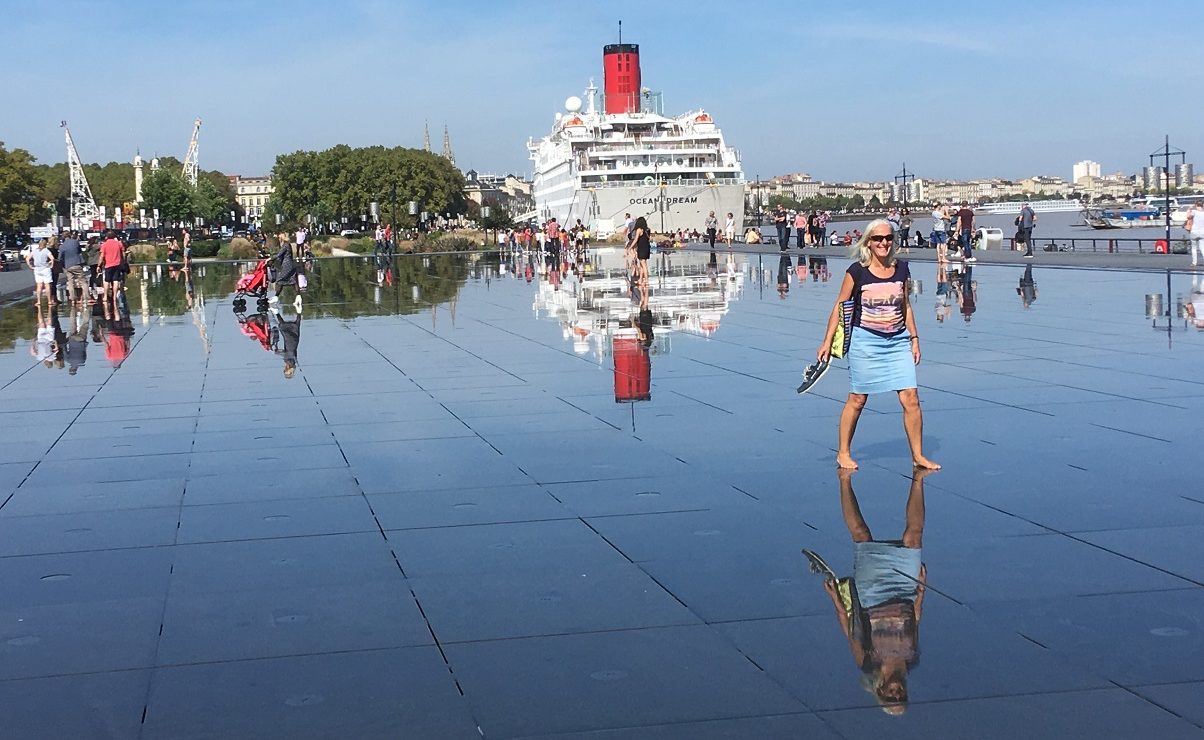 …..before returning to our citadel campsite to make preparations for our departure the next day.
We had a fantastic 5 days in Blaye and certainly hope to return. As we left to head North we called into one final Blaye vineyard – Chateau Des Tourtes. This was Saturday and we stumbled across a ceremony which involved people eating at long tables and people dressing up in silly costumes! Earlier, wine had been trod by foot, keeping the old method alive, but the main event was the Blaye Connetablie induction ceremony. Today important wine makers within the Blaye appellation were being inducted into the ancient order……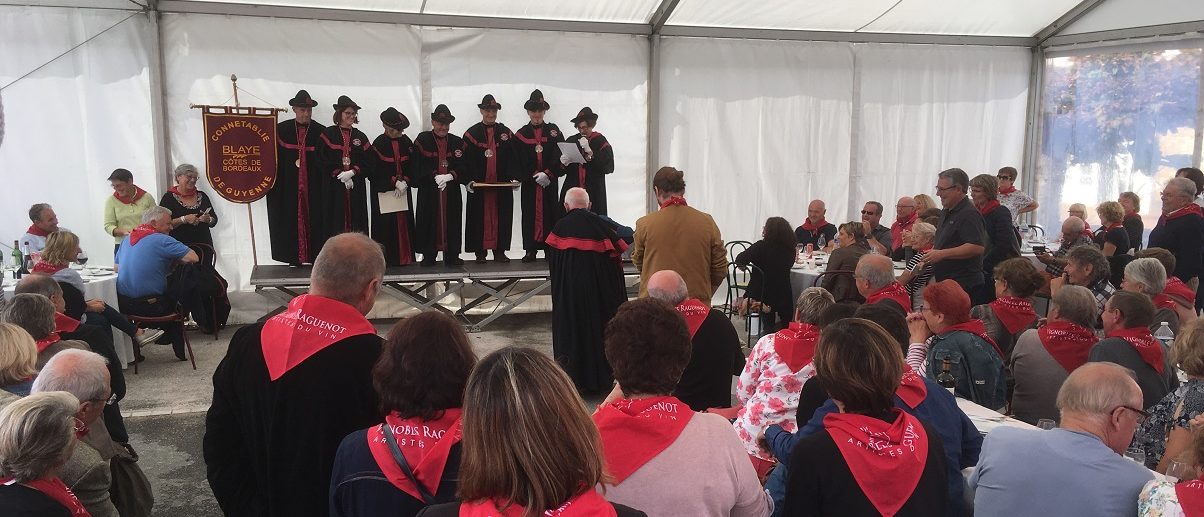 …….but then again – how many ancient orders have you seen taking selfies??!!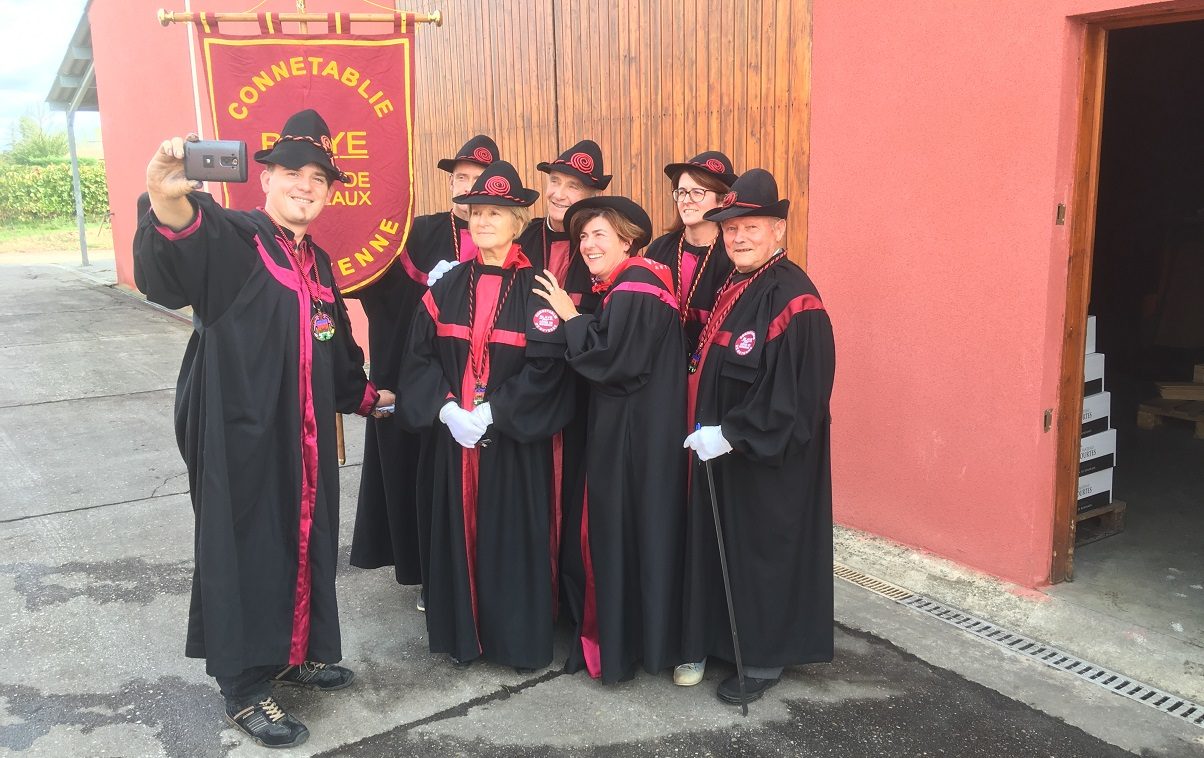 One of the staff kindly took time out of the festivities to allow us to taste and purchase their excellent wine. She paused part way through when her boss was about to be inducted – it seemed that he was unaware of this surprise, although his staff had been told, and the noise levels soared as a surprised Chateau des Tourtes owner was called forward. A joyous occasion, even when viewed as outsiders!
After finishing the tasting and buying several bottles we continued our journey North.
We wanted to visit the Menetou Salon area (upper Loire Valley) on the way home in order to visit two vineyards whose white wines we had thoroughly enjoyed in restaurants earlier in the year. We traveled via budget hotels in Limoges and Clermont Ferrand and arrived at the vineyards of Henri Pele and then Domaine Du Chatenoy, where we tasted and acquired superb wines.
We arrived at Domaine Chatenoy just as they were due to close for lunch, but they invited us in with no hesitation. After the tasting we helped to clear the tables and were rewarded with a first for us – fermenting grape juice; just a few days in, slightly fizzy and very refreshing. We suspect that this is the winemaker's lunchtime staple and we could imagine that much of the 2 hour lunch break is spent sleeping (fortunately at this point the juice has the alcoholic strength of beer!)
Domaine Chatenoy: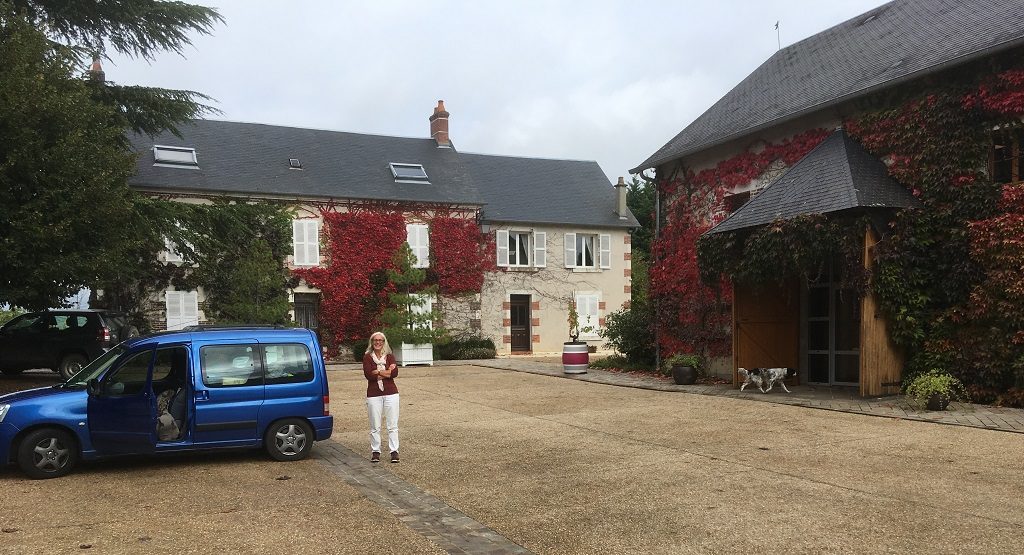 The Chatenoy cuvee Pierre Alexandre 2014, lightly oaked Sauvignon Blanc was a revelation, and another wooden case was acquired! Keep it another year before drinking was Monsieur Clement's advice – very different to our thought that most SB should be drunk young. And who knew that oaked SB could be so good! What a great life these wine makers live – we may start buying lottery tickets again.
Continuing Northwards, Paul awoke on his birthday in a chateau: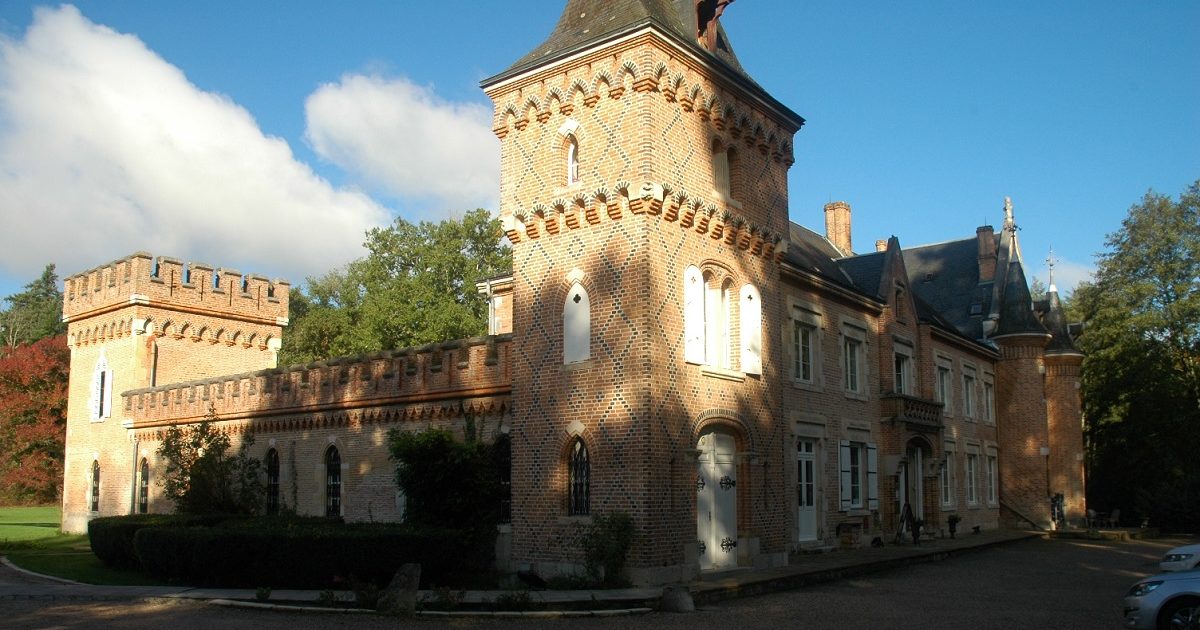 and after visiting the historic town of Arras, he finished his birthday sleeping in this Formule 1 booked earlier in the day:

Now here's a piece of advice: if anyone tells you that when traveling up and down France that Formule 1's are cheap and cheerful but perfectly adequate – DO NOT BELIEVE THEM – THEY ARE NOT YOUR FRIENDS, find new ones!
This place was even worse than it looked. The best thing about it was that the sheets were clean and we didn't encounter fleas.
This was our last night in France, followed by a night on the Zeebrugge-Hull ferry and then home to enjoy the winter amid family and friends; to reflect on a most enjoyable year; to plan our trip across Biscay to North West Spain next year…….and to drink the odd bottle of wine!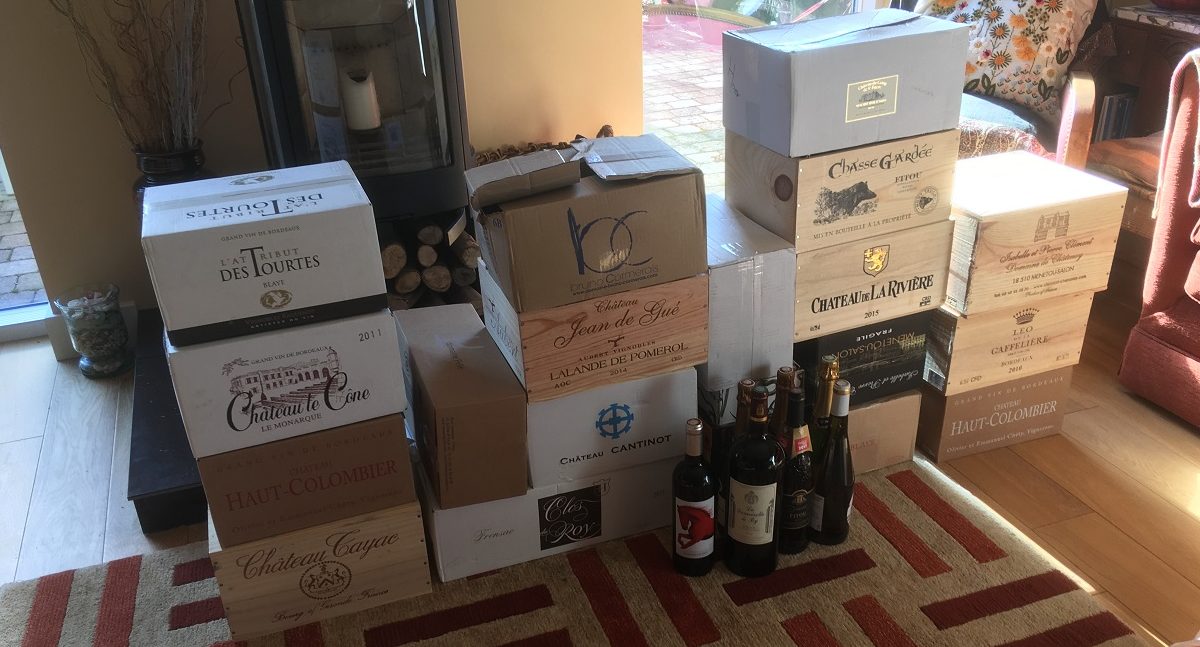 A bientot nos amis.