Calypso Capers Around the Clyde 2013-2015
We purchased Calypso at Kip marina and kept her there for 3 years. We thoroughly enjoyed the variety of destinations within a short distance of Kip and during our first 2 seasons were blessed with fantastic weather. Our first night away from the marina was spent at Tighnabruaich, where we had learned to sail dinghies some 10 years earlier. Our favourite spots around the area are:
Kyles of Bute
– a narrow protected stretch of water running around the top end of the Isle of Bute. There are a few anchorages, but we tended to pick up a mooring ball maintained by one of 3 pubs, each of which serves good food!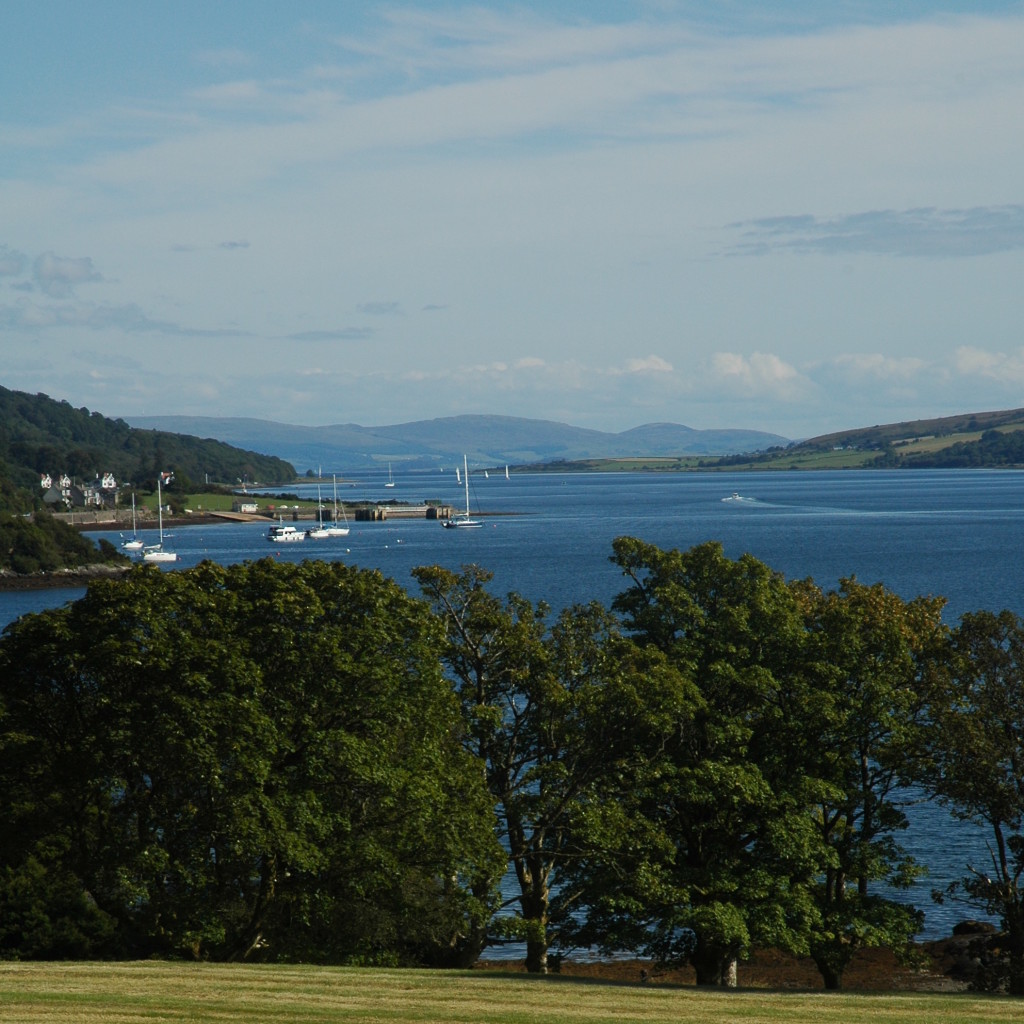 The Colintraive Hotel serves very good food, if sometimes not in the most friendly fashion. This mooring has the added attraction of the Caol Ruadh sculpture park (
http://www.scottishsculpturepark.com/
) at a short distance by dinghy. A peaceful and quite beautiful place.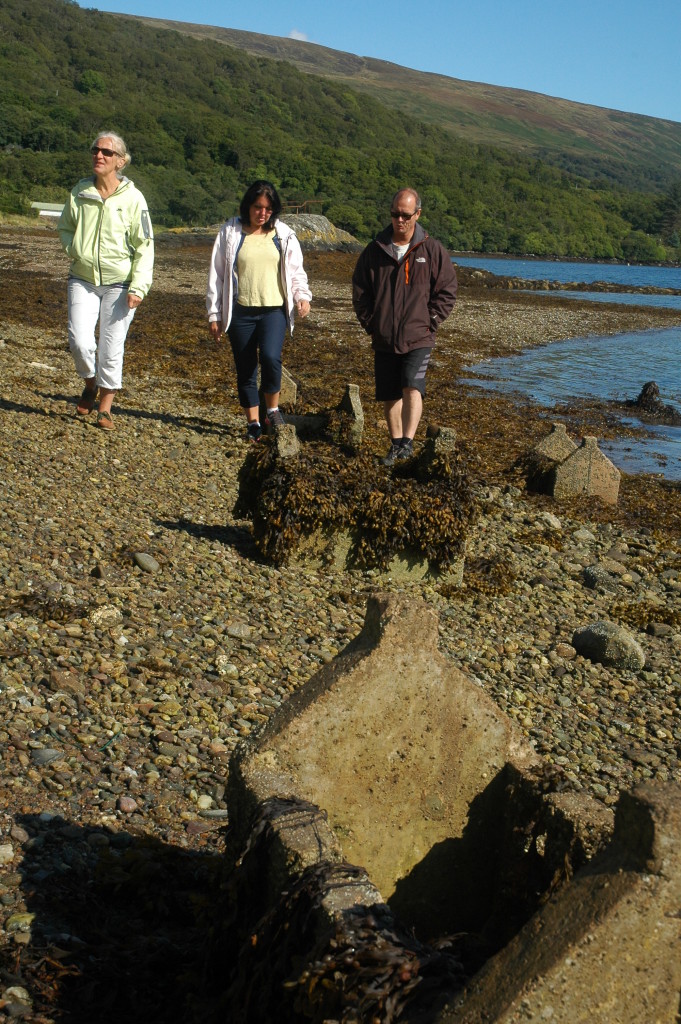 Rothesay –
the inner harbour at Rothesay has been converted to a small marina with floating pontoons (some in the outer harbour as well, shown below, where depths need careful attention).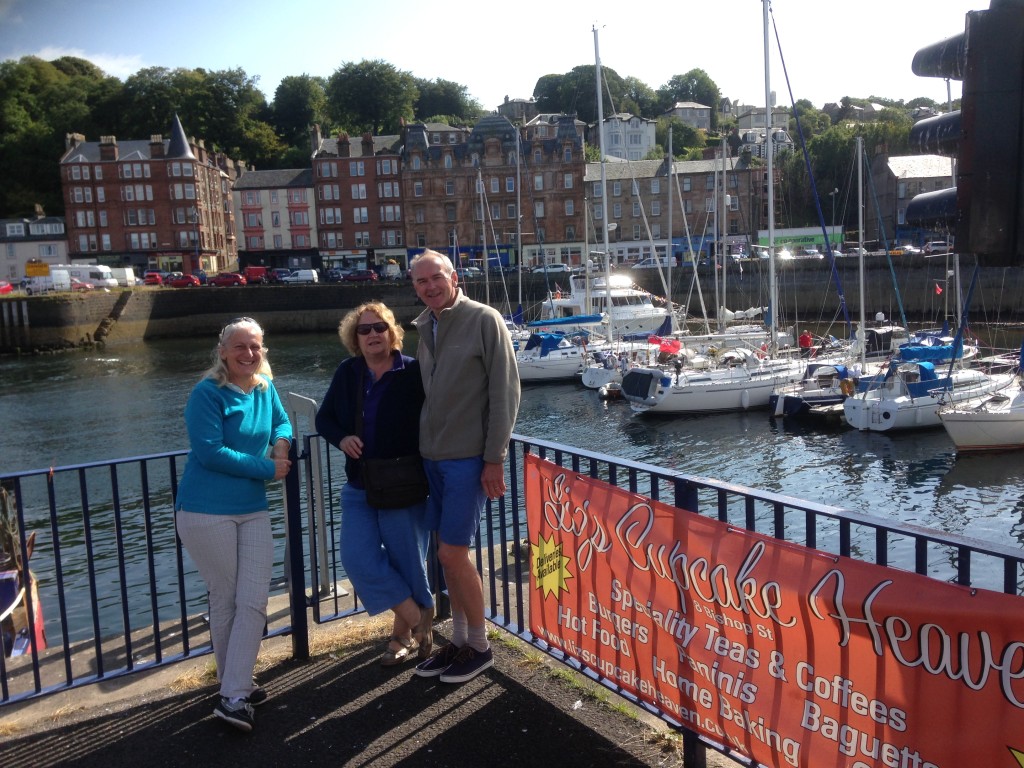 Manoeuvring in the inner harbour can be tricky in stronger winds when full, but we love the faded splendour of this small town and the harbour is at its heart. Dave, the berthing master, is a great guy – but his dry humour takes some adjusting to by the nervous skipper who would prefer reassurance to straight faced mockery!!  We will miss him, and will pay one last visit to say goodbye. Worth a visit are the fishmonger (corner Montague and Tower St, who sells good fish, including langoustines at £8.50/kilo except when his mate who catches them is tied up in the harbour and on holiday) and MacQueen's butchers on Bishop Street who sell fantastic steaks from local farmers and venison; cut before you straight from the carcass to your preferences. Apologies to our veggie friends – there's a great greengrocer opposite the butcher! Rothesay has an excellent visitor centre, and a highlight for any tourist is a visit to Mount Stuart house – built in its current form in the 19
th
century by the 3
rd
Duke of Bute, then Britain's wealthiest man (having built the Cardiff docks and taking a cut of all coal exported from the Welsh valleys). We've never been in the habit of taking guided tours of stuffy old mansions – but this is fascinating and hopefully even after 2 visits we will take the tour again. Another must see is the gents' Victorian toilet on the ferry quay! We have yet to find a must visit restaurant in Rothesay and always eat on board here – but we enjoy great fish and steaks on the Cobb.
Portavadie –
Our very favourite marina. Full Stop. Situated in a remote area at the mouth of Loch Fyne opposite Tarbert, Portavadie was carved from rock to create a facility to service an offshore oil industry that never materialised. A few years ago a local whisky distillery owner created a stunning resort that would not look out of place in the swankiest parts of southern France. The recent opening of the amazing spa has added to what was already a great place to (sorry) "chillax". There are great walks in countryside from the marina, we have even taken the ferry to Tarbert for a change. Bikes can be hired. The restaurants and bars on site are great, and the showers are the best we come across. For those arriving by car there is amazing accommodation on site, especially the apartments overlooking the marina, some with atriums and 2 storey high curtain wall glazing. We sound like an advert for the place, but it deserves that praise. The website really doesn't do it justice.
http://www.portavadie.com/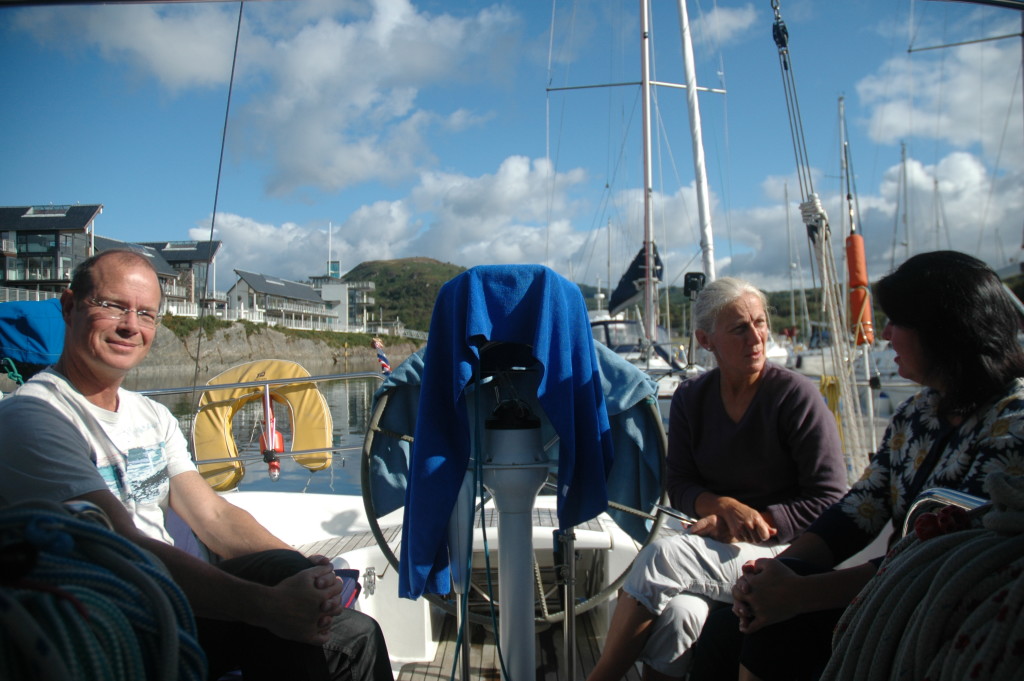 Tarbert –
opposite Portavadie across Loch Fyne is this small fishing village within a pretty, natural harbour. There are good restaurants and interesting arty/crafty shops, good walks, small castle, good pontoons but dreadful shower and toilet facilities. Val would allow us to go more often if the facilities were upgraded! ARE YOU LISTENING, TARBERT HARBOUR AUTHORITY? They haven't reacted to feedback forms! Favourite moment here was watching sea otters on the uncovered weedy rocks behind the boat, just 30-40metres away.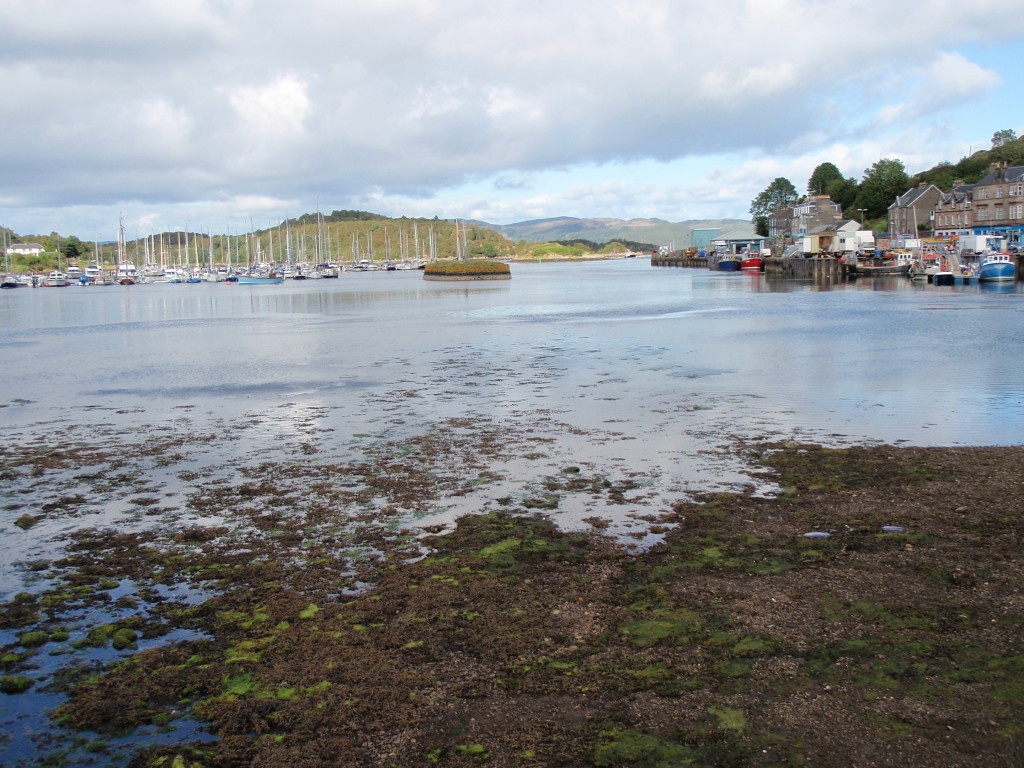 Otter Ferry –
a small hamlet around 10 miles up Loch Fyne. Mooring balls are laid off the Oyster Catcher pub, with good beer and food. This place has no mobile signal and is well off the beaten track. We had one particularly beautiful day here – warm and millpond calm. Fish were jumping and porpoises blowing in the darkness as we were catching dogfish at 1am.
Lochranza, Arran:
an inlet with mooring balls and good anchoring. One of our favourite Calypso days was spent here. On a beautiful morning, after upping anchor and taking a vacated mooring ball we went ashore with the golf clubs.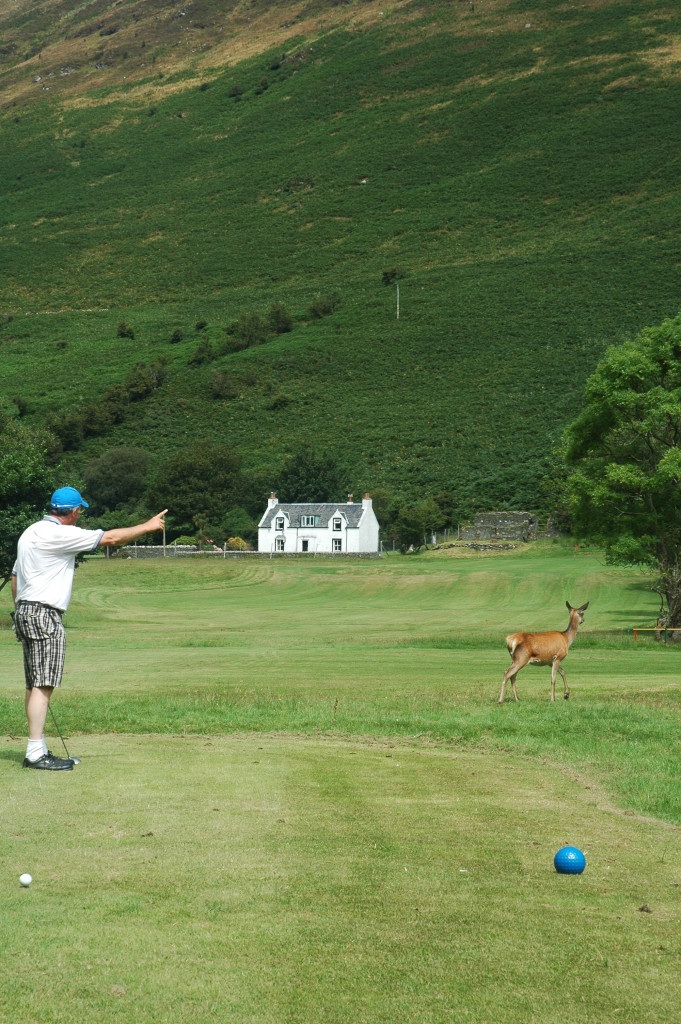 18 holes on the small but pretty golf course (one other person on the course but lots of unperturbed deer) was followed by lunch and a tour at the Arran distillery – a most interesting tour and where we learned to open up a good malt with just a "spot" of water – "never use a jug".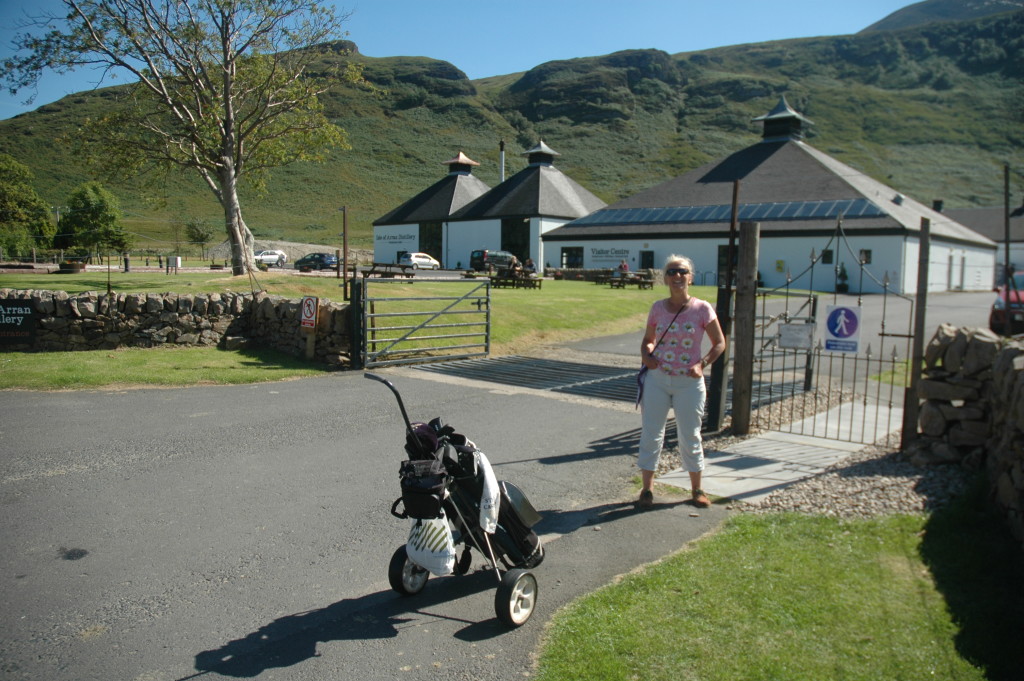 After returning  to the boat to change we then walked through the village, past curious red deer to the Stags' Pavillion restaurant, run by an Italian/Scottish couple who serve great local food at great value. You'll have to book but we would recommend that you do if in the area (and take a bottle).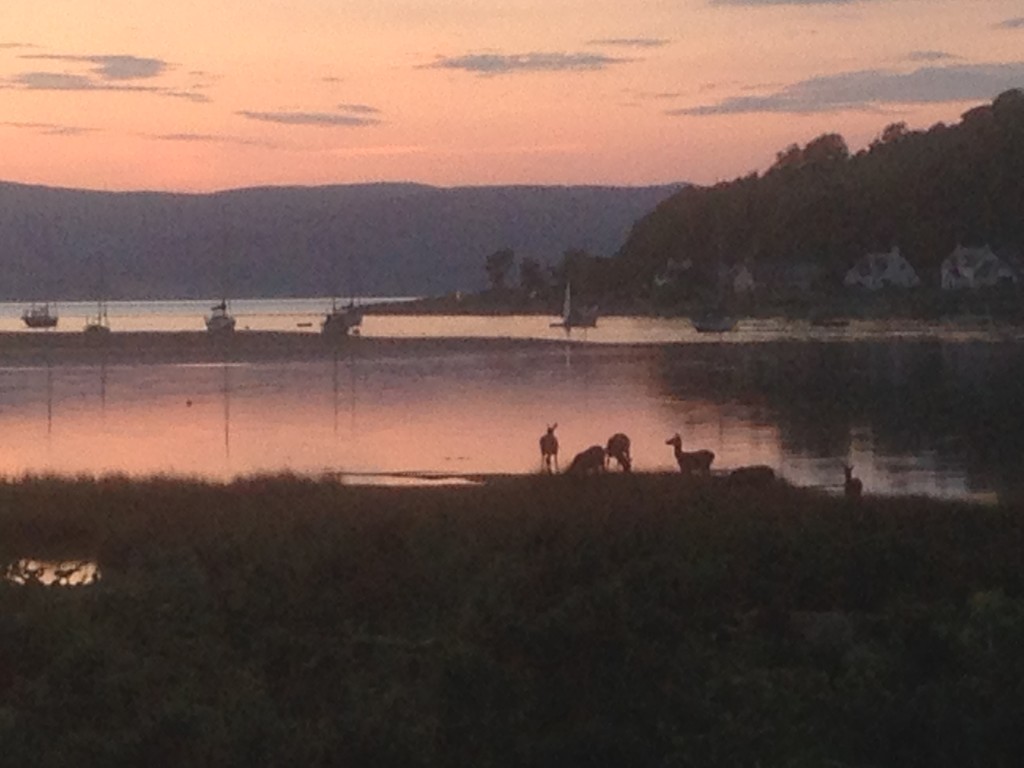 Lamlash, Arran –
a pretty anchorage off a pretty village with a couple of bar/restaurants. Here's a view of Calypso from the beer garden of a busy watering hole!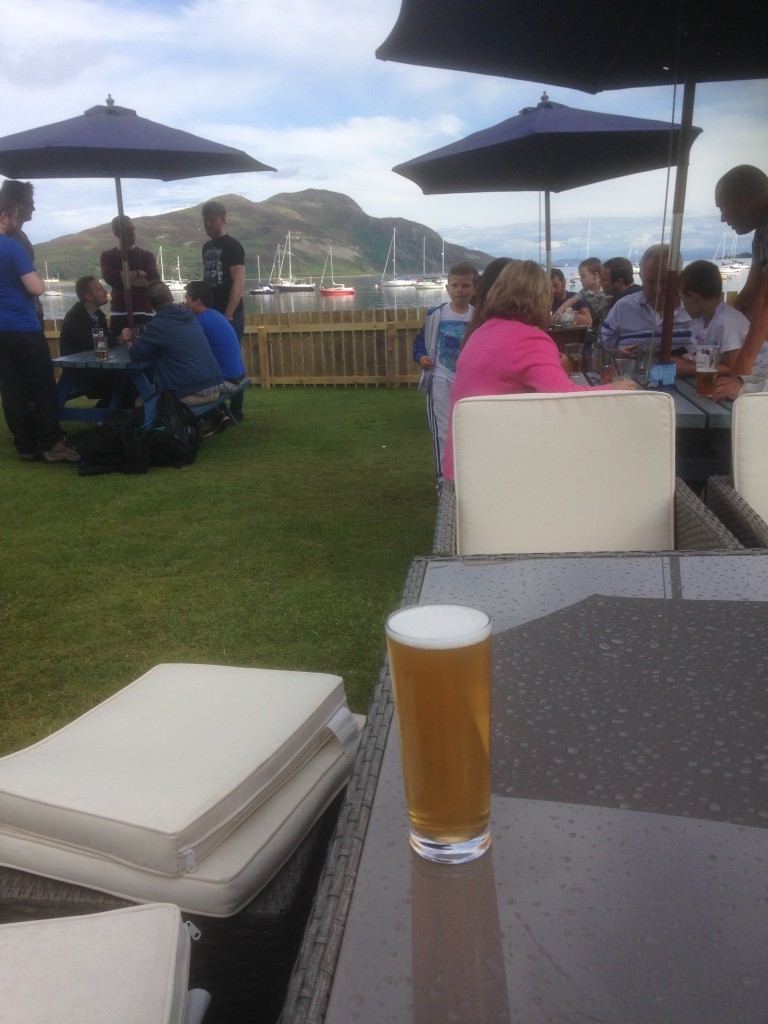 Brodick, Arran –
the main town on Arran. We spent a night on a mooring ball here and learned a lesson – this place is not advised in easterlies. Given the forecast of only 3-5mph we thought it would be fine, and it was – until around 3 am when we rode a bucking bronco before leaving early!
Lochgoilhead –
to get to Loch Goil we have to pass through Loch Long and past the submarine servicing bay there (on one occasion with an escort from the Police launch when we strayed a bit too close!) Loch Goil is just beautiful – in parts reminding us of the Italian Lake Como. Next to the village of Lochgoilhead is a large holiday resort of caravans and chalets which maybe has not much going for it – other than great walks, a good pub, a really great hotel/restaurant/bar, and a pretty 9 hole golf course and swimming complex being part of the resort – and just tremendous scenery. We've been several times and never tire of the place.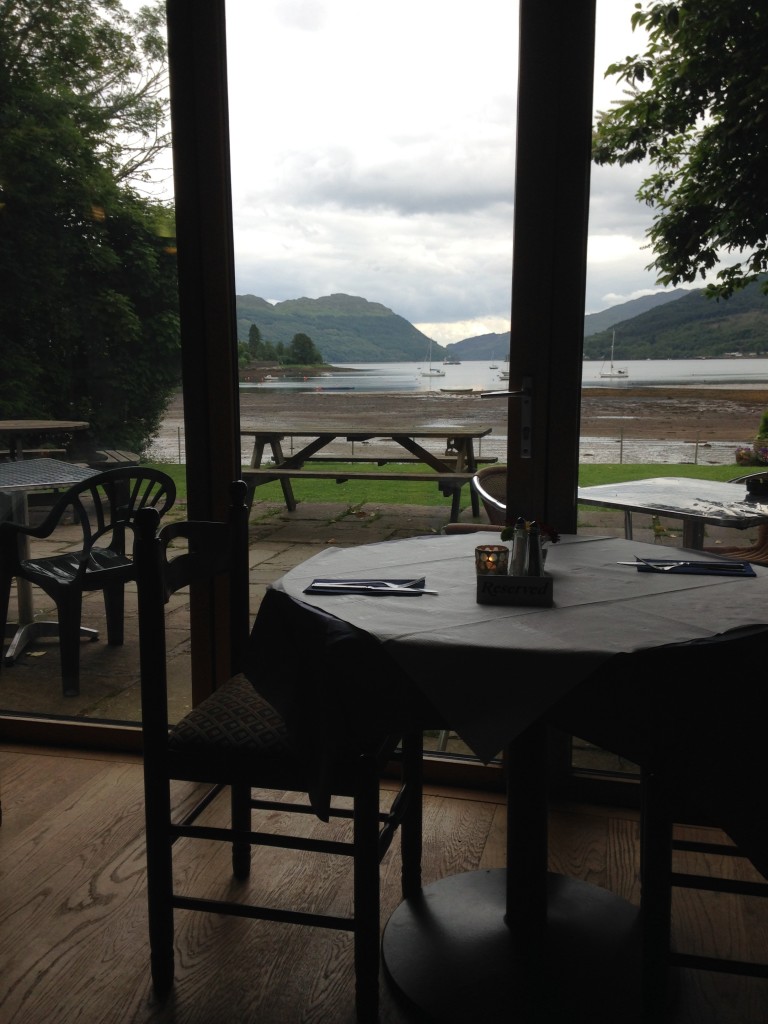 What else? –
there are a great number of anchorages and marinas other than those mentioned here. We have been building confidence and stuck to the easier places. We had intended in both our 2014 and 2015 main summer holidays to get outside of the Mull of Kintyre and across to Ireland and up to the isles of Islay, Gigha and Jura, but we were thwarted by the weather – persistent westerlies are just not the right conditions to take that trip. We could have gone through the Crinan Canal, but having done so as part of a crew of 6, didn't fancy it with just the 2 of us! We have made good friends in the marina and through the Moody Owners' Association, and we'll miss them, although we are sure that they will be visiting us from time to time. Kip Marina – we enjoyed our time there. Lots of good points, good people and a great location. Two niggles – firstly there should be a bar where berth-holders don't get excluded from when there is a function and secondly the sinking pontoons should be repaired – it's a long way down for Val's little legs when we are berthing. We have thoroughly enjoyed our 3 years in this area. Perhaps we were very lucky with the weather in the first 2 years, but 2015 has made up for that. We have much more exploring to do here, but it is time to move on.