Mystery and coincidence…..
We had to drag ourselves away from Salcombe and move on. Next stop, just 17.5nm away is the river Dart. Within the entrance busy Dartmouth and quiet Kingswear face each other across the river, and a few miles upstream lies the small village of Dittisham (pronounced locally "Ditsum") with a couple of pubs and a ferry across to a place of mystery……..
We strapped the dinghy along the transom of Calypso and left Salcombe with a couple of hours' rise of tide to make crossing the bar more comfortable and enjoyed sailing (rather than motoring) almost the entire way to the Dart. The entry to this river is very easy with no shallow areas to worry about. The Dart has deep water to and beyond Dittisham.
There are marinas in the Dart but we chose the option of mooring alongside an island pontoon on the Dartmouth side of the river (half the price of  the marinas at just under £20 a night). This meant that again we had to use the dinghy to get ashore, but that was only about a seven iron away and so we rowed.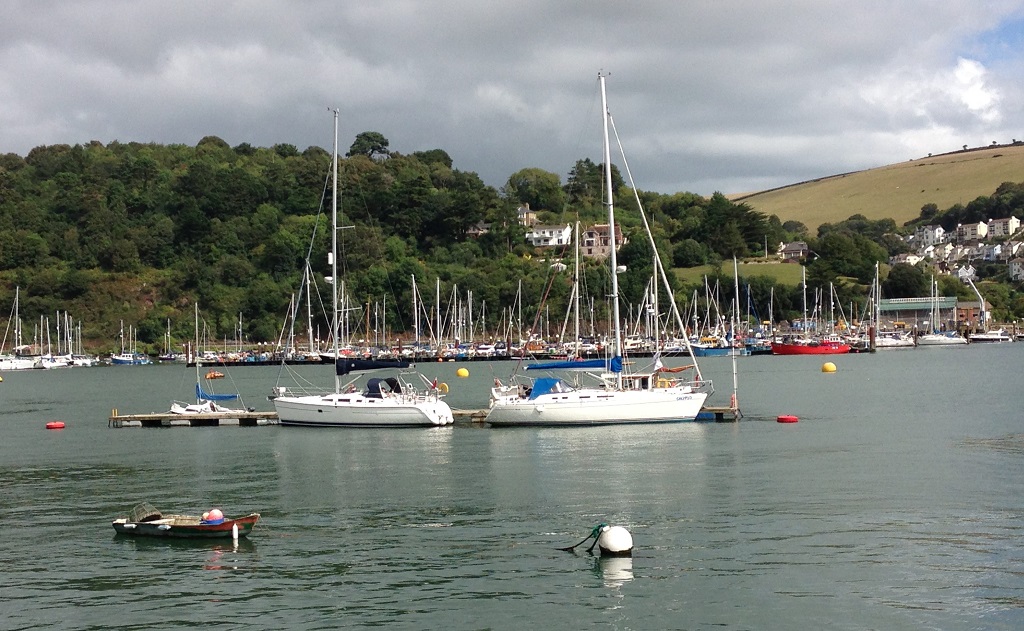 We enjoyed our first few days in Dartmouth: lots of art shops (and Paul's Christmas present was duly purchased (1960's cubist)). It's titled "Inseparable" – which seemed quite apt after the last few months of being joined at the hip!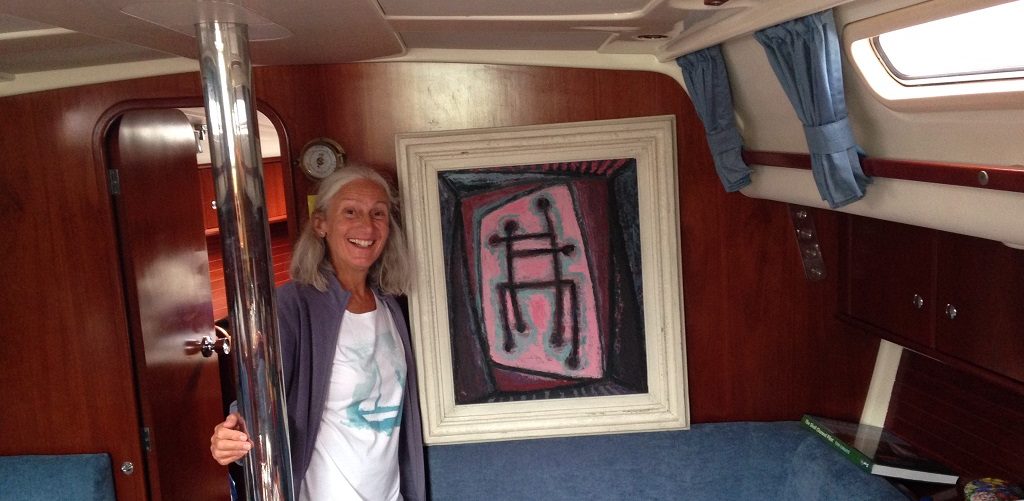 There were a few nice dress shops – and so Val's Christmas present was also purchased, but that will be introduced to the world another time! We enjoyed acquiring and cooking fantastic fish from the excellent fishmonger in the old market (best mussels and biggest oysters ever) including BBQ'ing sardines one evening and having with chilled red wine – taking us back to the quayside at Portimao many years ago.
We had a night at the movies at the small theatre – and availed ourselves of the pre-film meal offer before watching the new Jason Bourne (which Val critiqued as "a boys' film" – and she was not wrong. Amazing that an American SWAT truck could destroy in excess of 20 cars with head on collisions and not smash a headlight!!!! This could have been a good film without such utter fantasy!)
Having explored and shopped for 3 days we moved upriver to quieter Dittisham ("Ditsum" – keep up!), where we took one of many swinging moorings. The visitor pontoons at Dartmouth and swinging moorings upriver are all operated by the same harbour authority and the cost is the same – £19.55 a night for us.
At Dittisham we walked the shore and village and went to the local pub for a pint. Both pub (Ferry Inn) and Calypso seen here in the distance: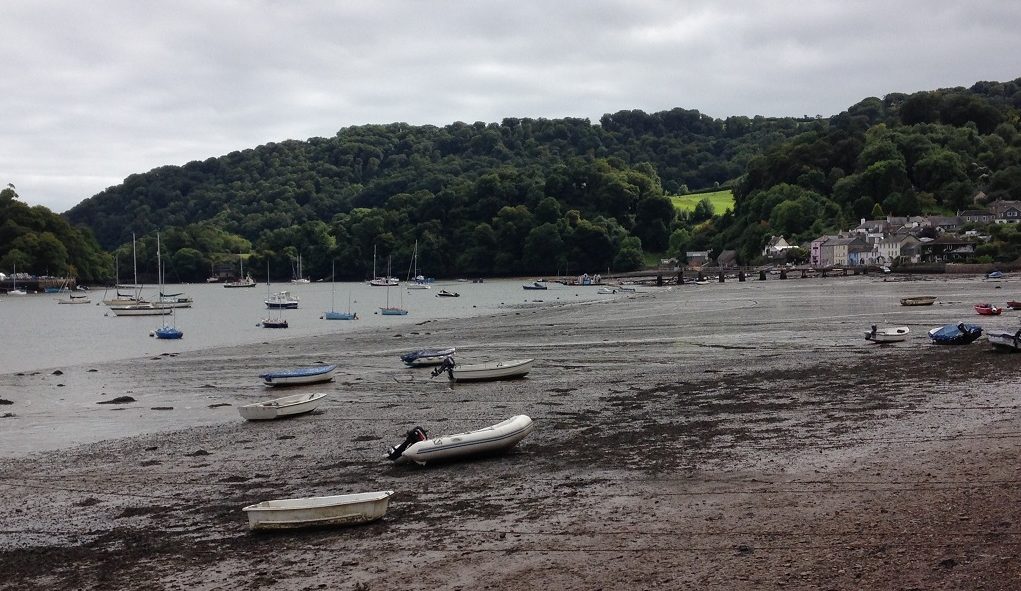 It has to be said that a highlight of Cornwall was the great beers and craft lagers. The beers in Devon have been disappointing! The sunsets have been good though: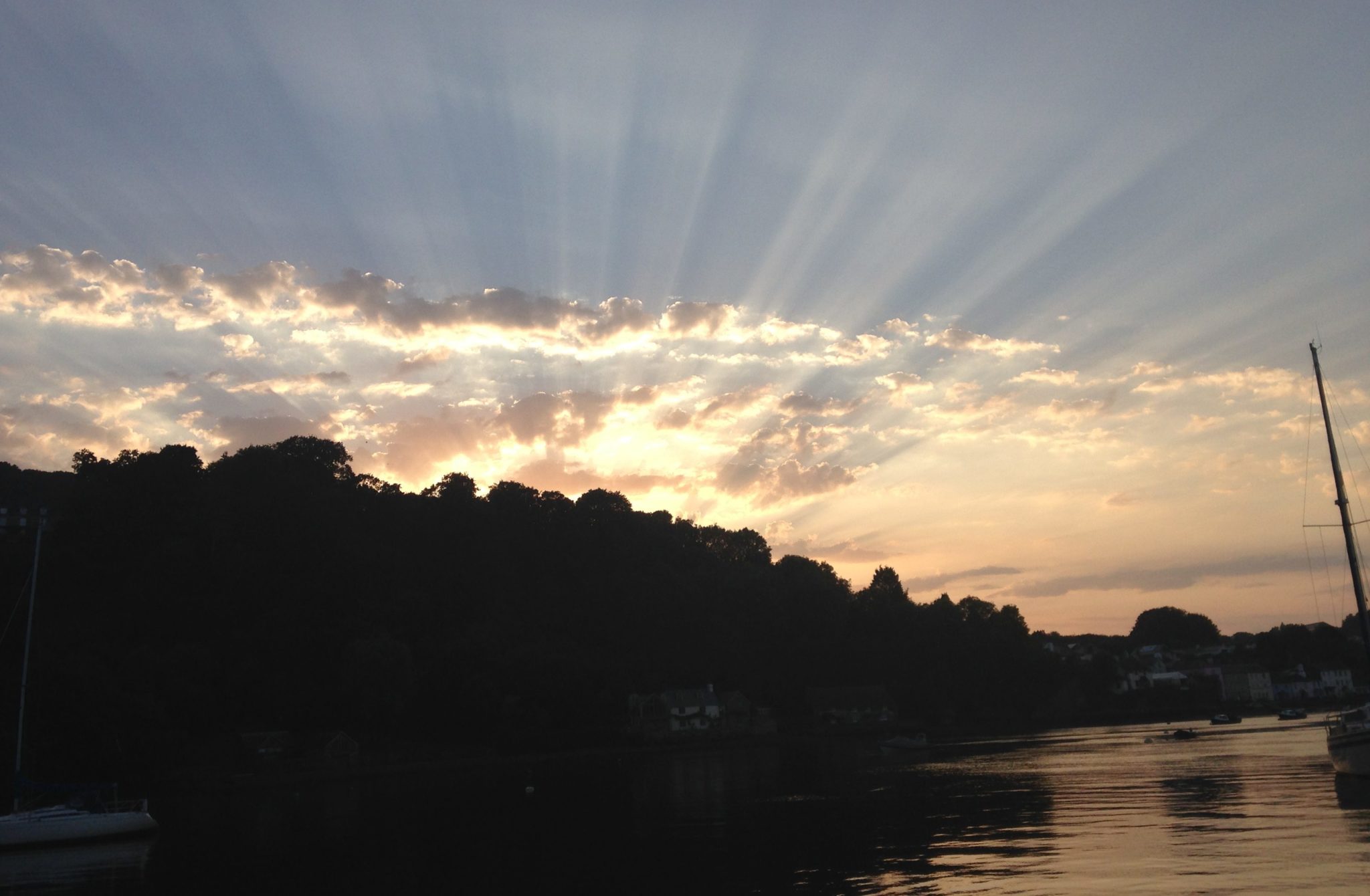 The following day we left our dinghy on the dock at Dittisham and took the small ferry across to Greenway (nowhere to leave a dinghy easily) which was a bit of a rip-off at £4 return each for a distance of a middling par 4! Note that most yachting people describe short distances in "cables" – maybe that will come.
However at Greenway the mystery becomes clear – the National Trust maintain Greenway House, the summer residence of Agatha Christie.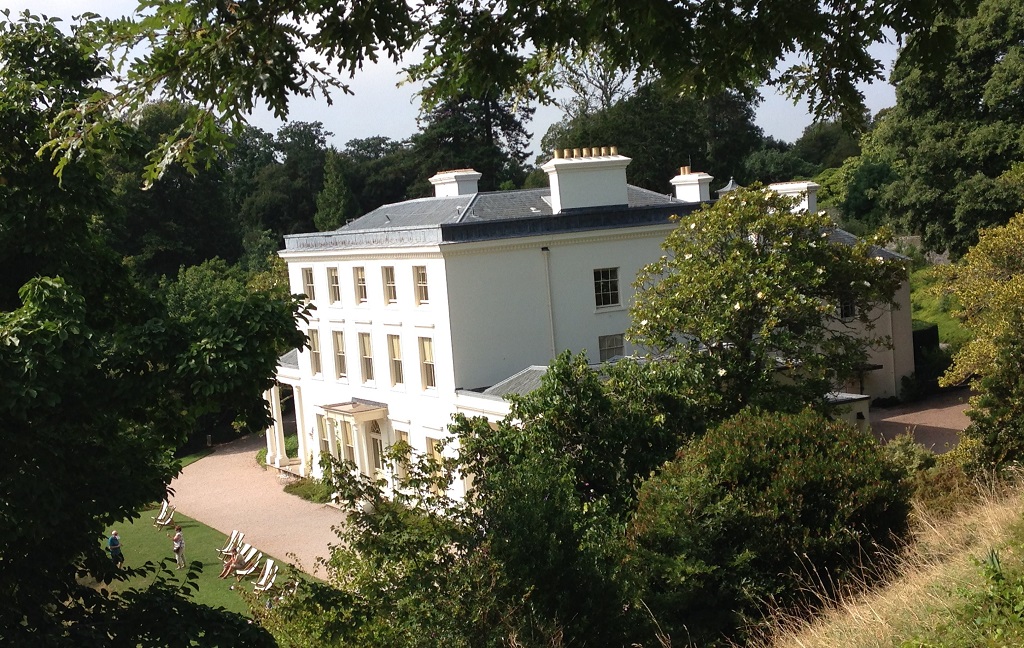 It occupies a large estate with woodland walks, nice gardens and a riverside walk with the boathouse where you can perch in the chair where Agatha once proof read her manuscripts. The view from the balcony today includes Calypso in the distance: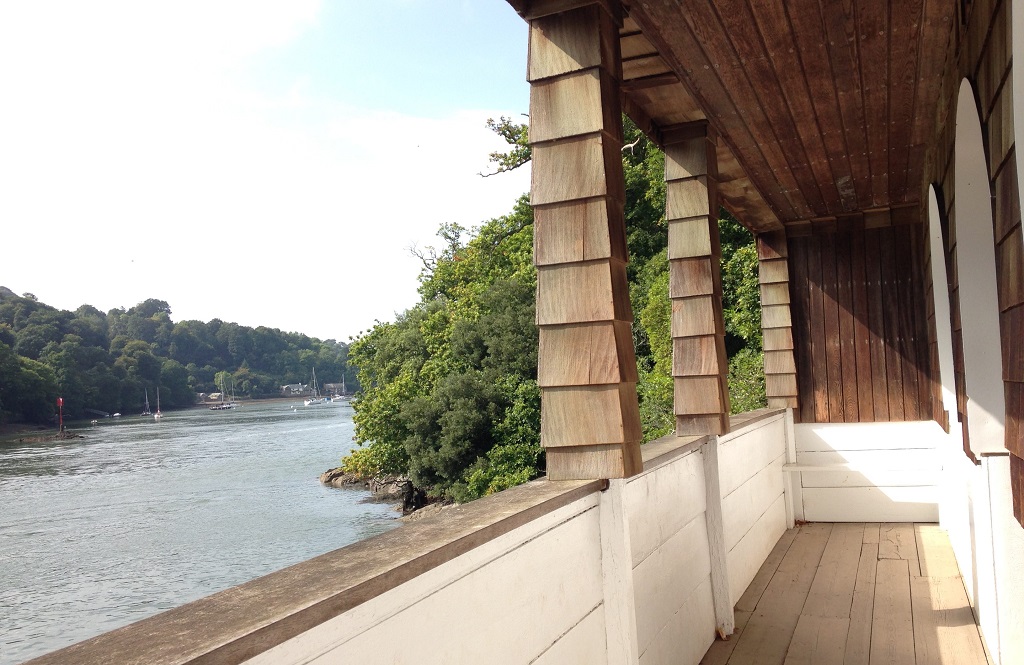 After 2 nights we were back downriver to Dartmouth – where the generator came out again to top up batteries as there is no electricity mid-river.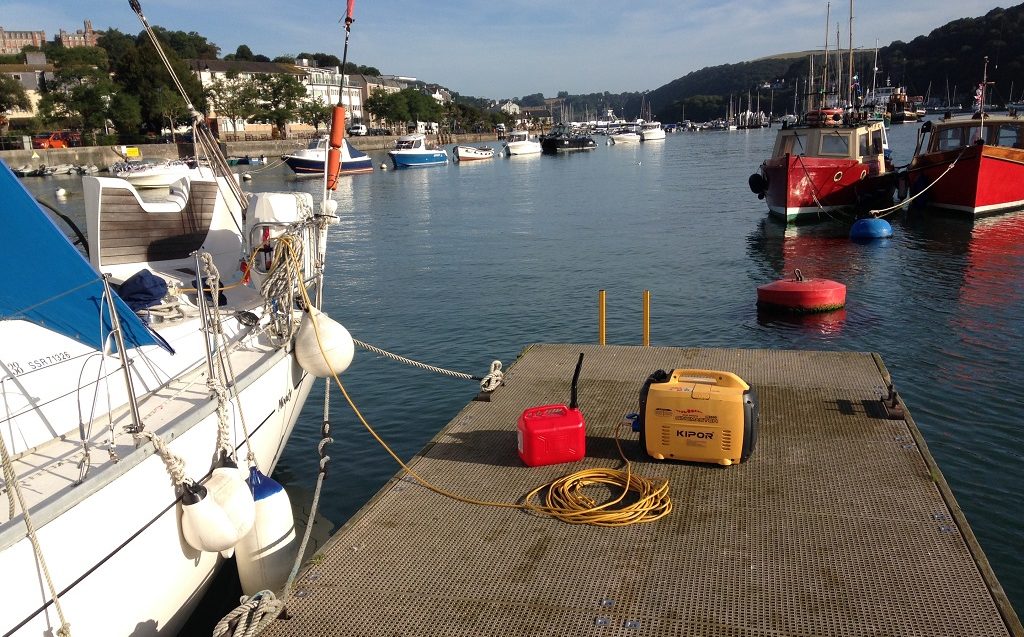 We walked farther afield (pleasant but not as spectacular as Salcombe) including seeking out Lidl and watching a game of cricket (pub league).
We crossed to the other side of the river to explore Kingswear, which turned out to be very pretty in parts, and walked along the coastal path on a single track private road/public footpath – and drooled at some exceptionally awesome (hate the word, but sometimes it is apt) houses.
We returned to Kingswear to find the rather splendid Royal Dart Yacht Club closed for business and went in search of refreshment – which we found at the Steam Packet. Paul was taking a photo of Val with the great view from the pub to send to the kids – when Martin Aspley offered to take us both. It turned out that Martin and Rebecca not only live near Paul's sister, Jayne, but also know nephew Toby. What a coincidence – a small world indeed. We had a lovely hour or so with them – thanks.
The steam railway station sits on the river front behind the marina and the regular tooting of the trains, heard from Calypso, was atmospheric: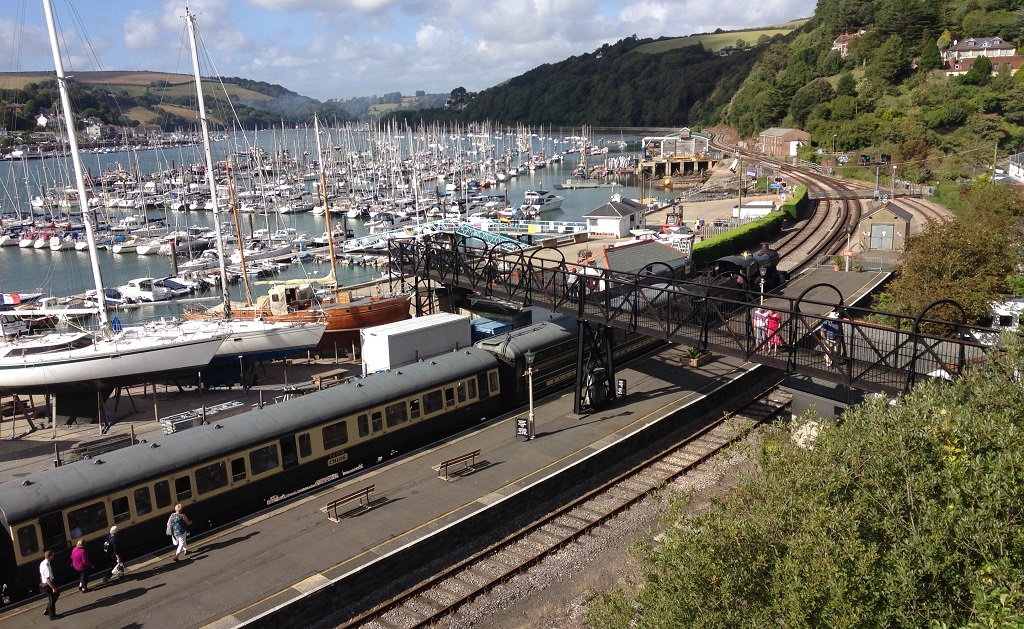 We had hoped to continue our travels a little sooner than we did but our next trip was to be 60nm to Portland, including rounding the infamous Portland Bill and its tidal race, which is treacherous in the wrong conditions. Initially it appeared that we would be good to go on Friday – but as that neared the forecast winds increased, and so after 11 days in the Dart we had an early night in readiness for a dawn start on Sunday 11th September.
We needed to get to Southampton by 16th September to enable Paul to travel to Reading for a reunion with university friends on 17th. That said we weren't going to round the Bill on a timetable!
Distance travelled since leaving Kip 625nm
Save
Save
Save