....waiting for visitors...
At the beginning of this year we had arrived at Calypso's winter berth knowing that we would be making no progress towards our Mediterranean destination. We wanted to explore the two Southernmost Rias that we didn't get to last year and we wanted to track back North to explore places we had passed by.
After 3 months aboard Calypso (and a few weeks on the road in Portugal) we had done everything that we wanted to do, ticking off Finisterra as the last place on the bucket list, and frankly we were ready for a change, however Calypso was booked to stay another winter at the Xufre boatyard in Ria Arousa and so we could not head South yet..
Fortunately we had visitors lined up to come and see us – our friends Mark and Sue followed quickly by the kids. Paul's mum was in Galicia with his sister and brother-in-law we had arranged to see them for a lunch on board. 
As we awaited our first visitors we filled our time "bumming around", something that is very easy to do around here with a great variety of anchorages and marinas with little travelling between.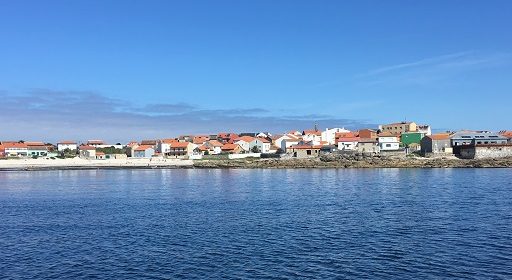 The weather was forecast to deteriorate in a few days and so we had just a couple of days to head South and tuck back into Ria Arousa, where we would await our first guests who were due to arrive in 2 weeks at the end of August.
We arrived back from our vegan lunch in Finisterre and set sail at 16.00 towards Corrubedo, 25 nm away. We passed the mouth of Ria de Muros Y Noia and avoided a number of rocky patches up to 3 nm offshore, but there are just a few and not difficult to avoid. We sailed most of the way and dropped the anchor off the colourful village (in the West cove) around 21.00. 
We were the only boat in the cove. Given the possibility of old moorings in the cove we ensured we had set a trip line.
After a fairly calm night in the sheltered cove we awoke to a cloudless sky. We could see the beach with impressive sand dunes beyond the village to the East. 
We were tempted to go ashore, but Paul's back was creaking again so we decided to press on to the Isla Arousa anchorage.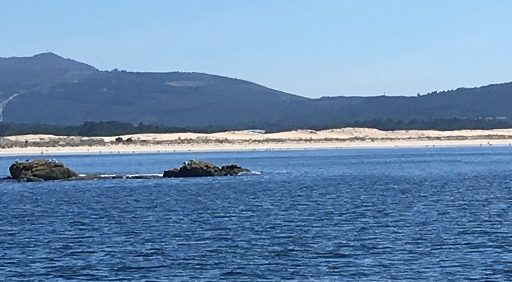 We left the anchorage at 12.00 and with plenty of time and a reasonable breeze sailed under just the genoa. The wind increased to the top end of a force 4 and we were doing very nicely at 6-7+ kts. 
We watched yachts heading through the Canal de Sagres, however it is only around 150m wide and so once again we chickened out and went through the much easier Paso de Carreiro, around twice as wide and buoyed. This adds only around 0.7nm to the trip and is somewhat less stressful for a cautious crew!
The wind dropped as we entered Ria Arousa and we drifted up the Ria eating lunch. We arrived after 14 nm and dropped the anchor at 16.30. There were several yachts in the Punta Caballo anchorage but most left before dusk. We spent 2 nights in the well sheltered anchorage (the numerous mussel bateas outside of the anchorage damping any swell) but never went ashore, choosing to rest Paul's back and chilling aboard doing nothing in particular. We travel around seeing lots of sights, but sometimes it's nice just to do nothing! In the evening we had a movie night (Shawshank Redemption). We watch very little TV but after 2 days without going ashore we needed entertainment!
The following day we drifted a little under 3 nm across the ria under genoa alone and checked into the marina at A Pobra Do Caraminal.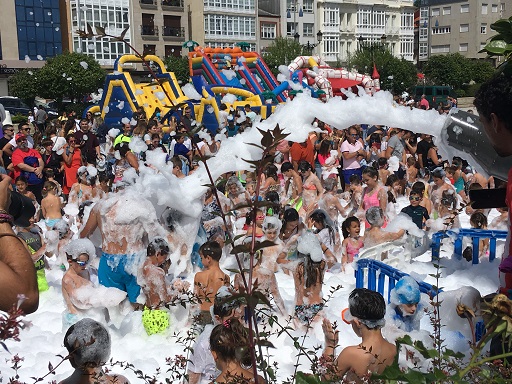 We discovered that we had arrived in time for one of the several fiestas celebrated in A Pobra – they certainly know how to party here! Also in the marina were John and Debbie on Shiraz and Ian on Seascape.  
After the foam party (ok – we left that to the kids) we had dinner aboard Seascape, following which we headed to the party.
The usual salsa crowd were there for the early shift (ie the 11pm shift for us oldies) and we joined in. Debbie in particular was in the mood for a boogie and by the end of the night had been inducted into the A Pobra Do Caraminal Line Dancing Society!!
The following day was a quiet one with a bit of shopping and Paul sewed the sprayhood to repair UV damaged stitching. We hope to keep it going another few years.
 The following day we took a hike upriver to the waterfalls and swimming pools recommended by the tourist office. The young lady was surprised that we intended to walk – do we really look that old? She didn't quite follow our claims to be "fit as butchers' dogs", and our Spanish doesn't quite stretch that far.
It was a reasonably long walk but we thoroughly enjoyed it, after we finally left the road leading East from the town.
The waterfalls and pools were not spectacular, but the walk is interesting.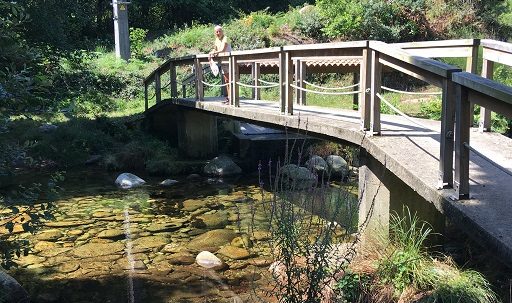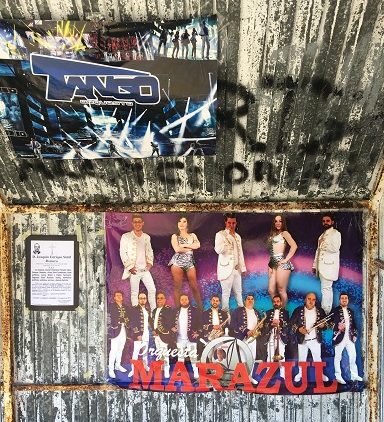 In the middle of quiet countryside, a few miles outside of Pobra, we found this poster for the "Orquesta Marazul", the band to which we had watched Debbie and her new mates line dancing the previous night.
Amid the graffiti and other posters, along with the flaking paintwork inside the old timber bus stop, we thought it made an interesting image.
That evening we went to the balcony of the lovely restautrant above the glass fronted modern market building – having G&Ts with John and Debbie overlooking the marina – with the sheltered anchorage to the right of the photo.
We left JnD to go to our favourite restaurant in these parts – "Nojira". We had a very memorable dinner with a superb clam dish and a first for us – Ballan Wrasse, also exceedingly good! Nojira is very different to usual restaurants around here and well worth a visit. We booked a table for the last night that our kids would be here with us in a couple of weeks time.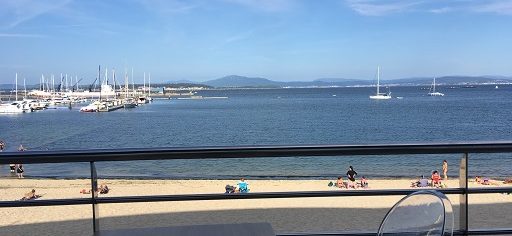 The following day we checked out of the marina. We really like A Pobra Do Caraminal but the marina facilities leave something to be desired – especially the ladies' which has reduced in size from last year. The facilities are shared with the marina bar and for the cost of the marina these facilities are not good enough. We would have stayed another night or two but felt a little aggrieved that the price had increased since our visits last year but standards have declined. So we "slung our hook". Literally – just outside the marina, where we joined Adam and Lynne on Charisma in the anchorage.
That night we took curry for a faith supper on Charisma. John and Debbie brought rice and Ian brought GIN!! We had a lovely time together, leaving at midnight and getting a tow back to Calypso by John and Debbie before they all headed back into the marina.
The following night we went ashore with the Charisma crew, tying the dinghies up on the large launching ramp and heading to our second favourite in Pobra – the Kunka tapas restaurant where we took a table inside. Many of the restaurants around here have very drab interiors, but Kunka serves up great atmosphere as well as excellent tapas. We went aboard Charisma for a game of cards (Wizard) and home by midnight. 
The following day we sailed the 2 nm across to the anchorage at colourful Cabo Cruz, where we had another faith supper aboard Charisma and headed home at midnight. This was to be our final dinner with the Charisma crew this year as they were about to head towards A Corunna to pick up crew to sail back across Biscay to Blighty.
We said our fond farewells the following morning – at which point discovered that our anchor was well and truly stuck on the bottom. Fortunately we were freed with the help of Charisma. We dropped a rope with a large loop on it and Charisma drove this away from our direction of anchoring. After a little frustration we were freed, and had learned that (a) we should always where possible use a trip line in anchorages off fishing villages and (b) dropping the loop down the anchor chain worked but might have been easier with a steel or chain hoop. That will be added to the inventory soon!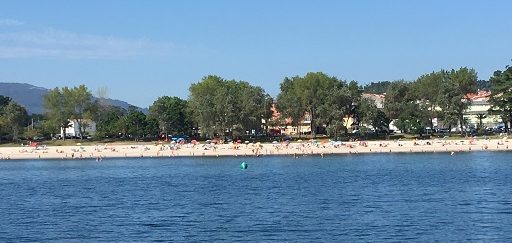 A relieved crew headed 3 nm across the ria to the Xufre boatyard where our trusty Berlingo awaited us. We emptied as much of the non-essential contents of Calypso into the van to make space to have visitors in both aft cabins when the kids arrived.
After that we sailed (drifted) around 5 nm up to the Escarabote/ Boiro anchorage. OIne of the beauties of the Spoanish Rias is the large number of anchorages in relatively close proximity, and the ability to up anchor and travel a short distance to find a more sheltered anchorage when the wind shifts.
We had anchored here previously but not gone ashore. 
Click edit button to change this text.
Use for main heading and text Click edit button to change this text.
Use for overspill text
Put Another Header or Delete