Leaving the Vilaine and heading South….
We were invited to a wedding in Bergerac on 12th May and ideally wanted to be in Les Sables D'Olonne by that time and hire a car. If adverse weather had prevented that then we would have headed back to Redon and gone from there. However once the wedding is over we will be looking for a window to cross Biscay, and Les Sables D'Olonne is a good place to wait and to set off from.
A fantastic weather window opened up for us – a full week of sun, good temperatures and relatively light winds from the North. Hopefully we would get some sailing done but anticipated a good deal of motoring.
We left our berth to join the throng of a dozen or so yachts queuing for the 08.00 lock on a calm, beautiful morning with a slight mist on the water. Our technique in the lock was more than satisfactory and we could have been mistaken for old pro's – but then again there was zero wind!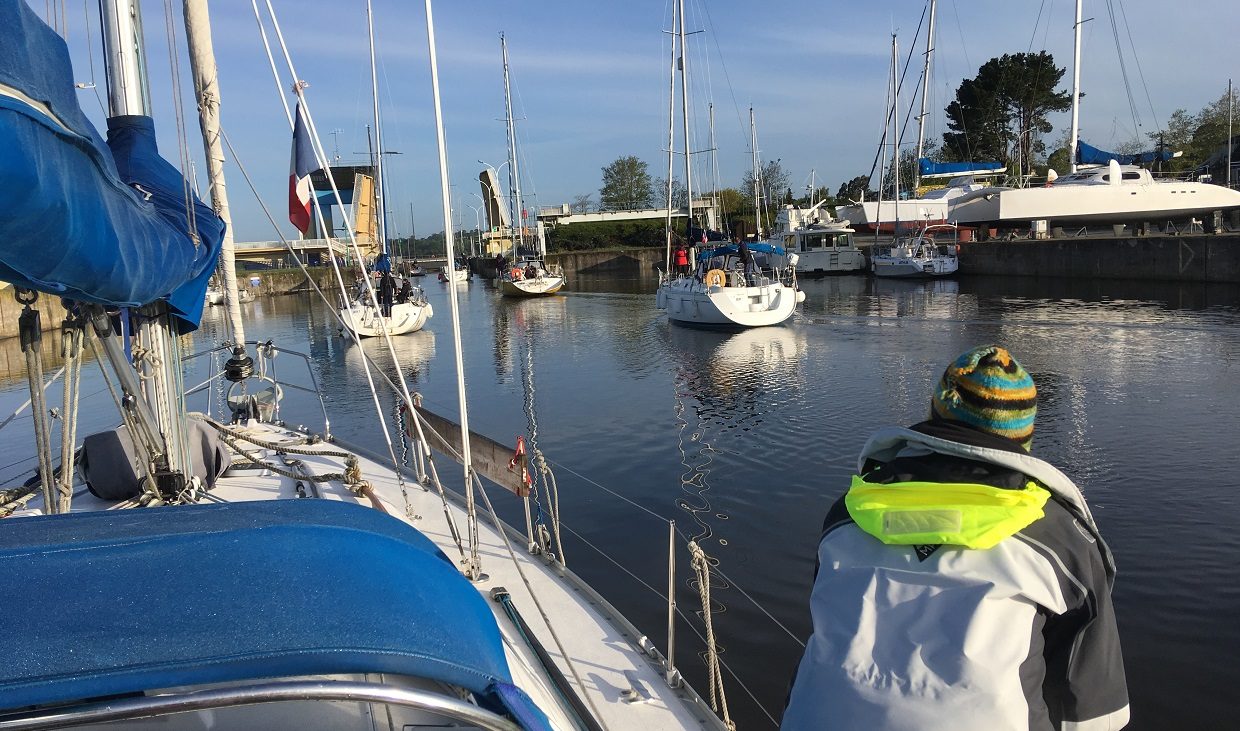 We exited the lock an hour or so before high tide and motored downstream in the well buoyed channel. Most other yachts hoisted mainsails as we motored out, but we felt that there would be insufficient wind to fill it, and so just enjoyed the view.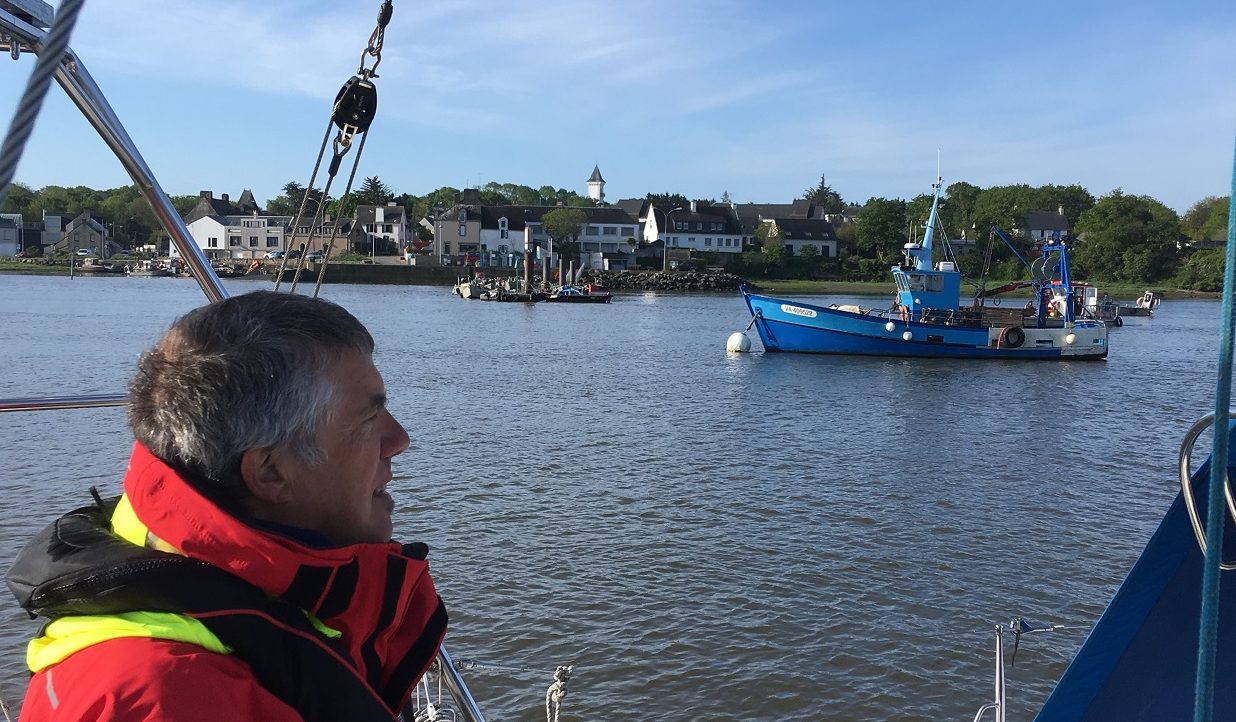 In the end we had the genoa out (motorsailing) for a short period but that soon went away as we enjoyed a hot calm day, motoring all the way to La Turballe. Apart that was from a vibration from below – we assumed we had a rope around the propeller. Engaging reverse seemed to do the trick but we would want to ensure we didn't have a small wire left in there – as we had to replace the lower drive shaft last year due to it being scored by wrapped wire.
After 19nm we arrived at La Turballe at mid tide and easily picked up the very clear leading lines.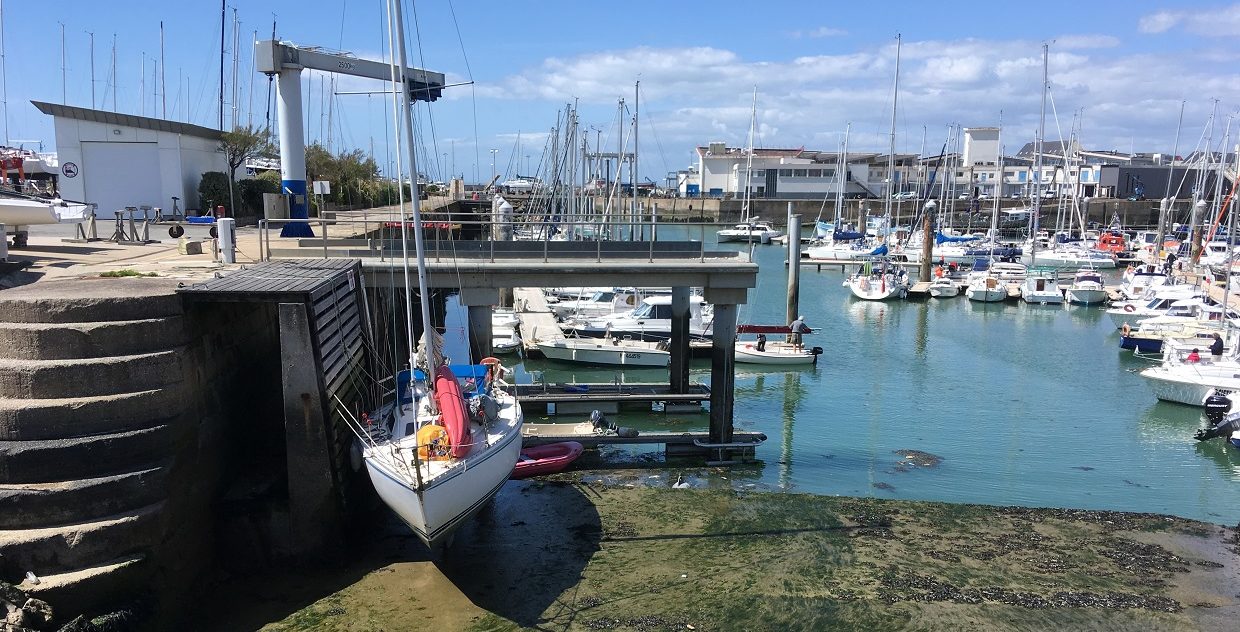 We berthed (right of centre on photo above) on a hammerhead next to the visitor box mooring area and dug out our new diving kit. This is a basic scuba tank, pressure gauge and regulator. There is no BCD (flotation jacket) and so we tied a long line under and around the hull of the boat and tied Paul to that so he didn't sink – and also so that he could pull himself toward the propeller.
In spite of the very heavy tank and no BCD Paul was very buoyant and scraped down under the hull to find – nothing wrapped around the propeller. Note that in open sea he would also wear a bicycle crash helmet and look really stupid!  But here he is with dive gear, wetsuit/hood/shoes and 2 knives strapped to his leg: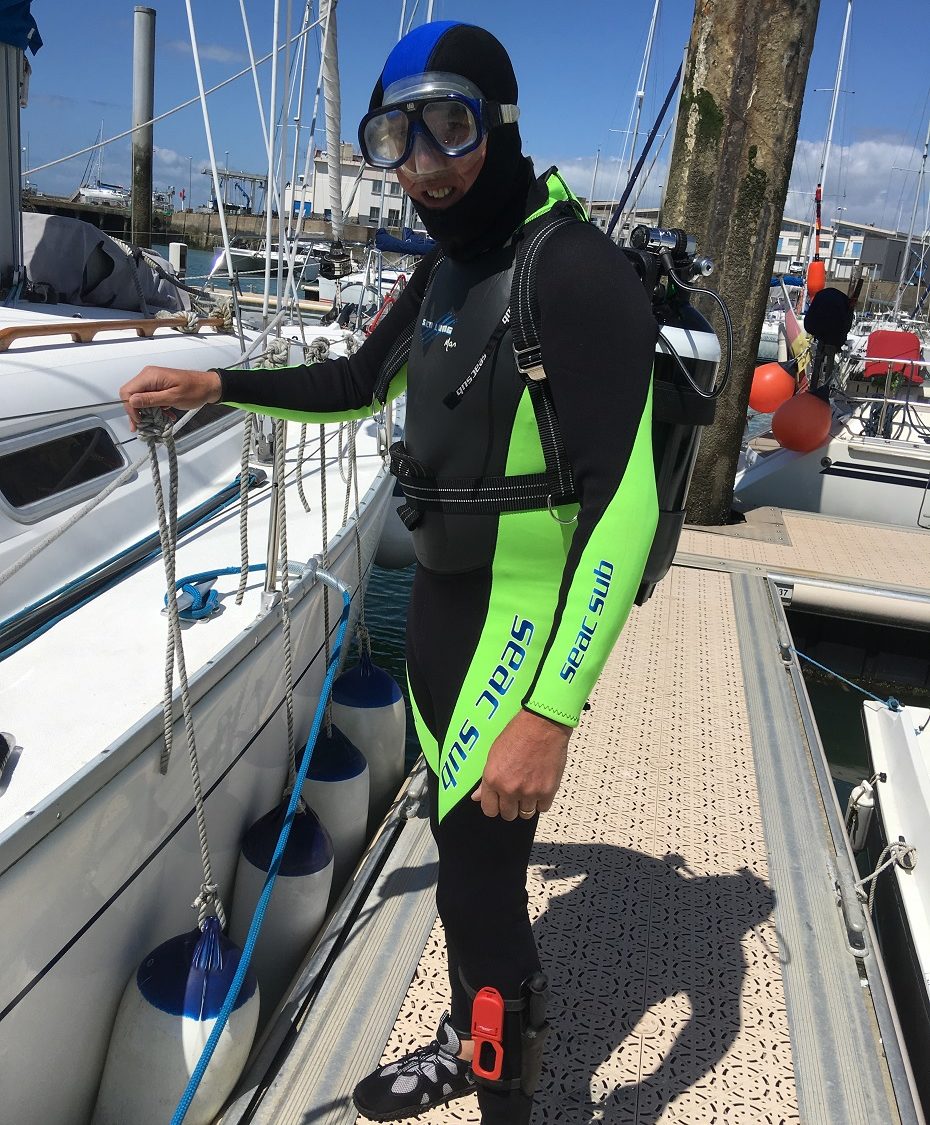 We then went to the Capitainerie to check in and were pleasantly surprised with the low season rate of 15 euros – although showers are 2 euros extra. A beer at our favourite bar ensued, followed by dinner and a film night (DVD on the laptop!)
We left next morning, having already exhausted the delights of La Turballe during a wind enforced week long stay here last year – and given that we wanted to reach Les Sables D'Olonne as soon as possible. We had a later start to ensure a reasonable rise of tide when we arrived at L'Herbaudiere, on the northern tip of Ile Noirmoutiere. The entrance channel is dredged to 1.2m below chart datum and faces North – not somewhere we would want to enter in sustained Northerly winds at low tide.
Once again the wind was too light for a decent sail. We motorsailed the 25nm other than for half an hour when we sailed at a breathtaking 3 knots. We were headed for a fleet of ships apparently lining up to enter the River Loire – but upon interrogating AIS data we realised that they were all at anchor – so none of the worried anticipation we had in the Bristol Channel 2 years ago when seemingly on a collision course with tankers – at anchor! [Notes – our actual position is somewhere in the middle of the windscreeen on the huge motorboat symbol top left – and the system is set to feet – no idea how or when but the manual needs to be read to re-set it to metres!]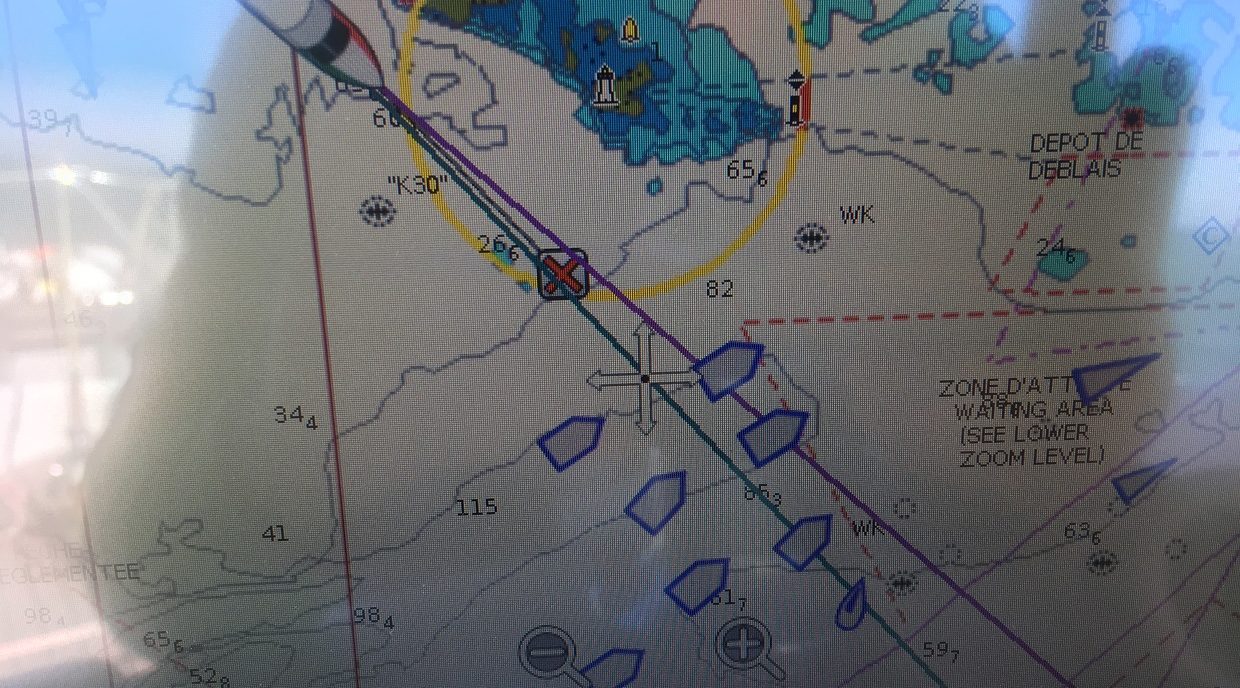 We wanted to practice sailing with the genoa poled out (but in a way that the genoa can be furled without having to take down the spinnaker pole), and as we were going dead downwind this was the day to do it – here set as we approach the anchored fleet: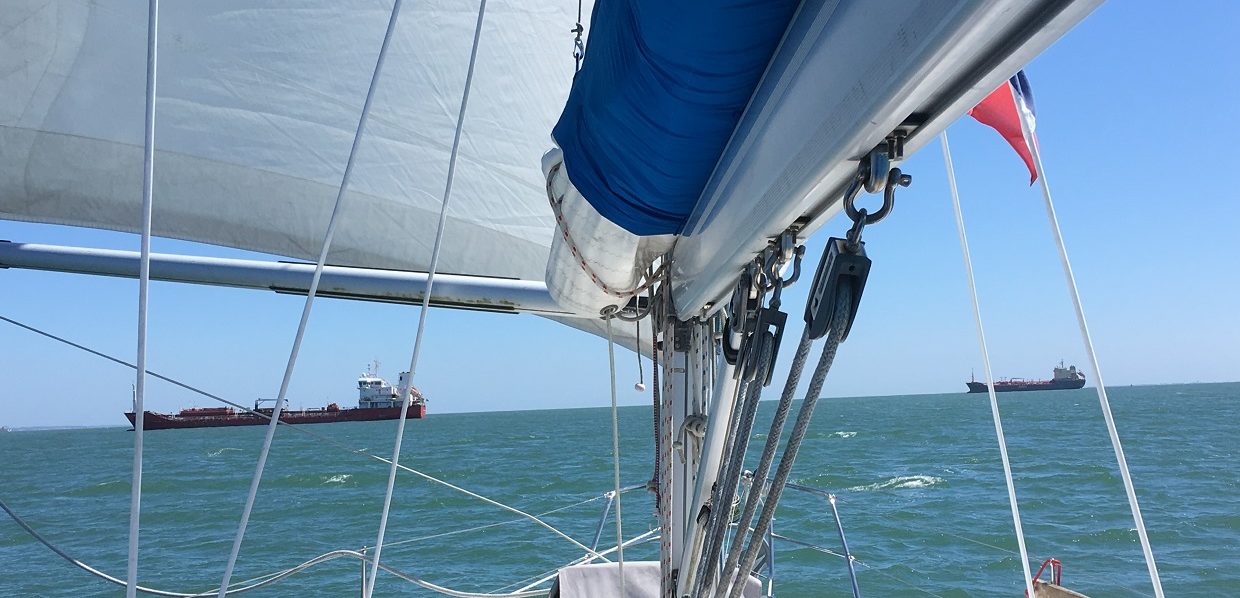 It all went fine, except that the large spinnaker pole is very heavy – ok for a racing team but a bit too much for a single pensioner on the foredeck!! We decided that we should sell it and invest in a light whisker pole for the job.
We soon got fed up when our speed dropped to 2.5 knots and the iron genoa was fired up again.
Ile Noirmoutier was our favourite spot last year and so we booked in for 2 nights – partly due to the fact that whilst there would be great winds for sailing the next day, the entry into our next port also faces north and would be shallow at the time we would want to arrive; and that gave us the excuse to have a rest day in our favourite spot – the home of Noirmoutier potatoes which sell at 7-8 euros a kilo from posh wooden boxes – only in France!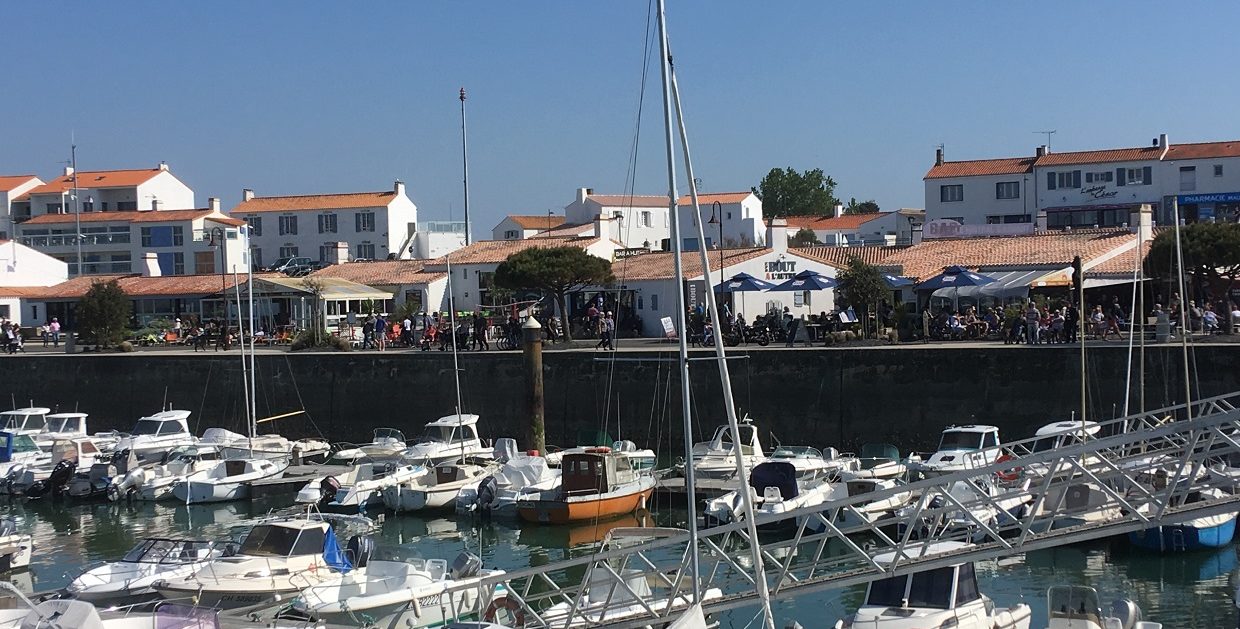 We anticipated a lumpy night, and so it was, especially as the tide rose and the protection of nearby shallow reefs was reduced. The low (mid?) season rate here of 26.05 euros is worth every penny and we enjoyed our stay again – we would not be too disappointed if a delay to our Biscay plans forced us to come back here!
We didn't get the bikes out this time but did go for a walk – among the whitewashed houses with red tiled roofs that give this place a Mediterranean feel: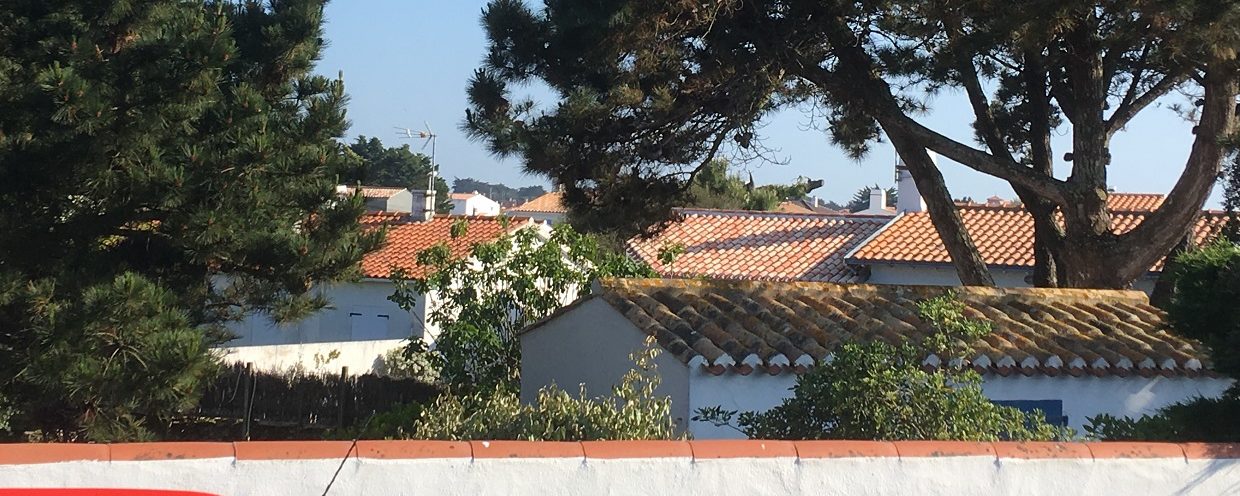 After our 2 nights here we left to cover the 22nm to Port Joinville on Ile D'Yeu. Another beautiful day was only spoiled by the need to motor the entire way. We left close to high tide in the morning so that there was plenty of depth in the shallow Passe de la Grise – where passing between cardinal buoys sees only 2.2m below chart datum.
We arrived at Port Joinville with a relatively calm sea and the shallow entrance was fine – favouring starboard side as we reached the start of the entrance, then moving across towards port to avoid the shallowest areas at the entrance.
Here is a photo from a vantage point not included in last year's blog – showing the entrance, and the access to the "port de plaisance" made with a hard left turn at the end of the main entrance channel.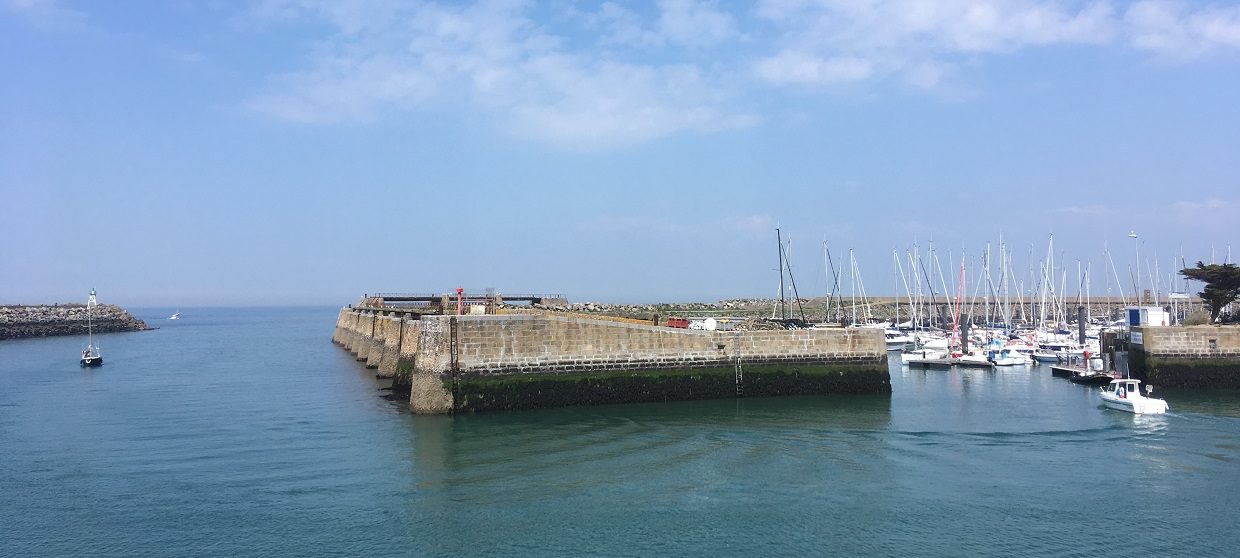 We were expecting that there would be plenty of room here as there are many visitor berths – however the place was fairly full. A rally (same club flags) was rafted 2 deep on the north side of visitor pontoon A (all alongside berthing here). Pontoon B is the other visitor pontoon, with finger berths to both sides, and the great majority of these were taken. We radioed the marina and a finger berth was allocated (22.20 euros for the night).
We had a wander around town (and a beer with superb smoked hake), but as this was Sunday many of the shops were shut. On returning to the marina, more boats had arrived – and they continued to arrive, so that by nightfall they were rafted up to 4 deep on pontoon A. Val did say that she had been told that this was a popular holiday – but this was like being back in August!
A party ensued among the rally – starting gently with very French accordion music as we ate in the cockpit. Later this moved on to heavy metal and finally techno. With much alcohol fueled partying going on we felt we were in for a long night – and the earplugs went in. However shortly after inserting plugs, at around 11.00pm the music stopped and everyone went below – eerily quiet. Perhaps rally rules had kicked in? We heard from friends still in the Vilaine that they were in and among the "Fete En Vilaine" rally the same week – and that they too had a boisterous party suddenly shut up shop at 11.00pm. Maybe we just experienced superb French consideration for neighbours? Unlike the rally from Largs that kept us awake in Kip marina until after 5.00am a few years ago!
Fortunately we slept well until the coaster was loaded with rubbish at 6.30am, but the alarm was set to wake us up soon after for our 08.00 departure. And fortunately the raft behind us was only 3 deep, and so with the assistance of the bowthruster, and with only a very light breeze, we were able to squeeze out at 08.00 the next morning. 2 years ago BB (Before Bowthruster), in this situation, we would have warped out of the space – but as is common here in France, the finger pontoon is only about three quarters of the length of the boat (and with silly hoops instead of cleats at the end – we still don't understand why – they are dreadful!) so we would have struggled to do that.
On the 30nm route to Les Sables we never even bothered trying a sail on the oily sea. There was quite a haze and so we practiced using the radar. Not that we really needed radar, but we want to be familiar with it by the time we get to the renowned fog central that is Galicia in mid-summer! Last year we had missed a couple of nearby boats which loomed out of thick fog without registering any target on the radar when passing south of Quiberon. That was sorted today by adjusting the range, and we picked up all vessels including very small day boats, nearby – and far enough away. Very reassuring after the Quiberon experience!
We trailed a lure behind as Ile D'Yeu is famous for its tuna fishing industry – and caught the first fish of the year. A response to a Facebook post suggested that we should freeze what we don't eat!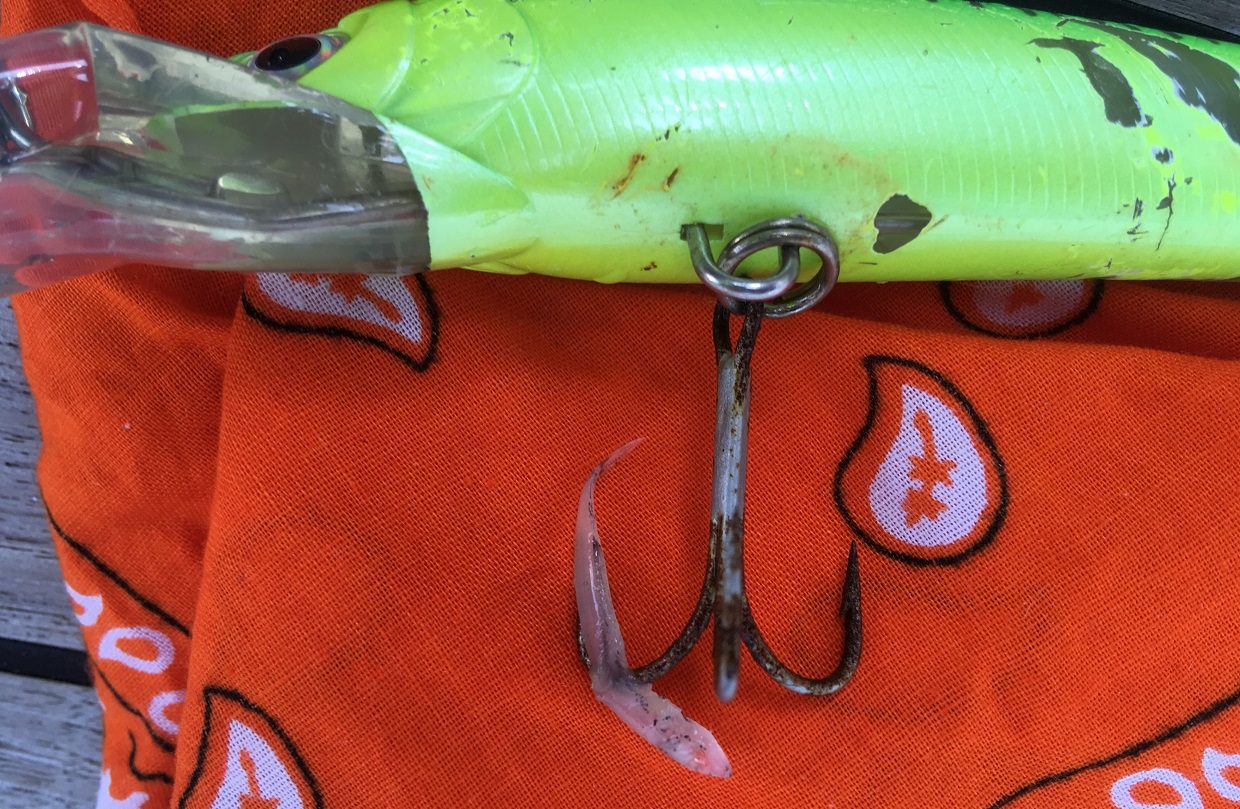 We had departed Ile D'Yeu early so that we did not enter unfamiliar Les Sables D'Olonne at low tide – although this was near to neaps and there should be plenty of room in the entrance channel. A passage is dredged to 2m below chart datum, but does not span the entire width of the entrance channel. It was very busy as we entered – sailing dinghies, motor boats, yachts and jet skis – all encouraged out by the fine weather, plus the odd fishing vessel.
This is the view on the approach – the entrance being to the right of the high rise blocks of flats:

We are still in Les Sables D'Olonne as I write this, absolutely loving the place – but more on that later.
Distance traveled since leaving Arzal – 141 nm