All's Well That Ends Well
And Irish food is more than just potatoes!
So what went wrong to lead to the title of this blog?
1. We had to get up at 4.00am to get to Dublin in daylight. And we like our bed;
2. Paul usually gives too much "offing", but not through the Copeland Islands overfalls;
3. It took 5 minutes longer than the passage plan to get to Howth (Dublin) – 16 hours and 5 minutes!
4. After getting excited about Howth they told us we couldn't stay;
5. A day of rest turned into another day of unwanted motoring (ok, 2 hours, but we wanted to SLEEP!)
6. Paul's golf sinks to a new low;
7. Bray is a dump;
8. The banks of the Liffey are no oil painting;
9. We lost the shirts off our backs at the races;
10. We got a hole in the hull.
First, though, taking a step back – Paul played to his handicap on the back nine at Bangor. There was no opportunity to practice, which he feels is an excellent excuse for the first few holes. However, a highlight of the day was playing with Ian and John, delightful company.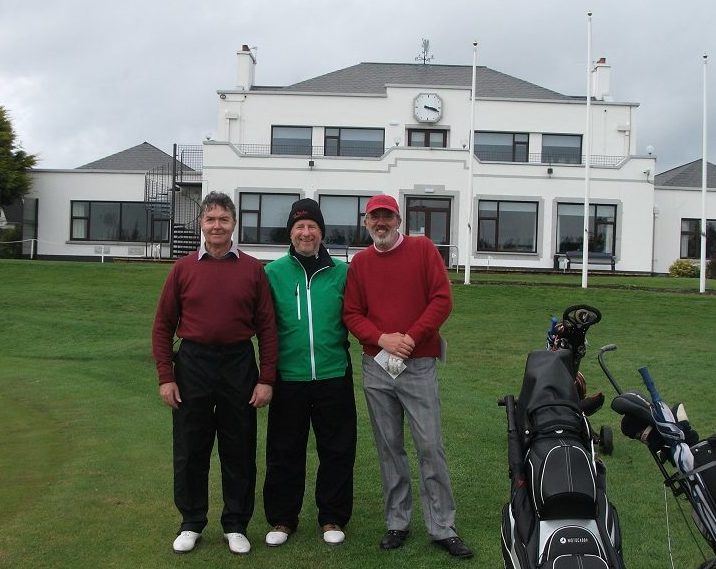 We enjoyed a very pleasant evening with John and his wife Heather on board Calypso; and a very full and interesting day with Ian and his wife Faye, touring the area, having lunch at Ian's golf club and finishing the lovely day with dinner on board Calypso.
Ian and Faye took us for a tour of the area including a visit to Portaferry – inside the narrow entrance to Strangford Lough. This is a mooring where we could have stopped off on our way to Dublin, but the ferry at full power against a fast tide and crabbing across the narrows was ample demonstration why we chose to miss this out – but nice to see! And yes, before you ask, we do carry tide tables on board!
The two couples have known each other for years and are all just lovely people. They helped to make our 9 day stay at Bangor memorable. We have 4 new friends including 1 new Facebook friend!
Martin Watson was the first of a few people in the marina to recognise and welcome Calypso back. He came aboard one evening with his wife, Renee, and the night passed very quickly. Martin told us about Calypso racing in a fleet that included 2 other identical yachts who were all very keen and competitive. They told us of places to see and things to do, including advice that we should eat at the RUYC (see previous blog entry) and were very good company. It is so nice that so many people are happy to spend time and make us feel at home. Thanks Martin and Renee, keep in touch.
We watched Calypso's first owner racing his new yacht from the Jamaica Inn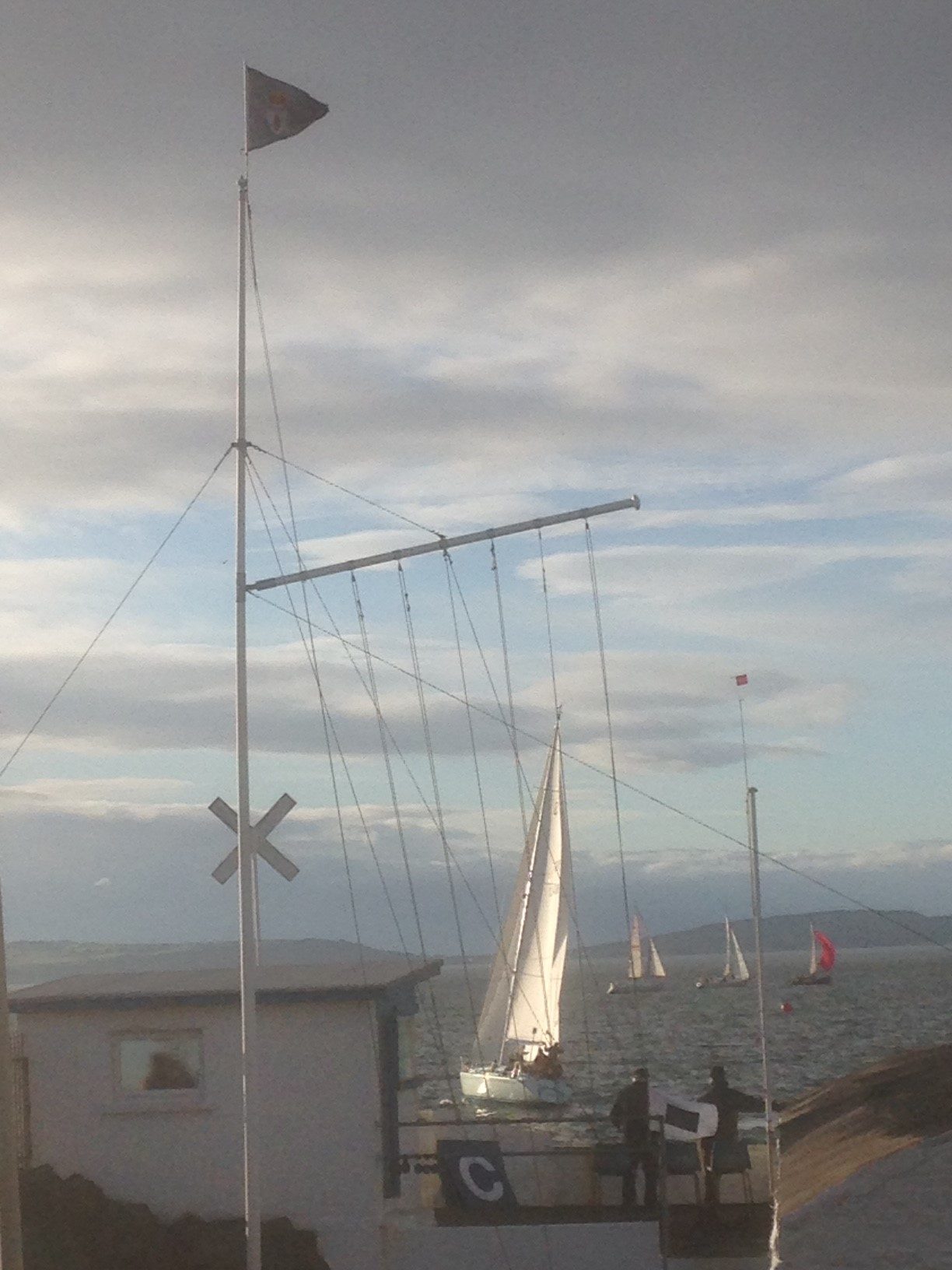 The train station is a short distance from the marina and we had one day visiting Belfast and the Titanic Exhibition.
We started at the Titanic, and whilst the building is amazing and the story told very interesting indeed, we found the entry price rather steep at 35E for two. There are no salvaged artefacts from the boat or the shipyard, and the only re-creation of the interior that you see (without shelling out a lot more money to see the famous staircase) are recreations of 3 cabins, contained within perspex cases. There is a lot of reading illuminated storyboards etc.. It is worth a visit – just too expensive and we might have thought twice had we known what we now know…..
For us, the best part of the exhibition was the Nomadic, a tender for the Titanic built for service at Cherbourg, where Titanic could only anchor out and have 1,000 passengers at a time ferried aboard via the Nomadic. The ship was in dry dock, and largely intact (with the expected refitting having been undertaken), and you very much get the feeling of how she was back in the day. Strangely enough the main exhibition building was very busy (there were 2 cruise ships in) but the Nomadic had only a dozen or so other people wandering around.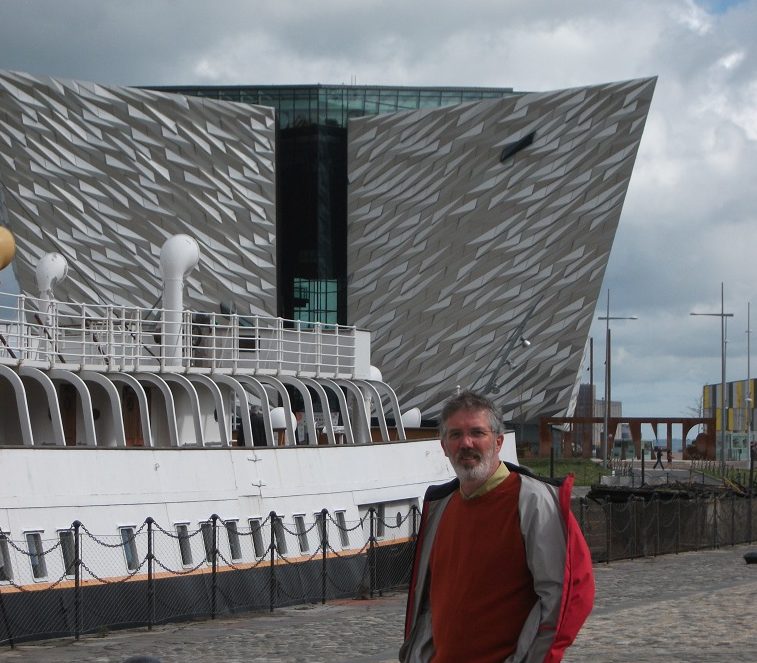 Belfast was slightly disappointing – not the prettiest city centre, but it was raining in the afternoon when we arrived, and we probably just missed the best bits. The City Hall was interesting and demonstrated the amazing wealth once enjoyed by the city, as highlighted at the Titanic exhibition.
The work ethic and ingenuity of the Belfastards/ Belfastians was amazing, and that translated to the opulence of the City Hall. Sadly many of the fabulous buildings of Belfast seen at the exhibition seem to have been lost and replaced by modern structures built to a budget.
A highlight was Sawers Deli – here's Val enjoying the fish platter. Inside the Aladdin's cave is an amazing array of foodstuffs, but the sandwich/lunch counter had us drooling!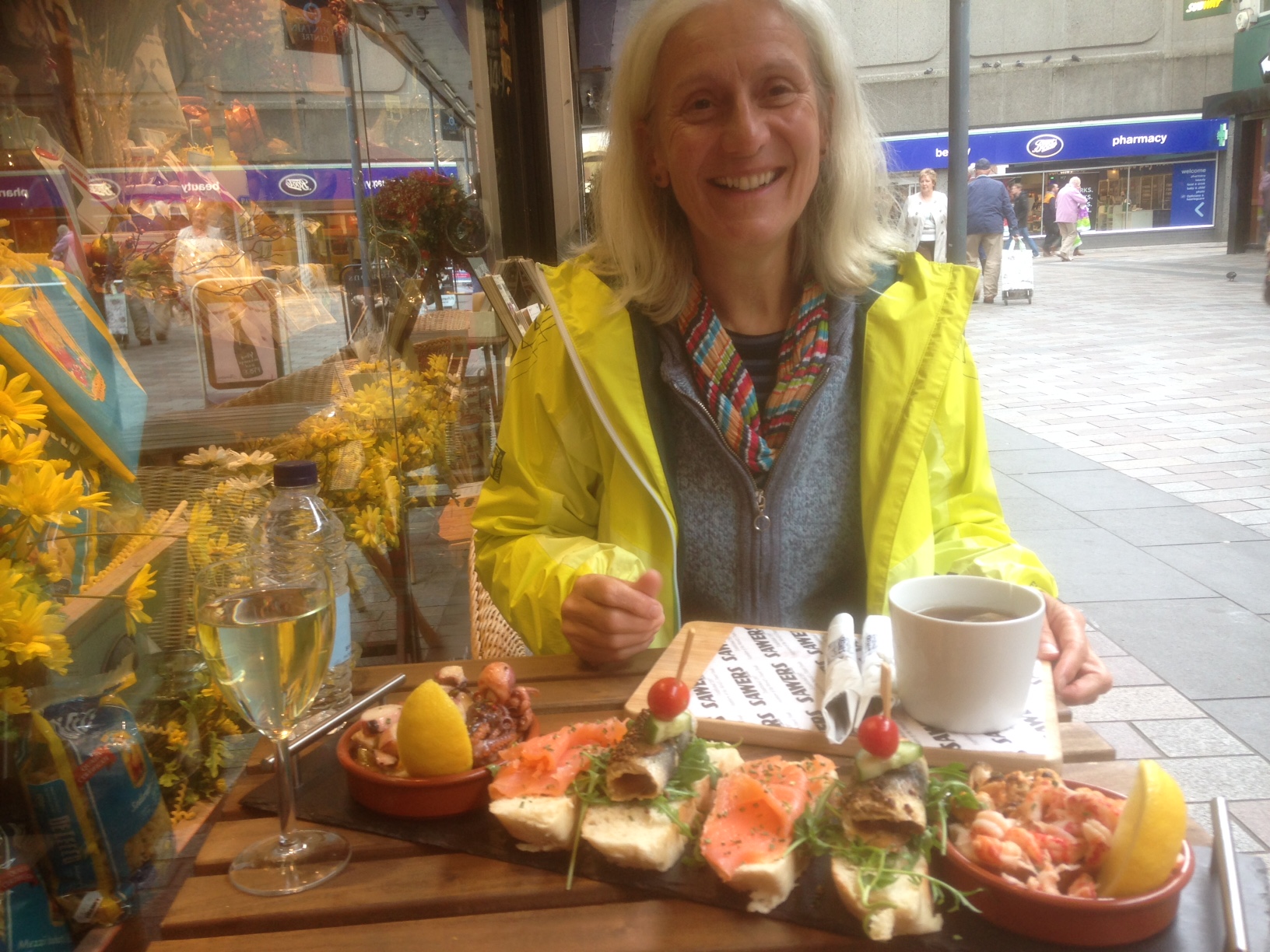 We had a ride on a coastal cycle path one day. Fortunately Val is getting less worried, wimpish and wobbly and more carefree, confident and callused! She did break an arm in a fall from a bicycle as a girl and is struggling with that memory.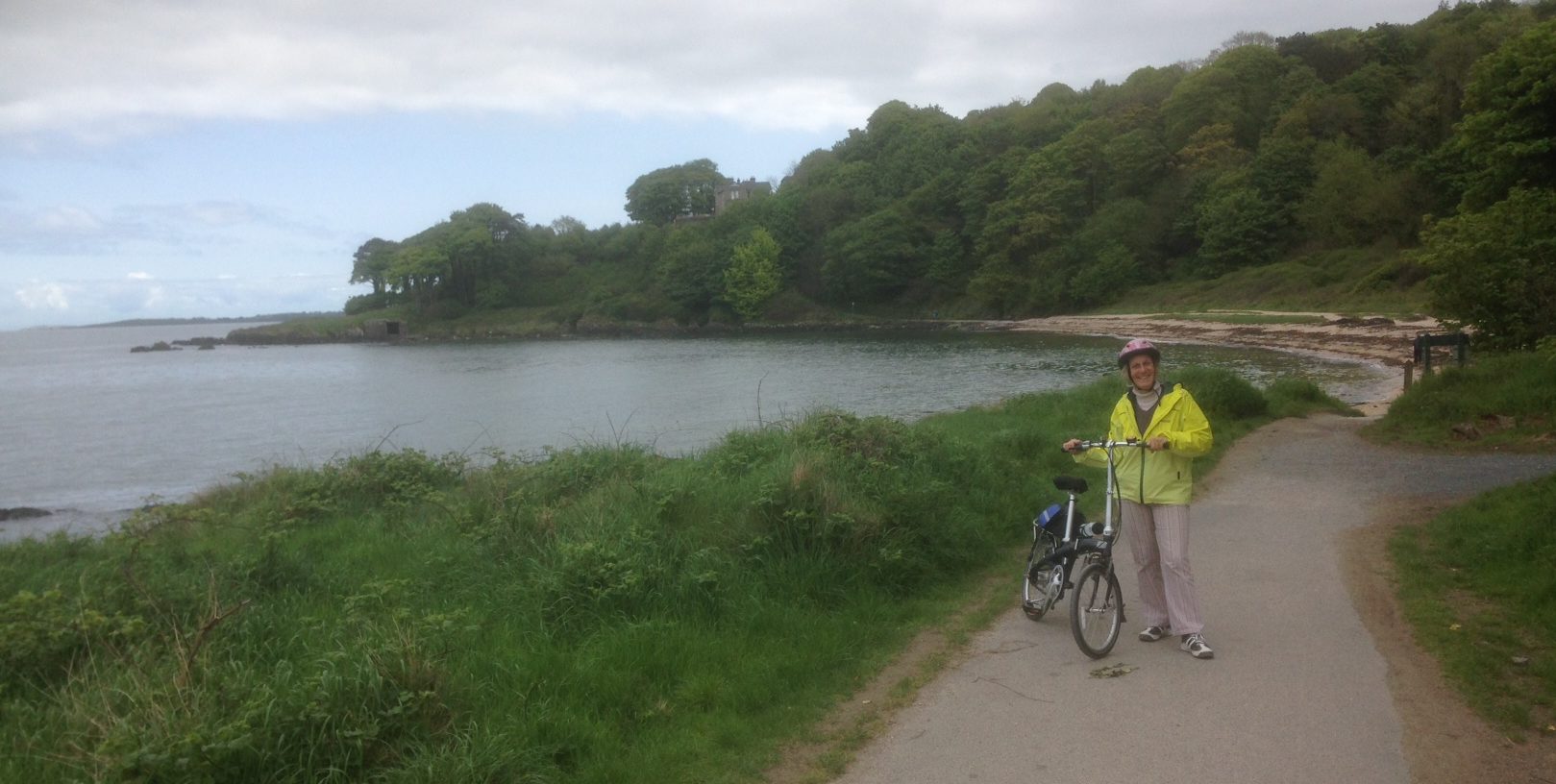 The marina at Bangor is first class – excellent pontoons and shoreside facilities, clean, well maintained and very helpful and friendly staff. We couldn't have asked for more and had a great time here. It is a little more costly than some places – the weekly rate for 11.46m including electricity and water was £303. We paid pro-rata for the 9 days and left at 4.30am on Wednesday 25th May.
It had been our intention to go to Dublin via Isle of Man, but for various reasons we chose to go straight to Dublin – a 95nm trip. The date was 2 days after spring tide, when the tide would be running quite strongly. The Irish Sea fills from both top and bottom and there is a split in the tide about half way to Dublin – such that on the flood tide the current runs South to North from the Southern end of Ireland and North to South from the Northern end.
The tide times were quite favourable and we were able to leave at 4.30am with tides against us for a couple of hours, but after that the tide was either slack or with us all the way, taking advantage of the tidal division half way down the coast. Rounding the Copeland Islands with wind against tide was interesting – Paul usually gives rocks and other nasties more "offing" than is necessary, but this time he should have stuck to form. At one point Calypso's bow had a few dunkings beneath the waves. This was the roughest sea state we had experienced with Calypso but we always felt secure, if a little uncomfortable! And at least we kept warm: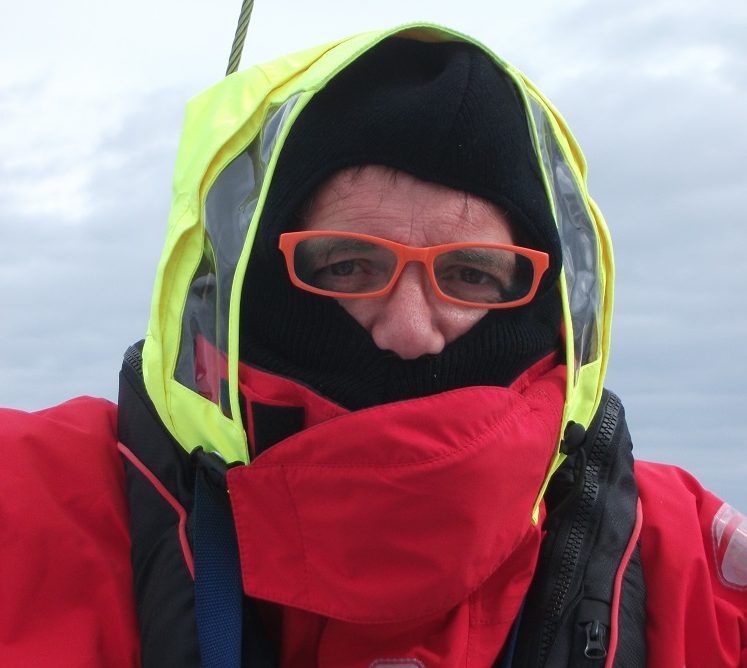 Paul's passage plan had us arriving at Howth marina in 16 hours, taking account of the strength and direction of the current from hour to hour. In fact he had hoped that we could sail all the way and improve on that time (timed for motoring) but that would rely on the wind being more Easterly than forecast. As it turned out the wind was more Northerly than forecast and would have meant sailing downwind the entire way – arriving sometime in the next week or so! Downwind sailing without a spinnaker is a slow process and we haven't graduated to the dizzy heights of spinnaker sailors – yet!
As we motored all the way we should have been able to use the autopilot the whole way – but after 4 hours it became apparent that the batteries were becoming over discharged. Allied to a wandering tachometer needle it seemed that there may be an alternator fault developing. So hand steering for 12 hours was called for – and what a ball-ache that is (sorry, but can't think of a more apt descriptor). Hand steering whilst sailing is a joy. Hand sailing under motor is not.
We discovered when hand steering that the rudder brake had not been fully released (old PB does get it wrong occasionally) and perhaps that was why the batteries were drained more than should have been the case. Further investigation shows that the tachometer issue is a tacho fault, not alternator.
When we crossed into Irish waters we raised the Irish courtesy flag from the spreaders. Paul's mum wanted a photo (here about to be hoisted):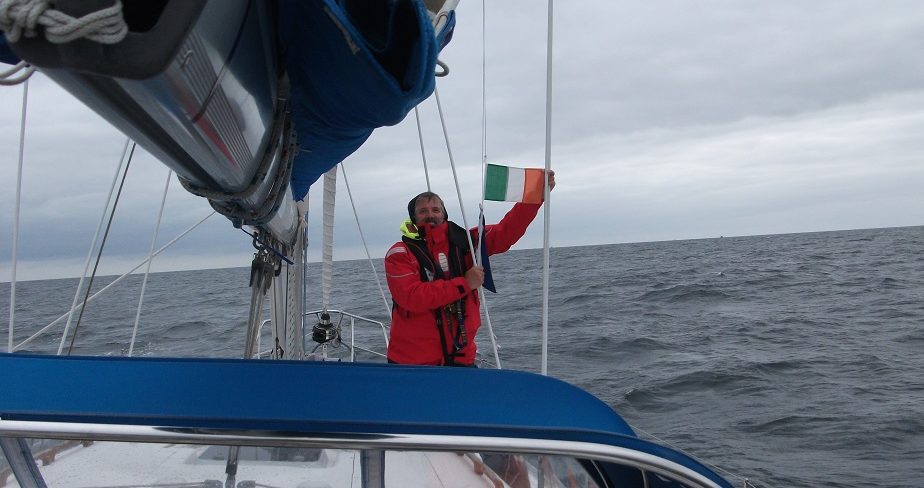 We tied up at Howth at 8.35pm, 16 hours and 5 minutes after slipping our berth. It is fair to say that it was a relief to switch off the engine.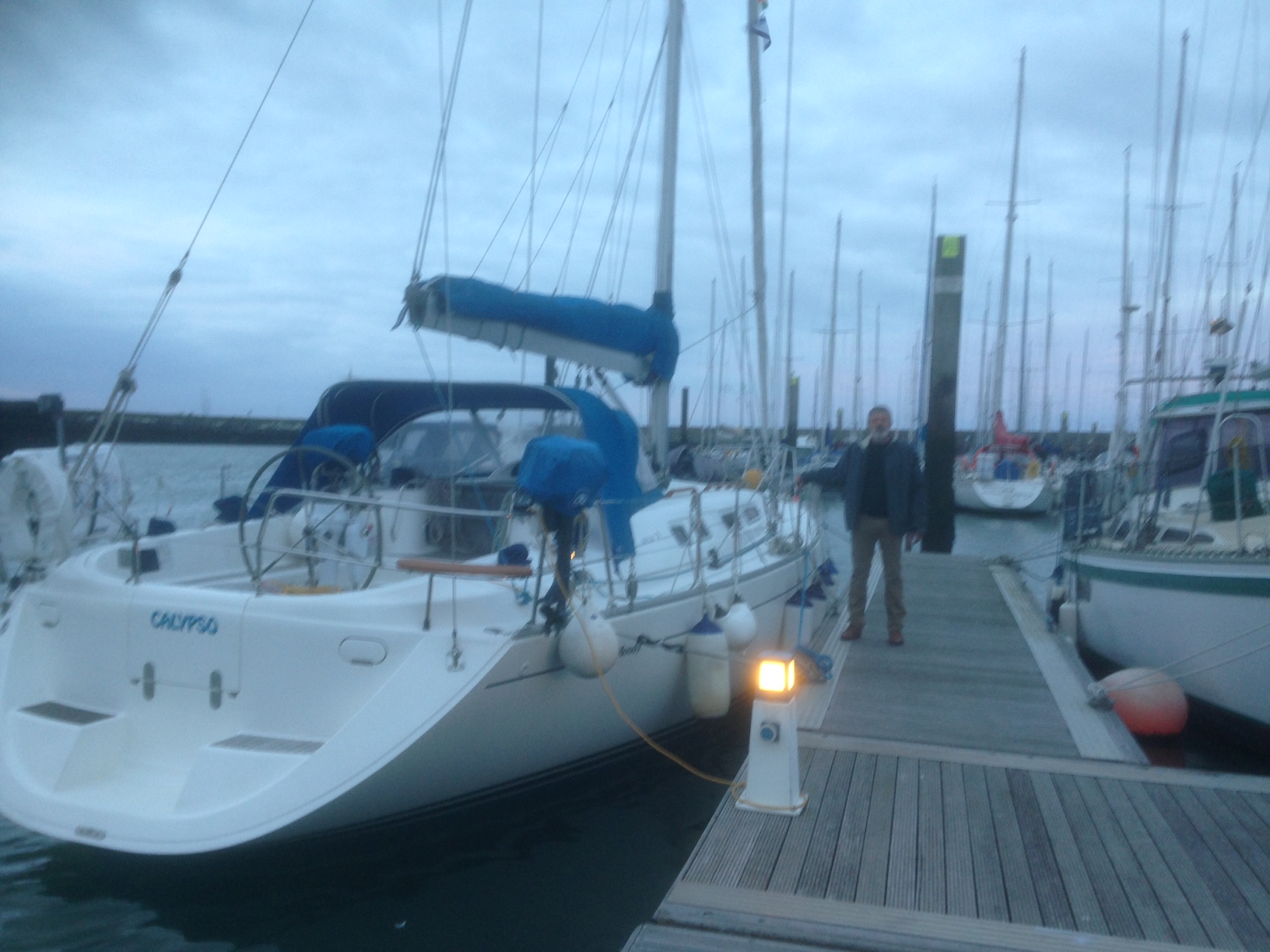 Did we go straight to bed? Nope – after 30 minutes the boat was straightened up and we were in the busy sailing club bar on race night, having a few liveners. We congratulated ourselves on making our longest ever passage yet, and on being in a great place for the next week or two.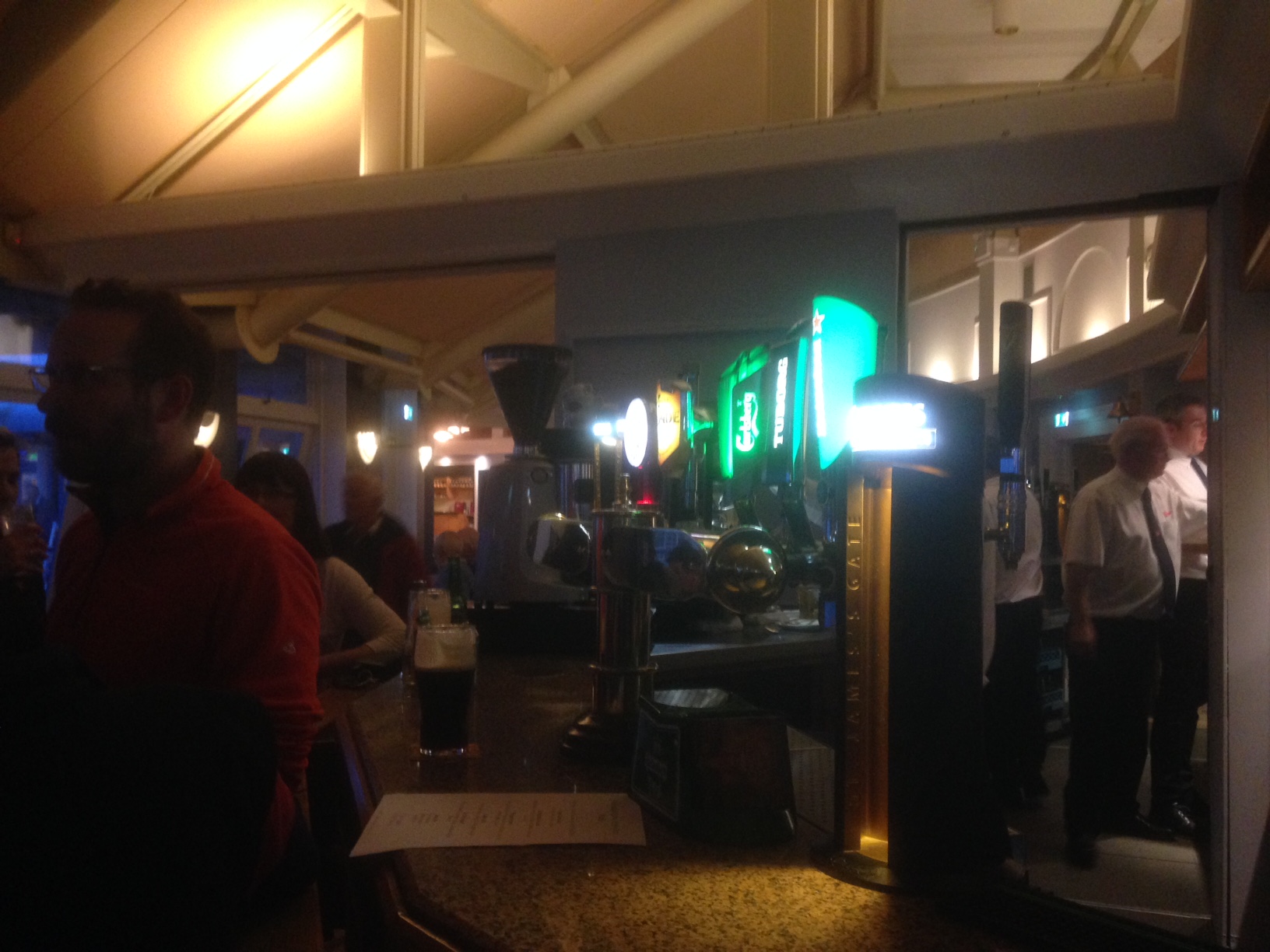 Next morning, however, we were advised that we would have to vacate the berth by lunchtime as the next 3 weekends were busy regattas – 37 "sports boats" (small, keeled yachts?) were arriving over that afternoon and the next morning. They told us to go to Dun laoghaire, but that we would find it big and impersonal and nowhere near as nice as Howth. And to add insult to injury they still relieved us of the full 40+ euro fee (for 15 ½ hours), and we had a wander around the fabulous water front and the quayside with several amazing fishmongers and restaurants – with the words of Jim Bowen ringing in our ears – "and this is what you could have won". Thanks Jim (AKA Howth Yacht Club).
So we slipped at lunchtime and 2 ½ hours later tied up in Dun Laoghaire. It took a little longer than expected, but there was a fair amount of shipping entering Dublin and we gave way – here we are loitering while a container ship passes, after which we have to cross the traffic separation scheme at right angles (so they told us at night school – it's good to put all that theory into practice – and shown on the plotter as two lanes either side of the purple shading).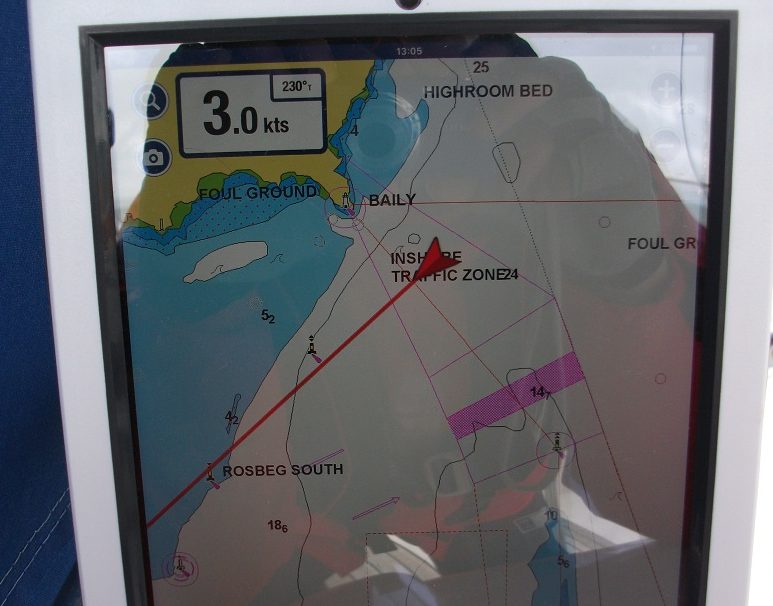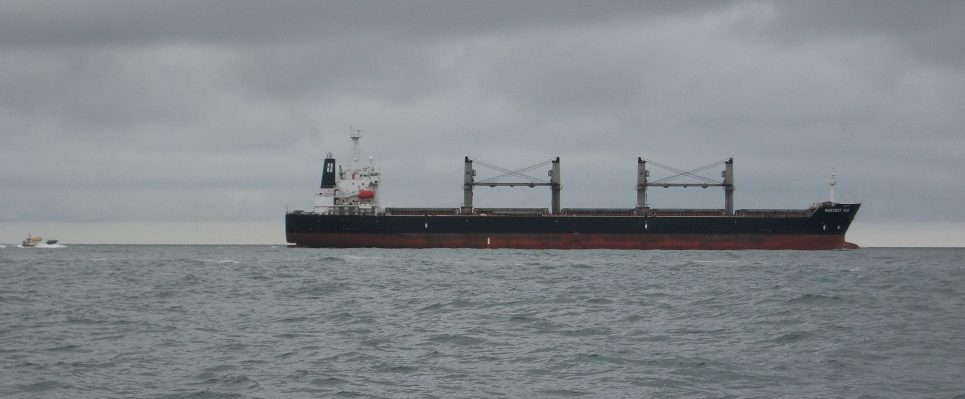 With 820 berths Dun Laoghaire is the biggest marina in Ireland (and, I suspect, in GB&I). It occupies an inner protected area, forming part of the total area enclosed in the harbour of 250 acres. We learned that the fast ferries from Holyhead stopped coming here 18 months ago, having told the kids to check out that ferry with a view to a visit!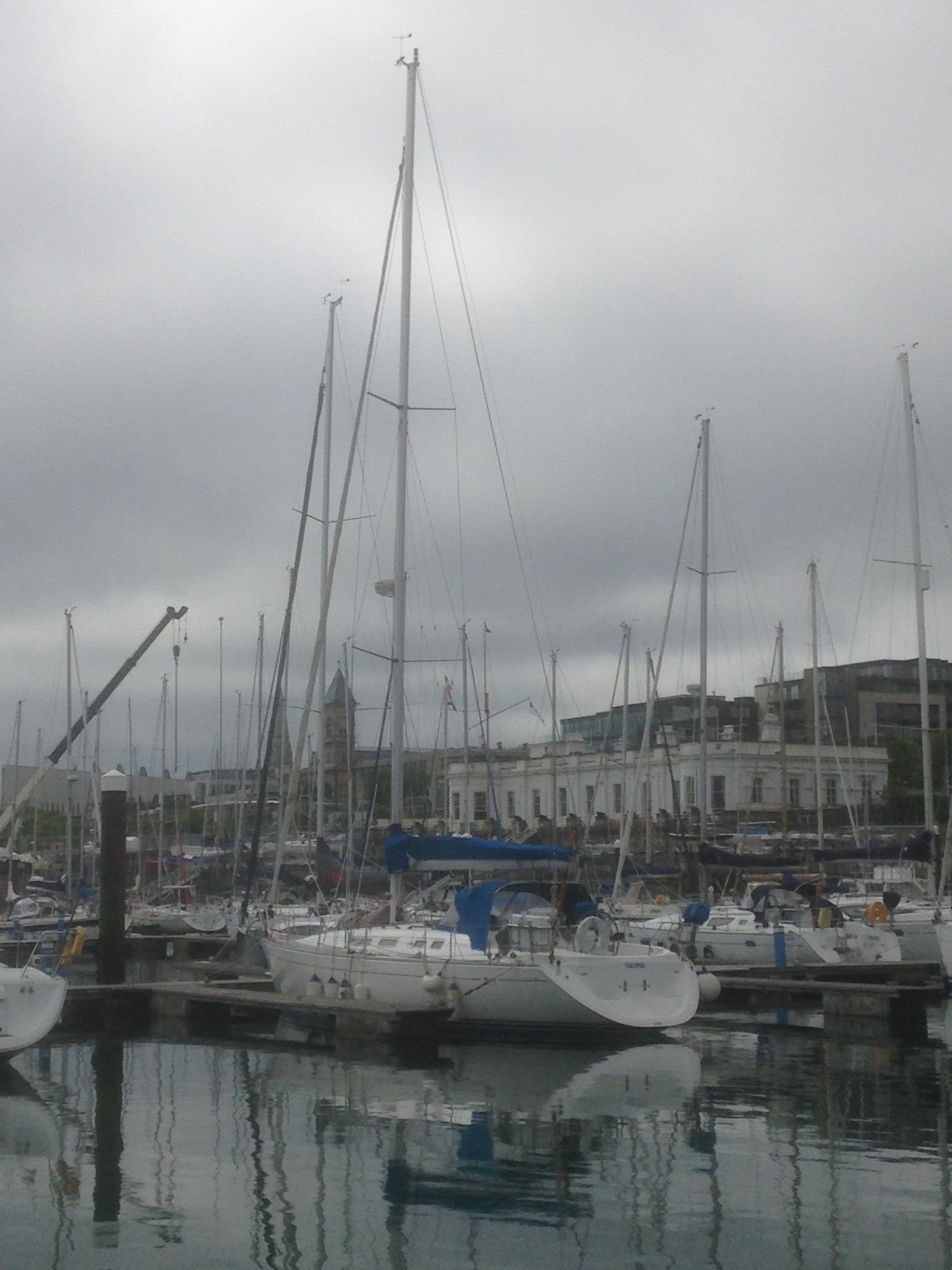 Well, Jim Bowen (AKA Howth Yacht Club) – we have news for you: much as we liked Howth, we are actually happy that you moved us on. There is not enough to do in Howth to occupy us for up to 2 weeks, and we love Dun Laoghaire. Yes it's big, there is no yacht club bar, and it probably isn't quite as friendly (as in, cosy) – but the coastal walk to Dalkey was excellent (via the excellent James Joyce museum at Sandy Cove), the place has a busy feel to it, there are good bars and restaurants, 2 supermarkets, the Dart (light railway) station next door, a racecourse; and the more friendly (than Howth) fish mongers sell at more sensible prices!
On Friday we walked to Dalkey, via Sandy Cove and the excellent James Joyce Museum. A lovely walk along the coast and through the lovely streets of affluent Dalkey, with attractive architecture (dating back to mid 19th century). The delicatessens, bars and restaurants in this small town are numerous and busy – and look great. We were rather hungry from the long walk and had pizza from a wood fired oven among the rich and beautiful – good job they accept sea gypsies as we had not dressed for the occasion!
We did go back to Howth on the first Saturday, along with half the population of Dublin. It really is a honey trap, but deservedly so and we had a good trip – including a very nice lunch at Aqua, with its great views of the bay. The food outlets (deli's, fishmongers and restaurants) in Howth are all very tempting – perhaps a longer stay at Howth would have been bad for the waistline!
Having bought a day rover on the Dart we went from Howth to Malahide, where we looked at the marina, castle and the end of a cricket match, bought a nice dress on the sale rail of a "My Big Fat Gipsy Wedding" boutique (I think it may be an underskirt, but don't tell Val) and went home after another memorable day (yawn).
On Sunday we went to the People's Park where art/craft and food stalls are erected every Sunday. The fayre was varied from Irish burgers, home-made bread and cheese, to Thai, Vietnamese, Chinese, Lebanese and a couple of Pakistanese. The place was packed, and we ate on a bench watching the Frascati Singers – a mixed choir with their own Gareth M..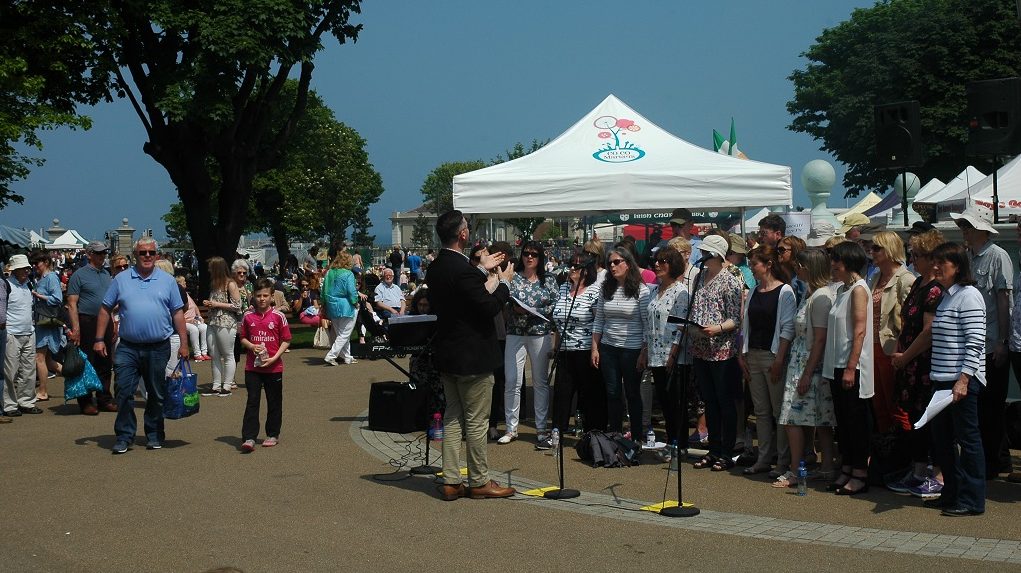 On Tuesday Paul entered the Howth Golf Club seniors' open competition. 15euro to enter compared to 50euro to play as a mere visitor – a bargain. There were a few good shots in there, but the rust is becoming thicker and more persistent. Graham, Tom and Jerry were good companions, however, and the views were spectacular. The caddy had a good walk and nobody was injured – so maybe that was just about ok in the end (no, not really, it was horrible!)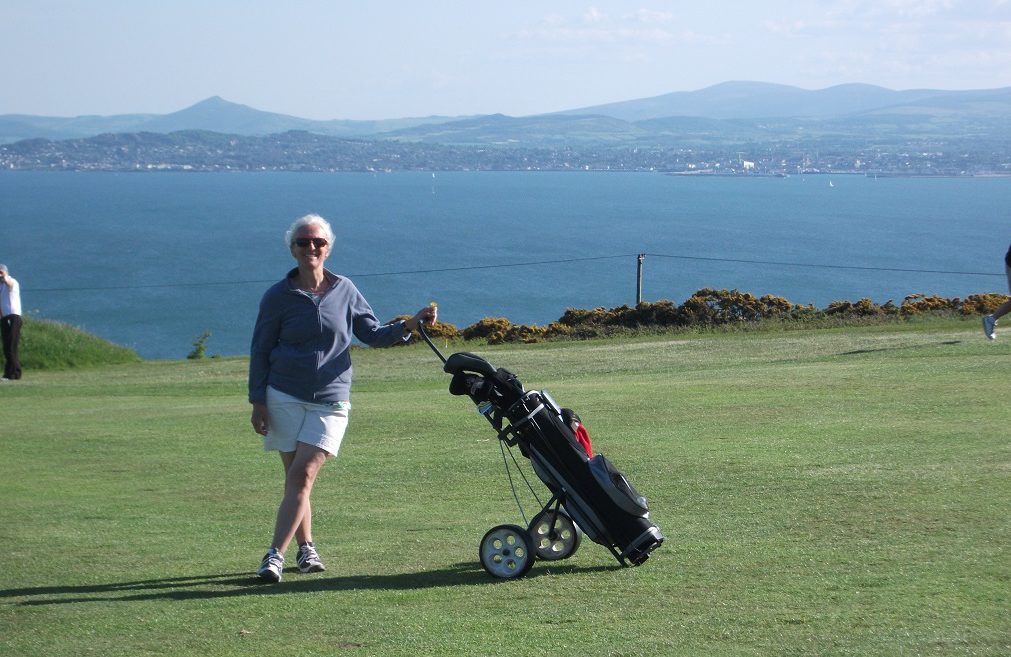 Wednesday morning meant it was Powerscourt House day, following a visit to the much heralded Bray, a seaside town likened to the Brighton of Ireland by a nearby boat crew.
Clearly the guy has never been to Brighton! Bray is a dump – candy floss, beer and chips and a shingle beach. Lots of tattoos but no mincing along with coiffured poodles to trendy cafe bars here!
Fortunately that was followed by a visit to the beautiful Powerscourt House and its amazing gardens (and good café!) The house was a summer palace, now owned by the Slazenger family. Its fabulous gardens look out over an amazing view to the Sugarloaf Mountains – one large one and one small one which are, quoting from a tourist guide, "known locally as the Cathy Gallaghers". Poor lass!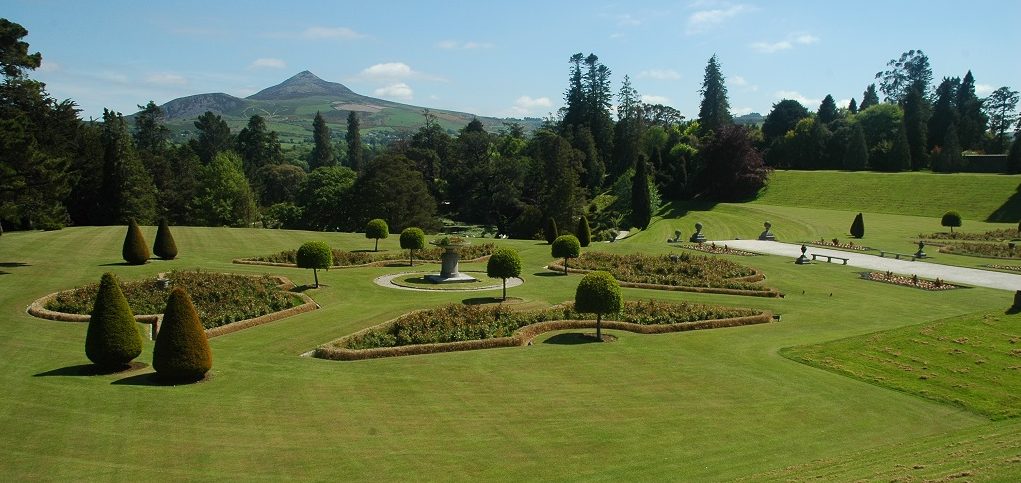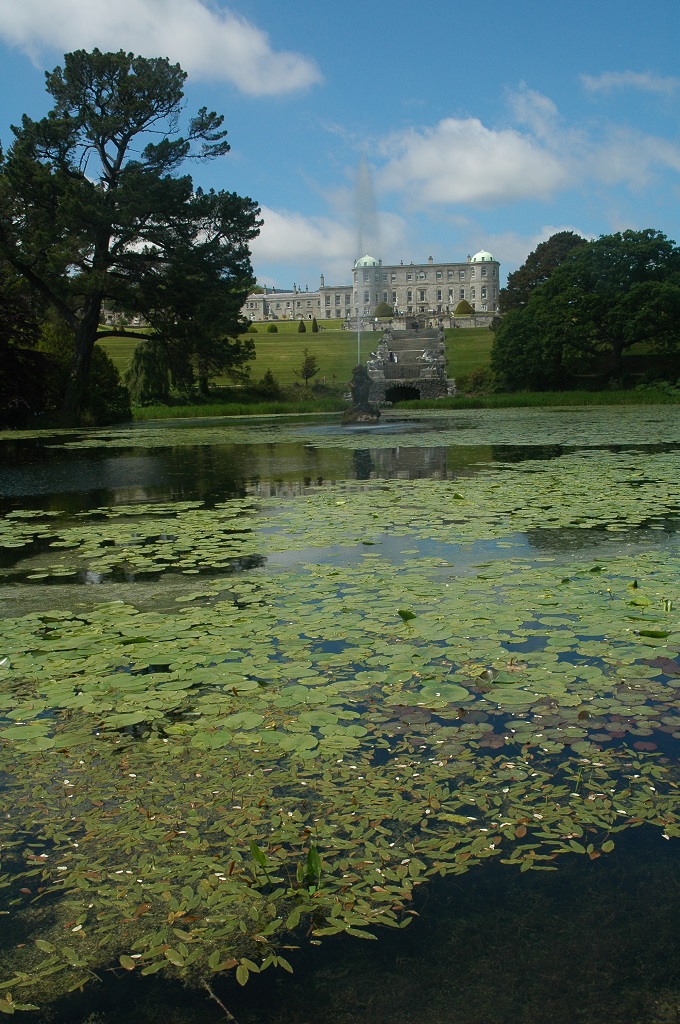 Thursday brought a visit to Dublin's fair city (which we sang whilst strolling around the streets, broad and narrow). We went with the highest of expectations and in parts it is a great city – just not quite as great as we anticipated. There are some amazing buildings and lovely old parts, but in spite of a couple of parks, there was a distinct lack of pedestrianised, tree lined streets, and on a hot summers day the only outside eateries were shoehorned on the sides of busy streets – clearly Dublin is not geared up for the weather we are having at the moment ("never got me shoarts on last yeer" said one man in the marina).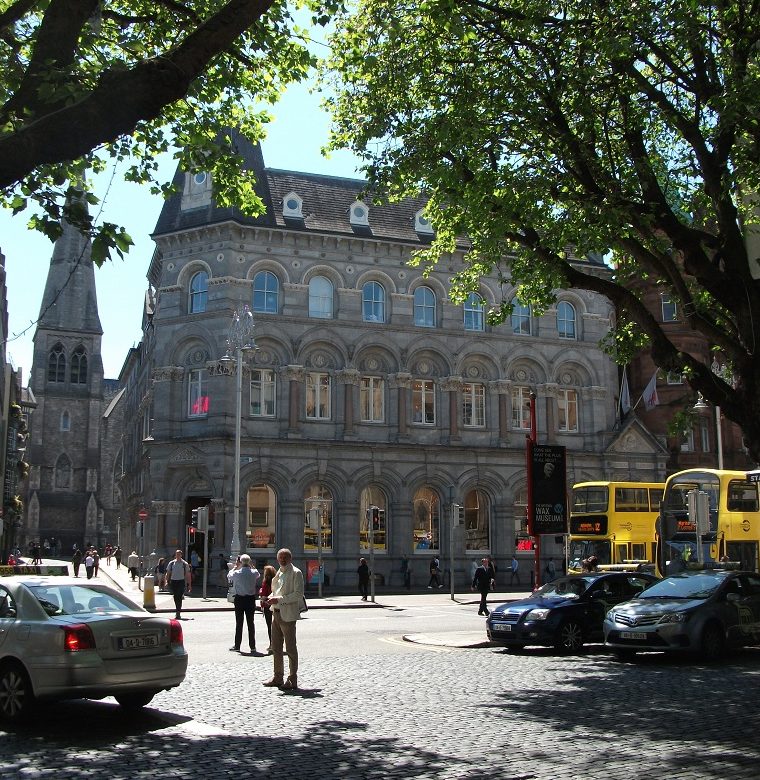 We expected that the banks of the Liffey would have had pedestrianised tree lined areas with bars and cafes – no such luck. There are busy streets lining each bank, both having sheer concrete/stone retaining structures – not quite as poetic as made out.
We didn't do the Guinness tour – we don't like Guinness enough to shell out 40 euro to visit what someone said is the second most visited tourist attraction in Europe – really? Must check that out.
Maybe we need to read a bit more and seek out the best bits – but we did have an enjoyable day and Dublin is a lovely place to visit – just maybe over-hyped.
There is a tall ship gathering in Dublin this weekend at the waterfront festival – we saw the largest in full sail on our way down from Bangor – a slightly smaller one has stayed in the marina over the last few days before heading into Dublin. It seems to be crewed by naughty boys!!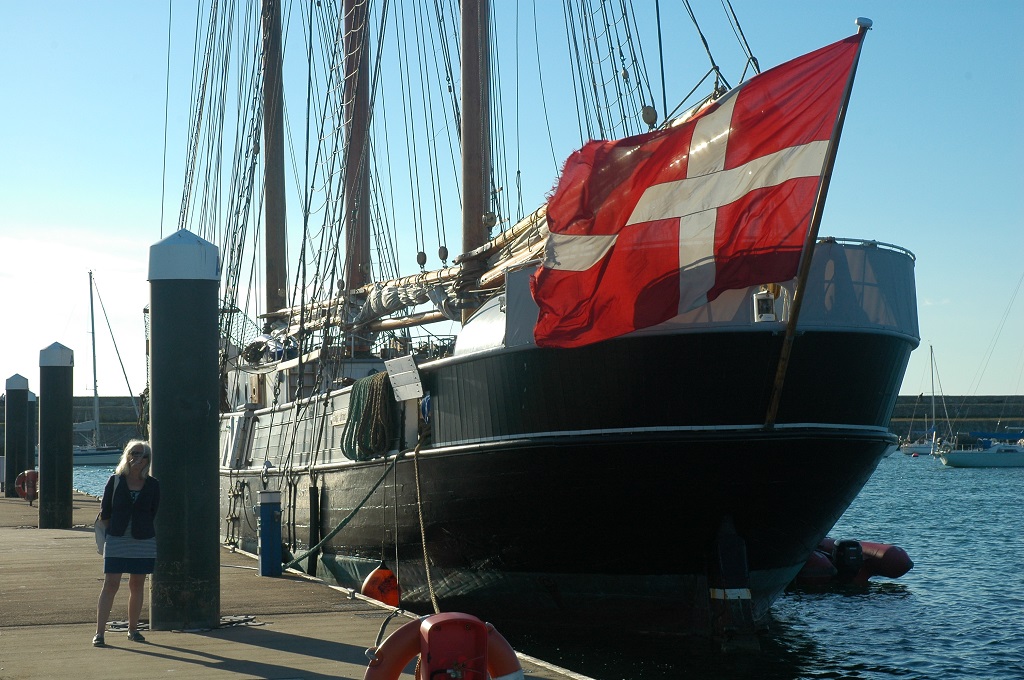 On the second Friday evening, after a morning doing some paperwork and recovering from our exertions of the previous few days (remember, no car; we have to walk a lot), we went to the races at Leopardstown – Val's first ever race meet. Val claims to come from horsey stock (as a teenager her sister shovelled "horse activity" at the local stables, became a riding instructor and had her own horses) and claimed to be able to judge form from watching in the parade ring – rather than studying the form guide. Paul did look after 23 Shetland show-ponies for a spoiled brat for a year before going to university and refused to give ground here.
So the challenge was on – in the first race Val felt Paul's pick looked "loose" but that hers looked "more intelligent" and was cross when Paul put an each way bet on his pick and nothing on hers. And the result? Well Val's pick came 5th and Paul's 7th (last!!)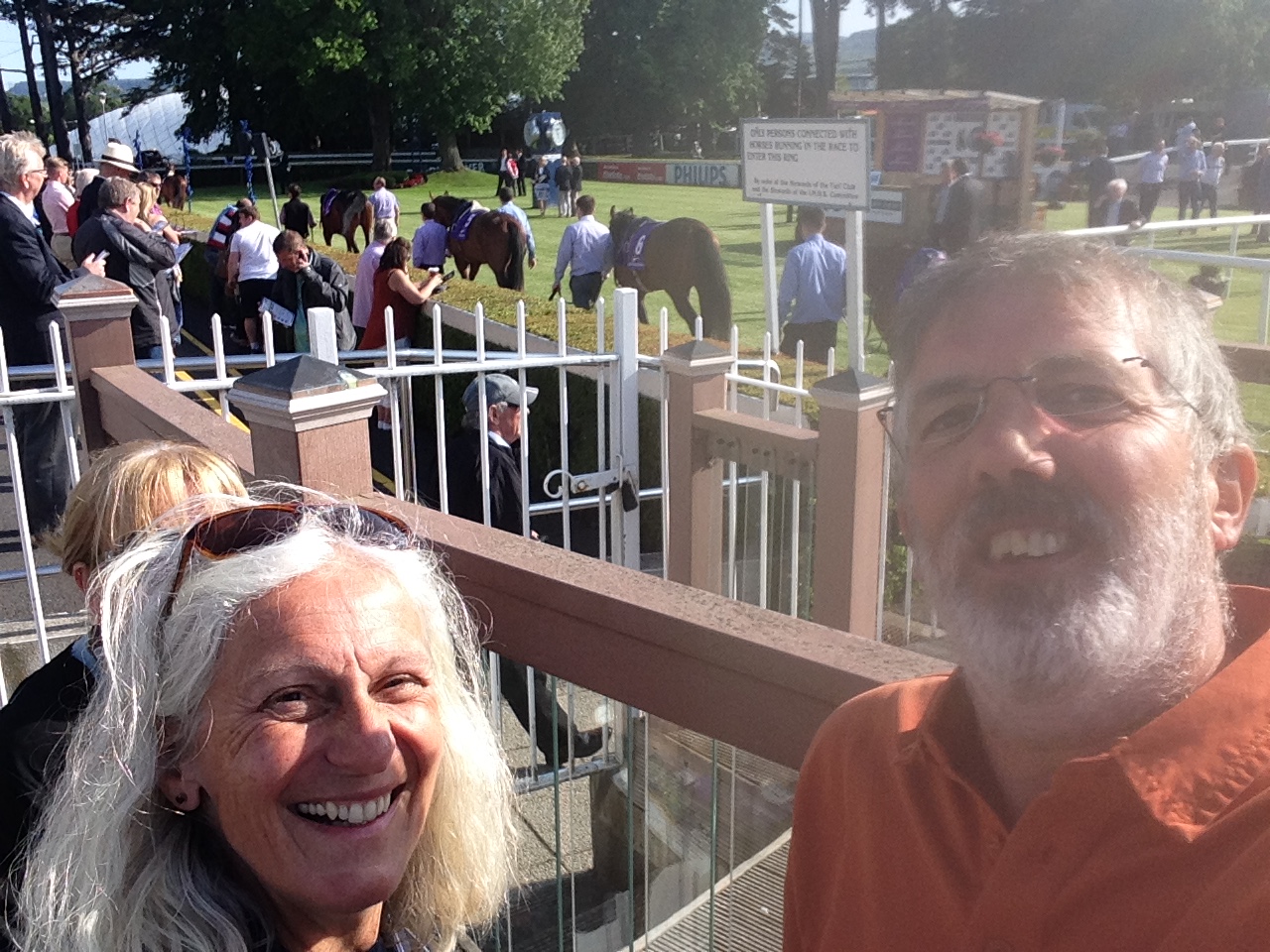 The night had to get better though – one of Paul's Thursday night drinking chums (table tennis being the excuse) is an Irish horse racing fanatic and Paul had 3 tips from Alan.
But it didn't get better. Fortunately the ATM at the course was out of order and cash-back is only available with Irish cards – and so the losses were limited to 42 euro. We held back the bus fare and arrived home with 35 cents in our pockets! Val thoroughly enjoyed her first racing experience and particularly watching the horses in the parade ring and was amazed at how fast they ran!
On the boat jobs front – Val has rubbed down and treated the teak coachroof grab-rails and companionway hatch. Paul has fitted the Seagull IV water filter – so that now we can drink water from the tanks and lugging water from the supermarket will be a thing of the past. The filter takes out bugs and parasites as well as chemicals – supposedly the best on the market. First impressions are that the plastic taste of the tank-water has disappeared and the filtered water is very drinkable. Hopefully the next blog installment will not be from hospital!
Paul also confidently (not really) cut the first hole in the hull – through the deck to take cables for the GPS antenna (for the AIS) and the Wi-Fi booster aerial – both gadgets still to be installed. The next job is to run the cables down the inside of the boat. Doing these jobs not only gets Calypso more ship-shape, it also rids us of more of the boxes of "stuff" that is clogging up every orifice!
Alice visits for a couple of days from 1am tonight. We have booked in for lunch tomorrow at a nice "Irish Pub" (surely they're all Irish??) in the lovely nearby town of Dalkey, where Michelle Obama had lunch with nearby resident Bono (Google: Finnegans, Dalkey).
The weather has been fantastic – we have seen very little rain since we left Kip, and it has slowly but gradually got warmer – shorts weather on the back of the boat as we type. So at the moment we are happy to say that all's well.
Distance travelled since leaving Kip – 252nm