Calypso and Fitting Out
Here is a description of Calypso and her systems and fitting out. This is, firstly a record of Calypso as we acquired her and our thoughts, research and actions as we fit her out for cruising. We will update as we go along and comment on what we are happy with (or not) and anything we think we should have done, or that we could have done without.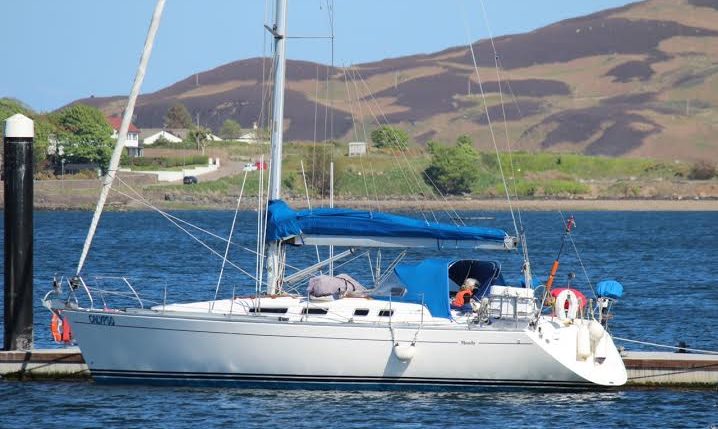 TEDIUM WARNING: This is hopefully of interest to those who follow in our wake. We advise others to stop right here, as the following text will be incredibly boring to most – but we make no apologies as information of this nature was of great interest to us as we started our journey.
Calypso is a Moody S38, launched in 1997.
She spent her first 8 years in Northern Ireland. Her first owner was a surgeon who used her for racing (on handicap as she is not an out and out racer by any means, although is the taller fractional mast, deeper keel version, which we hope will be a bonus in the light airs often experienced in the Mediterranean).
For the next 8 years she was owned by two friends, an architect and a GP, who cruised her around Scotland. They upgraded and replaced many systems, so that when we bought her in February 2013 she was in great condition.
Calypso was listed whilst we were in the middle of our house build, and although timing was not ideal she was just the model we had been tracking. There were not that many built, and she was in a good location at Kip Marina in Scotland – the last place we had chartered before starting the new house.
Calypso has 3 double cabins and 2 heads.  We expect that one of the cabins will be used as a garage for lots of the inevitable cruising kit – folding bikes, cockpit cushions and table, life jackets, BBQ, tools/spares, fishing gear and all sorts of miscellaneous gubbins, not to mention the golf clubs and trolley!  When we reach warmer climes we will need to carry a full boat cover, wind scoops etc and so we will need to design a storage system if the 3rd cabin is not to become a chaotic mess!

Fortunately the saloon seating will sleep 2 if we have 6 on board.
The specification is given as follows:
Length overall                   37'7"             (11.46m)
Length at waterline         32'6"              (9.91m)
Draft                                       6'3"               (1.91m)
Displacement                    19,064lbs     (8,650kg)
Fresh water tanks            80 gallons     (364L)
Diesel tank                          40 gallons     (182L)
Engine                                  Volvo MD2040 39hp 3 cylinder normally aspirated diesel engine with Volvo 120SD saildrive
When we purchased Calypso she had the following equipment installed (much of which had been installed by the previous owners):
Navigation electronics:  (all Raymarine) C80 classic chart-plotter, analogue radar, ST60/60+ wind, depth, log and graphic displays, ST70 autopilot control head. The autopilot is a below deck linear drive (Type 2S), linked to chart-plotter and course computer. Ray54e DSC vhf radio.
Water system:    Engine and 240v (when plugged into shore-power) operated calorifier with good insulation. 12v pump supplying hot and cold pressurised water to galley and both heads.
Safety Equipment:    The liferaft was out of service, beyond economic servicing and so discarded. Many yachts don't carry a life raft within the sheltered Clyde area and we have opted to do without initially. Firdel Blipper radar reflector (to be hoisted up the mast when needed). 7 basic lifejackets. Out of date flares (again we didn't replace these initially). Two horseshoe buoys and a dan buoy mounted on the pushpit.
THINGS WE HAVE ADDED/REPLACED AND FITTING OUT PROPOSALS
It was always our intention to cast off to warmer climes and spend several months each year living aboard. We set about making a few immediate improvements and planning for upgrades and new installations to make Calypso a comfortable and capable long distance live aboard cruiser, with the intention of working our way slowly south.
Whilst pottering around the Clyde during our first 3 years of ownership we acquired the following items, some of which were installed before retiring and heading South:
Anchoring:     To ensure that we feel safe at anchor, a new (oversized) 25kg Rocna anchor replaced the old CQR copy. This is attached to 85m of 8mm Maggi Catena Aqua4 Grade 40 chain. It is attached by a Wichard HR ss shackle (HR has a very much higher working load and breaking strain than standard). There is no swivel and the anchor fits nicely on the bow roller, although care will be needed when launching the anchor (a bow fender is used to protect the gel coat). We took a sounding on the YBW forum on appropriate chain length (among other things). Many Mediterranean cruisers felt that 65m is adequate, but those in Greece and Turkey, where depths fall off quickly, recommended 80m+.
We are making a nylon bridle to be an anchor snubber (using a Wichard chain hook with captive sprung pin to ensure easy attachment and removal). We have also acquired an old sail to make a riding sail – the best type are constructed in a V shape and hoisted aloft at the stern of the boat. It will hopefully assist in calming Calypso at anchor – she sails around at anchor more than most.  A bit of Googling "anchor riding sail" is very enlightening and see THIS web page.
We have acquired a Fortress FX-23 as a kedge anchor, also for use in soft mud and as a second anchor laid out in high winds. This is attached to 7m of 8mm chain and 60m of 18mm 3 strand nylon – using another HR shackle is it seems impossible to splice 18mm rope to 8mm chain! This is a lightweight combo that can be set from the dinghy or launched by hand from the stern when mooring bows to.
Ambassador rope-cutter: (hopefully prevents stray fishing nets and lobster pot lines not seen at night from fouling the propeller and immobilising the engine). Ambassador seems to be widely regarded as the best type.
3 blade folding propeller: an upgrade from the old and worn folding 2 blade. Folding propellers create less drag when sailing. The 2 blade will be kept as a spare.
Rigging etc.:    We have had a gas strut installed in the rigid vang – it certainly makes the single line reefing operation much easier and was a good recommendation by Phixius Jeremy. We also had a rigging inspection in 2015 – and passed with no problems identified. We would like to investigate replacing the reefing lines as there is a fair amount of friction in the single line reefing system and I have read a forum thread suggesting that reducing line diameter and selecting more slippery line will assist. We have not withdrawn running rigging yet but before we set off across Biscay will be checking all halyards etc.
Upgraded battery charger: The old one had failed when we acquired Calypso. We installed new batteries and a higher capacity charger, a Victron Centaur 50a. From discussions with Barden, the Centaur is good but not the most "intelligent" charger and we will be upgrading to a different model as our 12v system is expanded.
THINGS ADDED BEFORE SETTING OFF FROM SCOTLAND
AIS Transponder:     We will soon be fitting the AIS 650 class B transponder – this networks with the chartplotter and allows us to track the position of vessels transmitting the AIS signal (all large commercial vessels and some smaller and leisure craft). The position of those vessels is displayed on the chartplotter along with course and speed. It will enable us to see how close we will pass and whether we need to alter course to avoid collision, sounding an alarm if a transmitting boat is likely to pass within a pre-set distance . It will allow the larger vessel to see the same information that we will transmit. The detail includes information to enable us to make a direct call to the bridge of the vessel if we feel they should shift out of our way! We have purchased the unit and intend to fit it whilst en route during our first year of heading South. (EDIT – We tried to fit this shortly after setting off but it turned out to be more challenging than anticipated, so we will leave it to the experts when the new plotter is fitted in Southampton).
Liferaft:    4 person Crewsaver ISO raft. Rated <24hrs, but we'll pack a bigger grab bag if we do cross over to the Caribbean! We had considered the more expensive Viking equivalent, but looking at the inflated Crewsaver at SIBS, the quality looked very good……and the boatshow offer saved us £500 (cf Viking) plus a free PLB (£680 in total). If it fails, please can I have "He always was a tight bastard" engraved on the headstone!
Lifejackets    New inshore lifejackets were acquired for everyday use, plus recent acquisition of 3 Crewsaver Ergofit 190n Ocean lifejackets for longer passages, when we will try and enlist the services of a third crew member!
Personal beacons:   We have acquired 2 personal locator beacons (PLB's send a distress signal including position from internal GPS via satellite to the Falmouth coastguard when activated, useful when out of VHF range or in sudden catastrophe situation when a mayday call cannot be made) together with 3 personal AIS beacons (send signal via VHF to craft within line of sight range that are equipped with AIS receivers, with position of the MOB shown on the chartplotter). There are many debates and opinions as to whether to carry AIS or PLB – so we will carry both when on longer passages and at night. There are debates as to whether to carry EPIRB or PLB – our longest passage will be a few hundred miles across Biscay and so we think the shorter 24 hour battery life of the PLB will be fine – and can acquire an EPIRB if we decide to cross the Atlantic.
Walder Boom Brake:   Not sure if we would have paid the full cost of this (£500 ish), but as an Ebay bargain (<£100) it was too good to miss. The brake attaches to the boom and with a line wound around and running through it, transversally across the boat; with correct tensioning it should slow down the boom as it gybes – and hopefully prevents the serious damage that can occur with a crash gybe. Practice is required! (Edit – we tried to fit this after leaving Scotland but the attachment pounts below the boom are seized in position so we will have to use a different method – yet to be resolved.)
Outboard Engine:   The outboard that came with Calypso was functional, but that was about the only positive comment. The replacement is a really well maintained fresh water used Yamaha 4hp 2-stroke. We wanted something with reasonable power given our relatively large inflatable, however the more power the heavier to lift on and off the tender. 2-strokes are no longer sold in UK due to emission levels, but are lighter and easier to maintain than 4 strokes. Outboard thefts are a hazard, but the theft of an old 2 stroke is less likely and replacement cost less painful if we are unlucky. Another eBay bargain (£250), starts and runs really well (why did I say that) and very happy with it so far. A good compromise all round. Part way through our year 1 cruise we managed to acquire a brand new engine hoist at a fraction of the new cost (eBay, where else?). We have secured it to the pushpit and will see if it eases the task of lifting the engine on and off the dinghy – watch this space……(EDIT – it worked ok but we sold it after reaching Southampton as the new arch will serve that function.)
Water Filter:     We use sterilising tablets in the water tanks, but still take the precaution of using cheap bottled water for drinking. That won't be so easy when we set off and so we have invested in what seems to be regarded as the most effective filtration system; the Seagull IV. It removes viruses, bacteria, cysts, parasites and chemicals including chlorine, pesticides etc.. Water from pontoon hoses is not always as clean and fresh as we might hope, but with this system we should not need to rely on bottled water – especially helpful when we spend lengthy periods at anchor, moorings or in marinas with no supermarkets nearby selling cheap bottled water. We will be fitting this shortly and hope that it removes the nasty chemical/plastic odour from the Kip water supply. The filter might last us up to 2 years and is a simple swap over, being the only maintenance required. We will still want to be a little careful where we fill up.  EDIT – the Seagull IV filter was fitted, 6 weeks after setting off – and certainly did remove the plastic taste of tank water (the taste being from marina plastic piping). We have been drinking tank water from the dedicated filter tap (don't need to filter washing water) and have suffered no ill effects – yet! It is also good not to have to lug water from supermarkets.
Mattress Ventilation:    Condensation beneath mattresses is a problem when living aboard. We only suffer over a long weekend (or longer) and have acquired the proprietary ventilation mesh layer. We'll give a long term user report in after we set off in April 2016. We have also skimmed the top from our recently replaced memory foam mattress, shaped it and Val has sewn the cover to shape and cut the mesh to fit under our slightly thin mattress that came as original equipment.
EDIT – 12 weeks in and we have suffered some dampness under the mattress, but certainly much less than before. The mesh is working, but we also stumbled across a design upgrade – having raised the original mattress a gap has appeared between mattress and cabin side (the hull slopes outwards). The mesh was cut oversized so that a roll sits in the gap, which improves ventilation. We do lift the mattress once every week or so still.
MOB Gear:     Not fully resolved yet – as well as horseshoe buoys and danbuoy we have a floating heaving line with lifting strop that can be thrown to the MOB, but how does Val get 13 stones of Paul in wet clothing out of the water? The current idea is a "handy billy" – a 6:1 block and tackle to be suspended from topping lift or halyard, and with a carabiner at the MOB end. There are reports that it is far better to lift a hypothermic casualty from the water horizontally, with proprietary systems for that. Further thought is required, but at least we have a system that is better than many. We made our own from parts sourced on eBay, but they can be acquired from Jimmy Green (with a link on their website to a review of the system).
EDIT – we can confirm that Val can lift Paul off the pontoon using the "handy billy". We have added another line and carabiner at the point it attaches to the topping lift – this is hooked around the aft stay, holding the handy billy aft so that the MOB is lifted at the position of the gate in the lifeline, just forward of the cockpit, making it all easier to manage – and enabling Val to lead the line to a cockpit winch if necessary. Without the additional line the MOB would be lifted out around the shrouds – much more difficult.
FITTING OUT PROPOSALS
It was our intention to undertake the following works over the before leaving the UK:
Engine:     Not exactly a fit-out item, but before we set off from Scotland and Southampton we intend to do the following to improve performance and reliability:
a) Clean heat-exchanger stack – no idea when this was last done, but they can get clogged up. EDIT – it was a little fouled but not bad – certainly the flow rate from the exhaust seemed to improve (perhaps wishful thinking?)
b) Add Speedseal Life to the raw water impeller housing. This both extends the life of the impeller and prevents it from instantly shredding when a blockage causes the impeller to run dry. This is effectively a replacement faceplate for the impeller housing – with fixings that remove and re-fit quickly and easily – and with a spinning plate internally, reducing friction (well, I think that's how it works!) EDIT – a very easy install, and would be much easier to change an impeller at sea now.
c) Raw water alarm – there are various types and research is at a very early stage. This might have to wait until we are in Southampton, but an alarm will mean we can switch off quickly if there is a blockage (and the Speedseal Life should ensure that when it is cleared we should not have to change the impeller). EDIT – not done before we left!
d) Valve clearances – whilst I (Paul) have been on the diesel maintenance course (and many years ago did all the servicing on my Beetle including setting the timing with Tippex and strobe light – young ones today are so lucky – but then again, are they?) – I will leave setting valve clearances to the professionals. EDIT – Craig at Kip did this and the engine was noticeably quieter. Craig says that most Volvos do not need this doing very often, but that in his experience the 2040 (and 2020 and 2030) series engines do move and this should be done every couple of years.
e) Along with a routine oil and filter service we are going to change the air filter and thermostat – not that they need changing, but at least we will then know how old they are!
f) Alternator – we purchased a new alternator on eBay (we will have a "sponsored by eBay" sign on the boat as well as the house shortly!) It was a stock clearance item and too good to miss at £150. We originally intended for it to be a spare, but we may as well put the new one on (60amp) and get the old one serviced to be kept as the spare. At some point we will investigate a high output generator to supplement solar on duller days, as we will not be installing a wind generator which would create shade across solar panels, and even a tiny shade can dramatically reduce the output of the panels.
g) Fuel tank  – there was a very small amount of gunge in the primary filter at last year's service. The first matter is to have the fuel tank emptied and cleaned (fortunately there is very good access to do this on Calypso). (EDIT – see blog post HERE to see why this was a good idea!) We have also purchased a Fuel Guard filter ( see http://www.fuel-guard.co.uk/ ) and will install that in front of the primary filter for everyday use. We also intend to rig it as a fuel polishing system with a separate circuit incorporating a 12v pump. It can also be rigged to provide an emergency back up lift pump. This is a winter 2017 job. EDIT – still on the jobs list!
Bowthruster:     Some yachts manoeuvre better than others in close quarters (eg in the marina). Calypso is fine until it comes to reversing! Not the worst by any means, but we have had an odd hairy moment in small crowded marinas (notably Rothesay when a few large mobos are in) especially in cross winds. We have had raised blood pressure but not actually hit anything yet; however we will be entering unknown marinas, sometimes in darkness, and want to do so in the knowledge that a bowthruster will get us out of trouble. Not an inexpensive item but good for blood pressure and crew relations! Val wants us to install one as Paul's retirement present but her motives are based on peace and harmony rather than cardiac considerations! We think we intend (advice awaited) to have a battery in the forepeak dedicated to bowthruster and anchor windlass, which seems to be the most reliable installation. A remote control will allow bowthruster and windlass to be operated from anywhere on the boat.
Holding Tank:     At the moment both toilets flush directly to sea. We use marina facilities when not out sailing. When living aboard we may spend several days in an anchorage. Effluent should not be discharged other than to a pump out station provided in some marinas, or 3 or more miles out to sea. We have researched this unpleasant subject which is fraught with obstacles and compromises. We will install a holding tank for the aft heads. We think we know which of the 3 possible locations we prefer and the design principles we want to adopt – but watch this space as we will be installing a holding tank at the end of the 2016 season. Edit – or a desiccating toilet – less to go wrong but more maintenance. The jury is out but a holding tank solution is most likely.
12v Power:      Again, when at anchor for several days, or on long passages (using navigation instruments/autopilot) we will need to look to improve 12v generation, storage and consumption. On the consumption side, we have changed all internal and navigation lights to LED which have much lower power draw and we have ideas for the fridge (a hungry consumer of 12v power, see below).
We will look to install a much larger battery bank than our present 240 ah house and 100 ah start batteries. Will we go for traditional wet lead acid, gel or AGM (?) – we don't know yet. Lithium would be great but is ruled out on cost grounds. For charging we will install a further uprated mains charger (a Victron Phoenix Multiplus 12/3,000/120 inverter charger has been acquired via eBay!)
We have purchased a 2.6kw suitcase generator for our 2016 trip, when we will have no solar power and do not want to run the engine without a load as idling is no good for diesel engines. We bought Kipor after research, claimed to be the next best after, and not far behind, Honda. We also learned that a 1kw generator is not enough to power our 50amp battery charger. The Kipor will also be used to power the microwave when at anchor – a man needs his oats in a morning (porridge, mum).
For battery monitoring we like the look of the Smartguage battery monitor (http://www.smartgauge.co.uk/index.html ). The claim is that other monitors run out of synchronisation and can be misleading. Don't ask me why, look at the website and do some Googling!
We will install solar panels either on an arch/gantry or an extension of a new bimini and we will have MPPT regulation to optimise the storage of power generated by solar panels. Monocrystaline v polycrystalline; rigid v flexible; parallel v tandem: more conundrums!
We will look at engine alternator and its regulation, but in spite of extensive research this is all still something of a black art and we will be consulting the experts for installation during the winter of 2016/7. We will publish our solution eventually!
Refrigeration:       We have a countertop accessed fridge which is cooled by an air cooled evaporator linked to a small ice box inside the fridge compartment. The position of the compressor means that the cooling fan draws air from the galley and chucks it into the bilge – the wrong way round as the bilge will be cooler than the cabin!
When we go south we want a more efficient fridge as far as current draw is concerned. We will apply additional insulation externally. The condenser appears to be original equipment, and whilst it is working fine at the moment, we think that now is the time to renew and refine.
One solution for reducing power consumption would be a "keel cooler" – where holes are cut in the hull and a heat exchange plate attached externally. We don't really like the sound of that, particularly after hearing stories of galvanic corrosion to expensive keel coolers. Our limited research is pointing us towards either:
(a) a water cooled condenser, with water drawn in and extracted by pump using connections to existing through hulls or;
(b) a eutectic cooling tank with a heat exchanger in a coil within the thru-hull for the galley sink. The eutectic tank is superchilled when surplus energy is being produced (solar panels on a sunny day or when the engine is running) and draws little or no power through the night (Look at www.ozefridge.com.au for a good explanation and Google Isotherm ASU SP for more info – really interesting!)
(c) a eutectic tank with cooling by air or internal water tank dependant upon ambient air temperature (see the Ozefridge site via the link above).
More research required before we take the plunge after the 2016 season.
Arch and bimini:     We will need a bimini to provide shade to the cockpit as we travel south, and we will need somewhere to mount solar panels. Whether that will be a single structure or separate bimini and arch remains to be decided. A separate arch might enable davits (to carry the dinghy on shorter trips) and engine lift to be incorporated. The bimini might attach to the arch.
 Until recently we seemed settled on an arch, however when chartering from Athens in September '15 we saw several yachts with simple extensions to their biminis. Then again those biminis do not easily roll out of the way and we do not want a semi-permanently erected bimini. Semi flexible lightweight solar panels sewn or zipped to the bimini are also a possibility  – much to consider in this further dark art still.
Sails:     Our sails are quite old but well cut, and our accomplished dinghy sailing friends Phixius Jeremy and Gill say that the main is well cut and maintains a good shape still. The genoa is OK. We will wait until we have reached the Mediterranean before replacing them. There seems little point in stressing new sails on an Irish Sea/Channel/Biscay/Atlantic coast of Spain/Portugal passage, but having fresh sails for light winds in the Mediterranean would be an advantage (yes, we do know that there are also very strong winds in the Med but there we will see mostly shorter passages and we are less likely to be caught out in bad weather). Before then we will add a cruising chute (with snuffer) also for light airs.
Good light air performance in the Mediterranean is important given the reputation for either too little or too much wind – and our preference to sail (rather than motor) as much as possible. That means we are going to have to practice with our as yet unused (by us) symmetrical spinnaker!                                               
A storm jib is also on the list – we have no inner forestay and so the Gale Sail ( www.seateach.com ) is looking favourite alongside Storm Bag (Storm Bag). Google "Practical Boat Owner storm jib test"and see their helpful guide.
Scaffolding Plank:      Yes, seriously! We have looked at purpose made passerelles but the good old multi-purpose scaffolding plank wins out in the end! It will double up as a fender board for rough quaysides and to help secure jerry cans of water and diesel to the guardrail on long passages. We might just sand it up a bit! That said, if a smart passerelle turns up on eBay at the right price……………..
So for now that sets out our fit out ideas. We have scoured the internet over the last few years, with the YBW.com forum being a particularly fruitful source of information and (usually) helpful guidance.
EDIT JUNE 2016
So the 19 year old fridge packed in after 2 days. A new controller or condenser is required but we will make do with buying ice rather than shelling out hundreds on something to be discarded at the end of the season. We have undertaken an insulation upgrade though – using a discarded polystyrene block – and will find something more fire resistant for a permanent solution this winter, but the only electrical item near it (the fridge) has had the fuse pulled.
We have been using Navionics on an Ipad (make sure you buy the right Ipad as not all work) in a waterproof casing in the cockpit, under the sprayhood, and that has been an excellent addition. A 20,000ma power bank from Maplins has nearly quadrupled the battery capacity of the iPad.
We have decided to replace the old chart plotter and site the new one in the cockpit. The modern digital radars are much better (and I think lower power consuming) than our old analogue one so we will replace the analogue radar as well. Oh well, we can't take it with us!!
EDIT SPRING 2017
After a busy winter of fitting out, now in Southampton, much of our proposal is complete – see  HERE for a description of the winter fit out.
EDIT JUNE 2018
So I said we would update this post to say what worked and what didn't! At this stage, into our second year of cruising with the improvements made over the last few years, and particularly winter 2016/7 in Southampton, in general we are very happy with the upgrades. So here's what we particularly like:
Seagull IV water filter – we have just filled the tanks with a very plasticky tasting water. The water from the tap is undrinkable; no good even for tea. And yet the water from the filter tap is very pleasant. We think that after about 2 years of use the flow rate might be slowing, but at £120 for a replacement filter we will make it do for the rest of this year. The cost is quite high, considering that the hardware costs something over £500 including the first filter, but it saves dragging bottled water around town.
Chart Plotter – we are so pleased that we put the plotter under the sprayhood in the cockpit rather than below (and better under the sprayhood than at the helm so that we don't have to stand behind the wheel to see it. We can see as much as we need to from the helm, and when we are on autopilot (most of the time) we can control the autopilot without leaving protection of the sprayhood.
Bowthruster – even though we very rarely need it, it is great to approach a new harbour in the knowledge that Calypso is now so maneuverable  in tight spaces and in crosswinds. A good investment. No more last minute wees!!
Holding Tank – the very simple gravity installation with wide 2″ outlet pipe and seacock and Y valve selection for tank or to sea has worked very well – no blockages to date! The external sonic level gauge seems to be working but we haven't more than half filled it yet! We have read recently about problems with mechanical internal gauges seizing up, so happy with that decision.
Arch – we might have amended the design to sit the arch 150mm lower, but overall we are very happy with the outcome. As yet we have not hung the dinghy off the transom using the hoist points on the arch, nor have we lowered the outboard with the third hoisting point – but will post a picture here when we do.
Solar Panels/Controller/Batteries/Inverter Charger – We have been very pleasantly surprised with the performance of the panels. On a 40% cloud but bright day sailing on autopilot, with all instruments and fridge running, the 240w solar panels have kept the battery monitor at 100% charge. Overnight across Biscay, again sailing throughout the night on autopilot but with fridge turned off, the 345ah battery bank dropped to 72%. The next day we turned the fridge back on, and whilst the panels were keeping up with useage they had only added a couple of percentage points to the state of charge by early afternoon, however at this point we had to fire up the engine, and by dusk the panels plus 70amp Balmar alternator had the batteries fully charged again.
At anchor we have boiled our 1kw kettle and run our induction hob (at a low power setting) on bright days via the 3kw inverter. We have deployed our additional 107w of roving solar panels and then seen dusk with the charge back at 85% or more, depending on how bright the day is.  So the vast amount of money expended on electrics (probably around £8k from memory) now has our energy needs covered. Others who would sail for days at a time, live aboard off-grid in winter or spend weeks at anchor would need more solar and a bigger battery bank, but this setup is perfectly adequate for our needs. Half of this cost was labour – and so those proficient in the dark art of 12v electrics could make a huge saving!
EDIT – we subsequently discovered that the low setting on the induction hob did not reduce wattage – it cycles at 1.8kw with more off time than at higher power settings. We think this might be working our 345ah battery bank a little too hard and so stopped using the hob when not connected to shore power. We also bought a 600w kettle – slow but easier on the batteries. At anchor we now rarely drop below 80% charge  by morning and even boiling the kettles several times a day see the battery monitor back to 100% by dusk. We see lower charge levels with a few dull days but have yet to drop to 60% charge state. This with the fridge running permanently, LED lights (including anchor light), charging phone/laptop batteries, running the radio and using the electric kettle for making tea (or for cooking).
Fridge – every now and again we hear the fan running, but apart from that the new fridge cooling system (Ozefridge eutectic tank) just gives us cold beer day in, day out! The slim eutectic tank fits in the box very nicely and allows us to use the fridge's volume much more efficiently than the old cold plate that we removed. We have not tested the power used (or recorded the running time) but the fan runs fairly infrequently and the battery useage overnight when off-grid seems quite low, according to the Samrt Gauge battery monitor.
Induction Hob – we were shown a single plate portable induction hob by people we met in Yarmouth, and promptly bought one when we arrived in France – about 49 euros from Leclerc. This is one of the best smaller gadgets we have bought. The model we have fortunately has both a power level control and a temperature control – not all have, and our recommendation is to make sure that the temperature control is included. In that way you can rapidly bring water to the boil and then swap to an 80c or 100c temperature control to continue cooking without too much steam and boiling over pans. we have a 2 tier pan/steamer on which we can cook potatoes/pasta in the bottom and steamed veg above. We swap that on and off with a frying pan/casserole and cook a whole meal using only the marina's electricity that we have already paid for. Together with our low wattage kettle running off inverter (plus a standard one for shore power use) and occasional use of the Cobb oven, our gas bottles are set to last a couple of seasons at this rate!
SO – what didn't work? I have been racking my brains for 5 minutes but really can't think of anything!!