A visit home and back across Biscay
The photo above is the aftermath of our family & friends party – our way of catching up with everyone during a short visit home – but which is very hard work and we are pleased to be back in Spain for a rest!
However I pen this at midnight, after an early night to bed, listening to fireworks and excited chattering………………. but it was not that which awoke us from our early night. No, it was the knocking on the hull at 11pm by two Guardia Civil officers wanting to see our passports and to take the name and registration number of the boat. They were perfectly pleasant enough, but do they bash on hotel doors demanding to see other tourists' passports at this hour?
As usual the fireworks are not visual displays – just very loud bangs that echo around the town and the ria beyond. Impressive though, and now as the longer than usual 10 minute barrage has just ended we can hear that many of the excited voices belong to children not yet in their teens. Another feature of Galician culture – late nights for the kids at weekends.
We had a lovely visit home to see family and friends, but this is the life and we are happy to be back!
We had left Calypso in the RCNC Marina (Coruna Yacht Club) after they agreed to give us a berth at the far end of the outer basin, more protected from the surge entering from the harbour. The cost at 529 euros was 89 euros more than Marina Coruna, but that is even more exposed to swell – so we understand why.
There is a bus to the airport that departs from directly opposite the marina, however we had a very early flight. Instead of relying on a taxi, we caught the bus  and then walked 20 minutes to our hotel, which was still some distance from the small Coruna airport. We got a lift from the hotel for our early morning (7am) flight and arrived home around 5pm after the flight to Manchester via Barcelona, train to Halifax, and a lift from our lovely daughter.
We were home for 3 weeks, during which time we caught up with family and friends; the main event being our now annual barbecue for anyone not on holiday. This year there were 43 of us crammed into our large gazebo to listen to the Sheriff of Nottingham (Ok Nick, High Sheriff of Nottinghamshire – not as romantic a title) thank the ensemble for raising money for his chosen charity,  Framework, and illustrating their work for homeless people. Not sure how we will top that one for next year's BBQ after brother in law Nick's year comes to an end.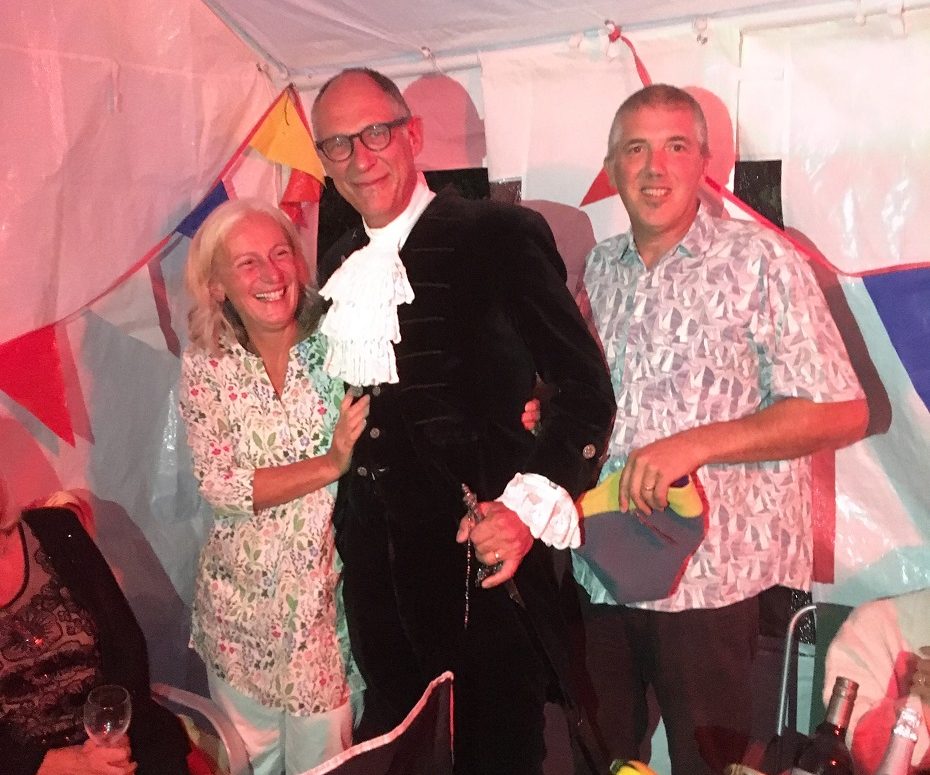 Whilst away Alice and James had moved out of the first floor apartment at our house and we were finally "empty nesters". However we welcomed Chris and Barbara, our lovely friends, who are moving into our first floor apartment whilst they sell their house in Spain and look around to decide where they want to live in the UK. So we won't feel lonely for a little while yet!
After saying hello to everyone, and Paul catching up with clients and work colleagues we returned via the Portsmouth-Santander ferry – the very same ship that we encountered on our previous Biscay crossing aboard Calypso. We met the chief officer to discuss the lack of response from the bridge to our DSC call (see HERE for the blog of the incident). He advised that had they received such a call they would have responded, and that they routinely change course 20 minutes out from any close encounter when taking avoiding action – so that the immediate change of course must have been coincidence.
Interestingly he also advised that in such instances the preferred method of contact would be via channel 16, with a DSC call to be made only if that is not answered. We were about to make a call on channel 16 before noticing the course change, which apparently would have been the wrong way around.
We will have to make a DSC call to friends sometime soon to check that this function is actually working (but the radio was making a ringing sound as we expected). We had debated whether we should bother asking to speak to an officer from the bridge, but a lesson was learned and we were pleased we had done so.
Entering Santander on a beautiful day was most enjoyable – it appears to be a lovely city and we hope to visit when we leave at the end of the season.

We drove back to Calypso via Vilalba, where we stayed at the Parador – one of a state owned chain of mostly historic buildings now converted to stylish hotels. The government established "Paradores" 90 years ago to promote high quality tourism in Spain.  Most are quite costly, but this one (in spite of being very comfortable and stylish) was only 68 euros. There are 6 suites in the tower, but we were in the stone building to the right of that. Our room was, however, 493 square feet (including bathroom) according to surveyor Paul. It felt more like a suite and had a view over the square below: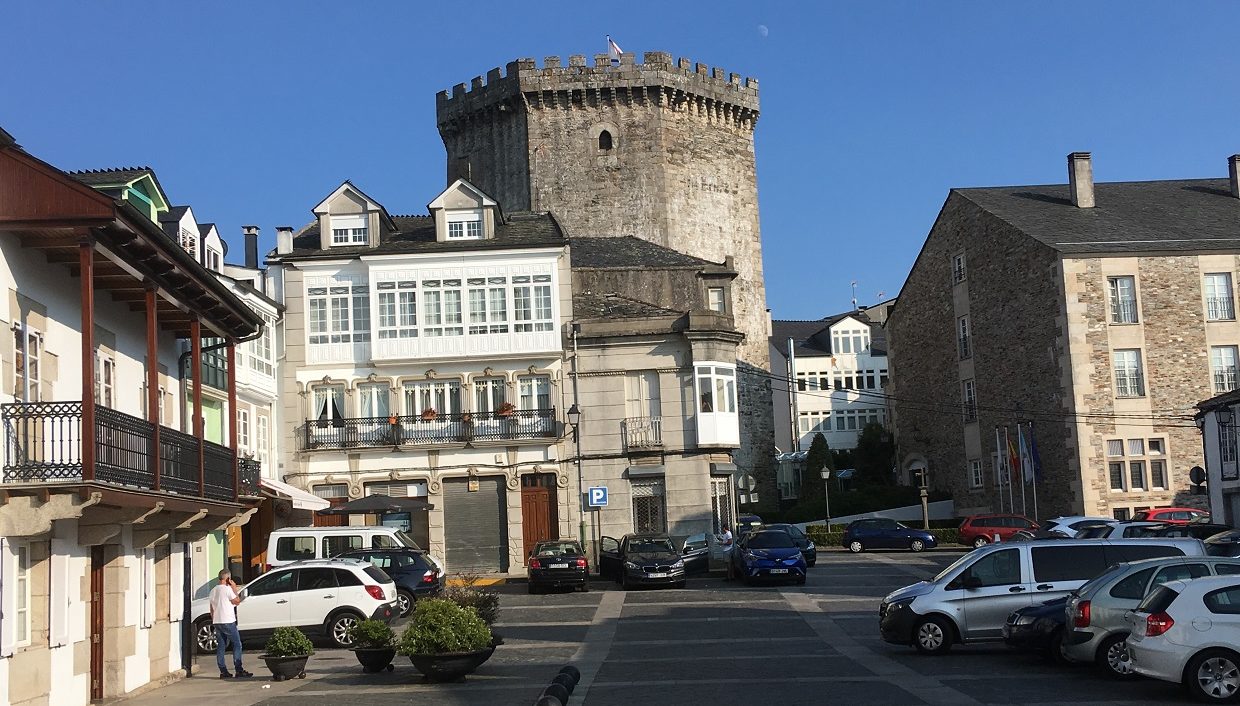 Next morning we returned to Calypso to load stuff onto her and also to take some gear off to give more space when our guests arrive. Unfortunately when arriving in Coruna we realised that WE (or as Val says, Paul) had left the wallet with passports, boat keys etc in the hotel safe. There ensued a 2.5 hour round trip to retrieve that.
And so we continued to Calypso's winter home where we left the Berlingo and were collected by Adam and Lynne to have a night at anchor with them before returning to Coruna. It was good to be back, and especially with such good friends on such a beautiful day: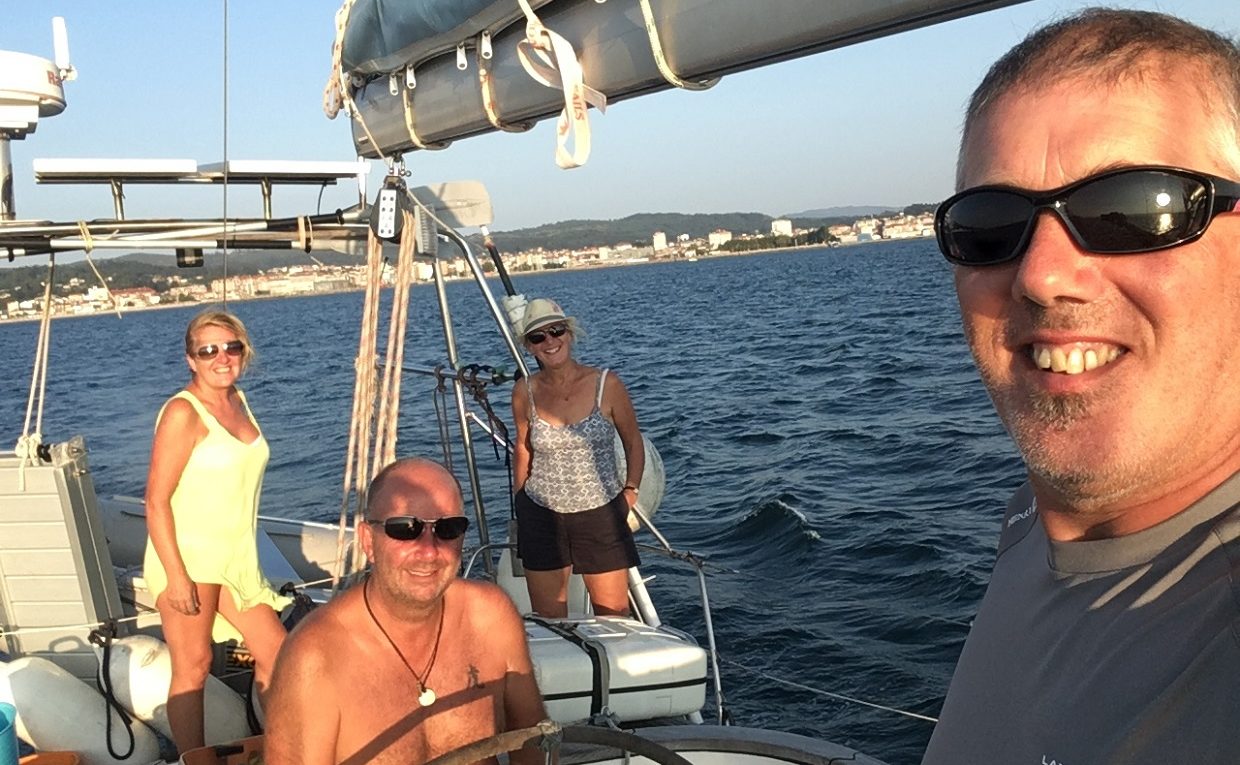 We went to a quiet anchorage with no other yachts in sight – amazing given that we are still in August (21st). After our usual lovely evening the next morning we all went in off the back of Charisma for a swim – the water was bracing but we are getting used to it and it's not as bad as we first thought.
And then our time with Adam and Lynne this year came to an end all too soon. They took us back to the marina where we would catch a train back to Coruna. We will be heading South towards them but they are now heading towards their winter berth in Lisbon and we will not catch up. However we did get an invite to visit them in Lisbon – and who can turn down a free bed in that city??!!
On the way back from the anchorage we passed through "bateas". These are floating rafts from which ropes are suspended for rearing mussels. We will see many of these in the "Rias Baixas" (the Rias to the South of Finisterre). Paul Googled to confirm his research that one can sail quite close to the bateas – they are secured to the seabed with very heavy chains which drop straight down and there are no lines floating around.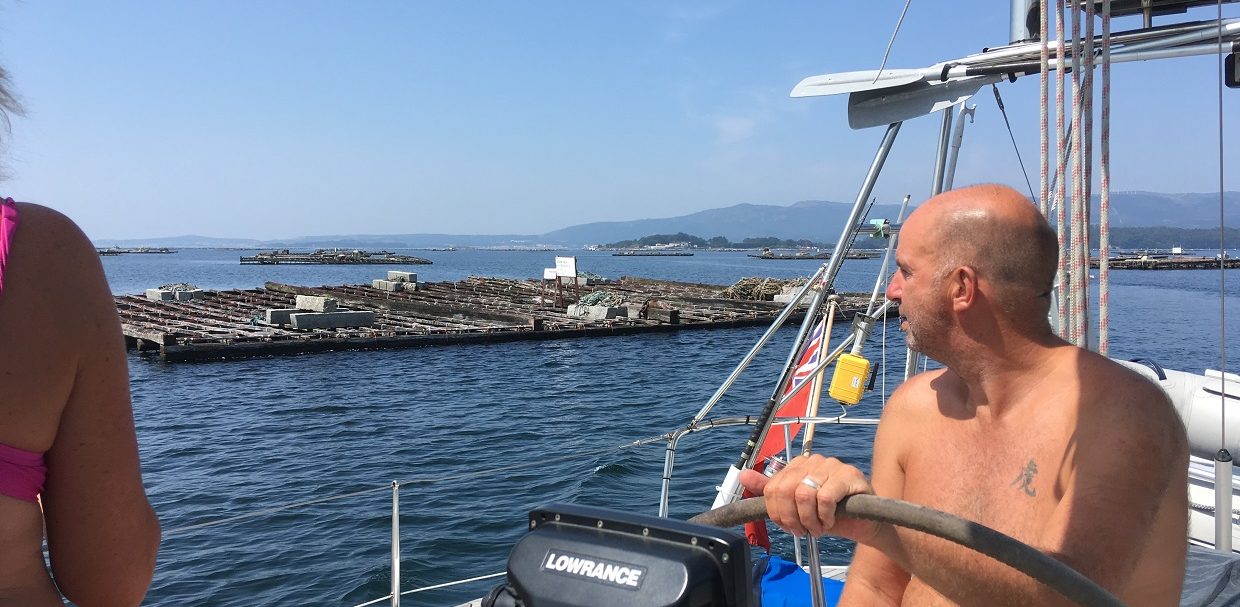 Whilst Googling Paul came across a very interesting fact and tested the crew: "so there were around 3,350 rafts in Galicia in 2012. Apparently this is a family business, but how many families own these rafts?"
The answers ranged from 2 to 11, with which Lynne won the prize. In fact they were owned by around 2,300 families, with mother, father and children working together. This must be laborious work, as "seeds" are collected from rocks and fixed on ropes, hanging from the batea. As the mussels grow they  are "transplanted"onto new ropes at least twice so that they have room to grow. Imagine how many mussels have to be scraped off rocks and then transplanted three times and then harvested – to earn a living for a family!
There are co-operatives of these families, presumably in part to be able to afford one of the harvesting boats between them (with the hydraulic crane for lifting the ropes). So there you have it – another useless fact from the Calypso crew.
Another interesting fact (only for those who intend to sail to these waters) is that in Spain you will need a fishing licence to fish in the sea (not required in UK or France so far). Additionally each region issues its own licence and so had we bought one in Asturias we would need another in Galicia.
Paul had researched this before we arrived and had read on various websites and forums that to acquire such licence one has to take an examination in Spanish – unless one possesses a UK rod licence. And so Paul had acquired his £30 UK rod licence, given his limited Spanish and sketchy knowledge of fishing regulations (other than the bass regulations).
Whilst in the UK, however, Paul received communication from Adam, who was the proud owner of a Galician sea fishing licence. "Simples" he reported – go to the fifth floor of "Casa Del Mar" and ask for "Licencia pesca de recreo en mar. You'll be given a form to take to the Abanca bank. Turn right out of the office building and right again – in 300m there is an Abanca. Enter and take a ticket (ideally with an S prefix). Present your passport, the form  and 3.77 euros and they'll give you a licence and receipt"
And it really was that simple – no examination, no need for the UK rod licence and a 20 minute task. Now Paul can sit on the harbour wall practising his Spanish with the other bored husbands. Val doesn't expect the fish count to rise any time soon though!
The office is right around the port, next building on from the old court building that sits facing a park. The Casa Do Mar health centre sits on the ground floor. On the way there you will pass a chandlery ("Pombo") which seems well stocked, but most of the stock is in a store behind the counter. If you have no Spanish our tip is to Google the article you require and show them a picture!
With that gem of advice we end this episode. Other than to include a photo of the port entry "bas-relief" sign with Alice and James' house warming present acquired from the huge El Corte Ingles on the way back from the train station.