A visit home, a wedding and visitors to Calypso
We apologise, dear reader, for leaving you wondering where we have been for a month.
We left Fowey Saturday 16th July 2016 with a good forecast for the 25nm trip to Plymouth. We untied the mooring lines (one taking the strain plus a backup in case of chafe) and left around 10.30, with one hour of adverse tide (but that last hour sees a weakening flow and we were at neaps) and arrived in Plymouth at around 3pm.
The forecast suggested that we would mostly sail, and indeed for the final couple of hours we had a very nice sail after the inevitable couple of hours of the drone of the iron genoa.
Towards the end of Whitsand Bay we heard a "pan-pan" call on the radio (a warning of a developing problem that is not, at this stage, a mayday situation of imminent danger to life). A small motor vessel had lost its engine and was drifting towards the shore – slowly. Having checked the position and found the vessel with binoculars we were relieved to hear, almost immediately after spotting it, another motor vessel in the area offering a tow and on its way from nearby, just as we were preparing to radio the coastguard and offer assistance.
We watched the nearby boat travel across, and after 15 minutes heard the pan-pan cancelled as the engines had been re-started by the rescuer. The party issuing the pan-pan did sound a little sheepish and maybe should try a diesel maintenance course!
Shortly after that we rounded Penlee Point and kept out of the shipping channel to allow a freighter to pass ahead into Plymouth Sound. As we reached the end of Cawsand Bay we dropped the sails as we could see a large regatta in the sound and needed to travel through the middle of it, as well as through a number of non-racing yachts in the Sound. "This is like sailing in the Solent" said Paul. "Yes" said Val, "and imagine what it must be like at the weekend"……………….."It's Saturday" said Paul, but in fairness to Val he knew that only because he had prepared the passage plan and needed to check the date for the tide tables!
We worked our way through the Sound at close to high tide, which meant that we didn't have to pay much attention to the channel buoys and several cardinal (danger) markers – but tried to follow the channel as a matter of pilotage practice. However that was rather difficult given the regatta and more practice is certainly required!
This photo shows a small group racing and a South cardinal marker – there were dozens of yachts racing off to the right but we were too busy to take photos (the green freighter can be seen just to the left of the group, entering the Cattewater where we were headed):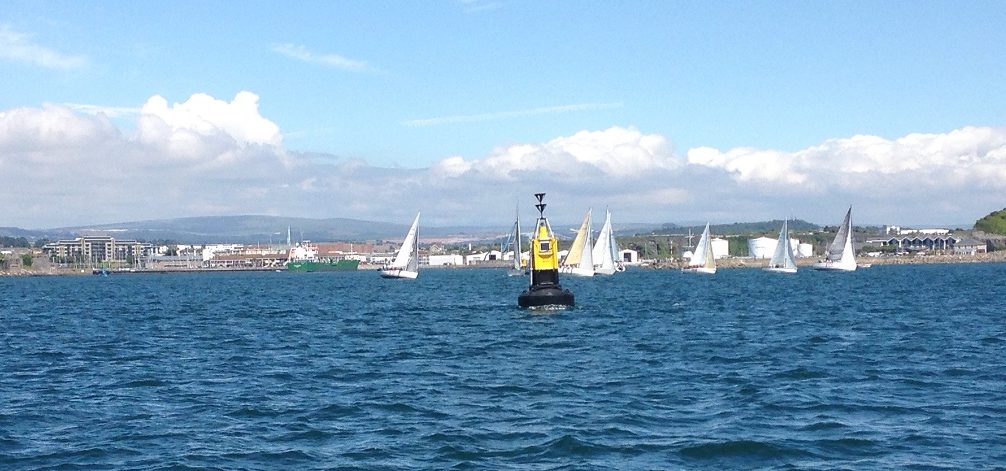 This was a planned stay in Plymouth and we had earlier provisionally booked into Plymouth Yacht Haven for a month to enable us to go home for a wedding and also to welcome guests to Calypso.
We celebrated our arrival in traditional style at the very good Bridge bar/restaurant on site: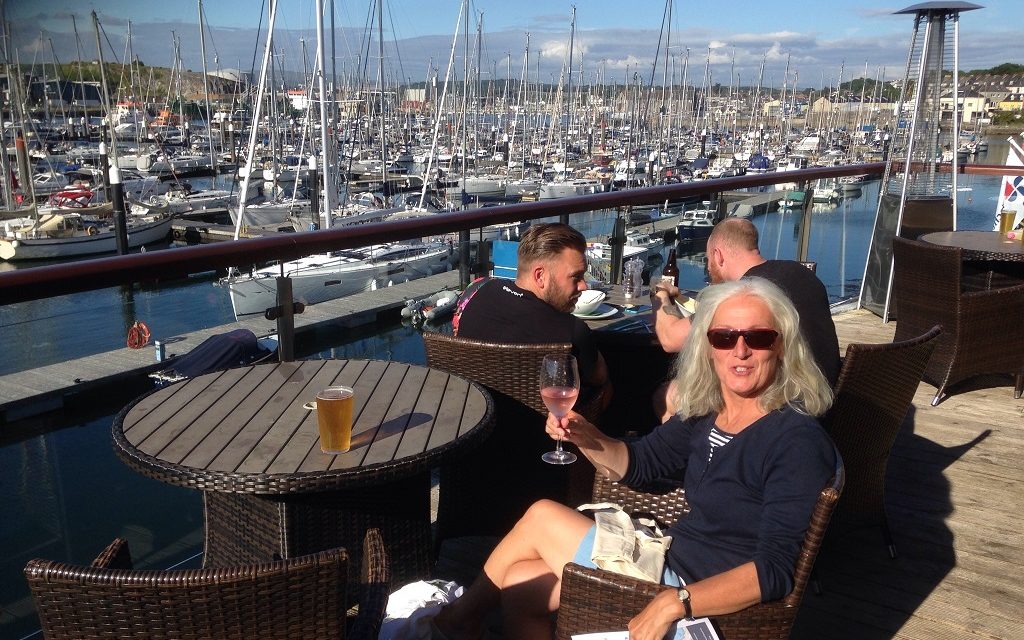 There are several marinas in Plymouth and we had discounted some as they are exposed and pontoons can be bouncy. We had discounted Sutton Harbour Marina alongside the Barbican as we heard that the visitor pontoons are directly adjacent to the Barbican which can be rather noisy (and having experienced rowdy behaviour and smashing of glasses along the Barbican on Saturday night, we were pleased to have avoided that – but some would prefer it as it is very central to the action).  Had we been offered a month at the far side of this marina we may have considered staying there. [Edit – see the next post for our revised opinion after we stayed here for one night]
Plymouth Yacht Haven is on the opposite side of the Cattewater from the city centre and it is a short bus ride to a sizeable supermarket (milk and very basic supplies are available nearby), but there is a good chandlery on site and a regular water taxi nearby runs to the Barbican area from the floating pontoon shown below (£1.50 each way). There is good free wifi (streaming with little buffering), the showers/facilities are first class (visitor Mick claimed to have been subjected to water boarding in the shower – as there is no where to escape the torrent of water for a quiet lather, or whatever!). Security seems good, and we are happy with our choice. One month including water, electricity and water boarding is £56/m (£642 for us).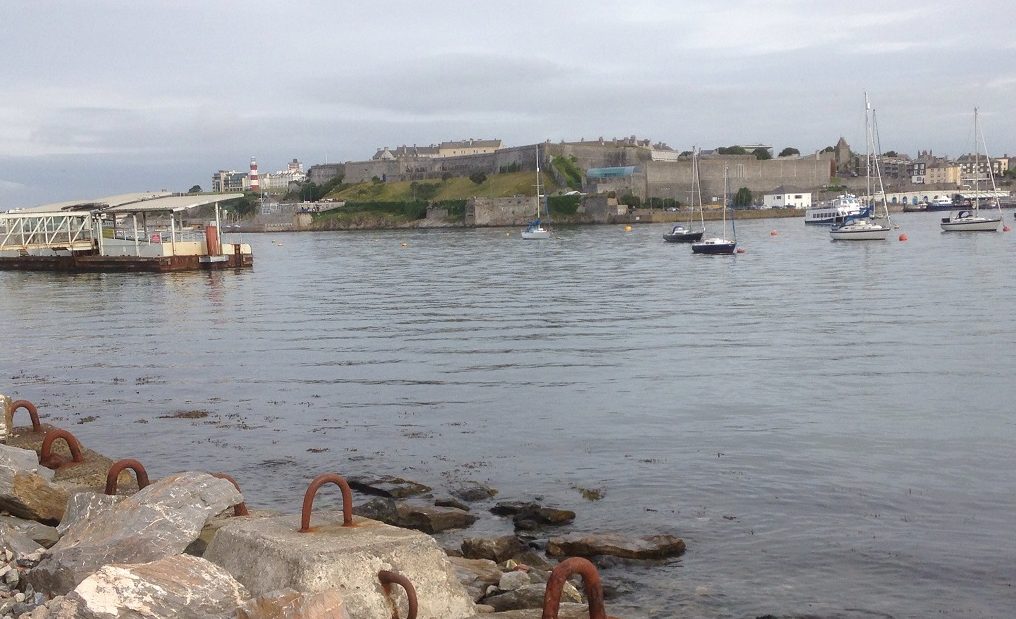 We spent a few days exploring the area before taking a one way car hire home (Enterprise are within walking distance of the Barbican). Paul went for the car whilst Val finished packing, and we realised that the 80 minute separation was the first time we had been apart for more than half an hour since setting off on 27th April. Each of us claims the patience of a saint!! We have certainly had a harmonious crew, which is just as well in a small space…..when we got home the house seemed just HUGE!
At home we had a reunion BBQ with (L-R) Gabby, Jos, James and Alice.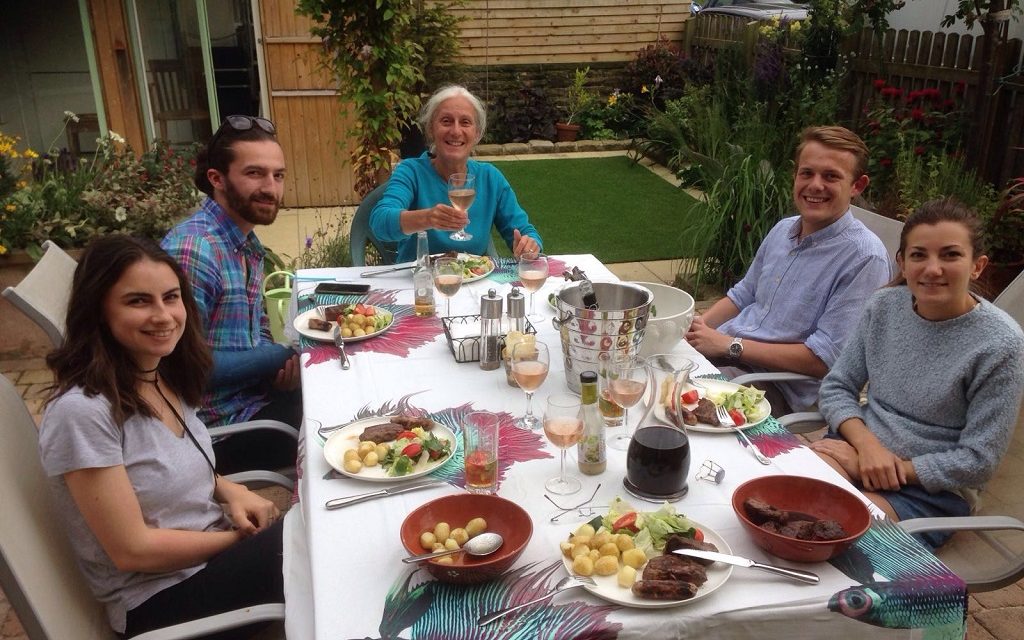 We also had a reunion BBQ at home with 30+ friends and family, not a bad turnout for such late notice; thanks for not forgetting about us! However the main event was the wedding of adopted nephew Dan and his perfect match, Jodie.
The wedding was at the Wold Top brewery on a farm in the Yorkshire Wolds. A spectacular setting and whilst some opted for glamping (here we are with tent envy), we dug out the old 8 man tent and 5 of us (James was torturing himself on a triathlon) enjoyed refreshing our camping experiences.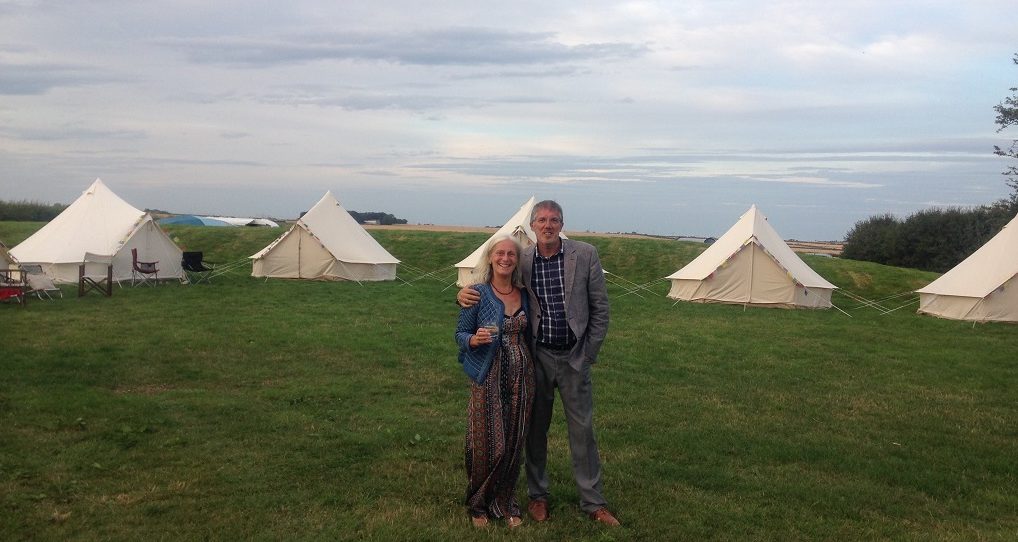 The wedding started at 1pm with fish and chips, followed by a wonderful, unique ceremony, and then progressed through the day with lots of food, great ale and (for some of us drunken..)garden games, followed by more food, a (drunken) fantastic ceilidh, more food and more beer. A truly memorable day, blessed by good weather.
We particularly liked the fact that tradition wasn't strictly followed and so we had a reading by the mums; speeches by both dads; the happy couple not only exchanging vows but also telling each other what marriage meant to them; a speech by the chief bridesmaid and a best man's speech from someone who so obviously loves the couple and wasn't too unkind!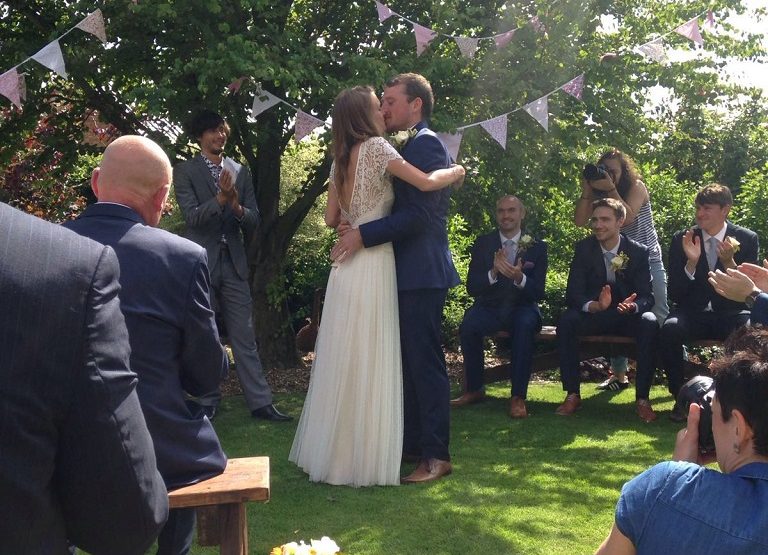 All in all this was a day that made leaving Calypso for a while very easy. That said, originally it was our intention to stay home for just over a week and we were there nearly three! We had a great time at home and this might set a precedent for future years – but by the end of our hiatus we were excited to get back to Calypso and move on. We drove to Hamble Point Marina in Southampton, where Calypso will spend the winter, leaving our car there and taking a one way car hire back to Plymouth.
Before we returned the car the following afternoon we visited the spectacular Royal William Yard, an ex Royal Navy victualling facility, now apartments, art studios and numerous restaurants: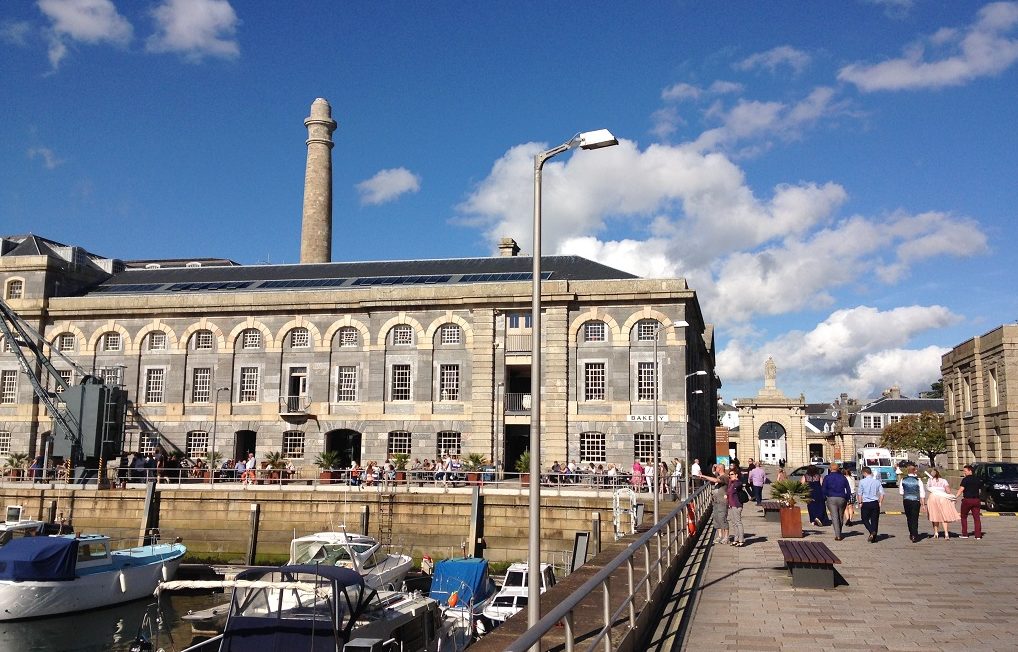 Before leaving Plymouth, we had visits in the diary – firstly a date with Chris (web/blog guru) and Barbara (lovely mad cat lady), over from Spain and who came to visit Calypso for the first time. We had a lovely day and a half with them, revisiting Royal William Yard. We caught the water taxi (runs from the Mount Batten water taxi stand if hailed by phone, but otherwise from the Barbican) and ate with Hugh Fearnley W at the River Cottage Canteen – good value as they refund the water taxi fare. We had a lovely time with the pair before being wrenched apart again – hopefully they will stay longer next year. Oh, and by the way – Barbara doesn't have cats.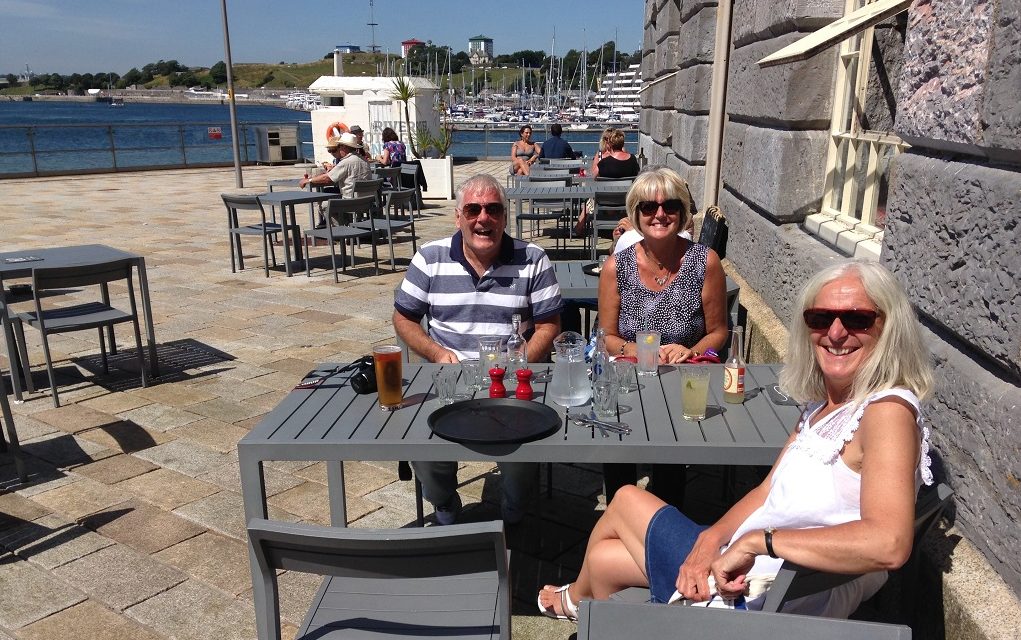 [Val asks Jenny S to note that there was no wine glass in this shot!!]
We had already visited Royal William Yard a couple of times and had seen that the Barbican Theatre were putting on a production of Romeo and Juliet in the Secret Garden at the Yard and so booked tickets for the evening performance on Saturday. Opting for the rugs and cushions at the front, we thoroughly enjoyed the fantastic performance, delivered with great energy by talented local actors (brilliant Romeo here on the right).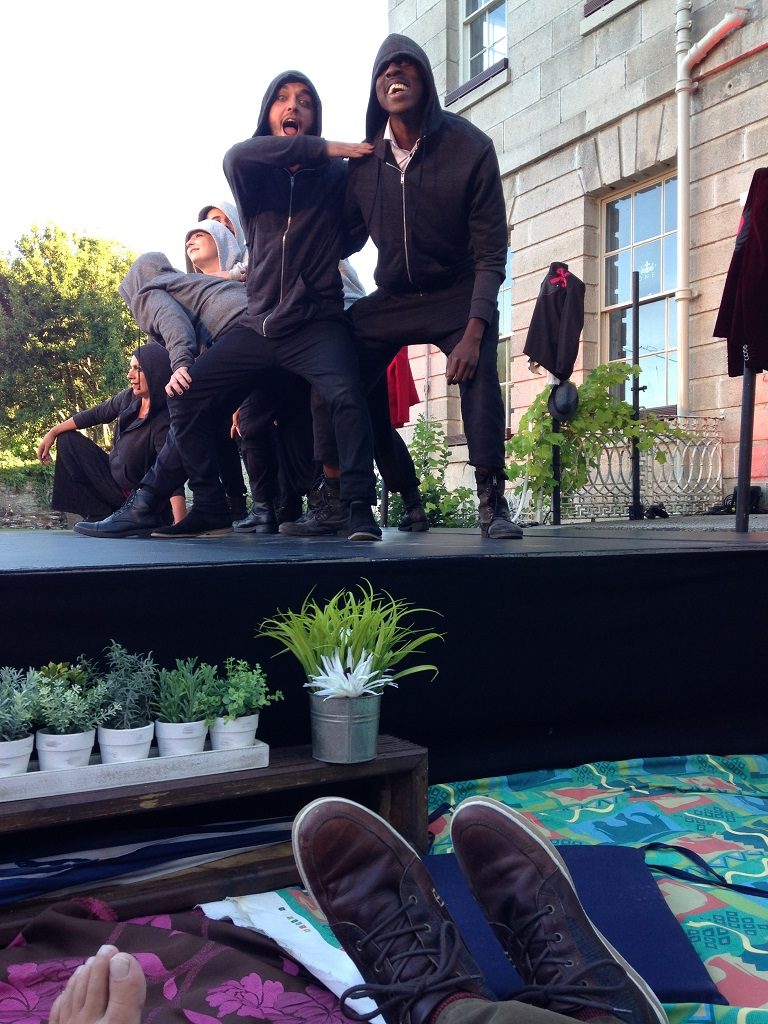 Scenes were linked by acapella modern love songs, costumes were modern, no props (other then masks and a rope) and minimal lighting (as night fell) with the backdrop of an old naval building) all added to the drama delivered brilliantly by the actors. Amazingly the 2 week production had not sold out, in spite of the £14 ticket price.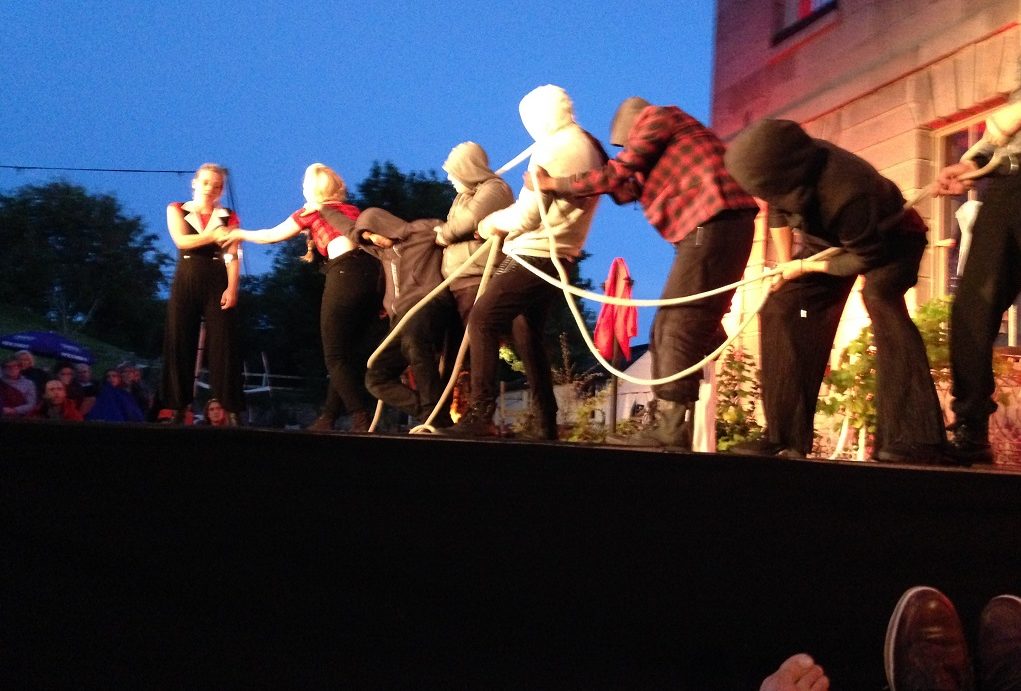 I almost forgot to mention the other cultural event we attended – when walking from the Barbican to the Shakespeare performance we visited the Plymouth Pride festival. Unfortunately we couldn't stay too long as our pre-theatre dinner at Bistro Pierre beckoned, but  were fortunate to experience most of the set of Atomic (or is that Ato Mick?). Outrageously camp and marvelously entertaining; Atomic asked the assembled audience:
"Are there any homsexuals in the crowd?"…………."yeayy" was the low key response:
"Are there any lesbians in the crowd?"………………."YEEEEAAAAAAYYYYYYYY" they ROARED…..
"Crikey" said Atomic "you're all here"………….."so who's driving the buses?"!!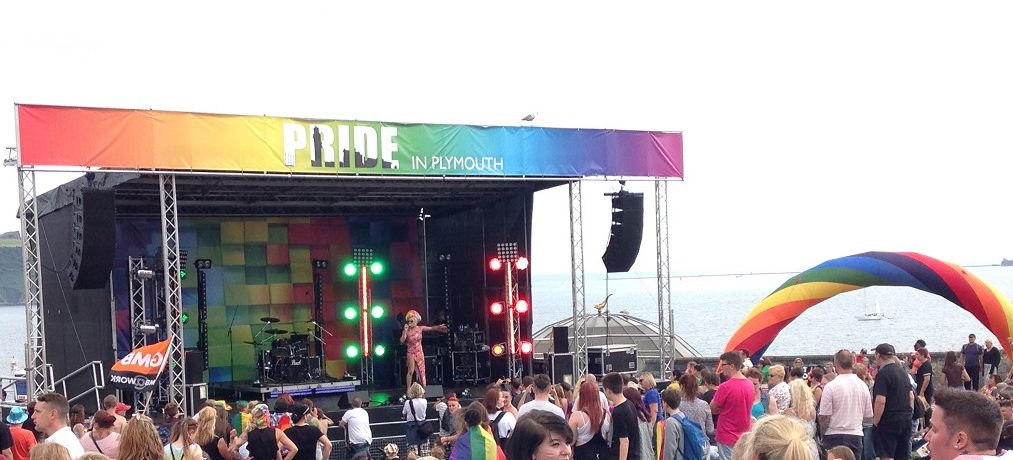 Sorry, back to the tale…
After Chris and Barbara left us we traveled by Barbican water taxi, bus and the Cremyll water taxi (which goes from opposite Royal William Yard as shown here) to meet Mick and Jenny who have a Prout catamaran at nearby Millbrook.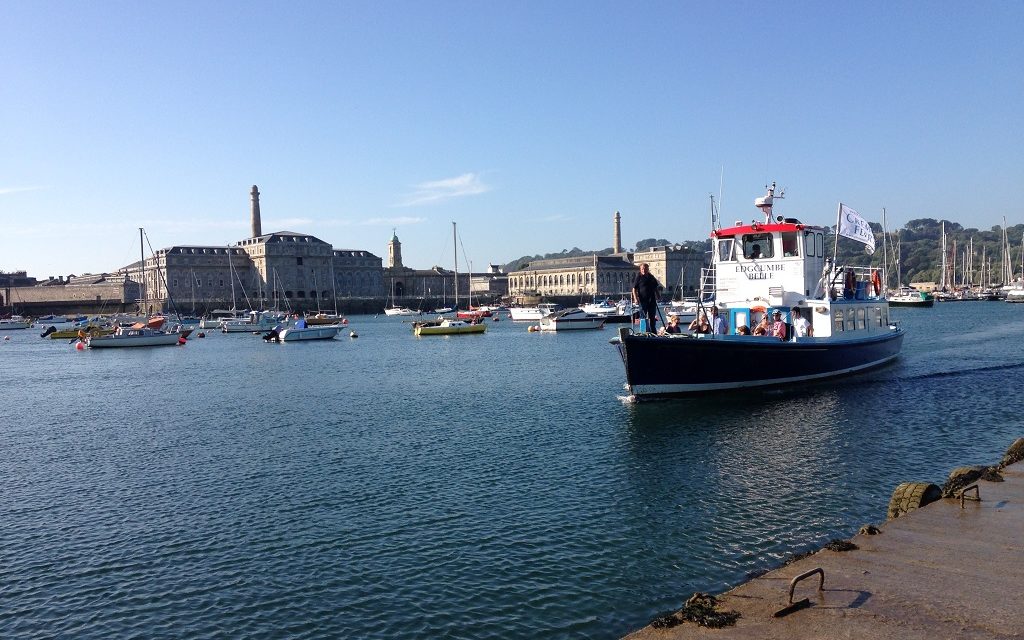 They met us at the ferry and we had a 20 mile hike (Mick later worked it out as 8 1/2 miles – clearly an error – how does he manage at sea?) around the area, with plenty of fuel including brunch in a co-operative run nissen hut high on a hill, ice cream at pretty Kingsand and returning to Cawsand for a cholesterol boosting Cornish (clotted) cream tea. We saw some very pretty villages and some great views;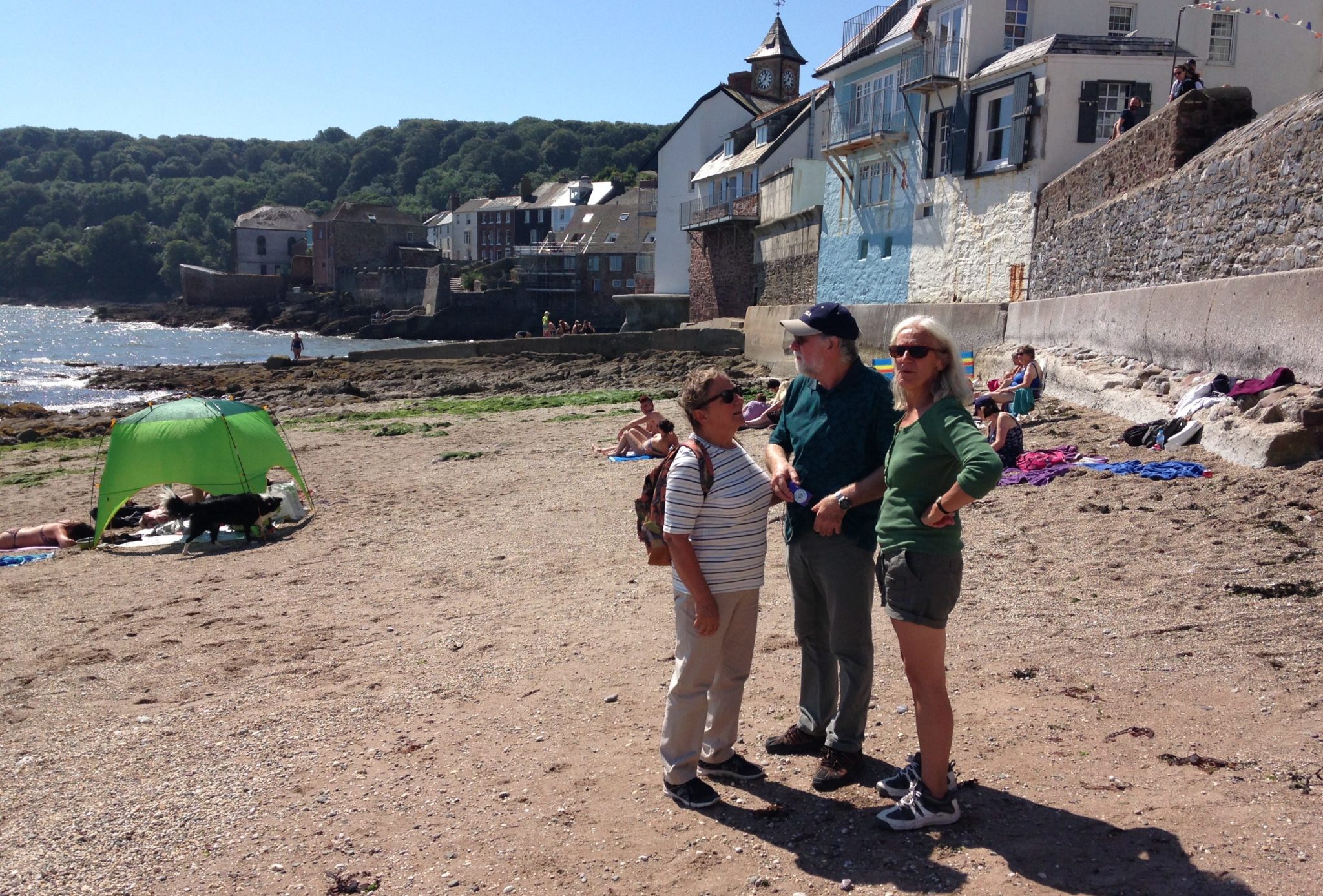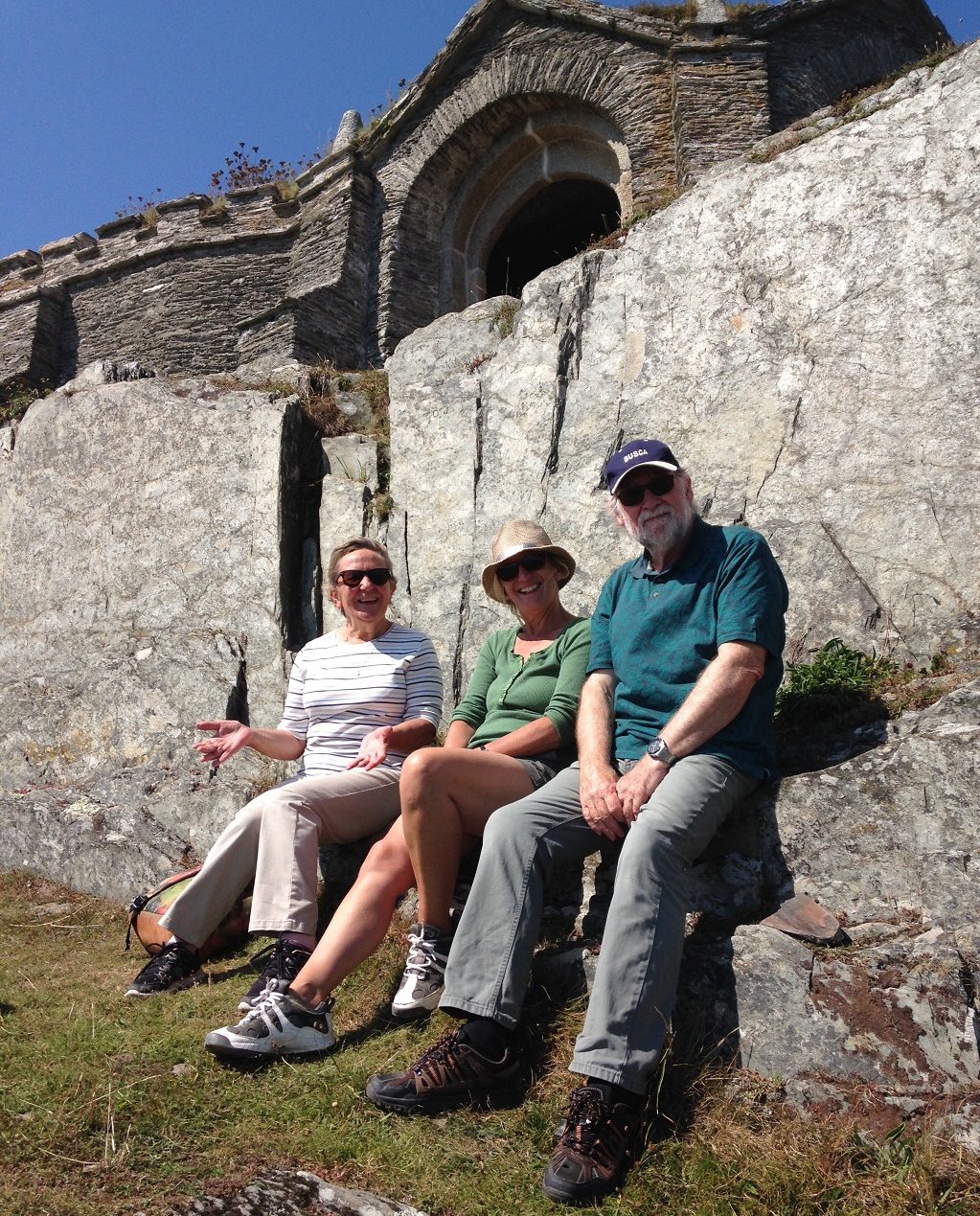 …..before returning for dinner to Busca in her amazingly characterful berth at Millbrooke, with its largely live-aboard community of mostly catamarans, with barges and other craft capable of settling in the mud twice a day: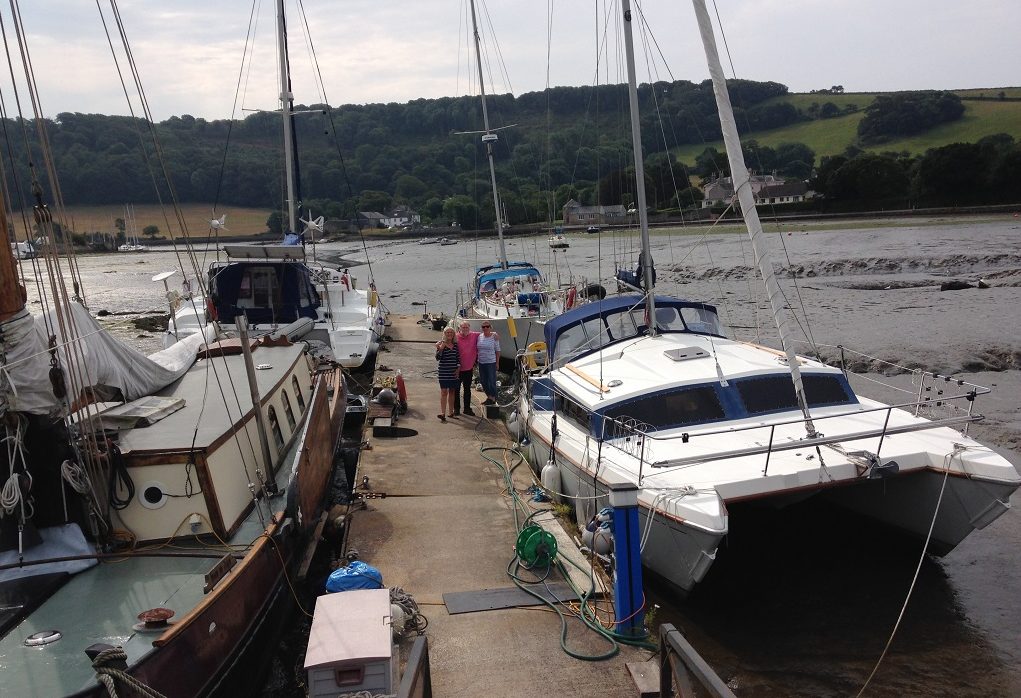 There are floating wooden pontoons in the pool dating back to the Napoleonic wars, interesting boatyards and lots of live-aboards with tomato plants on board and ashore. This is a great place! We slept overnight on Busca and returned the hosting next day on Calypso, where Mick and Jenny commented on the slight rolling motion, which we didn't even notice! On this second day we had opted for traveling by car rather than foot, and visiting chandleries rather than hiking. What's that – we must be getting old you say?? Well that we may be, but there is always Ibuprofen!
We had dinner aboard Calypso and just enough wine to enhance the truly amazing Plymouth Firework Competition on nearby Mount Batten Pier, without hindering our ability to get there. We have a really good video of what we suspect will be the winner (out of 6 entries over 2 nights) on the iPhone – and one day we might manage to find out how to get it off the phone and on to the U Tube channel!
We had a lovely few days of visits, thanks M&J for showing us the sights.
The socialising was not yet ended, however, as we had a visit from Kevin and Mary of Dreamcatcher 2, a Moody 40 moored opposite us. They had spotted our Moody Owners Association pennant and came to introduce themselves; and to find out if we were aware that there was a Moody Owners muster ongoing in the marina. We were not aware, but Peter, the organiser, kindly managed to slot us in at late notice for the end of muster dinner at the Copthorne Hotel – with minibus transport laid on from the marina tonight.
We had paid up in the marina for a months' stay which has now ended, but we are expecting very high winds this weekend and so are staying put in the good shelter afforded here. We do feel to have grown roots again and need to move on if we are to see much of Devon; but the winds are building and the rolling motion of the boat is increasing, along with the howling of the wind in the rigging – we are in for an interesting 24 hours!
Must go now to add a couple of mooring lines!!
Distance traveled since leaving Kip: 586nm