A flying visit…..then to Greystones
Alice leaves and a fog descends………..
Thanks to Mr O'Leary's steerage class airline Alice was able to pay a flying visit – after work on Sunday, arriving midnight Sunday and departing Tuesday 5pm – for the princely sum of £20 (return!). The coach from the airport was 16E return, so all in all a cheap visit………………or not!
In a short space of time we visited the James Joyce museum (whilst walking to Dalkey where we); had lunch at Finnegans, (where Michelle Obama had lunch with Bono); had a wander around Dublin and "did" the obligatory Guinness visit.
Dalkey is a lovely small town/village; an affluent commuter suburb of Dublin, where good restaurants, bars and deli's abound. Finnegans isn't the poshest in Dalkey but it has lots of character and the food was good.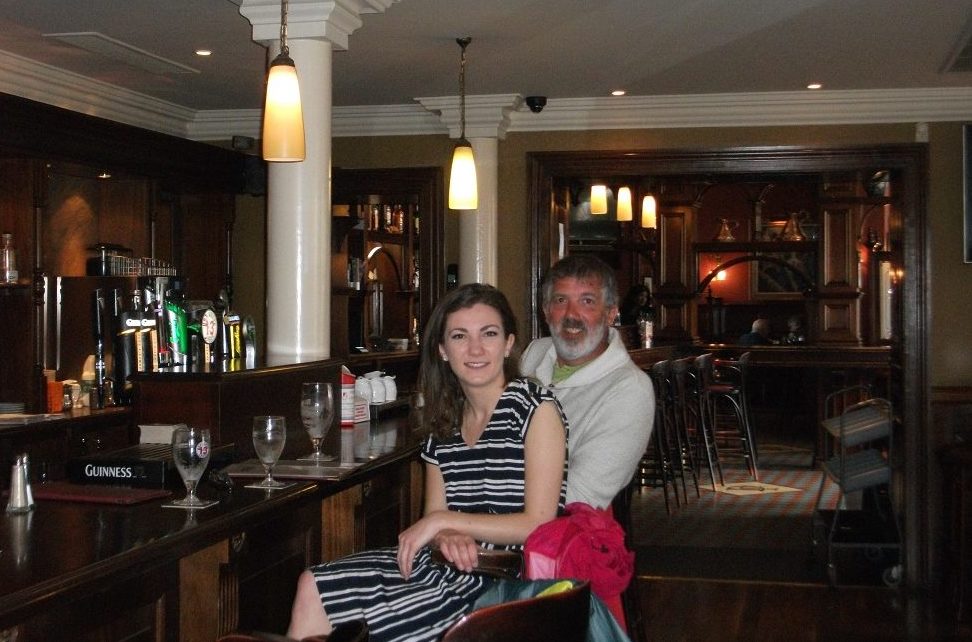 It was raining when we went in but beautiful weather when we emerged: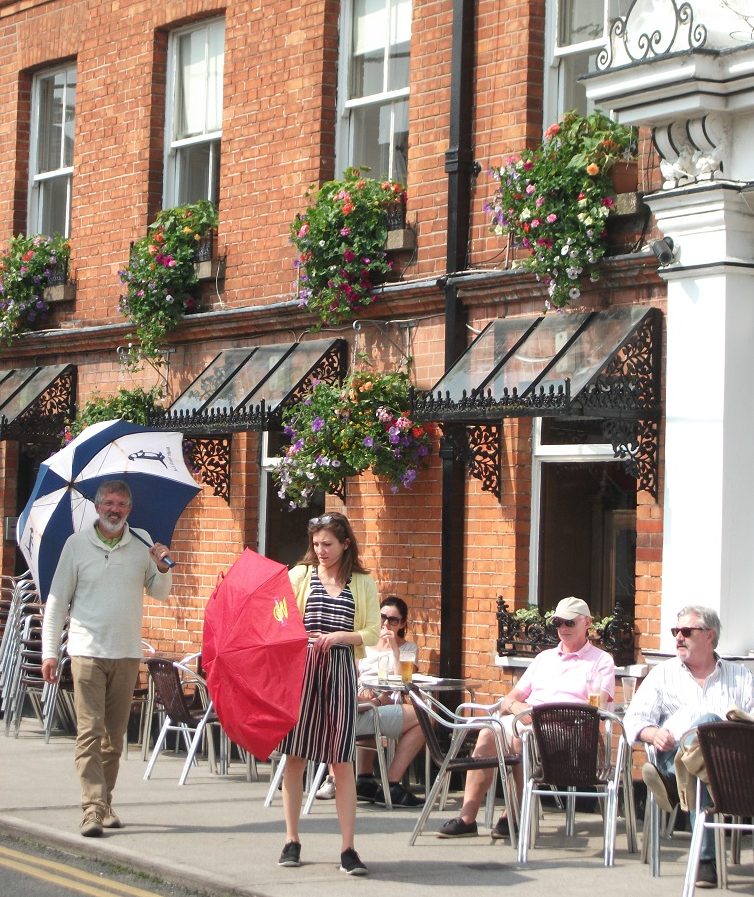 We had good weather on the walk home, lovely to have family with us after 6 weeks with no familiar faces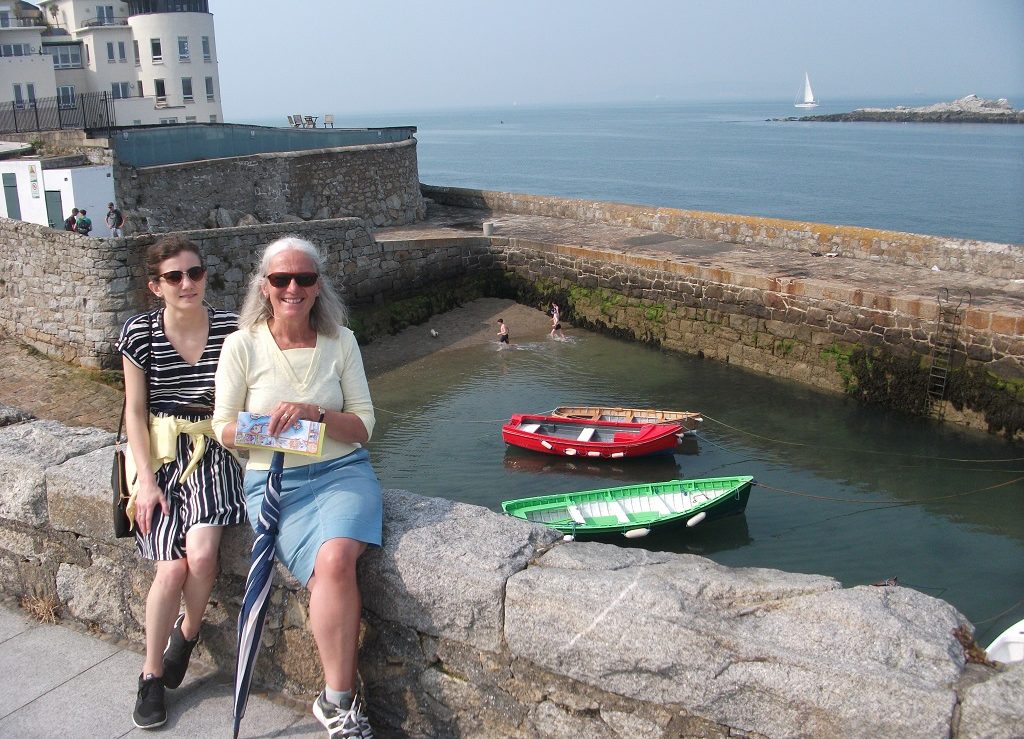 That said, we have had no real falling out – when Val gets a little edgy I just send her here (fortunately it tends to work much better with Val than for this grumpy lady):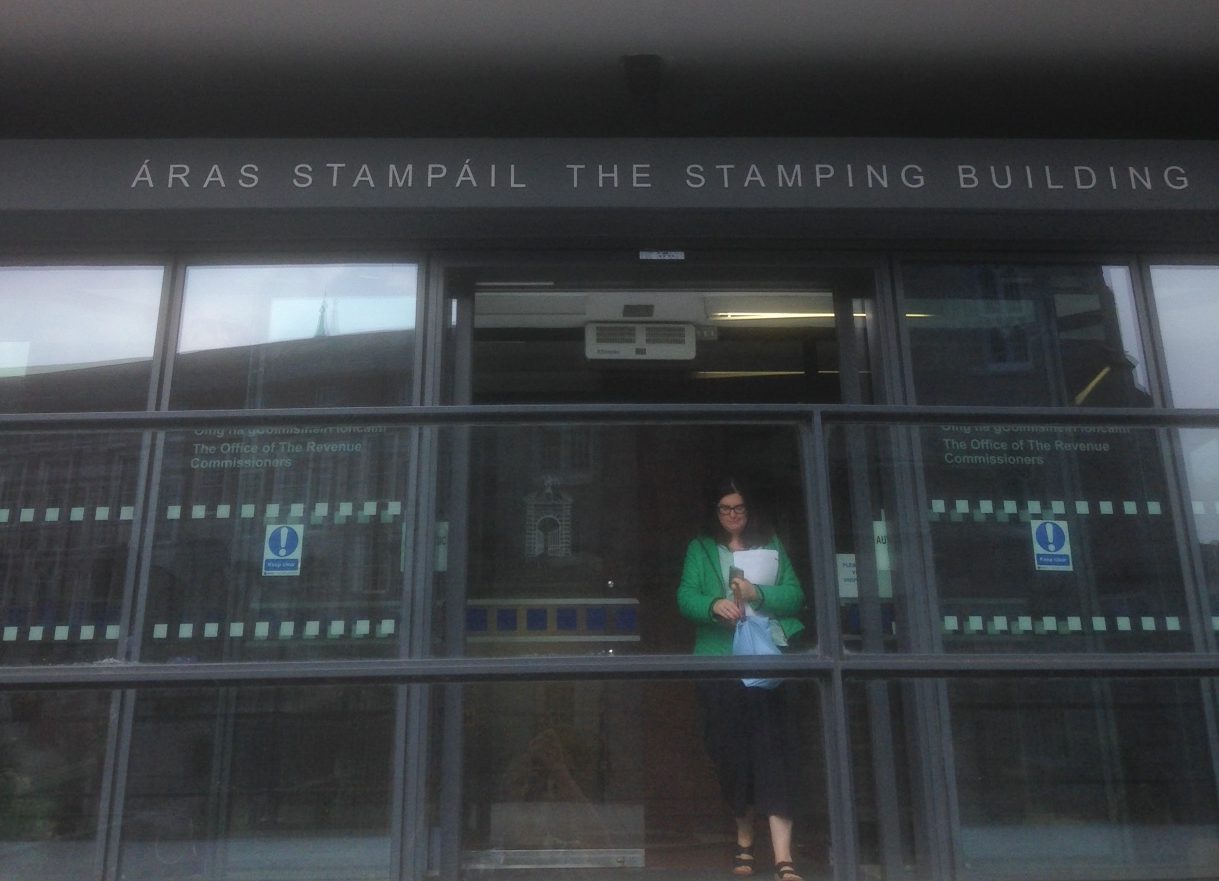 After the long walk home we worked up an appetite and got the Cobb out – along with apple wood chippings to have a smoking session. Alice enjoyed the hot smoked salmon but strangely rejected this body part (lots of prize points for the first person to guess what it is – answers on a postcard please)………..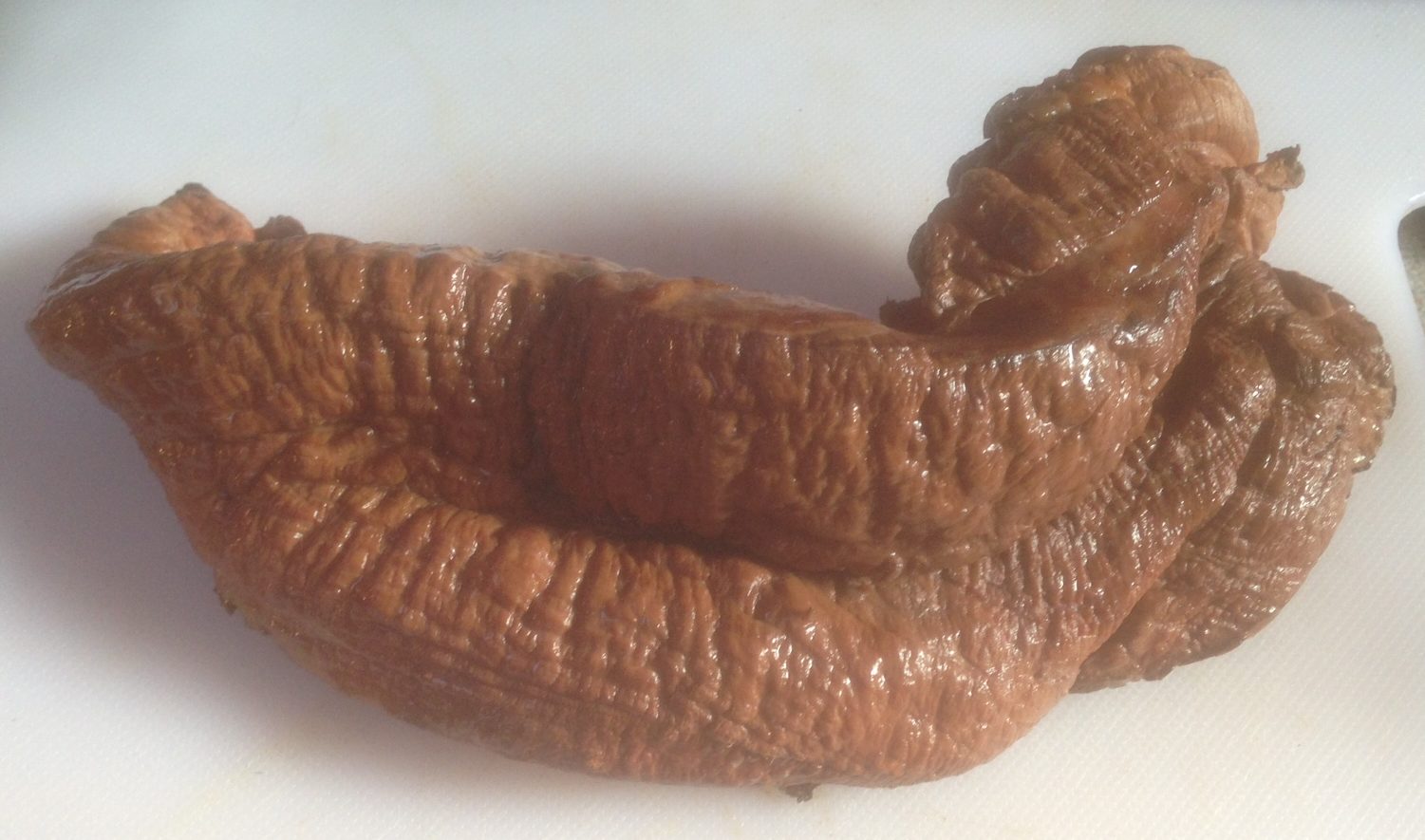 Next day and it was off to Dublin on the Dart. We had a wander round the city centre for a short while but the main event was Alice's Daddy's Day treat – a visit to the Guinness Storehouse – an exhibition of the story of Guinness and how it is made. All very interesting, and topped off with a pint of the oh so creamy stuff in the "Gravity Bar" on the seventh storey overlooking the brewery complex and with 360* views of the whole of Dublin:

Paul found yet another good reason to get rid of the beard: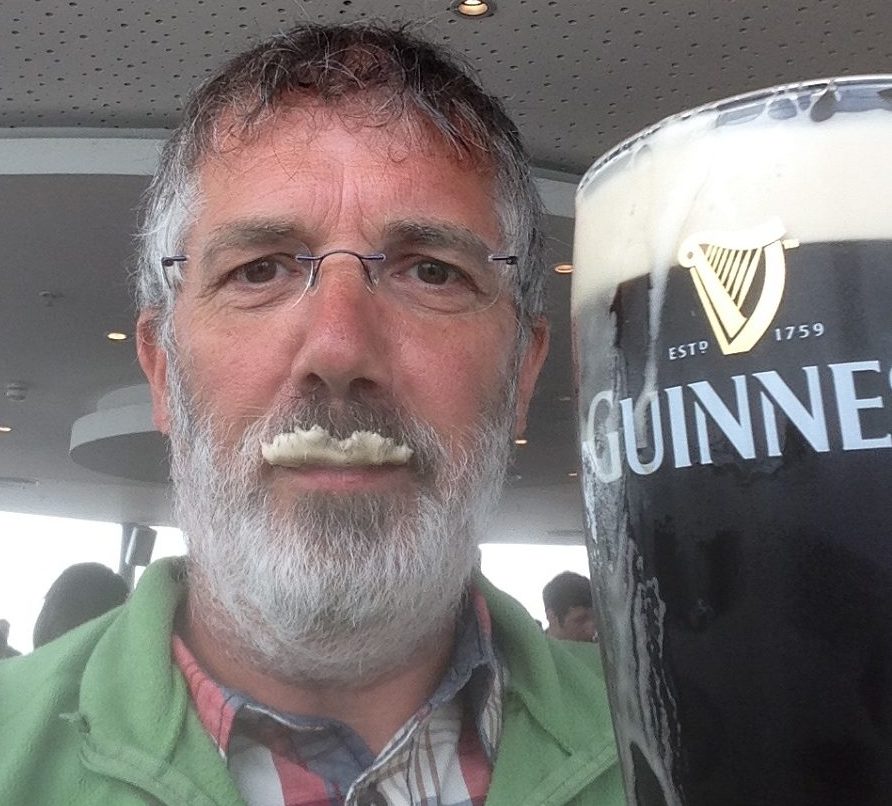 We had lunch overlooking the old brewery buildings: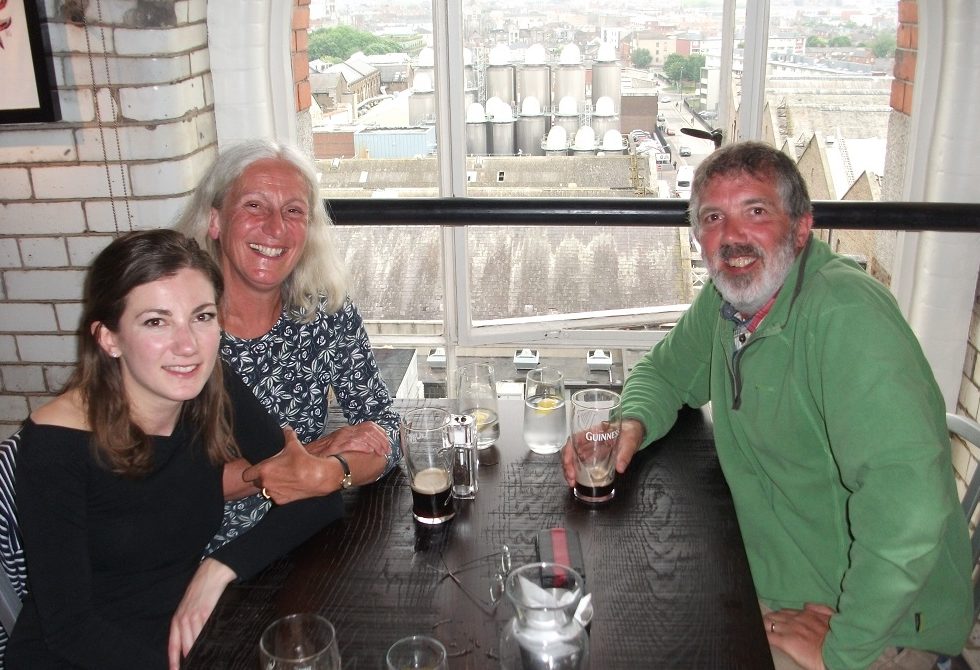 Posting this photo shows just how brown we are living outside for much of the time – or is Alice just a tad pasty? Maybe a bit of both!
The flying visit came to an end all too soon, and we waved Alice off from the central bus station, went back to the boat and started preparations to move on the following day after exactly 2 weeks.
For those who follow, the Dublin marinas have a daily rate around 3.60E to 4.00E per metre per day, but the weekly rate seems to be fairly consistent at 18E per metre per week. Before we left we topped up with diesel. This was the first opportunity we have had to properly test how much our engine consumes, as we had recorded the number of hours of motoring since we last topped up (approx 19) and had not used the diesel fired blown air heating system. We anticipated around 2.5 litres per hour – and had used almost exactly that. That is effectively around 10 nautical miles to the gallon, give or take. This is particularly pertinent to our intention to cross Biscay next year – we have heard of people having to motor the whole way in a millpond – 3-4 days, so we should know how many jerry cans to take to supplement the 40 gallon (160L) tank.
We ventured out of Dun Laoghaire harbour and very quickly went from hazy sunshine to thick fog. In spite of having forgotten how to use the radar (the manual is helpfully buried – must sort that issue) we carried on – and got out the hand pumped "fog horn".
I use the term loosely, as the foghorn booming out from a large (sounding) boat on a parallel course (assumption, based on sound and knowing where the shipping lane is) made ours sound like a pathetic squeak! We also passed a ship at anchor ringing its bell every 2 minutes, as required.
We saw none of this, of course, as the visibility at this stage was well below 100m. This was our first experience of thick fog, and it was good to put the classroom theory into practice. Schoolboy error though – we forgot to hoist the radar reflector! Maybe next time………
We were both on lookout duty as visibility fell to 60m or less – and at this distance the black lobster pot markers loom very suddenly indeed – getting one wrapped around the propeller can be dangerous (whilst we did fit a rope cutter, they are not infallible).
Fortunately the distance to our next stop, Greystones, was only 12nm and without much in the way of hazards. The question we were asking ourselves was how easy would it be to find the harbour entrance when we got there? The chartplotters are normally very accurate, but with 50m visibility??
Fortunately visibility improved to a few hundred metres by the time we got there. The entrance to the fairly newly constructed harbour was very easy, and there is plenty of room around the visitor pontoon.
Here is Val celebrating our arrival in customary fashion, with fog/mist clinging to the hill behind her: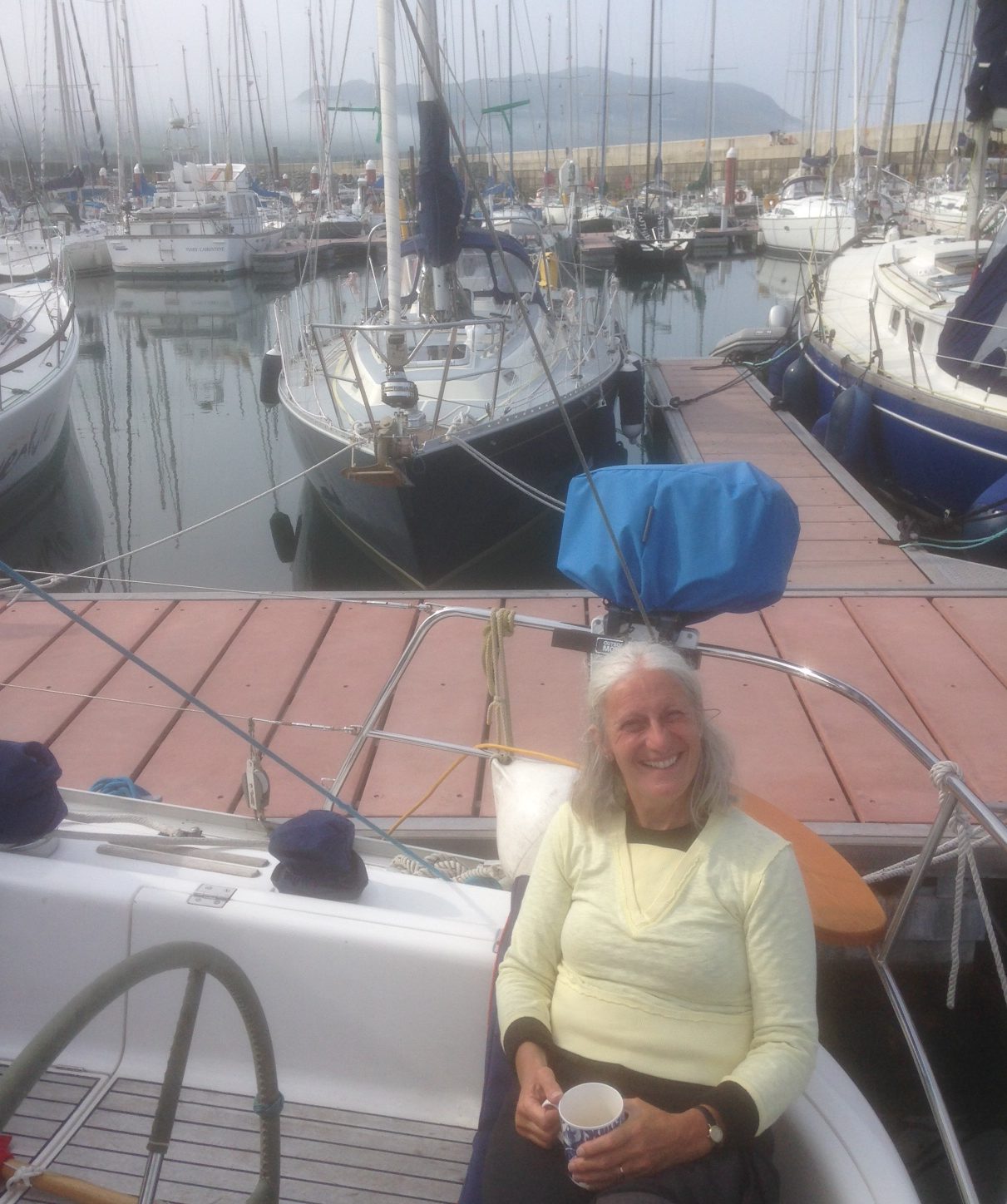 Greystones is a nice small town with good restaurants – especially The Happy Pear – a really good veggie/organic shop and "cafe" serving great lunches – we would be happy as veggies eating their food………….until, perhaps, the cork is pulled on a good bottle of red!
Mackerel fillet has been bought as fish bait – and Paul's natural hunting instincts are kicking in. The white is chilling in the fridge – watch this space!
Whilst on the subject of the fridge – the controller/cold plate/compresser are original equipment; working perfectly well for the last 3 years but due the be replaced with a more efficient system as part of the winter fit-out for warmer climes. Well literally 2 days after moving aboard the fridge had a major sulk and we have had to buy ice to keep the beer cold and the salmonella at bay.
A refrigeration engineer pronounced the system beyond economic repair, and so today Paul purloined a large block of polystyrene (hum along now……..underground, overground wombling free………..you get the drift) and has been cutting it to shape to squeeze around the built in cool box – good practice for a permanent solution (with less flammable material) over the winter. He did attack the control panel/circuit board with a total lack of expertise but a lot of enthusiasm and a big hammer – and actually got it running for long enough to save us one ice euro today, but after the initial shock it was back to sulk mode an hour later. Maybe an even bigger hammer…….?
Same Dublin rates apply for berthing at Greystones, in spite of relatively limited facilities and a distinct lack of washing machine – prompting Val to put the emergency washing machine into action for the first time – twin tub garden trugs for warm wash and cold rinse, and a modified toilet plunger as a washing dolly – ingenious if we say so ourselves – and very effective. Here's the scrubber in action: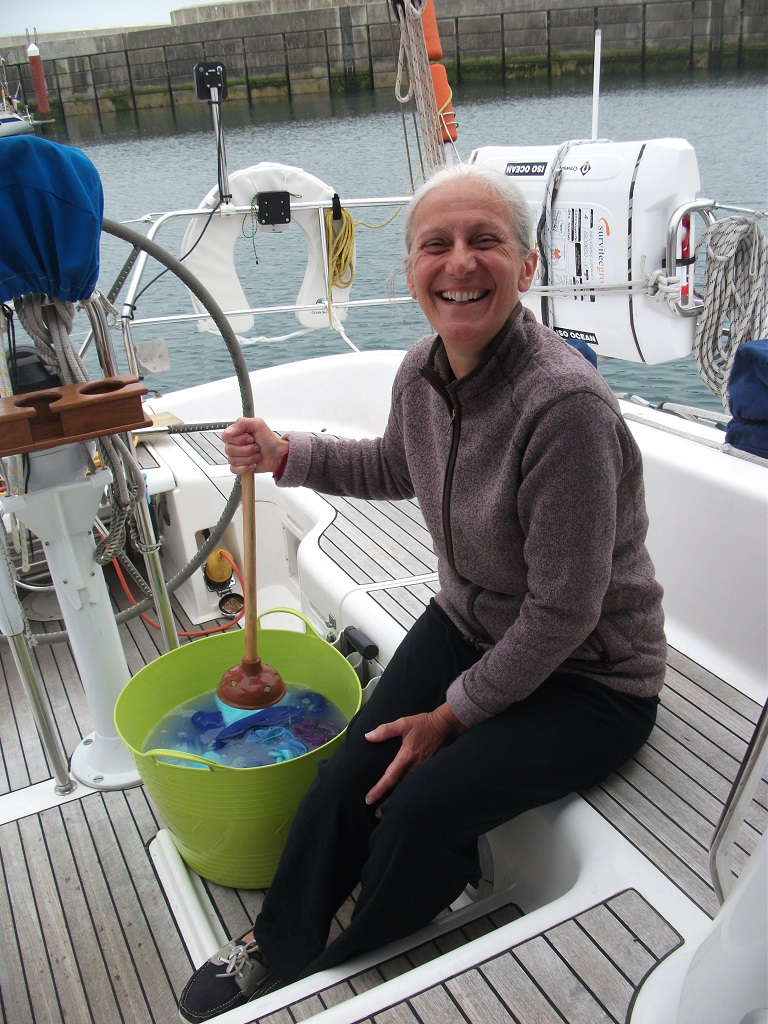 We are hoping to be here a few more days before hopping down to Arklow and quickly across to Milford Haven. We are watching the weather carefully as Arklow to MH is an 80nm crossing.
Distance since leaving Kip Marina 264nm