Back to Xufre For Boat Prep. and Launch
….with a bit of tourism thrown in!
We had barely scratched the surface of the Spanish Rias and loved what we experienced last year – and so this year we will begin and end the season at the Xufre boatyard. The first part of this post will bore the pants off non-sailors (and probably most sailors too!) The touristy bit follows at the end.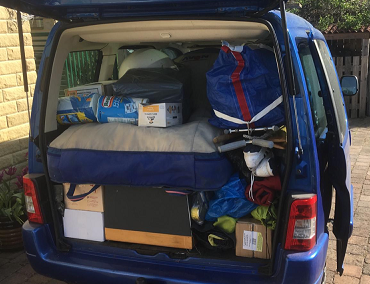 As we could leave a car in the boatyard for the summer we loaded the van with loads of stuff – clothes (less than we brought home but no doubt still too many), camping gear for the end of season trip and lots of boaty stuff acquired over the winter – new  dinghy, water mist fire extinguisher, servicing parts, eBay bargains including  a launch bag for the cruising chute that had a shape that would better fit through cabin doors, various cordage, hatch covers, even MORE fenders – not that we're paranoid about the parking abilities of others (it's never us getting it wrong of course!)
During the winter we had arranged for Crusader Sails of Poole to make alterations to one of the old genoas that we had inherited with the boat. It was a Hood Vectran genoa, very slightly shorter footed than the Dacron genoa we had been using, which by now will be 12 years old, and which would very occasionally chafe against the shrouds when pinned in tight. The original owner had raced Calypso and the prognosis from Crusader (who had the sail collected by courier) was that the sail was at a stage where a dedicated racer would replace it, but being of strong (and expensive) Vectran cloth it would serve a dawdling cruiser good few years more. It was one of two genoas from the original owner – this one was less used than the other (a number one genoa, slightly longer footed than our old Dacron sail). As a racer the original owner had neither sacrificial strip nor foam luff added, and these were fitted by Crusader. With laundry and a couple of very minor repairs the bill was just shy of £500, but we had budgeted around £3k for a new genoa and so that was a result. We are now discussing a new replacement main sail with Crusader – a fully battened Vectran sail with 3 reefing points will come in at around the £4k mark – and will be made in their Poole sail loft rather than one of the facilities in China used by many these days. We will remind ourselves how the 22 year old original Vectran main performs before making the decision.
Also in the back of the van was our new Featherstream feathering propeller from Darglow. We have struggled with what we believed to be the wrong propeller for 6 seasons. The previous propeller was condemned at survey when we bought Calypso and was replaced with a 3 blade Volvo folding propeller. 
We had always struggled to get 4 kts at 2,400 rpm – only achieving that in flat water or with a following tide. We should ideally see 6+kts. Consulting forums and friends, wondering whether a slipping clutch could be the issue, we finally took the view that the propeller was wrongly specified (unfortunately the supplier went out of business soon after fitting it) and we would need to change it.
Darglow Engineering are viewed as THE experts in the UK for correctly sizing propellers to the boat specification and we had sought their advice.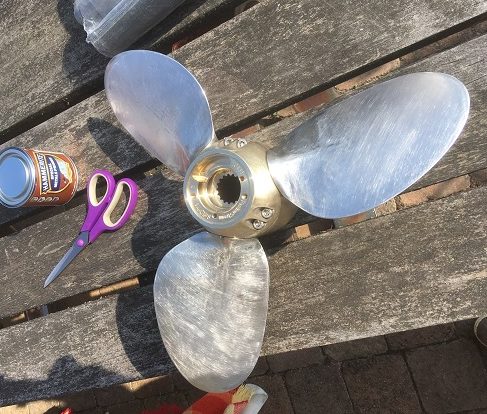 The Volvo folder was 17″x 12″ (diameter times pitch). Darglow say that they would have specified 17″x 13″ for Calypso, but given all the extra weight we had added, and our experience of seeing only ever 3.5kts along the North coast of Spain, they suggested that we "overprop" the engine and go for 17″x 14″. This would see engine revs at wide open throttle drop from 3,600 to 3,000 rpm, but we never use more than 2,400rpm anyway. The question will be whether the 39hp engine will cope with the extra demands of 2 extra inches of pitch?
In case it won't, Darglow supplied a separate pitch cassette set at 13″ of pitch which can be easily swapped – when out of the water (a lift and hold in the slings for an hour will cost in the order of £100, not a great cost when compared with the nearly £2k cost of the propeller!) At the end of the season we will return one or other of the pitch cassettes for a refund of the £85 cost of the spare one. Many people seem to swear by the Flexofold range of folding propellers, but once the pitch is specified then it can't be changed without a new set of blades (at a likely cost of over £1k). We have read many good reports of the Featherstream and particularly regarding manouevring in marinas, so the final decision in favour of the Featherstream was easy.
The lovely shiny propeller has been roughed up with sandpaper (as shown above) and degreased, ready to receive 2 coats of Hammerite Special Metals Primer and 3 thin coats of Velox antifoul paint – as recommended by Yachting Monthly contributer Vyv Cox – who very kindly responded to e-mails submitted with a couple of queries (like us he is also a member of the Cruising Association and contributes to forum discussions, which is where we found his preference for Velox, and using Hammerite rather then the much more expensive Velox primer.)
We will post the state of the prop when we lift out in September, and do a direct comparison with that of John and Debbie on Shiraz who are using Silic-One for a similar timescale in the same waters of the Spanish Rias this year.
Also in the Berlingo was our new dinghy – the old one had failed at the seams, largely due to being tightly folded up for over 2 years without being inflated. The failures occurred on seams at the creases and whilst repairs slowed the dramatic leaks we began to experience last year, every time we repaired one leak another appeared. The new (to us) dinghy is a 2.6m Avon "Rib-Lite". It has a hard bottom but a folding transom and folds into a padded bag for easy stowage.
We sourced it from Ivan Burdfield marine in Warsah, Southampton after spending a very pleasant mini-break in Hamble, staying at the Royal Southern Yacht Club (sourced via Booking.com!) Ivan trades in used dinghies and outboards and has a good stock – many more than shown on his website, but they only hit the site when he has prepared them for sale. The website can be found HERE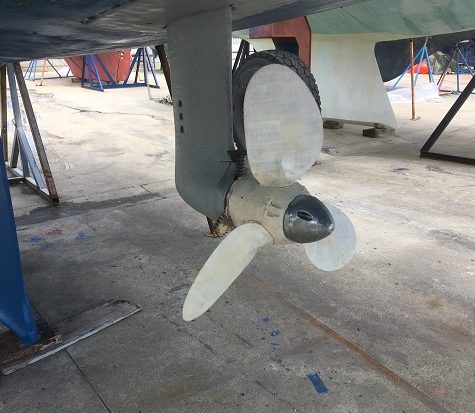 What else did we bring? Less clothes than we took home at the end of last year but no doubt still too many! Wine (coals to Newcastle but we had to reduce the wine lake at home!), books, DVDs, a better sewing machine (a version of the  robust Reeds Sailmaker), experimental bow ladder and bowsprit sourced from eBay (both gambles, but more on whether those work later) and various o-rings, cordage and bits and pieces acquired over the winter.
We arrived at Xufre after a night in an hotel en route from Santander to be greeted by the always friendly staff as well as John and Debbie on Shiraz who were in good spirits in spite of weeks of sanding and varnishing their beautiful yacht! And in spite of rain – a short break in a period of warm and sunny weather that would return the day after our arrival.
We had around a week to go to our intended launch date, but arranged with Nito and Alex that we would delay our launch from 2nd to 6th May due to high winds forecast for that part of the week. In some places this would require major head scratching and be an obvious inconvenience to the yard. Not here though where nothing seems to be too much trouble. In fact Nito offered to take us to meet his friend the local mayor to explore the possibilities of our acquiring a Spanish residency (non-tax paying if we stay less than 183 days a year). We are very keen to explore that, but with the delay in Brexit proceedings we will investigate further and may take up Nito's kind offer in September.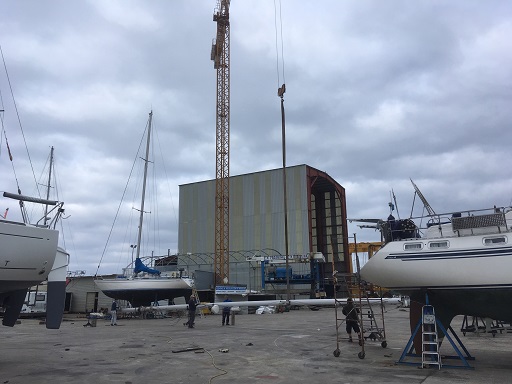 The Xufre yard is a great place to work on the boat. The surface is well drained smooth and level concrete; so if you drop a small part you usually find it, balancing ladders and trestles on the surface gives a sturdy platform to work from and you can keep clean and dry footed. It's also much easier to avoid dragging mud and grit up the ladder onto the boat.
There are trestles and stair platforms shared around the yard, very long hosepipes provided, many electricity outlets and a small on site chandlery stocking a comprehensive range of nuts, bolts, washers and widgets plus a basic range of paints and antifoul products. And if they don't have it they'll get it for you.
There is a fixed tower crane with very high jib for removing the tallest of masts – the photo shows the mast of Charles and Di's 42′ Nauticat being removed – Charles said that he had struggled to find somewhere to take the mast down previously.
We had the Berlingo with us, but for those who don't the yard has a car for clients to use to go shopping. They will collect and deliver from/to Vilagarcia rail station with good links to Santiago de Compostela and its airport.
With good security provided by a fence and two German Shepherds (alert and barking at strangers but friendly with those in the yard), this has been a good place to winter the boat, and we paid our deposit to secure our place for next winter (after which we intend to continue to head South).
Here is the annual photo of Val in her glamorous outfit, painting Calypso's bottom and giving herself a blue rinse in the process.
Val also cleaned inside the boat and polished the stainless steel, topside gelcoat and all fenders (it's annoying that the marinas round here have black bumpers on the pontoons that leave a residue on the fenders in short time).
Paul re-affixed the solar panels, finished the engine service he had started last year – 2 new fuel filters, gear oil change, new impeller (the old one was hard to get out which might explain our problem detailed below – normally he would remove it at the end of a season rather than leaving it in situ over winter). He polished the hull, re-affixed the chartplotter under the sprayhood, checked all through-hulls/seacocks and put outboard, buoys and liferaft out on the stern rail.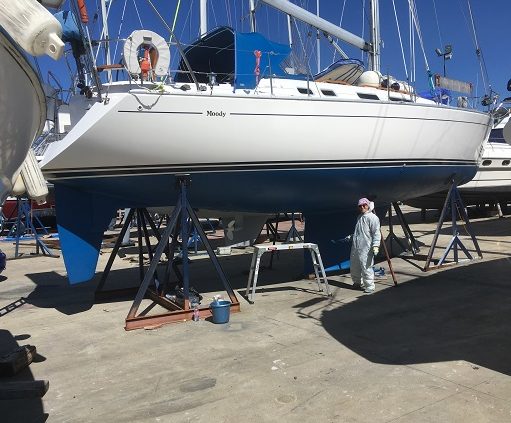 Together we tidied and re-stowed "stuff" inside, checking and amending our stowage lists as we went. There are so many stowage cupboards, lockers and pockets of space around the boat, and so many bits and pieces that we carry that it is essential that we keep such a system. Otherwise the two minute job of replacing an o-ring can turn into a two hour search and much frustration!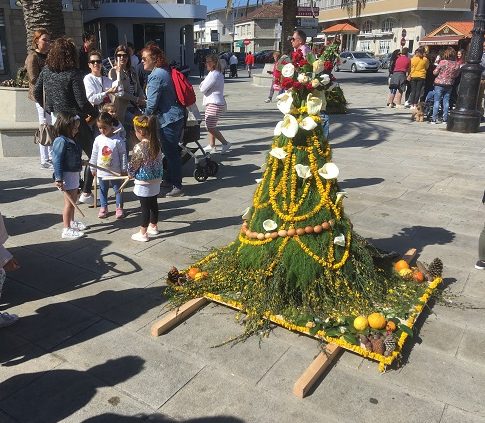 We visited Cambados on a second day, exploring a part of the town we hadn't seen before and visiting the Saturday market, which was very good.
All of this work took several days, but in and among we took a couple of days of to explore the area by land, taking advantage of having the car. On Wednesday 1 May (a national holiday) we wanted to visit the O Grove peninsular at the entrance to Ria Arousa. Alex recommended a coastal walk and Nito rang his friend who lives in O Grove and got a restaurant recommendation for us.
We stopped in Cambados on the way to use an ATM and came across a small celebration. Pipers were warming up behind the town hall and people were gathering in front ready to process floral figures bedecked with yellow broom flowers. Children had percussion sticks, there was much chattering and excitement – but we had to move on or abandon our coastal walk and lunch plans!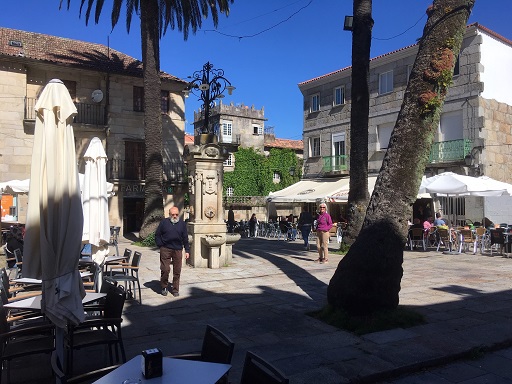 As we drove on the 1 May holiday we noted that every other car had a spray of yellow broom flowers tucked under the wipers or springing out of a grill. Unfortunately 5 minutes of googling has left us none the wiser!
We parked up in San Vincente Del Grove, a tourist resort, and found the start of the coastal path at the West of the resort as described by Alex. It was certainly worth finding. The path began with a mile or so of wide timber board walk snaking through rocks and behind small beaches.
This gave way to a well-trod path among enormous boulders, and alongside a military zone. As described by Alex we came across huge gun emplacements, the guns themselves now starting to rust, but pointing back to less settled times:
Back to the car we moved on to the port of O Grove. It looked interesting enough but we were ready to eat rather than explore, and so we found restaurant Solaina, as recommended by Nito's friend, and enjoyed an excellent lunch in this busy restaurant which was certainly worth seeking out.
We drove back via the vineyard-filled undulating landscape around the Cambados area, famed for the Rias Baixas Albarino wines. We might have stopped to buy – but as it was a national holiday nowhere was open. Just as well given the wine lake we already carry aboard!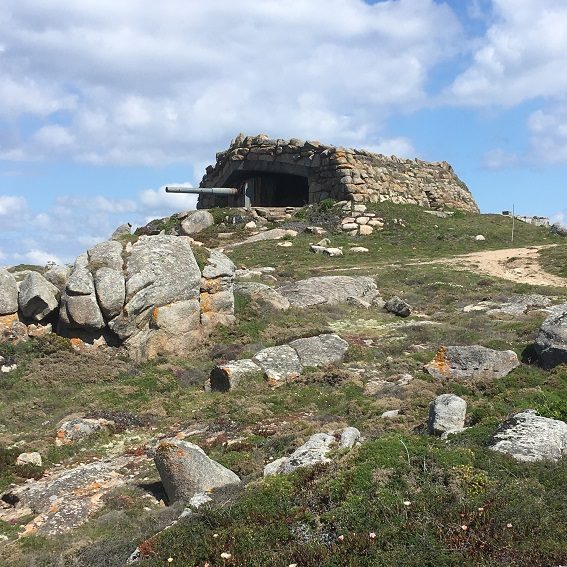 In the camaraderie of the boatyard we had drinks and meals out in Xufre town, just a few minutes walk away. First accompanied by John and Debbie, and when they had gone we had a new drinking partner in Toby (which we shortened from his Norwegian name) and then Charles joined in! We had met Charles at the end of last year. He is married to Di, who we have yet to meet, but who does apparently accompany him after all the hard work is done. It must be said that an antifoul blue rinse is not every girl's idea of fun!
The weather was warm to hot (20 -27c) and dry but breezy to windy and we thoroughly enjoyed our time in the yard, but Monday arrived and it was time to go.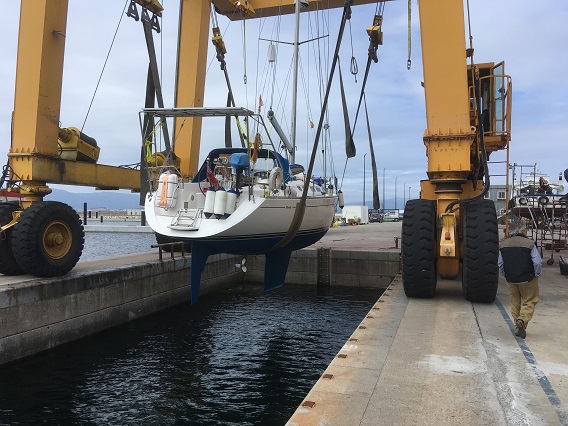 We were taken into the middle of the yard by the smaller of two traveling hoists and then placed into the larger one which dropped us into the water. Before letting go we wanted to run and check the engine and then engage forward and reverse in the slings to ensure that the propeller was operating correctly before being let out of the slings.
Alex was happy to give us as long as we needed – very unlike an earlier experience in a busy UK yard where they wanted us out in less than 5 minutes and we had to rush our final checks. It is obviously important to check that there are no leaks from seacocks, engine water inlet and exhaust pipes and that everything seems in order before being released from the slings. We had the added need to check the operation of the propeller, as advised by Darglow, and that was all made much less frantic given Alex's understanding of the importance of all that.
Unfortunately when the engine was turned on a leak was apparent from the raw water pump shaft seal. Engine off, help called for and within 3 minutes the yard's engineer, Ramon arrived.
The pump was whipped off and the lovely Noah from the office despatched into Vilagarcia to fetch the necessary parts (two seals). After less than 3 hours the problem was solved, but by now it was 7pm and we elected to stay the night in the slings and to be released in the morning.
We should really have moved out of the hoist bay and tied up alongside, but with pump removed and Noah gone for parts it was too late when a mussel boat arrived for his appointment to be lifted out.
Nito arrived and apologised to the boat owner. He was a little unnerved by having let this man down, but said that he was an old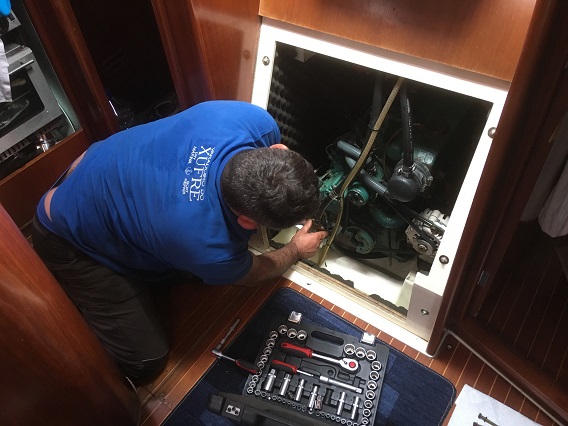 client and a very nice man. He would return first thing in the morning and we should be ready to leave at 9.00 sharp (everything runs an hour later here in Spain).
So after a night of creaking and groaning in the slings (yep, really!) we were standing by ready to leave by 8.45am, when Manuel arrived with his mussel boat. Paul took over a bottle of French wine by way of apology ("we brought this across Biscay with us" or something like that in pidgin Spanish!) and met the most charming man ever! Nito was right. He wanted to call his wife to fetch us a bottle of Albarino, the best wine made around here (yep, we know that too well already Manuel!) – but time was short and we insisted that the wine was given because we were "lo siento mucho".
And so off we went – to be absolutely delighted with the performance of the new propeller. Reversing out of the hoist bay was transformed – an immediate response to selecting reverse gear rather than putting on the kettle and waiting……and puttering through the mooring field at little over tickover and 4 knots was astounding – we are normally half thrashing the Penta to get that!
6.2 kts at 2,200rpm across the Ria was something totally new to us, and whilst we have still to ensure that the engine copes with this extra pitch into strong wind and waves, clearly our problems were indeed not down to a slipping clutch, and only 4 nm and 45 minutes later we entered and tied up in our berth at A Pobra Do Caraminal looking as though we had never been out of the water – even with a stiff wind pushing us off!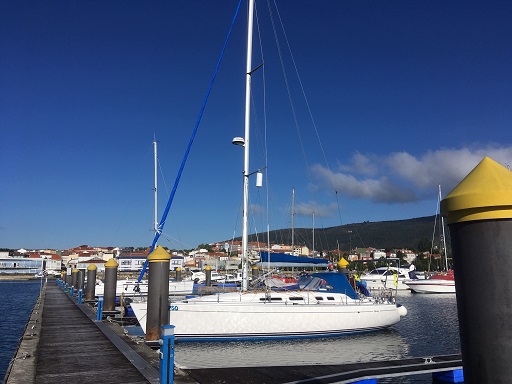 Nobody answered the VHF on the way, as is normally the case, but unusually nobody was there to meet us (normally in these parts you are heard, not answered but a marinero meets you at the entrance, directs you to a berth and helps you tie up) but it is early season and so we celebrated with a cup of tea and checked in later.
We had a visit to the supermarket before having lunch on board.
Later as we read (Val) and slept off the poor night before's sleep (Paul) there was a knock on the hull – "hola….hola…." and there was Manuel with not one but two bottles of Albarino wine and his lovely smile. He had been to Rianxo (perhaps for a part for his boat) and called in at Caraminal on his way back looking for us. We exchanged cards – he having written his home number on the reverse and saying to get in touch if we needed anything.
We said last year that we thought the Galicians were warm and friendly people, but have had it confirmed in spades already this year.
The sharp-eyed may notice the colourful new sacrificial strip on the genoa – replacing the drab, grubby white one of the old genoa.
We stayed in A Pobra do Caraminal for a few days as a wet/cold front blew through, enjoying visiting Nojira restaurant again (we went twice last year and the owner recognised and greeted us) and trying out Meson Don  Miguel, which was expensive but very good – we might have gone elsewhere had they displayed the usual written menu at the entrance instead of theirs being spoken by the waiter after you are seated, but were glad we stayed, eating the largest sole we had seen served up in a restaurant (cooked superbly)!
By contrast we popped into a surprisingly posh restaurant Sisal above the market in a modern glass fronted building. A cup of tea and nice glass bottle of sparkling water came to the princely sum of 2.10 euros! Great value and a good view of Calypso here in the marina….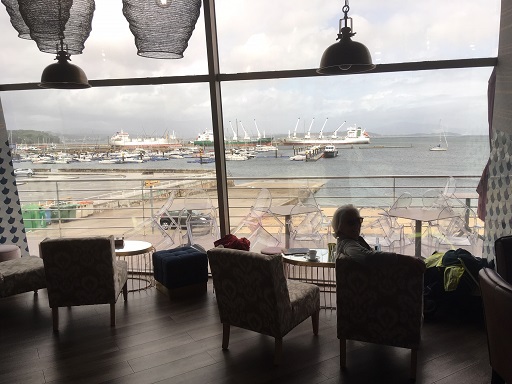 We knew A Pobra Do Caraminal quite well already having spent several days here at the end of last year during a festival – as recounted HERE
We may have to return to eat at Sisal, but after 4 nights here (67.20 euro after 15% CA discount) we needed to move on to meet the Bisphams who were heading North from their winter base in Lisbon.
Distance travelled since leaving Xufre – 4 nm