Reflecting on what has been our most enjoyable year so far it is very difficult to pick out highlights as there were so many. Lowlights were few and far between.
HIGHLIGHTS
Biscay crossing – we had almost perfect conditions for our crossing. This was our longest trip to date and we expected it to be one which we would endure at the time and enjoy only after the event.  And so we were quite surprised that we enjoyed every moment of the crossing as it happened. Whales, dolphins, visiting birds and sailing without the noise of the engine for around 32 hours was wonderful!
Sunrise over Biscay: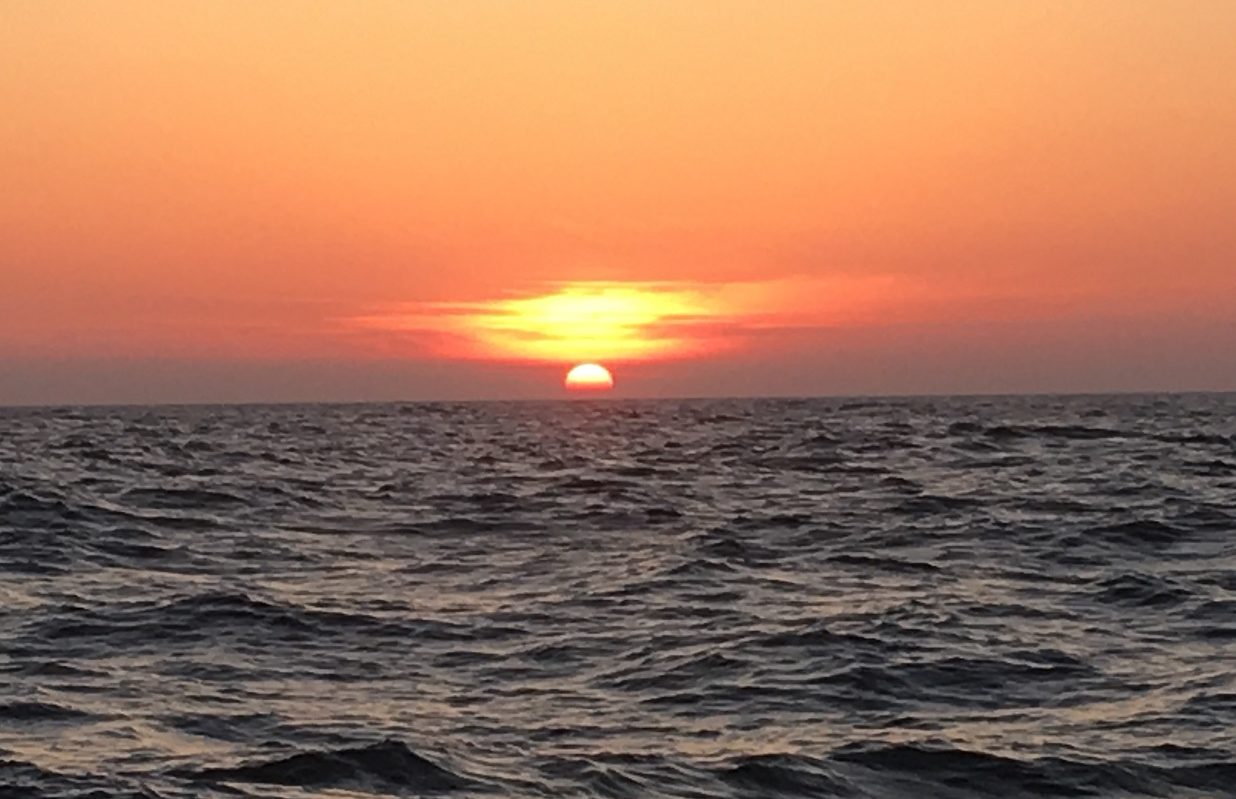 Asturias road trips – whilst we saw a lot of rain and cloud in Asturias, the road trips into the mountains made up for some of the days spent hiding below from the rain and reading! That said we did love our extended stay in Aviles.
La Coruna – what a city! The Real Club Nautico Coruna marina was located in the heart of the best part.
Anchoring – we anchored for 26 nights in total and expanded our experience and confidence, moving from a degree of nervousness to full enjoyment. We saw 20-25 kts over several days in Cedeira where the Rocna just buried itself deeper, but we have yet to experience the unexpected higher winds or a vicious squall.
People – the Northern Spanish people have proven to be very friendly and welcoming. Very little English is spoken but a little Spanish, a little sign language and a lot of smiling works a treat.
Eating out – Last year we were disappointed with the standard of food in French restaurants and so ate out very little – instead sourcing superb (slightly costly) ingredients and cooking great meals on-board. This year we quickly discovered that the food in Spanish restaurants was excellent value and generally good. The good value set menus at 9-10 euros were filling and a bit stodgy, but all of the set menus at 15 euros and above were superb. THE eating out highlight was the green restaurant by the bridge at Ribadeo. If you visit there do not miss it!
Albarino – the Albarino white wines produced in Galicia were a revelation – we never had a poor bottle!
Friends – we met friends old (first encountered in UK and France) and new and spent many a happy hour in good company. Part of this life involves repeatedly and unexpectedly coming across cruisers met before, and saying goodbye without knowing if our paths will cross again. Most seem to travel towards their target destination more quickly than we do!
Northern Spain road trip home – after our road trips in Asturias in June and across Spain via Santiago de Compostela on our way home we are amazed that so few British tourists are to be found in these areas. We plan to do the same again next year.
Camino de Santiago –  we encountered pilgrims on the Camino surprisingly often. There are different pilgrim routes to Santiago from France, Portugal and Britain. Each of these routes has a few options along the way, and so brass scallops inlaid to pavements and pilgrims carrying scallop shells on their backpacks were a regular sight. It did add a spiritual dimension to our travels through the area.
LOWLIGHTS – the two R's
Rain – We expected rain – that's what makes the area so lush and beautiful. On a bus from Gijon a student told us that "it is always cloudy in Asturias". Overall we enjoyed good British summer conditions once into July, but along the Northern Asturian coast in June we experienced what apparently was a very wet month even by Asturian standards.
Rubbish – It is such a shame that there is so much litter around. Mostly on land – but including old discarded fishing gear in the sea (OK – maybe we didn't spot a poorly marked pot buoy)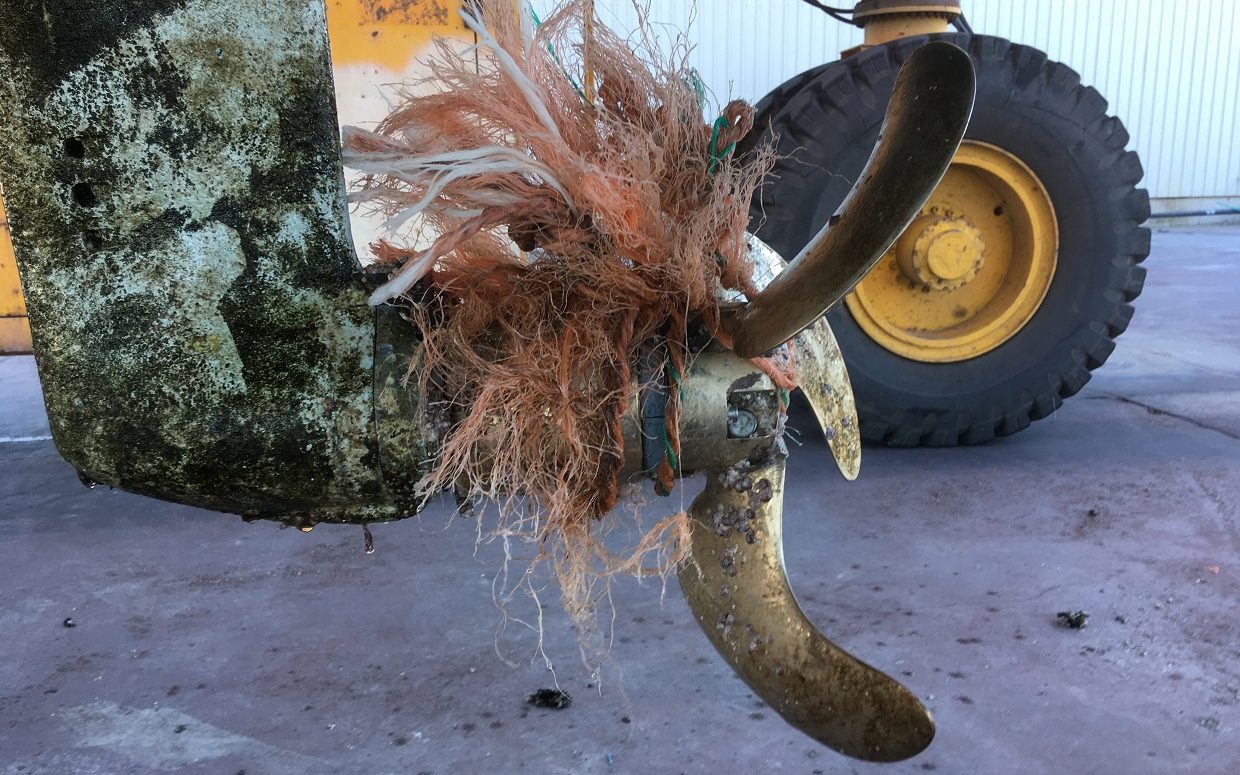 PLANS FOR 2019
We had such a fantastic time in the Spanish Rias in 2018, and not yet having visited two of the main Rias at all, we have decided to spend the whole of next year in Galicia again, moving between Coruna in the North and Vigo in the South.
STATISTICS
In May 2017 we published various statistics from 2016 and stated our ambition to improve some of those figures. Well we achieved some of those aims but failed miserably on others. Here are the 2018 figures with 2017 followed by 2016 in brackets. We have improved in some areas and slipped back in others:
Traveled 772 nautical miles (696)(748);
130 hours on motor including motor sailing (87) (117);
63 hours sail only, being 33% of our time at sea (56 hours and 39%)(34 hours and 23%) SEE NOTE BELOW;
Average speed  4.0 kts (4.87)(4.95)
Duration of cruise (exc. time living aboard on hard) 158 nights (139)(147)
130 nights in a marina (138)(117);
0 nights on a mooring ball/mid-river pontoon (0)(28);
26 nights at anchor (0)(1);
2 nights at sea (1)(1);
3.76 days average stay at each of 42 stopping points; (6.0 days at 23)(6.35 days at 23)
£13.58 average nightly cost of parking with £sterling at 1.11 to 1.14 euro (£24.53)(£23.96);
£275 spent on diesel at 36p/nm (£207 at 30p) (£220 at 29p/nm);
More money spent drinking in bars and restaurants than last year as it is very affordable in Spain! (Less money spent on beer because it's so bloody expensive in France) ( 2016 beer money £ CENSORED).
The percentage of time under sail was (again) disappointing at first glance. When we set off we had read that many cruisers spend most of their time motoring and little time sailing. We resolved that as we had no desire to rush we could wait in port until we had a weather forecast that would see us sailing whenever possible.
However there are a few good reasons for our relapse this year. Firstly we spent the first 10 days in the Vilaine river, clocking up 13 hours under motor. Secondly we had 44 separate trips compared to 23 in each of the previous 2 years. Each time we travel we have  around 0.5 hours or more from each trip spent under engine departing (untying, lifting anchor etc) and arriving (tying up/dropping anchor etc). Removing the Vilaine travels and adjusting for the time spent arriving and departing by only 0.5 hours per trip would  increase the sailing percentage to around 40%, which seems more respectable .
OK we still motored more than we would ideally like to do. So what is our excuse for that? Well there are two other main reasons. Firstly, in addition to enforced motoring in the Vilaine River we needed to get to Les Sables D'Olonne in time for the Bergerac wedding, and that entailed a lot of motoring in the calm conditions that prevailed.
Secondly, when motoring we go very slowly due to having the wrong propeller. Given that we seem to achieve around 3.75kts under motor (add or deduct current) and that with the correct propeller we should achieve not less then 5.5kts, then changing the propeller should reduce our time spent motoring.
Our average speed dropped significantly to 4.0kts – why? Firstly we visited 19 more places, and each time we travel we spend at least 0.5 hours going nowhere (see above). Secondly we are faster under sail than motor. Last year in France we sailed more and averaged 4.87kts. Thirdly we timed our trips and used the tide to our advantage, especially in the UK/Ireland in year one, and to a lesser extent last year in France. This year, however, the East going wind driven current slowed progress along the North coast of Spain – dipping below 3 kts regularly.
Since arriving home we have visited recognised experts Darglow Engineering and have ordered our new Featherstream 3 blade feathering propeller. It is the same 17″ diameter as our current propeller but on Darglow's advice the pitch will initially be increased from the 12″ of the current propeller to 14″ (but can be adjusted back to 13″ should that prove excessive).
We hope to see better speeds and better sailing percentages next year as a result of the new propeller……. famous last words??
This was our longest season yet at 158 days from launch to lift (3 weeks of which we spent at home). In spite of staying 20 nights at Aviles and a month in Coruna, we had many more short stays and our average time of stay was much reduced this year. As our experience increases, passage planning, packing up the boat and heading out to sea somehow gets easier; whereas in our first year especially we seemed to need more days to recover after a passage and prepare for the next one!
This year we more than doubled our lifetime anchoring experience. This, together with mostly good value Spanish marinas reduced our nightly parking costs from around £24/night in each of the first 2 years to less than £14. That was helped by being members of the Cruising Association and obtaining the discount "passaportes" offered by different marina groups.
Several marinas in the Rias Baixas (South of Finisterre) are relatively expensive, but we spent a month of high season in the good value RCNC Marina at Coruna at their monthly rate. We hope to spend even more time at anchor next year, but may stay in Galicia during high season (rather than taking a month contract and returning home) which could see us paying higher marina costs.
So now we prepare for 2019 with some uncertainty from the Brexit situation – if we exit with no deal then we will have to acquire a long stay vacation visa (as without it only 90 days would be allowed in Spain). We are applying for a T2L certificate to avoid having to pay EU VAT on Calypso after Brexit. We are about to apply for our permit to visit the Atlantic Islands of Galicia national park.
Musetta of Hamble (Ros and Alan) have moved on and are currently in the Canary Islands pending their Atlantic crossing in the near future, however once again we will be joined from time to time by our good friends on Charisma (Adam and Lynne) and Shiraz (John and Debs) who will be exploring the Sanish Rias for much of next season. We will be spending a few days with Adam and Lynne on Charisma in their winter berth at Lisbon in February.
We are to attend the wedding of our god-daughter in Vilamoura this summer and have arranged to stay on the yacht of friends who have based themselves in the Algarve (Rick and Debs on Farr Horizon). We will have our Berlingo car/van with us for the whole of the year and will travel to the Algarve in it which will allow us to collect the 5hp outboard we have purchased from them.
Our next post will be late April to early May 2019, but for now, dear reader, happy new year to you.